The Best TradingSim Review [Updated October 2022]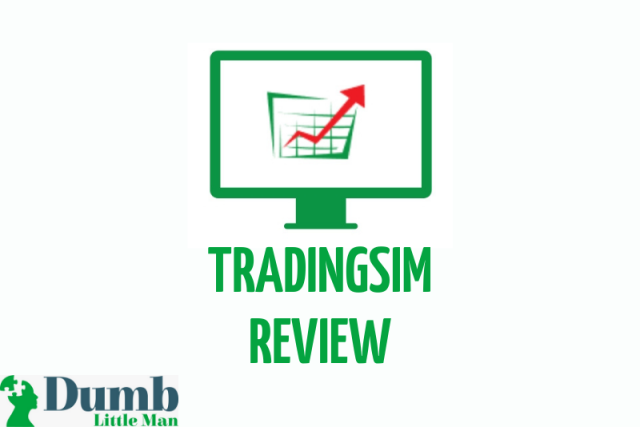 There is often a steep learning curve associated with learning how to trade. This is especially true for those who want to specialise in certain types of trades including day trading or swing trading.
TradingSim is regarded as a web-based market replay platform and trading simulator. It stimulates a realistic trading environment for profitable trading.
It is known to be quite advantageous for both new traders as well as more experienced traders. This is due to the fact that simulating a trading day can help you learn the process of real trading and gain trading experience risk-free.
Without having to invest copious amounts of money when you have only just started trading, it becomes less stressful to actually start trading (or learning how to trade effectively).
It allows you to practice day trading, test strategies, and comb through years of historical data. More information and generally more knowledge at the starting point is a brilliant way of eventually becoming a profitable trader.
In this TradingSim review, we will cover plenty of aspects of TradingSim, including key features and how it compares to other companies.
This TradingSim review will also cover alternative platforms including TradeZero and Benzinga to help you become better informed of the trading services available on the market.
TradingSim Review: Results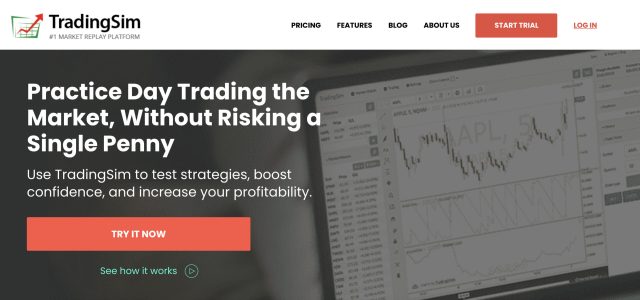 About TradingSim
The TradingSim platform is a web-based trading simulator. It is capable of enabling users to simulate historical trades over a certain number of years.
TradingSim was first created via Kunal Valik and Al Hill. Al Hill is an experienced trader who helped to implement certain techniques that enabled TradingSim to develop user and trade-based features and functionalities.
| RECOMMENDED TRADING COURSE | REVIEW | VISIT |
| --- | --- | --- |
| | #1 Forex, Crypto and Stocks trading course. Ranked most comprehensive by Investopedia and Best by Benzinga. Free to Try! | |
TradingSim Features
In this TradingSim review, we will look at all of the features and functionalities that are available with the TradingSim trading platform account.
Practice Trading Simulation
With TradingSim, it is possible for you to practice trading without even creating a brokerage account first. The ability to make simulated trades can help to give users more confidence in the process of trading as well as their established investing strategies.
Without having to create a brokerage account, learning becomes less stressful and you can begin to develop new strategies that align with your goals.
Hot Keys To Perform Trading Strategies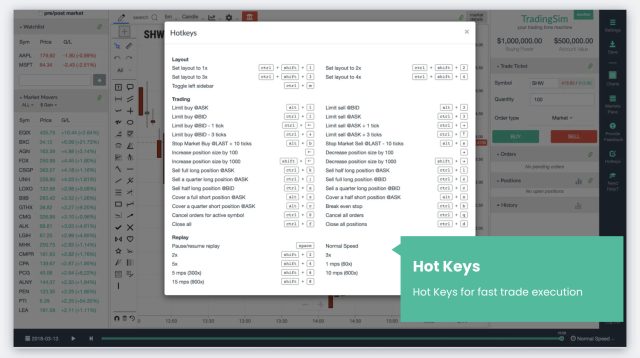 Through the TradingSim trading platform, without having to invest real money into a risky investment, you can build and develop your investing strategies and make lucrative trades based on high-quality technical analysis.
It comes with several hot keys to help you conduct your trades quickly and efficiently.
CLICK HERE TO READ MORE ABOUT TRADINGSIM
Historical Data On The Market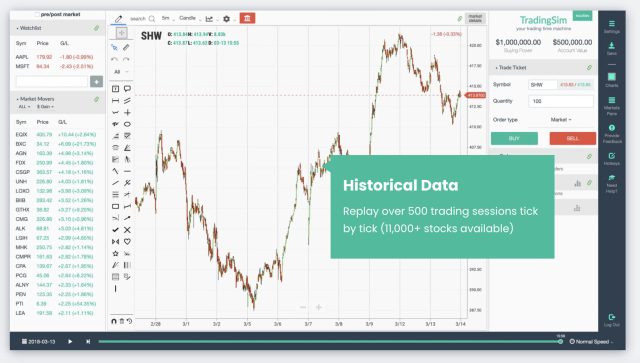 TradingSim enables you to make simulated trades on 2 years' worth of historical data. This is incredibly useful for those who want a risk free way of better understanding the market and in general, how to invest.
Users can choose between certain time frames and get a complete understanding of the market state during that time. Being able to view and compare the market within different time frames gives traders so much valuable information on the performance of stocks.
Risk Management
With the risk management settings, it is possible for users to define certain variables including their account balance, max and min shares, as well as the maximum percentage of capital.
The ability to manipulate such variables help users to guard their assets and give them more reassurance when trading.
Market Movers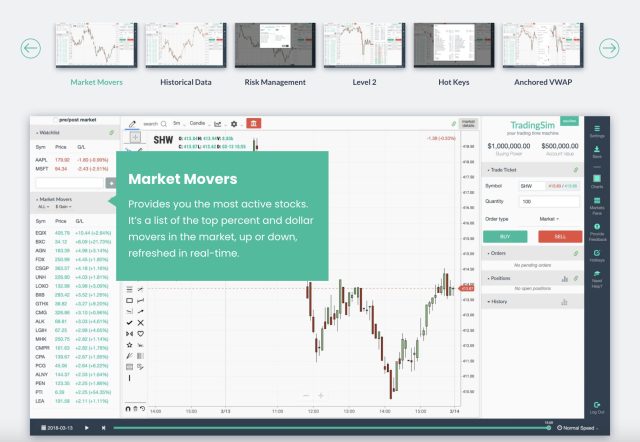 The market movers feature enables users to see the performance of a particular stock within a particular time period.
Through the market movers feature, it is easy to gather useful information on stocks so that when traders are ready to use real money to invest, they can do so as well-informed traders.
The platform also gives users a list of particular stocks with the most and least gains in a particular time period. This list can be given in percentage points to help users easily understand.
Charts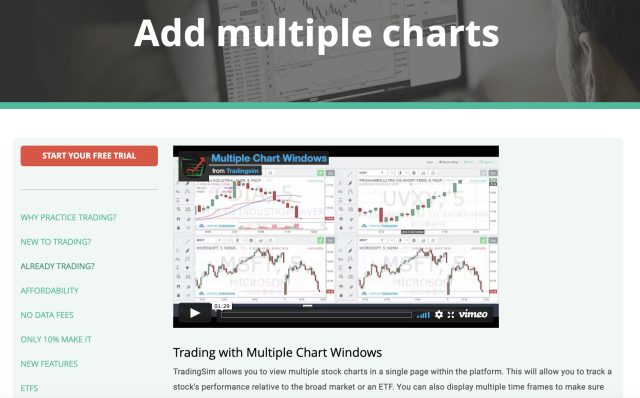 The charts help to visualise the important data needed to help users become successful traders.
With 2 years of historical data and charts, many traders become highly capable of learning how to best invest money to beat the market for the most lucrative results.
The charts feature is also heavily equipped with useful drawing tools that help users to visualise data in a way that is most beneficial for them.
Pricing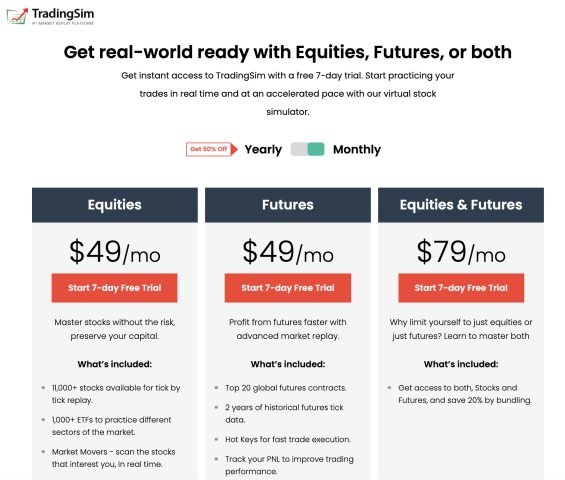 There is TradingSim free account that you would be able to use in order to see whether or not TradingSim is suitable for your needs and requirements.
Aspiring traders won't have to spend any money at first and they can use a demo account to completely understand the features that are provided and whether features such as their drawing tools and charts are useful for their particular trading strategy or situation.
A brilliant aspect of TradingSim is that, unlike many other platforms that require their users to make some form of purchase from third-party data providers, TradingSim does not require you to do that at all. This can help to save money in the long term and enable you to have a higher account balance.
CLICK HERE TO READ MORE ABOUT TRADINGSIM
Summary
Pros
TradingSim would be quite useful for day traders. Being able to simulate an entire 2 years' worth of trades can yield very useful advantages when it comes to understanding market depth and developing a trading style that would become highly profitable. This is likely to be the case whether you are a normal investor or a day trader.
Simulated trading can give you an accurate account of a trading day anytime in the last 2 years. Users can have access to historical futures data and even sales data for securities for certain stock exchanges.
The day trading simulator can help to unveil certain trade opportunities. In addition, it is also possible to view paper trades.
TradingSim has useful risk management settings and allows you to view watch lists and multiple charts containing valuable information.
Lastly, it is entirely possible to alter the replay speed of the trading day that you have decided to simulate, giving you full and total control of how you want to use the trading simulator.
Cons
There's only 2 years' worth of historical data to look through, meaning it is not as relevant to long-term investors.
The monthly subscriptions can be quite expensive. Although there is a free trial, the pricing is much too in favour of yearly billing.
CLICK HERE TO READ MORE ABOUT TRADINGSIM
Trading Platforms
Through this TradingSim review, we will also cover various trading platforms that would enable you to learn how to invest effectively and efficiently.
We will also cover specific trading platforms that have brilliant features for both new and experienced investors. Bear in mind, however, that the platforms that are most beneficial for you depend entirely on your circumstances as well as your specific needs and goals when it comes to trading.
TradeZero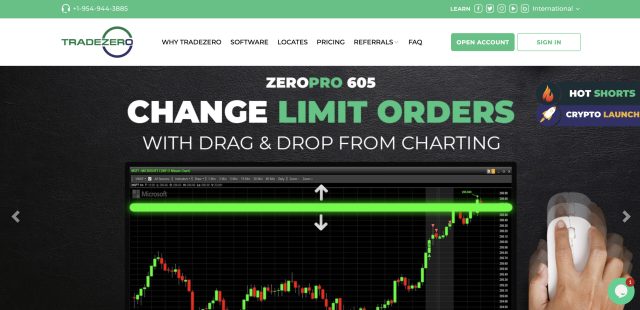 Summary
TradeZero is a rather well-established trading platform. It offers several subscription packages which give you access to high-quality features.
Features include hotkeys, charting, as well as a stock screener. It comes with a 24/7 customer support line, giving you the reassurance that there will be a qualified individual who can help you with any of your queries.
Moreover, it is a commission-free platform that gives you greater trading leverage. Another great aspect of TradeZero is that you will not have to follow the pattern day trading rules.
The absence of pattern day trading rules is particularly useful for budding day traders who won't have a limit on their trades even if their account is valued at less than £25k.
Features
All packages offered by TradeZero includes access to real-time news that give traders valuable information on the market and thus enable them to make more informed decisions with their finances.
The aforementioned hotkeys are also available with all packages except for ZeroMobile.
Moreover, a feature that is considered to be incredibly important is the availability and quality of charts. Charting is available for all packages. However, ZeroPro enables you to use it with 10 windows, ZeroWeb with 6, and lastly ZeroFree with 2.
TradeZero is also considered to be quite affordable in comparison to many other similar platforms on the market. Combining the features with all of the benefits and features provided, it appears to be an ideal platform for both new as well as experienced traders.
Overall, with the features provided by TradeZero, it is very possible for traders to make highly successful trades and beat the market.
CLICK HERE TO READ MORE ABOUT TRADEZERO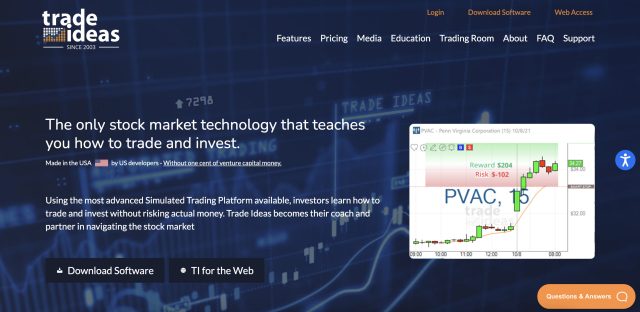 Summary
Trade Ideas is a platform that helps users learn how to invest using simulated stock trading. It has been known to offer an excellent user experience with how easy it is to simulate stock trades.
Features
Trade Ideas offers plenty of features for its users. An example includes their capacity to deliver headline news with information that is sure to have a large influence on the success of trades.
Moreover, users can also directly see all of the relevant details and variables associated with a particular stock. This includes the performance of that stock within the last hour, week, and even the last 52 trading weeks.
CLICK HERE TO READ MORE ABOUT TRADE IDEAS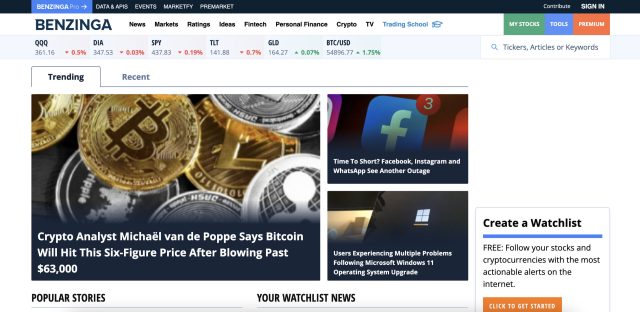 Summary
Benzinga is a well-established streaming platform and news site for information related to financial markets. Benzinga Pro gives you valuable information that is known to help investors achieve more lucrative outcomes from their trades.
It is a powerful platform designed to give information quickly in many different ways. Users can easily navigate through all of the essential news and filter through them in order to see the most relevant data for their trading strategies.
Features
Some of the features included with Benzinga Pro includes sentiment indicators. These indicators can give you an instant view of the likely influence of particular news.
Benzinga Pro members also have access to exclusive stories selected by their experts. These news stories can indicate the performance of certain securities, therefore giving users time to react.
CLICK HERE TO READ MORE ABOUT BENZINGA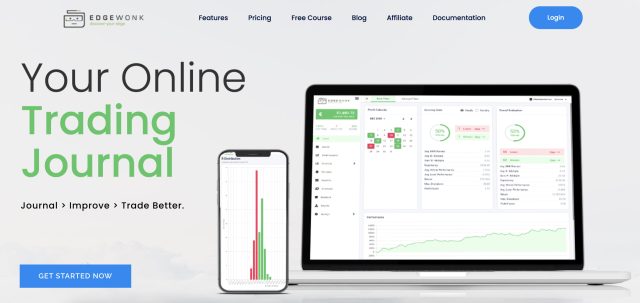 Summary
Edgewonk is a web-based trading journal to help users learn how to trade in a way that yields more returns in the long run. It features a free course to help new users learn how to best use the journal in order to help improve their trades.
The course can also give valuable information on how to become a better trader in general. Whilst it may not be as useful for more experienced investors, new investors are likely to benefit.
Features
The features offered by Edgewonk includes the ability to use the platform on multiple types of electronic devices. This enables users to access all of their information instantly.
The platform itself also works wonderfully with many types of securities. It can handle forex, cryptocurrencies, and even more.
As a result, Edgewonk is suitable for many different types of traders. Those who only trade, for example, cryptocurrencies or futures are fully accommodated.
CLICK HERE TO READ MORE ABOUT EDGEWONK
| RECOMMENDED TRADING COURSE | REVIEW | VISIT |
| --- | --- | --- |
| | #1 Forex, Crypto and Stocks trading course. Ranked most comprehensive by Investopedia and Best by Benzinga. Free to Try! | |
Conclusion
Overall, TradingSim can be quite beneficial depending on your requirements. We have also concluded that TradeZero seems to be the most high-quality stock trading platform with the best user experience and user interface.
It is important to note that the information given in this article is purely for informational purposes. It is still incredibly important for you to conduct your own research to form your final thoughts into the usefulness of any of the mentioned platforms.
It is also very important to conduct thorough research on popular stocks that the vast majority of traders would invest in. Whether it is right for you to invest in is entirely based on your personal circumstances and how you want to handle your money.
CLICK HERE TO GET TRADINGSIM AT A DISCOUNTED PRICE!
F.A.Q.
Who Is TradingSim Most Suitable For?
Those who want to ensure that their trading career can begin smoothly would benefit from the simulated trading experiences. For those who are interested in trading futures, you can also benefit from the most redeeming futures contracts as well as the Bitcoin futures.
For those who are just starting out, 'futures contracts' refers to legal agreements to purchase or sell a security (or asset) at a specific future time as well as at a specific price.
Without having to spend real money, you can learn to comprehend the intricacies of trading through the market data provided by the platform.
Who Is TradingSim Least Suitable For?
TradingSim is not quite suitable for those who intend to or are investing in the long term. Investing in stocks over a long period of time requires more understanding of how those stocks performed more than 2 years ago.
At present, with your paper trading account, TradingSim can only show market data gathered in the last 2 years.
Is TradingSim A Scam?
No. TradingSim has been available to the public since 2001 and has since grown to become a great platform for helping users to learn how to trade through paper trading.
It gives you access to valuable market data and using their 'market movers' feature, it is incredibly easy to see how stocks perform on any particular day (within the last 2 years).
What Is Paper Trading?
When looking at TradingSim and its alternatives, you may come across the term 'paper trading'. TradingSim is quite well known for its capacity to support paper trading.
Paper trading is the simulation of actual trades without the risk of spending personal funds.
Paper trading is a great method of better understanding the market and giving traders the opportunity to learn how to best invest their money.
Traders can also learn how to best read into the value of stocks and how they perform in the stock market.
In addition, paper trading can give potential traders the confidence to finally begin investing without the stress of actually investing.
CLICK HERE TO GET TRADINGSIM AT A DISCOUNTED PRICE!
Like this Article? Subscribe to Our Feed!
Passionate in tech, software and gadgets. I enjoy reviewing and comparing products & services, uncovering new trends and digging up little known products that deserve an audience.