Tradestops Review: There Are More Efficient Stock Analysis Softwares [2022]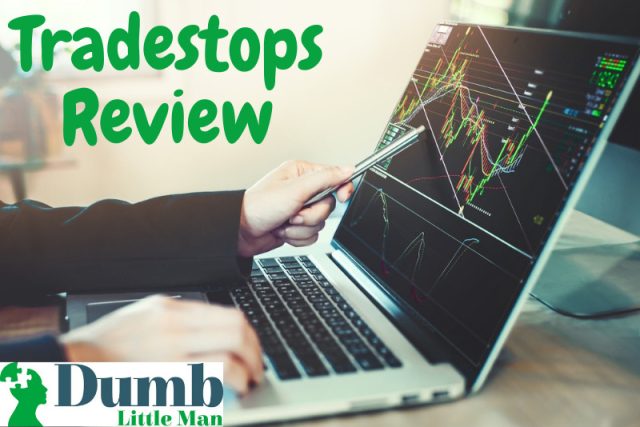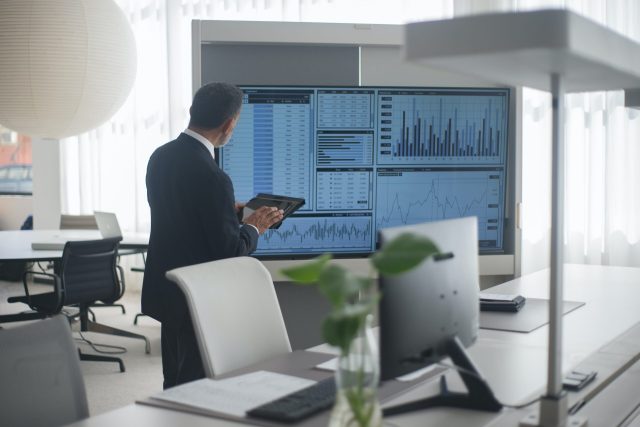 Whether you're a novice or a seasoned trader with years of experience, you may benefit from a platform that helps you make sense of things, especially because everything moves so quickly these days.
This is what the Tradestops program is for. Its purpose is to notify you when anything noteworthy occurs that you should consider when making decisions. It also uses proprietary algorithms to track equities.
I've gone over it and would like to share what I've discovered with you. If you want to know if Tradestops provides good investment advice, keep reading this unbiased TradeStops review.
| RECOMMENDED TRADING COURSE | REVIEW | VISIT |
| --- | --- | --- |
| | #1 Forex, Crypto and Stocks trading course. Ranked most comprehensive by Investopedia and Best by Benzinga. Free to Try! | |
Tradestops Review: The Best Analysis Ever

Review of the platform
Tradestop is owned by a company called Tradesmith. It was initially owned by Richard Smith who later sold it to an unknown financial publisher.
It's a web-based platform. Beginner and experienced traders, as well as medium and long-term investors, will benefit from the platform.
Its main focus is to provide all the necessary tools to successfully manage and balance your portfolio with just a few clicks based on risk and market volatility.
The Tradestop platform allows you to track mutual funds, stocks, penny stocks, indices, some EFTs, options traded in the US exchange market, and over-the-counter stocks. The best part about it is, it also tracks equities and stocks traded in Frankfurt, London, Canadian, and Australian stock exchanges.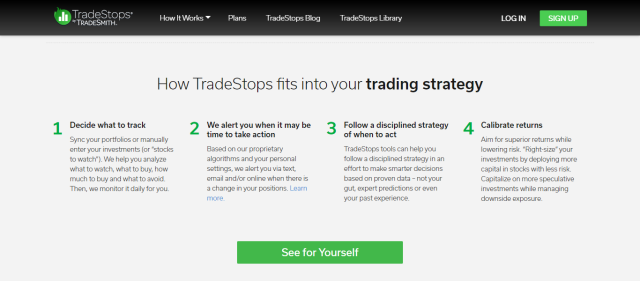 TradeStops also aims to assess the risk of stocks derived from the previous volatility and rebalance portfolios as needed. Ideas work in tandem with the trading platform, assisting traders in constructing a diverse portfolio based on a variety of investment strategies and equities held in the portfolios of well-known investors.
Tradestops' online service solution has a useful and strong alerting tool that tells you when certain of your positions change. As a subscriber, you'll receive some charting tools. You'll also enjoy the following premium alerts:
Entry signals
Gain/loss warnings
The volatility quotient alert adjusts the stop percentage to market volatility.
Price targets.
Exit signal
Option alerts and much more.
CLICK HERE TO READ MORE ABOUT TRADESTOPS
Tradestops Key Features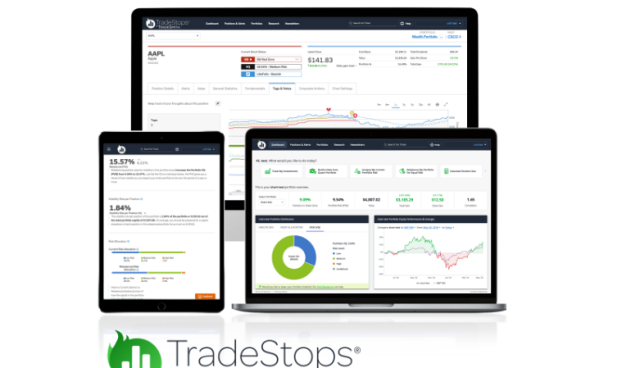 It's critical to note that the portfolio tracking and analysis software market is extremely crowded. Some of the notable ones are Optionsonar and SimpleFX. These have powerful capabilities such as advanced customization, trading, proprietary algorithms, stock tracking, charting, among others.
However, tradestops also stand out. It has some of the best features any investor can need to track equities and stocks. Let's have a look at them
Risk Rebalancer
The risk rebalancer tool aids investors in lowering their portfolio's average volatility quotient. Its purpose is to calculate the impact of a change in the number of shares on the overall risk.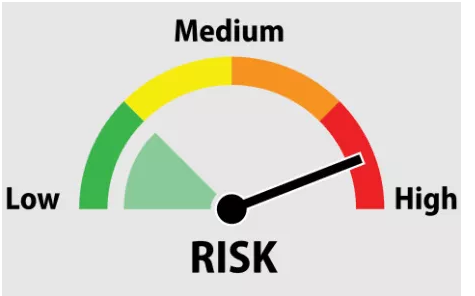 Another advantage is that the Risk Rebalancer tool can be used with data imported from CSV files. You may then assess your portfolio using either a direct interface with the brokerage firm or a manually imported data set.
Volatility quotient
This is also known as VQ and is one of the most important aspects of Tradestops' investment portfolio. It allows you to calculate how much risk is associated with each stock in your portfolio.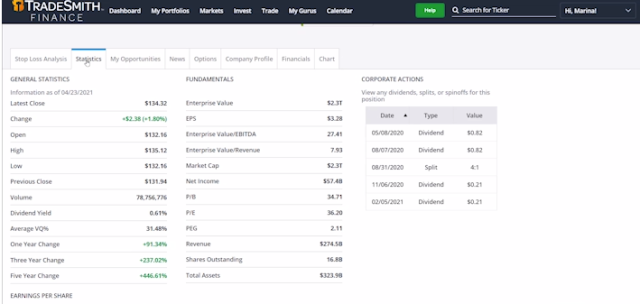 It calculates the volatility of each stock in your portfolio as a percentage. This figure indicates how much your trailing stop losses should be adjusted under the current cost. A trailing stop loss allows you to set price targets hence lock in the largest possible loss on a stock.
Because all stocks rise and fall over time, VQ can help you quantify the rise and fall of a stock. A VQ assigns a percentage value to the volatility of each stock.
Stock state indicator
The Stock State Indicator, or SSI, functions as a full life-cycle indicator of your stock's health. They're made to show you exactly where any stock sits in relation to Dr. Smith's proprietary algorithms at a glance. The SSI, for example, can automatically activate a stop-loss alert if any open trade falls below a certain threshold.
It tells you whether a particular stock is prone to high volatility and notifies you if the stock has recently triggered an entry or exit signal. It uses a color-coded approach to make determining whether a stock is performing well or not more intuitive.
CLICK HERE TO READ MORE ABOUT TRADESTOPS
Alerts
Just like TraderSync, Edgewonk, Binance, and other trading services, Tradestops also provides alerts. The tradestops platform provides you with standard price notifications anytime price changes.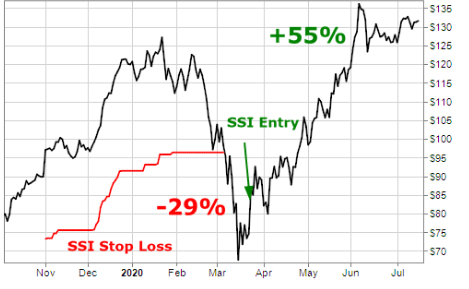 The platform lets you establish alerts for a variety of scenarios such as the change in stock state indicator, volatility quotient among others. It provides flexibility to all traders when it comes to setting these alerts.
CLICK HERE TO READ MORE ABOUT TRADERSYNC
CLICK HERE TO READ MORE ABOUT EDGEWONK
CLICK HERE TO READ MORE ABOUT BINANCE
Position Size calculator
The position size calculator helps you find the right amount of stocks to buy. It uses a trader's willingness for risk, the VQ, and trailing stop calculations to assist in quickly setting up buy and sell orders.
For the position size calculator to get the right value, a trader must answer two questions. What is your risk tolerance on the deal and how far below the current price should the trailing stop be set. The calculator then sets the maximum amount to invest and sets the initial stop loss value considering the answers provided.
The text used to explain the position calculator Results is simple to comprehend. Can still change the settings and see how the outcome changes every time.
Asset Allocation tool
The truth is, all portfolio tracking programs have an asset allocation tool. Optionstar and SimpleFX are good examples. However, having the asset allocation tool alongside other portfolio tracking tools is important.
As a trader, you can use the asset allocation tool to view your holdings and how they are distributed across various sectors, markets and businesses. you can find it at the platforms research tab.
CLICK HERE TO READ MORE ABOUT OPTIONSTAR
CLICK HERE TO READ MORE ABOUT SIMPLEFX
PVQ Analyzer
The PVQ analyzer tool is also used to allocate assets. However, it's based on the volatility quotient rather than the market sector.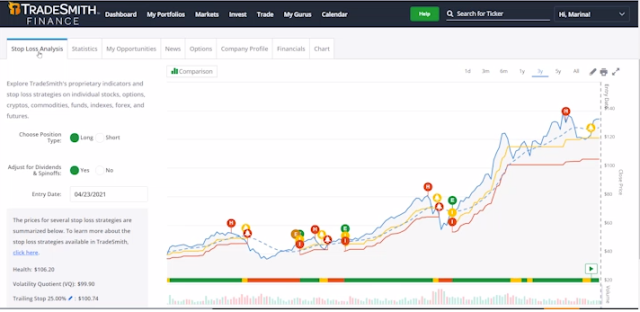 As an Investor, the PVQ analyzer tool helps you determine if your portfolio is;
High risk
Medium risk
Low risk
It can be used to analyze one or more portfolios, making it a valuable tool for multi-portfolio investors.
TradeStops is frequently used in conjunction with TradeSmith's Ideas product. Ideas is a stock management program. You can examine and locate potentially profitable stocks and build a portfolio with the integrated stock finder.
Tradestops can then be used to monitor and manage the portfolio. Tradestops and Ideas, when used together, constitute a complete portfolio management solution.
Let's have a look at the features of the Tradestops ideas.

Market Risk
Long-term investors and short-term traders both benefit from trade ideas. This is because they present a clear and understandable image of any stock market. Any trade analysis platform or financial news can be used to analyze the stock market.
The industry is divided into the following key categories by the program.;
Low risk
Medium risk
High risk
All of this is based on the calculated entry and exit points and fluctuation quotients.
As a trader, you can research deeper to find out how your index's risk has evolved with time. You can also compare with the previous highs and lows.
This feature is useful because it analyzes risks for big indexes, equities, commodities, and market sectors.
CLICK HERE TO READ MORE ABOUT TRADESTOPS
Stock finder
tradestops stock finder lets you find the best stocks based on SSI, VQ, and portfolio categories from Dr. Richard's lab. While using the stock finder, you should be committed to identifying potential trades both on VQ, and possible risk. This is because the stock finder has few fundamental filters and technical indicators accessible.
Tradestops Pricing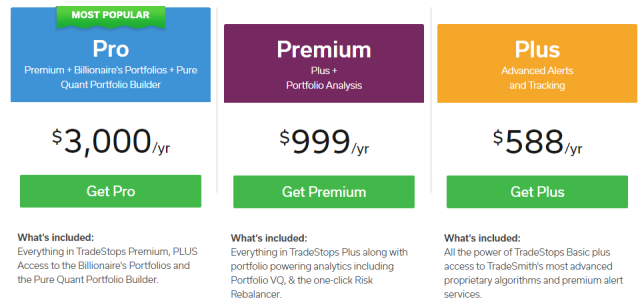 Basic plan
Because it contains the fewest features, it is the cheapest plan. This contains core tracking features such as basic risk management and wealth generation skills. A yearly subscription is $228, however, you might be able to find a deal that allows you to pay $99 for the first year after which the normal rates will kick in.
Plus plan
enjoy advanced alerts and tracking. All of the key features of the Basic plan are included, as well as premium notifications and access to the proprietary algorithm.
This one will cost you $588 each year. This is equivalent to $49 a month.
Premium Plan
The Premium Plan is one level higher than the Plus Plan. You also get essential analytics, the risk rebalancer, and portfolio VQ in addition to all the features of the Plus plan. The annual charge is $999.
Lifetime Plan
This is the highest subscription tier available. It provides users with access to all of the Tradesmith empire's tools, including TradeStops, Ideas, and Crypto. You will, however, have to pay a hefty $5000 every year to do so.
TradeStops isn't inexpensive, to be sure. Fortunately, there is a 30-day free trial period that you may use to sort-of test-drive the system. Furthermore, you may always contact their customer service team for further information during business hours.
Who is tradestops for?
The solution is appropriate for investors who handle multiple portfolios at the same time. It's tailored for medium-term investors looking to better their risk management and portfolio allocation techniques.
It's important to note that Tradestops isn't cheap for the ordinary trader. As a result, it is mostly employed by investors with larger portfolios.
Traders who don't have the time or ability to develop their methods will benefit from the platform. If you aren't familiar with fundamental and technical analysis, the solution can provide you with stock ideas. However, if you are a seasoned trader, this may not be the case.
CLICK HERE TO READ MORE ABOUT TRADESTOPS
Pros and cons
Pros
If you wish to actively manage your portfolio, it makes analysis more straightforward.
Most brokerage accounts can be synchronized.
There are several subscription fee tiers from which to choose.
a 60-day money-back guarantee.
Your financial decisions are no longer influenced by emotion thanks to the investment strategy. You make more objective conclusions.
It provides you with access to a variety of stock research tools.
It is a web-based service that you may use from any location.
Cons
A subscription fee of $999 a year is quite high.
Its research tools are limited.
| RECOMMENDED TRADING COURSE | REVIEW | VISIT |
| --- | --- | --- |
| | #1 Forex, Crypto and Stocks trading course. Ranked most comprehensive by Investopedia and Best by Benzinga. Free to Try! | |
Conclusion
TradeStops is an online stock tracking and alert program that can assist you in better managing your portfolio. It allows you to speed up a time-consuming procedure. Even when the market is volatile, it allows you to locate the best strategies to make money.
It allows you to set alerts to keep track of your positions as long as they are entered into the application. When there is a change in your position, you will be notified.
The VQ alert, which utilizes a proprietary algorithm to tweak the trailing stop, is the most popular. There are additional notifications as well, such as price objectives and entry signals, to name a few.
Aside from the advanced alerts that rely on analysis, the application includes some useful charts and tools to assist you better understand and build your wealth creation skills.
The program does not make trades for you; instead, it informs you and allows you to decide whether or not to take action.
You'll be less likely to invest in riskier equities and more likely to choose safer investments if you use them. With that strategy, along with clever trailing stops, you can increase your chances of profiting regardless of market conditions
Is there an alternative? Yes. Optionsonar is a platform for measuring traders' market perspective using options and monitoring odd options behavior.
Optionsonar performs a good job with visualization and provides customized scans and set alerts to help traders get meaningful trading data.
Have you used tradestops services? Let us know your thoughts on the comment sections below.
Tradestops review: frequently asked questions
Is it possible to trade on TradeStops?
It is worth noting that TradeStops isn't a trading program, and they won't make any trades for you. Instead, they'll keep track of the latest close prices and inform you when it's time to act.
One of TradeStops' most effective features is its ability to integrate your portfolios with many online brokerage firms, making it simple to keep track of your investment portfolios on the TradeStops website.
Do you keep track of your bonds?
Bond tracking is not supported by TradeStops. However, TradeStops does keep track of a few bond funds.
Is there a limit to how many spots I can track or how many alerts I can create?
Since April 2016 the number of tradestops alerts depends on the membership.
200 alerts for the basic plan
300 alerts for the plus plan
400 alerts premium plan
500 alerts for lifetime subscribers
Additional notifications can be purchased in bundles of 500 or 1,000 for $1500 or $2,000 respectively.