Top Step Trader Reviews 2023: The Best Options To Pick!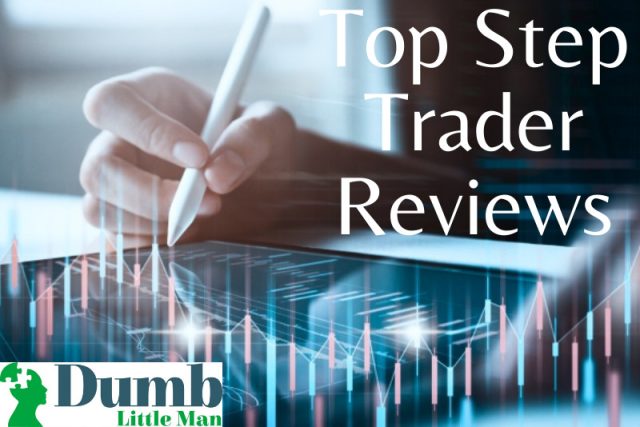 Are you a talented trader, who has excellent trading skills but your financial background limits you? If yes , then there are companies willing to fund you. One of them is topsteptrader.
This company has recently become extremely popular.
But, what is TopstepTrader? Furthermore, how will it help you if you use it?
Is it a fraud or a legitimate company?
Let's dispel those fears by reviewing it.
Top Step Trader Review: A Deep Look At Topstep Trader
What is topsteptrader?
Topsteptrader is an industry leader in forex and futures trading. It's one of the fastest growing firms in the US. It's famous for providing subscribers with a chance to have their trading account funded.
Subscribers to TopstepTrader can become funded traders, which means that after demonstrating their abilities and fitting well with TopstepTrader's trading style, they will be given access to a funded account that they can use to trade instead of their own money. That's exactly what tstrader is about.
Conditions for getting a funded account are;
Hit profit target
Trade for certain number of days (5 for step 1 and 10 for step 2)
Avoid both daily loss limits and weekly loss limit
Never hold a position during major economic releases
Stick to topstep trader scaling policy
Never fall below maximum trailing drawdown.
A quick look at their website and you can get the following statistics.
6033 funded accounts in 2020
A trading community of 143 countries
97% of traders have improved their trading
Over $2.90 million withdrawn in 2021
CLICK HERE TO READ MORE ABOUT TOPSTEP TRADER
| RECOMMENDED TRADING COURSE | REVIEW | VISIT |
| --- | --- | --- |
| | #1 Forex, Crypto and Stocks trading course. Ranked most comprehensive by Investopedia and Best by Benzinga. Free to Try! | |
Who is the founder of the company?
TopstepTrader was founded by Michael Patak, its current chief operating officer. He grew up in Nebraska. His life was limited to technology.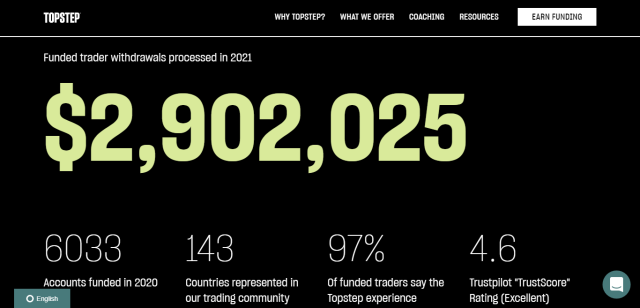 His life changed after watching the movie "trading places", and he soon moved to Chicago. In the following six months he started trading. He had no risk management skills, and this led him to losses of over $90,000 in three different accounts.
He joined a proprietary trading firm and began with simulated accounts. He quickly mastered a trading strategy and began risking real money again.
Driven by his failures and the need to help people improve their trading skills. He came up with topsteptrader. They define what it means to trade properly, be accountable, and also provide you with funds after meeting your goals.
TopStepTrader Review: How Does It Work?
The funded programme is easy to understand. With a funded futures trading account, qualified traders use Topsteptrader's capital. The first $5,000 in profits is kept in full by these dealers, and the profits after that are kept at 80%.
A step-by-step process is followed to join the funded program. On your simulated account, you can use what you learned in coaching. That is the most effective method of learning.
You'll start with a free simulated trial account. The simulated account has $150,000 in simulated funds and is valid for 14 days and requires no credit card. This is a good way to try different trading strategies and see what works.
What can you trade?
You can only trade on futures. However, You will be allowed to trade commodities on the EUREX market as a funded trader.
Become a funded trader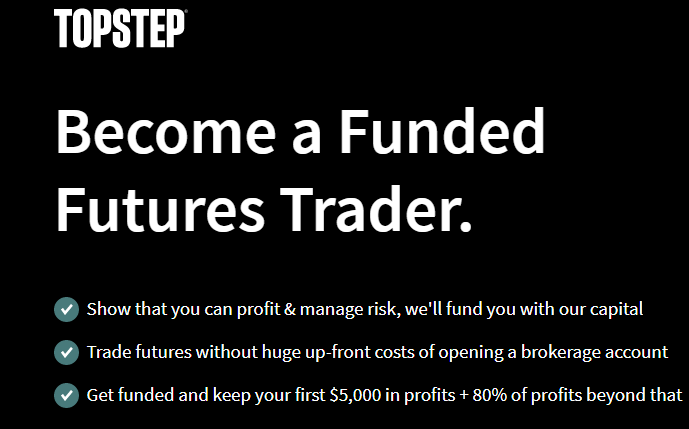 Join the trading combine challenge
This is a real-time simulated account. It allows you to trade only in futures. You can choose your capital range depending on your price. The trading platform tstrader has the following accounts to choose from;
Starting balance of $50k at $165 a month
Starting balance of $100k at$325 a month
Account balance of $150k at $375 a month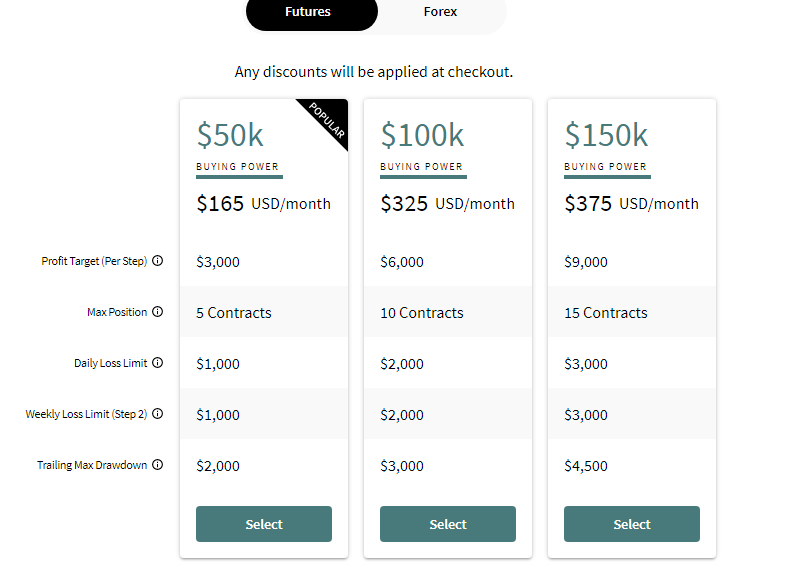 The amount you get on your account depends on several factors such as.
The profit target
Maximum position size
Daily loss limit
Weekly loss limit
Trailing maximum drawdown
However, one thing should be clear before you get started with trading combine. If you beat the challenge, the trading combine account balance will be the same as your funded account starting balance.
For instance, if you choose the $150k account which goes for $375 a month, you'll start trading with a $150k funded account.
CLICK HERE TO READ MORE ABOUT TOPSTEP TRADER
Trading Combine fees
TopstepTrader trading combine are clearly priced per month. These subscription costs increase monthly until you cancel your subscription or become a funded trader.
Trading Combine Steps
To complete the trading combine challenge, you have to complete two steps.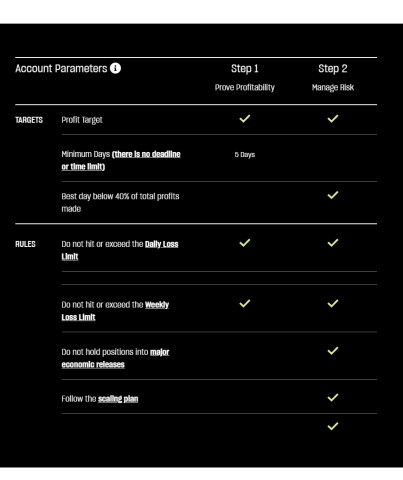 Step 1: Prove profitability
At this step, you have to trade for 5 days. You have to meet the profit target. However, the targets have no time limit.
What should you achieve to be successful?
Hit profit targets
Use the correct maximum position size
don't go over the daily loss limit.
Don't surpass or hit the trailing maximum drawdown.
During the trading combine, both the daily loss limit and trailing maximum drawdown are evaluated at the end of the trading day.
For instance, if you choose to start with the $150,000 trading combine, this is what you'll be required to achieve.
Hit a profit target of $6,000
Be active for five days
Trade a maximum of 15 contracts
Never hit a daily loss of $3,000
Never fall below the $4,500 trailing maximum drawdown
The weekly loss limit only applies to step 2.
It's important to select your starting balance carefully.
What happens if I hit all those targets?
If you have followed all the regulations and hit your trading combine targets, your account will be reviewed. If successful, you'll receive an email alerting you to proceed to step 2.
Step 2: Manage risk
Trading combine step 2 challenge starts by doing everything all over again. For you to be successful, you have to hit the profit target while following the rules.
For example, if you are still training on the $150,000 account, you have to hit these targets;
be active for 10 days
Hit the $3,000 profit target
Never hit a daily loss of $3,000
Never fall below the $4,500 trailing maximum drawdown
Never hit a weekly loss of $3,000
Never hold a position during major economic releases
Follow the scaling plan
What happens if you fail?
If you fail to hit your target goals, you can always reset your account and stay at the same level. To reset, you'll have to pay $99. This applies everytime you have to reset and is on top of the monthly fee.
This is useful if you do not follow the rules. The trading platform will enable you to reset your account to the beginning of the current step.
TopstepTrader Review of Funded Accounts
If you successfully pass the trading combine, you'll get paid and can start investing in real-time. You can retain the first $5,000 in profits and 80% of any further profits with a low risk to you.
With a funded account, of course, the basic conditions for these accounts are different to the conditions for the fund account.
Differences between trading combine and funded account
Topsteptrader is free to use. However, if you use other platforms, tstrader charges a platform fee depending on the platform. This only applies if you're using a funded account.
The rules are different. For instance, in a trading combine, the trailing maximum drawback is checked at the end of the day. In a funded account; it's checked in real time because it involves real money.
You should note that if you fail, you'll have to go back to trading combine. Also, it's not possible to reset a funded account.
As stated earlier, in a trading combine, you can only trade futures listed in CME . However, as a funded trader, you have more options to choose from. For example, you can trade products listed on COMEX,EUREX, NYMEX, and CBOT.
CLICK HERE TO READ MORE ABOUT TOPSTEP TRADER
TopStepTrader Review: Features
TopStepTrader believes futures and retail traders have the information and resources for day trading. Futures traders can reshape their business strategy. Below are the best features of topstep trader platform.
Education and coaching
Top Step Trader's commitment to teaching and coaching allows both newcomers and seasoned traders to discover new strategies that boost their profits.
All classes aim towards different levels, with good grades being offered to account holders who have obvious progression possibilities. Some of these coaching opportunities are free, while those with more money can pay for private performance coaching sessions.
Some of the free training includes topics on;
Watching professionals trade in real-time
Daily live trading classes
real-time lessons dealing with trading psychology
Performance coaching plans
Monthly one-on-one performance coaching sessions will increase your capacity to negotiate funding and help you get on the road to financial security faster.

Mick Leronimo, Danny Hodgman, and John Hoagland are the in-house solution tstrader coaches, and they can provide you with market principles and tactics that can help you become a great trader.
During this live trading performance coaching session, they will assess your transactions and offer suggestions for areas where you need to improve.
Besides, the coach will assist you in improving your tactics and removing undesirable behaviors that may be impeding your ability to succeed.
A normal coaching session lasts 30 minutes.
Charts
Topsteptrader provides basic charting options to traders. While the chart is above average, it's surprisingly clunky when there is no scale available.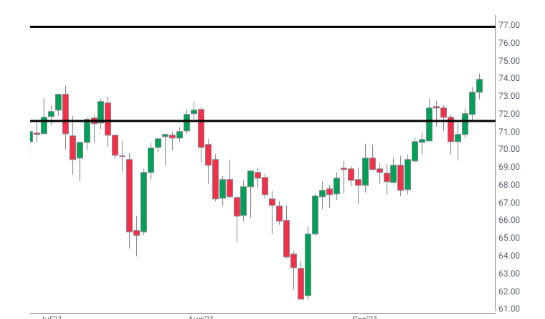 Due to the high risk nature of trading, investors will need to employ alternative charting software to get the most out of their deals.
The charts have numerous ways of displaying data including;
Bar charts
Candlesticks
Percentage values
Renko
Line charts
Heiken ashi
Topsteptrader charts also include volume, range, momentum, and tick statistics. As a day trader, you'll find this clumsy and inconvenient due to its lack of autoscaling.
Every short-term trader knows the value of time. As a result, they might not be helpful to any serious trader.
Video Library and Blog
More than 100 videos are available on TopStepTrader to help you learn how to trade. It also has a well-written blog that is updated regularly.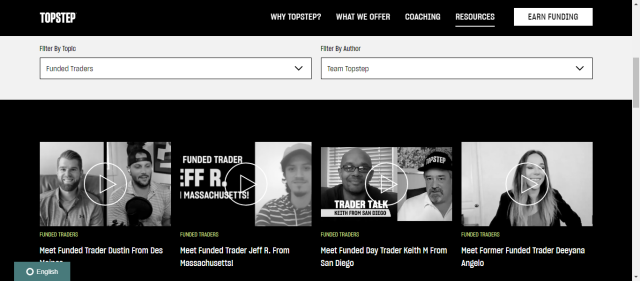 The blog features articles on a variety of topics relevant to trading. The video clips cover a wide range of topics, such as how to get started on a platform, how to place market orders, and how to turn trading into a career.
Its goal is to help market traders improve their trading practices so that they can become top traders.
Traders Forum
A trading forum allows you to exchange useful resources as well as lessons. it is a place where traders can acquire useful advice from others who share their interests.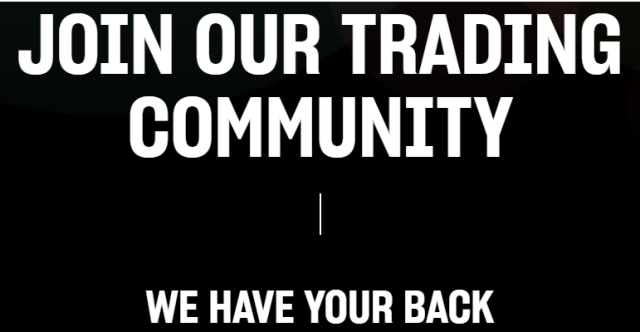 The forum is highly active, and TopstepTrader workers read everything that is posted regularly to improve their trading platform. Traders can be assured to get relevant knowledge from the forums.
Withdrawals at any time
Users of TopstepTrader can request withdrawals in a variety of methods. Requests for payouts can be made at any time, and they normally come within seven business days.
Should a payment exceed $500 be requested then $50 will be charged by the wire carrier. There is no wire fee in case the payout exceeds $500.
No Fee Trading Platform
TopstepTrader is free to use and includes basic charts of your trading history. Many functionality featured in other platforms, such as NinjaTrader and TradeStation, are missing.
TopStep keeps supporting new trading platforms. TradingView, a common trading platform for active traders, is now supported. It's also a top-tier trading system that supports 15 various trading platforms such as trade navigator.
Limit Up Podcast

Limit Up was created to aid in the growth of market analysis and to provide traders with financial freedom. This podcast will help you understand and work with traders and conduct research. Eddie Horn, who has made a living off the stock market for most of his life, hosts the show.
Live Chat
Live chat allows traders to discuss their tactics with other traders in real time. It provides excellent insight into trade trends, information on market changes each trading day.
Every day, a trader with over 25 years of expertise presents a live broadcast show on Live Chat. Squawk Radio features interviews with experienced traders as well as helpful insights from recognized and renowned practitioners.
The Live Chat gives listeners a unique view on the market as well as continuous updates on Live Market Updates from around the world. The webinar also includes a weekly live broadcast from experienced traders.
CLICK HERE TO READ MORE ABOUT TOPSTEP TRADER
Topsteptrader review: pricing
As a Tstrader beginner, it's difficult to understand exactly what you'll pay to get a funded account. You can scour through the pricing page and never find the total amount for all the services and products. .
First,we will review all the prices of the different services. After that, we will see different case scenarios to see how much a beginner can pay. However, note that the price per month will depend on you.
Performance coaching plans
If you are a total beginner, you have the option of choosing one-on-one coaching. The coaching will cost you $395 a month.
Trading combine fees
Below is a list of all the trading combine fees listed on the website. Everything depends on the account size.
An account size of $50k costs $165
An account size of $100k costs $325
An account size of $150k costs $375
As you start trading, it's important to note that the above are monthly subscriptions. The only way to avoid paying them is either you succeed in the trading combine challenge and get a funded trading account or cancel the monthly subscription.
Trading combine reset fees
The charge for each reset is $99, in addition to the monthly fee. This function will reset your Trading Combine account to its original state. In case you don't follow the rules, you can always utilize it.
Monthly platform fees for trading combine and funded traders
The choice of platform you use is critical. During the trading combine, some platforms charge money while others don't. Others charge funded traders, too.

Exchange fees for funded traders
Funded traders have to pay exchange fees of $105 every month.
Withdrawal fees
Withdrawals can be done at any time, and the payout takes roughly 7 business days to arrive. If a payment of more than $500 is requested, the wire carrier will incur a fee of $50. If the payoff exceeds $500, there is no wiring fee.
Case scenarios
As a beginner, you start with the performance coaching while practicing with the 14 day trial account. After a month, you have mastered enough to trade the trading combine for one month.
You hit the profit target while abiding by the rules, get a funded account, using a free platform, and $50k account size in that month. Here is what you'll pay.
Performance coaching =$395
Monthly subscription= $165
monthly platform fee= 0
Exchange fees=0
Reset fees=0
Total costs = $395+$165=$560
Alternatively, you start with the trading combine, with an account size of $100k, trade for 2 months, become a funded trader, and make a profit in 1 month.
Performance coaching =$0
Membership = $325*2= $650
monthly platform fees = $0$650
Exchange fees=$105*2= $210
Reset fees=0
Total costs = $650+$210=$860
Topsteptrader review:pros and cons
Pros
Anyone can get started. One-on-one coaching and mentorship from skilled coaches can get you making money faster.
Tstrader has competitive payments and low commissions.
The trading platform Topstep Trader has a user-friendly dashboard and is free to use.
With their free simulated account, a trader can practice for 14 days.
No credit card is required for the trial account registration.
Provides a lot of free resources for learning- blog, podcast, and video library. These can help you improve your trading strategies.
As a trader, you can increase your earnings by recommending the platform to others.
Cons
Hard to know how much you have to pay to get a funded account.
One can only trade futures and forex.
Funded traders incur higher monthly fix costs for exchange data feeds.
CLICK HERE TO READ MORE ABOUT TOPSTEP TRADER
How can you get the best out of tstrader?
To get the best, you can use these tools to conduct your research, get trade ideas and keep a journal.
Benzinga Pro is a stock research and investment platform that includes a news feed, stock screener, and charting. It's one of the top resources for stock research.
Benzinga Pro has incorporated tradingview into its platform to empower traders with real-time information and charts. They also feature a chat room where traders may meet and discuss strange trading behaviors.
You may create trading strategies for your portfolios with Benzinga pro. Alerts can also be set up. Tstrader and benzinga pro together can assist you get a funded account faster.
CLICK HERE TO READ MORE ABOUT BENZINGA
Trade Ideas is a web-based software tool that delivers stock market profit chances and recommendations. It allows traders to quickly analyze the stock market for trends, reversals, and execution indications.
It monitors every trade during the day and alerts you in real time to potential setups based on your pre-defined filtering criteria. A tstrader can use it to sift through massive amounts of data, hence make informed decisions.
CLICK HERE TO READ MORE ABOUT TRADE IDEAS
Another tool you can use with Tstrader. This is an online trading journal. TraderSync has tools to help you understand your trading habits as well as improve your future deals.
As you seek a funded account, you can use it to track all deals as well as look at your previous trades to see what worked and what didn't work.
CLICK HERE TO READ MORE ABOUT TRADERSYNC
Is TopStepTrader right for you?
TopStepTrader is a safe and simple way to put your skills to the test before thinking of using real money. It's appropriate for both novice and seasoned investors. You can try your luck and see if you can get funded if you're short on funds.
The different instructional materials might assist you to take your daily trades to the next level. To save money, we recommend committing to just one monthly payment.
Overall, it is a really solid approach for day trading. You can get started with TopStep traders free 14-day trial.
Choose Asia Forex Mentor for Your Forex and Stocks Trading Success
If you have a keen interest in establishing a successful career in forex trading and aspire to achieve substantial financial gains, Asia Forex Mentor stands as the optimal choice for the best forex, stock, and crypto trading course. Ezekiel Chew, renowned as the visionary behind trading institutions and banks, is the driving force behind Asia Forex Mentor. On a personal note, Ezekiel consistently achieves seven-figure trades, a distinction that truly sets him apart from other educators in the field. Here are the compelling reasons that underpin our recommendation:

Comprehensive Curriculum: Asia Forex Mentor offers an all-encompassing educational program that covers stock, crypto, and forex trading. This well-structured curriculum equips aspiring traders with the knowledge and skills necessary to excel in these diverse markets.

Proven Track Record: The credibility of Asia Forex Mentor is firmly established through its impressive track record of producing consistently profitable traders across various market sectors. This achievement serves as a testament to the effectiveness of their training methodologies and mentorship.

Expert Mentors: At Asia Forex Mentor, students benefit from the guidance and insights of experienced mentors who have demonstrated remarkable success in stock, crypto, and forex trading. These mentors provide personalized support, enabling students to navigate the intricacies of each market with confidence.

Supportive Community: Joining Asia Forex Mentor brings access to a supportive community of like-minded traders pursuing success in the stock, crypto, and forex markets. This community fosters collaboration, idea-sharing, and peer learning, enhancing the overall learning experience.

Emphasis on Discipline and Psychology: Success in trading necessitates a strong mindset and disciplined approach. Asia Forex Mentor provides crucial psychological training to help traders manage emotions, handle stress, and make rational decisions during trading.

Constant Updates and Resources: The financial markets are dynamic, and Asia Forex Mentor ensures that students remain up-to-date with the latest trends, strategies, and market insights. Continuous access to valuable resources keeps traders ahead of the curve.

Success Stories: Asia Forex Mentor takes pride in a multitude of success stories where students have transformed their trading careers and achieved financial independence through their comprehensive forex, stock, and crypto trading education.

In summary, Asia Forex Mentor emerges as the premier choice for those seeking the best forex, stock, and crypto trading course to carve a rewarding career and achieve financial prosperity. Through its comprehensive curriculum, experienced mentors, practical approach, and supportive community, Asia Forex Mentor provides the necessary tools and guidance to mold aspiring traders into accomplished professionals across diverse financial markets.
Conclusion
So how do we conclude our topsteptrader review? Can we recommend it?
Absolutely yes.
I believe topsteptrader is the right place to try your trading strategy . With all the wealth of educational resources available on the platform, it can help you become a successful trader.
However, the monthly fees are too high for a beginner. We recommend that you commit yourself for a certain period to see if you can make it.
A good way is to start with the free trial account, then move up after honing your trading skills.
Overall, TopStepTrader is an excellent approach to begin day trading professionally.
CLICK HERE TO GET TOPSTEP TRADER AT A DISCOUNTED PRICE
F.A.Q.
What's The Best Way To Get Money For A Trader?
Topstep provides the best funded trader program at an affordable price with a free trial.
How Much Do Funded Traders Earn?
Funded traders can benefit indefinitely as long as they follow the rules set forth by their funded trading account provider. The earnings will be dictated by your trading strategies, and how well you trade.
Is It Possible For Me To Become A Funded Trader?
Yes . Anyone can become a funded trader. You have to go through the screening process. If you succeed, you'll get an account with a starting balance similar to your trading combine account size.
What Are Funded Trading Accounts And How Do They Work?
Getting funded trading accounts involves you proving that you are capable of trading. You have to undergo a two-step process to prove that. After that, you'll be sharing the profits with the company.
Does Tstrader Offer Funded Forex Trading Accounts?
Yes. Through Topstepfx, you can get forex trading funding. All you have to do is prove you can be profitable and manage risks.