The Trading Pit Review with Rankings 2023 By Dumb Little Man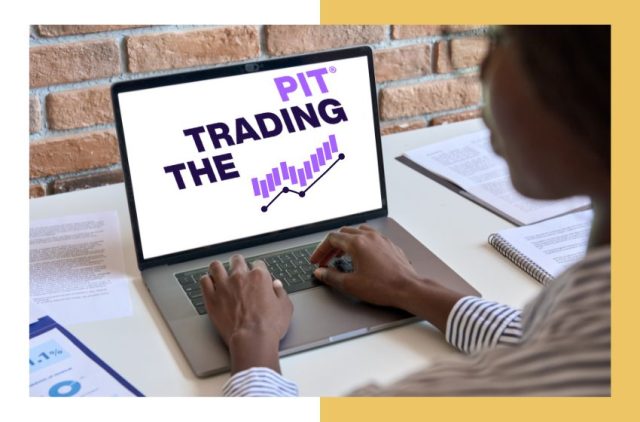 Evaluation Criteria
The esteemed group at Dumb Little Man, which includes retail traders, financial consultants, and experienced trading experts, is recognized for its detailed examinations of proprietary trading firms. We employ a distinctive algorithm and rigorous evaluation method to measure each prop firm on specific key points. Their primary assessment parameters are:
Quality of Customer Support
Promptness of Fund Withdrawals
Safety of Funds and User Data
Ethical Trading Procedures
Practical Trading Goals
Profit Sharing Practices
According to our evaluation, The Trading Pit holds a commendable position. The firm not only matches the primary standards but also showcases profound broker expertise, addressing the diverse requirements of traders. Consequently, The Trading Pit stands out as a significant player in the proprietary trading sector.
The Trading Pit Review
Prop firms, also referred to as proprietary trading companies, give traders the funds they need to trade on the financial markets like Forex. These companies often let traders to use leverage, which enables them to manage larger portfolios without having to make a sizable personal commitment.
The Trading Pit is one new brand in this area. Despite being relatively new on the scene, has already earned a name for itself with its distinctive trade infrastructure. Nine different trading platforms, including the widely respected MetaTrader 4 and MetaTrader 5, are compatible with it. Many traders favor it because of its clear pricing and user-friendly design, which also stand out.
The Trading Pit will be thoroughly reviewed for readers in this post. The evaluation seeks to highlight the company's advantages and disadvantages, user opinions, any bonuses offered, security precautions, and other critical factors that a trader could take into account before collaborating with a prop firm.
What is The Trading Pit?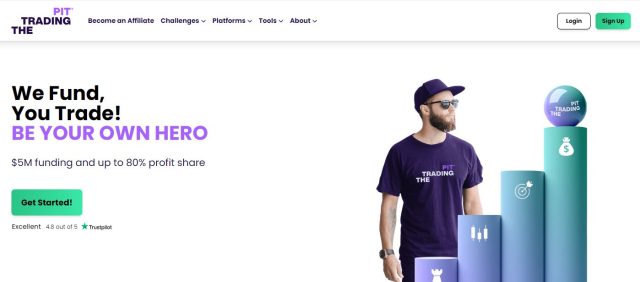 Prop trading firm The Trading Pit has offices in Cyprus, Spain, and Canada in addition to its Lichtenstein headquarters. They allow traders to manage enormous account amounts, starting at up to $100,000 and potentially reaching a mind-boggling $5,000,000. This is one of their unique offers. They also provide traders with a profit share that ranges from 50% to 80%.
The company takes pride in its adaptability, catering to traders with various educational backgrounds and levels of experience by providing a range of account alternatives. Their flexibility is further demonstrated by their connections with respected brokers like FXFlat and GBE Brokers, which they intend to expand further.
The Trading Pit Pros and Cons
Pros:
High profit split at 80%
Quick and varied payout methods
Simple one-step evaluation
Comprehensive training resources
Attractive affiliate program
Cons:
No free demo or plans
Newer to the market
Only offers CFDs and futures
Safety and Security of The Trading Pit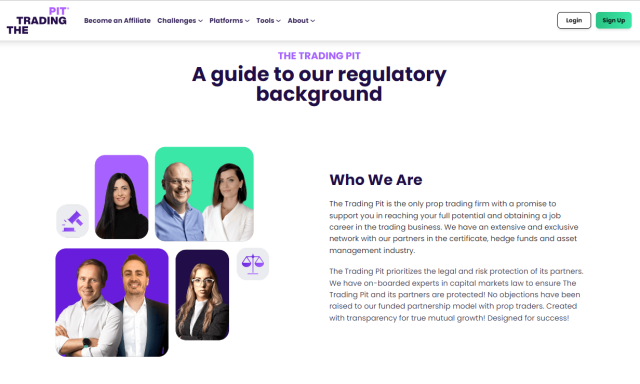 The Trading Pit is registered legally in Liechtenstein. They have all necessary documents required to operate as a prop trading firm. But, it is important to keep in mind that The Trading Pit is not governed by any global regulatory body. This indicates that traders are unable to seek assistance from international regulators in the event that issues arise. Therefore, if you're considering exchanging props with them, you must proceed with prudence and diligence.
The Trading Pit Bonuses and Contests
The Trading Pit doesn't currently offer bonuses to its traders or host competitions for them. Those who are interested in these promotions should monitor their official channels for any potential updates in the future. Always make sure you confirm any promotional offers from reputable sources directly to make sure you're receiving correct and recent information.
The Trading Pit Customer Reviews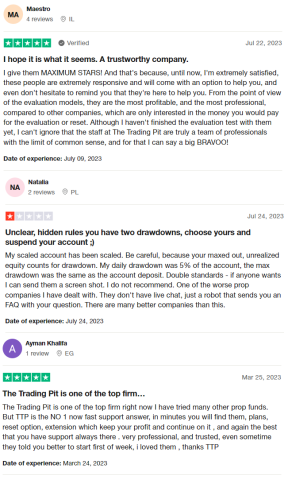 Customer opinions of The Trading Pit are conflicting. Some traders give the company high marks for its qualified staff, prompt responses, and profitability in comparison to other prop trading companies. They value the prompt assistance and rank The Trading Pit as one of the best prop companies on the market right now.
On the other hand, several traders have voiced concerns about their methods for managing their accounts, including as how they determine drawdowns. There have also been complaints concerning the use of automatic responses and the lack of a live chat facility.
As with any service, prospective customers should consider these evaluations carefully and conduct independent research before choosing.
The Trading Pit Commissions and Fees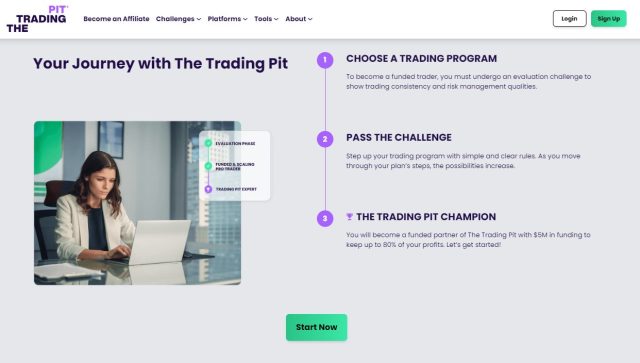 While The Trading Pit itself doesn't charge trading commissions, these are implemented by the broker in collaboration with the prop firm. Additionally, traders should be aware that the firm takes a cut from their profits. They also have market data fees in place, and these costs differ depending on the trading platform the trader picks.
Moreover, The Trading Pit offers a transparent approach to its fee structure. Those wishing to undergo evaluation for funding are required to pay a fee, the amount of which depends on the selected Challenge tier and the specific asset they intend to trade.
If a trader believes they might break any set rules, there's an option to reset their account for an extra charge. The exact fee for this reset hinges on the account type and the chosen asset, allowing traders another chance within their remaining Challenge days.
The Trading Pit Account Types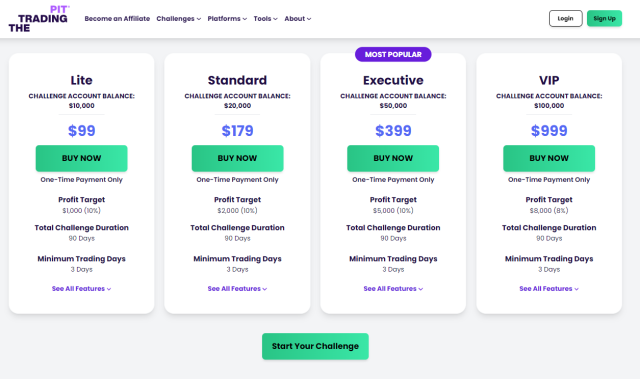 The Trading Pit offers traders a choice of four different account options: Lite, Standard, Executive, and VIP. Depending on the choice, traders are given different balances and challenges to meet within a period ranging from 30 to 60 days.
Lite Account
Balance: $10,000 for CFDs and $20,000 for Futures.
Profit Target: 10%
Profit Share: Between 50% and 70%
Standard Account
Balance: $20,000 for CFDs and a substantial $150,000 for Futures.
Profit Target: 12.5%
Profit Share: Ranges from 50% to 70%
Executive Account
Balance: This popular choice gives traders $50,000 for CFDs and the same $150,000 for Futures as the Standard account.
Challenge: A two-phase challenge where traders have a profit target of 2% for each phase.
Profit Share: Successful traders enjoy a split of 60% to 80% of their profits.
VIP Account
Balance: A hefty balance of $100,000 for CFDs and an even larger $250,000 for Futures.
Challenge: This account also offers a two-phase challenge, maintaining the same structure as the Executive account.
Profit Target: A consistent 2% across both phases.
Profit Share: Ranges between 60% and 80%.
Opening a The Trading Pit Account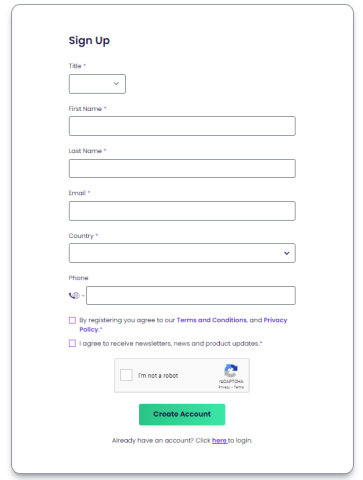 For those interested in diving into The Trading Pit's financing program, the process is straightforward. Here's a 7-step guide to get you started:
Website Navigation: Head to The Trading Pit's official website and click on the "Sign Up" button situated at the top right. For those who aren't native English speakers, you can find a language selection option right above this button.
Account Details: Fill out the registration form with your title, full name, country, email, and phone number. Ensure all details are precise for smoother verification.
Terms Agreement: Familiarize yourself with the terms of service through the provided links and give your consent by ticking the checkbox.
Account Creation: After agreeing to the terms, proceed by clicking on the "Create Account" option.
Email Confirmation: Monitor your email inbox for a confirmation message from The Trading Pit. If it doesn't arrive promptly, consider contacting their tech support.
Log In: Use the credentials sent in the confirmation email to log into your new account.
Initiate a Challenge: Within your account interface, navigate to "My client area." Here, you can select a challenge, pay the necessary fee, and kick off your trading adventure. If you wish, you have the flexibility to participate in multiple challenges.
The Trading Pit Customer Support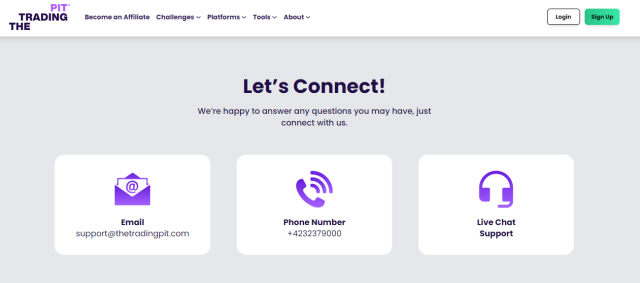 One of the primary methods to reach The Trading Pit's customer support is their multi-channel call center, offering direct conversations with their team. For those who prefer written communication, sending an email is a convenient option.
For instant assistance, the live chat feature on their website and app provides a timely response. Beyond these direct methods, The Trading Pit has a robust presence across multiple social media platforms, including Facebook, Instagram, Twitter, YouTube, Reddit, and TikTok.
By following their profiles, available at the bottom of their website, users can stay updated with the company's latest announcements and offerings. These social media channels not only serve as informative hubs but also regularly deliver valuable analytics and educational content to their followers.
Advantages and Disadvantages of The Trading Pit Customer Support
Advantages
Disadvantages
Round-the-clock online chat

Chat support accessible to both registered traders and potential clients

Multilingual chat support covering five languages

Mostly relies on automated responses

The Trading Pit Withdrawal Options
After successfully completing the challenge, traders can retrieve their enrollment fee and claim up to 80% of their generated profit. The money becomes instantly ready for withdrawal. The precise payout a trader gets depends on their qualification tier, with potential earnings ranging from 60-80% post-successful trades. The Trading Pit places no restrictions or conditions on fund withdrawals. They offer a range of withdrawal methods, encompassing bank transfers and various online transactions. Notably, there's no mandatory minimum withdrawal amount, and the entire process is devoid of extra fees.
The Trading Pit Challenge Difficulties
5% Daily Loss Limit
The Trading Pit enforces a 5% daily loss restriction, urging traders to proceed with caution. This constraint can pose challenges, especially in fluctuating markets where price swings can be swift and substantial.
3-Day Active Trading Mandate
The challenge demands traders to engage in trades for a minimum of three days. This requirement might be a setback for those accustomed to flexible trading timelines or those who strategize around particular market triggers.
No Copy Trading
The platform prohibits copy trading, a strategy where one mimics the actions of veteran traders. For those who depend on this method, independently navigating the market might be daunting.
How to Pass The Trading Pit's Evaluation Process
Successfully navigating The Trading Pit's evaluation process requires more than just trading know-how. It's imperative for traders to acquire specialized training tailored to the unique challenges posed by this proprietary trading firm's evaluations.
By enrolling in a comprehensive training program, aspirants can significantly enhance their chances of passing the evaluation with flying colors.
Asia Forex Mentor – Rated Best Comprehensive Course Offering by Investopedia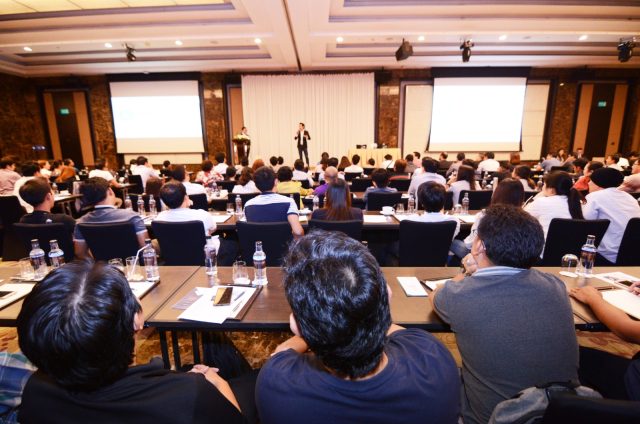 For those committed to conquering The Trading Pit's evaluation, turning to Asia Forex Mentor is a savvy choice. Having steered thousands of traders to triumph in their respective prop firm evaluations, this platform stands out as a beacon of expertise.
The driving force behind Asia Forex Mentor is Ezekiel Chew, a forex trading luminary who's renowned for raking in six figures per trade. With a formidable trading career spanning over 20 years, Ezekiel also spearheads the Golden Eye Group and the proprietary One Core Program.
This program is meticulously crafted to equip forex traders with the strategies and insights needed to generate consistent profits. Ezekiel's journey into mentorship commenced from humble beginnings – teaching close friends.
Recognizing the vast demand for his expertise, he transitioned these lessons online, and Asia Forex Mentor blossomed into the go-to hub for aspirational forex traders worldwide.
How Could Asia Forex Mentor Help You Pass The Trading Pit's Challenge?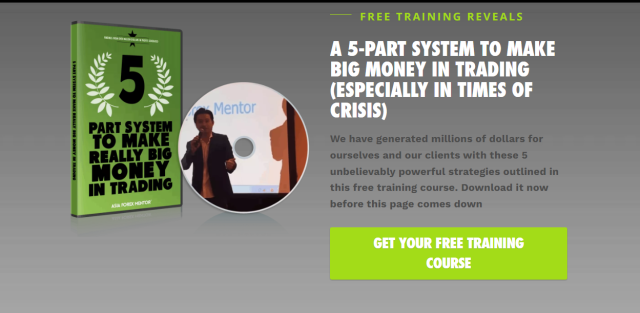 If you're aiming to pass The Trading Pit's evaluation process, selecting the right mentorship platform is pivotal. Asia Forex Mentor (AFM) stands out not just for its in-depth content but also for its esteemed recognition in the financial industry. Here's why it can be a game-changer for you:
Award-Winning Comprehensive Course: Asia Forex Mentor's One Core Program is not just another course; it has been recognized by Investopedia, a top-tier financial content platform. It was honored as the "most comprehensive course," with Investopedia lauding the One Core Program for its breadth and depth, even going so far as to call it the "best comprehensive forex course offering."
Top Recommendation for Beginners: Benzinga, a trusted name in the financial, business, and stock information sector, singled out the Asia Forex Mentor One Core Program as the best forex trading course for beginners. Their endorsement extends to cover both novice and seasoned forex traders, attesting to the program's versatility.
Best Mentorship in Forex: The accolades don't stop there. BestOnlineForexBroker, in 2021, recognized Asia Forex Mentor as the best forex mentor, emphasizing the potential gains traders could achieve through the program's guidance.
Leading Trading Strategies: When top forex traders and platforms evaluated the best forex trading courses, Asia Forex Mentor emerged as the front-runner. The reason? Its proven trading strategies and robust trading system that are unparalleled in the industry.
Asia Forex Mentor Members' Testimonials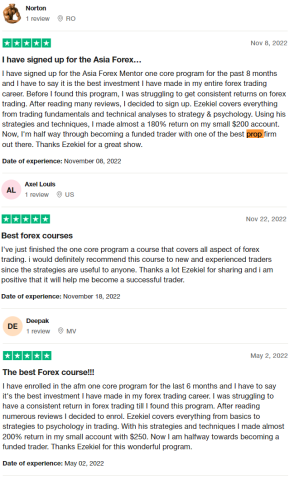 Members of the Asia Forex Mentor's One Core Program consistently praise the comprehensive approach that Ezekiel brings to the table. Many, who were previously struggling with their forex trading ventures, have experienced significant transformations in their trading outcomes after enrolling.
The program is highlighted not only for its in-depth coverage of trading basics, strategies, and psychology but also for its tangible results. Some members have reported returns as high as 180% to 200% on their initial accounts.
Thanks to the strategies and insights from the One Core Program, several traders are now on their way to becoming funded traders with prominent prop firms. You may also read our Asia Forex Mentor Review if you want to know more about them.
Conclusion: The Trading Pit Review
The Trading Pit is a trading platform that offers various opportunities for traders to prove their skills and get funded. Based on the gathered reviews and insights, it appears to be a legitimate platform that has benefited many of its users.
Like any other platform, it has its strengths and areas for improvement, but it stands out as a viable option for those looking to grow in the trading field.
The Trading Pit Review FAQs
Is The Trading Pit legit?
Based on numerous reviews and feedback, The Trading Pit is a legitimate trading platform that has provided opportunities for many traders.
Are there fees involved?
Yes, there are fees associated with the challenges. However, these fees vary based on the level of the challenge and other factors.
How do traders receive their profits?
Successful traders can withdraw their earnings, with the percentage varying based on their level of qualification and agreement with The Trading Pit.