SurferSEO Reviews: Easy Way to Optimize Content and Rank in Google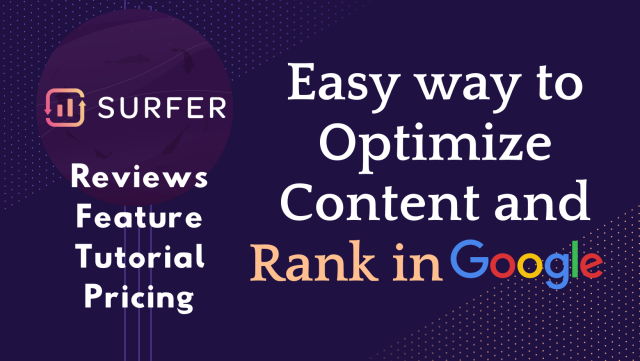 Digital marketing has evolved from the days where the only form of digital marketing was primarily Email marketing. The internet has grown, and so has the nature of digital marketing. Through the growth of search engines, digital marketing has shifted focus to creating websites and the use of blog posts.
However, it is not developing about websites and leaving them be. You have to ensure that your website and your blog post have relevance. Your website must be competitive. Why? You ask. Well, there are about 1.88 billion websites globally. So, how will your website gain prominence among these websites?
What you need to do is increase traffic to your website. How do you do that? You have talked to some 'experts,' and they have given you some tips. 'Experts' have told you that you should optimize your website for search engines. They have told you that you can do this in several ways. You have done some reading and have found that you need to increase your page speed.
Also, you have been told to conduct keyword research and keyword analysis to get your main keyword, related keywords, or, if needed, multiple keywords. In addition, you have that you should note your keyword usage to maintain proper keyword density and avoid keyword stuffing.
In addition, some 'experts' have told you to write engaging long-type content for your website as they rank higher on search engines. Oh! These 'experts' have told you that these are the secrets of SEO. However, as you have come to find out, you see that something is missing. You aren't making the progress you thought you would make.
They aren't wrong, but they have missed out on a crucial SEO tool. This tool is one of the best SEO tools. They have failed to mention the SURFER SEO tool. Sure, you can manually increase traffic to your website by conducting page optimization by yourself. However, you will spend an abnormal amount on each blog post. A few hours at least.
We do not exaggerate when we tell you that it will stress you. There is one other way you can rank higher SERP results. The Surfer SEO. This SEO tool will help you rank higher on the SERP in a completely automated process. What you need to do is to wait and get premium results.
We will tell you all about the Surfer SEO and share our reviews with you. We are sure by the end of this post. You will make the switch to Surfer SEO. You will see why the Surfer SEO is the one of best SEO tools to use to optimize your content and rank in google.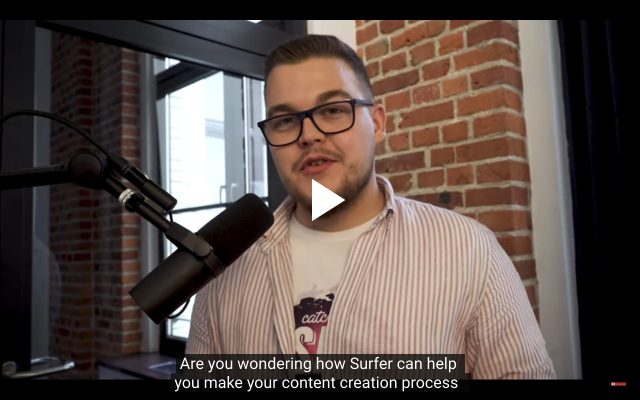 What is Surfer SEO?
Surfer SEO is a user-friendly data-driven cloud-based SEO on-page optimization tool that began operations in 2008, and Slawek Czajkowsi created it and now leads an intelligent Surfer SEO team. Slawek's objective was to create a company that would use data in all the stages of SEO. His objective led him and his team of brilliant developers to build a tool that would help you optimize your content. With continued improvement, the tool continued to grow and become the Surfer SEO that we know today.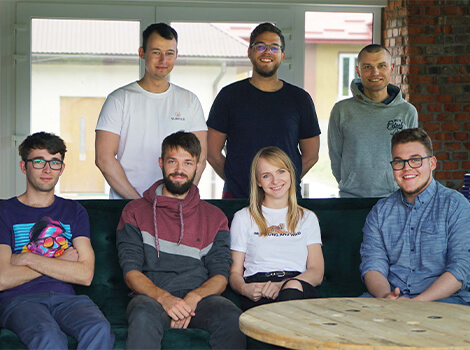 The Surfer SEO is like your pet data scientist. It helps you make your page google-friendly. Also, it enables you to optimize the content on your page. Since the Surfer SEO uses data in its operations, it removes the intuition-based decision-making that some SEO marketers use. Its data-driven nature allows it to be more precise. So, you can be assured of the technical aspect of having better rankings over your competitors and focus on creating content that will dethrone your competitors.
The Surfer SEO is data-driven and it works by analyzing your top-ranking competitors using over 500 ranking factors to determine what makes them rank so high. It then compares what it finds with what is prevalent on your website. Then it provides a guide for you on how to optimize the content on your website page. It uses data to help you bridge the gap between your idealism and what applies globally on Google.
Surfer SEO is precise in its analysis, and when it provides an optimization guide for your content, it uses certain factors.
Some Factors Surfer SEO Uses:
The ranking factors Surfer SEO uses on these top-ranking websites numbers about 500 and they are data-driven. However, we would mention some vital parts of the 500 ranking factors. They are;
Length of text

The number of headings in a post

The number of images used

Your website page speed

The keyword density

The partial keyword density

The referring URLs on your website or backlinks

Referring Domains

The structure of meta tags

Your Content Structure
From a glance and with your knowledge of SEO, you can see how important these ranking factors are. You can remember the days you have spent slaving away trying to optimize your page using a fraction of these factors. Now, the data-driven Surfer tool does all of the hard work for you and your team.
Click Here to Know More About SURFER SEO
Who uses Surfer SEO?
You wonder who the people that use Surfer are. It is okay for you to wonder. To put your thoughts at rest, many SEO veterans use the Surfer SEO. The reason for its wide acceptance among people is as a result of its versatility. Surfer SEO is a tool that can work for you irrespective of your industry or occupation. It is one of the best SEO tools and it is known for its ability to get your website more traffic.
You should know that more traffic means more leads for you to convert. When you convert leads, you make a profit. We don't think there is an industry that isn't about profits. Even NGOs that do charitable acts need attention that would allow people to donate to their cause. Surfer SEO can get them that attention.
Content is crucial, and a user who knows the value of content created through the use of data would prefer to use Surfer. On the Surfer SEO website, you would see several testimonials on how great the SEO tool is. Also, you can see more product reviews from people that have used Surfer SEO. From the product review website reviews, you would see how Surfer SEO cuts across all industries. You will see reviews from financial experts, CEOs, content specialists, etc. Some of the prominent users of the tool are Matt Diggity, Mathew Woodward, Brian Dean and Gael Breton.
How Do you Use Surfer SEO?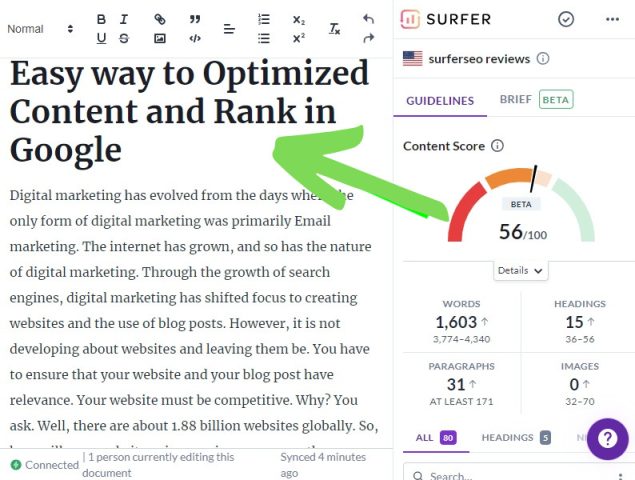 The first thing you should know is that the Surfer SEO is user-friendly. Surfer SEO, as we have mentioned earlier, is an on-page optimization tool. It helps you attain the best rank on the Google SERP.
This means to use Surfer SEO, you must have content. Your content is what would help you attain the best rank on the Google SERP. There is no specific trick to content, but people searching on Google must find your content relatable. So, in that sense, your content must be a better fit for the query than that of your competitor.
The tool that will help you use Surfer SEO to curate content that would make your page rank excellent on google is the Surfer SEO Content Editor.
How You Can Use Surfer SEO through the Surfer Content Editor?
You should know that writing the content following the SurferSEO guideline is how you would optimize your content to get the best SERP results. One thing that will strike you about the Surfer editor is the ease of use. It has a crisp display with each icon marked out easily. Navigation isn't tricky. Learning how to use the editor will only take minutes. The layout is precise, and it comes with a tutorial icon that sits below the Surfer SEO webpage.
With the editor, you don't have to worry about finding the perfect keyword. The editor does this for you. Based on the topic you want to write on, the Content Editor helps you aggregate a list of words and phrases you need to include in your work to rank nicely on Google.
Using the editor to write is also easy. In addition, the Surfer editor works seamlessly with Google Docs and WordPress. Thus, you can work on your content anywhere you want. You just need the internet and your device, which could also be a smartphone, tablet, or PC. The editor is perfectly optimized for mobile use.
Click Here to Know More About SURFER SEO
Ways You Can Write Your Content
Depending on your resources, you can choose to do the following;
Give your content out to someone to write for you
Optimize content you have received from a content writer.
If you don't have the resources to do the above, you can write your content yourself. Notwithstanding how you have chosen to write your content, you can decide to write the content directly into the editor. Alternatively, you may choose to create the draft of the content somewhere else then you edit before copying and pasting the draft into the editor.
However, before you write, you have to do one crucial thing. See the thing below.
Pick the Best keyword(s) to be Used with New Content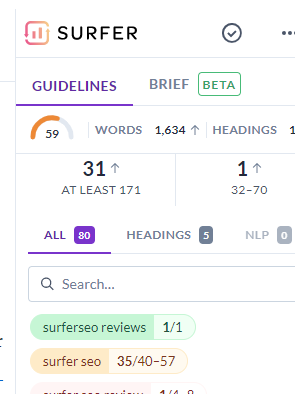 It is essential to stay in your hand before creating the first draft of your content and putting it in the editor. Before the time, you should pick a phrase you want to focus on in your content. Unlike before, where you would have to do keyword research, there is a Keyword Research Tool in the Surfer SEO, which you can use.
We would be discussing the Keyword Research tool later in this article. For now, just know that this tool would give you vital information about your keyword and other related keywords.
When you get the keyword you want, you can now write your content in the Surfer editor. Writing in Surfer's editor is easier
Writing in the Content Editor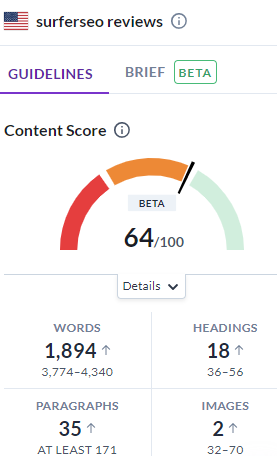 Writing in or transferring your content into the Editor isn't tricky. It is as straightforward as it gets. You would be able to instantly see your work's quality instantly in the editor with the content score icon, which is clearly displayed in the right side of the Content Editor. So, with the score, you would know if you have done an excellent job with your content or not.
When you are using the SurferSEO content editor, here are some features you would come across.
Competitor List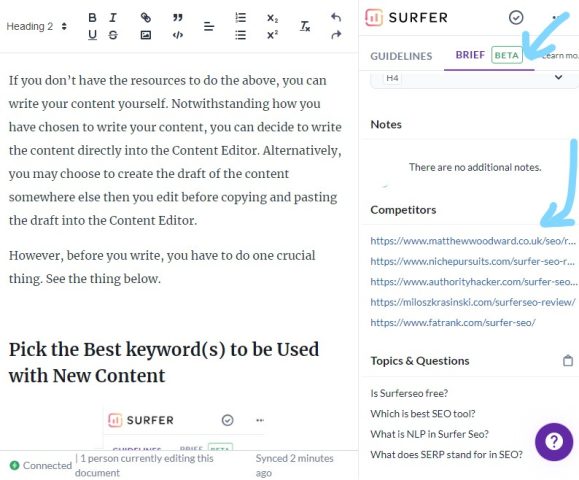 The surfer SEO team are a thorough bunch. On the right side of the SurferSEO Content Editor, you will see an icon titled 'Brief Beta.' When you click on that icon, you will see a list of your competitors. These websites have a high ranking on google and have written something similar to your content. Surfer provides a link to their website, which you can use to read and deliver better content that would match Google queries.
Suppose you notice that the websites that Surfer brought to your attention is missing a competitor. In that case, you can manually add them so that the content analyzer feature can analyze the website.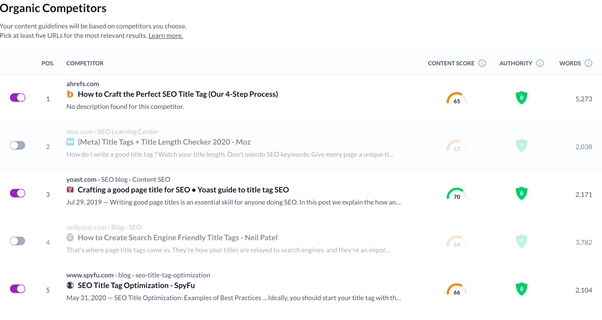 Content Structure
Surfer will prescribe for you a word count for your post and the range of words you can write within. The word count will guide you and not make you overwrite. You also have the liberty to adjust the word count of your post, but Surfer has got you covered already. Don't forget. Surfer has used the data at its disposal to determine the number of words you should use. The length Surfer has given you will more likely help you rank greater on Google.
The content structure is still on the right-hand side of the Content Editor below the content score.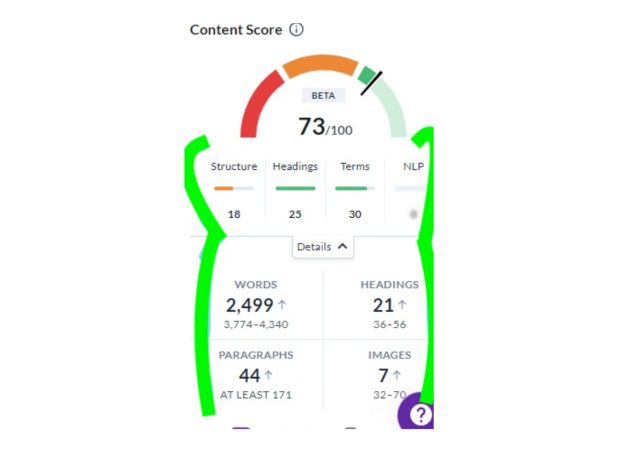 Surfer has options for you to make adjustments to the content structure.

Key Terms
In the Content Editor, SurferSEO provides you with a list of key terms and phrases you can use to write your content. The first itineration of Surfer used programming called the True Density. The programming worked by calculating the length of content and the proper density.
However, the programming of the Surfer team improved Surfer to incorporate Google's Artificial Intelligence and Machine Learning Process. So now, using data, Surfer calculates the relevance of your terms and phrases. Then chooses relevant ones according to their presence in your competitor's content.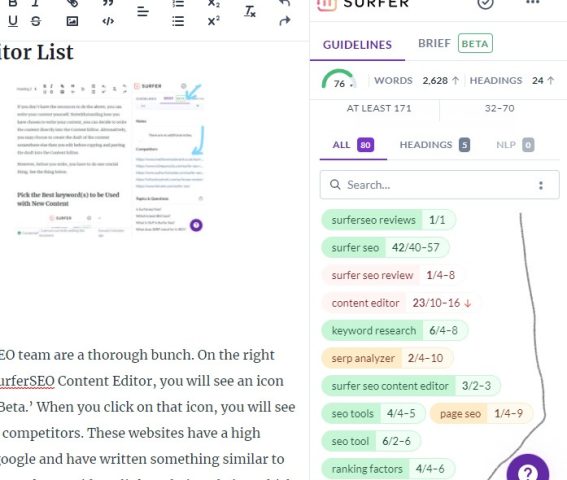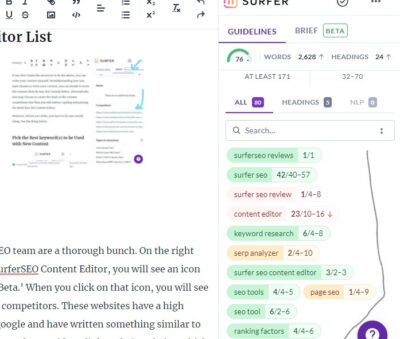 What are the primary tools you can use with SURFER SEO?
Surfer SEO works with awesome automated SEO tools that would allow you to be able to exploit its features. These tools will enable you to know the quality of the content you are writing and its relevance. The tools allow you to test the quality of your content with the ones your competitors have written. What would have ordinarily cost you and your team of expert analysts hours to determine would be determined in some minutes.
So, with the use of these tools, you can analyze your competitor's content and prepare content that would have more quality than theirs. These tools are ultimately four in number, and they are as follows;
Content Analyzer
Serp Analyzer
Keyword Research
Content Planner
Click Here to Know More About SURFER SEO
How to use SurferSEO?
The Surfer SEO tool is user-friendly, as we have mentioned above. The Surfer SEO is a real-time cloud-based on-page SEO tool that would help you get the best results on Google search results. As we have also mentioned earlier, content is critical, and without content, you can't use the Surfer SEO.
We will emphasize that there your content must be unique and engaging. There is no specific way to content actually, but you must structure it well. Not to worry, the Surfer SEO Content Editor will help with the structuring as you can type in it. Also, your content must answer the search query better than your competitors.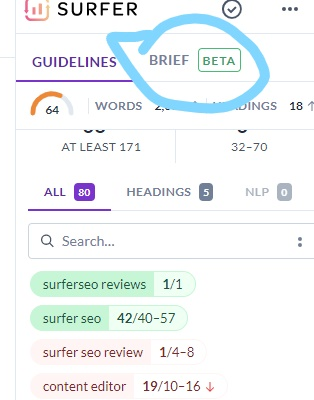 Interestingly, the SurferSEO has a place on its page to inform you of how your competitor has answered the query. This is shown on SurferSEO in a spot on the sidebar captioned "Brief Beta." When you click on the "Brief Beta" icon, you will see the content structure of your competitors in various H tags. Also, you will links to similar existing content written by your competitors who are highly ranked.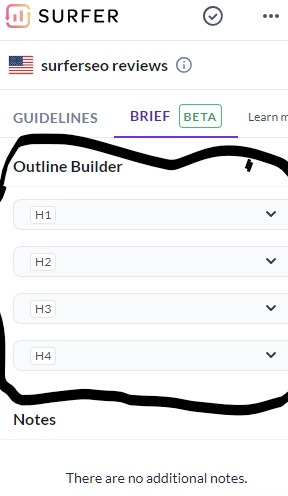 We have dealt with how to use the Content Editor extensively above. Below, we will further discuss some other tools of SurferSEO.
Content Analyzer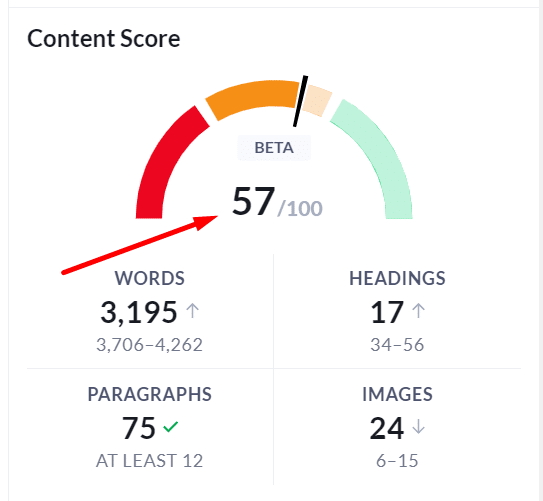 As we have mentioned earlier in this post, Surfer SEO's analyzer has moved beyond the use of their initial True Density programming. The Surfer team has improved the Surfer programming to incorporate Google AI and MLP.
Thus, by integrating Google AI and MLP into the Surfer Algorithm, you have an AI that creeps through the pages of your competitors to find out what makes their posts rank so well. The data Surfer obtains is used by Surfer to create a guideline that would make your page perform superiorly to your competitor. Your content would fit Google's factor for ranking and improve your standing on the Google search results.
So, when you write your content on the Surfer's Content Editor, you get instantaneous feedback through the Content Score. By now, you should be somewhat familiar with the concept of the Content Score.
The Content Score is the real-time meter that sits at the sidebar on the right hand of the Content Editor. The score helps you know the quality of your writing in comparison with that of your competitors. The ratings go from 0 to 100.
Recall that we have written extensively on the concept of content structure as part of the features of the content editor on Surface. The content structure comprises the titles, paragraphs, the number of keywords used (partial or main), the headings, images, the length of content, hidden content, etc.
So, Surfer would rank your content based on the structure and not necessarily your grammar. You are expected to have some mastery over grammar as a content writer, after all.
So, when it comes to Surfer SEO vs other SEO tools, Surfer has the advantage as it not only uses more than 500 ranking criteria, it compares your post to that of top ranking pages
SERP Analyzer
SurferSEO users widely celebrate the content analyzer feature tool, and you would see this in many SurferSEO reviews. However, one of the features Surfer has that differentiate it from other tools is the SERP analyzer.
Surfer's analyzer gives you an advantage when it comes to your SERP performance. This is because Surfer allows you to see how your selected ranking criteria would perform in easily understandable charts. Surfer would pit your keyword against different ranking criteria through the SERP analyzer that can affect your standings on Google search results.
For example, when you search using the words 'croquet sets reviews,' Surfer would give you results on the top pages' rankings and the alternative queries they cover.
In addition, it would also bring the average number of words that these websites have used in their content. Also, through the data Surfer provides, you can see the common backlinks, page speed, keyword density, etc.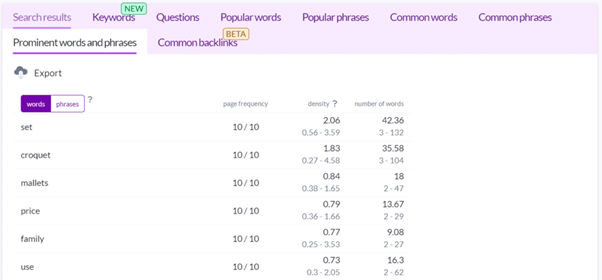 Keyword Research
You don't have to strain yourself trying to create a buzzing keyword when you have a tool that will do keyword analysis for you. Surfer SEO's keyword research has got you covered.
In the Keyword Research tool, you will get data on your primary keyword and different phrases and their levels of SERP similarity. In addition, you will get the percent of keywords and related keywords in the SERP. Plus, you will get the data for the average monthly search.
So, all you need to do is pick your main keyword and add it to the SERP analyzer or the Content Editor. You would receive a series of alternative keywords you can use. The Keyword research tool is thorough, but it would be ineffective without the SERP analyzer, the Content Analyzer, and the Content Editor.

Content Planner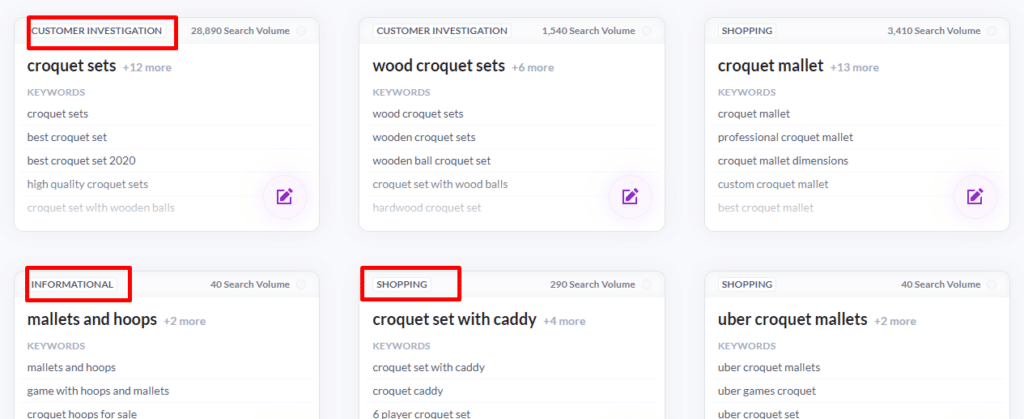 Content Planner is a relatively new tool that Surfer created. The Content Planner allows you to see keyword groupings and helps you classify your content type.
The newest of the Surfer SEO tools is the Content Planner. You'll see a grouping of keywords. What's unique about this tool is the classification of the type of content. The content planner allows you to see content on the basis of search intent. The search intent is classified into the following;
Informational
Shopping
Customer Investigation.
More SurferSEO Features
CHROME EXTENSION
The chrome extension is not a usual part of the surfer tools. However, it allows you to use Surfer right from Google. All you need to do is insert your keyword into the Google search bar. The best part is that the extension is totally free.

So, without clicking a new tab, you can see the keyword traffic from the search result you get. For a more profound result on similar keywords, check the right side of your Chrome app.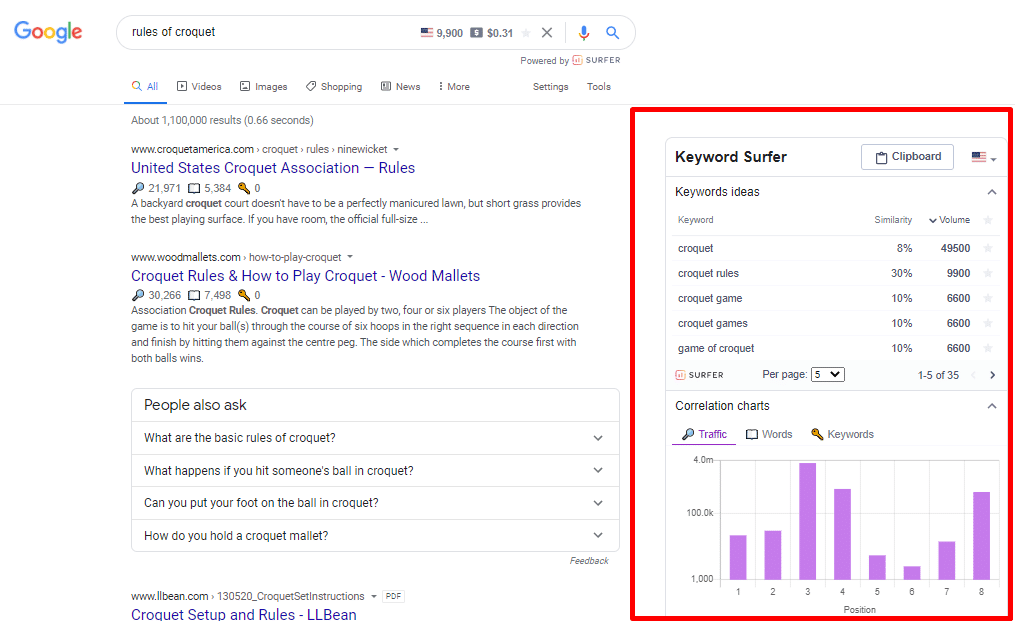 Makes Collaboration Easier
What will strike you about Surfer is the ability to work with other writers. You can share your content link with other persons to write for you or review what you have written. You will get your results on time. All that you need to make and structure your writing is all on the editor.
You can see the number of people working on the article at the lower part of the screen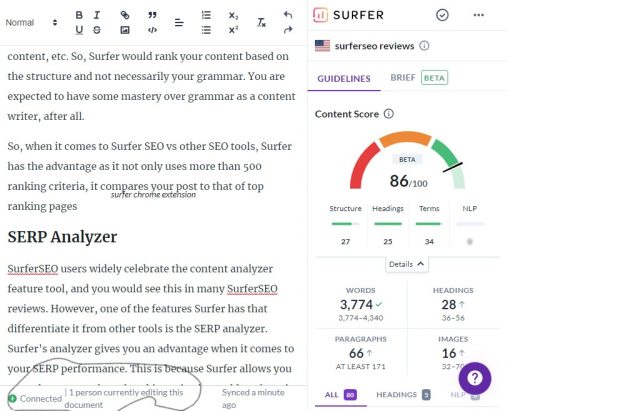 You Can Personalize your SERP Analyzer Based on the Location
Location is an important factor when analyzing search results. This is because the keywords that can help with website visibility for one website in a location might be different in another location. Language also matters when determining the relevance of keywords. So, if you use a language with great acceptance, you would be visible globally.
The good thing is that Surfer has an extensive database that works with multiple languages. So, language isn't a barrier.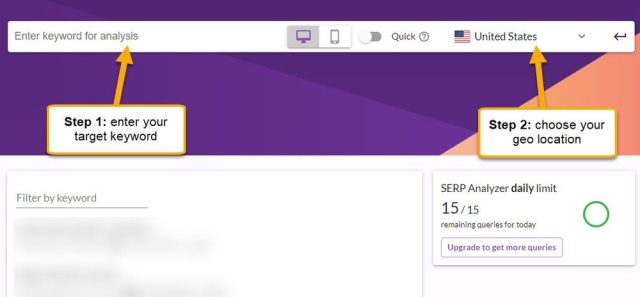 SEO AUDIT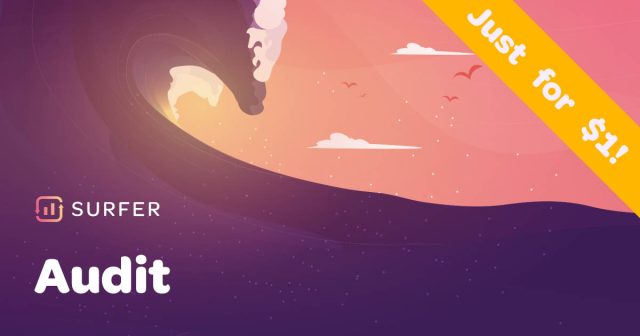 SurferSEO has a website auditor, and it is comprehensive. The auditor gives you a robust guide with articulated steps on getting great SERP rankings using your competitors' information. The auditor looks to resolve the following issues.
How your page is compared to your rivals
Your page speed
Key terms that would give you great SERP
Surfer SEO Reviews by User
Matt Diggity when he wrote about SurferSEO had this to say;
'Surfer is a quick yet extremely accurate way to get data-driven advice for your site. I've seen ranking gains in many different niches by applying its suggestions. Bonus: It takes the data and presents it in such a way that even beginner SEOs would understand so… you can outsource the actions as well.'
Gael Breton also in his review wrote;
'Surfer is the perfect balance between ease of use and depth of data. They understand SEO and make optimizing for your queries accessible to the masses.'
Mathew Woodward in his glowing review praised Surfer as follows;
'Surfer's analysis told me to delete 22,000 words of content which was…weird. So I deleted 85% of my content including 901 blog comments. 2 days after doing precisely what Surfer told me to do, I moved straight into the number 1 position.'
Rohit K, a client service manager of a small business in his review wrote
'A great tool but more importantly some great support to get you going as well!'
Further commenting on what he liked best, he wrote;
'The tool is really easy to use, admittedly you need to spend some time understanding what the data is telling you however the training support available is excellent and really helped. The information you get from Surfer really helps you target the keywords you should be useing in a really user-friendly manner. Watching the score improve as you write is a fantastic visual aid that makes it easy to understand progress.'
Justin C, a social media and marketing assistant in a small company, praised Surfer greatly as he said, 'Surfer is Exactly What You Need To Help Your SEO Grow.'
He then went further to describe what he loves most about his Surfer Experience
'There are so many tools that Surfer gives you to increase your SEO game. There are more than enough credits to go around and you probably won't use all of them each month! For my company, we use the keyword research and SERP analyzer daily to track how keywords are doing and to optimize our pages accordingly. You really don't know how much you are missing out on if you haven't gotten Surfer yet.'
Surfer SEO Reviews Conclusion
SurferSEO is a five star tool. It is also relatively cheap with a plan that for different types of business. It has three types of plans.
The 3 SURFER Plans
Note that these plans are monthly and annual plans. The plans are;
The Basic Plan
The basic plan is for businesses who want to take advantage of the Surfer tool on a budget. It is $59 per month and $49.2 each month for an annual plan. and it features the following;
Content Editor – 25 queries/month
Audit – 50 queries/month
SERP Analyzer – 15 queries/day
The Pro Plan
There is also the PRO plan, which is the most used plan. It is slightly more expensive, and it is for larger businesses. It costs $99 per month and $82.5 each for month annually. It offers;
Content Editor -100 queries / month
Audit -200 queries / month
SERP Analyzer – 50 queries / day
NLP Analysis -50 queries / month
The Business Plan
The business plan is the most extensive plan and this is what the big companies use. It is $99 per month and $165.8 annually. It offers the features as follows;
Content Editor – 300 queries/month
Audit -600 queries/month
SERP Analyzer -100 queries/day
NLP Analysis -150 queries/month
Report White Labeling
Audit and Content Editor
Click here to the get SurferSEO 30 days free trial version
Like this Article? Subscribe to Our Feed!
John is an avid researcher and is deeply passionate about health and finance. When he's not working, he writes research and review articles by doing a thorough analysis on the products based on personal experience, user reviews and feedbacks from forums, quora, reddit, trustpilot amongst others.