9 Most Effective Stock Chat Rooms: Detailed View [2023]!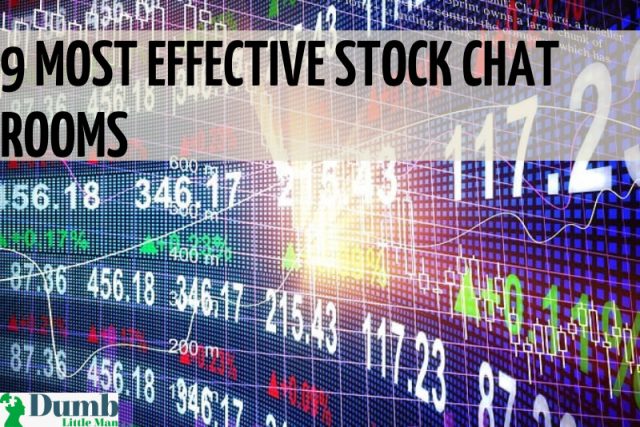 Stock trading is among the best ways of increasing your wealth as an investor because it can furnish you with good returns in a short period.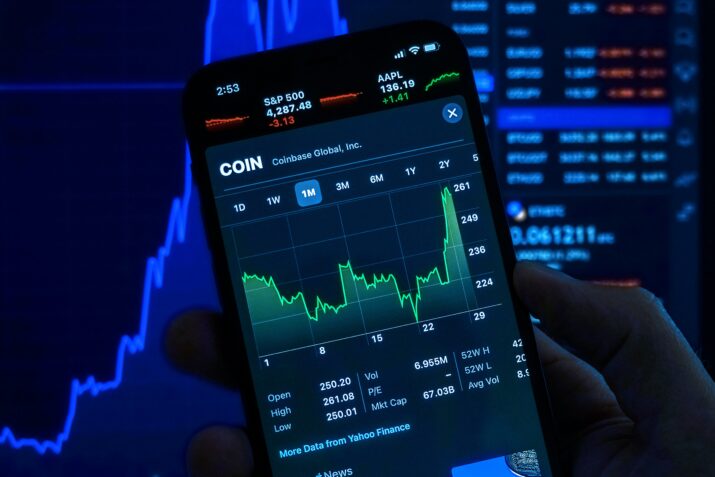 Image from Unsplash
If you're thinking of investing in the stock market without much experience, what can you do to make sure you don't lose your money?
You will need to access information to help you make informed decisions. Stock chat rooms have come to ease your stock trading experience by providing valuable stock tips, picks, and alerts from the community of experienced investors.
In this review, we will look at the top 9 stock chat rooms savvy day traders should watch out for in 2021.
| RECOMMENDED TRADING COURSE | REVIEW | VISIT |
| --- | --- | --- |
| | #1 Forex, Crypto and Stocks trading course. Ranked most comprehensive by Investopedia and Best by Benzinga. Free to Try! | |
Stock Chat Rooms
A stock chatroom is an online community of stock traders at all skill levels discussing strategies and the best stock options in the market.
A stock chat room is a place where people can also trade ideas and learn from those who have been in the game for a longer time than the rest.
You will get to avoid most many rookie blunders as you learn and discuss with experienced investors along the way.
Best Stock Chat Rooms Review
It is obvious that most stock chat rooms will cost you subscription fees which is fine as they will give you insights into excellent strategies for moving your stocks.
Let us look at the nine most effective stock chatrooms today.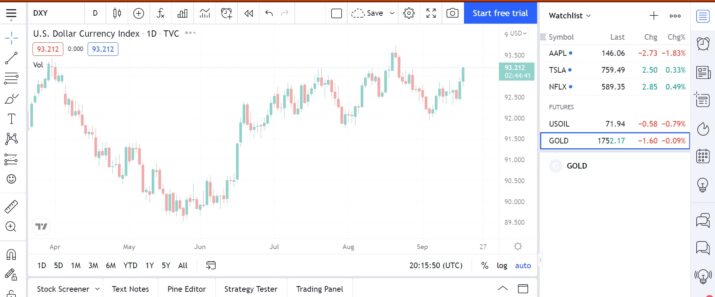 This is among the most useful free stock chatrooms with lots of free features and a huge client base. You can actually use the free features without having to register.
With TradingView you can only open one chart room at a time however you can have eight more if you subscribe to the premium version.
This swing trading room has more than 50 drawing tools which include geometric shapes, annotations, trends, and patterns.
These are the tools you use to make technical analyses as they let you understand and note the technical aspects of the market.
The server-side alerts of this trading chat room help you to know the price levels of your particular trades. These alerts are usually delivered through a push to your phone, or through SMS and email.
The paper trading chat room feature helps investors to evaluate new trading strategies without having any direct risks to their trades.
Currently TradingView Pro will cost you $14.95 or $29.95 per month. However professional traders can view even more markets at a premium monthly price of $59.95.
CLICK HERE TO READ MORE ABOUT TRADINGVIEW
2. Black Box Stocks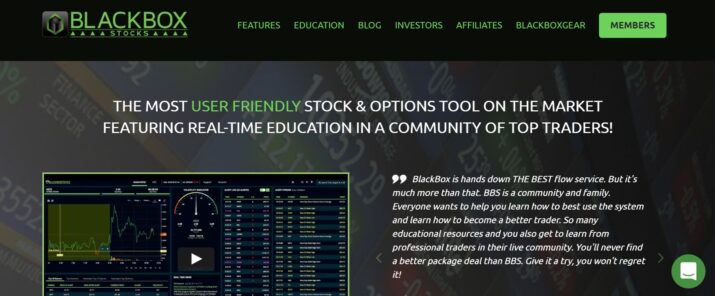 This is a society of traders offering day trading chat rooms concurrently with a discord chat room. Other than that, it also has two private Twitter groups that provide free education on how to trade options.
When you open a Black Box all the unknowns start making sense because they claim to provide equity market revelations.
Day trading is their specialization however they also have multiple trade alerts for stocks and options being announced by the moderators in the chat rooms.
Its analytical plugins are institutional grade and they help users get untold trends in the market which potentially have huge price swings.
This chat room application also lets people exchange trade ideas and trading strategies through its network.
CLICK HERE TO READ MORE ABOUT BLACK BOX STOCKS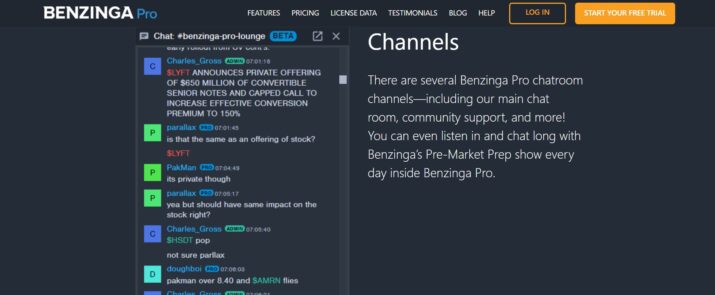 This is among the best chat rooms for stock trading to get trading ideas and strategies by interacting with other investors and sharing information.
This is more than just a chat room as you can also run a stock screener, check market movers, news feed, and charts. You can also separate a chat and interact with it on a different monitor.
Comments by the moderator are usually identified by the small admin label placed right next to your user name.
it is mostly a text-based chat however you can as well use Benzinga squawk to tune in to the latest market releases.
The following are the chat rooms you will find at Benzinga;
#bz-benzinga-tv
#bz-crypto
#bz-options
#the-strat
#benzina-pro-lounge
bz-day trading
bz-pro-community-support
It will not make sense for stock traders who have more than $5,000 to invest to take the essentials package because it will eat up your money so it is better that they choose to go for the Benzinga Pro package.
CLICK HERE TO READ MORE ABOUT BENZINGA CHAT ROOM
4. Timothy Sykes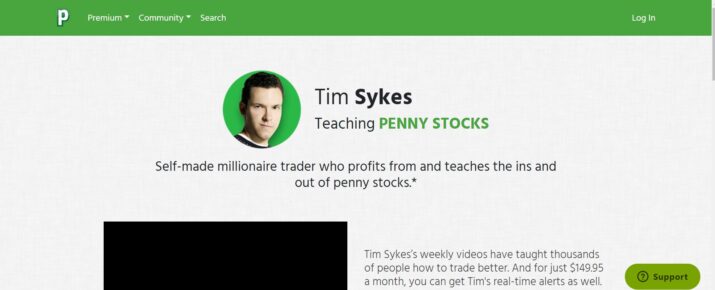 This is a day trading platform that teaches people how to deal in penny stocks. Timothy Sykes has appeared in many publications such as The Larry King Show and CNN.
Through the trading room, he is offering products such as trading courses, penny stock trading roo, and the millionaire trading challenge.
Timothy Sykes's subscription includes access to daily chat rooms, trade alerts, and watchlists. It also has a mobile app version to gain access to the same.
Tim Alerts subscription is currently priced at a monthly fee of $74.95 while the Pennystocking Silver goes for $149.95 per month.
The Pennystocking Silver will help you gain access to weekly video lessons and a library of more than 7,000videos.
Sykes loves to use aggressive marketing methods to woo new members into his day trading chat room by flaunting his riches in the form of hotels, vacations, and exotic cars.
CLICK HERE TO READ MORE ABOUT TIMOTHY SYKES
5. Bear Bull Traders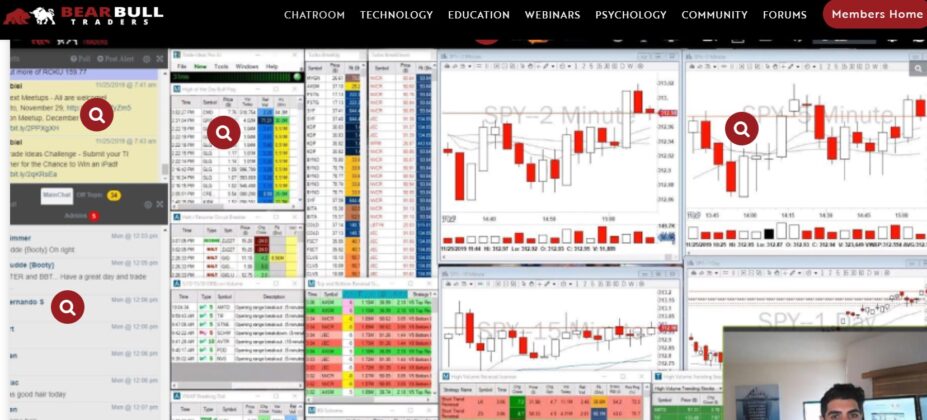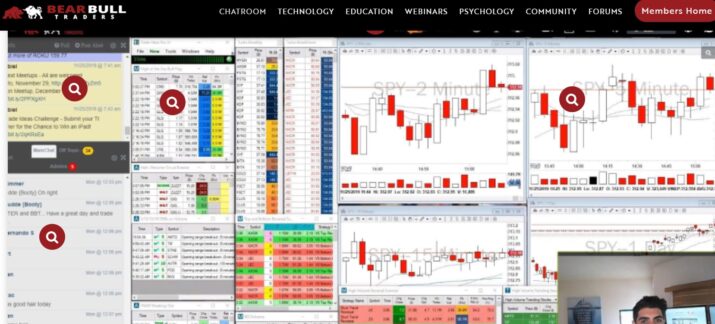 This is an excellent day trading chat room that provides education and strategies for day trading funded by Andrew Azis.
Bear Bull Traders provide first-class swing trading coaching as well as a live trading room with scanners, streamed charts, and live trade executions among other services offered.
The chat room is moderated by experienced traders between 9 a.m and 4 p.m eastern time.
They start the day by providing a watchlist based on the most current trading catalysts followed by market analysis and live trading.
Members in this chat room exchange ideas with other experienced traders and moderators while asking and commenting on the current situation in the market.
CLICK HERE TO READ MORE ABOUT BEAR BULL TRADERS
6. StockTwits Premium Chat Rooms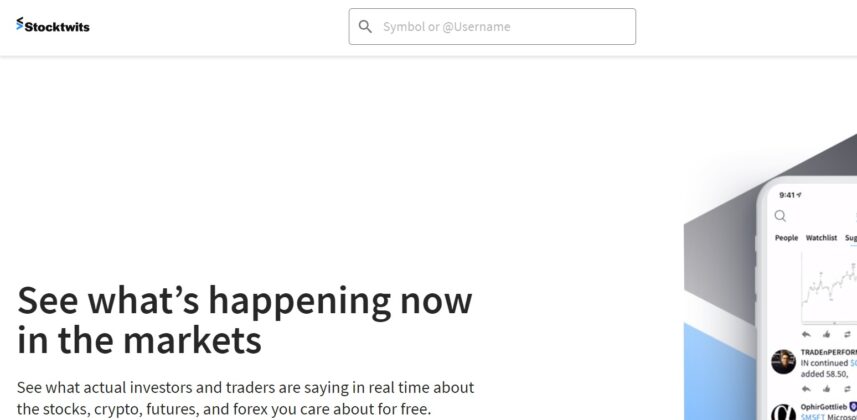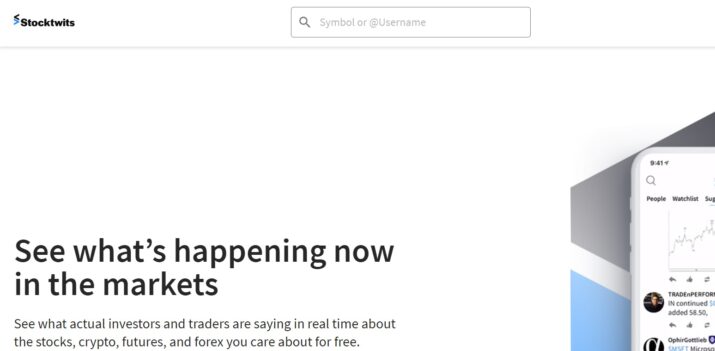 This is a remarkably affordable chat room with monthly subscriptions priced from $7.99 to $100 per month.
This platform does a great job at giving a free trial to day traders on most of its chat rooms.
You get to have access to some of the best minds in the business and finance sectors without having to break the bank.
Among the chat rooms available in this platform include;
Spade Traders offering observant and disciplined strategies for managing risk.
Swing Trade Elite providing technical analysis, actionable opportunities for trading, and swing trading.
Day Trading gives a real-time market and stocks analysis.
Share Alpha applies quant-powered algorithms to analyze hedge funds.
E-Mini Futures offers price, stop loss, exit, and entry alerts.
Elliot Wave provides trading alerts for metals, S&P 500, USD, and oil.
Option Pattern Recognition provides specific and empirical option strategies.
Hammerstone Markets gives trade ideas, market intelligence as well as news.
The list is long and therefore new traders can find it hard to choose the right chat room within the platform.
CLICK HERE TO READ MORE ABOUT STOCKTWITS
7. Warrior Trading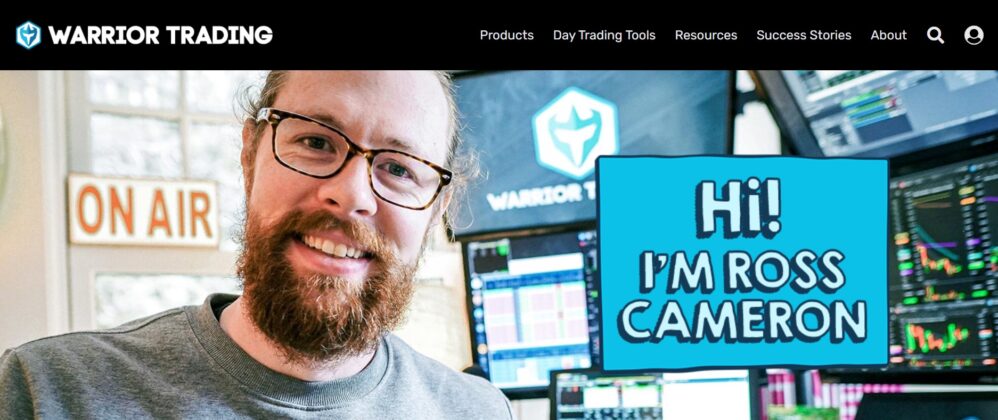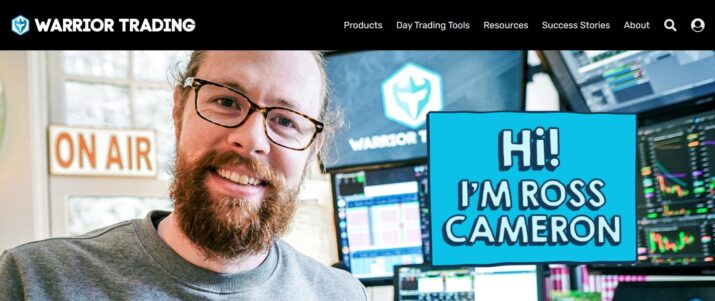 This is an excellent day trading chat room owned and funded by Ross Cameron who is also a moderator in it.
It is one of the largest chat rooms with more than 5000 day traders of whom at least 1,000 actively participate in the daily activities.
This warrior trading's chat room focuses more on momentum trading to help traders make a living day trading.
Warrior Trading chat room members get a watch list of at least 3 to 5 stocks that have potential winnings daily before the market open.
Ross Cameron goes a step further to explain the setups and analysis of all the stocks in play at the chat room for informational purposes.
Warrior Trading offers beginner options advisory as well as for experienced traders the same way Investors Underground does.
It is good to know that Warrior Trading scanners are formatted using proprietary technology from Trade Ideas which is among the best.
Any professional Trader will tell you that this is among the best chat rooms out there with tons of trade ideas however you are encouraged to come up with your own trading style and specifically use Cameron's trading style.
CLICK HERE TO READ MORE ABOUT WARRIOR TRADING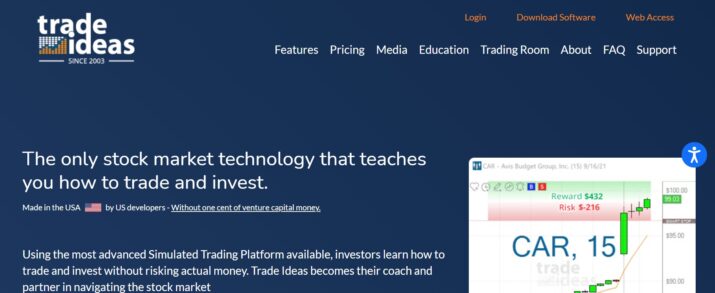 This is a free live trading room that is open between 9 a.m and 4 p.m ET where new traders can interact with advanced traders together with the in-house team and its leader Barrie Einarson.
Trade Ideas is is known by traders for its free advanced Artificial Intelligence technology alert and scanner software just like BuySide Global. The AI is used on Wall Street and by savvy options traders such as Warrior Trading's Ross Cameron.
With this stock trading chat room, you won't need to pay a lot of money just to join a trading community.
The free chat room gives you access to settings for the stock scanner, charting tools, trading strategies, and a trading community that you can chat with and learn from during trading hours.
This is an excellent options trading room for beginners because it is free as you learn to become a better trader.
CLICK HERE TO READ MORE ABOUT TRADE IDEAS
9. Investors Underground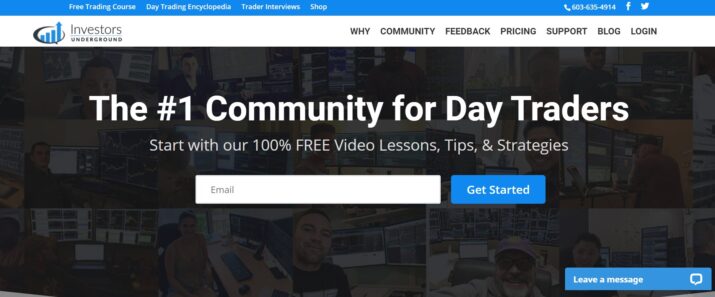 This is an outstanding platform owned by Nathan Michaud and has been in existence since 2008.
Investors Underground is one of the largest chat rooms on the web being home to over 1,000 advanced traders who share trade ideas after scanning the market.
Its moderators are both experienced and successful with different trading styles such as Tim Grittani and Eric Wood.
Investors Underground provides three chat rooms namely Momentum, Swing, and OTC but to gain access, you have to subscribe to a premium plan.
Among the three trading Chat rooms, Momentum is the most vigorous as the moderators here do not allow charts that are off-topic at market hours.
It also has many experienced moderators and traders who give trade alerts in the chat room for people to take action similar to BuySide Global.
Activities vary at OTC chat room depending on the market activity. Moderators here are more into OddStock Trader,bbstock, and oil gusher.
CLICK HERE TO READ MORE ABOUT INVESTORS UNDERGROUND
Benefits of Stock Chat Rooms
There are several benefits of using a stock chat room so let's go over a few.
Knowledge base expansion
Evidently many traders give up even before they know the ins and outs mostly because of the lack of intel.
With a good stock chat room, you learn for experienced traders, receive news feed, get inspired, and get support as you are in this alone.
Improving Your Strategy
One of the best things about a trading room is the fact that you can exchange ideas with fellow traders and make your strategy even better.
Access to Professional Software
To make options trading easier, most trading chat rooms have software subscriptions that make your time swing trading easier.
Support from community
It is a lonely life being a full-time stock trader and times things go how we want them to. At the stock chat room, you can vent your frustrations, discuss and help each other.
The Downside of Stock Chat Rooms
While the advantages are many, there also are some challenges of which we will list a few here.
Dubious Trade Alerts
This one is high on this list. Because there are so many traders, it becomes tough to know exactly which trades to go for and if the traders are good in their thing.
Go for stock chat rooms that have filters and also label traders based on the qualifications they have.
Subscription Fees
Most trading chat rooms charge membership fees to prevent venomous people from joining as the saying goes all good things come at a price.
Prowling scammers
Always vet your options for chat rooms to ensure that manipulators and scammers are eliminated quickly.
Bad ideas spread fast
In as much as we say that stock chat rooms have a lot to offer, also be careful not to follow ideas that people discuss that may later turn out to be bad. Always do in-depth research into the trades before making a decision.
Choose Asia Forex Mentor for Your Forex Trading Success
If you have a keen interest in establishing a successful career in forex trading and aspire to achieve substantial financial gains, Asia Forex Mentor stands as the optimal choice for the best forex, stock, and crypto trading course. Ezekiel Chew, renowned as the visionary behind trading institutions and banks, is the driving force behind Asia Forex Mentor. On a personal note, Ezekiel consistently achieves seven-figure trades, a distinction that truly sets him apart from other educators in the field. Here are the compelling reasons that underpin our recommendation:

Comprehensive Curriculum: Asia Forex Mentor offers an all-encompassing educational program that covers stock, crypto, and forex trading. This well-structured curriculum equips aspiring traders with the knowledge and skills necessary to excel in these diverse markets.

Proven Track Record: The credibility of Asia Forex Mentor is firmly established through its impressive track record of producing consistently profitable traders across various market sectors. This achievement serves as a testament to the effectiveness of their training methodologies and mentorship.

Expert Mentors: At Asia Forex Mentor, students benefit from the guidance and insights of experienced mentors who have demonstrated remarkable success in stock, crypto, and forex trading. These mentors provide personalized support, enabling students to navigate the intricacies of each market with confidence.

Supportive Community: Joining Asia Forex Mentor brings access to a supportive community of like-minded traders pursuing success in the stock, crypto, and forex markets. This community fosters collaboration, idea-sharing, and peer learning, enhancing the overall learning experience.

Emphasis on Discipline and Psychology: Success in trading necessitates a strong mindset and disciplined approach. Asia Forex Mentor provides crucial psychological training to help traders manage emotions, handle stress, and make rational decisions during trading.

Constant Updates and Resources: The financial markets are dynamic, and Asia Forex Mentor ensures that students remain up-to-date with the latest trends, strategies, and market insights. Continuous access to valuable resources keeps traders ahead of the curve.

Success Stories: Asia Forex Mentor takes pride in a multitude of success stories where students have transformed their trading careers and achieved financial independence through their comprehensive forex, stock, and crypto trading education.

In summary, Asia Forex Mentor emerges as the premier choice for those seeking the best forex, stock, and crypto trading course to carve a rewarding career and achieve financial prosperity. Through its comprehensive curriculum, experienced mentors, practical approach, and supportive community, Asia Forex Mentor provides the necessary tools and guidance to mold aspiring traders into accomplished professionals across diverse financial markets.
Conclusion
Institutional investors have the means of getting information however for retail investors like us stock chat rooms are a huge help.
Some like Trade Ideas are free and offer tons of valuable insights however you have to be aware of lurking scammers as time spreads advisory has to be fact-checked.
Out of the 9 trading chat rooms discussed here, we strongly vote Benzinga chat room as the best because not only having access to a chat room, you also get excellent research tools and stock news feeds on trades.
CLICK HERE TO GET TRADE IDEAS AT A DISOUNTED PRICE
CLICK HERE TO GET BENZINGA CHAT ROOM AT A DISOUNTED PRICE
Like this Article? Subscribe to Our Feed!
Passionate in tech, software and gadgets. I enjoy reviewing and comparing products & services, uncovering new trends and digging up little known products that deserve an audience.