50 Best Free Stock Video Sites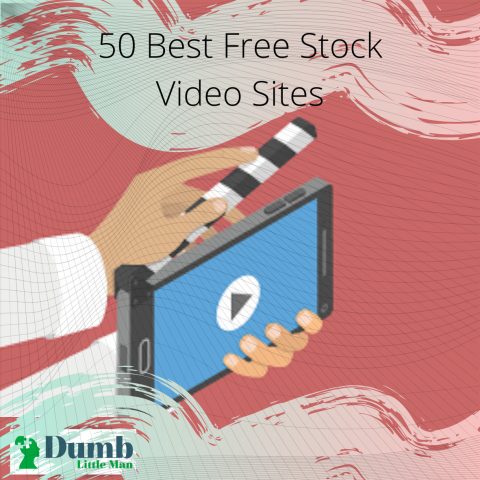 A popular saying goes that an image is equivalent to a thousand words. Therefore, it goes without saying how important a video is, considering it combines several images moving at an extremely fast rate.
Video clips are the new normal in terms of product advertisement, brand promotion, and everyday entertainment. Social media sites like YouTube record millions of daily visits, with numerous YouTube content creators adding new videos on several topics every day.
No wonder video marketing statistics of 2021 estimated that 80% of people buy a product after being convinced by a video.
Although the creative process of producing new videos has been simplified with increasing technology, it is still better to save time by getting royalty-free stock videos from free stock footage sites.
So, how do you get free videos without infringing on copyright issues? The key is to download from free stock video footage sites. With many of them offering free stock videos under Creative Commons, you're free to use or distribute video clips for personal and commercial purposes.
Don't get caught on the wrong side.
We've compiled an extensive list of the best free stock footage sites where you can get royalty-free stock videos. Below, you'd be finding out about each website content, license, download, and whether they come with attribution required or not.
The 50 Best Sites for Free Stock Videos
While it is possible to get free stock video footage from any site or social media platforms, you may get confused about the license, attribution, and commercial use terms.
Below is a compilation of the best free stock video sites with clips usable for personal and commercial purposes.
1. Pexels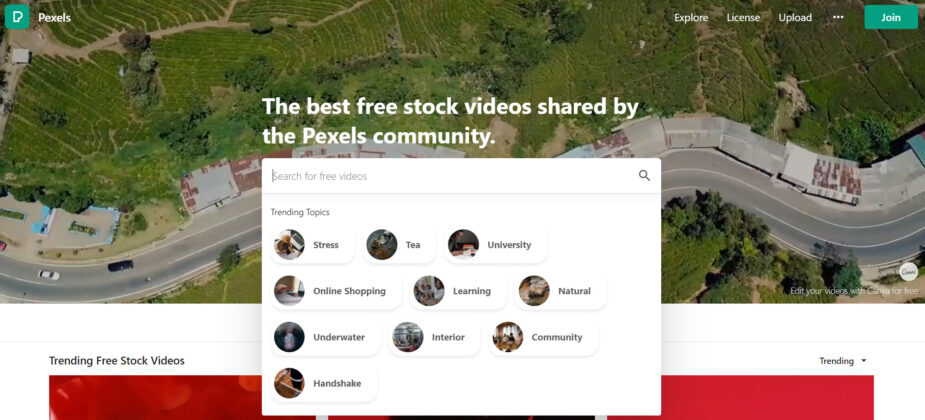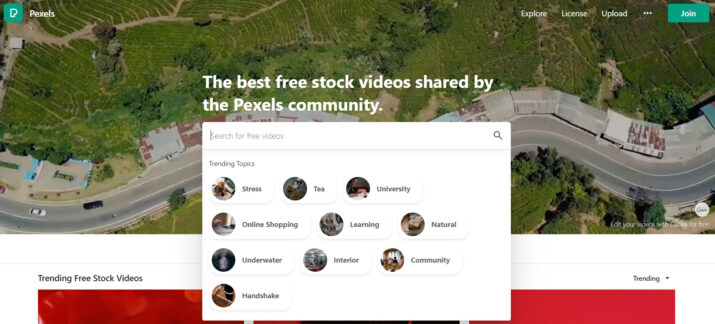 Pexels is regarded as one of the most impressive sites to get free stock photos online. However, many do not know that it equally has a rich library of free stock footage content.
The good news is that the video clips on Pexels are also distributed under Creative Commons Zero (CCO) licensing, just like its images. That means you can use or edit any of its thousands of stock videos without worrying about licensing.
There is no attribution required, whether involved in non-commercial or commercial use. However, you may still credit the creator.
This website has several contents, including professional videos, mockups, motion graphics, and short video clips. You may explore the rich trending section and download any video quality, but there are limited 4K videos.
2. Pixabay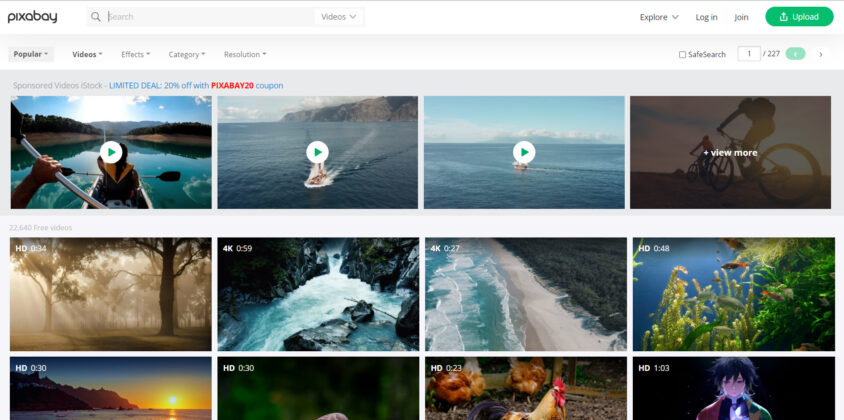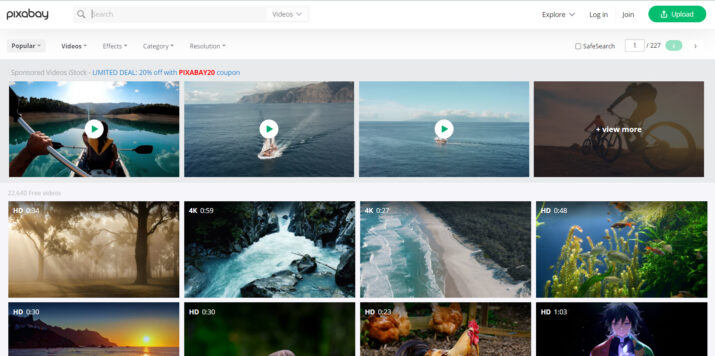 Also renowned for its rich library of images, Pixabay has a huge online collection of royalty-free photos and stock videos. Its videos in multiple categories are estimated at over 1.5 million stock resources, all shared under the creative commons licensing.
The free stock videos on Pixabay are free for either non-commercial use or marketing project. Its free stock videos are available in only MP4 format but include 4K videos, HD stock videos, and motion graphics.
3. Videezy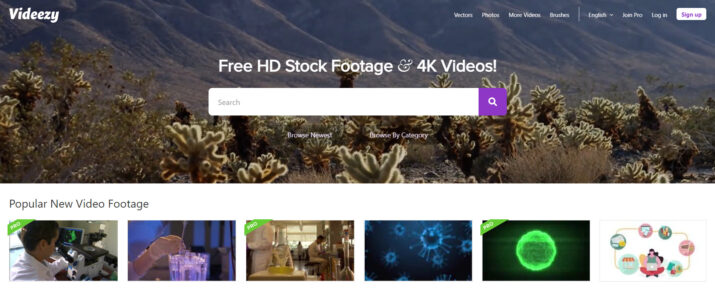 Now, to the first exclusively free stock video site on the list. Videezy hosts free stock videos from a unique community of professional videographers who create and share their numerous online video resources.
The content of this website is available in MP4 format and comes in both HD quality and 4K. Videezy has interesting categories you won't find elsewhere, such as the aerial footage, after effects, and background categories.
Some of the videos require that you buy credit or become a Pro member. However, there's still a large collection of free stock footage you can use for a personal project with an attribution.
Using the videos for broadcasting or on YouTube requires mentioning Videezy.com in credits.
4. Videvo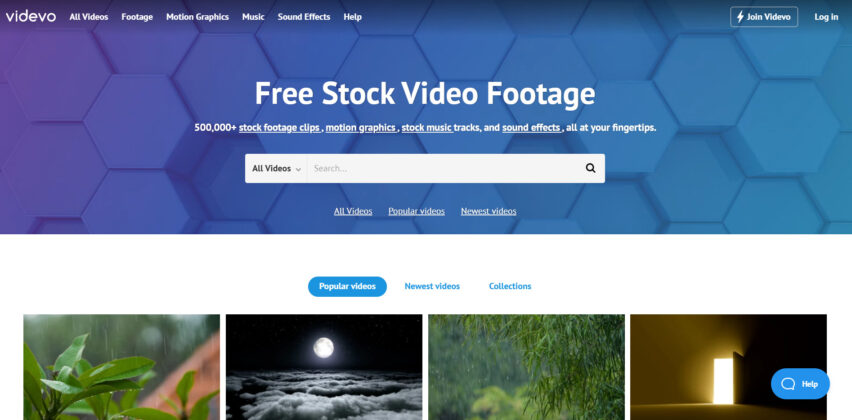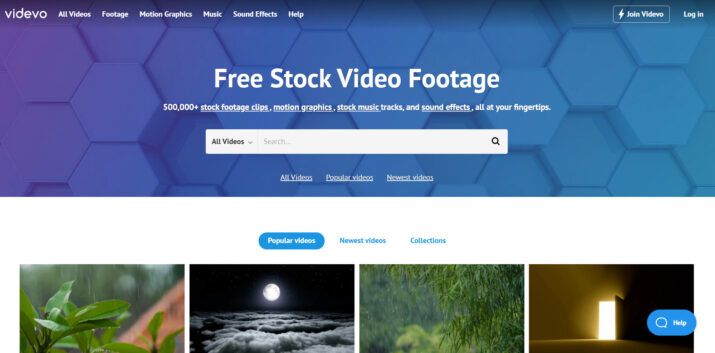 This is another free stock footage website hosting stock videos created by a community of professional and amateur video content creators.
Its library includes free HD and 4K videos, mostly in MP4 and Quick Time formats. However, you may also find music and sound effects.
Videos on Videvo are not completely copyright-free. Instead, it has three types of licenses. The Royalty-Free license is creative commons and requires only editing to use without attribution. Its Videvo Attribution demands that the author is attributed and that the clip is edited.
Similar to the Videvo Attribution license is the Creative Commons 3.0 Unported, which allows using the clip without editing. Each video clip license is displayed beside it.
5. Coverr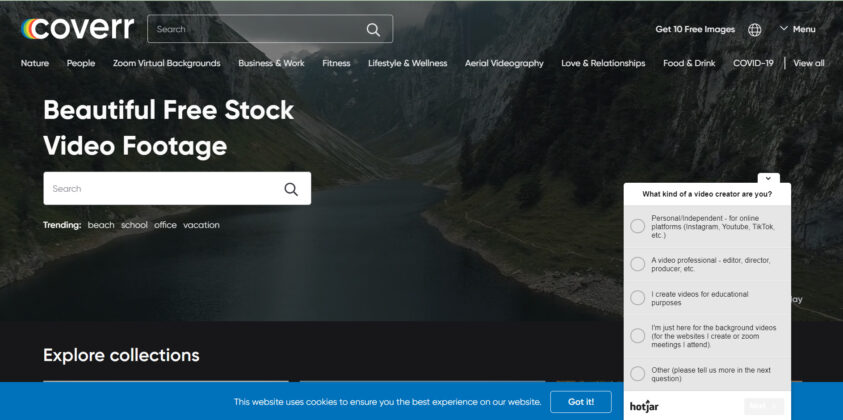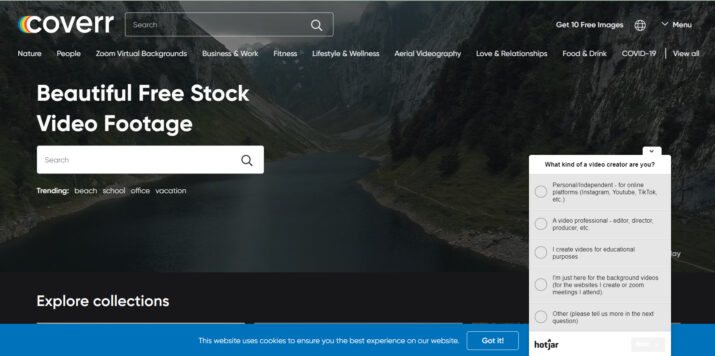 Coverr is a free stock video website that's truly got you covered. That is due to the abundant selection of quality video resources you can download or embed into other websites.
All you need is to get creative. Each clip on the site is a free stock video you can use with no need for sign-up or paid premium credits.
Its Zoom virtual backgrounds also allow you to replace your background with resources from the library.
6. Vidsplay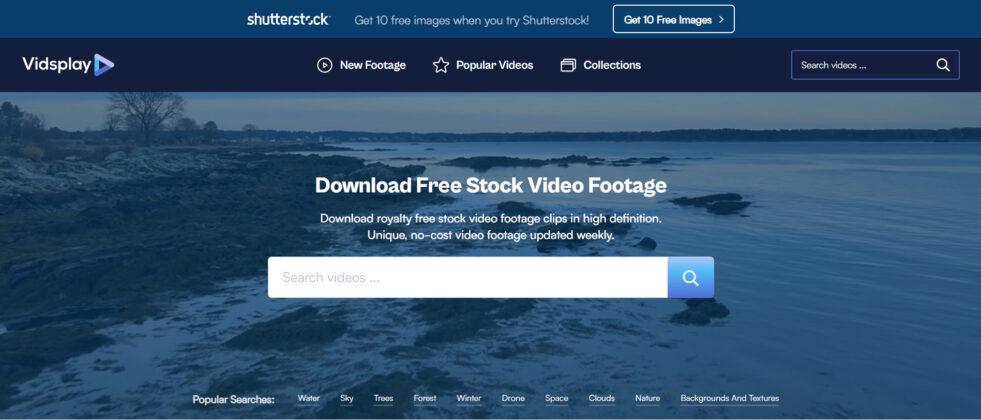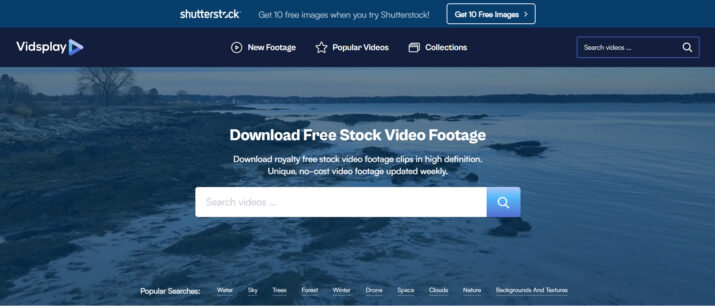 Vidsplay offers free stock videos for marketing or any other business project. It also does not require a sign-in process to get access to thousands of downloads in MP4 format.
Vidsplay receives videos weekly, and each clip in its huge collection is available for personal and commercial usage. However, you need to credit the site or add other forms of attribution.
7. Dareful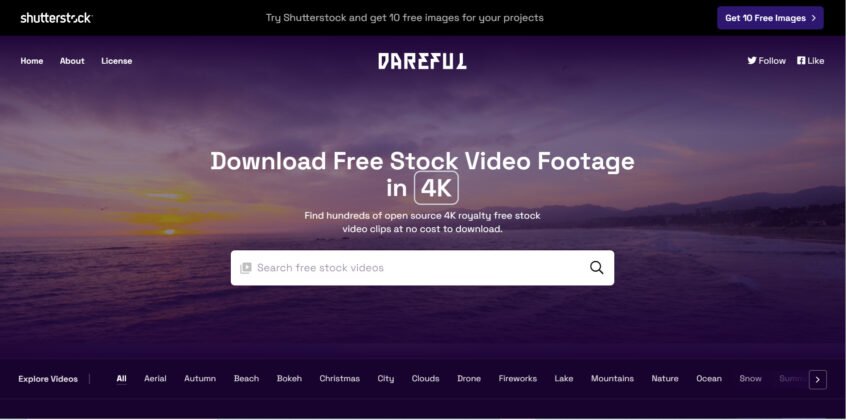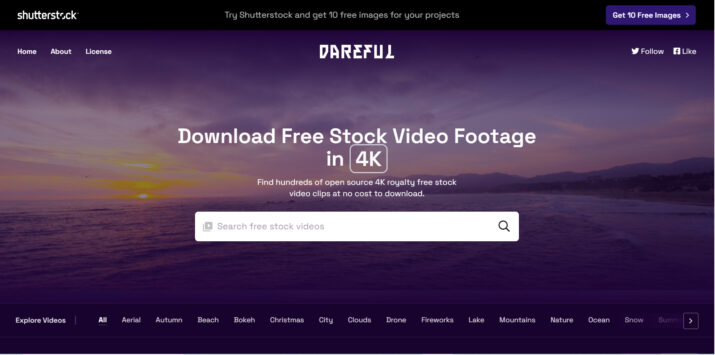 Formerly Stock Footage for Free, Dareful may not offer substantial quantity but dedicates itself to supplying the highest quality free stock videos, usually below one minute.
Needing you to only credit the content to its creator, you can use its 4K stock videos from several categories. You need to sign in to a free account to download in either MP4 or MOV.
8. Clipstill
While Clipstill still qualifies as a free stock footage website, it deals more with cinemagraphs. This is GIF-like content with parts created to loop continuously.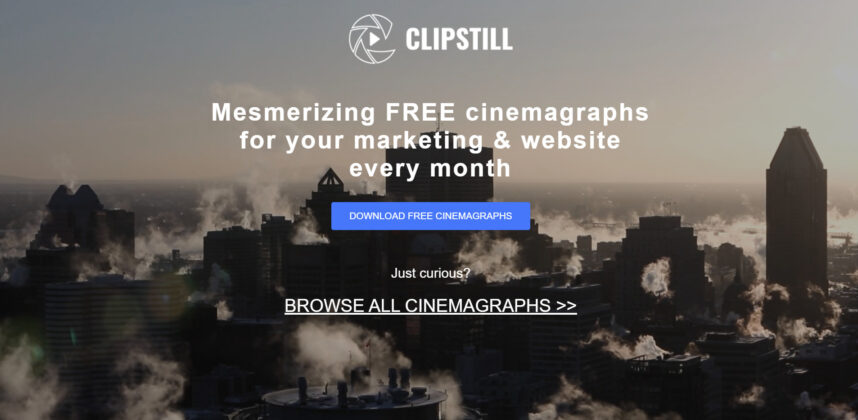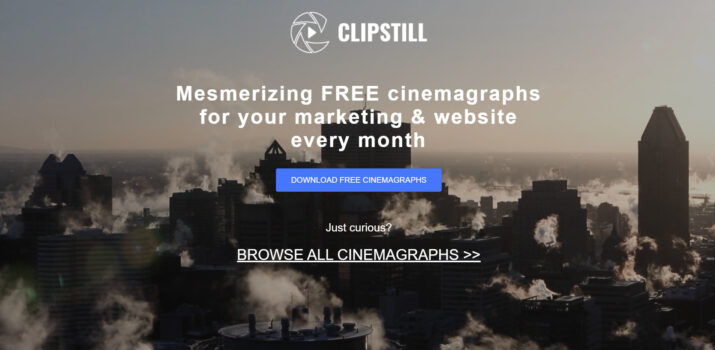 They are perfect for bringing social media to light, and this website has enough of these free clips you can download from. The downloads are available in MP4 and may be used for any project you want.
9. Life of Vids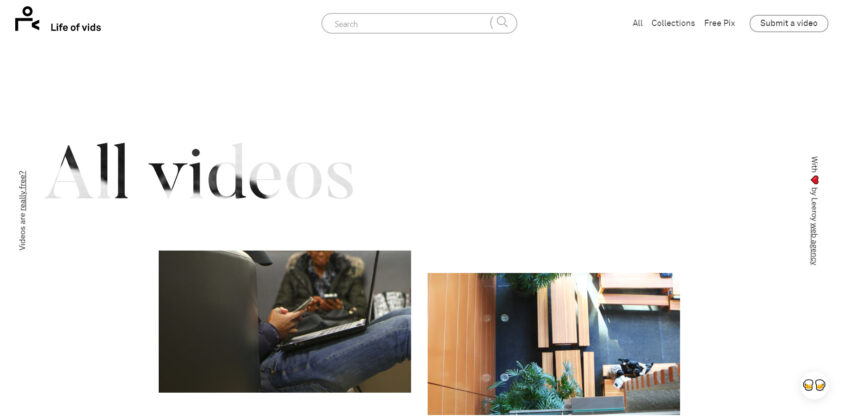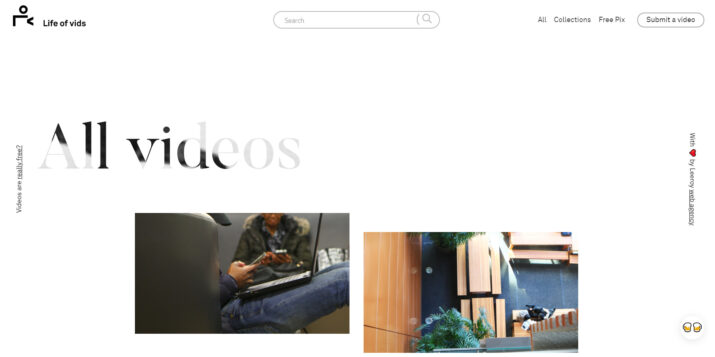 Life of Vids is all about quality free stock videos. Its stock footage collection is, however, comparatively smaller than many, but you can be assured of almost any type of video clip on this website.
In addition to photos, they have video content that you can download and use without attribution.
10. Mixkit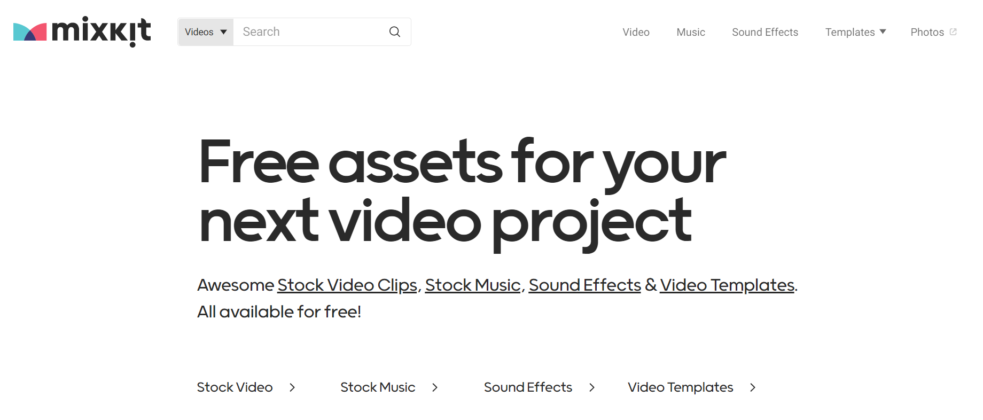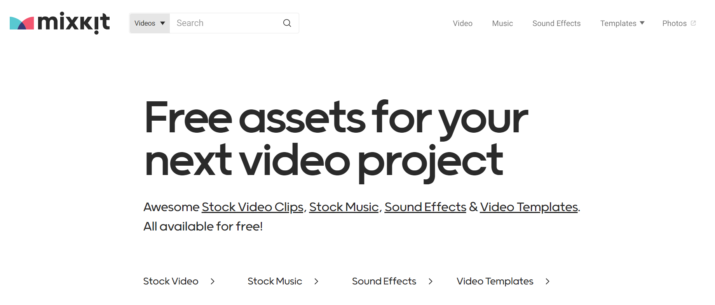 Mixkit is another free stock footage site guaranteed to bring your marketing and social media page to life.
The content on the site is completely free for download and use. There is no need to create an account or attribution. The clips are high-quality and consisted of 11 collections.
11. Splitshire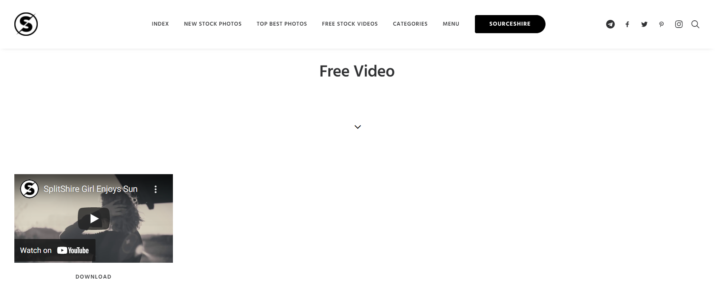 Splitshire is the brainchild of one man, Daniel Nanescu, a web designer who creates a collection of videos and photos to make them free.
The free stock footage on Splitshire is more of outdoor clips. Hence, if you create content by combining videos and photos from this site, you'd have a seamlessly combining production.
There are more than two million downloads, and he continues to make even more content available.
12. Mazwai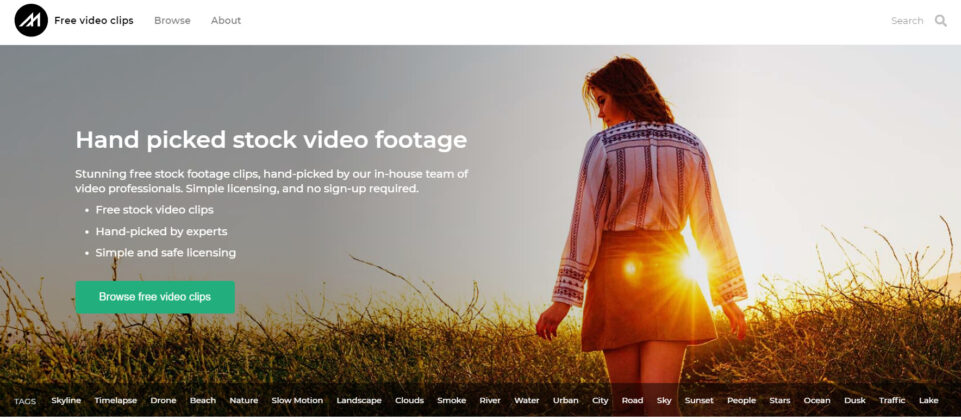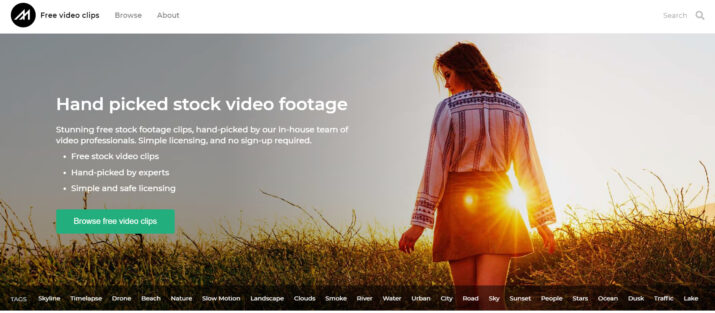 Another site focused solely on quality, any free stock video that finds its way into this collection has been handpicked by the admins.
The results are stunning stock videos available in HD and can be used for commercial and personal campaigns. The licenses on Mazwai are two.
Some fall under the Creative Commons license and must be used with proper credit to the author who created the content. There is also the Mazwai License, indicating free stock footage you can use with no credit required.
13. Pond5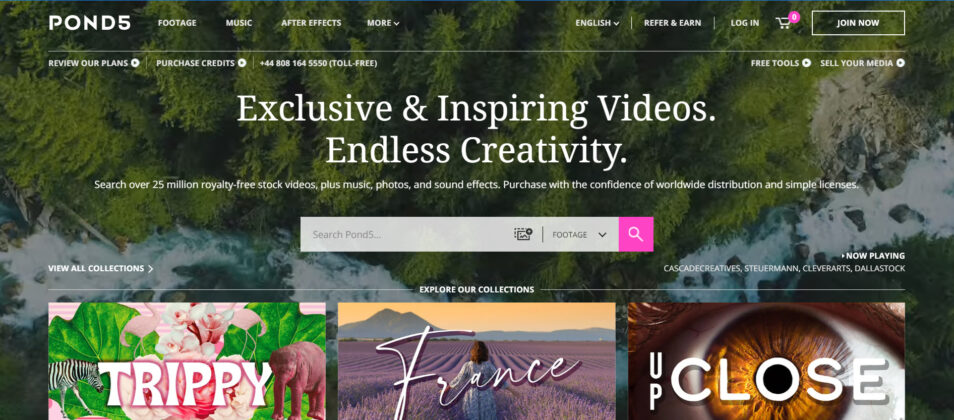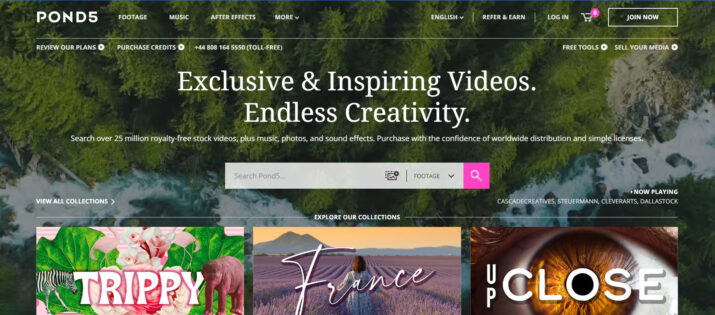 The content on this free stock footage website is huge, totaling more than 17 million clips. Pond5 receives clips from over 60,000 authors who have created the free stock video from 150 countries globally.
They boast of the addition of 10,000 music, photos, and videos every day. The good news is that the content is grouped, and you can get through them easily.
The 4K and 4K+ download is available in RAW and .MOV file types.
14. MotionElements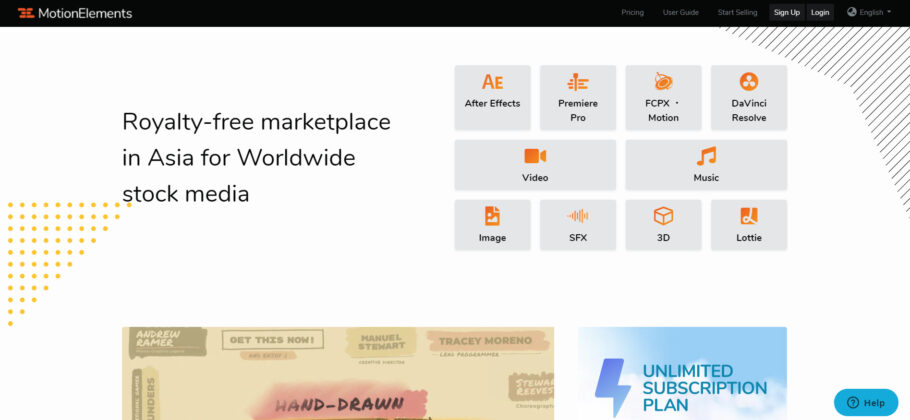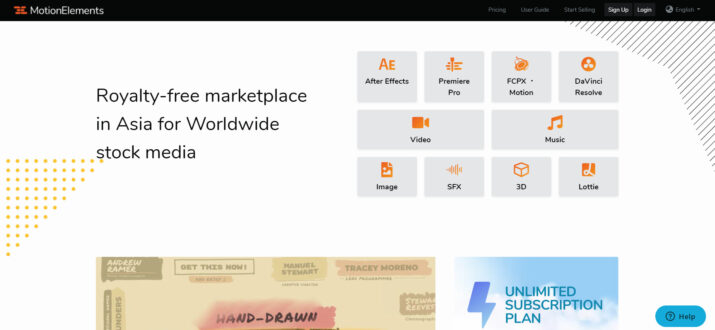 MotionElemnts is a site that makes free stock footage available for download in high resolution and usage in any project type.
They have a wide range of clip quality, from 2K to 4K, HD, and HD720. You will need to sign up before making a download, and you're limited to only five clips per day.
However, you get a bonus of additional clips when you invite a friend to the site.
15. Dissolve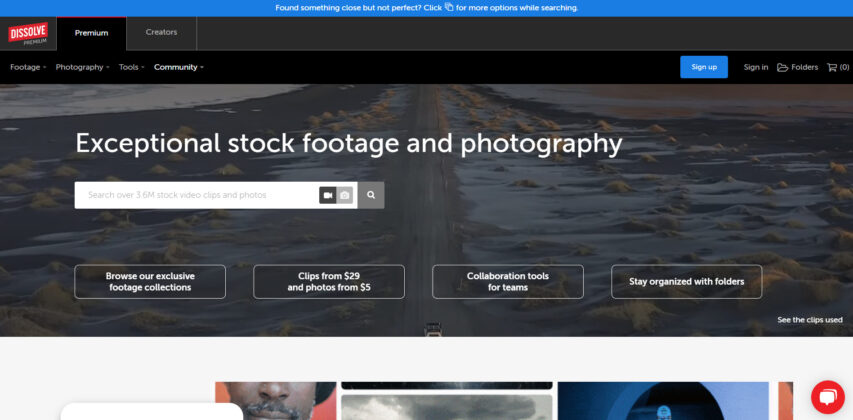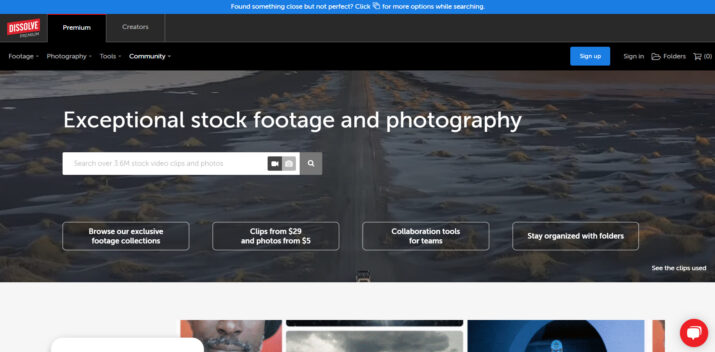 The free stock footage on Dissolve is totaled at over 1.3 million clips.
This site has a unique selling point, which is that it allows you lookup for themed videos. That is, you can look for phrases like "across the sky" or similar to get the exact content you want.
16. Free Nature Stock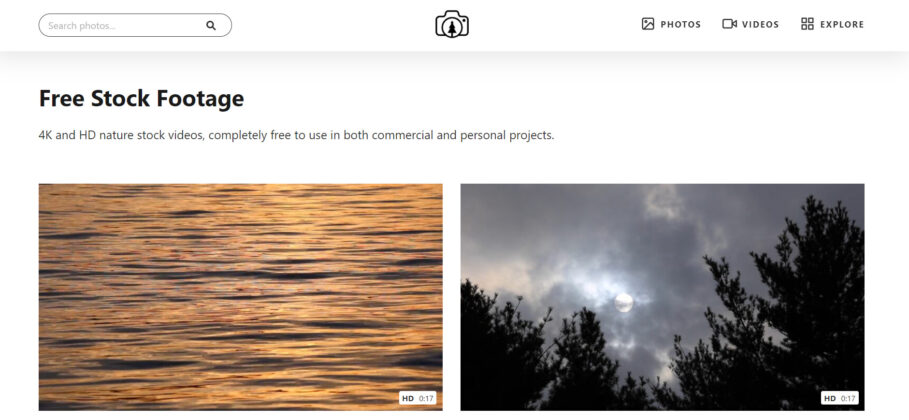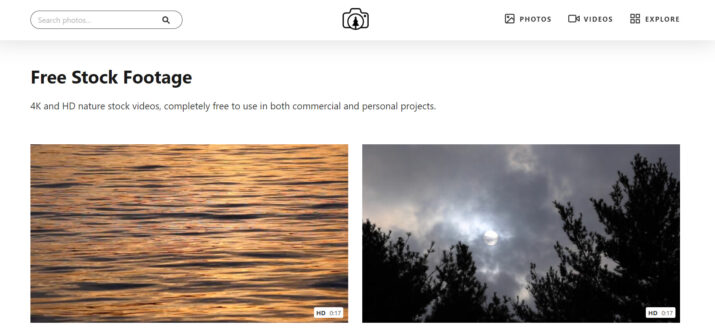 For premium free nature stock videos, look no further than this website. The videos here qualify as completely free stock footage and can be used for any purpose you deem fit.
Note that the site's authors create all videos, and they do not ask for any attribution or credit to use any of the featured clips. However, they accept donations.
17. Nature Stock Videos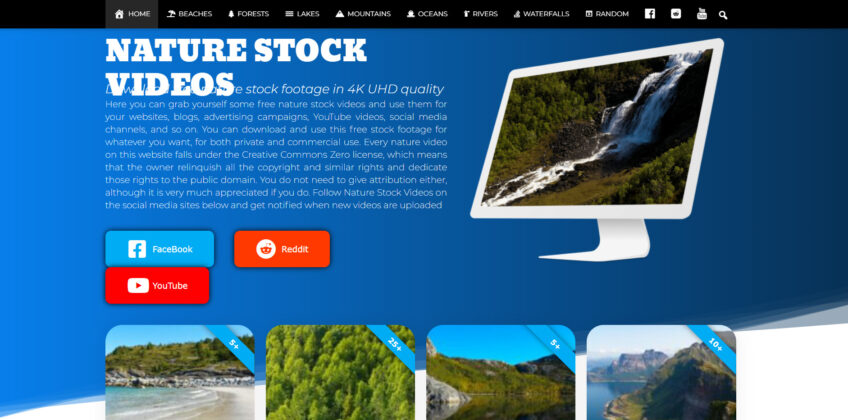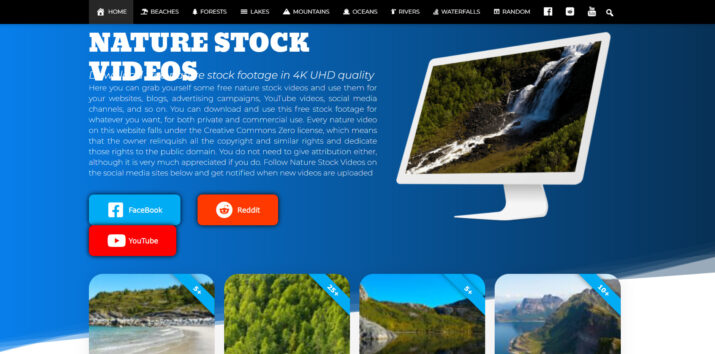 You must have guessed from the name that this site has a decent collection of nature stock footage clips. It is your ideal destination to search for videos of the atmosphere, forests, oceans, waterfalls, beaches, etc.
These clips are perfect as backgrounds for social media or marketing projects. The website contains Ultra-HD clips available under the Creative Commons Zero license, making them usable without attribution or credit.
18. Motion Array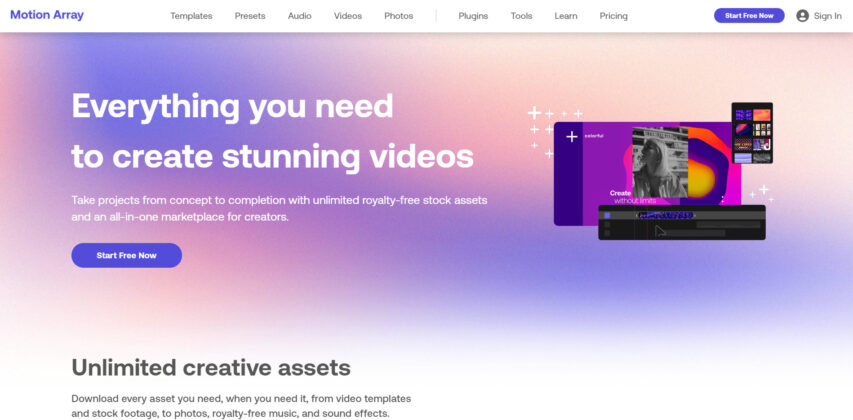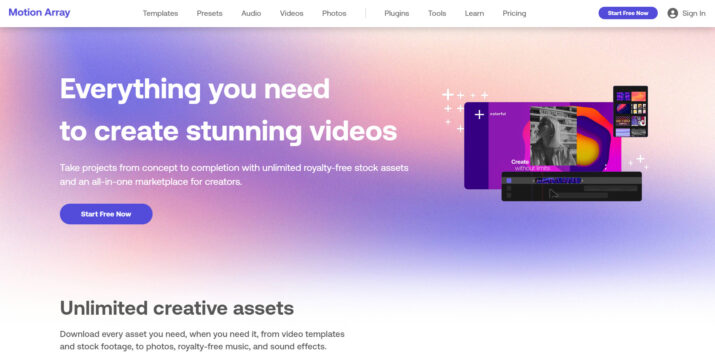 This isn't just a free stock video site; it also lets you edit videos. The library is quite huge as well as interesting. In addition to unique content like motion graphics, After Effects clips, and Premiere Pro templates, you also have free stock music you can add to your clips.
Not all the videos are free, but they have a free premium membership that lets you access all the free stock footage and use it for commercial and personal projects. Top brands like EA and Universal are some of those who use clips from here.
19. Wave.Video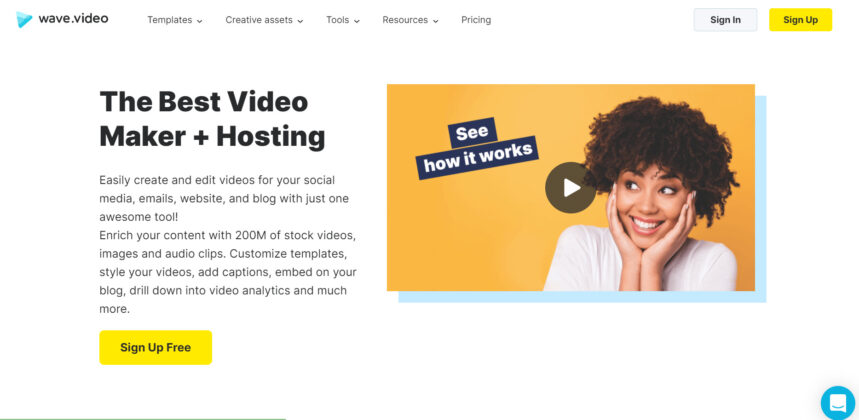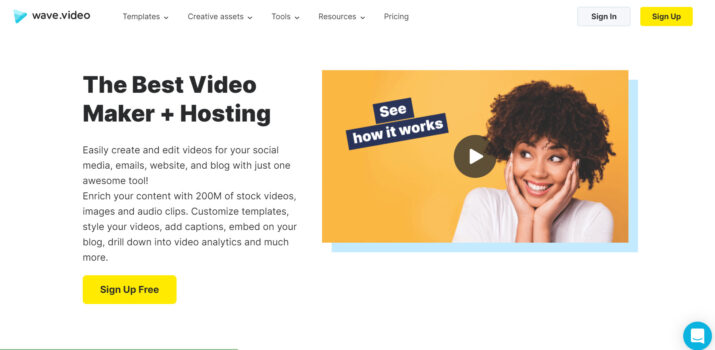 Another website that isn't strictly for free stock footage downloading, Wave.Video is an online video creator with millions of bonus free stock videos in its library. The collection gets updated, and you're sure you can find what you want in the mix when you sort them.
20. Xstock Video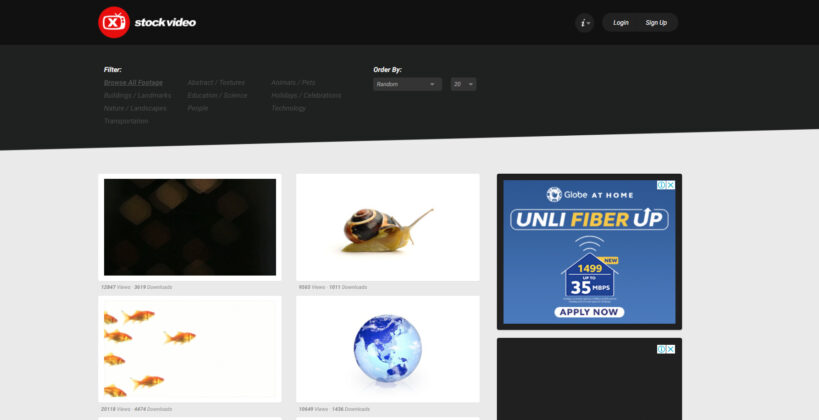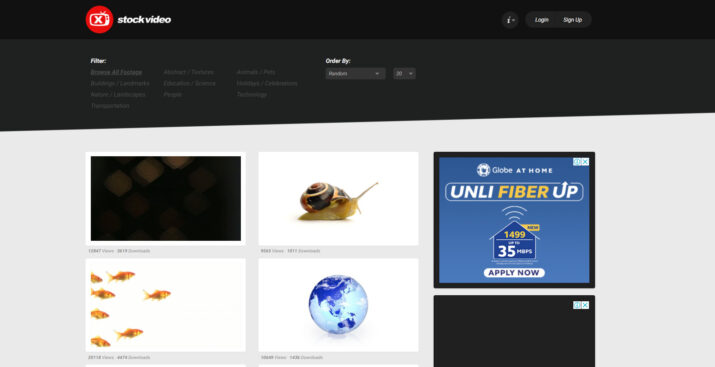 Xstock is a fairly small free stock footage site. It is easy getting the clips you want here because you can sort them based on a number of parameters on the page.
There are two licenses available here – the Regular License lets you use videos without any charge and the Extended License for videos that may attract charges.
21. Clip Canvas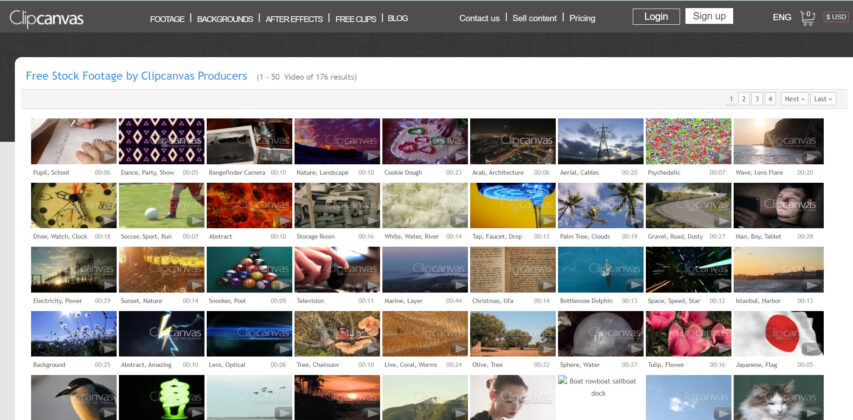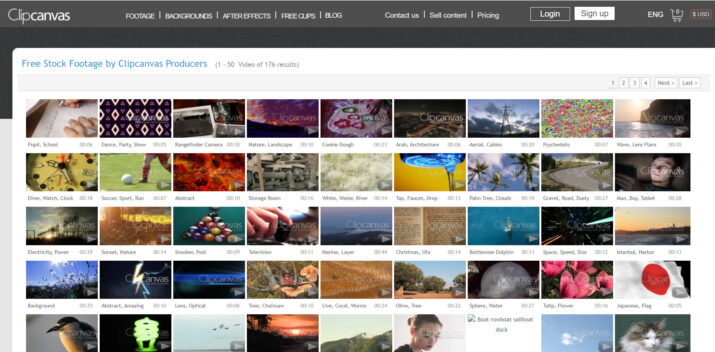 Another small free stock footage site, Clip Canvas reserves many of its resources for premium members who pay for them. However, using any of the clips does not require attribution or credit.
22. CuteStockFootage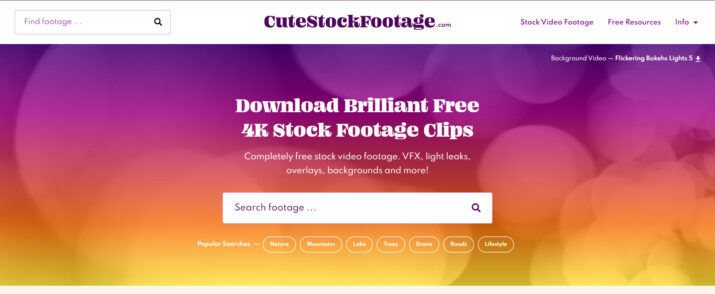 CuteStockFootage delivers wonderful stock videos for professionals and amateur content creators, and artists. The library is decent enough and provides enough free stock clips you can use.
23. OpenFootage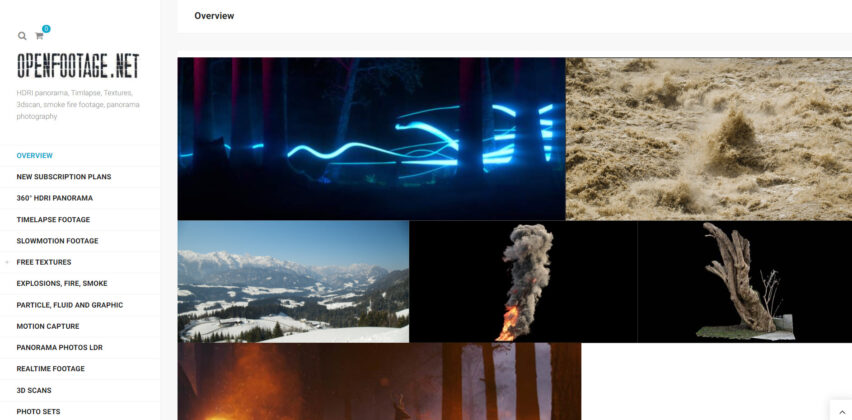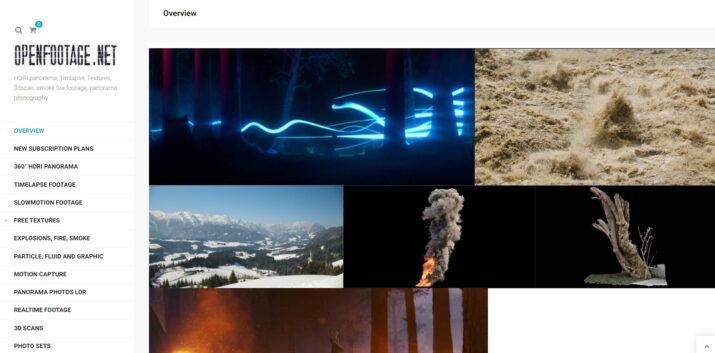 Open is one of the most versatile free stock footage websites on the list.
The bonus here is that there are loads of abstract, natural, and time-lapse videos you can detect what you want moving through the categories or using the search bar.
The contents come under the CC0 licensing, and downloading the lower resolutions is free. You do have to pay for higher resolutions. It is also worth mentioning that each free stock video carries helpful information and tags.
24. Artgrid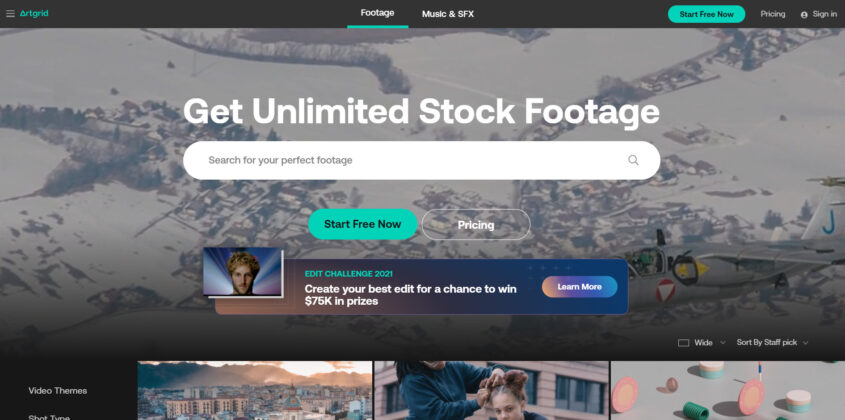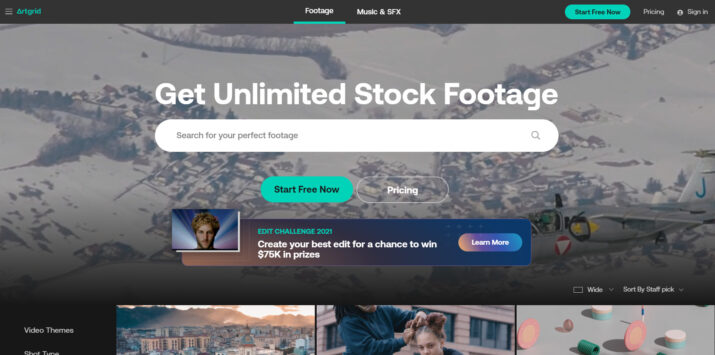 Artgrid is one of the newest websites on this list, having launched in 2019. It is a daughter company of Artlist, which gives it much of its licensing. There are high-quality videos here, and they may be used for free.
25. Bigstock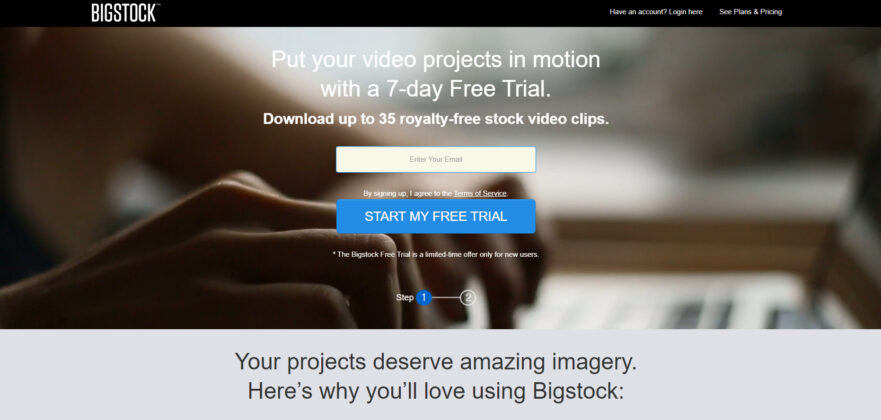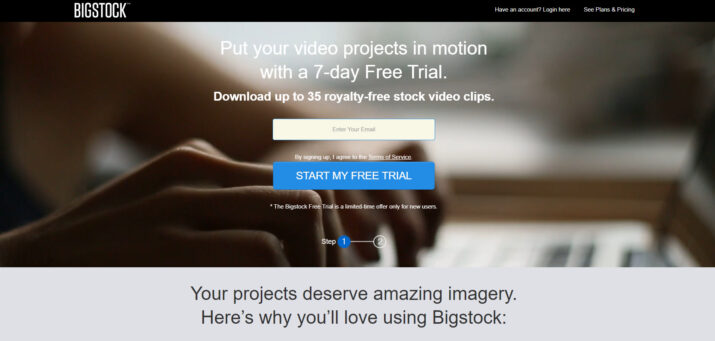 Bigstock is an excellent place to begin your search for free stock footage. It has a massive collection of free clips, and you can sieve through with its specialized filter option.
However, you need to register an account to get access to the bulk of video clips, but the 35 videos they give during the free trial should give you an idea of the great content which awaits.
26. Pikwizard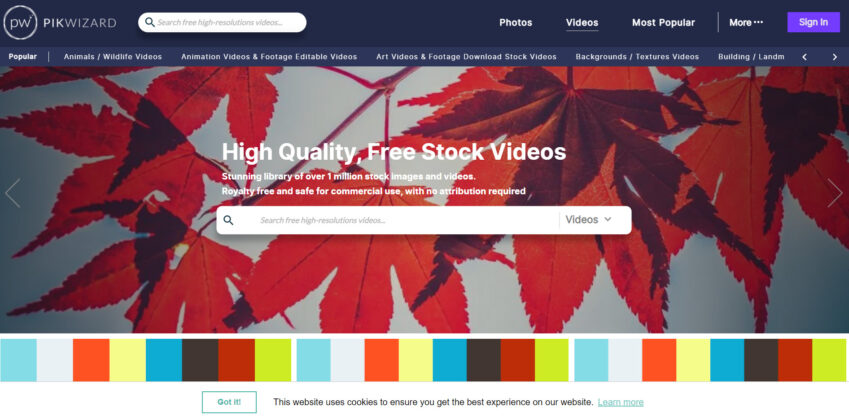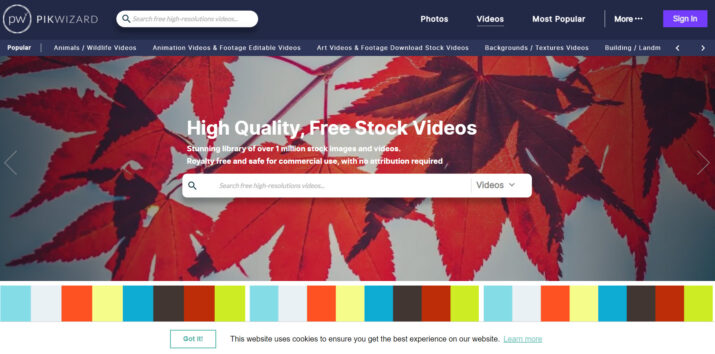 A true free stock footage wizard, Pikwizard gives a go account of itself by containing a wide range of stock footage needs. From animals to foods, buildings, arts, and education, you can find it all here. Browsing through the content page after page shouldn't be a problem, but the search bar can make things easier for you.
27. ISO Republic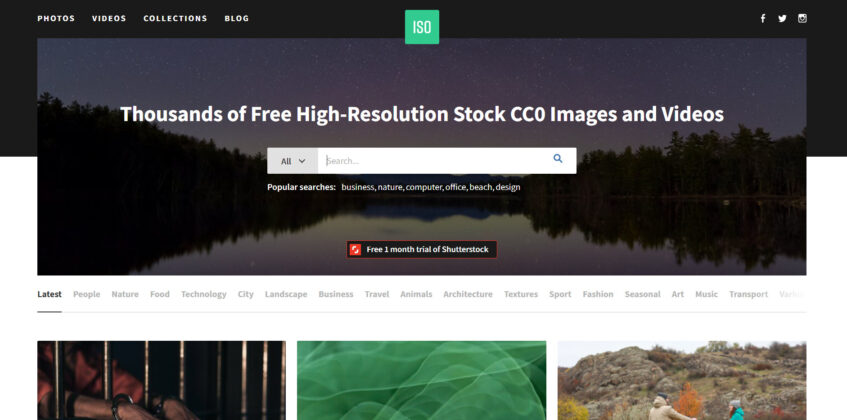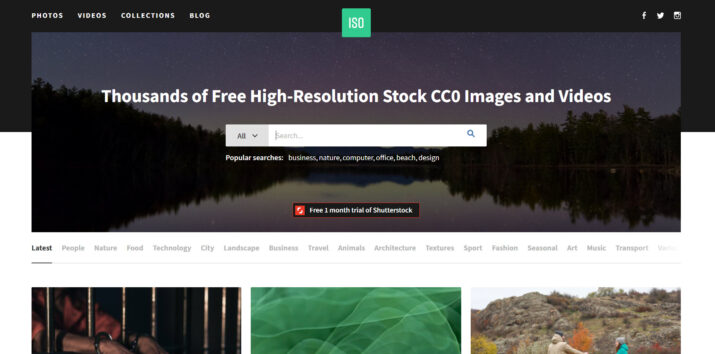 ISO Republic's collection of free stock footage gets updated with newer videos every day. This website has free HD videos from different sections, such as abstract, lifestyle, nature, and other objects. All contents are available for usage under the Creative Commons license.
28. Footage Crate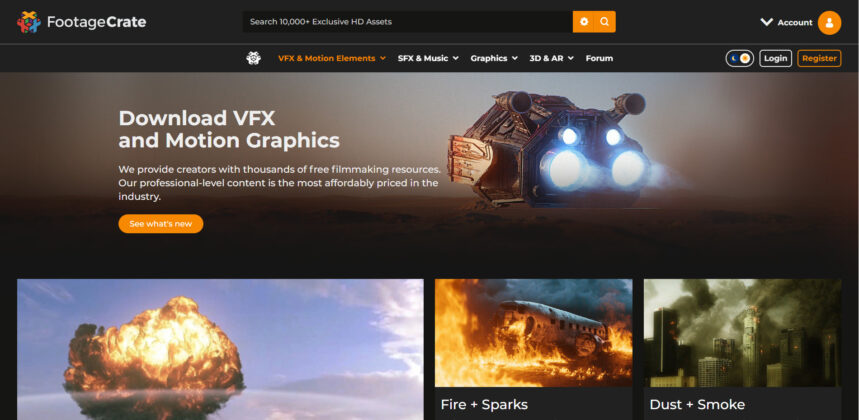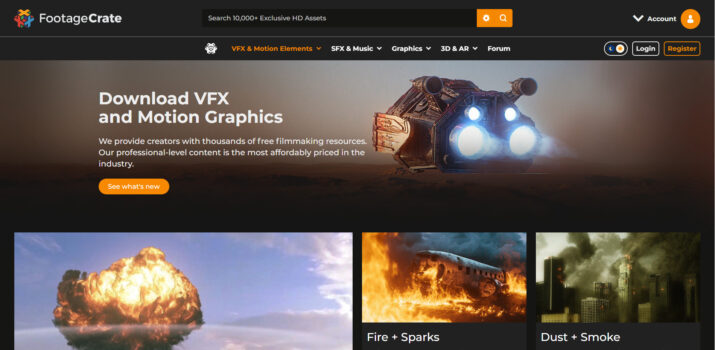 Footage crate is a slightly different stock footage website, which focuses on providing special effects or FX.
These come in handy for professionals who make movies or amateurs trying out their craft with short clips. What's more, the contents on this site are all in full HD, making it easier to make stunning clips.
There is free stock footage on Footage Crate about almost anything, including fire, explosions, muzzle flashes, creatures, etc.
29. 123RF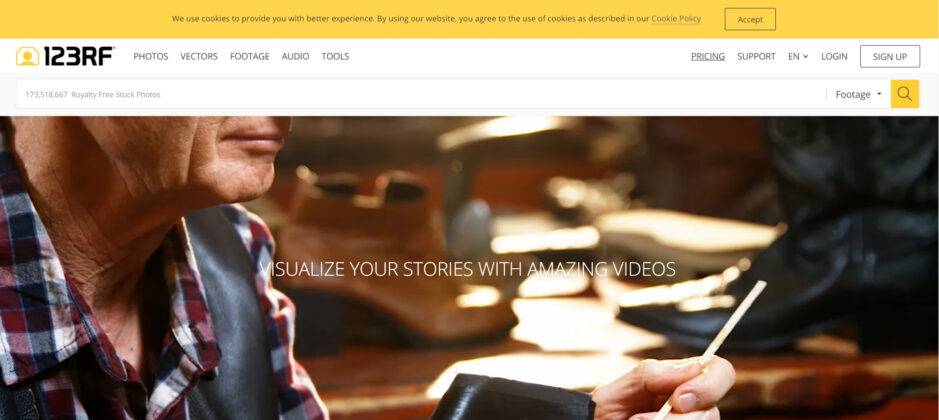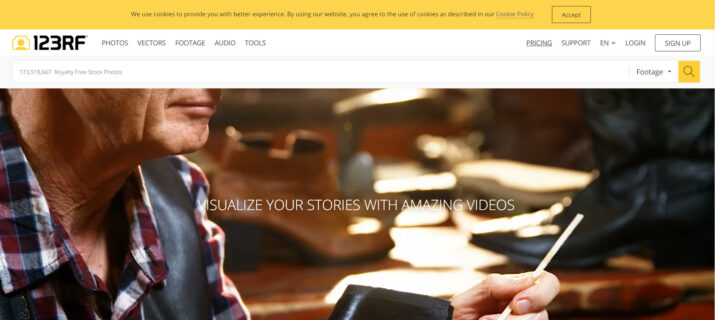 The free stock video collection on 123RF is one of the most massive you'd come across at over a hundred million clips. There are over 20 sections covering almost any stock footage you might need.
Animals, people, fashion, travel, romance, babies, weddings, and business are just some of the topics available. Utilize the search bar to get specific content.
30. Motion Places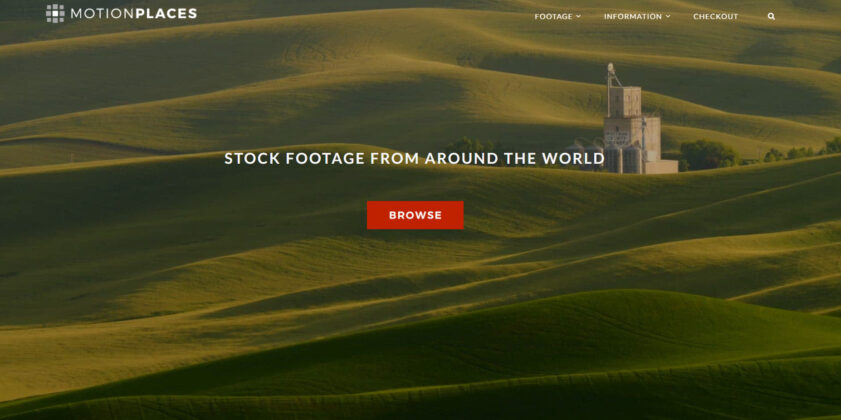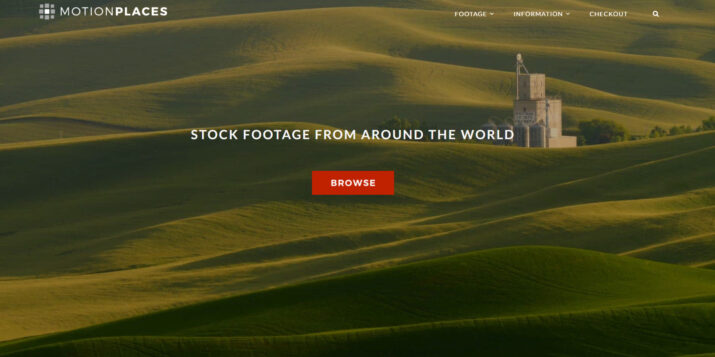 This site has free stock footage of places around the world. This rich website gives you access to historical images and beautiful landscapes from different places. So, this is your best bet if you need beautiful footage of Paris, New York, or London.
You can detect stock videos by searching according to places, season, or color. All its videos are free and available in HD. You can use them in commercial and personal projects, but they must be attributed.
However, if you want the freedom to use the clips without attribution or want free 4K videos, you need to register for a premium account.
31. Vimeo HD Free Stock Footage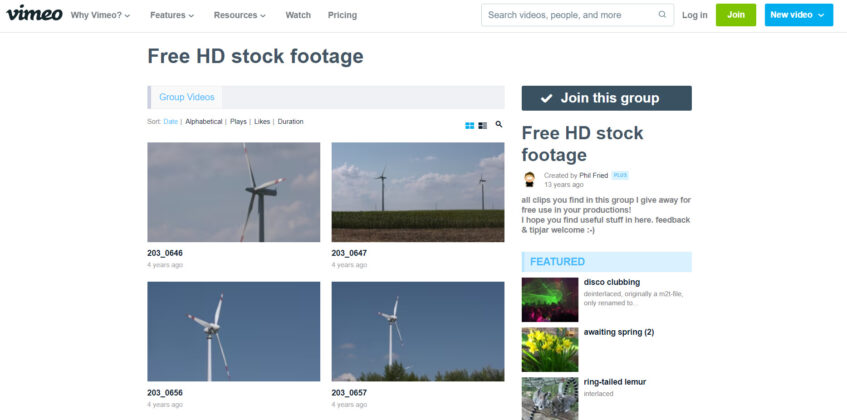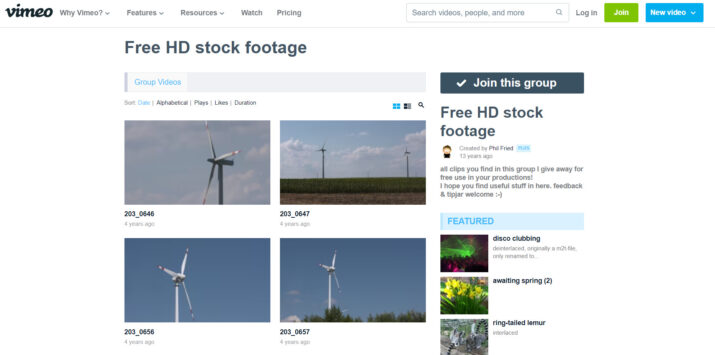 You must have heard of Vimeo. Well, it also makes it possible to get stock footage, courtesy of the Phil Fried Vimeo group. The license for these videos is not specified, but we know you can use them for your projects.
Newer videos are uploaded occasionally, and there are no questions of quality. However, finding the exact clip you want may be challenging since they are not properly tagged.
32. Ignite Motion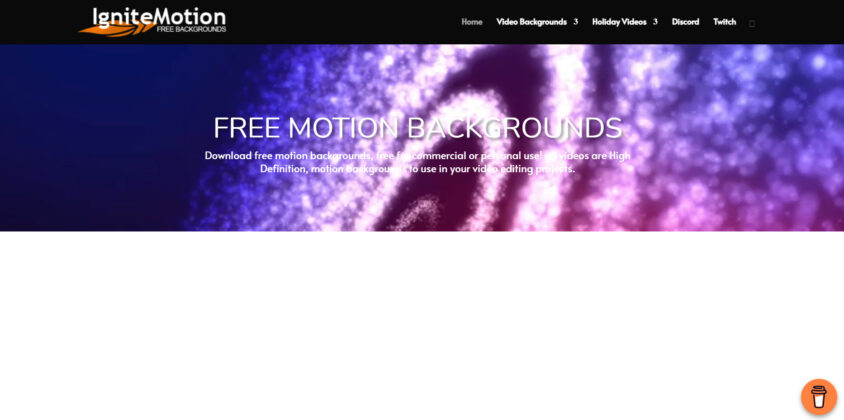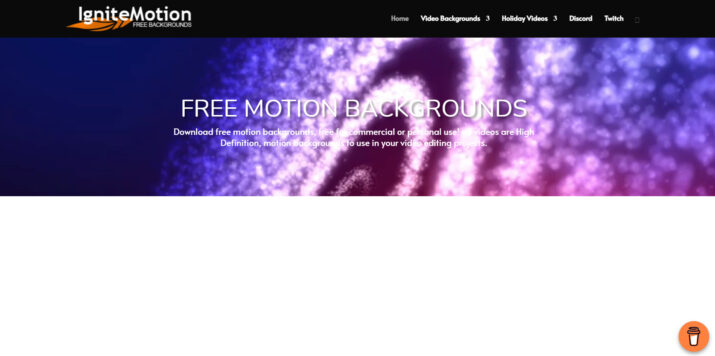 This site is dedicated to providing video backgrounds usable for all project types, whether commercial or not. The videos come in HD and can be edited for most videographic videos.
Searching through the site may be quite difficult as it has to be done through the sections; there is no search bar. However, it's easier to find holiday videos in the dedicated section, or you can check YouTube for uploads.
33. Beachfront B-Roll

Beachfront B-roll hosts numerous interesting free stock videos, including time-lapse, animations, cinemagraphs, and VJ loops. You can find sections like technology and holiday, but the search function is also missing.
The good news is you don't have to dither with this website. Simply use without attributing it. Although quite limited in size, the resources here are beautiful and ready to use.
34. Bottled Video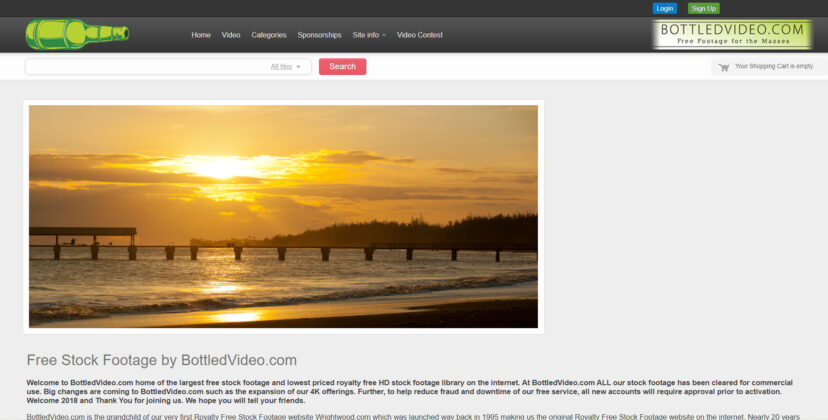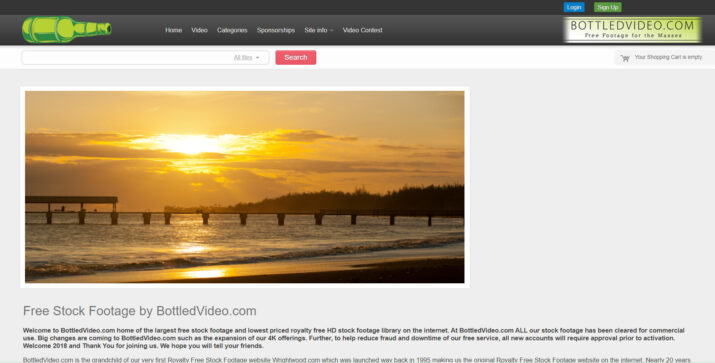 Bottled Video has been around for a while – since 1995. They have loads of 640 x 480 free stock videos that are offered for free. You only have to credit the site after usage.
Over time, the site has been a spamming target, and the owners have set up a system for checking this. The site algorithm changes a video from "free" to $2 when it discovers something suspicious, but you can always check back later to get them for free.
35. Mitch Martinez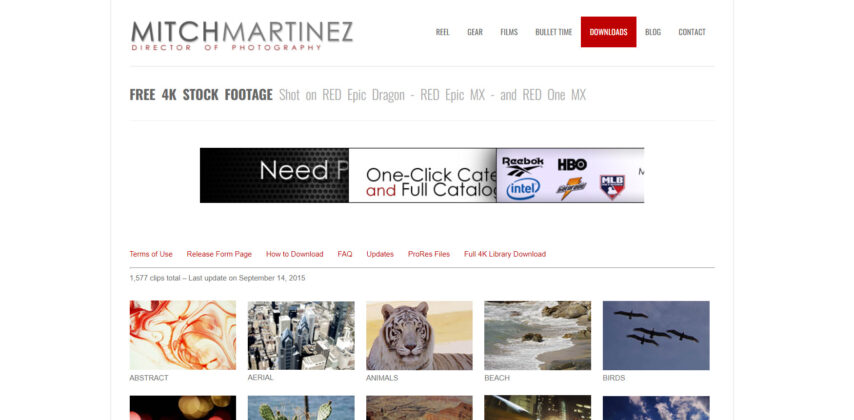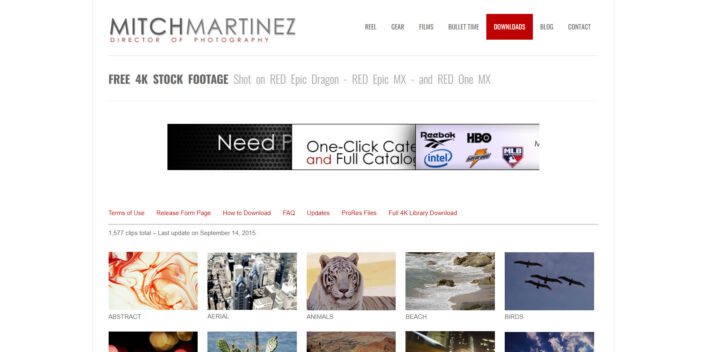 Mitch Martinez is a fairly small free stock video site because it stopped being updated. However, it still has plenty of decent clips you can use, and most are available in high 4K resolution.
You have to sign a release form and agree to the license agreement before using any video for commercial projects. There is also an option to download the entire library for $99.
36. Cute Free Stock Image
While fairly less popular, this website offers free stock videos of different kinds. One notable feature of Cute Free Stock Image is a large number of drone stock videos.
You can download, edit, and use the free video clips on social media for promotions and other marketing campaigns without attribution. However, this site also features ads that may be time-consuming.
37. Vidlery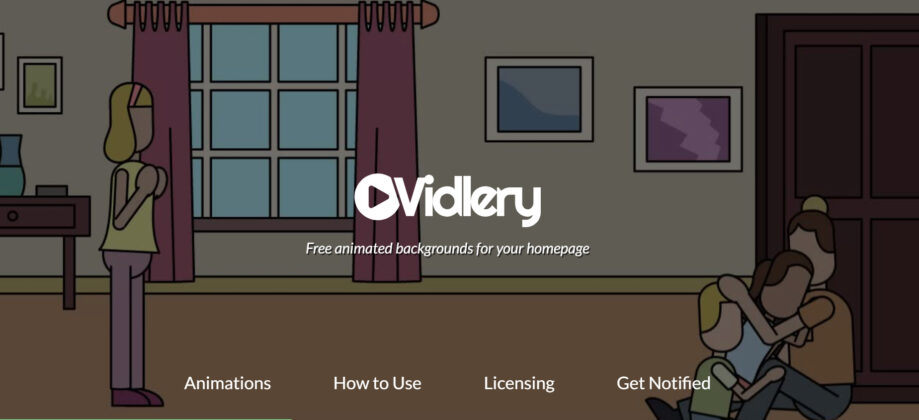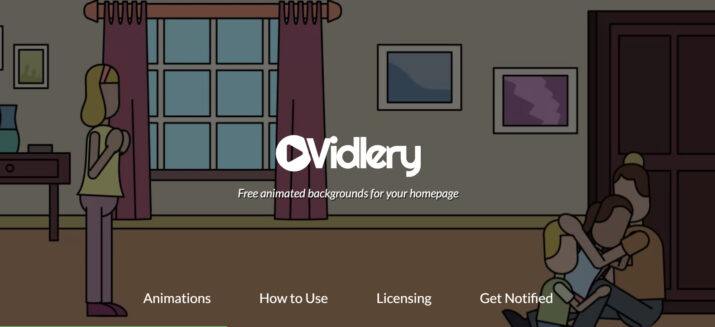 Vidlery is another interesting free stock footage site that offers nice video animations. The contents are all available under the CC0, and you can find different sections, from cycling, to rocket launch, hiking, sunrise, and traffic.
Videos are available in two formats – .MP4 and WEBM. It also allows you to preview the media before downloading, saving you time and energy.
38. Motion Backgrounds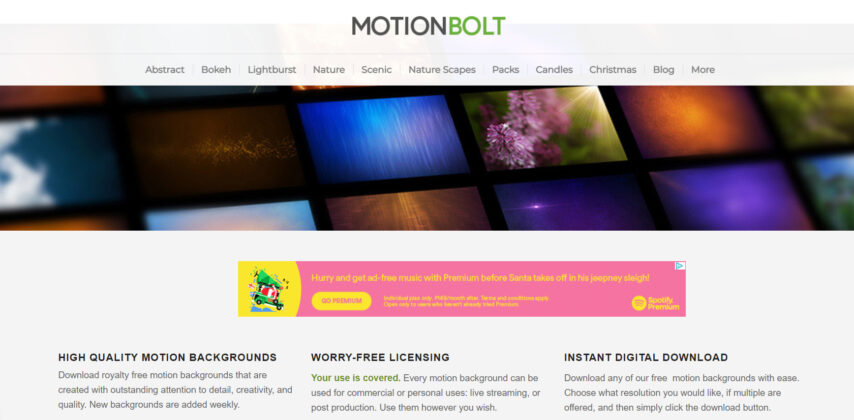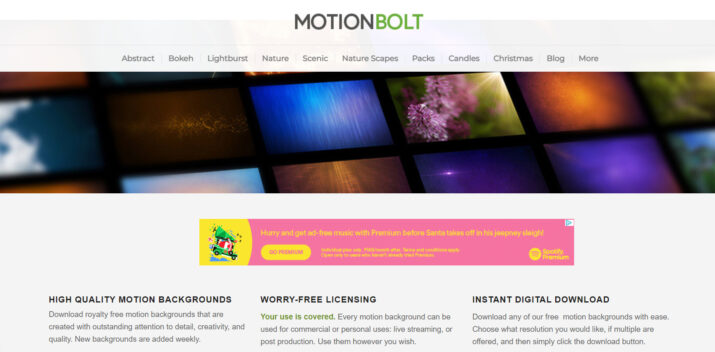 The name already gave this up. This stock footage site offers motion backgrounds that you can use however you deem fit without the need for credit.
39. Production Crate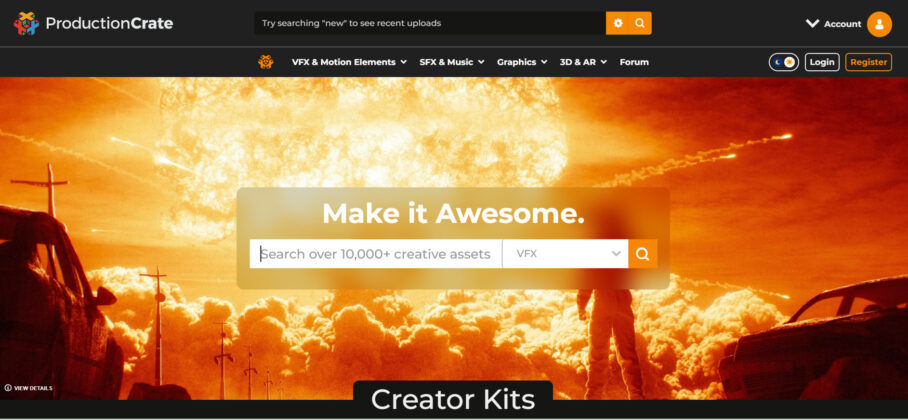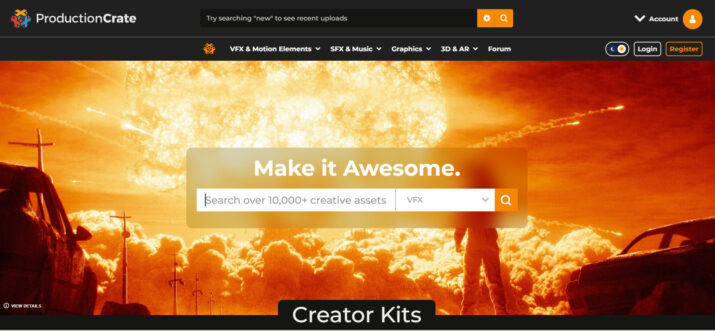 Production Crate allows you to download and use different free videos. That is, video templates, special effects, and other stock footage are all available for use free of charge.
The site requires that you register an account, also free, to access the free videos. However, free accounts give you only five downloads every day, and they tell you to attribute the clip even though it has no legal implication if you do not.
40. Fancy Footage Club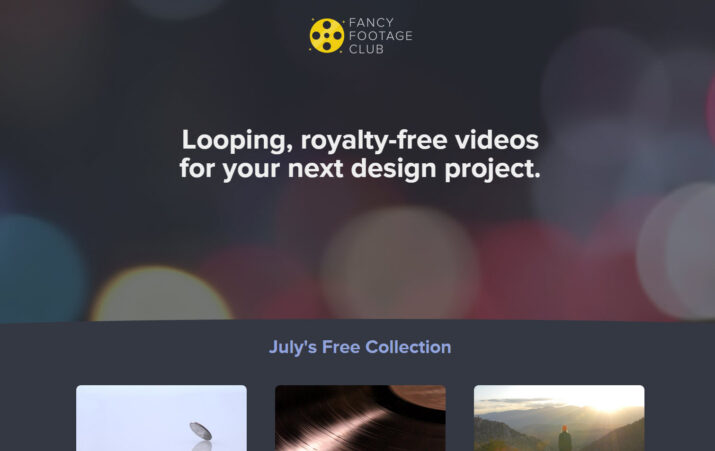 This website is no longer in operation, but the free stock footage of Fancy Footage Club can still be downloaded from Dropbox. The clips are available in .MP4 and.WEBM formats.
Dropbox allows you to check the file thumbnail before downloading but does not clarify the license information. Hence, you might have to look elsewhere for clips you can use freely.
41. Movie Tools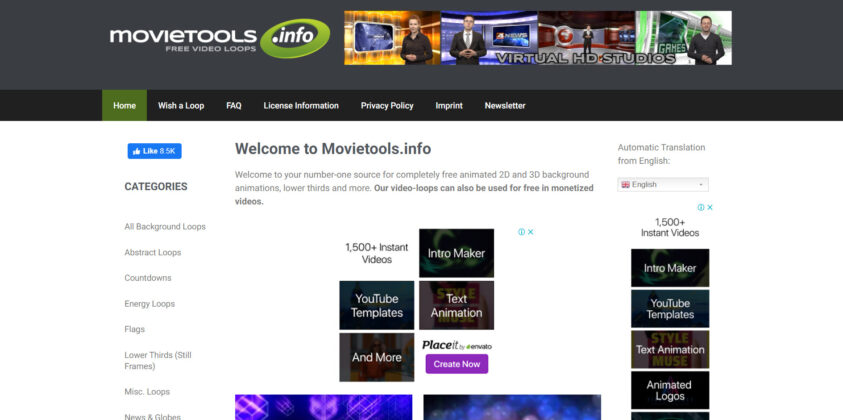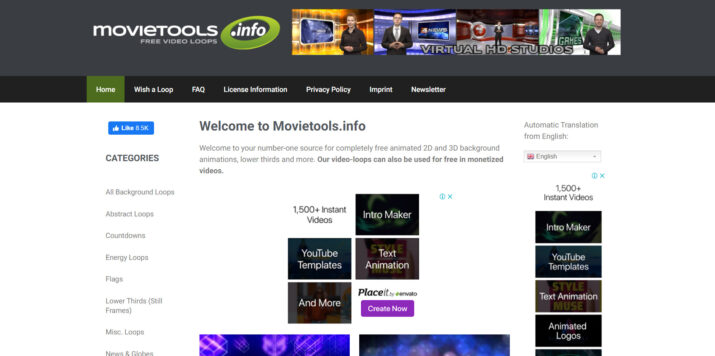 Movie Tools gives you a decent arrangement of free backgrounds and loops available for use within your projects. While the contents on Movie Tools are limited, it might just have exactly what you need.
You can even use the Wish A Loop option for new loops you'd like to have that are not already on the website. Commercial use also requires that you download an HD version that comes at a fee.
42. Monzoom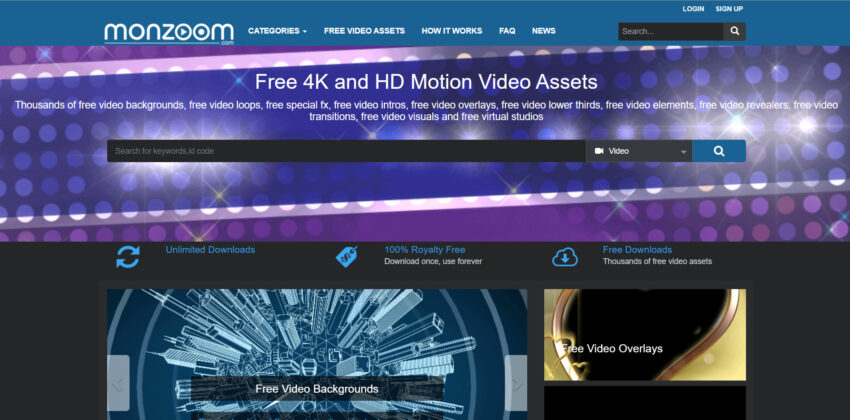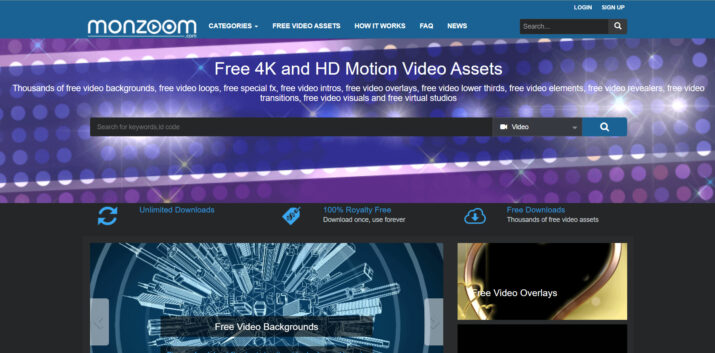 Monzoom is not entirely free to use, but it has a page where they offer freebies, including intro clips, overlays, transitions, and backgrounds. You do not have to credit the site or author when you use any clip.
43. Distill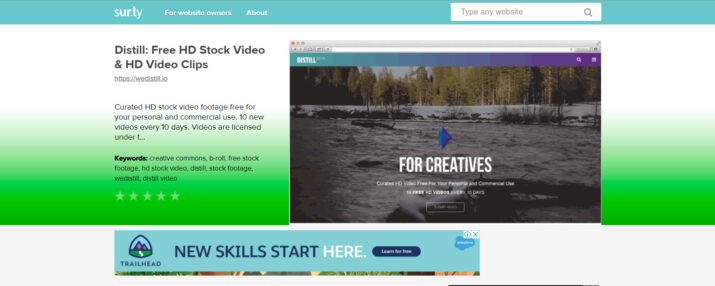 Distill guarantees you only high-quality footage. If that's what you're looking for, then look no further than this stock footage website. It is clean and contains specially picked contents from a heap of submitted files.
Although it also limits the size, the manual process of selecting footage means you get only the best. Contents are royalty-free and can be downloaded in MP4.
44. Biteable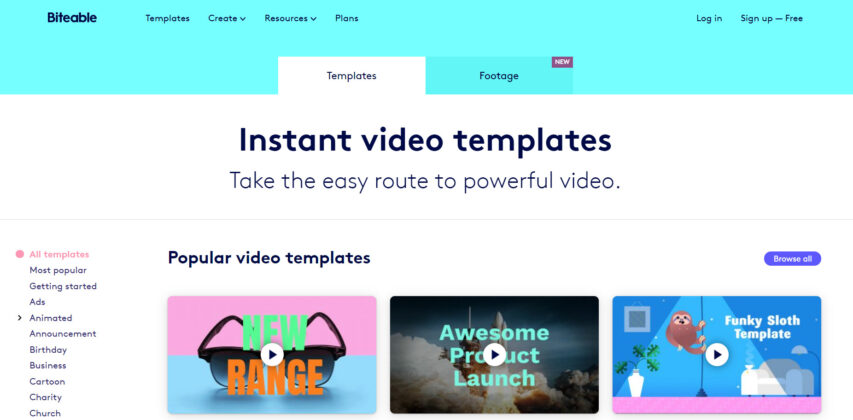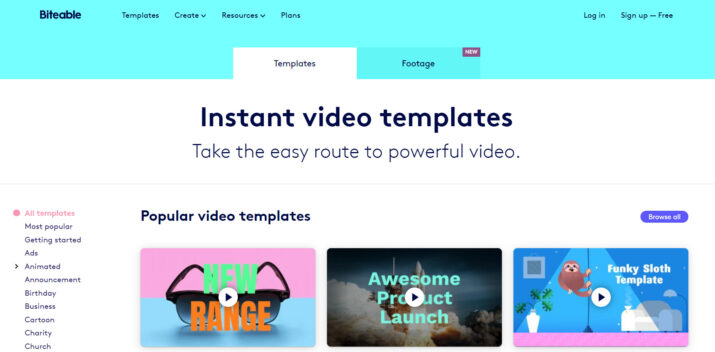 This is an online video creation tool for creating professional footage. The library has more than 800,000 contents and templates that you can discover through keywords.
45. Freestock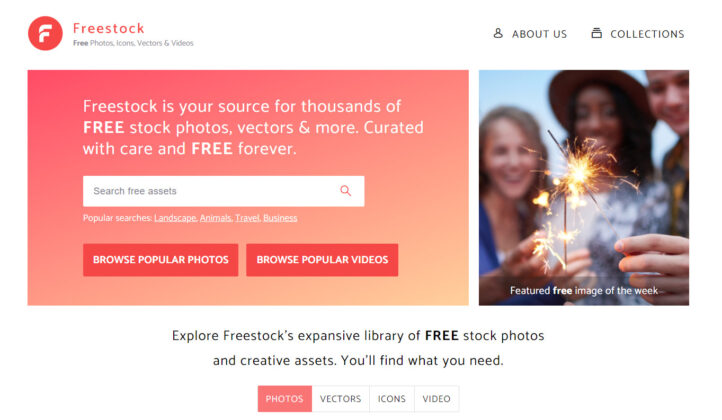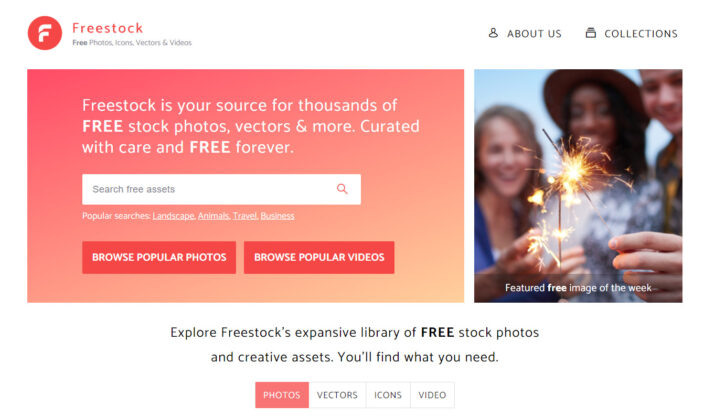 Photo: freestock.com
Freestock has different media files created by industry experts. The admins are always on hand to deliver specific needs to anyone who needs them.
Finding your needs is quite straightforward with the search bar, and you simply have to place your mouse on any video to preview the content. The footages are free to use, but you have to attribute the site.
46. DroneStock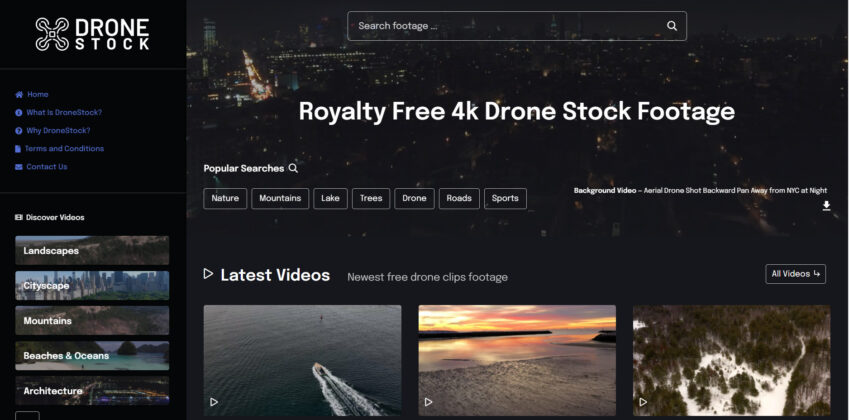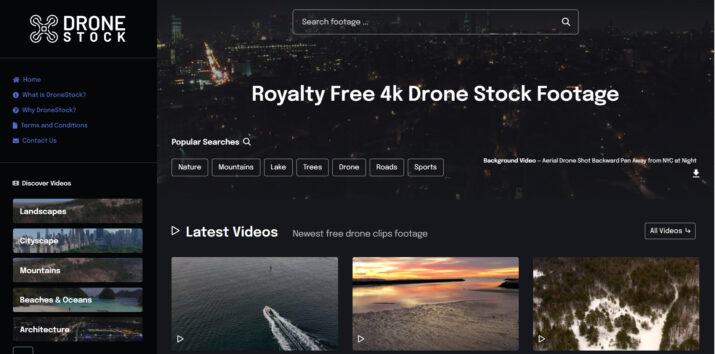 Photo: dronestock.com
This is a special free stock video site where you can find drone videos. Dronestock consists of 4K footages, and do we have to state how beautiful these aerial footages are?
47. OrangeHD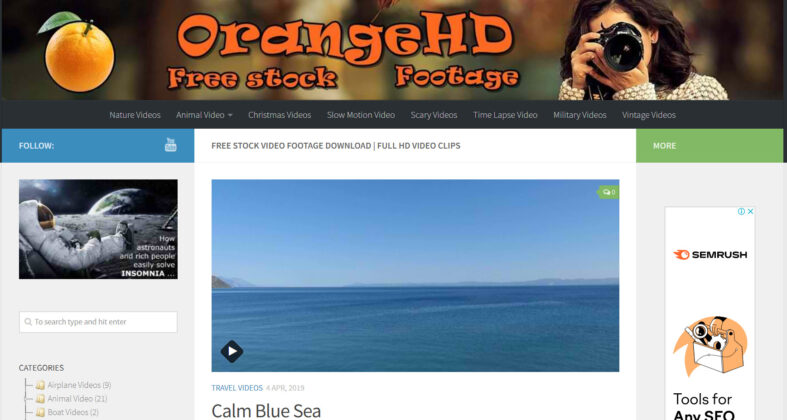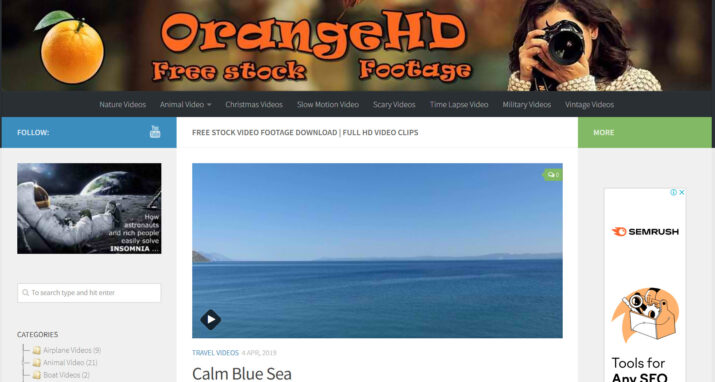 The media files on OrageHD are full HD and are available for non-business purposes only. You can get a clip without signing in, and everything is available for free.
48. Clipchamp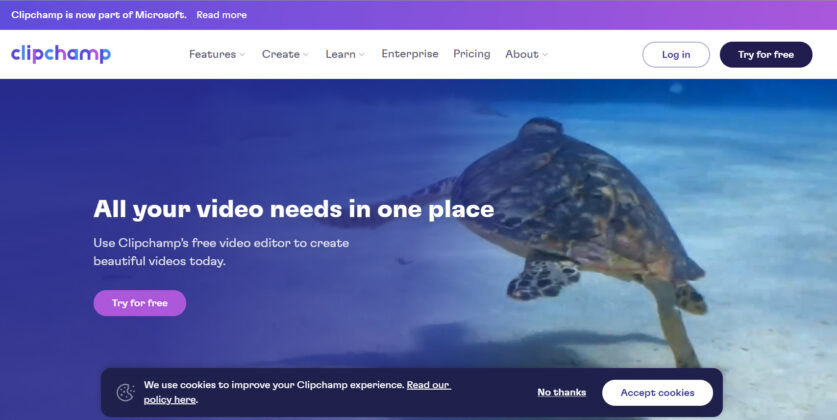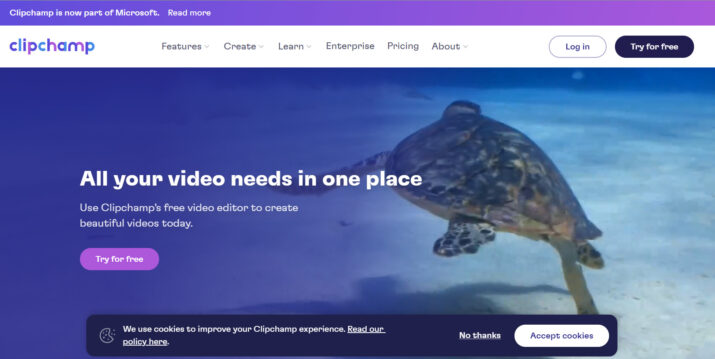 Photo: clipchamp.com
This video editor also grants access to almost a million stock footage, music, and other files. The services are made better with the partnership with other sites like GIPHY and StoryBlocks. Clipchamp has features that allow you to make your clip by dragging and dropping items.
49. Shutterstock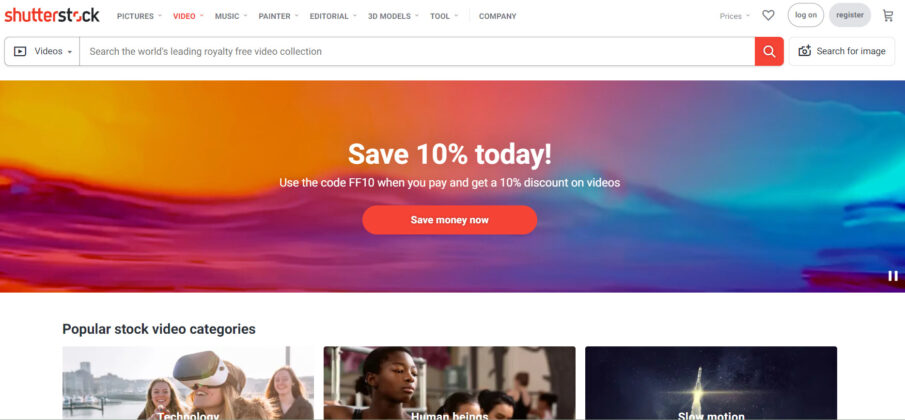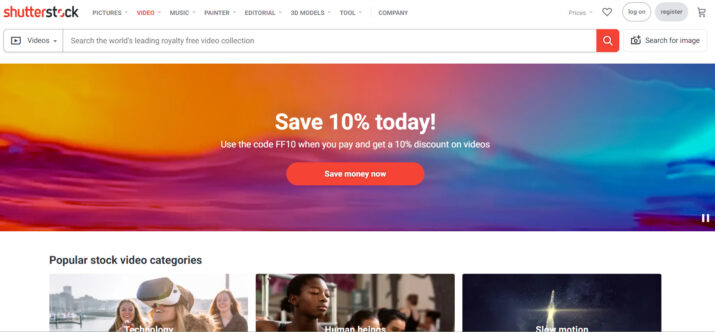 Photo: shutterstock.com
Shutterstock is one of the most popular sites for getting the stock video you need. Most of the contents have a fee attached to them, and you're most likely going to pay for any of the HD and 4K files.
New footage continues to add to the list, and you can find clips by sorting through quality, length, or frame rate.
50. StoryBlocks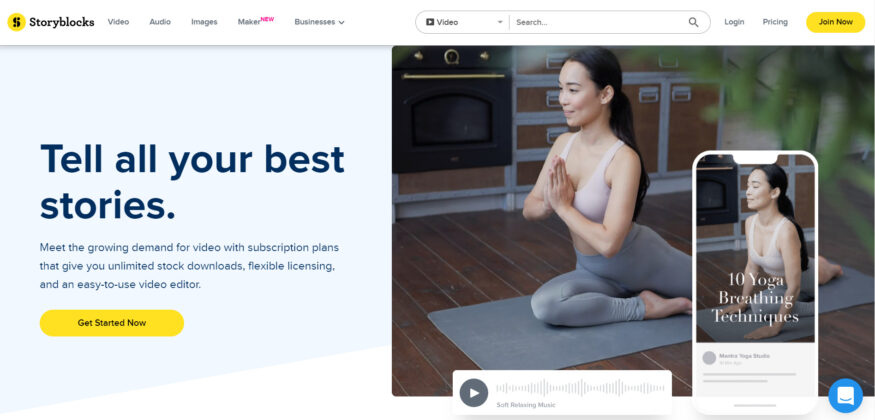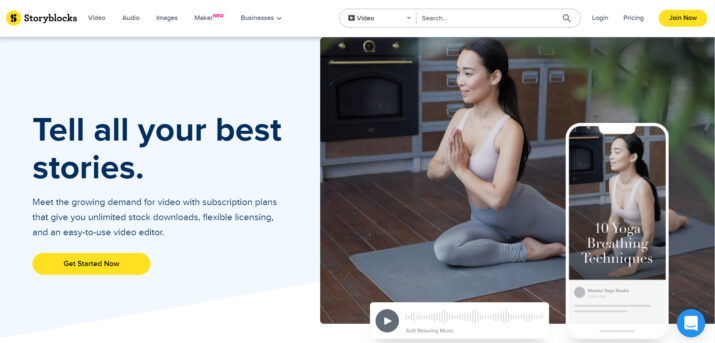 Photo: storyblocks.com
Also known as VideoBlocks, it has loads of stock HD and 4K quality clips. You get unlimited downloads from this site, but that is after you pay a $99 annual fee.
Final Thoughts
Those are the best websites for free stock videos and why each one makes it to the list. Pexels is the top free stock video website, thanks to its royalty-free images and convenient download.
However, sites like Pixabay, Videezy, Videvo, and Coverr come quite close with equally decent quality. Other options on the list are also excellent websites with the regular addition of new videos.
When next you need free HD stock videos, select any of these websites, and you're guaranteed quality videos that you can use for personal and commercial purposes.
Like this Article? Subscribe to Our Feed!
At Dumb Little Man, we strive to provide quality content with accuracy for our readers. We bring you the most up-to-date news and our articles are fact-checked before publishing.