Noft Traders Reviews: I Wouldn`t Go Along With It [2022]!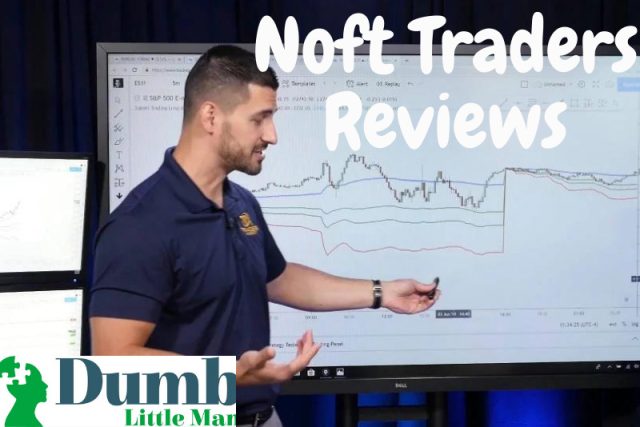 To become a successful stock trader, you need to have a glimpse of the data Wall Street companies have access to.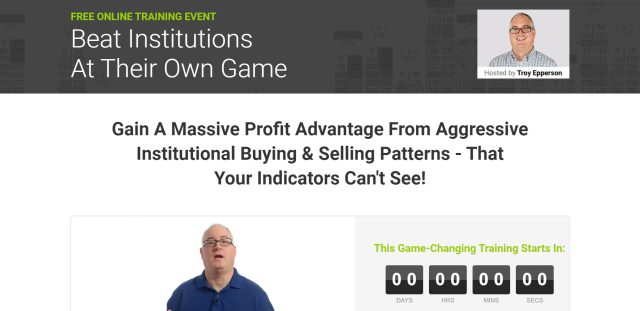 Market research and analysis is the order of the day for these hedge funds or investment banks and corporations.
Noft Traders claims to be able to teach you a few tricks in stock exchange trading which is something not many retail investors get to experience by giving you tips and tricks from big investment businesses.
NOFT Traders comes with a highly recommended team of moderators who have been working in investment banks and other such organizations.
Is NOFT Traders worth its high fees? Are there better alternatives to NOFT Traders? There are tons of questions to seek answers to.
In this Noft Traders review, we will find out if the trading platform has the best order flow dealing software or not.
We look forward to discussing most of the questions that traders ask before committing themselves to a subscription plan.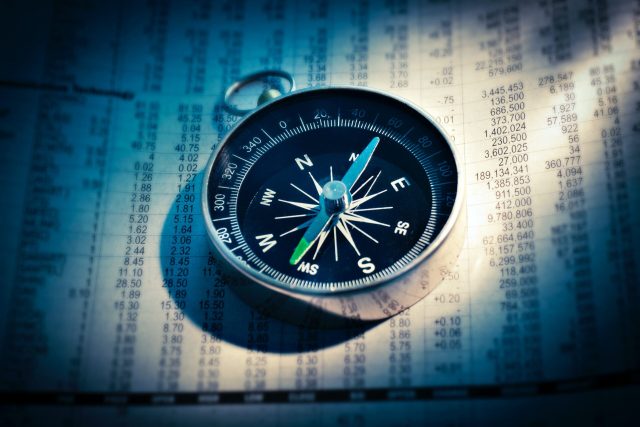 Read More About

Noft Traders Reviews
NOFT Traders is a service offering investment advisory to people on futures trading as well as forex.
The concept around this trading software is designed to provide retail tradesmen with institutional order flow analytics.
After mastering the concept, investors should understand why and how institutions earn huge margins.
Noft Traders maintain that accuracy in the money markets can be reached through analysis of the trading volume, distribution, and accumulation of data throughout the day.
NOFT Traders is of the opinion that this technique helps decipher, exploit, and monitor the activities of big financial organizations.
NOFT Traders' intent is to teach people how to analyze marketplace data in order for ordinary investors to have a chance of making millions using these techniques.
It is ironic that there is no record of dealers making money through the magic indicators that the trading site offers.
Another pipe dream is the funded account or trading program which none has been recorded having achieved any success while using.
The order flow system of buying and selling is not a new technique and day traders have been using it since its inception.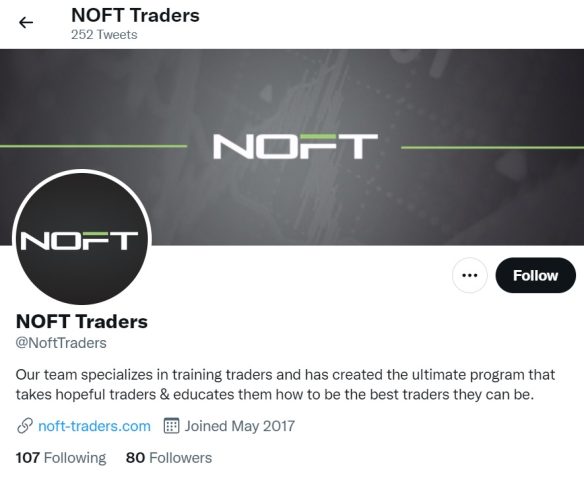 The strategy is widely used by experienced traders in large hedge fund firms and prop trading firms therefore the reason NOFT Traders believe it will make a difference for its users.
When you use the OF analysis you are able to see in real-time how other participants in the bourse are trading.
This is also referred to as reading tape which lets you view commodities just like a volume-based trading system.
Through charts, you are notified of the number of buys and sell market orders completed at every price level.
CLICK HERE TO READ MORE ABOUT NOFT TRADER
Products, Services, and costs
The main products and services offered by Ninja Order Flow Trading include the following;
Institutional Edge System
Forex Alpha
NOFT Institutional Edge System
This is essentially future trading. This institutional Edge System provides gradual instructions for trading forex which not many investors know about.
The goal of Ninja Order Flow Traders is to teach any retail dealer on proper OF sequences that are institutional grade.
What is Order Flow Trading?
This is a method that tries to predict price change based on the prevailing orders which can be seen on the buy and sell sides.
The strategy behind the Institutional Edge System is to place your trades on the correct side and in front of the big derivatives markets players.
Let's look at what you get from subscribing to the Institutional Edge System plan.
Live trading exercises
Free lifetime upgrades
9 master class video modules
Personal remote installation for white glove
14-day money-back guarantee
NOFT trading application
Free master class updates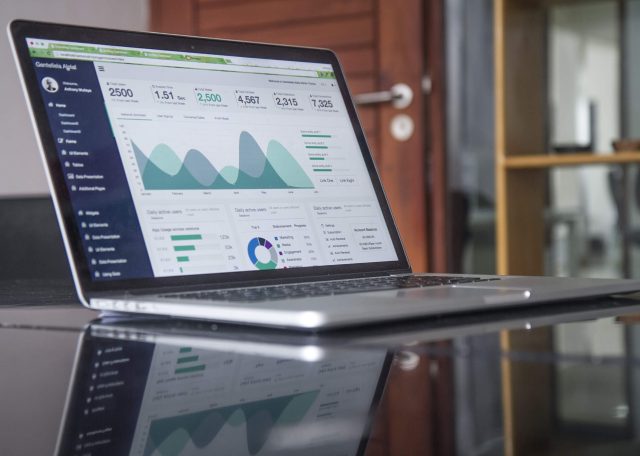 After signing up to the Institutional Edge system plan, you are offered a master class with more than 50 hours of bit-by-bit instructions showing low risk, great pay opportunities.
You get access to a weekly online webinar and Q&A sessions via live trading exercises.
The white glove remote installation and real-time software provide you with enough data for trading in the futures market without any delays.
Ninja Flow Traders' money-back guarantee is a testament that they are not in the business of preying on people's desire to improve their trading results.
NOFT Traders Review: Institutional Edge System Price
Regrettably, the site does not explicitly indicate the price for this package however after signing up, you are given a link to a landing page that has the price indicated.
This plan costs a whopping $6,700 which we think is very expensive however you have a chance of learning from wall street professionals.
The trading program claims to be trading insiders that can teach winning trading strategies even for an experienced dealer.
Businesspeople who are interested in getting this service can contact the moderators through email for a list of the site instructors to run a background check.
This is to make sure that you are learning from legit people who are also dealers and you will not be losing your money.
NOFT's 14-day money-back guarantee means that you will have access to all listed products ad will not have any issues refunding your money if it does not impress you.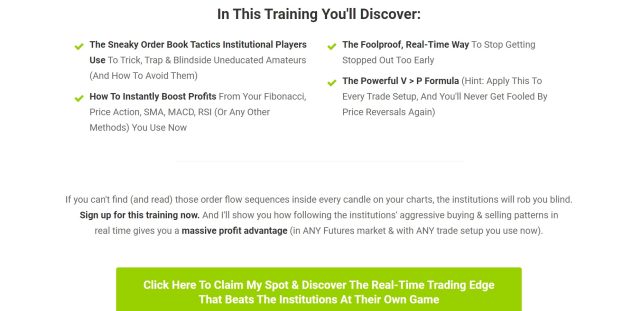 NOFT – Forex Alpha
This plan is an institutional-grade technical analysis fad that provides data on institutional offers and bids.
With this service, dealers get real-time data that helps them to avoid unexpected currency swings and analyzing trading volume in a more comprehensive way.
The key strategy here is that a trader will get the same amount of information as institutional dealers do through superior charting tools.
CLICK HERE TO READ MORE ABOUT NOFT TRADER
What is Included in The Forex Alpha Subscription
When you buy the Forex Alpha subscription from NOFT Traders, you get many institutional-grade analytics tools for currencies including;
Demand and supply indicators
Highlights and news feed.
Market valuation indicators
Exhaustion alerts
Price and time opportunities
Reversal alerts
Position sizing and a risk-reward calculator
Order size profiling
Included in this plan is an educational part that is very thorough with more than 50 lessons on how to trade in currencies and how a trader can use the market indicator tools to detect valuable opportunities.
Forex Alpha comes with advanced charting tools such a eSignal and NinjaTrader.
It also has contemporary AI-based stock screeners like that of Trade Ideas as well as a white glove setup for you to get started.
The KickStart currency setup valued at $250 is also included in the bonus package.
CLICK HERE TO READ MORE ABOUT ESIGNAL
CLICK HERE TO READ MORE ABOUT NINJATRADER
CLICK HERE TO READ MORE ABOUT TRADE IDEAS
Should You Buy Forex Alpha?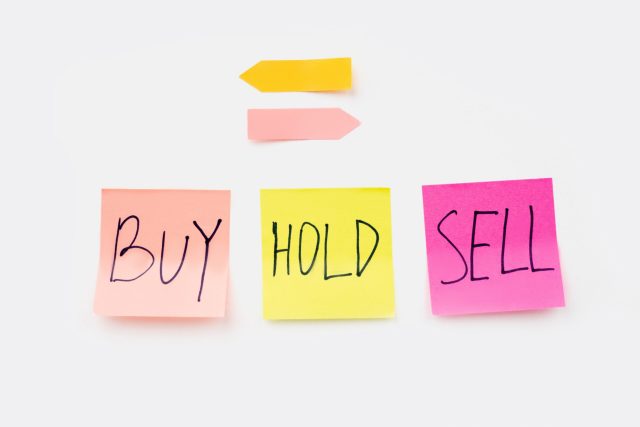 For starters, Forex Alpha is way cheaper than the institutional edge system as you can purchase the plan for $1,999.
Still, the prices are very high for the data you are getting here as there are other trading programs out there with the same offering and at much lower fees.
Such platforms include Earn2Trade, Topstep Trader, and NinjaTrader.
The good thing is that you can take advantage of the 14-day money-back guarantee if the program does not fit your needs.
Another cool feature is the live demo where NOFT trading educators take you through the platform to assess the quality of the Forex Alpha plan.
This is good proof from NOFT traders that the platform works and that they support it.
Call NOFT Traders to request a one on one with trading educators in the platform and ensure you have your list of questions with you.
You will need to have the NinjaTrader however it will cost an extra $1,000.
CLICK HERE TO READ MORE ABOUT EARN2TRADE
CLICK HERE TO READ MORE ABOUT TOPSTEP TRADER
CLICK HERE TO READ MORE ABOUT NINJATRADER
Any Free Trial?
Despite NOFT's high prices, it does not offer any free trial. However, you can pay for a plan and get a 14-day money-back guarantee.
Before trading forex, you can also request a free session with NOFT trading educators who will take you through the program and present to you the various techniques hedge fund dealers use for making money.
The trading account will provide you with guides on the basics of order flow, futures trading with less than 20k, and tape reading.
There are also tons of blogs and articles with good intel on the futures market, stock trading, and forex options making it the one trading educator.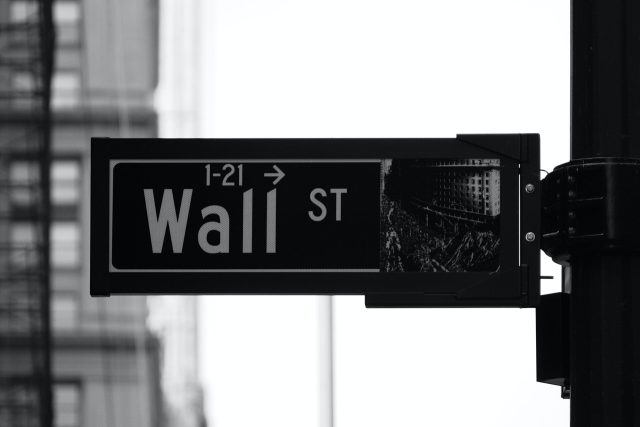 Is Order Flow Analytics Good For Retail Traders
If you like to use technical analysis reports, Ninja Order Flow Traders have what they call order flow analytics.
What does this mean to dealers? Institutional order flow analytics is a technical analysis method that helps any experienced trader in making big bucks trading in the financial markets by taking advantage of financial institutions and hedge funds.
This company believes that this analytics method will help other traders to find out the tricks institutional investors are using to make money.
That said, there is no evidence or track record from any NOFT trader of any money made using the order flow analytics tool.
Is Order Flow Analytics here to stay?
Ninja Order Flow Trading software is one among many who have used this analytics method claiming to be the sure way of becoming rich as a stock dealer.
This analytics method has been in existence since the 80s and there are indicators of it slowing down.
The challenge experienced with this method is that traders cannot backtest it. Opinions are usually subjective and therefore very hard to quantify anything.
For example, we have seen many instances where the market had thin volume at a high price then unexpectedly the price surged leading to higher prices.
At the same time, several situations have been witnessed where the exact opposite happened.
Therefore as earlier said, the NOFT traders' order flow analytics method is very interpretive or subjective.
The technical trading community however thinks it is the best and most useful but every few years new analytical methods pop up from several companies.
Back in the 80s, lost everybody aspired to have a Japanese car. It is also around the same time that the Japanese Candlestick Charting was introduced by Steve Nison.
It later turned out that he personally wasn't successful in the commodities trades but a powerful educator.
Right after the Japanese Candlestick craze, another guy called Steve Bigalow popped out claiming to offer improved candlestick analysis which later became a charade of two educators striving for fame by desperately creating techniques and making them look real.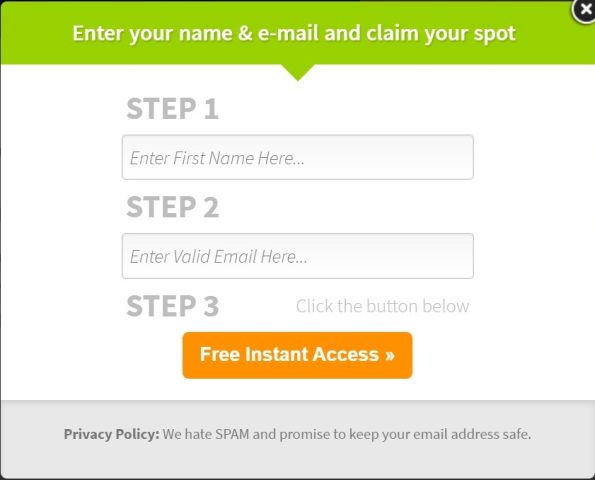 Nil Trading Results
For users to validate a trading website, they need proof from the owner that he uses it and therefore will as well improve the lives of other traders.
Christian Hoffman is the owner of NOFT Traders and is a guy with a good attitude and he seems to know what traders need when dealing with stocks.
Christian Hoffman is also the proprietor of Ninjacators.com. We like that he is open about his business however when dealing with him, note that he will never display any of his account statements as proof that it works.
The lack of proof of performance makes it hard to rate the performance of this trading website.
The fact that you cannot backtest makes this a high-risk venture despite the website having an excellent educational part.
NOFT Traders Review: Who is it Best For?
Anyone looking to trade in futures, currency trading, derivatives, and more can consider using this website.
The website has a good system to help a retail trader improve his game on futures trading with the inclusion of a live demo.
Knowing that company tradesmen have dominated the trading of futures, derivatives, currencies, and other class assets, NOFT Traders products will give you acumen into how they think and the strategies to use to exploit it.
For the serious forex dealer, NOFT Traders has the Forex Alpha course that contains several concepts that teach traders how to spot moves that have been made by company professionals.
There are other great alternative websites for trading futures and forex such as Benzinga and Trader Sync but at the top of the list are Topstep Trader, Ninja Trader, and Earn2Trade.
These alternatives are available for much less and some have a free try-out period which NOFT Traders do not have.
CLICK HERE TO READ MORE ABOUT EARN2TRADE
CLICK HERE TO READ MORE ABOUT TOPSTEP TRADER
Customer Service
The customer service at this website is almost nonexistent for a non-member. I wonder how it is for its members.
When you open their website you get a landing page that has a claim my spot tab to register for training.
It is disappointing that after clicking on the tab you are taken to a page that tells they're no longer receiving any submissions.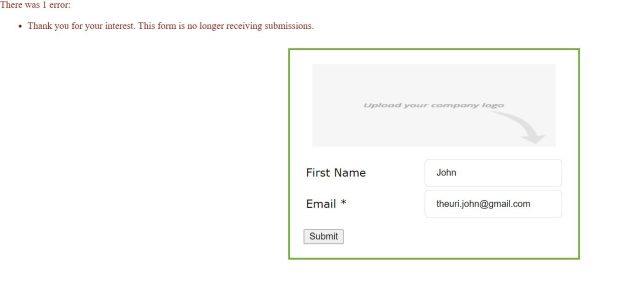 That is not attractive for any beginner as they should expect support and response from the team.
We came across their Twitter page but we didn't find much activity going on there so they need to work on that.
Do they reply to your Twitter messages? We are yet to figure that out but from the looks of it, they don't.
Troy Epperson
Troy Epperson is the head trainer of the Futures trainer plan at NOFT Traders. He says he started trading in options and stocks since he was a young college student and has not stopped since.
He has previously worked with a hedge fund company, done trade on behalf of private individuals, and for himself as well before joining NOFT Traders six years ago.
He says that their focus is on futures traders as they provide education and software, particularly for short-term order flow dealing.
Troy says that the difference between them and the market is that they show you how to handle the software as well as how to apply it as you learn to trade.
Users get to choose the level of education they want to pursue through their on-demand live training classes, video library, in-person boot camps at their training center in Knoxville Tenessee.
When asked about significant changes in the futures market, he says that accessibility and low entry requirements have made it possible for anyone to become a trader.
He says the three greatest benefits of the futures trade are transparency, leverage, and safety.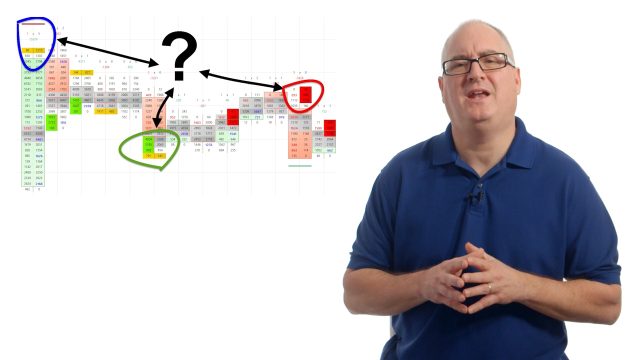 Troy finishes by saying that the most significant aspect all beginner traders should know is capital preservation and the learning curve.
Realistically it will take some time for a beginner to learn to trade and use the software.
Therefore trainers should allot more capital to education and then get to the buy and sell part of the business.
Many beginners have blown out their accounts because of underfunding and not being able to survive the learning curve.
CLICK HERE TO READ MORE ABOUT NOFT TRADER
NOFT Traders Review: Conclusion
According to their site, the company says that its instructors are former department heads at major hedge funds, insurance risk management corporations, and investment banks.
NOFT traders provide two main products which are the futures plan and the institutional edge system with tones of educational material.
Notwithstanding the high price of the two packages, there is no track record of any NOFT trader having made money while trading, and the techniques are subjective.
Therefore, before going into the buy-sell spree note that again you have to spend over 1000 dollars for the NinjaTrader software.
Topstep Trader is a fine alternative as you have proof that it has clear consistent performance records and you can try out your ideas in various market conditions and it has a free 14 day trial period.
We can only rate NOFT Traders after they provide consistent proof of performance even as the analytics part is subjective and opinionated not fact or research-based.
CLICK HERE TO GET TOPSTEP TRADER AT A DISCOUNTED PRICE
Like this Article? Subscribe to Our Feed!
Passionate in tech, software and gadgets. I enjoy reviewing and comparing products & services, uncovering new trends and digging up little known products that deserve an audience.