SureTrader Review: Not So Attractive Offers At All[2022]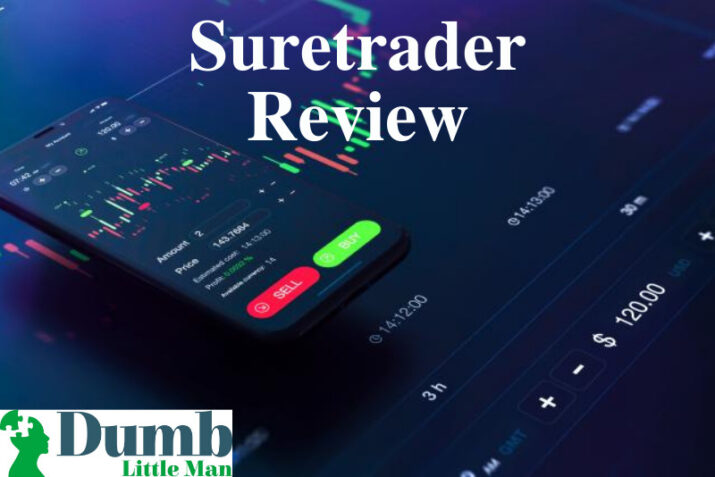 Navigating through financial markets can be an incredibly complex process. There are several factors you must take into account before choosing between many of the well-established online trading platforms for your investments.
For new and experienced traders, your chosen trading account must be made using a flexible and easy-to-use trading platform. This will ensure that you have the right tools to help you in your journey.
In this SureTrader review, we will be covering all aspects of the site and the features that it offers and we will cover how effective the site is for traditional day traders.
We will also cover the advantages and disadvantages of utilizing the SureTrader platform, and the fees that you will be faced with when using either the SureTrader desktop or mobile app (or as will be mentioned, the SureTrader Active Web).
Please note: SureTrader has now been officially closed. As a result, will also cover alternative platforms that are considered to be excellent for the services they provide. Below we will also write about how you might open an account with premium sites such as TopstepTrader.
| RECOMMENDED TRADING COURSE | REVIEW | VISIT |
| --- | --- | --- |
| | #1 Forex, Crypto and Stocks trading course. Ranked most comprehensive by Investopedia and Best by Benzinga. Free to Try! | |
Online Broker SureTrader Review
About SureTrader
SureTrader Summary
The SureTrader brokerage firm is a broker based in the Bahamas. As a brokerage firm, it enables its users to day trade with only a small deposit in comparison to other brokers. The deposit to open an account and trade with SureTrader is only $500, and for new accounts, you even get $50 in free trades to help you get started.
The company is owned by Swiss America Securities and licensed and regulated by the Securities Commission of The Bahamas and The Central Bank of The Bahamas (in that order). For those who are unaware, the Securities Commission of The Bahamas is responsible for regulating various industries including securities alongside investment funds.
Through the SureTrader website, you have access to essential financial data in real-time. Access to real-time data helps users become better informed of the actual state of certain markets, enabling them to become better at making important decisions relating to their investment.
An important aspect of SureTrader is that it is considered to be a great brokerage platform for day trading. In this SureTrader review, we will cover why using SureTrader is particularly advantageous for day traders.
For those who are unaware of what day trading entails, essentially, day trading is the process of buying and selling a particular financial asset within a single day. This means that if you choose to purchase a security, but you do not sell it within the same day, it is not considered to be a day trade.
Day traders are often met with rules that restrict their movement or make the day trading process more complex. However, with a SureTrader account, day traders are likely to receive more advantages in comparison to creating a trading account with some other trading platforms.
Advantages
No Pattern Day Trading Rules
Day trading comes with rules. More specifically, the pattern day trading rules. The main pattern day trader rule is imposed by the Securities and Exchange Commission for traders in the USA.
Pattern day trading only applies to certain trades (i.e., stock and equity options). It is, therefore, the process of making more than 4-day trades within 5 business days in total. These trades must be completed using a margin account.
As a pattern day trader, you are subject to regulation that prevents you from making excessive trades. The pattern day trading rules refer to the fact that as a pattern day trader, you must have a minimum of $25k in your account.
The $25k mentioned does not have to be directly available in cash. There are certain securities where if help, can also be part of the $25k requirement. If your account reaches below that minimum level, then you can not conduct any day trade until the balance has again reached the minimum.
Since you can completely get around the pattern day trader rule, pattern day traders are in a more advantageous position in comparison to if they choose to create accounts with other brokers.
Demo Account
With the free demo account, you can first try to trade without any of the risks of losing money.
With the demo account, users can become a lot more familiar with both SureTrader and (if they are particularly new at trading) trading in general. This helps users to better understand all of the beneficial features offered by the company.
The free account can also potentially make it much less likely for users to make major mistakes later on when they are actually trading with their own personal cash. This is of course dependent on how long they have decided to practice for and the state of the market as it currently stands
Security
Being licensed and regulated by the Securities Commission of The Bahamas and The Central Bank of The Bahamas (in that order), SureTrader can be marketed as a trustworthy and licensed broker that is regulated by an official entity.
Being a licensed broker through the Securities Commission of The Bahamas means that the company is subjected to the rules set out by that statutory body.
The Securities Commission of The Bahamas can decide whether or not a particular company can continue to run depending on if they have violated any of the strict regulations.
As a result, users may feel that their making trades with SureTrader is more beneficial towards the security of their funds and trades in general.
Disadvantages
Whilst there are advantages to making an account with SureTrader, there are also plenty of disadvantages.
The following disadvantages are plentiful enough to dissuade many potential users and to prevent current users from wanting to continue making trades with SureTrader.
Many of the disadvantages to be mentioned are linked to the number of fees that users may have to pay depending on how they use the site. Some fees are faced by all users who choose to trade using a SureTrader account.
Inactivity Fee
The SureTrader trading account comes with an inactivity fee. An inactivity fee is essentially a fee that results from the user of a particular account having less than a total of 15 trades per quarter.
Whilst it may seem easy to avoid this fee, it is incredibly inconvenient for certain traders. For example, traders who like to only day trade occasionally, those who wish to have a semi-long break etc. Even for people who completely intend to make at least 15 trades per quarter, the idea that if you must make this amount can seem to be unappealing and uninviting.
The fee is a total of $50, and although it is quite low in comparison to the trades that certain individuals make, it is still a disadvantage that can easily dissuade certain individuals from trading using SureTrader.
Transaction Fee
Another type of fee faced by SureTrader users is the transaction fee. The SureTrader transaction fee is essentially the fee charged whenever a user makes any sort of transaction.
The transaction fee is an unavoidable $40 fee that is charged for all outgoing funds.
Lack Of Training Material
The SureTrader platform does not come with extensive training material. There are plenty of other brokers and dealers who provide a lot of material to help their users become more informed traders.
Although they do have a blog, the content they provide is not nearly enough to be able to compete with other established brokers in their competitive field.
The lack of training material can be discouraging and can prevent SureTrader from attracting new traders who are just beginning to understand the markets.
Penny Stock Manipulation Schemes
Whilst this issue occurred in 2016 and has since been resolved, it has still led to distrust in the SureTrader platform for many new and existing users.
The Penny Stock Manipulation Schemes situation refers to the time when the CEO perpetrated such schemes and was therefore charged by the US SEC. Although all charges were eventually dropped in early 2017, it still caused a significant wave and fluctuation in the company's reputation.
As a result, many people were discouraged from using the SureTrader platform.
Reliability
Although security was listed as an advantage above. There has been some evidence that certain actions have caused their regulating body to be suspicious of the movements of the company.
As an example, (not quite beneficial, however, it does show that any sort of indiscretion is punished) in late 2019, SureTrader has had its license temporarily suspended by the Securities Commission of The Bahamas pending an investigation into some of their activity. Whilst it has been resolved in that same month, it does show that security is being seriously considered and there are repercussions to making misjudgements.
SureTrader Mobile App
There are many different platforms that all users of SureTrader can use. Users have direct access to the mobile app, desktop, and the Active Web. This makes it convenient as certain individuals may find that using a particular platform is better for their needs and circumstances. For example, those who travel frequently during the day may find it more convenient to use a phone when it comes to trading or watching their investments.
With the SureTrader mobile application available, through the SureTrader mobile app you can quickly, easily, and efficiently watch stocks, your trades, and other important information.
Customer Service SureTrader Review
SureTrader has an active and helpful customer support team. The team members are often quick to help solve queries and they are contactable in many different ways.
Below we have listed a few contact details that may be convenient for you to use for any problems or issues you encounter.
Contacts
USA: +1 7182479939
Office: +1 242603860
Canada: +1 4378869118
Another effective way to contact their team is through the form listed on the SureTrader website.
SureTrader Trading Fees
There are plenty of SureTrader fees that you are faced with when using either the mobile app or the SureTrader desktop. In this SureTrader review, we will be covering the trading fees along with the commissions listed on their website.
Within this section, we will also discuss the account minimums. A brilliant feature of SureTrader is that it does not charge a monthly platform fee. However, there exists a minimum deposit amount that traders must deposit before making any trades and using their accounts. The minimum deposit is $500, which is considered to be a fair amount.
In contrast, there is a fee associated with those who only want access to the mobile app. In total, there is a monthly fee of $35 for those who do not want to use the Pro/Desktop packages.
Features And Functions
We will also cover many of the features offered by the trading platform in this SureTrader review.
Charts
With the SureTrader platform, you have access to high-fidelity charts that can be completely tailored to your personal preferences. It is also possible to set multiple data points against charts, thus enabling you to get more valuable data that can help you make more informed investment decisions with your financial assets.
Profit and Loss Display
The SureTrader Desktop, Active Web, and Pro package all give you access to the profit and loss display. This information is incredibly useful for users as all of the data are real-time. It is convenient for those who need to make split-second decisions that have a significant impact on their funds.
Alternative Online Brokers
There are several other online brokers that are well-established with great reputations for online trading. In this SureTrader review, we will also look at alternative companies with platforms that are more than capable of competing with the SureTrader desktop. This is in both the features that they provide alongside the convenience they offer for their users.
Below there are even firms listed that are capable of displaying real-time price movements for stocks alongside all of the other services they offer.
TopstepTrader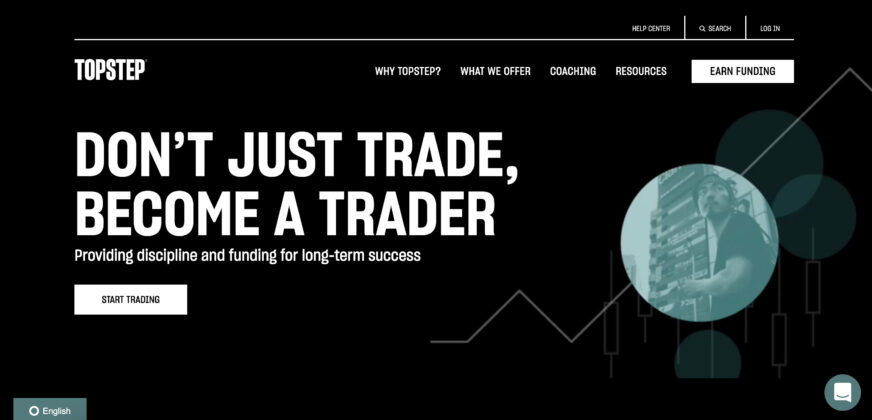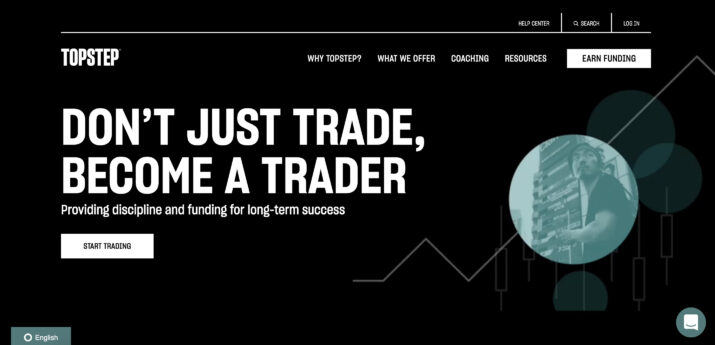 Summary
For a seamless trading experience and access to very powerful trading tools, TopstepTrader is likely to be the best online broker for your circumstances. It has a clear pricing structure and boasts features that completely outperform other brokers. Their research tools yield major advantages and valuable data to help you start trading quickly and efficiently.
With TopstepTrader, beginner-level investors can learn both the ins and outs of trading online through a platform endorsed by licensed trading professionals. It is also used by and endorsed by many advanced traders due to the trading capabilities and advanced features that the platform offers.
Features
When it comes to either futures or forex trading, TopstepTrader has proven to contain many resources that have been designed to help you make more informed trades at the best times possible.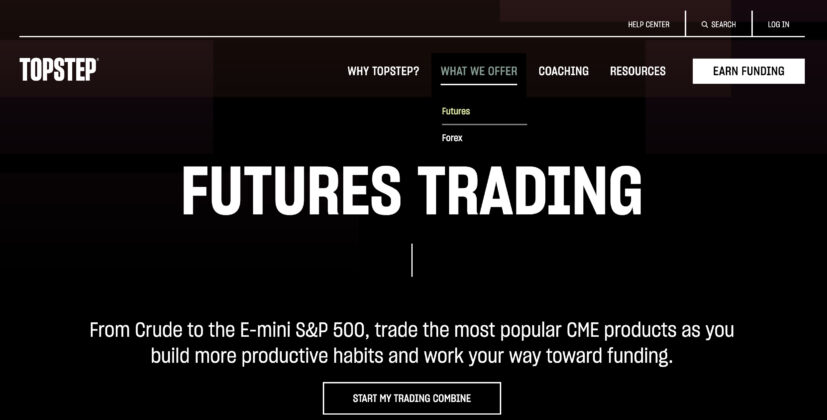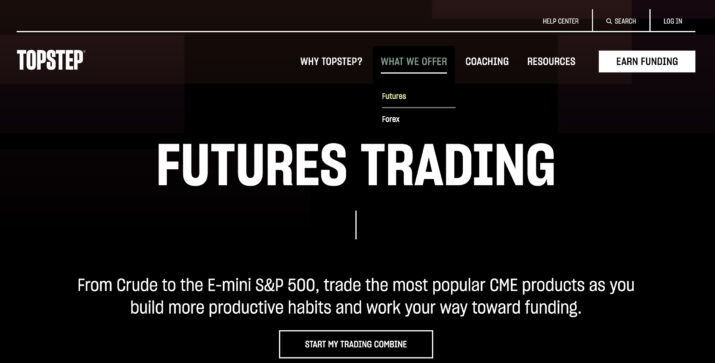 For Futures trading, TopstepTrader has clear account parameters that essentially act as rules and targets for traders to follow and work towards in order to successfully use the application with confidence. One such rule involves not allowing your account balance to meet or exceed the Trailing Maximum Drawdown, which in simple terms, is the minimum account balance.
An example of the Trailing Maximum Drawdown is as follows: If you have a $75k account with a Trailing Maximum Drawdown of around $4k, then your balance must not go lower than $71k (at least, when the trading day is over).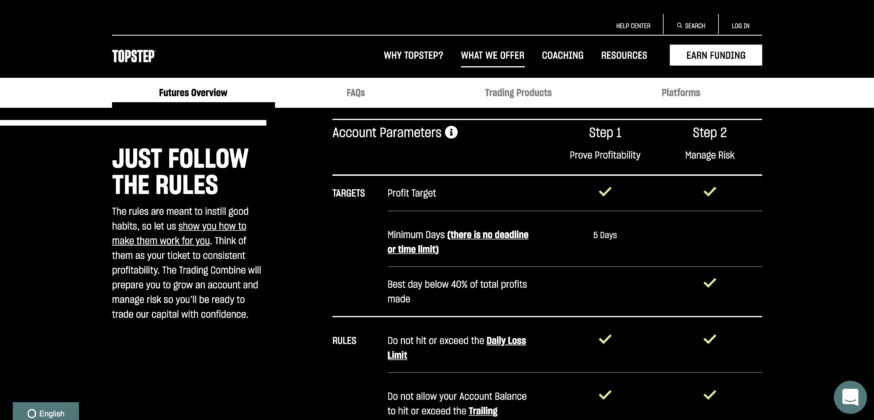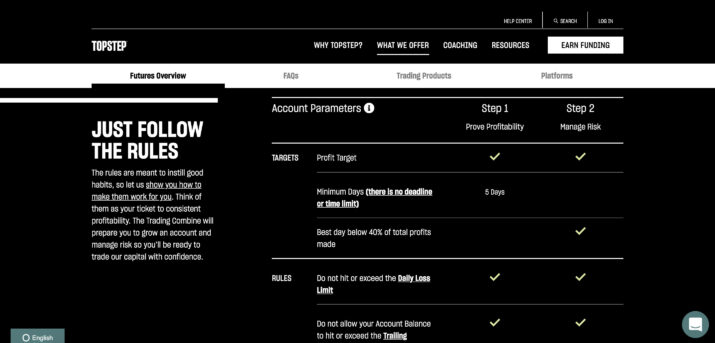 As a premium trading platform, they have a lively community of traders who are capable of giving valuable investment advice and insights into financial markets to help you become a better trader. This community is particularly helpful for new and beginner-level traders who are still unsure of the concepts behind futures or forex trading.
CLICK HERE TO READ MORE ABOUT TOPSTEP TRADER
History
The history of TopstepTrader has started out with the founder Michael Patak has created multiple trading accounts in the past that all led to some form of failure. It has inspired him to create a brokerage company that has since become highly valued.
Since 2012, the Patak Trading Partners was formed in order to give investors who are passionate about trading learn how to trade with consistent success without having to risk all of their personal funds.
Account opening Process
It is a fairly easy process to open an account with TopstepTrader. When accessing the website there is a large white button on the top right corner of the page titled 'EARN FUNDING'. Click on the button and select a package (packages listed under the 'Pricing' section below).
Pricing
When it comes to the TopstepTrader trade fees, there are three different packages available for both future and forex trading. Each package gives you different buying powers, for example, for futures trading, the prices are as follows:
Buying power: $5ok. Price: $165 /month.
Buying power: $10ok. Price: $325 /month.
Buying power: $15ok. Price: $375 /month.
For forex trading, here is an image equivalent: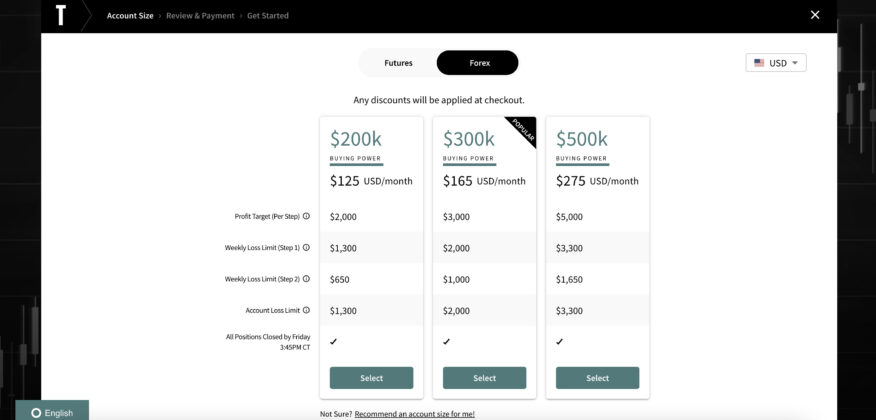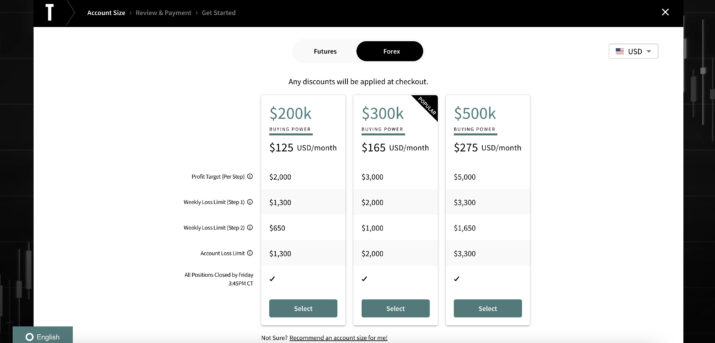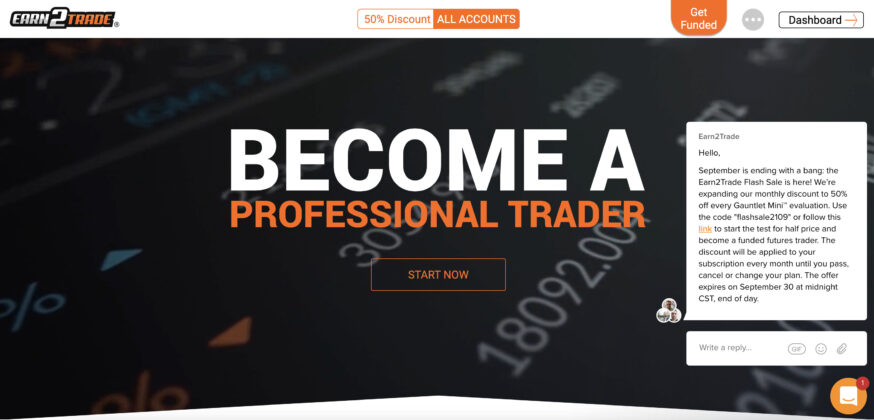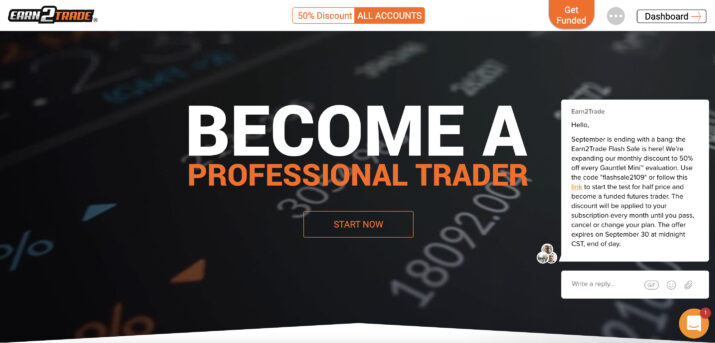 Summary
The Earn2trade platform is for those who want trading leverage through learning from many of the high-quality resources that Earn2trade provides (some for free). For example, through subscribing to their email list you can get instant access to their survival guide which includes three booklets that cover many useful topics to do with the S&P 500.
This platform will give you the ability to learn from experienced and talented traders and educators who have been trading futures for many years and have received continuous success from their efforts.
Through the completion of the Earn2trade Bootcamp, you are then guaranteed an offer from their partner (a trading firm), thus giving you more confidence in the platform.
Features
With Earn2trade you can open an account by first clicking the 'Get funded' button on the top right-hand side of their website and following the instructions listed on the page.
Earn2trade has a stimulated trading platform for students to learn the intricacies of futures without having to risk any of their own capital. Through Earn2trade, you have a risk-free way of becoming more knowledgeable through mentoring before you can even think about using your own personal funds.
Completing the Gauntlet Mini Bootcamp can allow you to get funded only after 15 days of trade. This includes completing their beginner course and stimulated daily trading.
CLICK HERE TO READ MORE ABOUT EARN2TRADE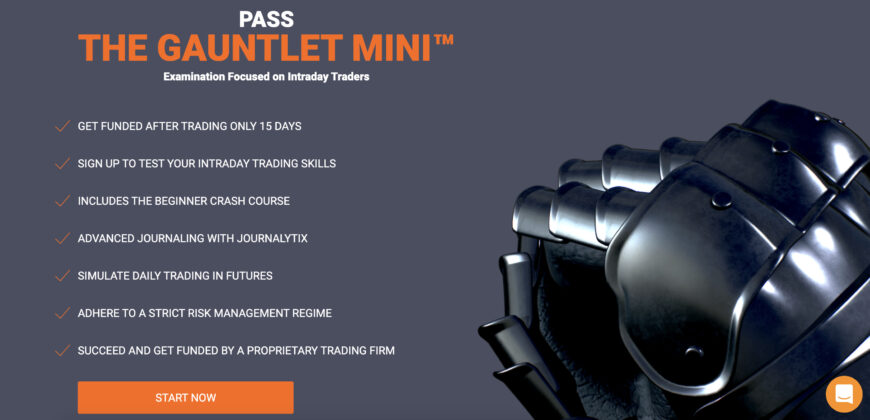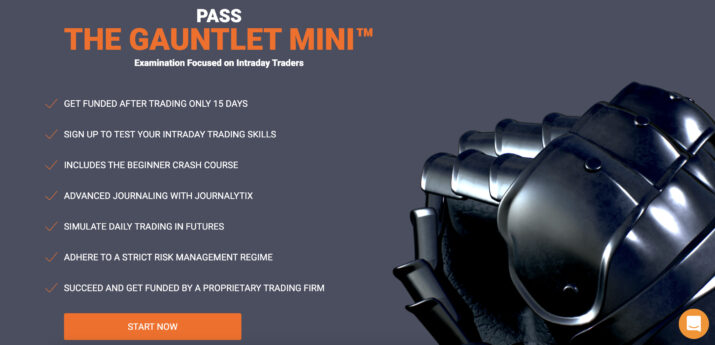 Pricing
In this SureTrader review, we have mentioned that SureTrader has fees associated with trading however they have no monthly platform fees. With Earn2trade, the pricing structure is different. The account types are listed below: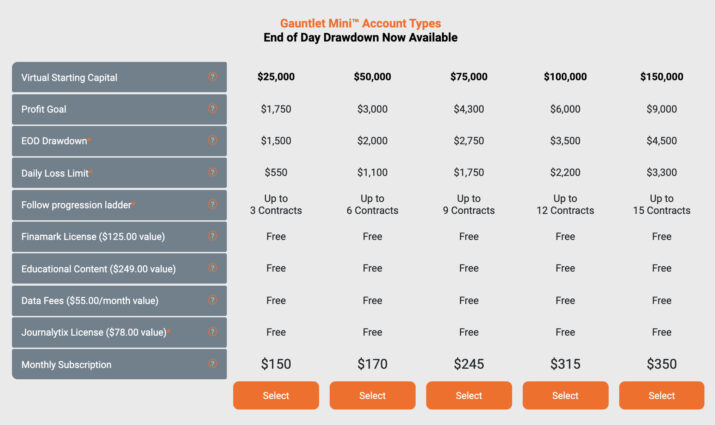 Summary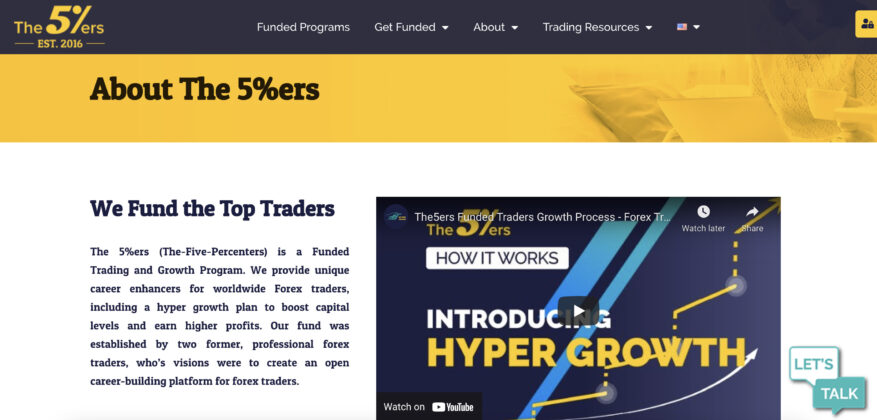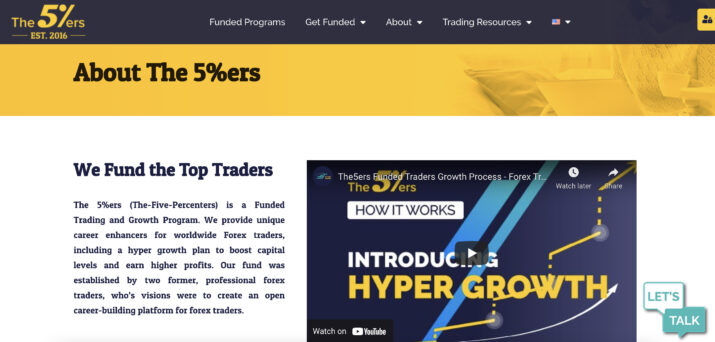 The 5%ers is a trading program for forex traders who want to attain more success with their trading. It enables you to trade with a genuine money account funded by the company.
There are various levels that you must complete, LVL 1 to do with succeeding with your own strategy whilst also adhering to the company's risk management requirements.
Features
To open an account with the 5%ers you can click on the large yellow button titled 'APPLY TO THE 5%ERS NOW'. Users have access to funding instantly and there are plenty of trading resources available.
Their pricing and plans are completely transparent and you can learn from professional traders, webinars, etc. to help improve your strategy and gain more success.
With the5%ers, you have several milestones that you are under no time pressure to reach. With their active community, it is also easy to learn alongside other traders with similar forex trading goals.
Pricing
Throughout this SureTrader review, we have covered the fees that are charged by SureTrader. For the 5%ers, here are the prices they portray: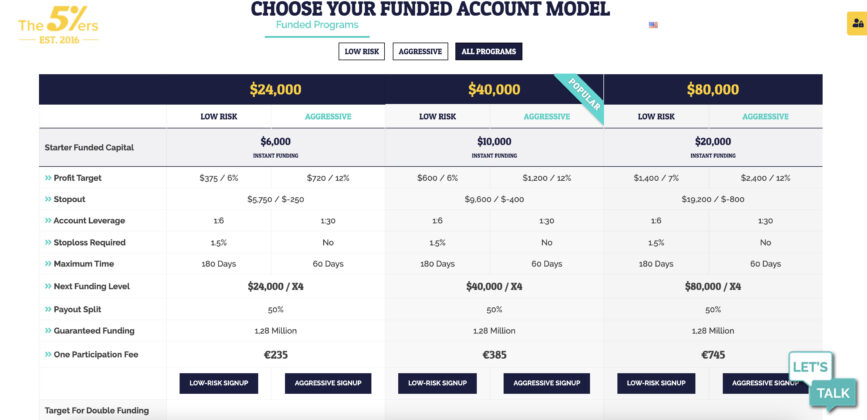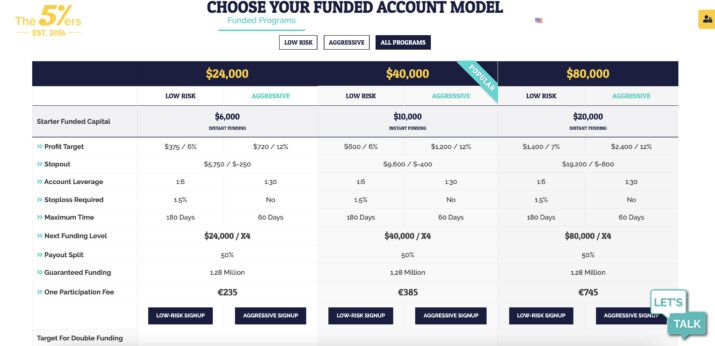 CLICK HERE TO READ MORE ABOUT THE 5%ERS
| RECOMMENDED TRADING COURSE | REVIEW | VISIT |
| --- | --- | --- |
| | #1 Forex, Crypto and Stocks trading course. Ranked most comprehensive by Investopedia and Best by Benzinga. Free to Try! | |
Conclusion
Throughout this SureTrader review, we have noted that as a trading platform, SureTrader can help day traders avoid the pattern day trade rule set by the Securities and Exchange Commission in the USA. on the other hand, it also yields many disadvantages, largely in the form of its high fees.
When it comes to the highest-rated and most renowned online broker with the best trading tools, TopstepTrader is well ahead of its competitors.
TopstepTrader is a well-established and well-renowned platform that offers a brilliant user interface and seamless user experience.
CLICK HERE TO GET TOPSTEPTRADER AT A DISCOUNTED PRICE
F.A.Q.
Is SureTrader Available for Citizens of the USA?
As mentioned in this SureTrader review, it is possible for USA citizens to use SureTrader. However, it does come with restrictions and extra steps which can be very inconvenient and time consuming for USA residents.
According to the U.S. Securities and Exchange Commission, those with trading accounts valued at less than $25k cannot day trade until their account values at more than that amount.
Individuals with less than that amount cannot conduct more than three trades within a period of 5 days.
What Is the SureTrader Account Minimum?
There does exist a minimum deposit that users must pay into their account before being able to use any of the platforms offered by SureTrader.
The minimum deposit is $500 and in comparison to many other types of dealers, this can be considered to be a competitive and convenient minimum deposit amount.
Is There A SureTrader Demo Available?
In this SureTrader review, we have mentioned that there is a demo account available. The account allows you to trade a value of $100k without having to use any of your personal funds.
The demo account has proven itself to be a great way for potential users and subscribers to get valuable practice when it comes to using and navigating the site as well as trading in general.
Are There Any Hidden Fees?
SureTrader fees are plentiful and listed above in this SureTrader review. However, all SureTrader fees are listed blatantly on their website so there are no hidden fees that the user is faced with when using the site.
It is important that users are aware of all of the fees charged by SureTrader so they can plan for all of the potential costs of certain actions. It is a simple process to access their website and read through to ensure that you completely understand their process and fees.
There have been components as well as reviews that stated that there are 'hidden fees' associated with the trades they made using their SureTrader account. However, the majority of these complaints state indicate an absence of research and information. Such information is available directly on the website.
Will SureTrader Enable me to Trade Pink Sheets, Penny Stocks or OTCBB?
When it comes to trading, for example, penny stocks, SureTrader is fully capable of enabling users to trade.
Is It Possible To Use SureTrader PRO on a Mac?
It is entirely possible for you to use SureTrader PRO using a Mac. However, unlike if you are using a computer that runs Windows, there are more steps you need to carry out before you can actually begin using this package.
Mac users need to use software such as Parallels or even Crossover. This is incredibly inconvenient as there are plenty of Mac users who may wish to use PRO, however, are not quite comfortable with having so many steps before it can be utilised.
Is It Possible To Short Stocks With A SureTrader Account?
Yes, it is entirely possible to use your SureTrader to short stocks. There are a total of 10k stocks that are sortable using SureTrader.
Is SureTrader Safe To Use?
SureTrader is licensed by a governing body and has existed since 2008. Since it is governed, many people are inclined to believe that it is fully safe to use the platform. However, whilst this is true for US brokers since SureTrader is based in the Bahamas, it is more complex to fully understand whether it is completely safe to use.
The Securities Commission of the Bahamas is thorough, however, not quite as thorough in their vetting process as the U.S. SEC government body.
As such, it is a little difficult to completely judge whether SureTrader is safe to use.
Is SureTrader Worth Using As An Online Broker and Trading Platform?
We have covered both the advantages and disadvantages of the trading platform in this SureTrader review. When it comes to the features they provide, there are certain functionalities that are very useful for both new and existing traders.
On the other hand, if you compare SureTrader to many other dealers, brokers and companies of a similar nature, it is lacking in both features and transparency.
Sites such as TopstepTrader and The5ers are much more thorough in their quest to provide a great user experience and security for their users.
As a result of our research into SureTrader and its competitors, as a trading platform, it is much less capable in comparison to other such companies. The features they provide are not as well-written and their fee structure could be much more blatant (as suggested by many of the verified customer reviews).
CLICK HERE TO GET TOPSTEPTRADER AT A DISCOUNTED PRICE