FTUK Review with Rankings 2023 By Dumb Little Man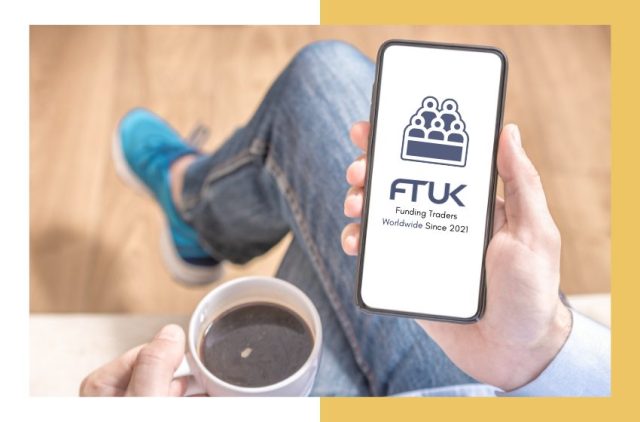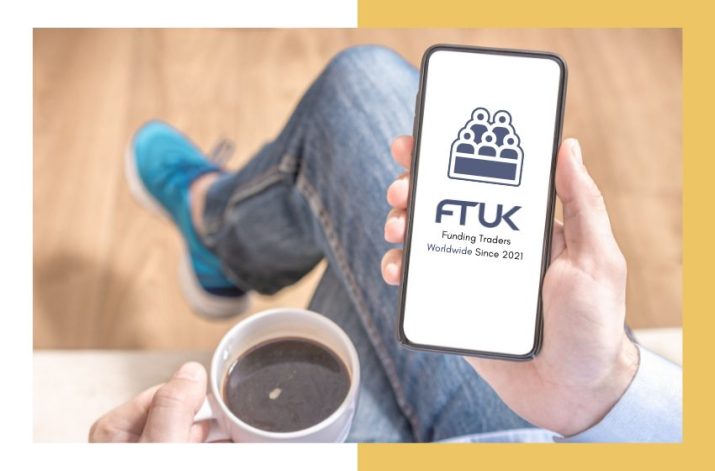 [wptb id="128778" not found ] [wptb id="128779" not found ]
FTUK Review
Proprietary trading firms, often called 'prop firms,' are institutions where traders use the firm's capital to buy and sell financial instruments. These traders aim to make profits for themselves and the firms without risking the personal assets of the individual trader.
Forex Traders UK (FTUK) is a prime example of such an institution. Established in 2021, FTUK is a UK-based proprietary trading firm that offers funded trading accounts to proficient forex traders and investors.
This article is structured as a comprehensive review of FTUK. Drawing insights from trading experts at Dumb Little Man and incorporating feedback from actual customers, it aims to present an unbiased assessment. Readers can expect to gain clarity on the merits and demerits of FTUK and understand its unique features, bonuses, security measures, and more.
What is FTUK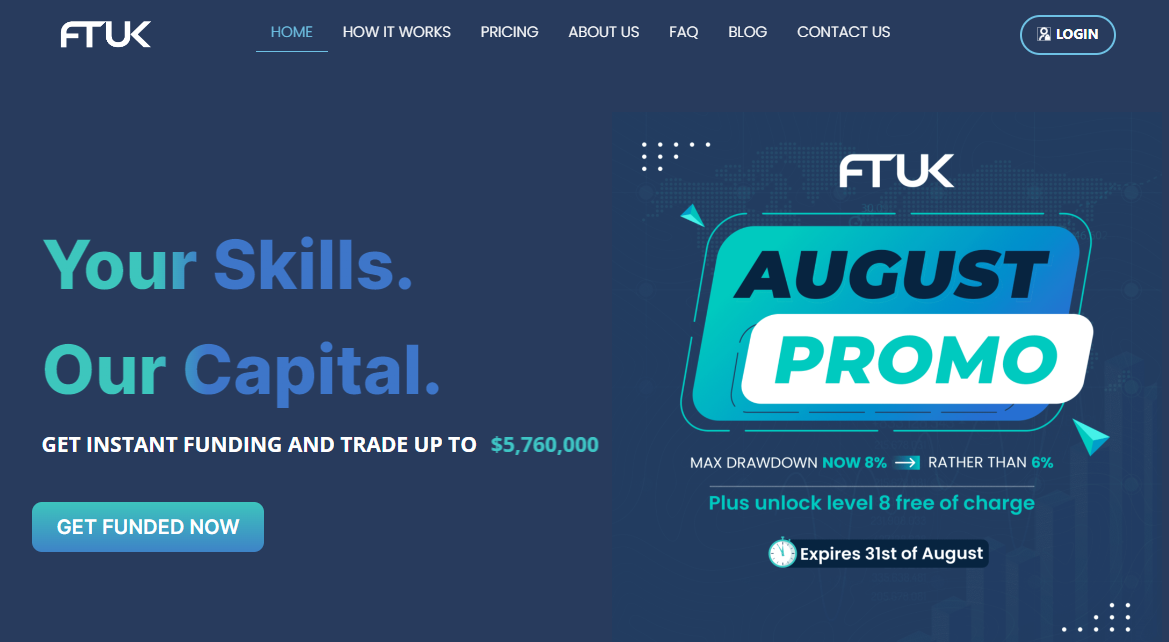 Forex Traders UK (FTUK) is a proprietary trading firm in the UK. Established in 2021, it offers funded trading accounts to adept forex traders and investors. However, since it's relatively new to the financial scene, the long-term performance of FTUK remains to be seen.
FTUK prop trading firm allows ambitious traders and investors to access funds ranging up to £1,000,000 or $5,760,000, contingent upon their trading prowess. The firm uses a straightforward one-phase evaluation method. Here, traders set specific targets within practical trading conditions. Meeting these targets while adhering to the guidelines within a specified timeframe qualifies them for the provided trading capital.
Unique to FTUK is its 'instant funding' scheme for those who might want to sidestep the typical evaluation. In this program, traders need to meet prescribed profit milestones, after which they receive their portion.
However, while FTUK positions itself as a leading prop trading platform, it has drawbacks. Their profit-sharing ratio starts at 50%, which, when benchmarked against other firms, might seem on the lower side. Additionally, the leverage offered by FTUK to its clientele could be more optimal.
FTUK Pros and Cons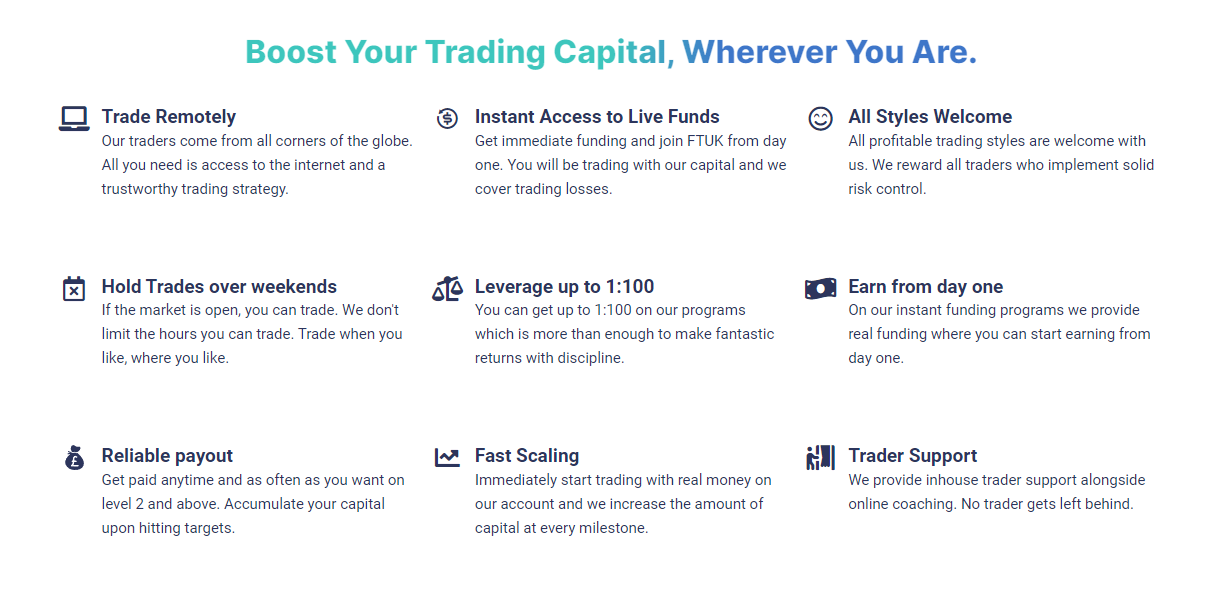 Pros
Licensed entity
Diverse asset choices
Supports overnight trades
Simplified one-step evaluation
Immediate funding option
Quick growth trad strategy
Cons
Tight stop-loss limits
Hedging not permitted
Limited leverage
Less favorable profit-sharing
Safety and Security of FTUK
Based on the research conducted by our team, we found out that Forex Traders UK (FTUK) is officially registered in the UK. While it isn't required to possess a license from an international regulator—due to its non-participation in the interbank market—it has ensured safety in other ways.
Its associated broker, Eightcap, operates under proper regulation. The official website of Eightcap showcases an exhaustive set of documents confirming its licensing. As a result, partners and traders associated with the prop firm can be confident.
FTUK Bonuses and Contests
As of the time of writing, Forex Traders UK (FTUK) has a promo that increases their maximum drawdown to 8%, rather than 6%. Other than that, FTUK doesn't provide any bonuses or contests for newcomers. This is worth noting for prospective traders.
However, it's common in the industry for prop firms to occasionally roll out promotional events or offers. To stay informed about potential bonuses, promotions, or contests, it's a good practice to regularly visit the FTUK website and monitor any updates.
[wptb id="128780" not found ]
FTUK Customer Reviews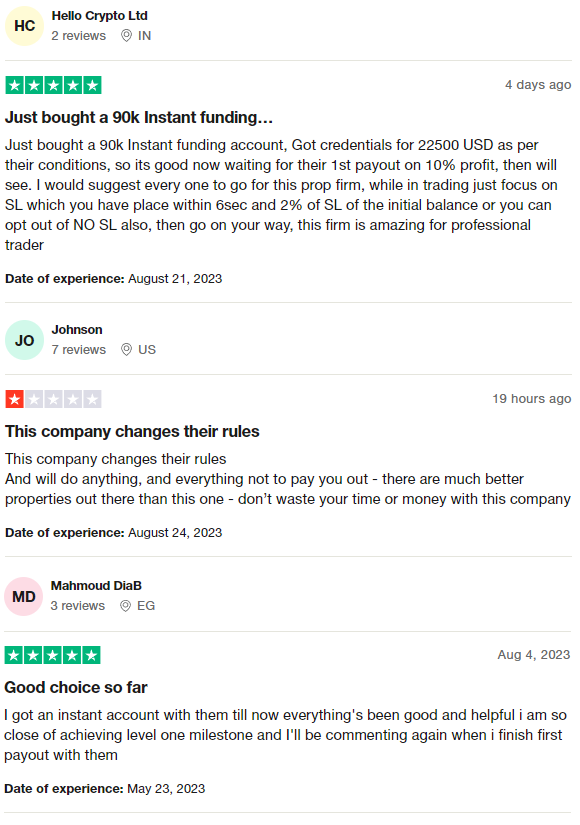 Feedback on Forex Traders UK (FTUK) is mixed based on the reviews gathered. One user appreciated their instant funding account and emphasized the importance of understanding their stop-loss rules, suggesting the platform suits professional traders.
Another customer, however, expressed dissatisfaction, claiming the company often changes its rules and may avoid payouts.
Conversely, a third trader found their experience with FTUK's instant account satisfactory, eagerly awaiting their first payout after nearing a milestone. It underscores the importance of potential traders doing their own research before committing.
FTUK Commissions and Fees
Forex Traders UK (FTUK) operates as a proprietary firm, primarily earning from the profit split between the trader and the company. Consequently, traders don't face commission or swap fees on their trades.
The firm's primary aim is to empower proficient traders with funded accounts, enabling them to generate profits for the company. Additionally, FTUK levies a one-time account subscription fee, serving as another revenue stream.
Beyond the profit-sharing and subscription fees, FTUK doesn't impose any hidden or extra charges. Unlike some competitors, they don't have recurring monthly expenses.
While FTUK offers a cost-efficient trading environment, it's worth noting that their 50% profit split at the initial stage is comparatively lower than some other prop trading firms.
FTUK Account Types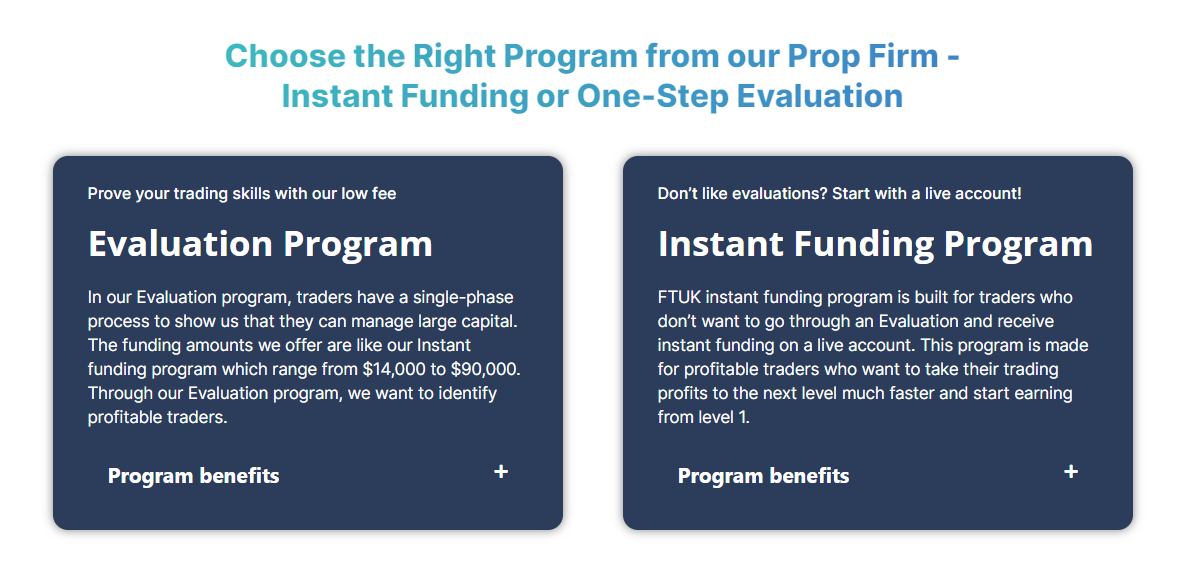 Based on thorough research conducted by the team of experts at Dumb Little Man, FTUK offers two primary programs, each available in both low-risk and aggressive-risk types of accounts:
Evaluation Program
Low-Risk Accounts:
Funding Capital:

$14,000 (Subscription Fee: £119)
$40,000 (Subscription Fee: £299)
$60,000 (Subscription Fee: £349)
$90,000 (Subscription Fee: £449)

Trading Rules:

Profit Target: 10%
Daily Drawdown: 5%
Maximum Trading Days: 180
Aggressive Risk Accounts:
Trading Rules:

Profit Target: 25%
Total Drawdown: 5%
Maximum Trading Days: 90
Stop Loss: 1.5% per position
Instant Funding Program
Low-Risk Accounts:
Funding Capital:

$14,000 (Subscription Fee: £150)$40,000 (Subscription Fee: £410)$60,000 (Subscription Fee: £550)$90,000 (Subscription Fee: £950)

Trading Rules:

Profit Target: 10%
Daily Drawdown: 5%
Maximum Trading Days: 180
Aggressive Risk Accounts:
Trading Rules:

Profit Target: 25%
Total Drawdown: 5%
Maximum Trading Days: 90
Opening an FTUK Account

Visit the official Forex Traders UK (FTUK) website and click the "Get Funded Now" button.
Choose your desired account type and currency.
Carefully review the trading conditions.
Pick your preferred trading platform and select the initial fee based on your required balance.
Adjust additional account settings before clicking the "Add to Basket" button if needed.
Provide your personal information: email, full name, address, and phone number.
Select a payment method, enter the necessary details, and proceed with the indicated payment system.
Once your payment is confirmed, you'll gain full access to your FTUK account, allowing you to begin the challenge or start trading instantly with the Instant funding option.
[wptb id="128781" not found ]
FTUK Customer Support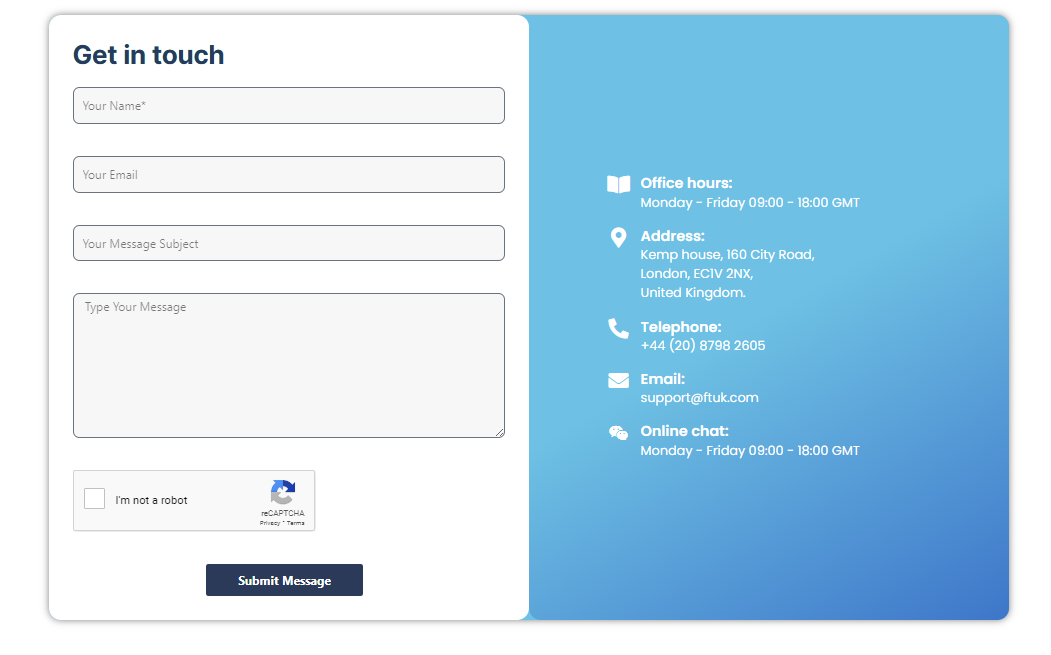 Based on the experience of Dumb Little Man with Forex Traders UK (FTUK)'s customer support, it's clear that the company prioritizes effective communication. Unlike many platforms that rely solely on virtual methods, FTUK goes the extra mile.
The firm provides a physical office address listed on its website, operational from 9 a.m. to 6 p.m. daily, excluding weekends. Additionally, FTUK has an office phone number for those looking for immediate assistance, ensuring direct and swift communication.
For those who prefer digital channels, FTUK has incorporated an online chat box on their website. This feature ensures users, including website visitors, can reach out to support at any moment.
Additionally, staying updated with FTUK's latest announcements and activities is easy as they maintain a robust presence on major social media platforms like Twitter, Facebook, Instagram, and LinkedIn.
Advantages and Disadvantages of FTUK Customer Support
[wptb id="128784" not found ]
FTUK Withdrawal Options
When traders are in the challenge phase with Forex Traders UK (FTUK), their transactions don't reach the interbank market. As a result, they don't generate any profits during this stage, as found by a trading professional at Dumb Little Man.
However, things change at the funding stage. Here, partners of the prop firm actively trade on the interbank market. Successful transactions at this juncture lead to profits. Achieving the set profit target propels traders to the first scaling level, boosting their balance by a substantial 400%.
Once a trader is on this first level or even higher, they can initiate a funds withdrawal whenever they deem fit. Withdrawals maintain the currency of the original account, be it USD, EURO, or GBP. This flexibility ensures traders can manage their earnings in a comfortable currency.
For the actual transfer, FTUK provides an array of options. Partners can opt for traditional bank cards, e-wallets, or popular payment systems like PayPal, Revolut, and Wise. This wide selection ensures traders have multiple avenues to access their earnings seamlessly.
FTUK Challenge Difficulties
Strict 5% Stop Loss Limit
FTUK's evaluation and instant funding programs come with a hard 5% stop-loss cap. Trading activities are immediately halted if an account's balance dips below this threshold. Violation of this rule results in the account getting deactivated.
Rigid Lot Size Rules
Under FTUK's evaluation program, there's an emphasis on maintaining lot size consistency. This means traders can't freely adjust their lot size. Instead, they must adhere to a specific range or percentage, limiting how much the lot sizes can differ from one trade to the next.
[wptb id="128782" not found ]
How to Pass FTUK's Evaluation Process
Passing FTUK's evaluation process is no easy feat, making preparation key. Given the challenges and expectations, it's advised for traders to seek top-notch training programs that can boost their chances of success.
Asia Forex Mentor – Rated Best Comprehensive Course Offering by Investopedia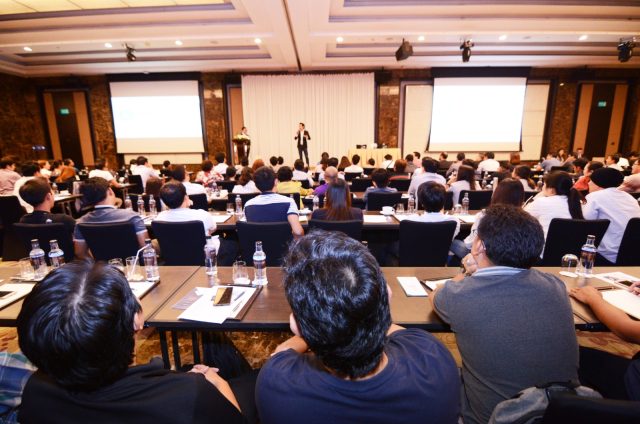 For those committed to conquering FTUK's challenge, the Asia Forex Mentor comes highly recommended, particularly by the trading experts at Dumb Little Man. This platform is reputable, with a track record of assisting thousands of traders in successfully navigating prop firm evaluations.
At the helm is Ezekiel Chew, a Forex trading maestro who makes six figures per trade and carries over two decades of rich trading history.
Besides being the visionary behind Asia Forex Mentor, Ezekiel is also the driving force behind the Golden Eye Group and the proprietary One Core Program, a specialized curriculum crafted to teach students to become profitable traders.
The origin of Asia Forex Mentor is a testament to Ezekiel's prowess and passion; it started from informal lessons for close friends, which then blossomed, due to demand, into a comprehensive online offering. Today, it stands as a beacon for many aspiring traders. For more information about their courses, you can read our full Asia Forex Mentor Review.
How Could Asia Forex Mentor Help You Pass FTUK's Challenge?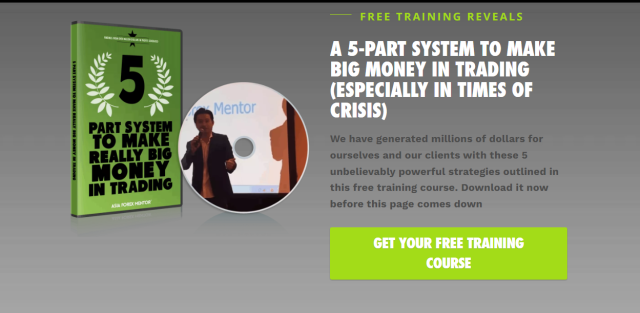 Asia Forex Mentor isn't just another trading platform; its credibility is solidified by accolades from some of the financial world's leading platforms.
Endorsement from Investopedia: This eminent financial content provider recognized Asia Forex Mentor's One Core Program as one of the most comprehensive courses available. In their glowing review, Investopedia mentioned that the program "is as extensive as you will find," deeming it the Best Comprehensive Course Offering.
Accolades from Benzinga: For those stepping into the world of forex trading, there's no better course than Asia Forex Mentor's One Core Program, as declared by Benzinga. Earning the title of the Best Forex Trading Course for Beginners, Benzinga further highlighted the program's suitability for both novice and advanced forex traders.
Crowned Best Forex Mentor: BestOnlineForexBroker, a reliable source for Forex insights, honored Asia Forex Mentor as the Best Forex Mentor in 2021. This distinction was based on Asia Forex Mentor's potential to guide traders towards making significant forex gains.
Top Choice Amongst Forex Courses: Asia Forex Mentor has continuously been at the forefront of forex trading education, as acknowledged by top forex traders and platforms. In comparative evaluations of premier forex trading courses, Asia Forex Mentor's comprehensive strategies and robust trading system earned it the top spot.
Asia Forex Mentor Members' Testimonials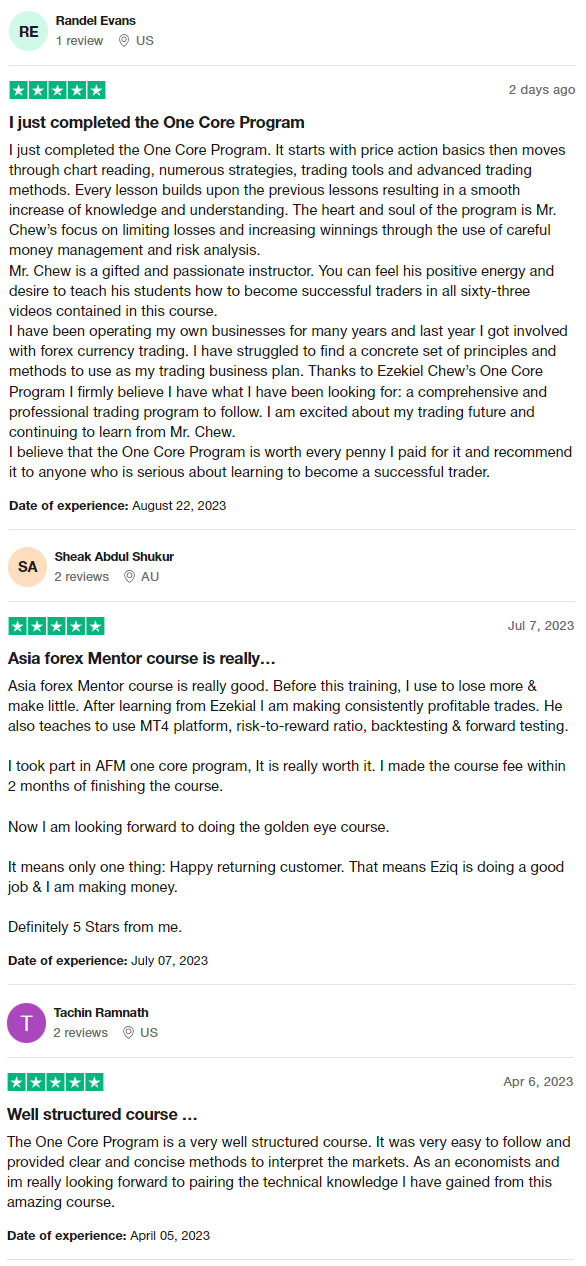 The Asia Forex Mentor community members consistently express their gratitude and appreciation for the transformative experience they've had with the One Core Program led by Ezekiel Chew. The program's meticulously structured lessons cover the fundamentals of price action and advanced trading methodologies.
Students emphasize how the course has seamlessly expanded their knowledge and equipped them with concrete trading strategies, particularly highlighting Chew's risk analysis and money management expertise.
Many attest to the significant positive shift in their trading outcomes after completing the course. Whether they seek to consistently increase their profits, understand technical platforms like MT4, or integrate their existing trading skills with newfound knowledge, members universally agree that the One Core Program is an invaluable investment for anyone serious about excelling in forex trading.
Conclusion: FTUK Review
Based on the in-depth review conducted by the team of trading experts at Dumb Little Man, Forex Traders UK (FTUK) emerges as a commendable choice for traders looking to embark on a prop trading journey. With its unique offerings, the platform is adept at fostering traders' growth and providing them with ample opportunities to earn.
However, like any platform, FTUK has its drawbacks. Prospective traders should know particular challenges, difficulties, and customer support limitations that could influence their experience.
Additional preparation is crucial for those looking to optimize their chances of success on the FTUK platform. Enrolling in premier courses, such as the Asia Forex Mentor, can significantly boost one's probability of breezing through FTUK's evaluation process.
With the right tools and knowledge, traders can confidently navigate FTUK's platform and potentially reap substantial rewards.
FTUK Review FAQs
Are there any hidden fees at FTUK?
No, FTUK is transparent about its fee structure, with profit splits and subscription fees being the primary charges.
Does FTUK offer customer support over weekends?
No, FTUK's physical office operates from 9 a.m. to 6 p.m. on weekdays and does not provide support over weekends.
How can traders optimize their chances of passing FTUK's evaluation?
Enrolling in reputable courses like Asia Forex Mentor can significantly enhance a trader's skills, increasing their likelihood of clearing FTUK's evaluation.
[wptb id="128783" not found ]