Coinmama Review: Is it Best for High Spending Limits?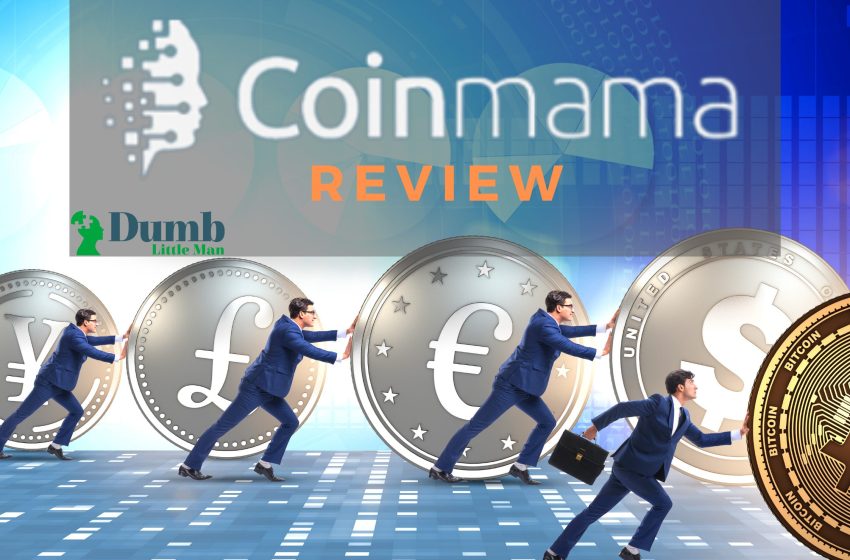 There are a number of distinct sorts of bitcoin exchanges. Spot exchanges, derivative exchanges, and purchasing platforms are all examples of trading platforms. The most frequent type of exchange is a spot trade, which is what most people think of when they hear the word "exchange." You may swap one crypto asset for another on a spot market, such as Bitcoin for Ethereum.
Futures and options are among the products offered by a derivatives exchange. Traders and investors can wager on future prices using these. Leverage is popular on derivatives markets, allowing crypto traders to utilize margin to open a bigger stake. Bitmex is one of the most well-known crypto derivatives markets, with up to 100x leverage.
Then there are the purchase sites, sometimes referred to as onboarding platforms, such as Coinmama. There is no way to trade cryptocurrencies or crypto derivatives such as Bitcoin futures on Coinmama. Coin mom, on the other hand, is a cryptocurrency purchasing platform that allows traders and investors to acquire cryptocurrencies like Bitcoin and Ethereum.
We'll go over how Coinmama works, who can use it, what Coinmama charges, and just about everything else you'll really have to go through using their platform in our Coinmama review. Let us just begin with a comprehensive introduction to the system.
Coinmama Review: What Is Coinmama?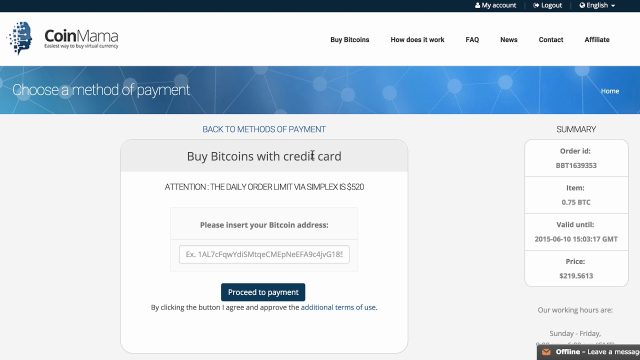 Coinmama is a worldwide cryptocurrency marketplace that was launched in 2013 with the goal of making it simple and quick to buy digital currency with fiat money. It has extended to 190 countries and serviced over 3 million consumers globally since its inception.
Besides this, Coinmama allows you to buy cryptocurrency instantaneously and receive the coins in your own wallet. Even if you purchased crypto on a different exchange, selling it is simple, and your cash is sent directly to your bank account. Coinmama is secure because it never keeps client cash or payment details on its servers. You have total control over your digital and fiat currency at all times.
It is a cryptocurrency exchange designed specifically for bitcoin newbies. It solely provides brokerage services, such as buying and selling 10 different cryptocurrencies. On CoinMama, you won't find a wallet, portfolio charts, or any other advanced services.
CoinMama charges substantial fees, perhaps the biggest in the industry, while offering a quick and easy option to acquire bitcoin with your credit or debit card. Consider CoinMama to be a cryptocurrency-only e-commerce site.
The biggest benefit of utilizing CoinMama is its global accessibility and quickness. A lack of functionality such as a wallet, as well as privacy concerns, are disadvantages. The verification process is simple with all crypto investing features incorporated within the CoinMama account.
| RECOMMENDED TRADING COURSE | REVIEW | VISIT |
| --- | --- | --- |
| | #1 Forex, Crypto and Stocks trading course. Ranked most comprehensive by Investopedia and Best by Benzinga. Free to Try! | |
How does Coinmama work?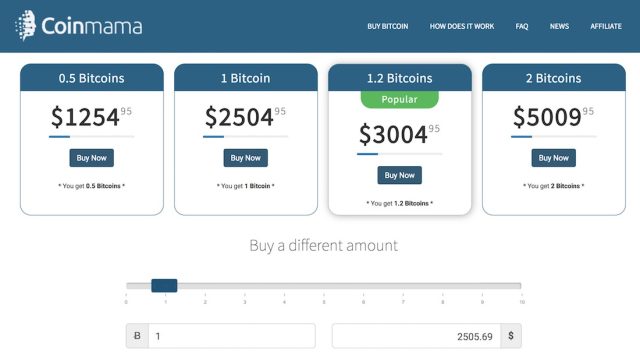 Coinmama is a straightforward app that is simple to use. All you need is an account to get started. After your account has been authenticated, you may create a wallet and begin purchasing and trading cryptocurrencies.
It consists of four key steps:
Select the crypto that you actually want to buy.
Fill in the information for the wallet you've created.
Coinmama accepts a variety of payment methods. Select the payment option that is convenient for you.
To finish the procedure, carefully input and validate your wallet address.
Coinmama is a cryptocurrency exchange that does not hold your funds. They aren't interested in your crypto assets or any other information. Because your crypto is always saved in your own wallet, even if Coinmama is hacked, the odds of you losing it are small.
When trading crypto, you're usually obliged to put fiat cash into your original account first, and then you may acquire crypto.
After then, the money is deposited into your wallet. Coinmama is a lot less complicated. When you buy a coin from Coinmama, you apple pay for it and the currency is instantly sent to your wallet.
As a result, when you sell your bitcoin, the proceeds are sent from your external wallet to your bank account. The CoinMama fees are reliable and offer the right investment advice to purchase digital currency and coins instantly.
Broker
Best For
More Details


High Spending Limits
Read Review

 




securely through Coinmama website
What are the Features of the Coinmama platform?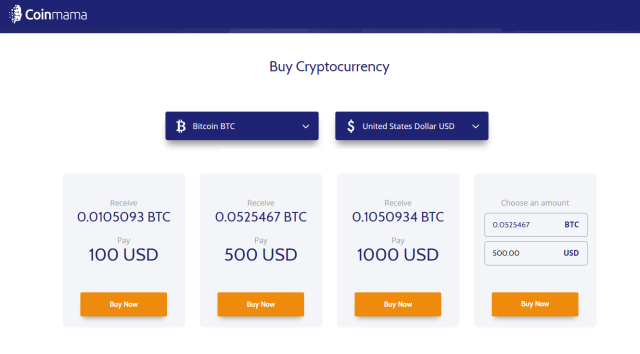 What makes Coinmama unique from other cryptocurrency exchanges is what it has to offer. Let's review CoinMama features:
Easy to use and navigate
Coinmama offers a highly user-friendly interface that is simple to manage, even for complete beginners to the cryptocurrency sector. You can look at how easy it is to buy Bitcoin in the screenshot below. You can pick from three pre-set sums ($150, $500, or $1000), or write a custom amount in the box on the far right. Before you can acquire cryptocurrency, you don't need to comprehend any complicated charts or marketplaces.
Quickly purchase and sell bitcoin:
Coinmama allows customers to instantly buy and sell cryptocurrency for the sake of convenience and time savings.
Most crypto exchanges demand account pre-funding, which means you must first deposit fiat cash, then purchase your desired cryptocurrency, and then move funds from your online exchange wallet to an external wallet.
Coinmama streamlines the process by taking your cash at the moment of purchase and sending the cryptocurrency to your own hot or cold wallet.
When you sell bitcoin, it moves immediately from your external wallet to your bank account, and the fiat money from the sale goes right to your bank account.
10 of the most popular ones:
Coinmama gives you access to ten of the world's most popular cryptocurrencies. Bitcoin (BTC), Bitcoin Cash (BCH), Ethereum (ETH), Dogecoin (DOGE), Cardano (ADA), Litecoin (LTC), Ripple (XRP), Tezos (XTZ), Chainlink (LINK), and Uniswap are some of the most popular cryptocurrencies (UNI).
Non-custodial means you have complete control of your assets at all times:
Coinmama is a non-custodial cryptocurrency broker, which means they don't retain your crypto or fiat money.
You always have the cash in your hands, so you don't have to worry about entrusting your assets to Coinmama. You will not lose any crypto if Coinmama is hacked since it is always held in your personal hot or cold wallet.
Coinmama is one of the few bitcoin dealers that takes credit and debit cards. This is useful because some other exchangers do not accept credit cards.
Reduce costs and save money using a loyalty program:
Coinmama features a three-tiered loyalty program based on your purchase quantities. Enrollment is simple and free, and your savings are instantly applied. The three levels of loyalty are as follows:
Crypto Curious – the starting level, with costs of 3.81 percent for buying and 3.90 percent for selling.
Crypto Enthusiast – a total of $5 000 USD in purchases over a rolling 90-day period. Buying costs have been cut to 3.34 percent, but selling fees have increased to 3.41 percent.
Crypto Believer – a lifetime purchase amount of more than $50 000 USD or a cumulative purchase amount of $18 000 USD over a rolling 90-day period. Buying costs have been decreased to 2.86 percent, while selling fees have been reduced to 2.93 percent.
Live Chat and email support are available:
When you have a problem with Coinmama, you may use the Help Center to get help. You can start by searching the help topics, and if that doesn't work, you can use the Live Chat feature.
You'll be greeted by a bot that will attempt to take you to the relevant information, but if that isn't enough, you may click the Chat button.
High spending limitations – up to $30 000 USD at a time:
Coinmama allows you to purchase big amounts of cryptocurrency, with a $30 000 maximum. Due to liquidity and slippage concerns at some other crypto exchanges, placing a big order may be difficult. Your buying price on Coinmama will remain constant.
Coinmama Pricing and Plan?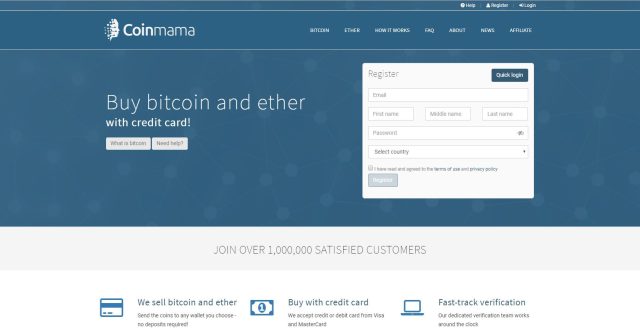 You may use any debit or credit MasterCard or Visa card to purchase bitcoin on CoinMama. You may also buy cryptocurrency using a traditional bank transfer. American Express, Discover Card, and Paypal are not accepted by CoinMama.
The prices on CoinMama are based on the TradeBlock XBX average plus 2%. In addition, there is a 3.90 percent commission fee on buy transactions and a 0.9 percent commission fee on sale transactions charged by CoinMama.
A 5.00 percent momentum charge is added to card transactions with a fixed crypto rate and rapid delivery. All costs combined amount to a 10.9 percent levy on card purchases.
Bank transfer orders (SWIFT, SEPA, and Faster Payments) do not incur a momentum cost, and there are no additional fees if your transaction exceeds $1,000 USD.
While CoinMama provides the card issuer with a merchant code when collecting your payments, the card issuer chooses whether or not to charge a cash advance fee. CoinMama recommends contacting your bank and disputing the cost.
You may have to pay an exchange rate to and from your local currency if you use an account that is not in one of the currencies supported by default.
There is no momentum cost for bank transfer orders (SWIFT, SEPA, and Faster Payments – UK). You may acquire cryptocurrency via a SWIFT bank transfer if you live outside of Europe or the United Kingdom.
There is no additional processing cost for orders exceeding 1000 USD. Keep in mind that bank transfer orders under 1,000 USD are subject to a 20 GBP transaction fee.
Another fee, this time for initiating the transfer, may be charged by your bank. You don't need to pay transaction fees for fiat currencies and purchase crypto.
Broker
Best For
More Details


High Spending Limits
Read Review

 




securely through Coinmama website
Who is Coinmama Best For?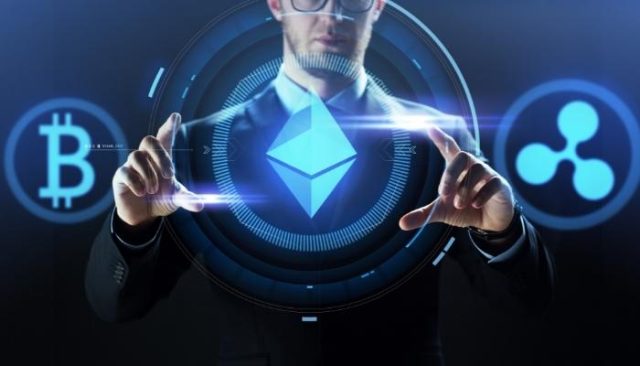 You're probably aware that Coinmama is developed specifically for novice investors. As a result, it's a basic crypto exchange. If you're new to cryptocurrency, the most convenient method to buy is using a credit or debit card, which Coinmama makes very simple.
If you want to buy less popular currencies, you'll almost certainly have to swap them for cryptos like Ethereum or Bitcoin. Coinmama makes this possible once more.
The only basic thing you will have to do is transfer your Ethereum or Bitcoin to a different exchange that supports the cryptocurrency you choose. That's all there is to it.
As a result, Coinmama is appropriate for:
Cryptocurrency newbies
Residents of the United Kingdom and Europe
Investors who don't mind paying a lot of money for ease and simplicity.
Those who prefer to buy cryptocurrency with a debit or credit card
Coinmama Pros and Cons
Let's discuss the pros and cons in detail!
Pros
Payment Options on a Daily Basis
Payment to Your Wallet Instantly
A platform that is easy to use
Support Team that Interacts
High-Security Environments
Cons
Without a Wallet
Fees that are too high
Only a few currencies are available.
Coinmama User Experience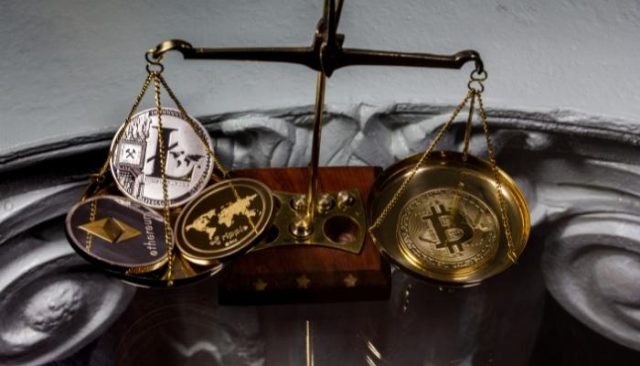 Coinmama isn't a full-fledged cryptocurrency exchange like Coinbase, and it doesn't provide online wallets. The need that newcomers to construct their own bitcoin wallet before utilizing Coinmama may deter them.
Convenient to use
Coinmama is incredibly straightforward and convenient to use after customers have their own wallets.
Customers may contact the support staff by making a request, sending an email, or visiting their Facebook page during business hours.
App for mobile devices
Coinmama does not have a mobile app. However, their website is extremely mobile-friendly. We used an iPhone to test the full site, and it worked well.