Best Stock Picking Service: 11 Most Handy Ones Were Analyzed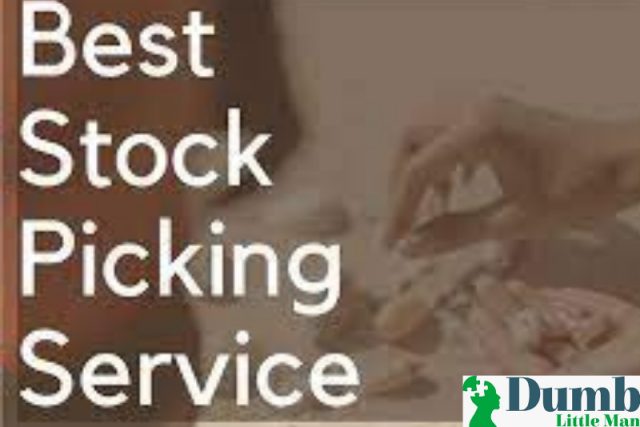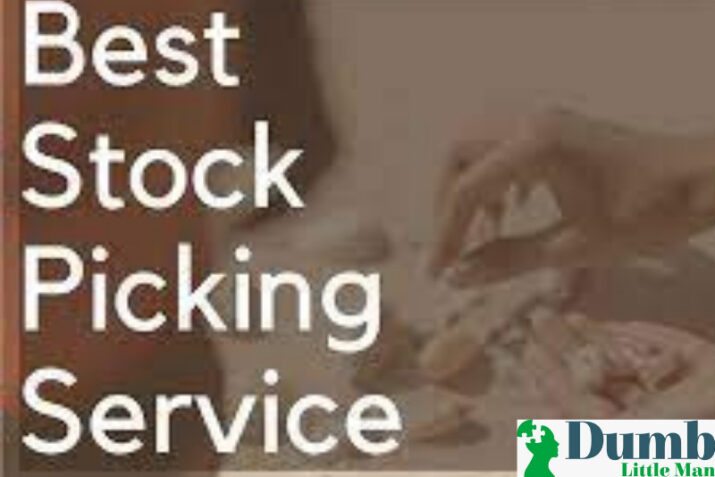 Investors are constantly searching for an individual stock advisor or the best stock picking service as they eagerly want to learn the best trading ideas in this competitive stock market. But, how to look for a profitable investment strategy?
There's no doubt that subscribing to the stock adviser service with a fair track record can give you high returns and boost your portfolio in the long term.
In this list, we've highlighted a comprehensive detail of the best stock picking services that firmly commit to helping investors (all beginners and experienced) make valuable financial decisions.
| RECOMMENDED TRADING COURSE | REVIEW | VISIT |
| --- | --- | --- |
| | #1 Forex, Crypto and Stocks trading course. Ranked most comprehensive by Investopedia and Best by Benzinga. Free to Try! | |
Here Are Best Stock Picking Service For Investors
List
The Motley Fool Stock Advisor
Motley Fool Rule Breakers
Everlasting Stocks
Mindful Trader
Trade Ideas A.I
Timothy Sykes
Zacks Premium
Warrior Trading
Options Strategies Insider
Investors Underground
Pilot Trading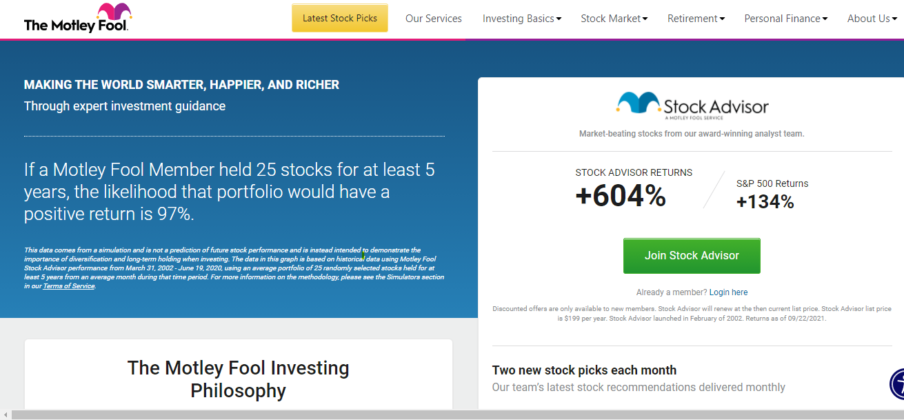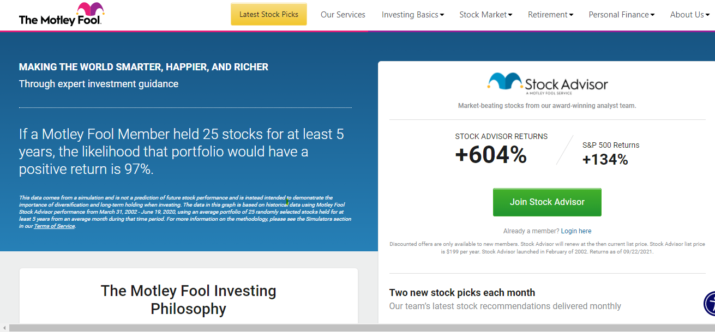 Image from www.fool.com
Summary
With over a million paying customers, 19 years of success, and a continuous track record of outperforming the market by a significant proportion, the Motley Fool Stock Advisor is the most acclaimed stock picking service.
Other than Stock Advisor, Motley Fool also offer Rule Breakers, which we will get into later.
It has established itself as a leader for long-term stock pickers. This stock adviser company is not focused on what's trending right now; instead, it is consistently on the lookout for the next best thing. Since its launch in April 2021, The Motley Fool's Stock Advisor picks have generated roughly five times the returns of the S&P 500.
The ultimate goal of subscribing to the Motley Fool Stock Advisor is to understand how to pick stocks and replicate their technique for extraordinary profits once you begin trading in the stock market on your own.
Traders can look for patterns by looking at their approach, chart history, and even market response. And best of all, their stock advice is exceptional, hence the name: Stock Advisor.
Through this stock advisor service, subscribers receive investment resources and premium material in combination with stock recommendations and investment advice, making the membership price alone well worth it.
Their stock research is truly commendable. The Motley Fool Stock Advisor stock picking service offers users a wealth of tools, including "Starter Stocks" suggestions to serve as a basis for novice and seasoned investors' portfolios.
Stock Advisor Members users have access to a historical archive of stock market recommendations and trade ideas provided by the firm's specialists. This makes adding a new stake to the portfolio utterly simple.
If you do not think this service is right for your specific needs, check out Rule Breakers, another Motley Fools platform. However, you should know that the proven track record of Motley Fool Stock Advisor will certainly not disappoint you!
Cost
You must be thinking, is Stock Advisor worth your money? The trading database alone is worth the value of the subscription. With over 700,000 customers, unlike most stock picking services, theirs has fared phenomenally by all standards.
The annual Stock Advisor subscription is $199, with a $99 discount for the first year which is for new members only, but users will receive unlimited access to the service. You may test a whole month period prior to considering whether or not to proceed with its 30-day money-back guarantee.
The Motley Fool Epic Bundle encompasses the Stock Advisor along with three other esteemed services: Rule Breakers, Everlasting Stocks, and Millionacres: Real Estate Winners. Together, they present subscribers with over 300 stock selections and distinct reports. While this package once cost $499 annually, it's currently on promotion for just $198 for the debut year, allowing subscribers to save over $300. It's important to note that this promotional price is valid only for the first year, after which renewals revert to the regular rate, offering a budget-friendly means to tap into a range of Motley Fool expertise.
CLICK HERE TO READ MORE ABOUT THE MOTLEY FOOL STOCK ADVISOR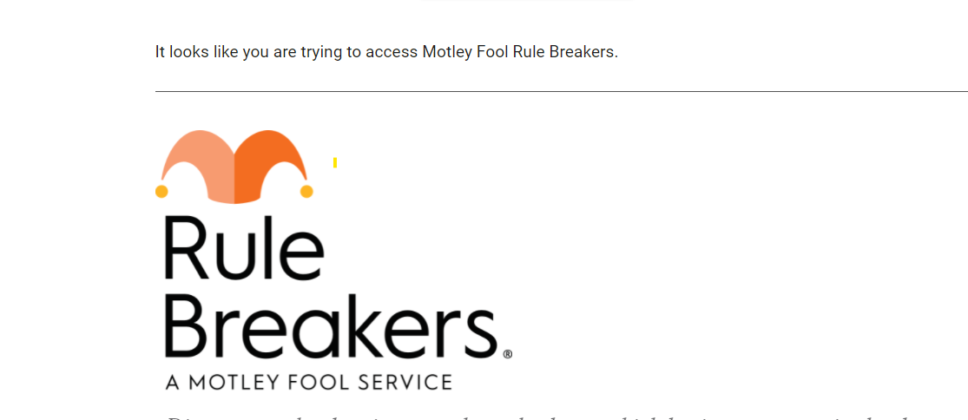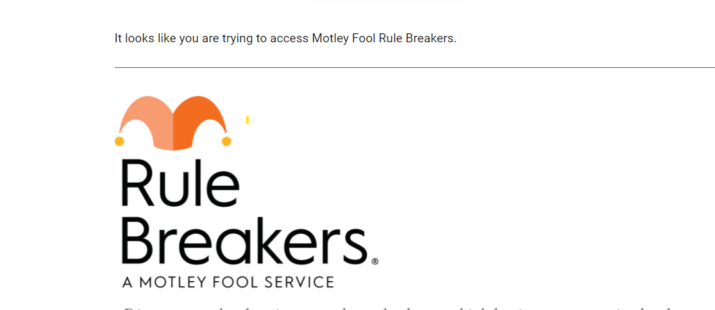 Image from www.fool.com
Summary
The Motley Fool's Rule Breakers is another premium stock-picking newsletter. It is a wonderful asset because Rule Breakers is one of the only stock picking services that are all about finding undiscovered gem stocks with huge prospects for growth.
Instead of renowned mega-corporations, Rule Breakers stock picks are for up-and-comers in the stock market.
This stock picking service should only be considered if you are seeking aggressive growth stocks that the rest of the industry has not recognized yet.
When the Motley Fool research team finds firms with great potential for growth, they expect those firms to dramatically improve their balance sheet performance with the help of growth stock picks.
Over the last 15 years, Motley Fool Rule Breakers has more than quadrupled the S&P 500, outperforming several of Wall Street's top money managers. Their stock picking has a proven track record that speaks for itself!
Rule Breakers' stock picks seek to invest in firms that are pioneering new sectors and have great consumer appeal.
Other factors that make this trading service want to invest include companies with long-term competitive advantages based on intellectual property and visionary leaders or a lack of competition. Not only that, but Rule Breakers also prefers companies with a price appreciation history, and stocks that are considered "grossly overvalued" so they may invest in them.
On the first and third Thursdays of each month, subscribers get stock recommendations and monthly Stock Advisor picks. On the second and fourth Thursdays, subscribers receive five new 'Best Buys Now' with this buy and hold investors' service. These monthly stock picks will help make your investment style better than any other!
Other than Stock Advisor picks, you will also get access to The Motley Fool Rule Breakers' Starter Stocks and get real-time sell notifications.
This stock picking service's frequent emails are jam-packed with their research of stock market data and justifications for purchasing stocks that fit their investment criteria.
There is a bundled service of Rule Breakers and Stock Advisor up for grabs. Many traders prefer to use them together to get the best out of both of the platforms.
Cost
For new users, the subscription costs of stock picks are only $99. Motley Fool Rule Breakers is a little more expensive than the Stock Advisor plan, at $299 per year. If you are not satisfied with the service within the first month, you can get a full refund with a 30-day money-back guarantee.
Rule Breakers, along with the Stock Advisor, is a part of the Motley Fool Epic Bundle. Though this bundle was originally priced at $499 per year, it's now being offered at a promotional rate of $198 for the initial year, translating to savings of over $300 for subscribers. However, this discounted price is exclusive to the first year, with renewals set at the standard rate, making it an affordable avenue to access diverse Motley Fool insights.
CLICK HERE TO READ MORE ABOUT THE MOTLEY FOOL RULE BREAKERS
3) Everlasting Stocks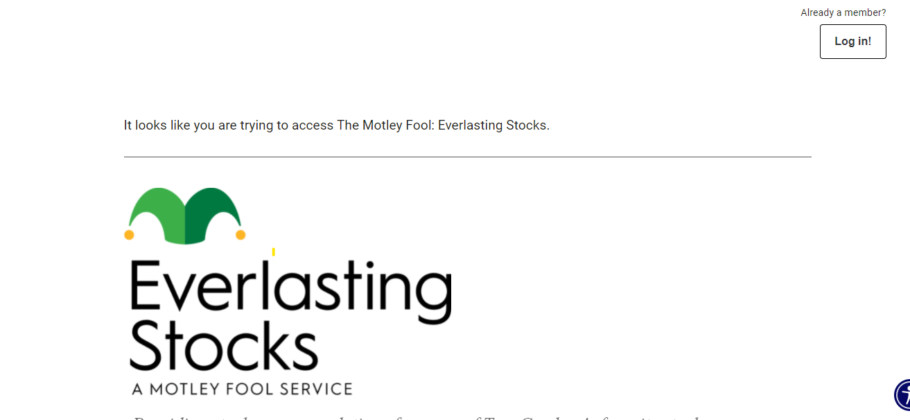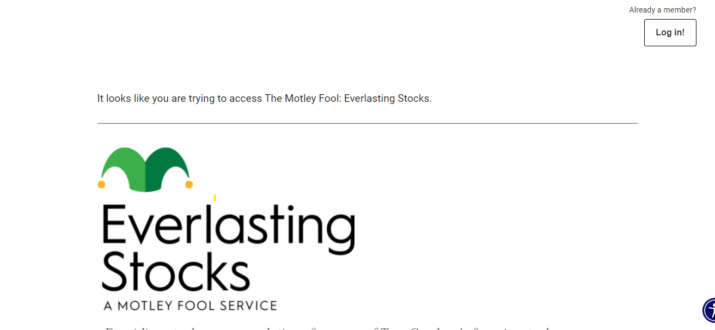 Image from www.fool.com
Summary
The Motley Everlasting Stocks service was recently established by the same people as Rule Breakers and Stock Advisor. It is considered to be the best new stock-picking service amongst investors.
Everlasting Stocks by the Motley Fool may be a good fit for all the professional traders out there who want to build a long-term investment portfolio without having to pay high fees to investment advisors.
Everlasting stocks' central premise is to develop a system for compounding wealth in a repeatable and long-term manner. This twin counterpart of the Stock Advisor service has returned 363 percent on average over the last three years, compared to 121 percent for the S&P 500.
They prefer to work with high-growth companies that have excellent leadership and sound financial management.
Additionally, company culture and employee satisfaction are taken into account when evaluating an investment. Every month, Everlasting Stocks subscribers receive two buy stock recommendations for market-beating growth stocks from The Motley Fool.
You can also look at the Motley Fool stock picks, Starter Stocks and trades that were made before you joined the service.
Other than that, with the help of this buy and hold investors' service, users will also see information about each pick's stock trade performance, and they can use the research feature to find out about the most recent rankings, articles, and video transcripts.
With Motley Fool, investors and traders also have full access to the community and discussion boards, where you can interact with other investors, share your knowledge, and ask questions.
Cost
As compared to many stock picking services, Everlasting Stocks is a relatively new service from the Motley Fool that provides a low-cost route and Starter Stocks to get some of the ideal stock picks from higher-priced Everlasting services like Everlasting 10x, Rising Stars, or the Everlasting Portfolio, which typically costs $2,999 per year but is currently on sale for $1,599.
Everlasting Stocks is available for $99 instead of $299 for new users, and it still comes with a 30-day money-back guarantee, allowing you to sample the service risk-free.
CLICK HERE TO READ MORE ABOUT EVERLASTING STOCKS
4) Mindful Trader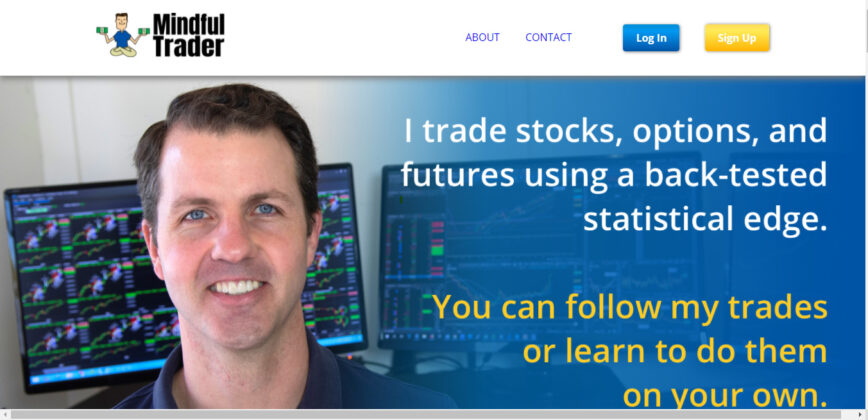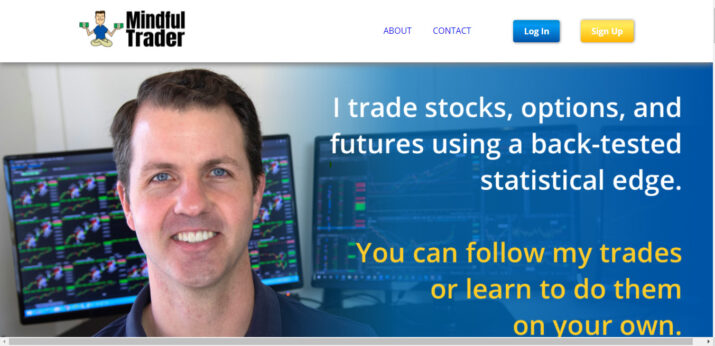 Image from mindfultrader.com
Summary
Mindful Trader creates an algorithm that warns you to high-probability market movements by analyzing decades of stock market data. Eric Ferguson founded Mindful Trader, a swing trade alerts service. His trading strategy would have returned 181 percent each year on average over the last 20 years.
Users may make a 59.7% annualized return in as little as five months. You can purchase and sell the recommended swing trades at any moment throughout the trading day because they last up to a week. Likewise, you can sell stocks at the best stock prices and get the most out of this platform.
Every week, around 5-15 new trade alerts are sent to trading service subscribers. Over a 20-year backtest period, the strategy achieved a median yearly return of 181%. Every time he makes a trade, the website gets updated. Eric's portfolio has increased by nearly 60% in the eight months since he began trading in a real account.
The member dashboard, features, and functionalities are available in Mindful Trader. Members get access to the creator's watchlist, active positions on the member dashboard, and historical data on trades made since the platform's debut. All of these features help a ton with the stock trades.
You may take advantage of short-term market fluctuations by using this premium swing trading stock selection service. To follow the service's swing trading technique, the service provides trade windows and explicit instructions on when to initiate and exit positions.
To generate an investment strategy, alpha in the market, and build long-term wealth, use Mindful Trader's statistical advantage. Its data-driven trading style depends on past probability to identify swing stock trade alerts, the particular investment strategy, and is excellent for real-time trade alerts that are straightforward to follow for stock pickers.
Cost
The subscription costs for Mindful Trader stock picks are approximately $47. After the first month, you can cancel at any time.
CLICK HERE TO READ MORE ABOUT MINDFUL TRADER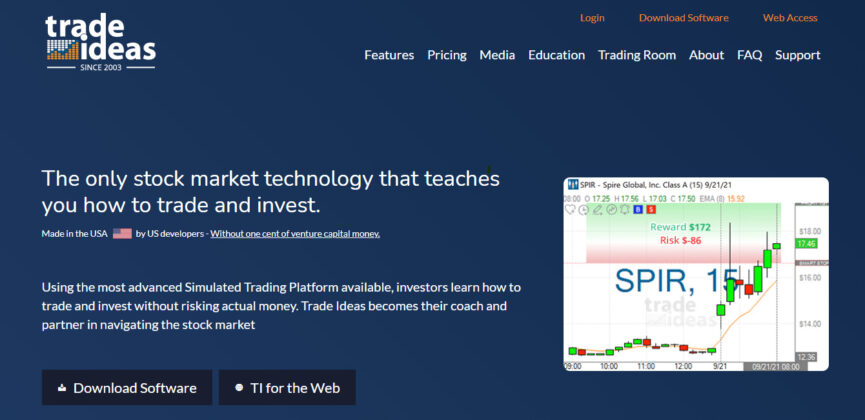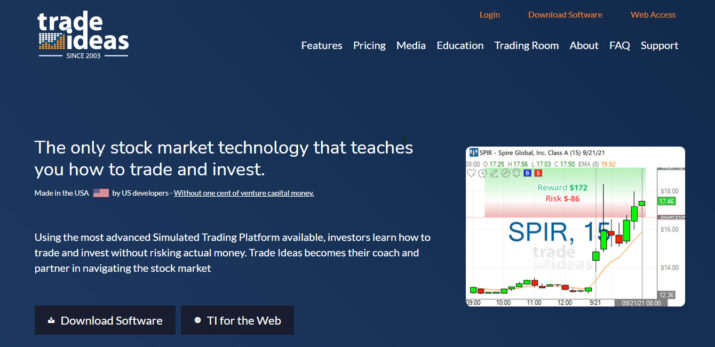 Image from www.trade-ideas.com
Summary
This is one of the few stock picking services that is dedicated to stock pickers who are day traders. To provide real-time trade suggestions for users, the software platform Trade Ideas employs an artificial intelligence dubbed "Holly." Before the markets open each night and morning of the trading day, she performs over 1 million simulated trades.
Holly, the AI analyst, sifts via technical indicators, quarterly earnings, social media, equity research reports, and more to advise companies in real-time. She uses more than 70 proprietary algorithms to locate you the highest-probability, risk-appropriate stock investment options.
Through a live simulated trading room, you may apply these trade ideas presented in real-time. This enables you to test the service's concepts without putting your own money on the line.
She then makes real-time stock trade recommendations, including recommended entry and exit positions to active investors. For each stock pick, this results in a comprehensive day trading plan.
This stock picking service also has its own internal broker, so you may allow Holly to conduct transactions on your behalf rather than buy and sell directly through your own individual brokerage account. Backtesting and automatic trading features are also included with Trade Ideas.
Trade Ideas offers a simulated trading option, which is a particularly useful tool. It allows users to trade with fake money to gain experience before tossing their hard-earned cash about the market.
The number of trade notifications fluctuates greatly based on the stock scanners and their configurations, but the service is clearly beneficial to day traders.
Trade Ideas is a fantastic alternative if you wish to trade the stock market every day or let the machine execute your transactions to get the best stock available.
Trade Ideas A.I. may also be utilized to swing trade if you are not a day trader. Every Sunday, their low-cost Trading Ideas Strength Alerts email you five fresh trade ideas.
Cost
The service has a high price tag, with the Standard membership starting at $1,068 per year. You'll have to switch to their $2,268 Premium plan to get the full Holly experience.
However, for that amount, active investors will receive access to some of the greatest day trading accessories available, such as portfolio management tools.
This investment is a no-brainer if you have a significant amount of money to risk.
CLICK HERE TO READ MORE ABOUT TRADE IDEAS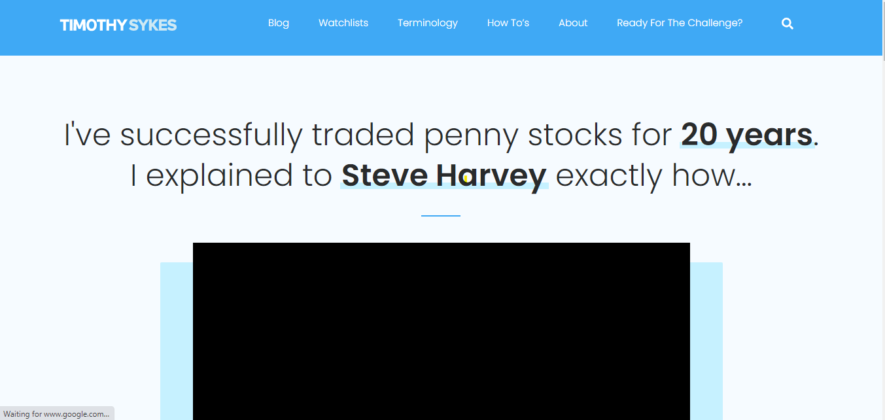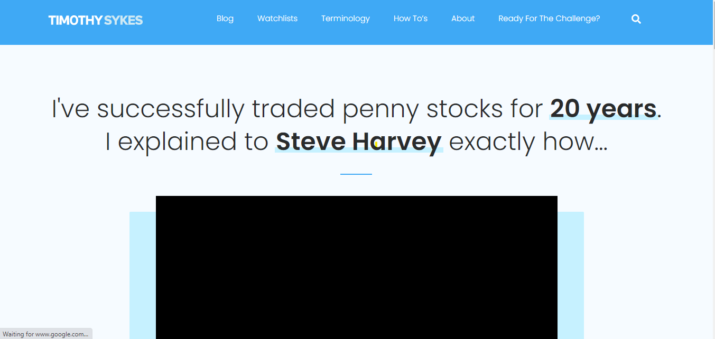 Image from www.timothysykes.com
Summary
Timothy Sykes stock advisor specializes in what day traders consider to be trading one of the riskiest assets available, which is a penny stock. When a company trades for a low price, penny stocks provide an enticing chance to invest in the hopes of making quick money if it rises rapidly.
Tim prefers penny stocks, and he has a sizable fan base throughout the world. Penny stocks are those with a market capitalization of less than a dollar.
When trading penny stocks in large quantities or utilizing market orders, many are sparsely traded, making it difficult to initiate or leave a deal.
The investing principles of penny stocks are to get a quick return on your money. Join Tim's Tim Alerts and Penny Sockingsilver services to keep up with him.
The video lesson library and weekly video lessons are also available to Pennystocking Silver subscribers.
Moreover, both memberships grant access to the daily chatroom, the watchlist which includes 5-10 stocks each day, investment advice, push alerts, SMS and email notifications, and app access.
Sykes has created a number of financial platforms and services, with the goal of assisting his parents as day traders in increasing their profits. Subscribers also receive access to a live chat room and proprietary trading software when they sign up.
Penny stock day traders will also get access to a library of over 7,000 videos that will teach them how to trade penny stocks and help emulate Tim's success.
Cost
Tim Alerts is more inexpensive than some of his rival stock-picking services, with a yearly membership costing $697. Pennystocking Silver, at a higher subscription level, costs $1,297 per year. Over nearly 6,000 instructional films are available to members, along with weekly video releases.
CLICK HERE TO READ MORE ABOUT TIMOTHY SYKES
7) Zacks Premium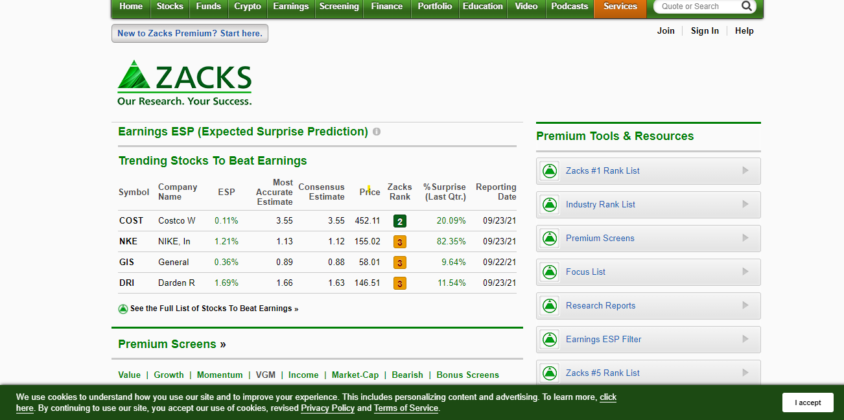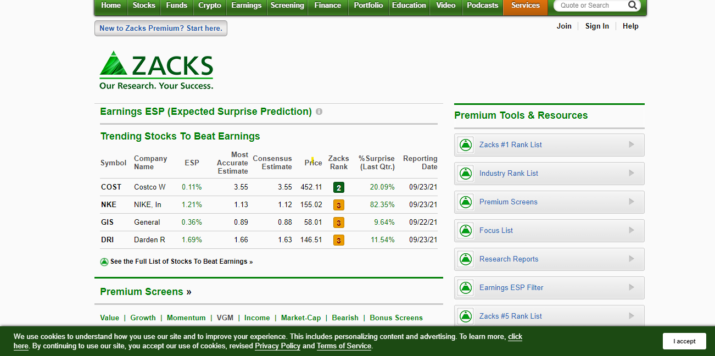 Image from www.zacks.com
Summary
Zacks Investment Research is a stock advisor subscription service that provides tools, stock recommendations, and research to help you enhance your portfolio's performance.
This stock picking service, located in Chicago, is fundamental analysis-based money management and research business.
The Bull and Bear of the Day are one of their most popular features, in which the service chooses two stocks and ranks them as a Bull (strong buy) or Bear (strong sell) recommendation.
The free investing research program and website give broad information on numerous best stocks and sufficient funds.
On working business days, the Zacks Rank list is continuously monitored and revised. Each company is given a rating based on a proprietary algorithm, and investors may sift and filter the results by industry, market capitalization, sector, price, value score, date added, and other factors.
For all equities, a snapshot, and interactive charts are also provided.
Subscribers also have access to various investment tools such as the industry rank list, research reports, and focus list. Aside from that, there are a number of premium stock screens to choose from:
Screeners for momentum, value, growth, income, and more.
Growth Stocks with a Zacks Rank of 1
Earnings Per Share (EPS) Growth, Revisions, and Positive Surprises
Investors may use these screeners to find the best stocks for their investment style. At the same time, they provide Zacks research's track record of business fundamentals, which has outperformed the market.
The Portfolio Tracker keeps track of your individual stocks in real-time to assist you in deciding whether to purchase, hold, or sell.
Cost
After a 30-day free trial, the annual fee is $249. The Zacks Investor Collection gives you full access to a variety of premium research tools and publications, including the Focus List.
After the first 30 days for $1, the price is $59 per month, or $495 per year if paid in advance. If you purchase the Zacks Investor Collection, you will receive Zacks Premium.
Zacks Ultimate is available to those that want even more information. Black Box Trader, Blockchain Innovators, Options Trader, and more unique features are included in this subscription. It costs $299 a month after a month for $1.
CLICK HERE TO READ MORE ABOUT ZACKS PREMIUM
8) Warrior Trading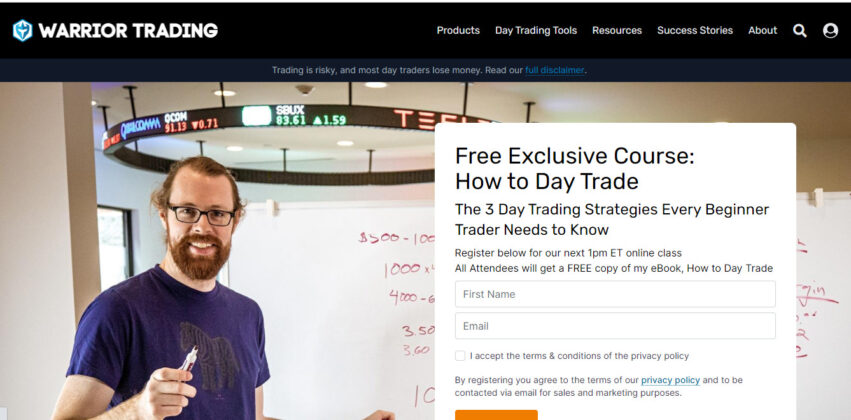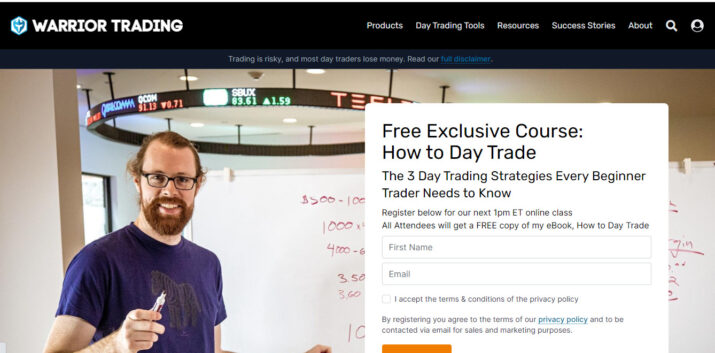 Image from www.warriortrading.com
Summary
Warrior Trading is one of the greatest stock picking services on the internet. Ross Cameron and his crew excel at educating novice traders on how to trade. They do not hide behind a curtain like the Wizard of Oz.
They trade in stock picks, real-time regularly.
Every day, Warrior Trading sends out a newsletter with a few stocks to keep an eye on for the day. You can use their real-time scanner to keep track of them and other stocks throughout the trading day, as well as set up SMS and email alerts for timely trades.
You may trade with fictitious money in their simulator to gain confidence.
Subscribers can see Ross and his team's trading displays. It is much easier to keep track of his best stock picking and decisions this way.
Warrior Trading is known for its teaching, which begins with its founder, Ross. In real-time, he moderates intimate chat room discussions, audio streams, and video feed.
You may connect to the video and audio broadcast using their brand new chat room software.
As mentioned previously, in real-time, you can see and hear when they are trading stocks. You may watch and listen to Ross choose stock picks and trades in real-time on your computer.
Warrior Trading offers a series of free training films, as well as paid education resources to assist novice traders to get started.
Every trading day, Ross also releases follow-up videos. What is the cost of seeing those daily recap videos? Nada! They are free to watch on YouTube, along with other free trade instruction videos that enable users to have a better understanding of a stock pick.
Cost
All of that one-on-one attention of stock picks comes at a price. Warrior Trading's Pro service costs an eye-watering $5,997 a year, so it is not for the faint of heart. However, they have a solid track record of delivering outcomes.
CLICK HERE TO READ MORE ABOUT WARRIOR TRADING
9) Options Strategies Insider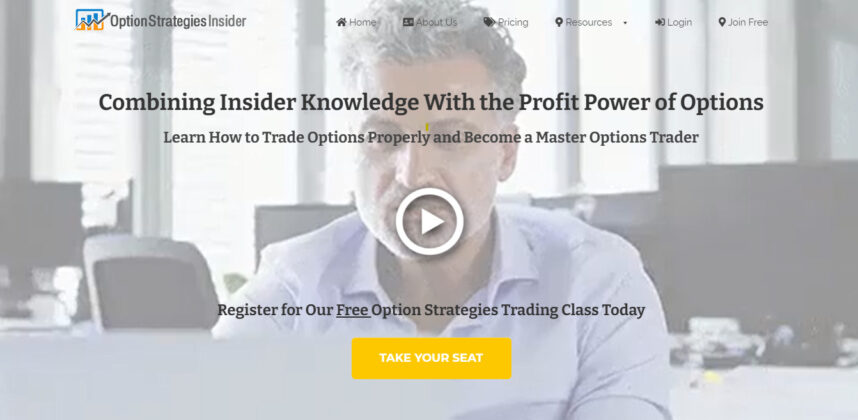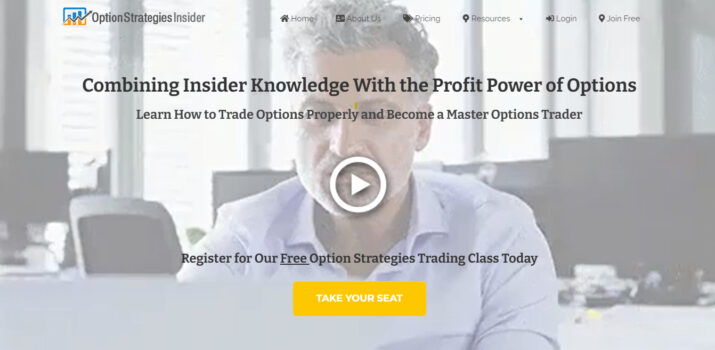 Image from optionstrategiesinsider.com
Summary
Chris Douthit, the founder of Options Strategies Insider, runs an option selecting service. If you are interested in options trading, his 14 free options trading tutorials are well worth your time.
Using stock screening tools to choose stocks and trade stocks might help you improve your investing approach.
Options allow more active investors to spend less money in their portfolios for a larger return. Professional traders and certain hedge funds employ such methods primarily to hedge existing positions.
Investing in indexes yielded an annual return of 10% on average over the last 40 years.
The goal of Options Strategies Insider is to teach investors how to correctly trade options. Apart from day trading, this service focuses on swing trading notifications and instructional features.
The idea is based on a mix of insider information and the profit potential of options trading, so even if you expect market downturns, you can handle them easily.
Options Strategies is one of the best stock picking services when executed correctly and has the potential to outperform the market.
However, not every investor has the financial means to invest in companies worth thousands of dollars. The primary difference between investing in a stock and investing in an option is that the value of an option diminishes as time passes or if there are market downturns.
To do things right with this technique, you will need an experienced trading specialist on the subject of the mighty stock pick on your side to get you the best stock available.
Learning subjects like options trading and difficult jargon like stock dividend grades is much easier with videos.
All videos are open to all subscribers, and users may view them and leave comments under each video, where Chris will respond to the questions.
All of the forms of options trades described in the training center are included in the Options Strategies Insider trade notifications. They are really well-made, and everything is well-explained.
The Training Center includes Beginner Options, Intermediate Options, and Advanced Options. For an options trader, knowing how to read options and how they are priced, as well as some learning, is a good place to start when it comes to day trading.
Cost
There are three types of stock advisor subscription costs available for users to choose from; Free, Executive, and Ultra.
With the Free membership, anyone interested in options trading can take advantage. For all prospective options traders, the video content given is a strong basis.
Chris Douthit has extensive investment banking experience and he wants to make sure you start out on the proper foot in the industry of stock picks.
When it comes to Executive membership, it costs $97 per month or $970 for a year's subscription. You get access to the advanced options course and several pleasant extra features as a paying member.
The Executive Portfolio suggestions are the most essential add-on. The methods had a 90% success rate and a 50% yearly return on invested capital, according to their data.
And Lastly, the Ultra membership. It costs $167 per month or $1,670 per year. Chris examines the company's balance sheets, individual stock pick, and market settlements, as well as politics and disruption, to make well-informed judgments.
CLICK HERE TO READ MORE ABOUT OPTIONS STRATEGIES INSIDER
10) Investors Underground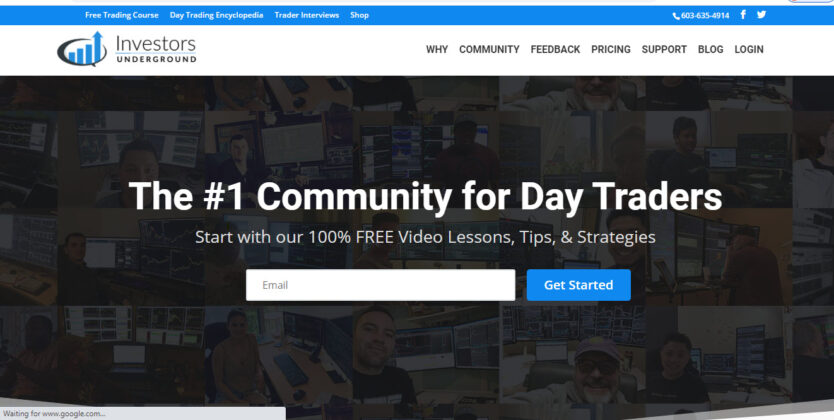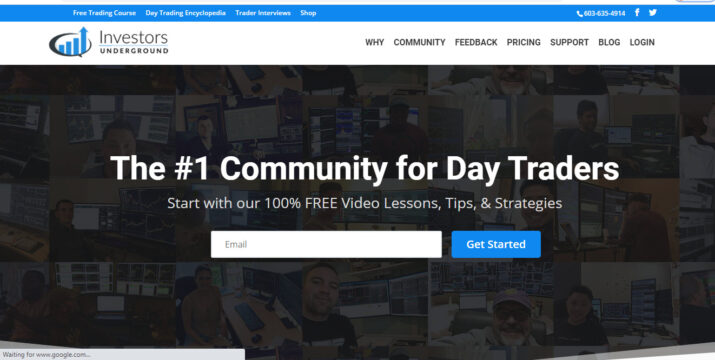 Image from www.investorsunderground.com
Summary
The next contender on our list of best stock picking services is Investors Underground. It is particularly made for day trading. If you want expert trading advice by the best stock advisor and know-how about stock picks, it is well worth the money.
It is another education-focused portal, offers over 700 video lectures and advice. It holds regular webinars with plenty of time for questionnaires.
Their main goal is to create a community where people can communicate and trade educational materials.
Investors Underground sends out a daily email with stock pick watchlists and plans of action, ensuring that you are well-prepared for the market. The watch list provides important details such as the ticker and the trading strategy for the following day.
When the trading day begins, users can engage with other traders in the chat group to share notes, discuss issues, and watch real-time stock monitoring and notifications. The group represents a wide range of investing techniques, and each member must choose what works best for them.
Traders that are able to observe the markets during market hours will benefit the most from Investors Underground. The end aim is to figure out if traders are overpaying or underpaying, which can assist traders to make better trading decisions.
It is a terrific market guide for stock picks, and it is well worth the monthly membership cost.
Cost
Investors Underground is unquestionably more expensive than other day trading programs on the market. Investors Underground subscriptions are still less than a third of the cost of Warrior Trading.
The service costs $1,897 per year, with premium training available if you wish to improve your trading skills. You may spend $297 each month if you want to check it out for a month.
CLICK HERE TO READ MORE ABOUT INVESTORS UNDERGROUND
11) Pilot Trading Stock Advisor Services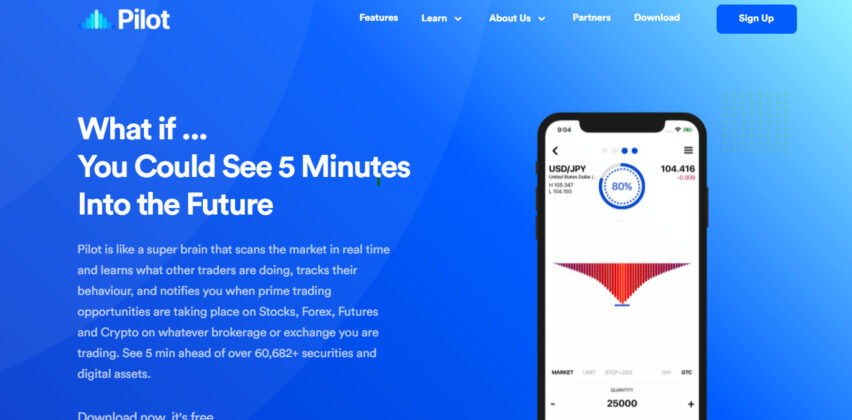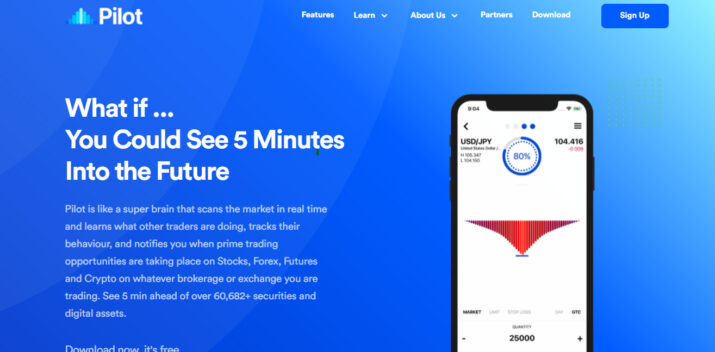 Image from www.pilottrading.com
Summary
Apart from just displaying current trends, Pilot Trading stock advisor services uses psychology-based AI algorithms to predict when asset values may shift directions. This AI can track all of the day traders' activities in real-time.
They link directly to many brokerage accounts for direct in-app trading, which makes investing and the overall business faster and easier.
The variety of assets covered by Pilot Trading is one aspect that distinguishes it. This data can predict when the market is going to change direction and alert users to excellent trading opportunities.
It covers stocks, cryptocurrency, futures, FX, as well as expected swing points so you may focus on the markets that interest you the most.
Also it provides a simulated paper trading account for practice if you are new to trading any of those assets.
Members can either build their own watchlists or utilize the preset ones. To make trading even easier, you may link to any of their supported stock trading applications and trade directly inside the application.
Cost
Pilot Trading stock advisor services does not charge the exorbitant subscription fees that many of its competitors do.
They charge a monthly fee of $19.95, which includes access to all services. There will be no upselling or different pricing for bells and whistles; instead, all users will pay the same low fee.
CLICK HERE TO READ MORE ABOUT PILOT TRADING STOCK ADVISOR SERVICES
| RECOMMENDED TRADING COURSE | REVIEW | VISIT |
| --- | --- | --- |
| | #1 Forex, Crypto and Stocks trading course. Ranked most comprehensive by Investopedia and Best by Benzinga. Free to Try! | |
Choose Asia Forex Mentor for Your Forex and Stocks Trading Success
If you have a keen interest in establishing a successful career in forex trading and aspire to achieve substantial financial gains, Asia Forex Mentor stands as the optimal choice for the best forex, stock, and crypto trading course. Ezekiel Chew, renowned as the visionary behind trading institutions and banks, is the driving force behind Asia Forex Mentor. On a personal note, Ezekiel consistently achieves seven-figure trades, a distinction that truly sets him apart from other educators in the field. Here are the compelling reasons that underpin our recommendation:

Comprehensive Curriculum: Asia Forex Mentor offers an all-encompassing educational program that covers stock, crypto, and forex trading. This well-structured curriculum equips aspiring traders with the knowledge and skills necessary to excel in these diverse markets.

Proven Track Record: The credibility of Asia Forex Mentor is firmly established through its impressive track record of producing consistently profitable traders across various market sectors. This achievement serves as a testament to the effectiveness of their training methodologies and mentorship.

Expert Mentors: At Asia Forex Mentor, students benefit from the guidance and insights of experienced mentors who have demonstrated remarkable success in stock, crypto, and forex trading. These mentors provide personalized support, enabling students to navigate the intricacies of each market with confidence.

Supportive Community: Joining Asia Forex Mentor brings access to a supportive community of like-minded traders pursuing success in the stock, crypto, and forex markets. This community fosters collaboration, idea-sharing, and peer learning, enhancing the overall learning experience.

Emphasis on Discipline and Psychology: Success in trading necessitates a strong mindset and disciplined approach. Asia Forex Mentor provides crucial psychological training to help traders manage emotions, handle stress, and make rational decisions during trading.

Constant Updates and Resources: The financial markets are dynamic, and Asia Forex Mentor ensures that students remain up-to-date with the latest trends, strategies, and market insights. Continuous access to valuable resources keeps traders ahead of the curve.

Success Stories: Asia Forex Mentor takes pride in a multitude of success stories where students have transformed their trading careers and achieved financial independence through their comprehensive forex, stock, and crypto trading education.

In summary, Asia Forex Mentor emerges as the premier choice for those seeking the best forex, stock, and crypto trading course to carve a rewarding career and achieve financial prosperity. Through its comprehensive curriculum, experienced mentors, practical approach, and supportive community, Asia Forex Mentor provides the necessary tools and guidance to mold aspiring traders into accomplished professionals across diverse financial markets.
Conclusion – The Verdict
Indeed, stock picks has always been a hot topic, the decision to work with the best stock advisor depends on many factors such as company's strength, debt-to-equity ratio, price-earnings ratio, and so much more.
So, what's the best one?
Among so many good stock picking service to choose from, we must say that The Motley Fool's Stock Advisor are the best one. They have an award-winning analyst team that helps thousands of individual investors save their precious time and money.
CLICK HERE TO GET THE MOTLEY FOOL STOCK ADVISOR AT A DISCOUNTED PRICE