AI Trading Software: 7 Most Specified Ones in 2022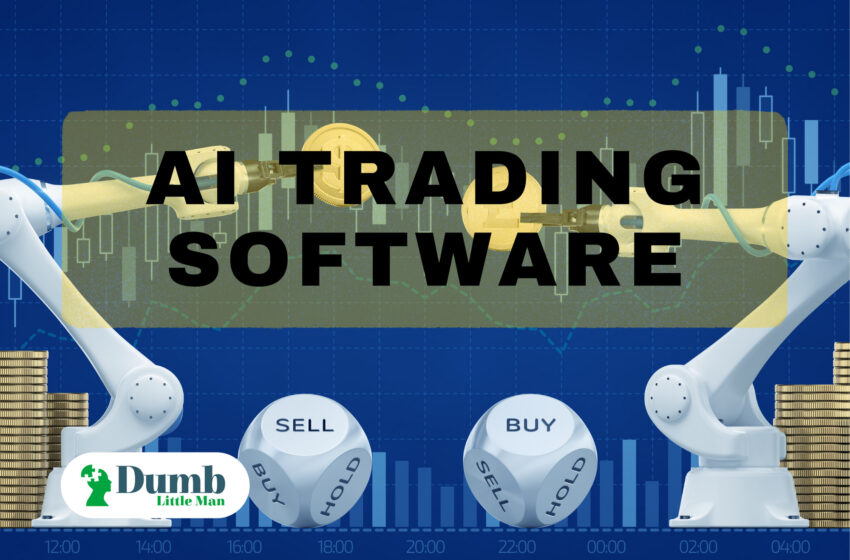 Investing has always been a tricky business. This is because of the volatility in the market, with some stocks soaring and others crashing at any given moment. The boom in AI-powered stock trading software over the last few years has helped investors to navigate these murky waters more easily by automating their trades or even predicting them.
We have compiled a list of the AI trading software that is being most specified in 2022.
AI Trading Software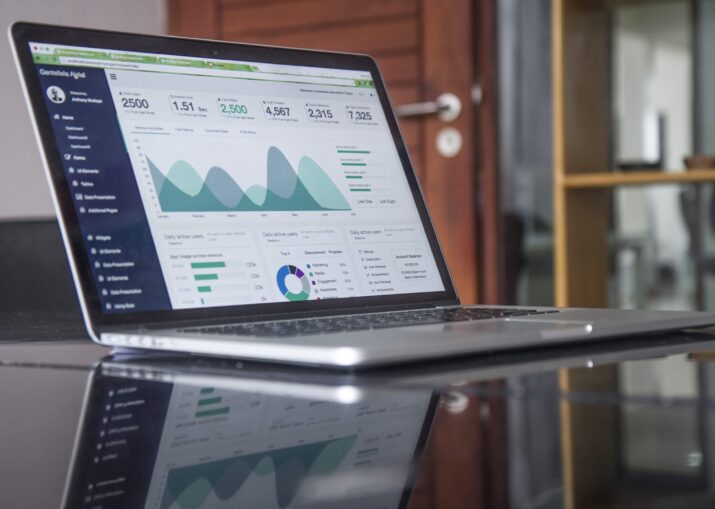 AI Trading Software is software that can trade stocks, commodities, and currencies with the help of artificial intelligence. Artificial intelligence is being used to analyze data in order to make investment decisions faster than humans are able to do. This type of software is becoming more popular as it has shown high profitability rates without any form of human intervention for up to 10 years.
The purpose of this blog post will be to discuss how the following AI stock Trading Software works and what they do so you can decide if investing in the software would be worth your time or not.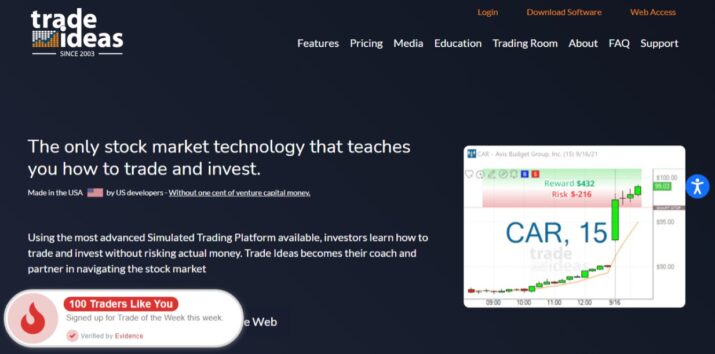 What is Trade Ideas?
Trade Ideas is an online trading platform and social network for financial professionals. Their users can make stock picks and compete with other users in a virtual stock market called "The Idea Stream" to generate profits for their portfolios.
The stock trading software in a nutshell:
A trend prediction engine for traders
Stock picks automated technical analysis by active traders with self-regulation on submissions
Submitted picks go through a review process before going live in the Idea Stream
Tracking tools so you can follow your past picks and get notifications when they update
Share ideas, track portfolios, and view the Idea Stream on the web or mobile app
Customizable alerts that can be set up by stock or strategy
Includes industry news from an aggregation of sources as well as a blog with daily posts written by Trade Ideas' analysts
What do they do?
They use artificial intelligence to analyze data such as news, and investor sentiment in order to generate trade ideas. These trade ideas are then shared with the community so other users can research them and potentially use them for their own portfolios.
How does it work?
As a trader, you can submit your ideas (stock picks) into the Idea Stream (social media platform), where other traders can view them. If an idea gets enough views, it will be featured in the Top Ideas section of the stream, which are all stock ideas that have performed the best over a 7 day period.
If your pick is chosen to be featured in one of these Top Idea spots, you'll get points towards the Trade Leaderboard. At the end of each month, $850 in Amazon gift cards are given to the top trader on the leaderboard.
Points are also awarded for getting your ideas featured in other ways throughout the Idea Stream platform that aren't assigned by competition.
Trade Ideas uses machine learning algorithms to analyze unstructured data such as news articles, company reports, earnings call transcripts, etc., along with structured data like financials and sentiment scores. They then use these algorithms to generate their trade ideas. Even though they are not the only ones doing this, they do have a larger dataset than other investment research firms. For example, they currently monitor more than 16 million companies worldwide and analyze over 300,000 news articles every day.
This makes it very easy for users to find actionable trade ideas that aren't given out by other trading platforms.
Pros
They have a large dataset that allows them to generate more actionable trade ideas than other investment research firms
The automated technical analysis platform is social which gives users a chance to network with each other and share their strategies to buy and sell orders
It has a very easy to use interface
Cons
It's been under heavy criticism from the financial industry for being a form of high-frequency trading style and challenging the traditional methods
Broker
Best For
More Details

Scanning Platform
Read Review

 




securely through Trade Ideas website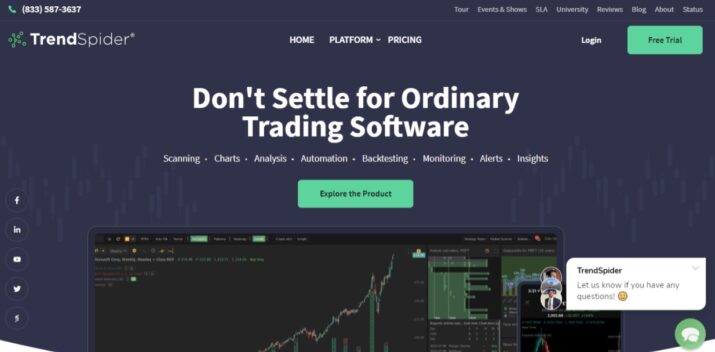 What is TrendSpider?
TrendSpider is a service that provides real-time analysis of millions of web sources for breaking news and trends, along with detailed company research on over 500,000 global companies.
The stock trading software in a nutshell:
Free version that allows you to monitor up to 5 companies
Machine learning algorithms help discover actionable investment ideas in near real-time
Detailed company profiles and financial data on over 500,000 companies in 100 industries across 80 countries
Ability to set up email alerts for news on the companies you choose
Deep analytics on each company including financial, social media, and website data
Trend analysis for industries and global markets
What do they do?
They have a product called TrendSpider Alerts, which is an algorithmic tool that uses machine learning techniques to extract breaking news and trends from a huge range of publicly available sources. These alerts are then organized into a dashboard so you can monitor them more easily. Think of it as a more efficient version of Google Alerts.
The stock trading software also allows you to research companies in order to find investment ideas. The company profiles include everything from social media and website data, all the way to financials and analyst recommendations.
How does it work?
TrendSpider uses a machine-learning algorithm to generate actionable investment ideas by monitoring millions of web sources in real-time. The algorithm analyzes data on companies, industries, and the global economy.
TrendSpider's AI algorithms process more than 2 petabytes of unstructured text daily. This means that they can monitor market-moving news stories before other investment research firms.
This is how it works:
You can search by company name and see their business profile
You can set up email alerts for any of the companies you choose
They provide news on each company such as earnings, mergers & acquisitions, debt, etc.
It monitors social media to help gauge public sentiment on a certain stock which allows you to find out if people are positive or negative about it
They provide detailed information on the company, its competitors, and the industry in which they operate
You can also do some stock screening using their machine learning algorithms to generate ideas based on your search criteria
For example, you can input "Apple" into the tool and it will provide you with a list of ideas:
Pros
It has lots and lots of data and the more information there is, the better your chances are of getting an accurate predictive model
The interface is super clean and easy to use
7 day free trial period to test out the stock trading software before buying it
Cons
No free version available to try out without giving credit card information
Broker
Best For
More Details

Tool for Charting and Analyzing
Read Review

 




securely through Trendspider website
3. Black Box Stocks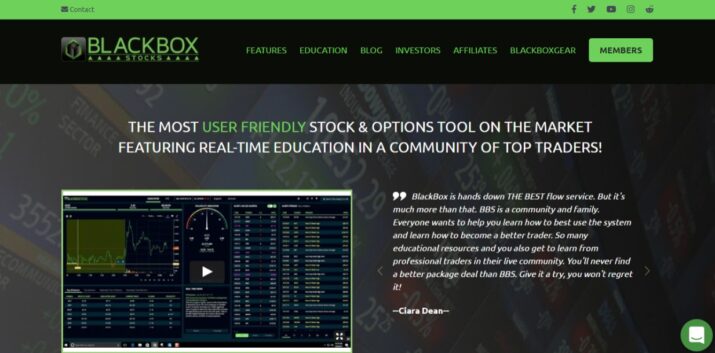 What is Black Box Stocks?
Black Box Stocks is a digital investment platform that uses artificial intelligence and machine learning algorithms to generate its trade ideas. It was founded by Jean Marie ("JM") Belloir, who is a former hedge fund manager and founder of two algorithmic trading style firms.
The platform is a service that provides real-time analysis of financial markets together with actionable trade ideas for traders, investors, and analysts. In addition, they offer a community forum where anyone can discuss market conditions and share their insights on investing in various stocks.
What do they do