10 Best Forex Trading Schools • 2023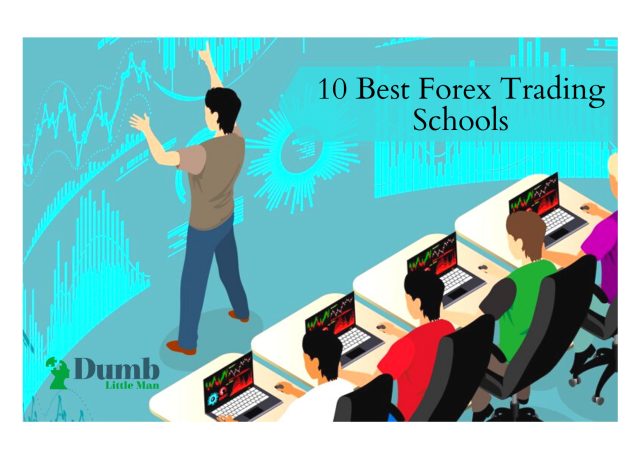 Forex trading is a complicated venture that even the most experienced forex traders struggle to make headway. That is why it is more important to get helpful insights first from the best forex courses before engaging in any trading. Therefore, it would be best if you came up with a good trading plan to trade forex.
The purpose of these online forex classes is to instill forex traders with sufficient knowledge to overcome common pitfalls associated with forex. They also help them understand working strategies, predict currencies' future trends and introduce you to many brokers and best trading platforms, transaction costs, leverage, and spreads.
We made these forex trading schools analyses to understand and identify a suitable professional forex trading courses to learn trading forex strategies.
These are the Top 10 Forex Trading Schools
Asia Forex Mentor by Ezekiel Chew – The best overall course
Simpler Trading- Best for trading analysis.
The Trading Masterclass by Chris Capre.
The Traders Academy Club by Vladimir Ribakov.
Udemy Forex Trading by Kiril Eremenko.
Forexsignals.com by experienced forex trader Nick McDonald.
Six Figure Capital by Lewis Glasgow.
Forex Trading Coach by Andrew Mitchem.
Forex Mentor Pro by Marc Walton.
Day Trading Academy founded by Marcello Arrambide.
1. Asia Forex Mentor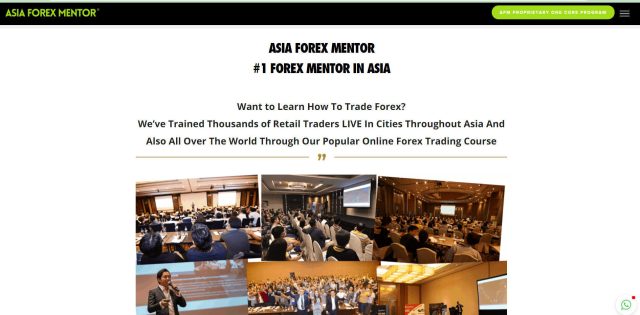 Asia Forex Mentor has over 26 lessons filled with easy-to-understand examples and spiced with Ezekiel Chews' personal experiences. This strategy has made it favorable for forex traders who are starting their trading careers. Like the AMFs one core program, many financial institutions and gurus are looking for Chews personal strategies to achieve their goals.
Asia Forex Mentor was founded in 2008 by Ezekiel Chew. It has two proprietary programs, the Golden Eye Group, and The One Core Program. Ezekiel Chew got motivated to start the program when his friends requested that he guide them on various trading skills.
The group soon became a vast community which necessitated Chew to establish an online branch for easy access by his audience. Currently, Asia Forex Mentor has inspired many traders and put them on the world map of forex.
The Development Bank of Philippines(DBP) is among its clients, the second-largest bank owned by a state. It currently has assets exceeding $13 billion. These are just a few achievements of Asia Forex Mentor as a leading forex learning institution
About Asia Forex Mentor
Ezekiel Chew regards that when a learner goes through the AFM One Core Program, it gives sufficient expertise equivalent to 20 years experience. His enthusiasm and passion shone, with his in-depth knowledge of the subject matter all through his lessons.
The reason why learners have embraced Asia Forex Mentor is through its easy to comprehend and engaging lessons. Many topics are covered; they include trading strategy creation, chart reading, risk-reward ratio components, trading skill development, and MT4 set up.
Twenty-six lessons are taught, with 63 videos and a course introduction and other subcategories. In the program, it includes Chew's life trading examples handpicked from his trading journey and achievements, greatly enhancing the value of each lesson.
You can check out the proprietary trading system he uses and get an idea of his teaching style through his free 5 part training series.
2. Simpler Trading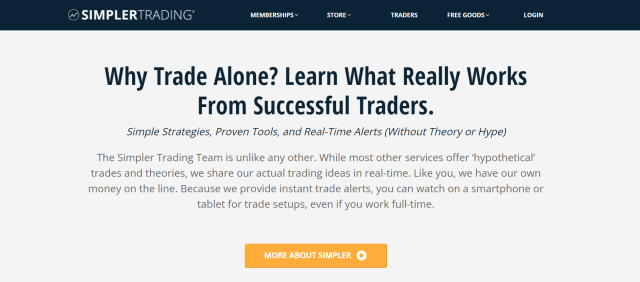 The Simpler Trading course by Raghee Horner is among the best forex courses globally, offering useful financial knowledge and trading tools.
More than eight most experienced and successful mentors give helpful knowledge to learners looking for valuable insights on how to trade on the Simpler Trading platform. There are many other ways traders learn such that lessons are made more engaging and easy to understand.
The Simpler Trading equips learners through cutting-edge technology through live chat rooms, videos, webinars, and mentorship. The team of specialists is available every day, all through the week through phone and online platforms; therefore, they are available to help in case of any questions.
There are 66 lessons in Simpler Trading to choose from, but it would depend on trading methods, skill levels, and instruments used in forex trading. Simpler trading's online forex classes offer different topics in different fields, including cryptocurrencies, stocks, and futures, appropriate for learners of all levels, from beginners to the most experienced.
Students learn essential insights about analyzing prices, directions to take when trading, credit spreads, and many other strategies. The Simpler Trading is one of the most crucial forex courses for beginners and intermediates to help them achieve better returns.
About Simpler Trading
Apart from being a successful forex trader and a tutor, Raghee Horner is renowned for various forex trading books. She introduced many essential lessons through webinars on the Simple Trading platform. She brought her admired analytical insight with a unique manner of presentation of the course.
Interested learners in this professional forex trader course will learn how to approach Raghee Horner's skillful way of trading. She broke down the best methods of employing strong trends and introduced step-by-step examples in a live learning session.
Simpler trading is one of the most engaging forex courses because of its uniqueness and uttermost simplicity. Therefore, even the armature students will understand all information through the course.
3. The Trading Masterclass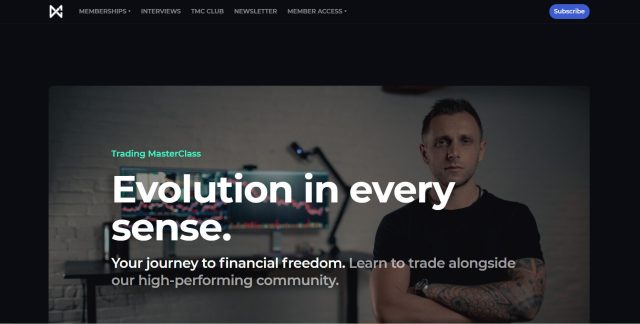 The Trading Masterclass was inspired by Chris Capre, who is an experienced and successful forex mentor. It aimed to teach both beginners and more experienced learners who want to take their skills to a more advanced level and increase their trading income.
People had a negative mindset about Forex trading; therefore, The Trading Masterclass had an aim which Capre revealed. Rather than forex market useful trading strategies, he was more interested in changing people's mindset on forex trading.
The Trading Masterclass has three modules in its forex course, which help learners learn how to trade bonds, equities, CFDs, forex, indices, and stock. But first, you'll be given a quick introduction to forex trading, complete with full information on the terms.
The platform offers 50 free videos for non-members, but subscribed members get pre-forex market analysis, live trading sessions, and several tools and course materials. The Trading Masterclass has only one disadvantage; it is not licensed in the US, making it hard for US traders.
About The Trading Masterclass
The forex trading course is very much comprehensive, and the support is great. Both Chris Capre and his colleague Sascha Gogolin are more committed and available to help; they take no time to answer questions and give assistance whenever you need help.
Both Chris and Sascha provide webinars weekly to analyze different forex market trends and provide pre-forex market analysis before taking you to a live trading session. In addition to this, members can watch video lessons if they miss the live sessions and mentorships.
It is upon the members to select between four different online forex trading classes: the Swing Day course ($449), the Advance Price course ($390), the Advanced Ichimoku course ($319), and the Advance Traders Mindset course ($399). You can also decide to pay for all the lessons, at the price of $1407.
4. The Traders Academy Club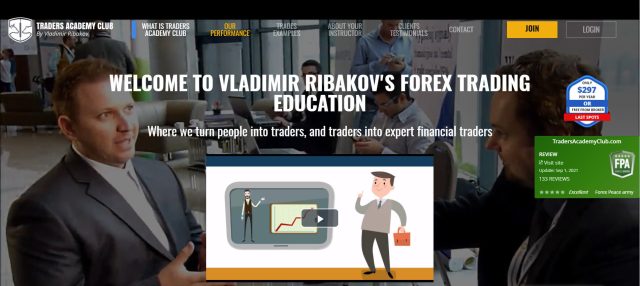 Trader's Academy Club, founded by Vladimir Ribakov, has received many positive reviews from its enthusiastic lovers. This online forex trading class is mentored by Vladimir Ribakov, who, in his trading years, has gained more experience and success.
The Traders Academy Club aims to elevate the status of traders; even with the least experienced and with uncountable evidence of achievements backing up this claim, you will hardly find any negatives.
The Traders Academy Club can access many effective trading tools, important trading ideas, and learners join a group of successful traders. Subscribed learners access comprehensive media tutorials and other premium trading materials.
About The Traders Academy
The live online forex trading classes are a daily dose with 30-50 minute videos through webinars are the most popular part of the forex trading course. Students will receive forex trading tips and analysis during the sessions, which will explain the mechanics of each trade recommended during the session.
The Traders Academy Club also provides webinars hosted by Ribakov and other team members. Ribakov, together with his colleagues, analyze suggestions for trading opportunities and breaks down the day's trading strategies through webinars.
With these, members of the club can find trading tools developed by Ribakov and learn with the traders' community. A Vast Library of educational materials is also available for interested forex traders.
The topics taught depends on the learners' level of knowledge, from the beginners to the most experienced traders. This forex trading course costs $197 per year. You will get a seven-day free trial for you to decide if indeed you are interested.
5. Udemy Forex Trading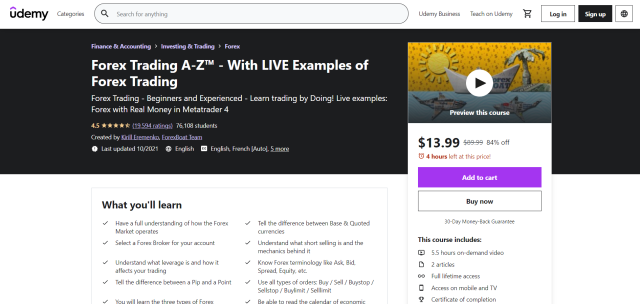 Udemy Forex Trading was founded by Kiril Eremenko, a forex systems expert and a data scientist. It is among the best providers of online forex trading courses, with different easy-to-understand units. This forex trading is comprehensive and surprisingly good, and it is more affordable to less privileged learners.
The fact that the course is more affordable and comprehensive makes it easier for beginners who just want to taste forex trading before engaging fully in it. The Udemy Forex Trading provides certificates to its members who successfully finished the course together with lifetime access to the course with all other features.
Udemy has the best customer support 24/7 in case of any questions or if you need any help.
About Udemy Forex Trading
Subscribers to this course will get a thoroughly in-depth study. What makes Udemy more appropriate is its approach to basics; this makes it a good course for beginners to reach a more comprehensive knowledge before engaging on the forex trading journey.
The forex trading course is divided into nine sections to meet the criteria of the forex market:
Forex Acronyms and Jargon
Fundamental Analysis
Forex Basics
Forex Analysis
Technical Analysis
MetaTrader 4
Calculating Risks the SMART way
Examples Using REAL Money
Bonus Lecture.
The course also has many video tutorials with more than 57 videos of tutors lecturing traders. As mentioned, subscribers get lifetime access to materials, and this means that as soon as new materials are uploaded at any stage, they will automatically access them.
The Udemy being a much affordable course is expected to be missing some key features. They do not offer live trading sessions, practical learning applications, and live instructions. However, these missing features do not affect the learning process; with $12.99, you can get an in-debt course about forex trading.
6. ForexSignals.com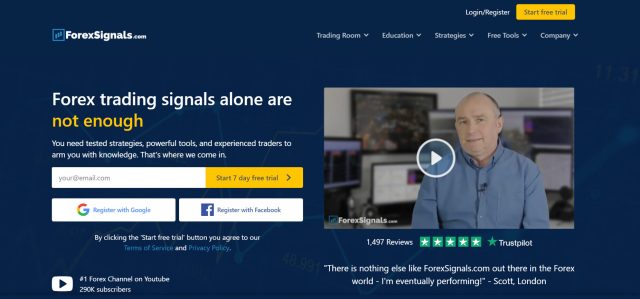 ForexSignals.com is among the best forex courses throughout the forex trading industry. You have to view the full range of advantages offered by ForexSignals.com to know the reason. It provides high-quality signals, a wide range of strategies, and full access to professional mentors.
It was founded in 2012 by experienced forex trader Nick McDonald. ForexSignals.com gives assistance to traders who want to know more about the forex market in a conducive environment that actively encourages them to skill up.
The presence of experienced traders and mentors around the clock and daily live tutorials, and other constructive community engagement activities represent this focus on interactivity over passive information.
With a proper YouTube channel full of helpful guidance and an academy, learning is focused on understanding trading. ForexSignals.com encourages and provides cutting-edge trading tools, expert mentors, and a community of like-minded traders.
About Forexsignals.com
Many traders of different levels would find this course more appropriate but, it's primarily been designed for beginners. The course provides a wide range of options for the trader to choose from and improve his trading tactics. The initial stage is the introduction part before evolving to more technical backgrounds.
The trade room is the heart of the course, an active and vibrant community of passionate forex traders and professional mentors who provide relevant lessons through chats, live streams, and video content.
Four mentors equip the traders with forex knowledge in turns; they start in the morning and continue through the New York and the Asian sessions. The tutorials are also available whenever you need them; therefore, you can stay up to date in case you missed the session. Pieces of Advice, Real-time Trading, educational content, and questions answered are all available during the live streams.
Forexsignals.com is well known for its provision of three trading strategies, members choose what works for them, and offering great flexibility to enable learners to learn a wide range of knowledge.
In terms of pricing, you will get a quality education which is a good value for your money. At the beginners level, the practical lessons offer access to the trade room, daily live trading sessions, access to professional trading tools, and live engaging sessions charged at $97 per month and $297 yearly.
Subscribing to professional packages will enable you to access forexsignals.com features at $567 per year. Beginners are offered a seven-day free trial; besides that, the company also provides a money-back policy for students who are not contented with the terms of service seven days after payment.
7. Six Figure Capital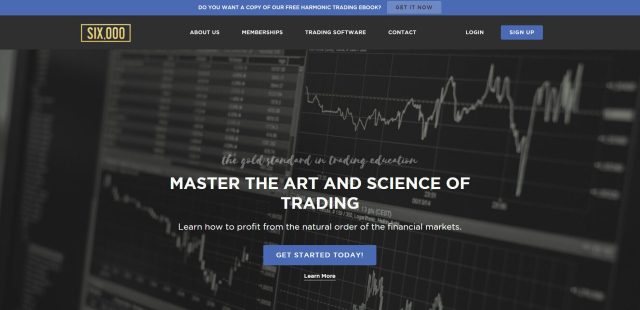 Six-Figure Capital was founded by Lewis Glasgow. This is the course which offers a wide knowledge with the shortest time possible. The course, well known as Master The Art of Trading, is relayed in just 14 days. This useful information is divided into 19 videos which are spread over 14 days.
The most important thing about this course is that you will not be overloaded with information, but all the lessons will be engaging and taught in different ways, including live trading sessions, live tutorials, and many many others.
According to Lewis, this course has the aim of guiding traders on how you can analyze the natural order of the financial markets.
About Six Figure Capital
Glasgow distributed the 19 videos across this course duration with an introduction to a new topic every day. This way, the learners can learn more content in a short time without getting bored.
The Six Figure Capital exposes learners to live trading sessions throughout the course; therefore, they get useful experience and become better traders in forex market. Four bonus modules are also offered, including helpful trading tools like ebooks and spreadsheets.
Having a social platform slack is a plus for this course. This social platform enables you to interact with more experienced coursemates online and gain more important knowledge and skills.
The end of the 14-day course means a transition to a Six-Figure advanced harmonic mastery course, which introduces practical trade using the company's harmonic pattern software.
If you want to join The Six Figure Capital, you will be required to pay a one-time fee of $1058 (£800) and pay the remaining $128 (£97) spread over the time duration of 12 months.
Acquiring a membership guarantees you lifetime access to daily updates of new course materials and continuous support.
8. Forex Trading Coach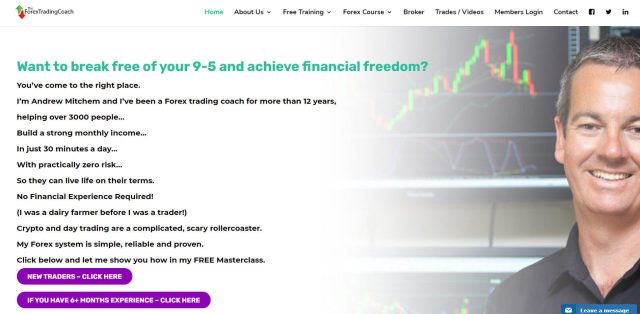 The Forex Trading Coach is one of the best-approved forex courses developed by Andrew Mitchem and run by Andrew, Paul, and Mikalai. It is unique since this course is generally for traders of all levels.
Beginners are the greatest beneficiaries since they are exposed and learn from not knowing to expert level within the learning period. Michem said that the course was introduced to develop traders from armatures to experts within 90 days.
With this strategy, beginners are capable of becoming better traders than those with much experience who may have stuck. One remarkable thing about Forex Trading Coach is that it provides detailed and clear information. This clearly shows that it was developed by someone with more experience.
About Forex Trading Coach
The course is very detailed, having many trading tools to guide traders on important basic trading information. Andrew and his colleagues broadcast helpful live webinar sessions, where he discusses trading strategies and provides forex trading guidance to clients who are interested in trading forex.
In case of any inquiries regarding Forex Trading Coach, Andrew and his team members are available 24/7 to assist you. The cost required depends on the bundle you are interested in. However, the cost in all the bundles is fairly affordable.
9. Forex Mentor Pro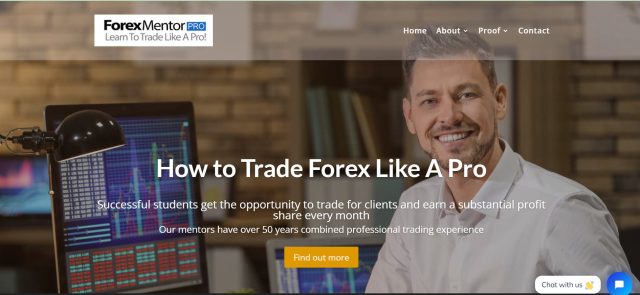 The Forex Mentor Pro was founded by Marc Walton, who began trading in 2002. Marc's inspiration came from a mentor who expanded his trading knowledge and helped him succeed. In trading, he was approached by many who wanted to learn, hence introducing the forex mentor pro.
The Forex Mentor Pro has categorized its training options into three levels. All three provide video tutorials on the most advanced trading systems and can only be Accessed by the subscribed members.
This course is more unique in itself, traders are taught how to distinguish from scam situations and genuine ones and how to avoid them.
About Forex Mentor Pro
Once monthly payments have been made, students can receive all the privileges mentioned above. The annual plan provides more private support and a half an hour call with a mentor.
Marc and the team portray a great level of professionalism since they have a quick response incase a client seek clarification.
To get lifetime access, you will be requested to pay a one-time payment and a 60-minute call with a mentor and create personalized plans.
Forex Mentor Pro explore the financial markets to find useful information which is useful for market analysis.
10. Day Trading Academy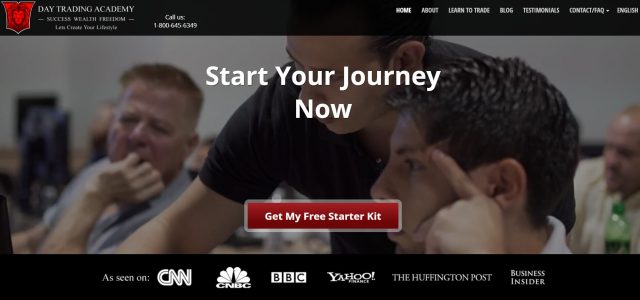 The Day Trading Academy offers lessons to traders of all levels. This course is aimed at showing its students the path to follow and expose them to real trading. Topics range from simple basic ideas to more advanced trading concepts like emotional intelligence, trading psychology, and high probability.
Day Trading Academy also has had more than 50000 interested clients who have recently signed in for their services. They enlighten the traders depending on their ways of trading; the outcome could either be a profit or a loss.
One of the top features of this trade is that it teaches learners to manage their trading themselves by exposing them to the real financial markets. This level of learning is considered critical as it is the foundation of trading.
About the forex trading school
This course offers one live lesson for free. Students pay $2997, including online learning., webinars, three months of real mentoring, video recaps, and live online trading classes.
Beginners have a better chance of learning from the most experienced traders and mentors exceeding 50 years of experience in the forex markets.
Conclusion
The forex market has introduced a new way of earning money in the comfort of your home by offering new opportunities. These opportunities come with many challenges and risks; therefore, education is required to induce helpful skills.
Having listed our top forex trading courses, Asia Forex Mentor has beaten all odds and has proven itself as the best forex trading school.