WallStreet Forex Robot Review 2023 By Dumb Little Man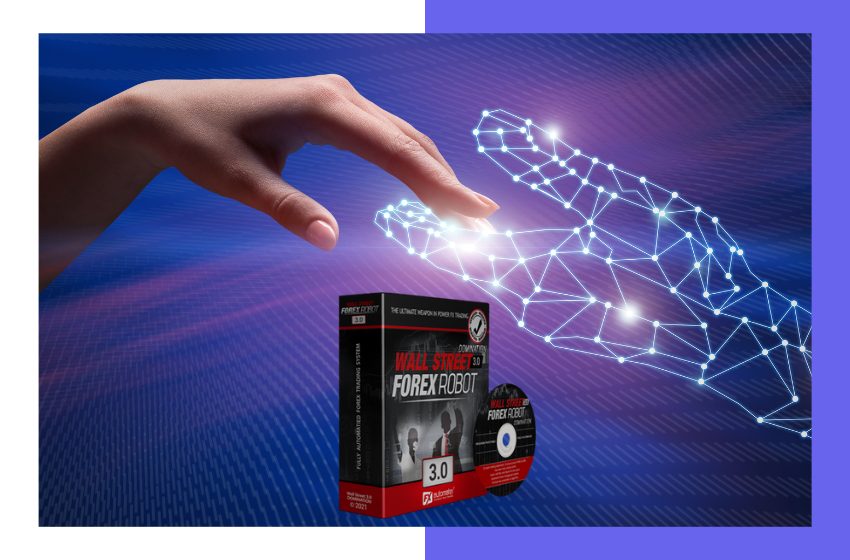 WallStreet Forex Robot Review
In the world of Forex trading, robots have emerged as a tool that can automate complex strategies to capture gains from market movements. One such trading robot that has caught the attention of traders is WallStreet Forex Robot. Known for its high profitability and low drawdown, this established robot uses a blend of trend analysis and price action tactics to pinpoint profitable trading opportunities.
If you're on the fence about diving into automated trading with WallStreet Forex Robot, this review is for you. Brought to you by our team of Forex experts at Dumb Little Man, this article will give you a detailed breakdown of the robot's features, cost, pros and cons. Our goal is to provide you with balanced insights so that you can make an informed decision about whether this trading bot aligns with your trading strategy and financial goals.
Evaluation Criteria
Before diving into any trading bot assessments, the knowledgeable team at Dumb Little Man puts each bot through a stringent evaluation process. This esteemed group consists of retail traders, financial consultants, and trading professionals who deliver a detailed and balanced review. They assess the bot based on several key factors, such as:
Features specific to trading
User-friendliness
Dependability and performance
Security and safeguarding of funds
Potential for profit on the platform
Cost-effectiveness of the services
When we applied these criteria to WallStreet Forex Robot, it was clear that the bot holds its own in the competitive landscape of automated trading. It meets a variety of trading needs while consistently offering a reliable and user-friendly experience.
What is WallStreet Forex Robot?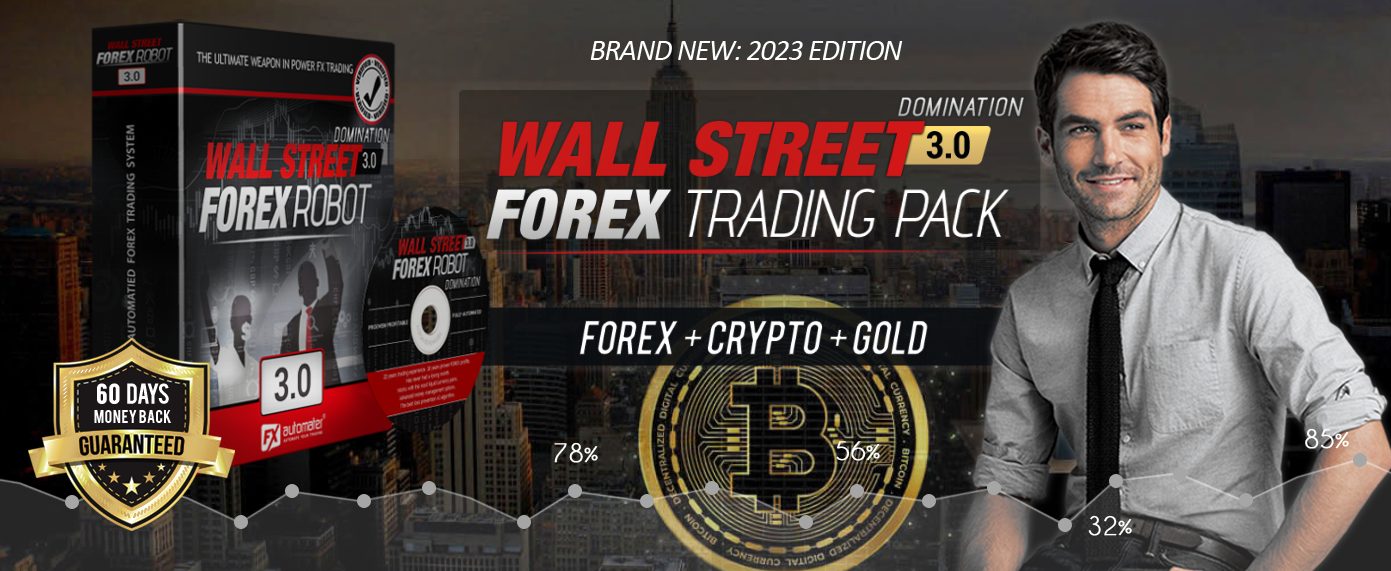 FXautomater, a company with 15 years of experience in the field, created WallStreet Forex Robot. They are also known for creating AI stock trading tools. The company is located in Seychelles. The robot specializes in trading, called scalping, and operates non-stop during weekdays.
It works best on 15-minute charts and is designed to trade specific currency pairs: EURUSD, GBPUSD, USDJPY, and USDCHF. According to its makers, this robot can significantly improve Forex trading results.
If you want to automate your Forex trading, WallStreet Forex Robot offers a tried-and-true option. Its 15 years of industry backing give it a leg over newer, untested robots. Its focus on scalping means it aims for many small profits, which can add up over time.
Since it operates 24/5, it maximizes trading opportunities. The specific currency pairs it's optimized for are among the most commonly traded, offering good liquidity.
How Does WallStreet Forex Robot Work?
Based on Dumb Little Man's experience with WallStreet Forex Robot, here's how it functions. Most of its trades, around 90%, are opened during the high-activity trading hours of New York and London. It's not a new player; the team behind it has spent years refining the code. The robot is now in its third version, WallStreet Forex Robot 3.0. While ongoing updates are good, remember trading is unpredictable.
The robot specializes in scalping, targeting short to medium-term trends. Unlike many rigid trading bots, this one is adaptable. It updates itself to fit current Forex market conditions. It's separate from a specific broker or market environment to perform well.
In terms of trade timings, the WallStreet Forex Robot is not restricted. It operates round-the-clock and picks trading times when the market offers low spreads and high liquidity. It focuses mainly on medium and short-term trends.
It aims for small wins, usually between 10 to 15 pips, but these add up over time. Another plus is its compatibility with MetaTrader 4 brokers, so you don't need to worry about changing your existing setup.
What are the Features of WallStreet Forex Robot?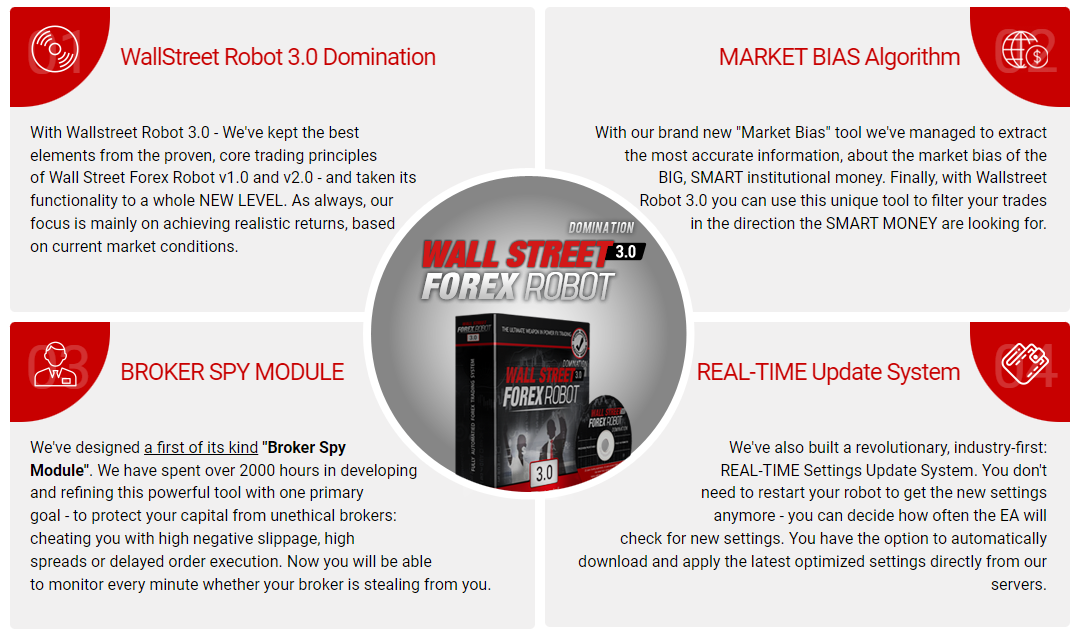 Mature Technology: The robot is in its third iteration, WallStreet Forex Robot 3.0. It's built on years of tweaks and tests by experienced traders and coders. However, trading is always a risk.
Adaptive Strategy: It focuses on scalping, aiming for short to medium-term gains. The robot updates itself to adapt to market changes, setting it apart from many rigid bots.
Custom Money Management: It comes with built-in money management settings that you can adjust.
Semi-Automated Mode: You have the option to get alerts for trading signals. You can then decide whether to trade or wait, giving you more control.
Additional Analysis: While fully automated, the robot allows you to add your own market analyses for trade confirmation, be it technical, fundamental, or price action analysis.
Flexible Settings: All settings are externally available. This lets you tweak them directly on your trading platform's charts.
Optimized Defaults: While you can adjust settings, it also comes with developer-recommended defaults.
User Experimentation: Experienced traders can create their own settings using the MT4 strategy tester to find what works best for them.
Demo Account Testing: If you want to experiment, it's recommended to start on a demo account.
WallStreet Forex Robot Pros and Cons
Pros
Supports Multiple Currency Pairs
Fully Automated Forex System
Settings Can Be Customized
Lifetime Software Updates
Includes Bonus Trading Systems
Verified Trading Results
Cons
Risk of High Drawdowns
Limited Quality of Backtesting
Some User Input Needed
Benefits of Trading with WallStreet Forex Robot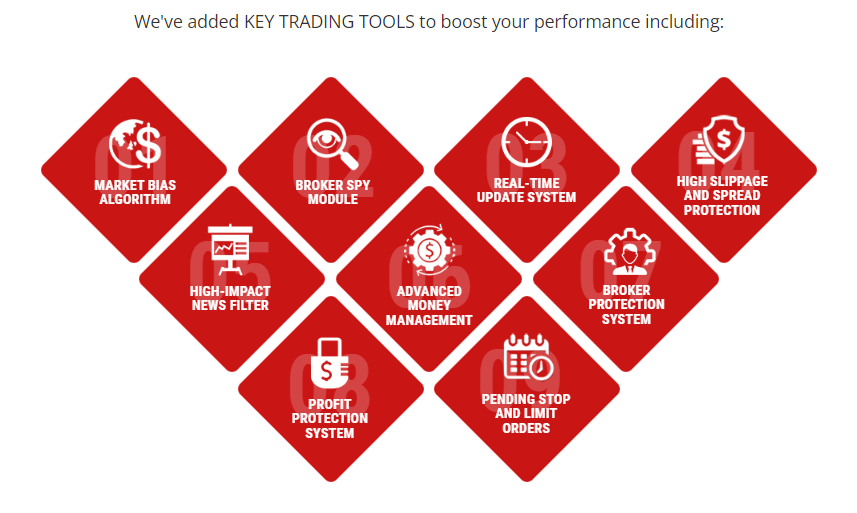 Saves Time: One of the most obvious benefits is time-saving. The robot does most of the work for you, from market analysis to actually executing the trades.
Consistency: Automated systems are consistent. They don't get tired or emotional, so they can offer a level of stability in your trading approach.
Low Entry Barrier: With detailed instructions and full support, even those new to forex trading can get started without a steep learning curve.
Risk Management: The built-in money management features allow you to set your own risk levels. This way, you can trade in a manner that aligns with your financial comfort zone.
Customization: You can tweak the settings or even switch to a semi-automated mode if you prefer more control over your trading decisions.
Ongoing Updates: The robot's self-updating mechanism means it adapts to market changes. You get a tool that strives to stay relevant over time.
Verifiable Results: The trading results are verified, providing an added layer of confidence in the system's effectiveness.
Money-Back Guarantee: With a 60-day money-back promise, you have the option to change your mind if the system doesn't meet your expectations.
How Much Does WallStreet Forex Robot Cost?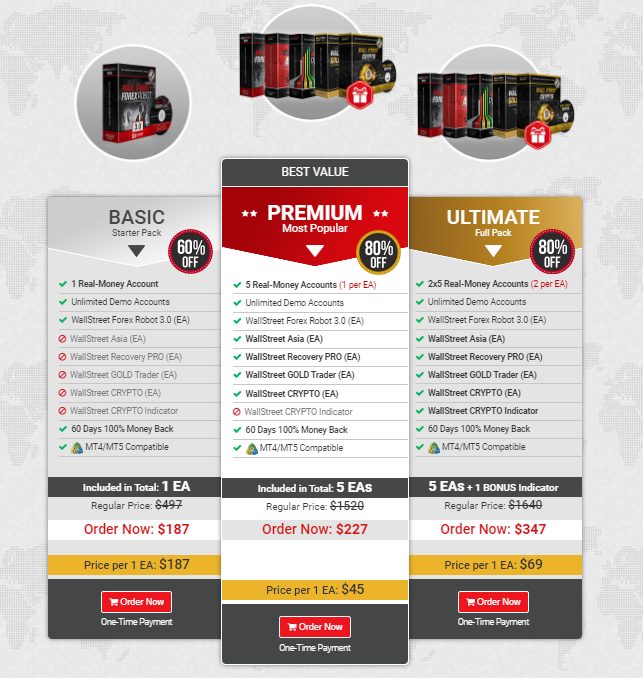 If you're looking to purchase WallStreet Forex Robot, you can do so directly from their official website. Here are the pricing options you can choose from:
Basic (Starter Pack)
One trading bot (EA)
One account for real money trading
Unlimited accounts for demo trading
Original price: $497, Discounted: $187
Premium (Popular Pack)
Five trading bots (EAs)
Five accounts for real money trading (one for each bot)
Unlimited demo accounts
Includes WallStreet Forex Robot 3.0, WallStreet Asia, WallStreet Recovery PRO, WallStreet GOLD Trader, and WallStreet CRYPTO
Original price: $1520, Discounted: $227
Ultimate (Full Pack)
Five trading bots (EAs) and one bonus indicator
Five accounts for real money trading (two for each bot)
Unlimited demo accounts
Includes all bots from the Premium pack plus WallStreet CRYPTO Indicator
Original price: $1640, Discounted: $347
Each package offers varying features to fit different trading needs and budgets, all while offering unlimited demo accounts to test your strategies.
Setting Up WallStreet Forex Robot
Setting up WallStreet Forex Robot is a crucial step to ensure you get the most out of your investment. The package comes with a comprehensive user guide that details every step you need to follow for installation and optimal setup.
Start by downloading the bot from the official website.
The user guide will walk you through how to install the bot onto your trading platform.
The guide also includes helpful tips on customizing settings to suit your trading style and risk tolerance.
Before trading with real money, use the unlimited demo accounts to check how well the bot performs.
Once you're comfortable, activate the bot for real money trading on your chosen account.
Who is WallStreet Forex Robot For?
After thorough testing, we at Dumb Little Man conclude that WallStreet Forex Robot is best suited for both novice and professional traders. Beginners will find its automated features and detailed user guide helpful for easing into Forex trading. Meanwhile, seasoned traders can benefit from its customizable settings and multi-currency trading options to diversify their portfolios.
Choose Asia Forex Mentor for Your Forex Trading Success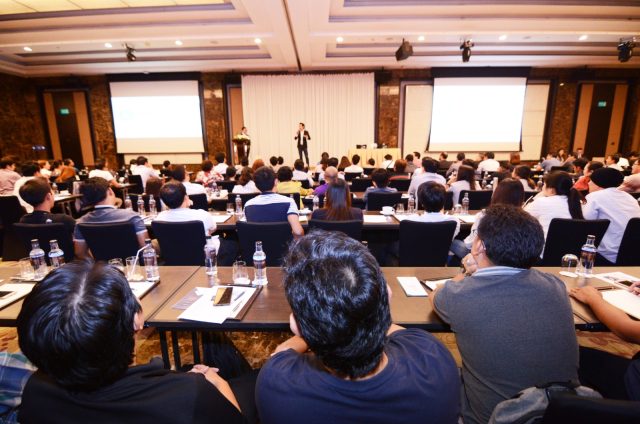 Before diving into the world of Forex trading robots like WallStreet Forex Robot, it's crucial to have a solid understanding of Forex trading itself. These bots come packed with advanced features that, while beneficial, can be overwhelming if you're not well-versed in trading. A lack of understanding could result in costly errors.
To that end, our experts at Dumb Little Man strongly recommend Asia Forex Mentor as the go-to educational platform for all your trading needs.
If you're aiming for a profitable career in forex, stock, or crypto trading, Asia Forex Mentor is the ultimate choice. Created by Ezekiel Chew, a leading figure in the trading community, this course offers a comprehensive curriculum covering all facets of trading. Ezekiel himself is an extraordinarily successful trader, regularly pulling in seven-figure trades, which gives him an edge as an educator.
Asia Forex Mentor provides a thorough education, covering forex, stock, and crypto trading. This approach ensures you have the skills and knowledge to excel in various markets.
The course's effectiveness is evidenced by its history of creating profitable traders. This speaks volumes about the quality of both their educational material and mentorship.
Why Learn with Asia Forex Mentor?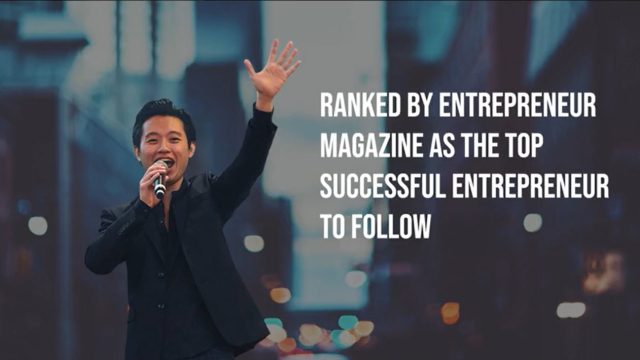 Learning to trade with Asia Forex Mentor comes with some hefty credentials. Here are clear reasons why you should consider this platform for your trading education.
Award-Winning Comprehensive Course: Asia Forex Mentor's One Core Program was labeled as the best comprehensive course offering by Investopedia, a leading financial content website. This shows the depth and breadth of their curriculum.
Best Course for All Levels: Whether you're a beginner or an advanced trader, Asia Forex Mentor has you covered. Benzinga, a reliable name in financial information, recently named their One Core Program as the best forex trading course for all levels.
Recognized Mentorship: The BestOnlineForexBroker website gave Asia Forex Mentor the title of "Best Forex Mentor of 2021." They stated that learning with Asia Forex Mentor could lead to substantial gains in forex trading.
Top Trading Strategies: In reviews by top forex traders, Asia Forex Mentor stood out for the trading strategies and systems it teaches. This high praise underlines the program's effectiveness for both new and advanced traders.
>> Also Read: Asia Forex Mentor Review By Dumb Little Man
Conclusion: WallStreet Forex Robot Review
After thorough testing, we at Dumb Little Man can say WallStreet Forex Robot has some notable features that could benefit many traders. Its ability to work on multiple currency pairs and customizable settings make it versatile. Additionally, its 24/5 operation in major market hours gives it a high trade frequency.
However, it's not all roses. We noticed some limitations, such as the quality of backtest results and potentially high drawdowns. Moreover, it requires some user input, which may not be ideal for those looking for a fully automated experience.
WallStreet Forex Robot Review FAQs
Is it easy to set up WallStreet Forex Robot?
Yes, following the detailed guide helps make the setup straightforward.
Does it work on multiple currency pairs?
Yes, it works on several recommended pairs like EURUSD, GBPUSD, and USDJPY.
Is there a money-back guarantee?
Yes, it comes with a 60-day money-back guarantee.
Like this Article? Subscribe to Our Feed!
John is an avid researcher and is deeply passionate about health and finance. When he's not working, he writes research and review articles by doing a thorough analysis on the products based on personal experience, user reviews and feedbacks from forums, quora, reddit, trustpilot amongst others.