Waka Waka EA Review 2023 By Dumb Little Man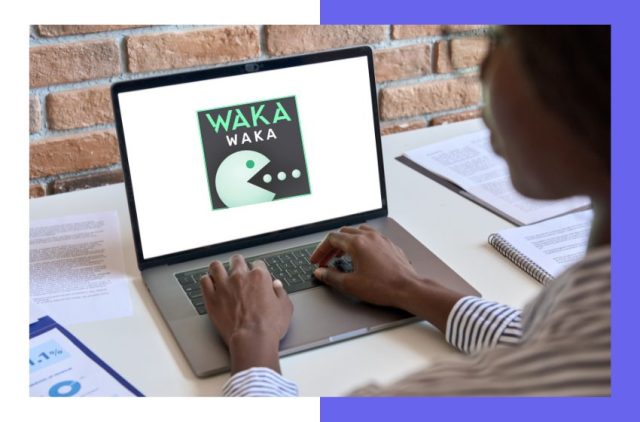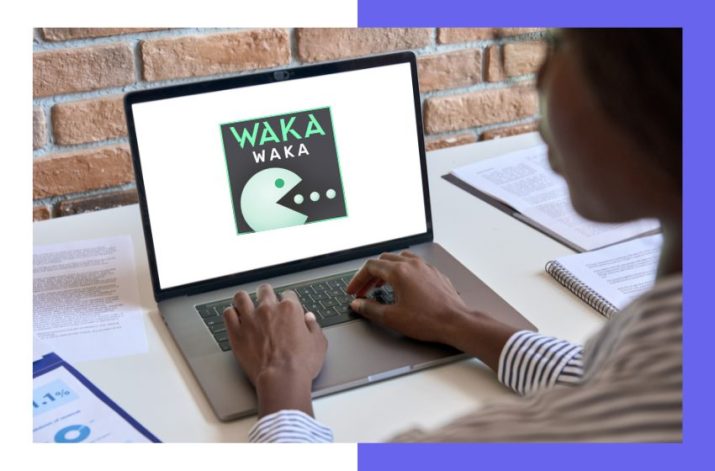 Waka Waka EA Review
In the constantly evolving world of Forex trading, robots have emerged as a popular tool for traders. These robots, known as Expert Advisors (EAs), are software programs designed to execute trades automatically based on specific algorithms and parameters set by the user.
Among the various trading robots available today, Waka Waka EA stands out. It is a reliable and profitable Forex Expert Advisor tailored for the Metatrader 4 (MT4) and Metatrader 5 (MT5) platforms. This FX Robot aims to allow traders to make substantial profits, minimizing risks.
This article serves as a comprehensive review of the Waka Waka EA. With our team of Forex experts at Dumb Little Man at the helm, this review will shed light on the essential features of the bot, feedback from actual users, its advantages, and its limitations.
What is Waka Waka EA?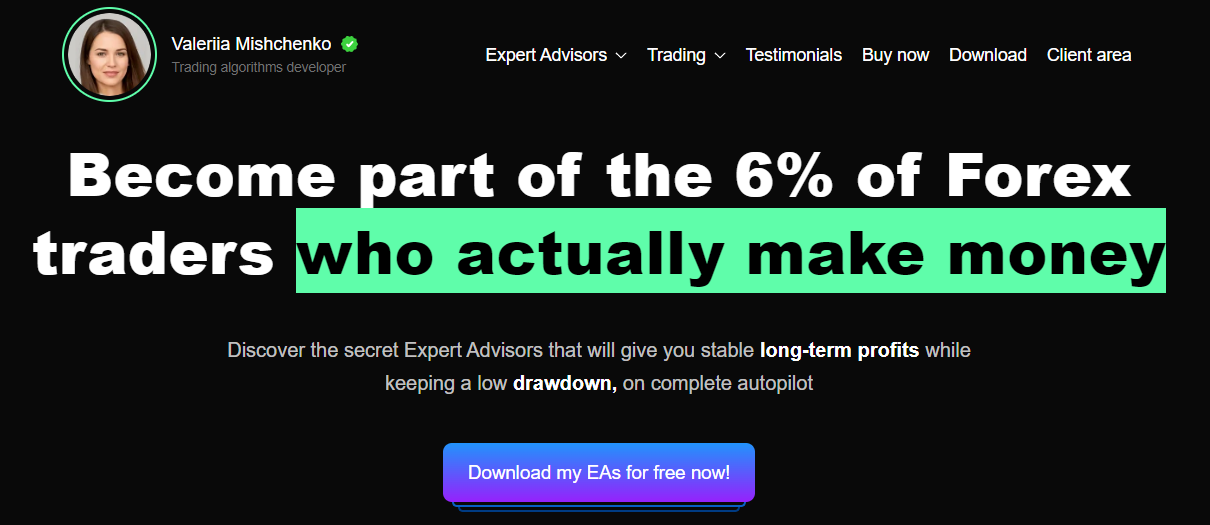 Waka Waka EA is a trading software designed for the Metatrader 4 (MT4) and Metatrader 5 (MT5) platforms. It's the brainchild of professional trader and MQL developer Valeriia Mishchenko. Essentially, this Forex trading robot helps users make significant profits while minimizing risks.
Mishchenko spent years of effort to make Waka Waka EA. It boasts many innovative features that set it apart in the market. The core idea behind it is a unique trading algorithm created to optimize profits.
One of the main attractions of Waka Waka EA is its automated capability. Once set up on your platform, it actively searches the forex market for viable trading options. The software can automatically initiate and oversee trades if it spots a promising opportunity. This feature is handy for those who might be new to trading or don't have the time to monitor the markets regularly.
An added testament to its efficiency, Waka Waka is an advanced grid Forex Expert Advisor with a proven track record. It's been functioning successfully on real accounts for half a decade. As of 2023, the results are impressive: the EA has grown by +6700% and maintained profits for 61 months.
[wptb id="128868" not found ]
How Does Waka Waka EA Work?
Waka Waka EA is a typical Forex robot and a comprehensive trading toolkit designed to "exploit existing market inefficiencies." From Dumb Little Man's firsthand experience, this EA is equipped with various tools and features that simplify trading automation. These features include an auto-trading system, efficient risk management tools, and seamless MetaTrader integration in versions 4 and 5.
The one chart load capability was a standout feature that the team found particularly useful. This lets users load the Waka Waka EA onto a single chart yet utilize it across multiple currency pairs. This speeds up the setup process and ensures the trading platform remains agile without any lag.
At its core, Waka Waka EA is designed to trade the forex market autonomously. It's powered by a blend of technical indicators and grid systems specifically formulated to detect and capitalize on market price discrepancies. And for those who aim to keep the EA active without interruptions, employing a VPN allows Waka Waka EA to operate 24/7, ensuring no trading signal or opportunity is overlooked.
What are the Features of Waka Waka EA?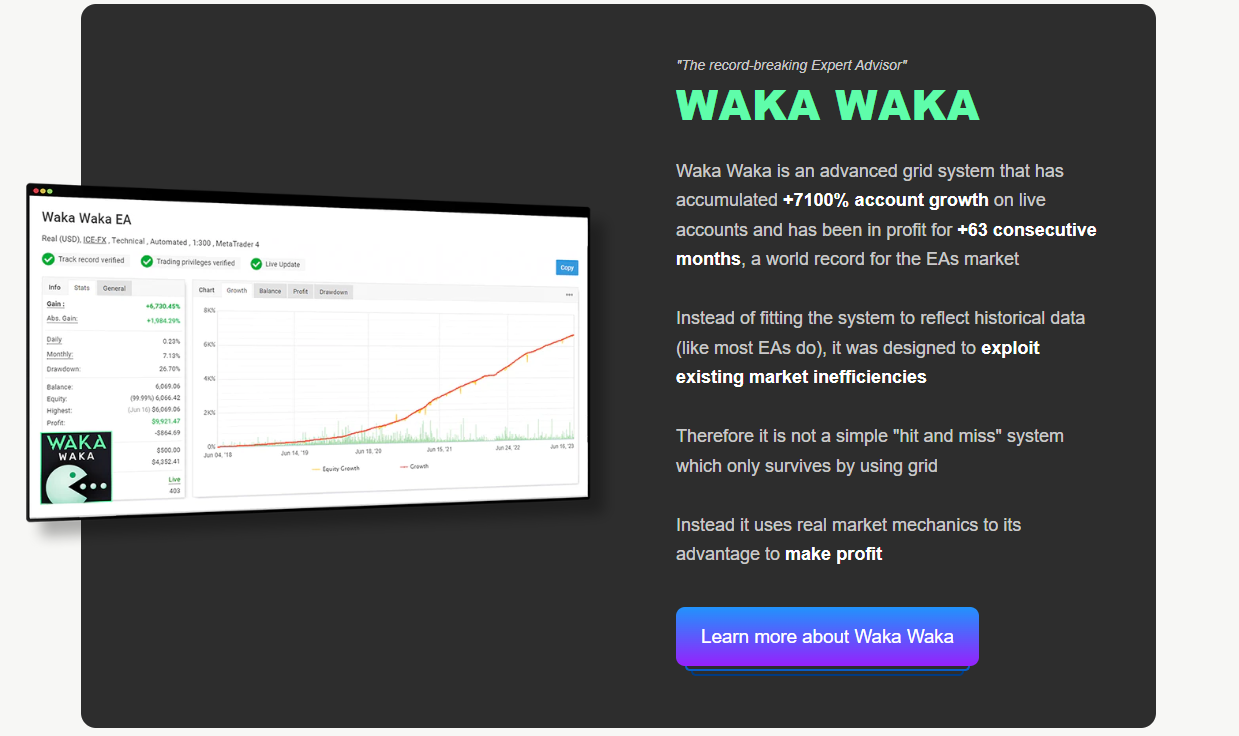 From our hands-on experience at Dumb Little Man with the Waka Waka EA, here are the primary features we found beneficial:
Ease of Use: The setup of Waka Waka EA is straightforward. Within minutes, you can get the Forex bot up and running. Once installed, it operates autonomously without requiring any further intervention.
Innovative Money Management: The built-in algorithms of the Waka Waka Expert Advisor are specifically tailored to optimize money management. Coupled with the trading strategy, it aims to boost your profit potential substantially.
Risk Customization: Waka Waka EA provides the flexibility to adjust trading risks. Users can decide the level of safety for their automatic trading, allowing them to strike a balance between potential returns and risk exposure.
High Return Potential: The EA offers a chance to realize significant profits. Independent verifications from platforms like MyFxbook highlight the potential to multiply capital exponentially.
News Filter: An essential feature for any trader, the inbuilt news filter in the Waka Waka software acts as a safeguard. It avoids trading during volatile market conditions, mitigating potential risks.
Broad Diversification: One of the standout features is the EA's ability to trade three currency pairs simultaneously. This approach spreads the trading risks across multiple assets, ensuring a more balanced and diversified trading outcome.
[wptb id="128869" not found ]
Waka Waka EA Pros and Cons
Pros
Compatible with MetaTrader 4 and MetaTrader 5
Settings can be personalized
Trades multiple currency pairs
Suitable for any Forex broker
Incorporates diverse market analysis
Offers backtests
Cons
It uses a martingale system, which can lead to losses
Relies only on grid trading strategy
Benefits of Trading with Waka Waka EA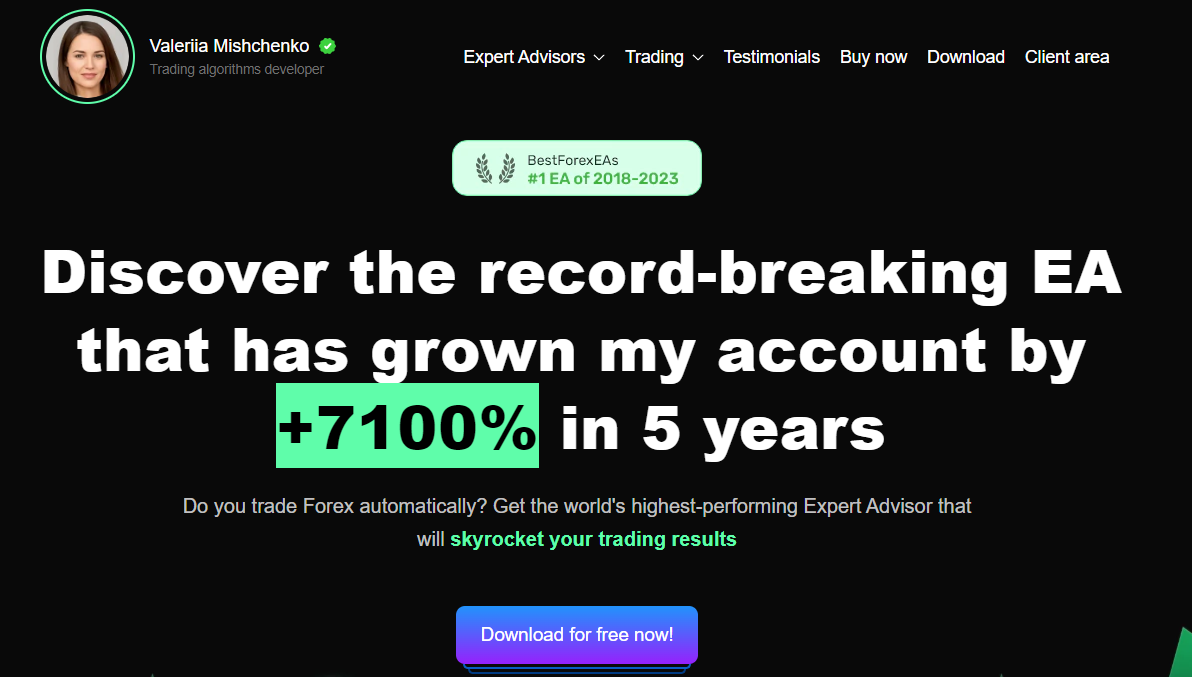 Enhanced Risk Management with News Filter
One of the standout features of Waka Waka EA is its built-in news filter. In our experience, this filter effectively navigates market volatility, especially during significant news releases. By sidestepping potential market turmoil, it considerably diminishes trading risks.
Diversified Trading with Multiple Currency Pairs
Waka Waka EA operates on three distinct currency pairs. By doing so, it strategically spreads the trading risks across these pairs. This reduces the chances of a significant drawdown and offers a more balanced trading experience.
User-Friendly Interface
Simplicity is critical in practical trading tools, and Waka Waka EA doesn't disappoint. Setting up the Expert Advisor is a breeze, taking only a few minutes. Its user-centric design ensures even beginners can get started with minimal hassle.
Continuous Trading Operation
Waka Waka EA's ability to function 24/7 is one of the most appreciated benefits. While you might be off the grid or even asleep, the program is complicated at work, scouting for profitable trading opportunities ensuring no potential profit window is missed.
Waka Waka EA Customer Reviews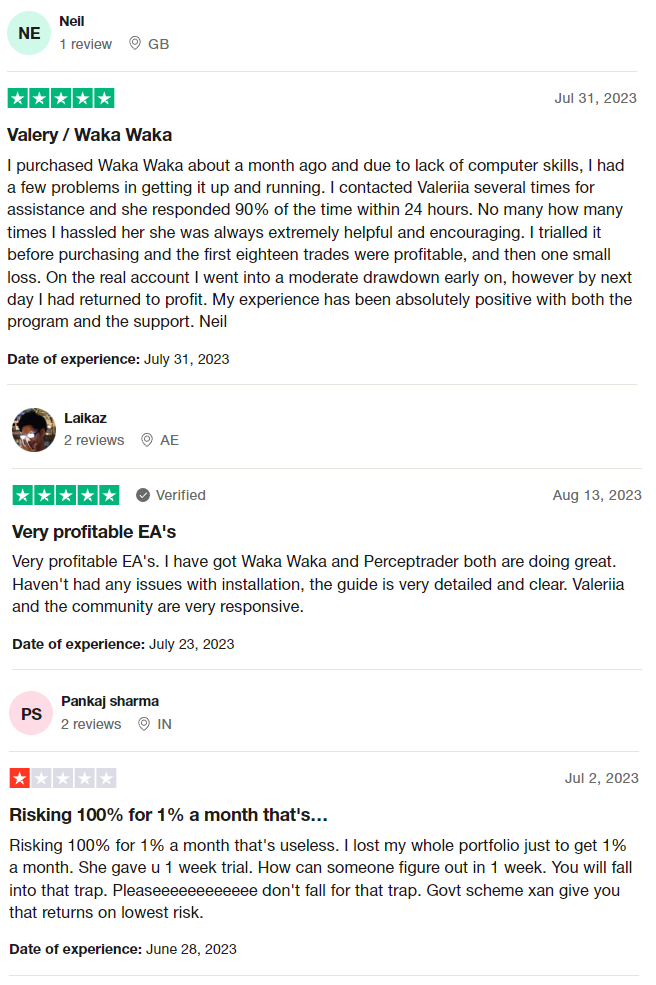 Waka Waka EA has garnered mixed feedback from its users. Some customers have highly appreciated its performance and the support quality, especially from its creator, Valeriia. They mention quick response times and helpful assistance when facing technical challenges, praising the product's profitability.
On the other hand, a section of users felt the returns did not justify the risks involved. One user pointed out the pitfalls of risking a large portion of their portfolio for minimal monthly returns, suggesting the advertised benefits might differ and urging potential buyers to exercise caution.
[wptb id="128870" not found ]
How Much Does Waka Waka EA Cost?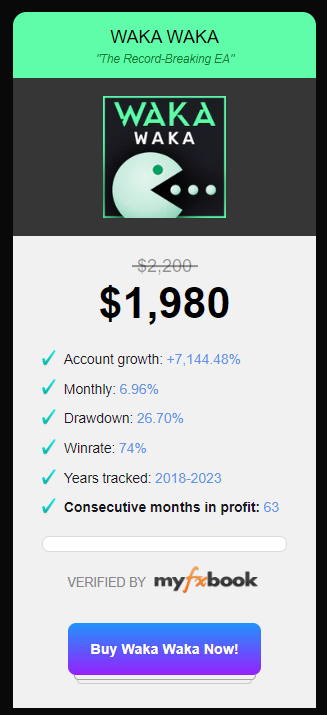 The cost for the Waka Waka EA begins at $1,980. Additionally, they offer a 14-day free trial for those interested in testing the software before purchasing.
Setting Up Waka Waka EA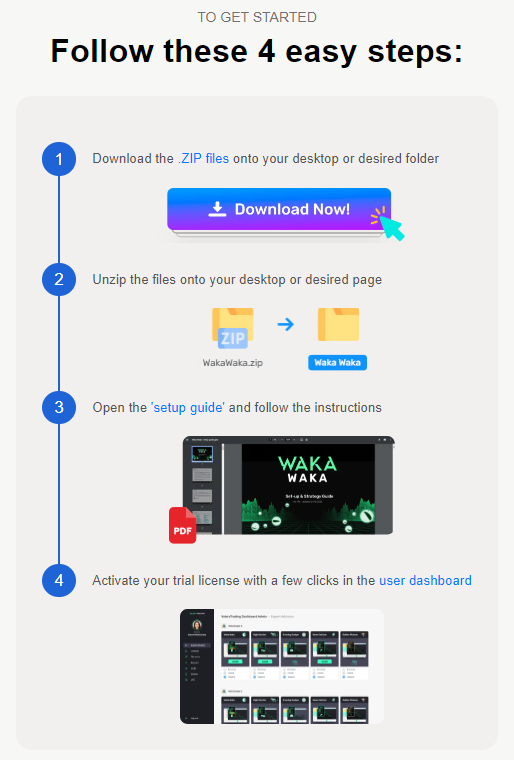 Following these steps ensures a smooth setup process for Waka Waka EA, allowing you to delve into automated Forex trading effortlessly.
Begin by downloading the Waka Waka EA zip files. Save them to your desktop or any folder you prefer.
Once downloaded, extract or unzip these files onto your chosen location, the desktop, or another specific folder.
Locate the 'setup guide' within the extracted files. Open it and meticulously follow the provided step-by-step instructions.
Finally, head over to the user dashboard. Here, activating your trial license is a breeze, requiring just a few clicks.
Who is Waka Waka EA Best For?
We've pinpointed its target audience after testing Waka Waka EA. Primarily, this Forex trading tool is ideal for beginners venturing into the world of Forex; its user-centric design provides an easy entry point. Moreover, it's a boon for busy professionals, effortlessly handling trades around the clock, eliminating the need for constant market monitoring.
Its built-in features, like the news filter, appeal to risk-averse traders prioritizing safety. And with the positive feedback on customer support, it's evident that the tool caters to traders who appreciate a responsive backup. Understanding inherent trading risks and thorough research are paramount before adopting any tool.
[wptb id="128871" not found ]
Choose Asia Forex Mentor for Your Forex Trading Success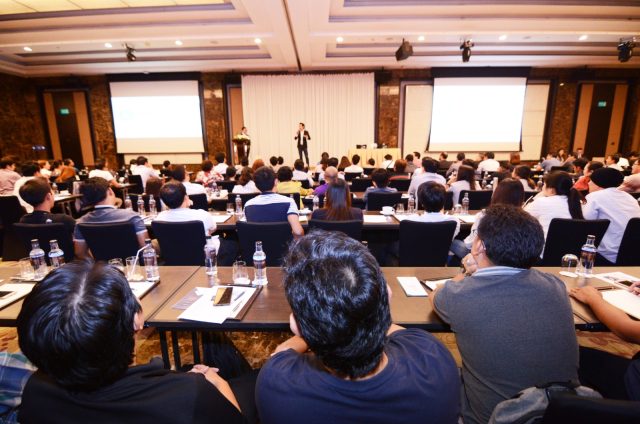 Before diving headfirst into using Forex trading robots like Waka Waka EA, one must stress more the importance of understanding the intricacies of Forex trading.
Tools like Waka Waka EA come packed with many complex features, and without a solid grasp of trading, one could easily find themselves in a financial pitfall.
From our experiences at Dumb Little Man, we've recognized the significance of comprehensive training and can recommend Asia Forex Mentor as a premier institution in Forex trading.
Asia Forex Mentor, backed by Ezekiel Chew – a trading expert celebrated for his unparalleled achievements in trading and institutional insights – is your ideal gateway to a successful career in Forex, stock, and crypto trading. Here's why:
In-depth Learning Experience: The institute's curriculum is vast, touching upon crucial sectors like stock, crypto, and Forex. It's designed to empower you with extensive knowledge, preparing you for various market challenges.
Evidence of Excellence: A look at Asia Forex Mentor's alums shows a history of consistently profitable traders, attesting to the potency of their teaching and mentorship programs.
Guidance from the Best: Here, you aren't just learning from educators but from seasoned traders and people who've lived the market and reaped its rewards, ensuring you get real-world insights.
A Thriving Trading Community: Every student becomes a part of a robust community where ideas flow, strategies are discussed, and successes are celebrated.
Mind over Market: Beyond the numbers and charts, trading is about discipline and psychological resilience. Asia Forex Mentor specializes in shaping the trader's mindset, preparing them for the emotional rollercoaster of the trading world.
Why Learn With Asia Forex Mentor?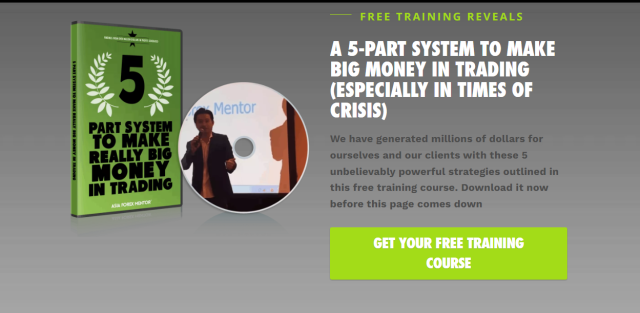 Asia Forex Mentor has garnered significant attention and accolades in financial education, marking it a reliable institution for those eager to dive into the trading world. Here's why you should consider learning with them:
Investopedia's Seal of Approval: One of the most respected names in the financial content domain, Investopedia, has praised Asia Forex Mentor's One Core Program, labeling it "as extensive as you will find." It's no small feat that they earned the 'Best Comprehensive Course Offering' title, making it a standout choice for trading education.
Benzinga's Recommendation: Another significant endorsement comes from Benzinga, a trusted source of financial, business, and stock insights. They didn't just praise the Asia Forex Mentor One Core Program but named it the Top Forex Trading Course for Beginners. From newbies to seasoned traders, Benzinga confirms its suitability for all.
Recognized for Mentorship: BestOnlineForexBroker, in their recent ratings, honored Asia Forex Mentor as the 'Best Forex Mentor of 2021'. Their message is clear: if you're aiming for substantial gains in Forex, AFM stands as a guiding light.
Peer Recognition: When your peers in the industry recognize your value, it's a testament to the credibility of your offering. Asia Forex Mentor has been singled out among top forex traders and platforms for its effective trading strategies and robust trading system.
>> Also Read: Asia Forex Mentor Review By Dumb Little Man
Conclusion: Waka Waka EA Review
After an extensive review of the Waka Waka EA, Dumb Little Man concludes that this forex trading robot brings innovation, ease of use, and potential for profitability.
While no trading system is without risks, Waka Waka EA's advanced features offer traders an edge in the ever-volatile forex market, including its news filter and diversification across multiple currency pairs.
The system's integration with MetaTrader 4 and 5 ensures that users have access to one of the industry's leading platforms.
However, as with all trading tools, we recommend prospective users combine automated trading with education, like that provided by Asia Forex Mentor, to achieve a well-rounded understanding and approach to the market.
[wptb id="128872" not found ]
Waka Waka EA Review FAQs
How does the news filter in Waka Waka EA work?
It minimizes trading risks by preventing trading during market turbulence.
Can Waka Waka EA run around the clock?
It can operate 24/7, ensuring you don't miss any trading opportunities.
Is Waka Waka EA suitable for beginners?
While Waka Waka EA is user-friendly, it's recommended for beginners to understand the basics of forex trading before using any trading robot.