VectorVest Reviews: Higher Price – Not Expected Results [2023]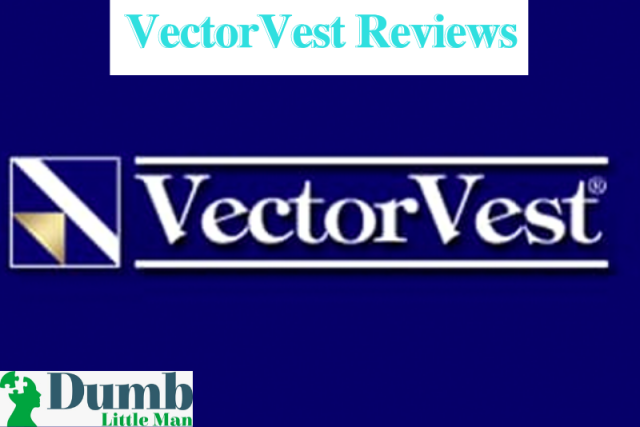 Portfolio traders today in this fast world need tools that will make their time making stocks analysis easy and that's where analytical trading software such as VectorVest is here.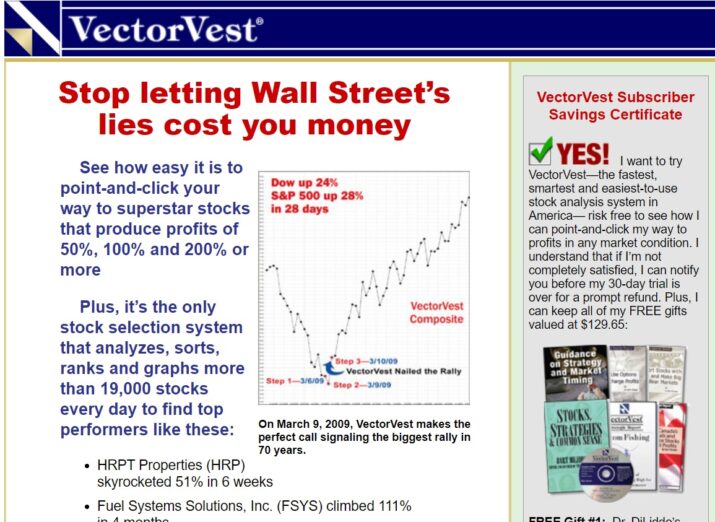 In this review, we will look into what makes VectorVest tick, what makes it not, and what other alternatives you can choose from.
| RECOMMENDED TRADING COURSE | REVIEW | VISIT |
| --- | --- | --- |
| | #1 Forex, Crypto and Stocks trading course. Ranked most comprehensive by Investopedia and Best by Benzinga. Free to Try! | |
VectorVest Review To Learn
What is VectorVest
This is an analytic trading software made to simplify trading by easing the decision-making process for stock market investors.
This trading software is one among other trading tools that provide answers and professional advice with regard to the stock market.
About The Founder
This trading software was created by Dr. Bart Diliddo a mathematical genius in the finance and investment world.

He dates back to about three decades ago analyzing stock trends and creating different market interpretation models.
Through these models, he came up with different stock trading systems to effectively rank stocks and analyze their performance.
The aim of the stock analysis tool is to give the stock trader market data, market trends, and actual data on different business sectors.
That being said, there are different software programs that such as Trade Ideas that can do better than VectorVest.
VectorVest Indicators
VectorVest works based on a number of indicators which are;
Value: This is a measure of the actual value of stocks discounted on earnings, cash flows, and future guidance.
Relative value: An appreciative long term price to AAA corporate bonds
Relative timing: This s an indication of magnitude, dynamics, and direction.
Relative safety: This checks on the predictability and consistency of an organization's financials.
VST (Value, safety, and timing) is a weighted average of Vectovest's market indicators.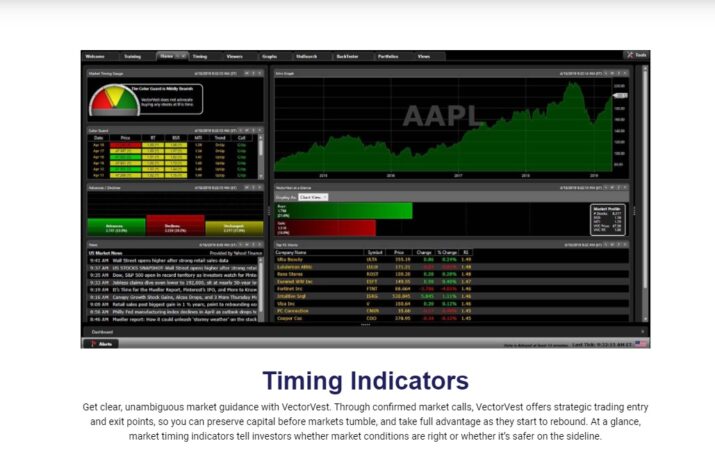 VectorVest Features
VectorVest software has released a range of products including RoboTrader, RealTime Derby, ProTrader 7, and Watchdog.
Trade ideas are displayed by VectorVest software for buying, holding, and sell stocks based on current exchange timing and analysis of each stock.
We have listed some of its features in this VectorVest Review.
1. News and Color Guard
The trading software displays all the data on the dashboard in an easy-to-understand way. There is a market-timing gauge that displays the current conditions in the market.
Data is illustrated in different colors such as green, red, and yellow colors which can be customized according to individual preference using the Color Guard feature.
The color guard is the main market timing display for VectorVest which is a semi-circle graph with algorithms showing the current trends in the market.
The three main stock exchange indicators illustrated by the color guard include the following;
Relative timing
VectorVest Composite Index for price movement
Buy to sell ratio
2. Market Timing Graph
These are proprietary indicators that help you get a better understanding of the weekly trading alerts and advisories.
Market timing indicators are presented based on your individual approach to investment and risk tolerance.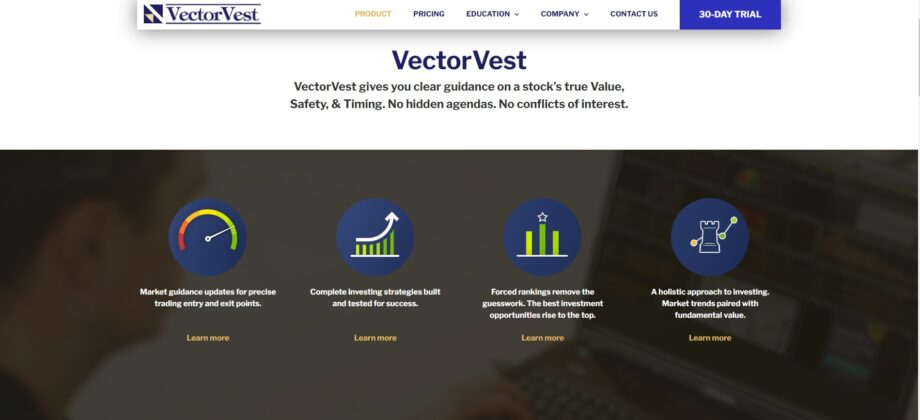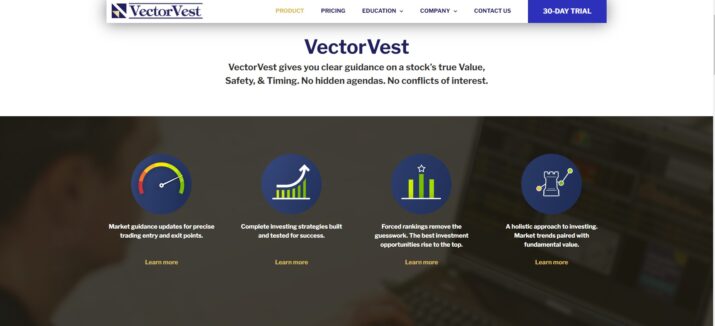 3. Stock Market Analysis
It has more than 20,000 stocks being analyzed and ranked from all sectors of the market and one can have a personal portfolio analysis and ranking which is a great add-on.
4. TradeNow Broker Integration
This is a great portfolio management system where you can link various trading tools like VectorVest 7 and mobile or Trade Station and Ally Invest, and Interactive Brokers to get a more satisfying experience while trading.
5. Charts
VectorVest has some of the best and convenient stock graphs and charts around that are easy to handle and can be accessed from any side of the platform's dashboard.
All the important functionalities are provided despite having a lot of resemblance to other trading tools.
Information is displayed in various time frames that make it easy for an investor to compare current and past events before deciding anything.
6. Back Tester
This is a built-in tool made for backtesting your trading strategies similar to other trading systems such as Trade Ideas or Money-Net.
It however has its own uniqueness by capitalizing on the VectorVest System.
With this tool, you are able to test trading systems such as Power Moves III, Low Priced Spikes, and Sure-Fire Success.
This stock analysis tool lets you know which system performed better in the past and in the future.
7. Trading Alerts and Scanners
With this stock management system, you can let the system do the stock analysis of 7,000 to 8,000 stocks instead of just scanning proven strategies.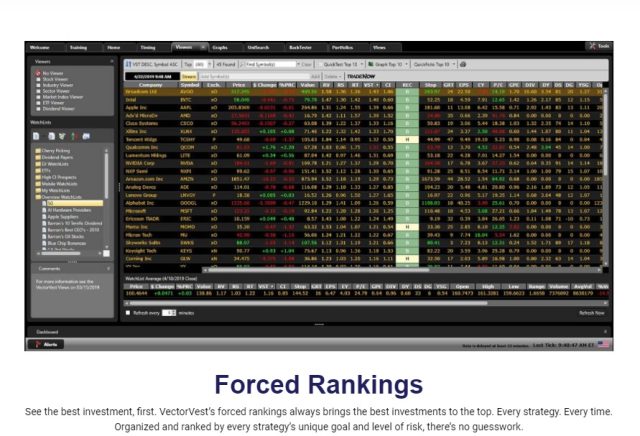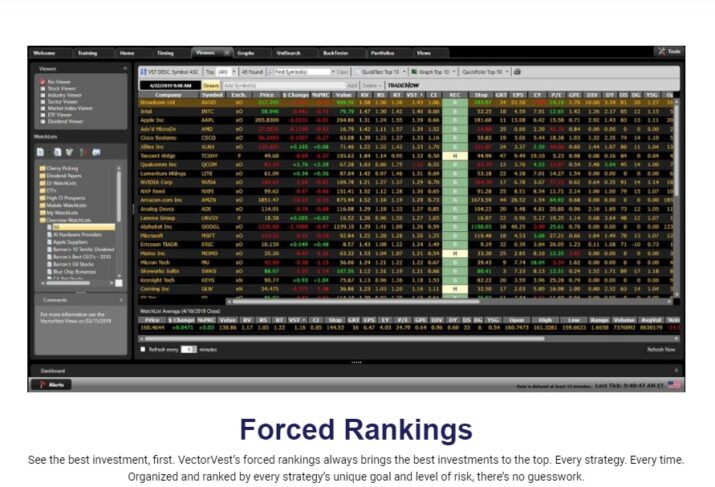 You will have alerts for your own watch lists or you can have pre-configured watch lists all of which are based on your criteria.
Such criteria include MACD crossovers and resistance levels after which investors can adopt the strategy provided or test their methodologies.
8. Watch Lists
This feature helps investors save time and energy finding the best options to trade-in by providing numerous pre-configured watch lists as well as having the option to create their own.
9. The Markets
VectorVest provides data for seven different stock markets which are not only limited to the US.
Here is a list of the different markets VectoVest offers.
The US including more than 7,900 stocks in 41 different business sectors and 26 industry groups.
Australia with over 1,700 stocks in 12 business sectors and 28 industry groups.
Singapore with 750 stocks over 12 business sectors and 28 industry groups.
Canada with more than 3,400 stocks across 41 business sectors and an assortment of 127 industries.
The UK with more than 2,000 stocks in 39 business sectors and 160 groups of industry.
Europe with more than 2,200 stocks in over 12sectors of business and 161 groups of industries.
Hong Kong with over 1,600 stocks across 12 business sectors and 28 groups of industries.
The large number of socks being analyzed by this platform is among the features that give it an edge.
Pricing and Plans
We obviously cannot complete this VectorVest review without looking at their plans and pricing.
You get to choose between three different plans as a starting point since they don't really have a Free non-paid trial period.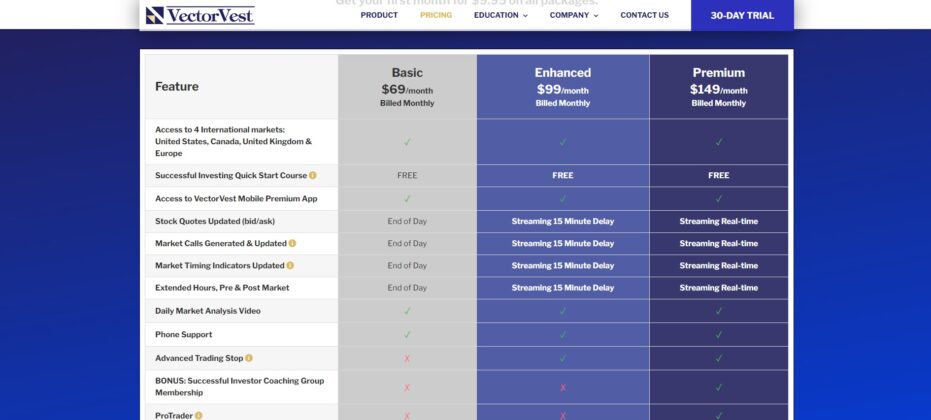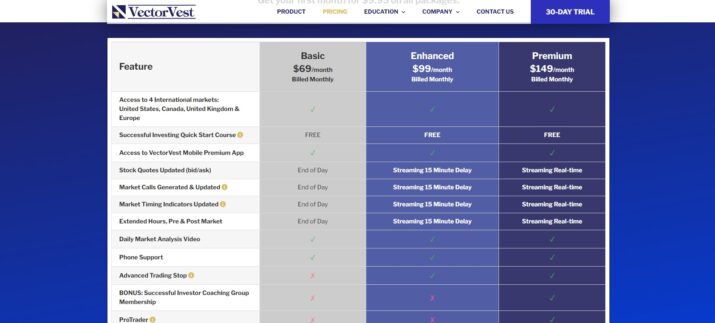 The Basic Plan
This being the cheapest plan costs $69 per month and is otherwise known as the End of Day plan.
The trial period here will require you to pay $9.95 for the duration of the trial period so it is not really free.
At the starting point, investors get to have access to VectorVest End of Day market timing and analysis as well as VectorVest mobile.
The Enhanced Plan
This is the next package plan after End of Day which has all the features of the first plan however users get the advantage of having live data which is updated every fifteen minutes with entry and exit points
It also has a one-month trial period whose module pricing is $9.95 but is revised to $89 once the trial period ends.
Premium Package
The premium package is the best out of the first two plans for anyone venturing into day trading.
The traders here get full-time live-streamed data without any delays as experienced in the enhanced plan.
This is the most recommended package for an actively trading investor whose trial period costs $9.95 then revises to $129 per month once the trial period ends.
Other than being able to buy and sell stocks at the correct time due to the streaming of live data, you also get to have access to Pro Trader 7, Auto Timer, and WatchDog with the price of this plan.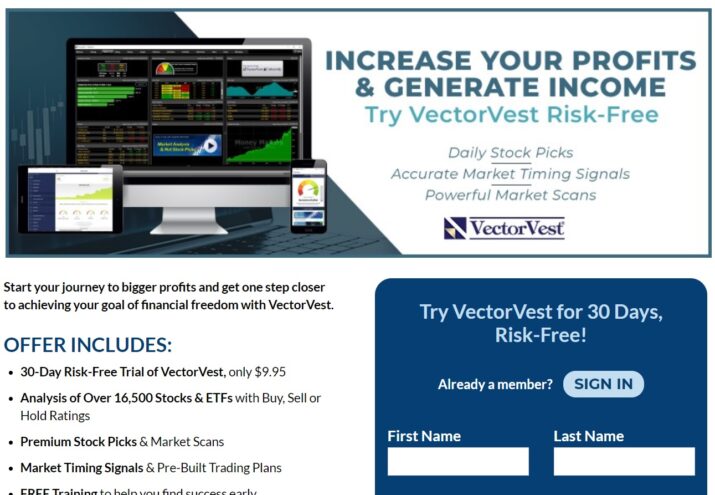 The Mobile App for Stock Advisory
With the mobile app version of this securities management system, you get access to tools such as Market Timing gauge, Stock Graphs, and Watchlists.
You can also access the free test period using the mobile app version of VectorVest as you learn entry and exit points of trading.
VectorVest Add-Ons and Plugins
In order to enhance your experience while day trading, VectoVest provides you with add ons and plugins which include;
1. Robo Trader
Robo Trader is an add-on that lets traders send their buy and sell orders from VectorVest directly to your stockbroker.
However, it is known that VectorVest is limited by the number of stockbrokers it integrates with.
Therefore you can alternatively use add ons such as Interactive Brokers or TradeKing.
This add-on will cost you an extra $99 every other month.
CLICK HERE TO READ MORE ABOUT ROBO TRADER
2. RealTime Derby
Priced at an extra $99 every month, this add-on takes advantage of computer power coming up with a mini-portfolio based on more than 30 short strategies and 100 long ones.
CLICK HERE TO READ MORE ABOUT REAL TIME DERBY
3. WatchDog
This is one of the best solutions for trendline breaks and moving average crossovers. Accessing this plug-in will require a one-time fee of $495 if you are not on the premium package.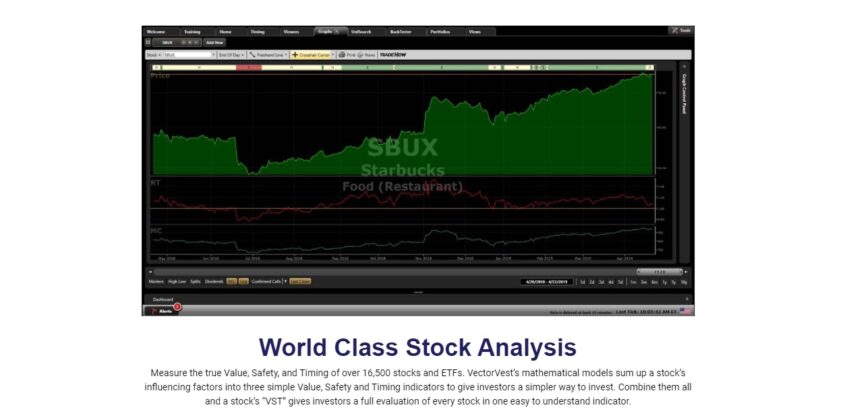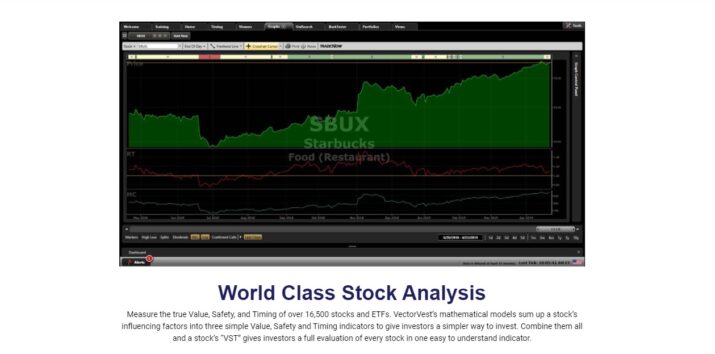 CLICK HERE TO READ MORE ABOUT WATCHDOG
4. SuperWatchDog
Being an enhanced version of the WatchDog, it screens moving average crossovers globally for whichever markets you want.
The add-on costs an extra $99 every month to access.
CLICK HERE TO READ MORE ABOUT SUPERWATCHDOG
5. ProfitLocker Pro
just as the plug-in's name suggests, you will be able to secure your profits by ending trailing trades depending on your own criteria.
It will cost an extra $99 to use this feature every month.
CLICK HERE TO READ MORE ABOUT PROFITLOCKERPRO
6. Pro Trader 7
VectorVest premium users pay an extra $129 monthly to access this plugin while the enhanced and basic users will have to pay $495 which is a one-time fee.
This plugin gets you to access fundamental screens like Crossovers, Moving Averages, and Channels that are built-in on the plugin.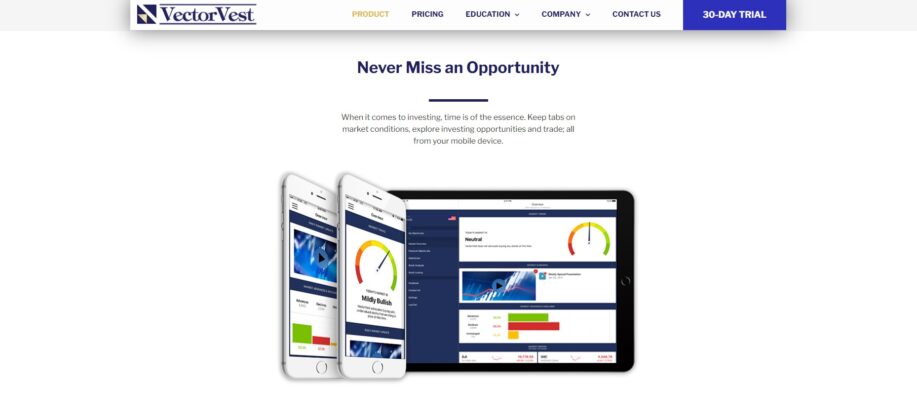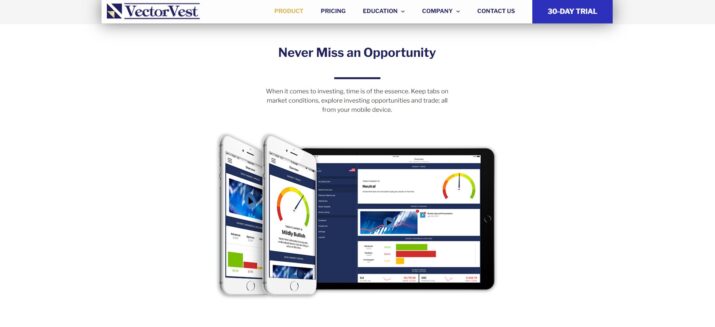 CLICK HERE TO READ MORE ABOUT PRO TRADER 7
7. Other Plugins
people trading options can get the Option Analyzer and Options Pro plugins which cost a one-time fee of $495 and $249 consecutively.
Personal portfolio Analysis and the Autotimer are other plugins traders can consider adding on however only go for the one that fits you to save on costs.
VectorVest Free Trial Period
As you have noted from this VectorVest review, all their package plans have a free trial period which is to help traders strengthen their confidence.
It is within the same period of time that a trader can decide if the platform fits his needs.
None of these subscription packages is free as you have seen and soon as the trial period ends you are billed with the normal monthly subscription fees.
VectorVest Trading Strategies: Who Do They Suit
If you are a private investor looking to stay ahead and informed, you will need to use Vector Vest tools to know the general market climate and sentiments then VectoVest is a good platform to go for.
The market interpretation models used here work for the beginners and the pros alike however you need to be disciplined and have good risk tolerance.
Portfolio, Swing, and Position traders will have a very easy time with this tool from the ideas provided based on market trends and market data.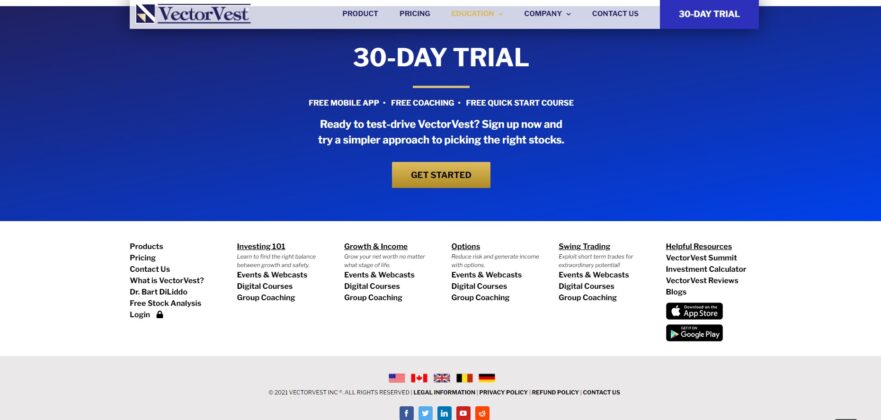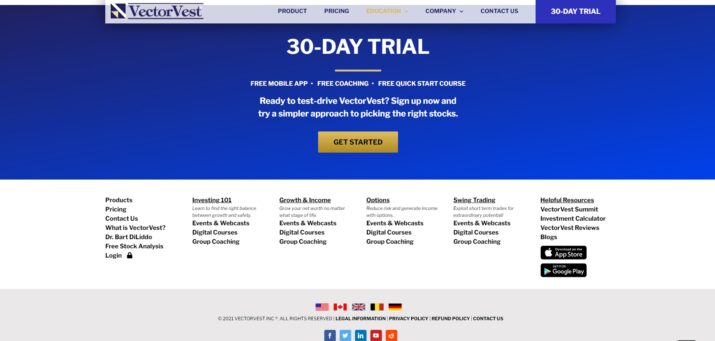 VectorVest Alternatives
It is no doubt that VectoVest has its own challenges and therefore the better alternative to this stock management system would be Trade Ideas.
Despite Trade Ideas being free, it has among the most powerful scanners and you can follow trades, update tracking of your portfolio using its AI-powered Holly.
Trade Ideas also lets you engage with highly experienced moderators.
Pros and Cons of VectorVest Portfolio Management System
Pros
The program contains several tutorials that guide help guide beginner investors.
All trial periods run for 30 days which is enough time to know if the platform works for you.
It has very little to no manual data analysis.
The stock advisory feature on iOS is very important for making quality decisions.
Cons
A new user could easily become confused because of too much data on the screen.
The platform is more expensive than other different software programs of the same nature.
When the software is running your mini portfolio based on long and short strategies, computer power can run out very fast.
Can You Use VectorVest on MAC?
VectorVest is mainly a Windows-based stock trading software and therefore cannot be used directly on a MAC however it can be done using the Windows partition on MAC.
System requirements for VectorVest
For VectorVest to run on your Windows system, the computer needs to have a minimum space of 500MB on the hard disk, RAM 512MB as well as 800MHz CPU.
The monitors should at least have a resolution of 1024 x 768 as well as a 56k dial-up connection.
Active traders need more than the bare minimum. They should have at least 1GB RAM, 2GHz CPU or higher, 1280 x 1024 monitor resolution, and fast internet.
Best Starting Point For VectorVest Platform
The best place to start with VectorVest is with the free trial period which is actually payable.
Once you sign up, you should continue using the login details for VectorVest 7 provided at the beginning.
VectorVest Customer Service
This platform's help desk has superb and supportive staff who are always available to help and can be contacted both by phone and email.
They give you tips and explain to you how best you can use their services which is great for any beginner trader.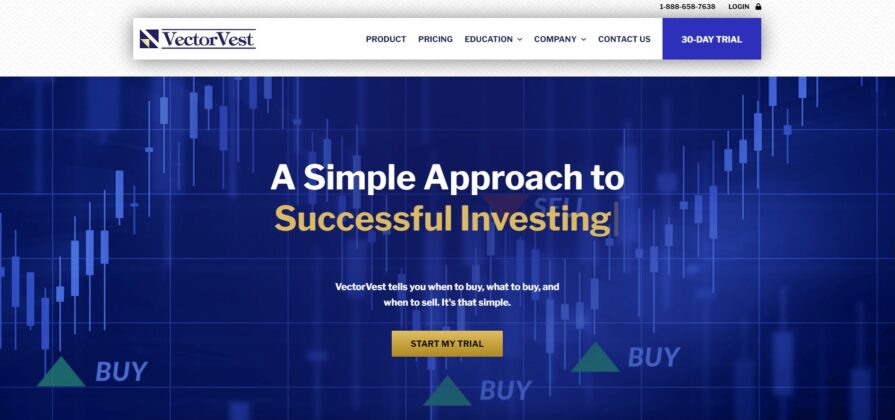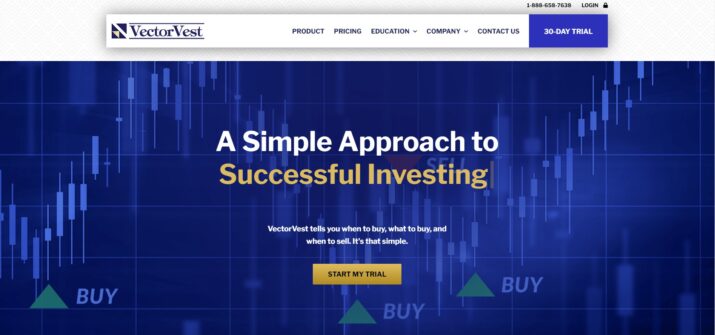 VectorVest Review Summary
The module pricing for VectorVest is on the higher side compared to similar but competitive trading programs.
The core packages are reasonably priced but the add ons make the trading platform become much more expensive.
The free trial period is reasonably priced since it lasts for 30 days to determine if the services offered fit your needs for value safety and timing.
There are other trading software out there that can rival VectorVest such as Ninja Trader though we consider Trade Ideas to be the best.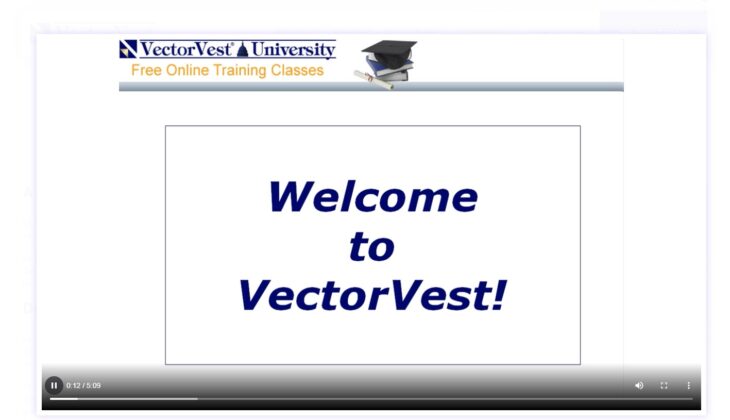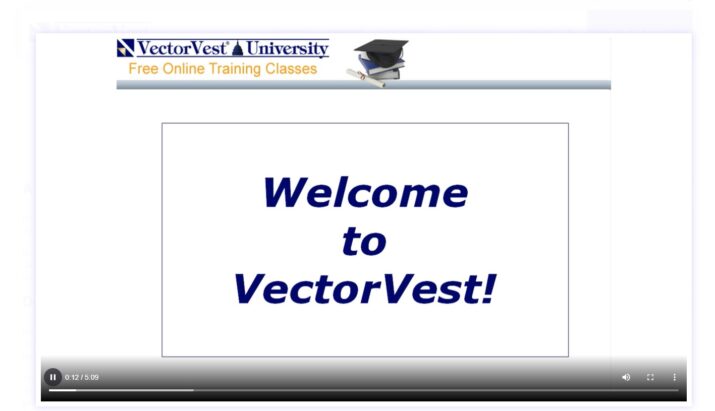 | RECOMMENDED TRADING COURSE | REVIEW | VISIT |
| --- | --- | --- |
| | #1 Forex, Crypto and Stocks trading course. Ranked most comprehensive by Investopedia and Best by Benzinga. Free to Try! | |
Conclusion
The target group for VectorVest is essentially people with tons of savings as well as retiring investors.
Any trader using this platform is mostly not interested in the creation of complex systems.
It is more for that trader who wants an easy time looking for excellent companies to invest in with a little amount of research.
VectorVest offers such details within a short time through its algorithms for stock picking.
It is a sure way for investors to build their own portfolios of the right companies working towards the direction needed however Trade Ideas proves to be the better option.
As earlier said Trade Ideas is a much better alternative because of its iconic stocks scanner and AI-powered Holly which helps to update and track your portfolio in real-time.
CLICK HERE TO GET TRADE IDEAS AT A DISCOUNTED PRICE
Like this Article? Subscribe to Our Feed!
Passionate in tech, software and gadgets. I enjoy reviewing and comparing products & services, uncovering new trends and digging up little known products that deserve an audience.