9 Most Handy Trading Alerts Analyzed [2023]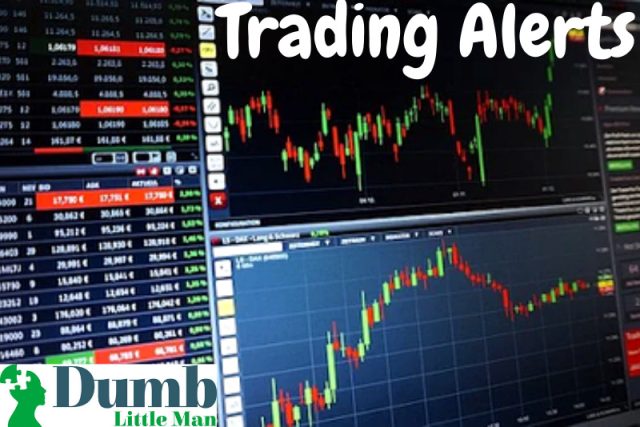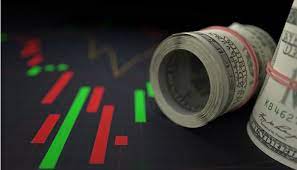 If done correctly, trading on the side while working full-time may be a wonderful way to bolster your earnings. However, monitoring the financial markets on your own takes a pretty long time. Swing trade alerts can help you save time and improve your performance simultaneously.But how do you find out about the best swing trade alert platforms? Lucky for you, we have gone through all the fan-favorite apps to bring you a reliable list of the best ones around.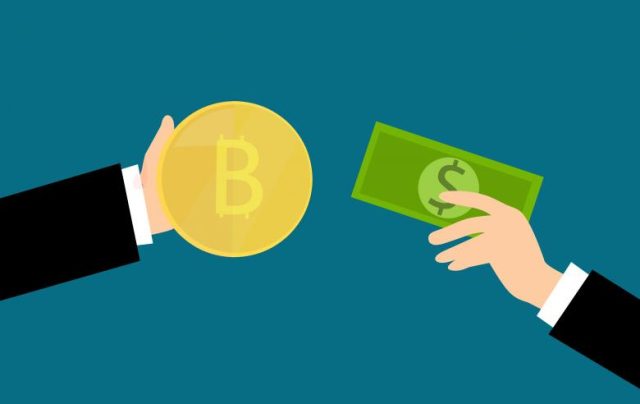 List of Trading Alerts in 2023
Top consumer's choice: Trade-Ideas A.I
Best service for swing trading: Motley Fool Rule Breakers
Best for constructing your own investing strategy: Everlasting Stocks
Best for real-time swing trade alerts: Timothy Sykes
Best for long-term swing trade: The Motley Fool Stock Advisor
Best for swing trading-focused stock: Mindful Trader
Best investment and research tools service provider: Zacks Premium
Best for beginners: Options Strategies Insider
Best for day trading alerts: Bear Bull Traders
9 Best Trading Alerts: Detailed Analysis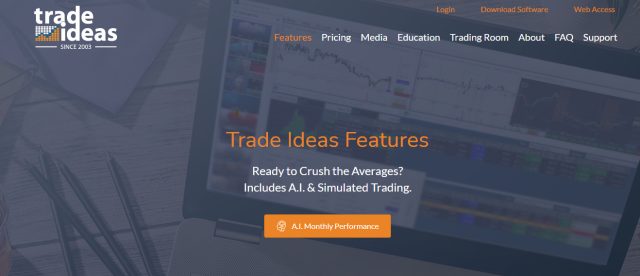 This service is a well-known intraday scanner that displays real-time data from stock exchanges and ETF movements. This is a service for day traders only. With a versatile, configurable platform driven by an artificial intelligence (AI) robot-advisor, Holly, the program links to numerous level 2 online brokerages. The software platform uses Holly to give users real-time trade recommendations.
Trade-Ideas was created in 2003 by a group of FinTech developers with the goal of assisting investors and intra-day traders in catching stock in real-time. This trade alert service is a digital software tool that gives market earning possibilities and ideas.
Trade-Ideas solves one of the most difficult aspects of trading: sifting through a vast amount of market data mechanically, finding profitable chances, and executing them quickly.
How Does Trade Ideas A.I. Work?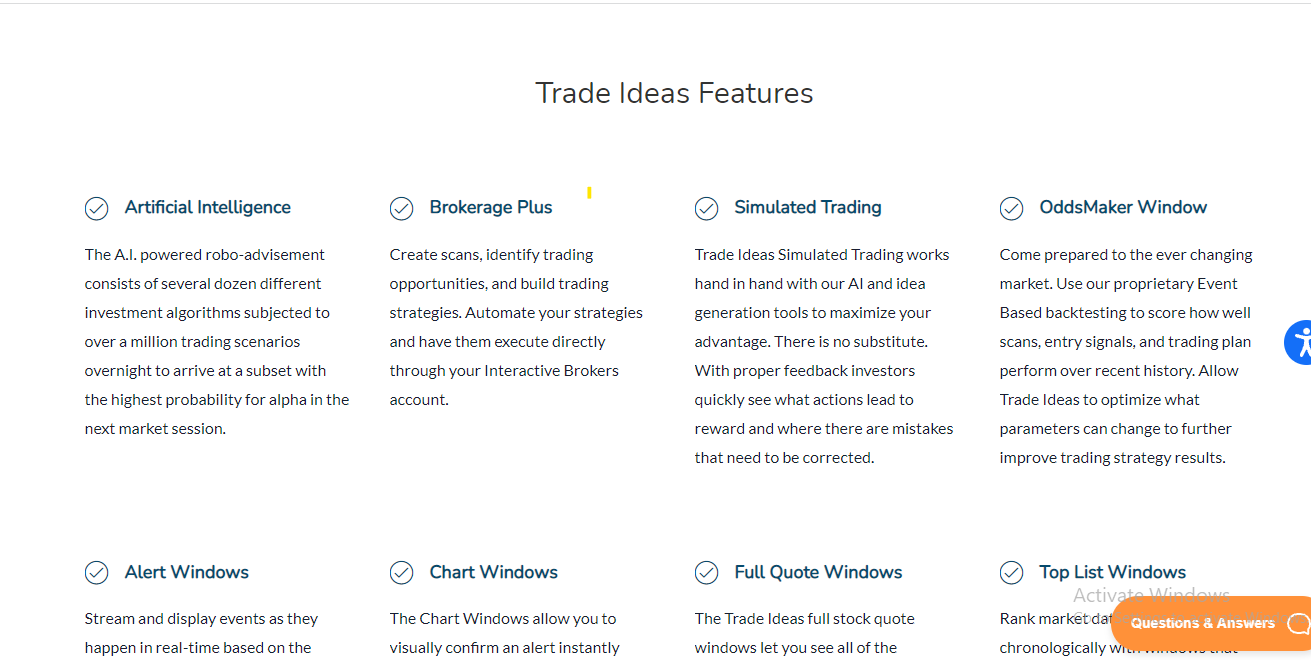 The program employs a machine-learning-based robot-advisor system that employs a variety of investing algorithms. It then runs a million trading situations overnight to identify a fraction of market interconnections with the best-predicted results, which it utilizes to select which triggers, longs and shorts are eligible. Consumers can then choose to follow the AI's progress or take the trades at their own peril.
Holly, after the holy grail, is the name of the AI adviser who serves as this swing trade alert service investing algorithm.
With a live mock trading room, you may apply these trade plans provided in real-time. This involves testing out the market recommendations without putting your money in danger. All of this will be available with the help of a push notification, on your browser or desktop.
You may use this powerful tool to understand ways to trade risk-reward balanced trades by accessing real-time trade alerts and streaming trading ideas on several charts at the same time, which is their prominent trading style. Simultaneously, you may invest and study too by using a paper trading or a brokerage account.
This trading alert service also provides its assistance for informational and educational purposes.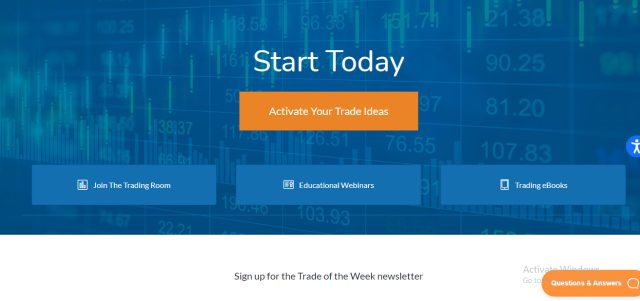 There are two subscription options available from Trade-Ideas. The company has a high pricing mark, with the Standard membership starting at $1,068 annually. Users will switch to their $2,268 Premium plan to get the full Holly treatment as well as great service.
CLICK HERE TO READ MORE ABOUT TRADE IDEAS
| RECOMMENDED TRADING COURSE | REVIEW | VISIT |
| --- | --- | --- |
| | #1 Forex, Crypto and Stocks trading course. Ranked most comprehensive by Investopedia and Best by Benzinga. Free to Try! | |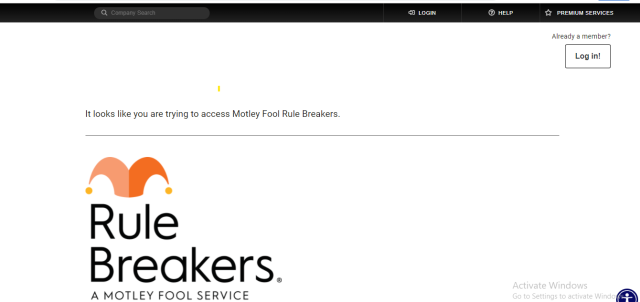 The Motley Fool is an alert services website that presents Rule Breakers. Rule Breakers is a great option for individuals who are interested in swing trading with minimal portfolio maintenance time and a proven track record.
This swing and day trading program specializes in stocks in developing businesses that have a lot of room for development. This trading service is not centered on what's trending right now; instead, it is always on the lookout for the next great thing. They do this by providing their users with updated news alerts as well as real-time trade alerts with the least significant risk in the financial markets.
Rule Breakers' rising stock recommendations have a track record of consistently outperforming the industry, and the investment portfolio has delivered outstanding investment yields over time.
Rule Breakers is a trading alert service that has over quadrupled the S&P 500 over the last fifteen years, outperforming several of Wall Street's top money strategists. Their achievements testify for themselves, and the price tag for the initial year is well worth it.
How Does Motley Fool Rule Breakers Work?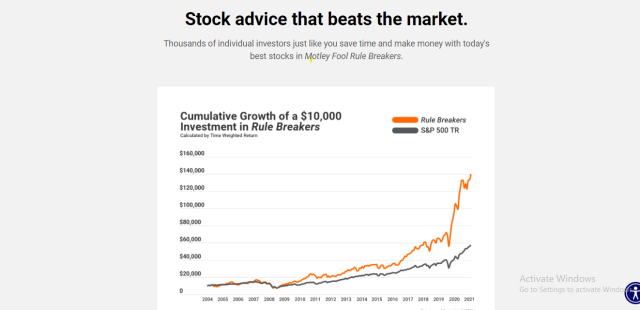 Every month, users will acquire two new stock suggestions. These frequent notifications and trading alerts help investors in identifying the market's fastest-growing stocks. With the market open at all times, there's no time to lose and not a single trade alert can afford to be missed. Every technical analysis is jam-packed with in-depth stock market analysis, growth stock trade alerts, and all the data you need for informational purposes.
Even if you do not buy each stock Rule Breakers recommends, their technical analysis and macroeconomic figures are invaluably correct. You gain a lot of useful information on price change alerts that will assist you in refining your trading plan and achieving your financial objectives.
This swing trade alert service concentrates on moderate-to-long-term swing trade possibilities rather than shorter-term objectives. The trading platform's complex instruments such as stock scanners enable scouring the market conditions for the best trade opportunities. The long-term market activity will help users understand trading strategies.
The program sends out stock trading alerts through suggestions on a monthly basis, providing for simpler entry timing. Rather than providing real-time notifications for its stock picks, the business opts for a long-term profit objective while offering daily trading alerts at the same time.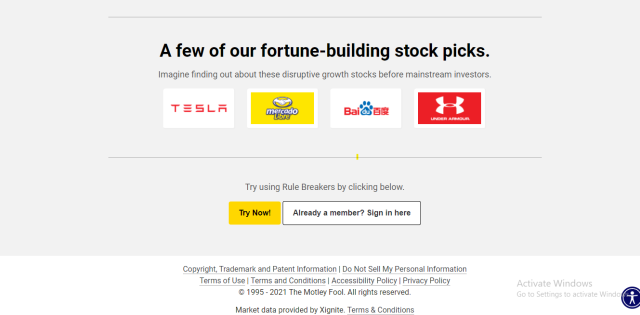 If you are a first-time consumer, the Rule Breakers annual fee is $99. For a period of 30 days, traders may decide to try out the newsletter and all of the information in the subscriber profile for free.
The Motley Fool Rule Breakers is also presently included in a special bundle dubbed the Motley Fool Epic Bundle. While this package used to cost $499 per year, it is now on sale for $198 for the first year, saving members over $300. It's crucial to remember that this introductory price is only good for the first year, after which renewals revert to the standard rate, providing a cost-effective way to access a wide range of Motley Fool expertise.
CLICK HERE TO READ MORE ABOUT MOTLEY FOOL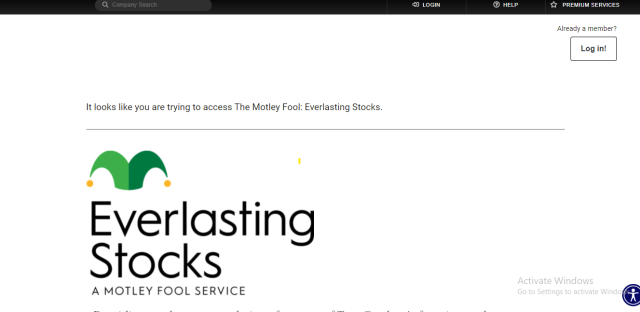 Image from fool.com
Everlasting Stocks from the Motley Fool may be a good choice for you if you want to construct your own long-term investing strategy without paying exorbitant fees to financial consultants.
Tom and David Gardner of the Motley Fool have launched Everlasting Stocks, a new stock and swing trade alerts service. The platform aims to pick stocks that will last a lifetime in the portfolio. Users get exposed to the member profile, and the whole historical data, including specific dealing implementations.
How Do Everlasting Stocks Work?

By its very nature, the stock market trading strategies is volatile. A stock may appear to be a long-term investment today, but that could alter dramatically in a short period of time. Several swing trading firms focus on popular indicators, short-term fluctuations, and attractive day trades, while Everlasting Stocks does not pursue impulse stocks.
Thankfully, the Motley Fool Everlasting Stocks real time alerts your trading strategies that might affect your portfolio position. All of the most latest high risk buy and sell signals may be found in one handy spot, making it easy for other traders to get the data they want at the desired price level and fast.
Users can even set reminders about price alerts and the best trading decisions if they want.
Swing traders generally maintain their holdings for a few days or months at a time. For buy-and-hold traders, Everlasting Stocks may be the superior option. This trading platform aims to select equities that can be held in a portfolio indefinitely. Nevertheless, you may need to alter your holdings in the stock market when this newsletter comes along.
Simply said, the Everlasting Stocks is a professionally-built trade alerts service that you may use as a template for your own brokerage account while considering market conditions.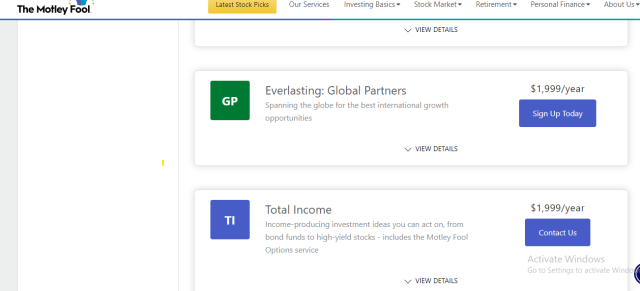 For novice users, the stock adviser price includes $99 for the initial year and includes a 30-day money-back guarantee. While other rivals give long-term plans, Motley Fool provides you with a wealth of information as soon as you join up.
CLICK HERE TO READ MORE ABOUT EVERLASTING STOCKS

When a company trades for a low price, penny stocks provide an enticing chance to invest in the pursuit of creating easy bucks if it rises rapidly.
Tim Sykes gained notoriety by day trading $12,000 in bat mitzvah gift money on penny stocks. He had become a self-made billionaire by the time he passed his college, and he wanted to educate others on how to follow in his footsteps.
In relation to economic services, educational information, and coaching for retail investors, he has established a stock picking and a trading alert service.
How Do Tim's Alerts Work?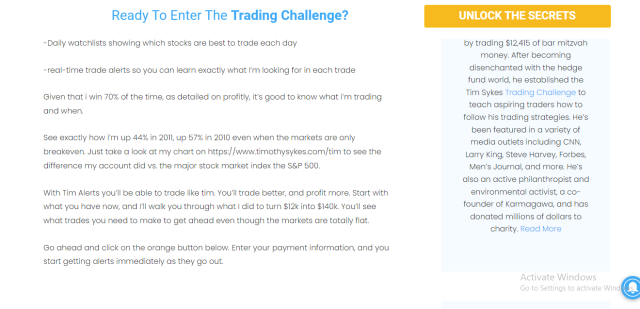 Every day at 8 a.m. EST / 5 a.m. PDT, he sends out his Tim Alerts daily newsletters with penny stock choices and a set of stock watchlists for the day.
Penny stocks are a high-risk asset type, but assistance can help you trade them. On the site, penny stock day traders and swing traders may purchase numerous education courses, as well as register for penny stock swing trade notifications.
You may get real-time swing day trading alerts about upcoming events and trades through emails, text messages, or even push notifications all through the trading day.
Users also get exposure to a live discussion forum and customized trading software. You will also have access to a database of more than 7,000 videos and lessons to help you learn ways to trade penny stocks and maybe duplicate Tim's accomplishments.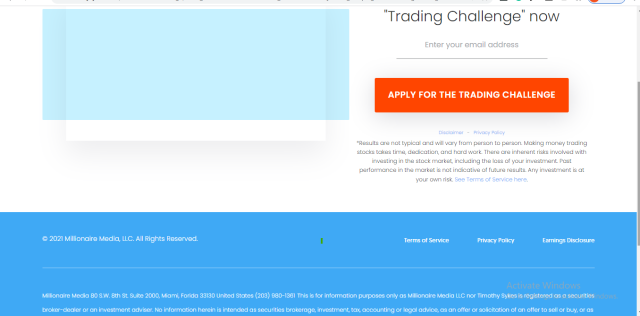 Tim Alerts is $74.95 every month, or $697 per year. As a member, you have accessibility to the chat forum, a regular watchlist, and trade alerts. Other than that, the paid version also has an SMS feature to send you swing trade alerts.
CLICK HERE TO READ MORE ABOUT TIM'S ALERTS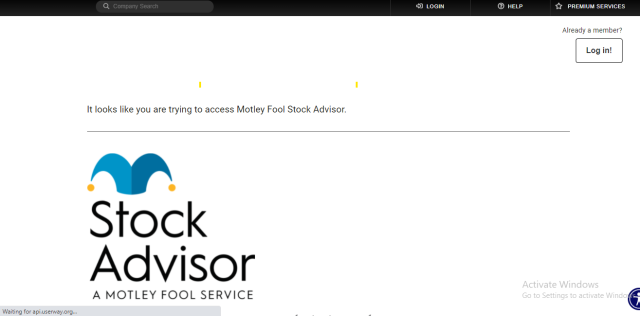 One of the long-term swing trade alert platforms is Motley Fool Stock Advisor. The Motley Fool's stock recommendations are a suitable contender for our top swing trade alerts article because of their inexpensive membership fee and outstanding long-term return rates. Tom Gardner and David Gardner have been sharing their ideas on stock alerts and price movements with subscribers for almost 20 years now.
How Does Motley Fool Stock Advisor Work?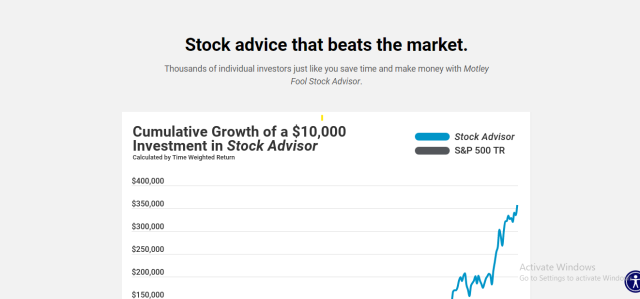 The Stock Advisor program from The Motley Fool is a subscription service that provides premium stock alerts and selections based on rigorous research. Every month, members receive two new stock selections, as well as access to a database of all of the business's stock alerts and picks.
The Stock Advisor service claims to exceed the S&P 500 by picking high-growth stocks that are expected to beat the market. The stock alerts and recommendations from this swing trading service have returned 522 percent since inception, compared to 103 percent for the S&P 500. That is definitely no easy task.
The Motley Fool Stock Advisor subscription has a few perks, but the monthly stock suggestions and trading alerts are the most valuable. Every month, subscribers will receive two new stock choices alerts. Tom and David Gardner, the company's co-founders, recommend these stocks themselves.
If you're just getting started with your stock portfolio and want to diversify right away, Motley Fool also offers recommendations in that department.
This is amazing since such stock choices may help in earning money for some other traders that have a short-term involvement in this business.
The trading alerts are received by email, but it's a good idea to check in to the trade members' portal to see the alerts right away. This is especially crucial for short-term deals, as a few pennies better fill may greatly increase day trading earnings.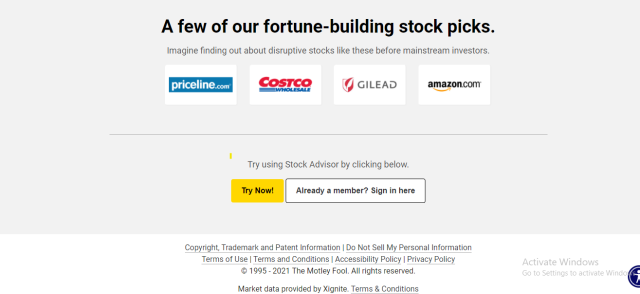 For new members, a Motley Fool Stock Advisor swing trade alerts membership costs around $99 for the initial year. The deal comes with a 30-day cash-back assurance, making it a great option for novices and others who want to try out the swing trading service without taking any risks.
Just like Rule Breakers, The Motley Fool Epic Bundle includes Stock Advisor. Though this package was initially priced at $499 per year, it is now being offered for a discount rate of $198 for the first year, saving subscribers over $300. This lower pricing, however, is only available for the first year, with renewals set at the usual rate, making it an economical way to gain access to different Motley Fool insights.
CLICK HERE TO READ MORE ABOUT MOTLEY FOOL
6) Mindful Trader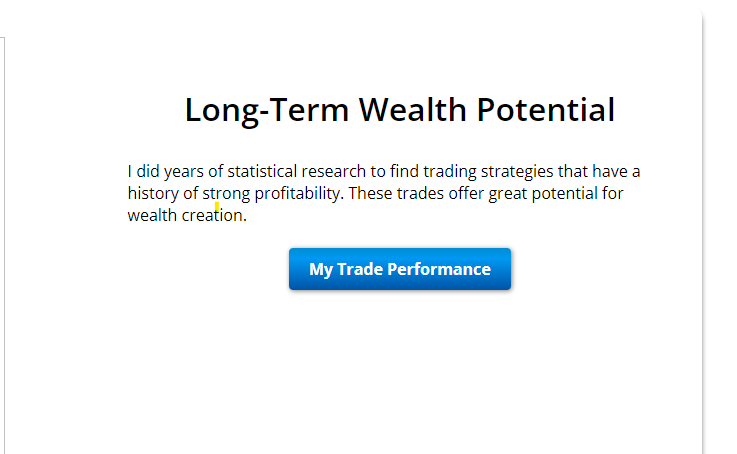 Eric, the company's founder, wanted to build a better swing trade warning service, so he founded Mindful Trader. With Mindful Trader, he accomplished just that, focusing on swing trading with a statistical, quantitative advantage.
Mindful Trader is a swing trading-focused stock selection service. Swing trading is a type of short-term stock trading that aims to profit from price gains in the short to medium term. Eric built the service with the help of 20 years of data and statistics.
How Does Mindful Trader Work?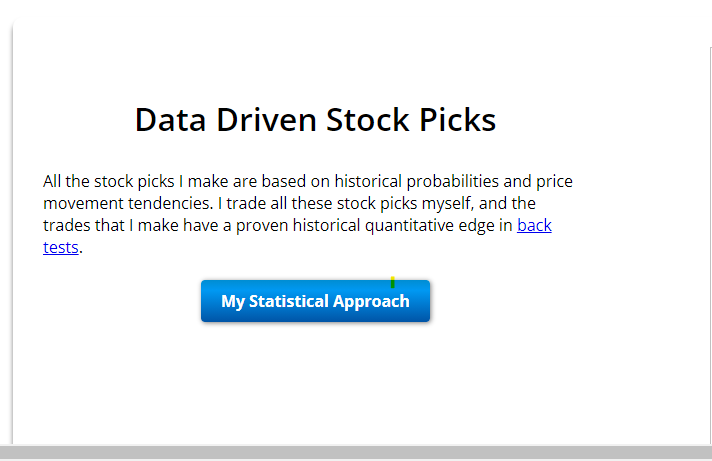 When it comes to trading stock alert, Mindful Trader using a scientific, data-driven strategy. In other words, it's not only dependent on what's trending or what piques attention at the current time. If you join Mindful Trader, you will be imitating Eric's methodology, but you will also see that he is quite meticulous in his approach.
Every trade has a precise entry price, profit objective, and stop-loss threshold. For all swing trades, Eric additionally sets a time restriction. If a trade does not achieve the profit objective or stop-loss threshold within two weeks, Eric will close the transaction. As a result, Mindful Trader is a swing trading solution for the short to medium term.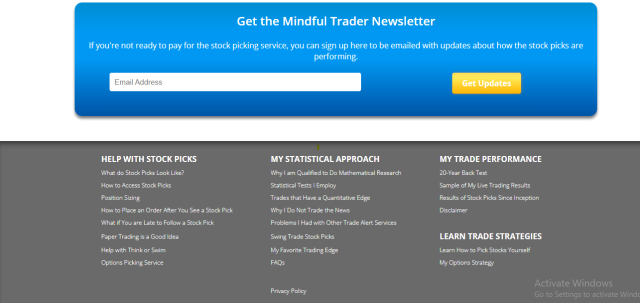 The monthly fee for Mindful Trader is $47. This is more pricey than buy-and-hold trade alert platfrom such as The Motley Fool but less costly than many other day trading sites. The rates of return for Mindful Trader are also in the middle of those for the other businesses, so the cost seems reasonable.
Furthermore, Eric invested $200,000 of his own money in establishing the business, so you're definitely getting a good deal! There is just one monthly plan available right now.
CLICK HERE TO READ MORE ABOUT MINDFUL TRADER
7) Zacks Premium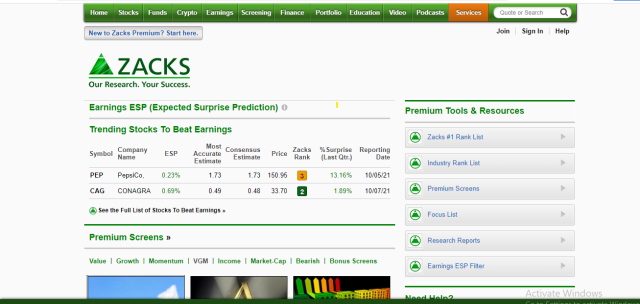 Zacks is a popular stock and financial trading platform among traders – provides a premium membership service for other traders who wish to delve further into technical analysis.
With top stock selections from analysts, research of potential earnings surprises, and more extensive stock filters and listings, the Premium service packs a punch for traders searching for new trading prospects.
How Does Zacks Premium Work?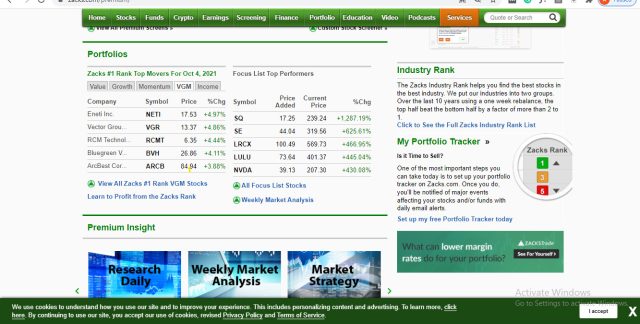 Zacks Premium's swing trade platform gives users access to investment and research tools, trade alerts, as well as the entire Zacks Rank #1 Strong Buy list of stocks with the best long-term forex trading potential. From January 1, 1988, through April 5, 2021, the overall day trading stocks have returned an average of +25.6 percent each year without any high risk, more than double the S&P 500's +11.2 percent.
On business days, the Zacks Rank list is actively monitored and updated, and all the traders even receive swing trade alerts. Each company is given a rating based on a proprietary algorithm, and investors may sort and filter the results by sector, industry, price, date added, value score, the market's large caps, and other factors. For all stocks, you also get access to day trading alerts, news, a snapshot, and interactive charts.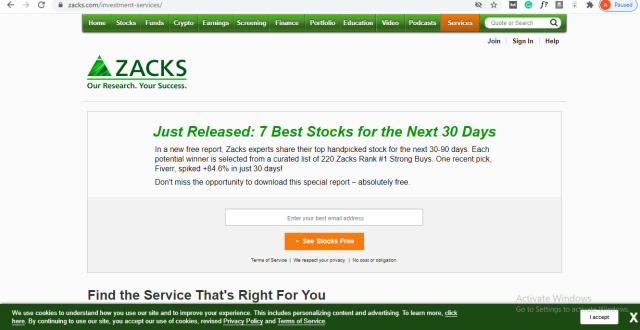 If you are looking for a trade alert service that keeps you up to date with forex trading, Zacks Premium might be your cup of tea. To sweeten the deal, the first whole month of the swing trade alerts platform is entirely free. It has an instant buy option that needs you to pay $249 per year to use its complex instruments and day trading alerts, among other price alert and trade services.
CLICK HERE TO READ MORE ABOUT ZACKS PREMIUM
8) Options Strategies Insider
Do you want to learn how to trade options correctly and receive day trading alerts for them at the same time? With his platform, Options Strategies Insider, Chris Douthit, MBA, CSPO, and retired professional trader for Goldman Sachs, does just that.
The goal of Options Strategies Insider is to teach investors how to correctly partake in options trading. Swing trade alerts and instructional features are also included in the program. The idea is based on a mix of insider information and the profiting potential of options trades.
How Does Options Strategies Insider Work?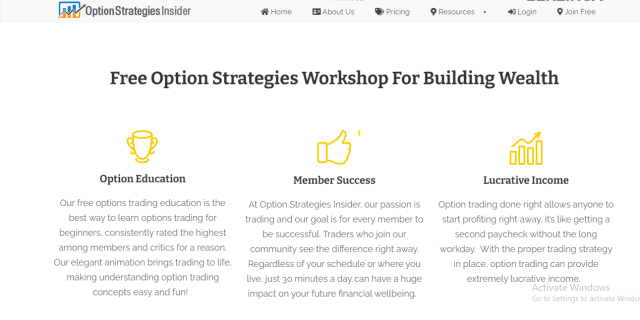 The services of this platform differ between three different levels of swing trade. The basic options courses begin with the fundamentals that every options trader should understand. Before making your first option trades, make sure you know everything there is to know about options trading. All of the information is video-based, which is a far more effective means of learning such trading.
Sales research and reading research papers are the first steps in options trading. You may also follow the Options Strategies Insider recommendations instead of performing a thorough study on your own. Over the previous three years, the trade alerts have had a rate of success of over 90% and profitability of more than 50%. Three to six trading ideas are posted each month. Instead of receiving five or ten trade ideas each day, you'll get well-researched trading ideas that you can handle while working long hours in another profession.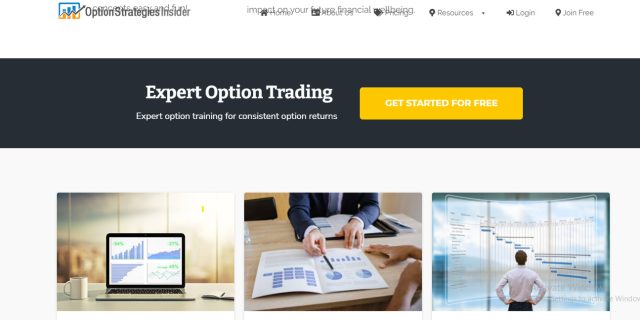 First and foremost, there is a free version of this trade alerts service. But if you want the paid version, the Executive Membership, which includes all of the trade alert advantages, costs $97 per month or $970 if you pay for a full year. You may save an additional 20% if you are a day trading enthusiast.
CLICK HERE TO READ MORE ABOUT OPTIONS STRATEGIES INSIDER
9) Bear Bull Traders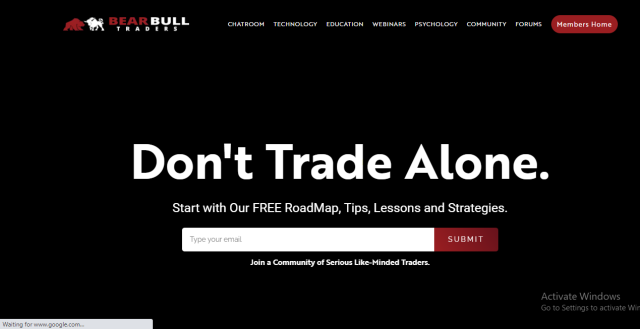 Bear Bull Traders is a popular internet network for active day trade that gives members the instructional materials and continuous support they need to become consistently successful. It was founded in 2016 by the well-known writer and day trader Andrew Aziz.
How Does Bear Bull Traders Work?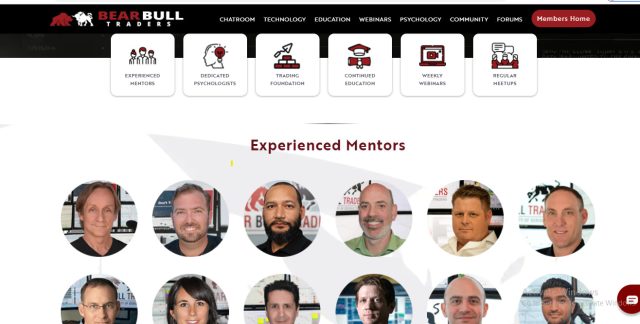 Instead of being more like day trading services, Bear Bull Traders is actually more like one of the best swing trade alerts services out there. Since Andrew Azis and his team specializes in day trading techniques with real-time trade alert possibilities, screen sharing, and comprehensive trading education, they are able to provide these services.
Nevertheless, Andrew and, in particular, Brian, one of the members of the team, employ a swing trading method to find stock and ETF trades. The team's major resources are statistical approach and trades scanning. When the live stream is enabled, subscribers to the trading services may see the brokerage account and money trading system.
Cost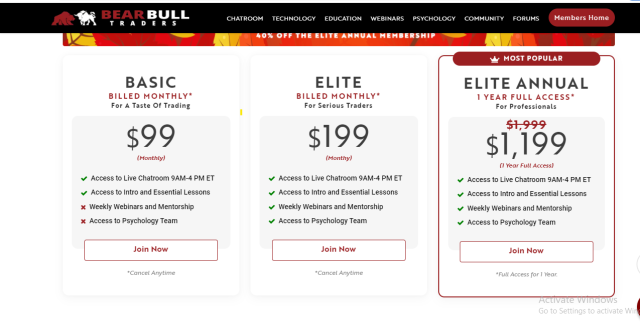 If you are looking for monthly and yearly memberships, they are certainly available at Bear Bull Traders. The Basic Membership is $99 a month and includes access to the live discussion forum as well as every introduction and key course. In addition to the weekly seminars and coaching, you will also get exposure to the psychology specialists for $199.
CLICK HERE TO READ MORE ABOUT BEAR BULL TRADERS
How We Rank the Best Trading Alerts Service?
While ranking these trade alert services, the following are some of the factors we take into consideration:
Ability to display real-time data from the stocks exchange
Helping people by sending fast trade alerts according to the changes in the market's trend
Competitive trade alert services rates
The day trading stocks returns when compared to the S&P 500
Longevity of the money trade
Availability of forex trading
How to Choose the Best Trading Alerts Service?
When you are looking for a trade alerts service, it would be advisable to look at the above-stated factors. There might not be a platform that checks off every single box, but you should still try and settle for the one that checks off the most.
Choose Asia Forex Mentor for Your Forex and Stocks Trading Success
If you have a keen interest in establishing a successful career in forex trading and aspire to achieve substantial financial gains, Asia Forex Mentor stands as the optimal choice for the best forex, stock, and crypto trading course. Ezekiel Chew, renowned as the visionary behind trading institutions and banks, is the driving force behind Asia Forex Mentor. On a personal note, Ezekiel consistently achieves seven-figure trades, a distinction that truly sets him apart from other educators in the field. Here are the compelling reasons that underpin our recommendation:

Comprehensive Curriculum: Asia Forex Mentor offers an all-encompassing educational program that covers stock, crypto, and forex trading. This well-structured curriculum equips aspiring traders with the knowledge and skills necessary to excel in these diverse markets.

Proven Track Record: The credibility of Asia Forex Mentor is firmly established through its impressive track record of producing consistently profitable traders across various market sectors. This achievement serves as a testament to the effectiveness of their training methodologies and mentorship.

Expert Mentors: At Asia Forex Mentor, students benefit from the guidance and insights of experienced mentors who have demonstrated remarkable success in stock, crypto, and forex trading. These mentors provide personalized support, enabling students to navigate the intricacies of each market with confidence.

Supportive Community: Joining Asia Forex Mentor brings access to a supportive community of like-minded traders pursuing success in the stock, crypto, and forex markets. This community fosters collaboration, idea-sharing, and peer learning, enhancing the overall learning experience.

Emphasis on Discipline and Psychology: Success in trading necessitates a strong mindset and disciplined approach. Asia Forex Mentor provides crucial psychological training to help traders manage emotions, handle stress, and make rational decisions during trading.

Constant Updates and Resources: The financial markets are dynamic, and Asia Forex Mentor ensures that students remain up-to-date with the latest trends, strategies, and market insights. Continuous access to valuable resources keeps traders ahead of the curve.

Success Stories: Asia Forex Mentor takes pride in a multitude of success stories where students have transformed their trading careers and achieved financial independence through their comprehensive forex, stock, and crypto trading education.

In summary, Asia Forex Mentor emerges as the premier choice for those seeking the best forex, stock, and crypto trading course to carve a rewarding career and achieve financial prosperity. Through its comprehensive curriculum, experienced mentors, practical approach, and supportive community, Asia Forex Mentor provides the necessary tools and guidance to mold aspiring traders into accomplished professionals across diverse financial markets.
Conclusion
The finest swing trade alerts are those that can be implemented immediately. Each swing trade alert tool listed is distinct, and trade simulators are an excellent place to start. This is critical for any new money trading method or program since you must first grasp how the service is running before putting any actual money on the line. Nevertheless, when it comes to picking just one service, you can't possibly go wrong with the Trade Ideas A.I.
CLICK HERE TO GET TRADE IDEAS AT A DISCOUNTED PRICE
Trade Alert Services F.A.Q.
What is a trades alert?
Trades alert help in notifying a trader whenever a particular situation arises in the stocks holdings. Most brokerages and tools for trades include them as a standard feature.
Do trade alert services provide money investment recommendations?
If you want the short version, the answer is on. These trade alerts services only provide investment planning. But if you want help with the investment itself, it is always better to reach out to a professional investments counselor or the bank.