TopStep Review with Rankings 2023 By Dumb Little Man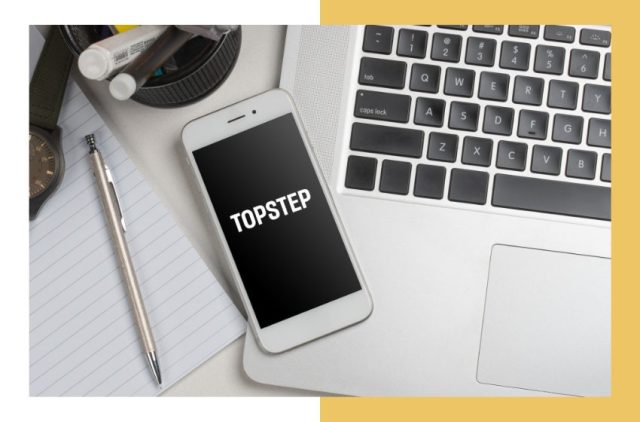 Evaluation Criteria
The respected team at Dumb Little Man, comprising retail traders, financial advisors, and seasoned trading professionals, is well-known for their thorough reviews of proprietary trading firms. Using a unique algorithm and strict review criteria, we assess each prop firm on specific essential factors. These crucial evaluation aspects include:
Quality of Client Service
Speed of Fund Withdrawals
Protection of Funds and User Information
Honest Trading Practices
Realistic Trading Objectives
Fair Profit Distribution
Based on our analysis, TopStep earns a notable rank. The firm not only meets the core criteria but also demonstrates deep brokerage knowledge, catering to the varied needs of traders. As a result, TopStep emerges as a leading entity in the prop trading industry.
TopStep Review
Proprietary trading, often referred to as "prop trading," involves trading financial instruments with a firm's own money, rather than with clients' funds. It allows firms to earn profits directly from market movements rather than through commissions from clients.
Among the leaders in this industry is TopStep. With a comprehensive suite of tools and features, TopStep has solidified its position in helping traders optimize their strategies. Notably, it ranks among the top international proprietary trading firms, offering its traders a distinct set of opportunities.
This article serves as a review of TopStep. Readers will gain insights into the firm's pros and cons, hear from other customers, and delve into its bonuses, security features, and more. This review aims to equip traders and investors with a complete understanding of the firm, including its drawbacks and flaws.
What is TopStep?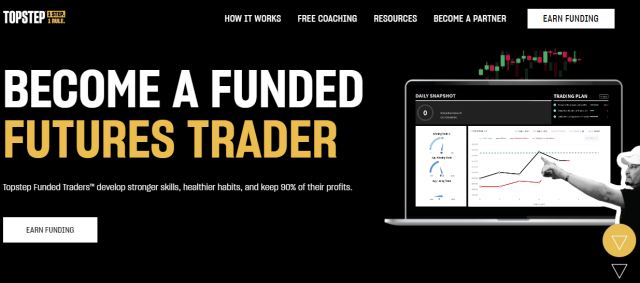 Founded in 2012 by Michael Patak in Chicago, TopStepTrader, now commonly known as TopStep, has quickly risen to prominence in the trading sector.
This ascent earned it a spot on Inc 5000's list of America's 5,000 fastest-growing companies. With its headquarters firmly placed in Chicago, TopStep's mission revolves around elevating retail investors. Through the Trading Combine program, TopStep offers budding traders a chance to not just receive funded trading opportunities but also to refine their trading techniques.
TopStep's reach is global, uniting an expansive trading community spanning more than 140 countries. While initially focused on forex trading, TopStep has now expanded its offerings to include a range of financial instruments.
In terms of account offerings, TopStep provides two main options. With the Trading Combine Account, traders get a platform to display their trading prowess in simulated environments. Those who stand out in these trials have the opportunity to transition to a fully Funded Account, unlocking a myriad of benefits and potential rewards.
TopStep Pros and Cons
Pros:
Brokers fund real trading accounts, eliminating personal investment.
Access to free group coaching and training resources.
Earn 100% of earnings after reaching $5,000 income on real accounts.
Option to open multiple accounts for diversified trading.
14-day free trial to begin trading.
Access to free group coaching and training resources.
  Cons :
Limited to trading Futures instruments.
No provision for automated trading.
Membership fees might be steep for beginners.
Support is available only on weekdays during specific hours.
Safety and Security of TopStep
TopStep is a legit prop firm that is registered in Chicago, Illinois, USA, and its broker, Equiti Capital, is regulated by Financial Conduct Authority (FCA). However, like all trading activities, there are risks involved. Before making any investment choices, traders should be aware of these risks and do their research.
TopStep Bonuses and Contests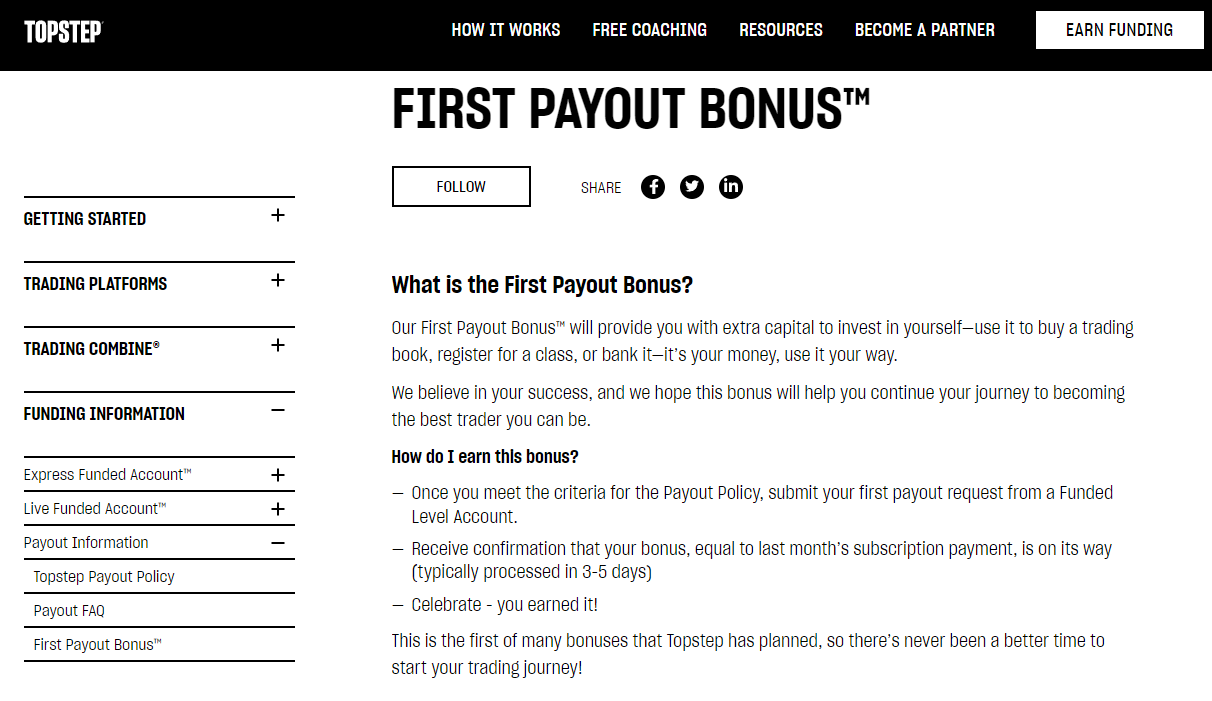 As of the time of writing, TopStep currently introduces the First Payout Bonus as a way to grant traders additional funds. This bonus allows traders flexibility in how they wish to spend it, whether that's purchasing a trading-related book, enrolling in a course, or simply saving it. The essence of this bonus is to back the traders' efforts and to aid them in enhancing their trading skills.
To qualify for this bonus, traders need to fulfill the requirements set by the Payout Policy. After meeting these conditions, one can place their initial payout request from a Funded Level Account. Once processed, which usually takes between 3 to 5 days, they will receive a confirmation. The bonus amount they receive will be equivalent to the subscription fee they paid in the previous month.
TopStep Customer Reviews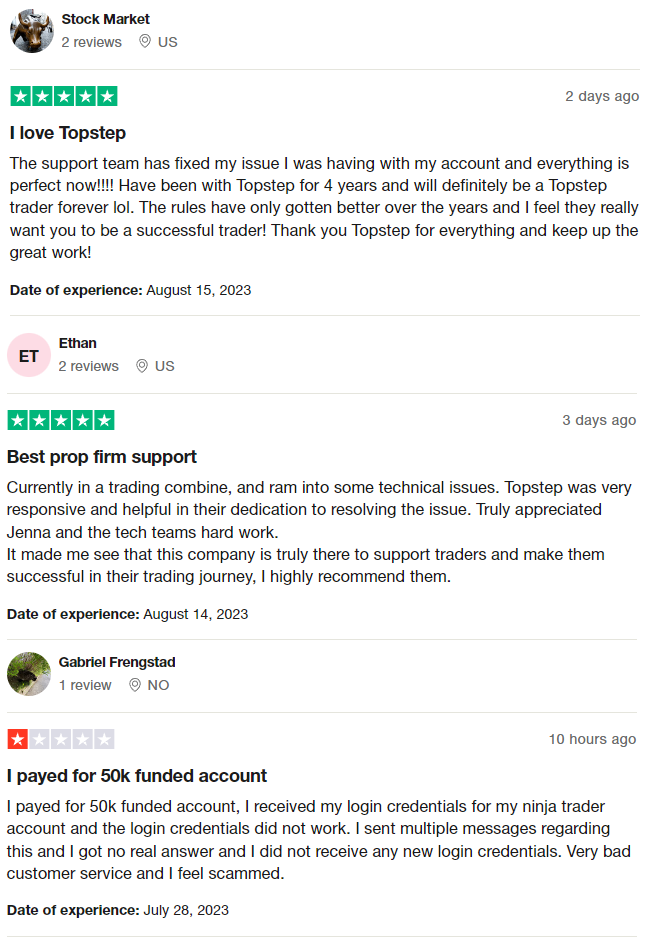 Many TopStep customers praise the platform for its dedication and reliable customer support. Long-time users appreciate the improvements made over the years and feel the company genuinely supports their success in trading.
While most customers highlight a responsive support team that promptly addresses technical issues, there are occasional instances where users face challenges with login credentials and feel unsatisfied with the resolution process.
Like all platforms, while many recommend TopStep, it is essential to be aware of varying user experiences.
TopStep Commissions and Fees
TopStep offers a distinct financial structure that favors its users. For those engaging in Combine trades, the platform charges no trading fees. This user-friendly approach extends to the accessibility of charts from various devices and the capability to integrate third-party enhancements.
When it comes to opening a Funded Account, the cost is just $0.79 per contract. While maintaining a Funded Account typically doesn't come with extra costs, those looking to reset their account balance and trading rules will face a one-time charge of $99, added to the regular monthly fee.
Speaking of monthly fees, the Trading Combine charges are $165 for the $50K simulated account, $325 for the $100K, and $375 for the $150K version.
While TopStep itself doesn't impose a commission fee, users should be prepared for brokerage commissions. These can range from $0.72 to $2.04 for a funded professional account.
Additionally, exchange fees, determined by the product, fluctuate between $2.46 and $4.30, with products like the E-Mini NASDAQ costing $2.46.
TopStep Account Types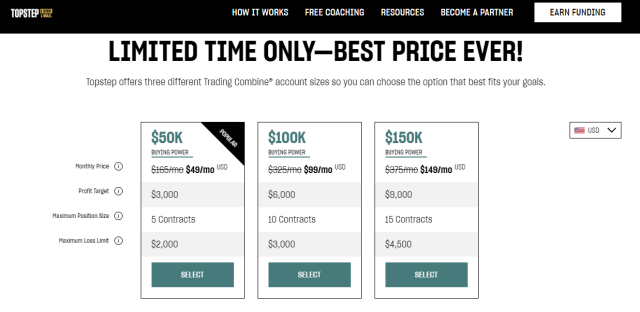 Users can either have Trading Combine accounts or Funded Trading accounts.
Trading Combine Account
Trading Combine accounts also have different sizes with different buying powers which are:
$50K Buying Power
Monthly Fee: $165

Profit Target: $3,000
Max Position Size: 5 Contracts
Daily Loss Limit: $1,000
Trailing Max Drawdown: $2,000
$100K Buying Power
Monthly Fee: $325

Profit Target: $6,000
Max Position Size: 10 Contracts
Daily Loss Limit: $2,000
Trailing Max Drawdown: $3,000
$150K Buying Power
Monthly Fee: $375

Profit Target: $9,000
Max Position Size: 15 Contracts
Daily Loss Limit: $3,000
Trailing Max Drawdown: $4,500
For Trading Combine, there is minimum trading of five days. You also need to stay within set loss limits and position sizes. The consistency rate must also be below 40% of total profits and you need to meet the financial target to proceed to the next stage.
Funded Trading Account
After successfully navigating the two-stage Trading Combine test, which progresses at your pace based on your results, you can open a real funded account.
There's no need to deposit your own money to start trading on TopStep. Just adhere to the platform's trading guidelines.
If you manage to earn up to $5,000, TopStep will release the full amount. For earnings beyond this, they pay out 80% of the profits.
Trading via TopStep's Funded Account is risk-free and offers a selection of instruments, especially for futures traders.
Throughout the Trading Combine challenge, traders are restricted to using futures on the Chicago Mercantile Exchange (CME).
The benefits of a TopStep funded account include increased earning opportunities, access to a broader range of markets, advanced technology, and tools to enhance your trading prowess.
Opening a TopStep Account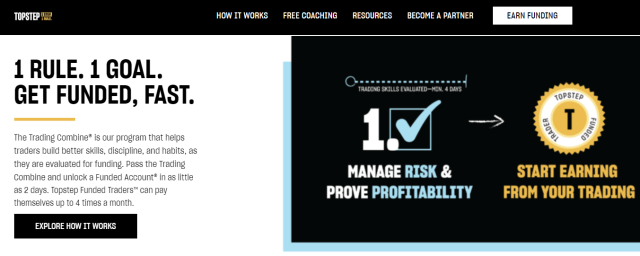 Visit the official website and select the 'Earn Funding' option.
Browse through the three futures trading funding programs presented. Pick a desired funding account level: $50k, $100k, or $150k. (Note: Currency can also be adjusted on this page.)
Click 'Select', fill in personal details like name, email, username, and password, then hit 'Start trading.'
Input your phone number and opt for 'Send Verification Code'. Enter the provided code to finalize this step.
Decide between a trial account or a standard trading account based on your trading proficiency.
Select your preferred trading platform from options like TStrader, NinjaTrader, or TradingView to begin the evaluation process.
Complete the payment for the selected account to kickstart your trading journey.
TopStep Customer Support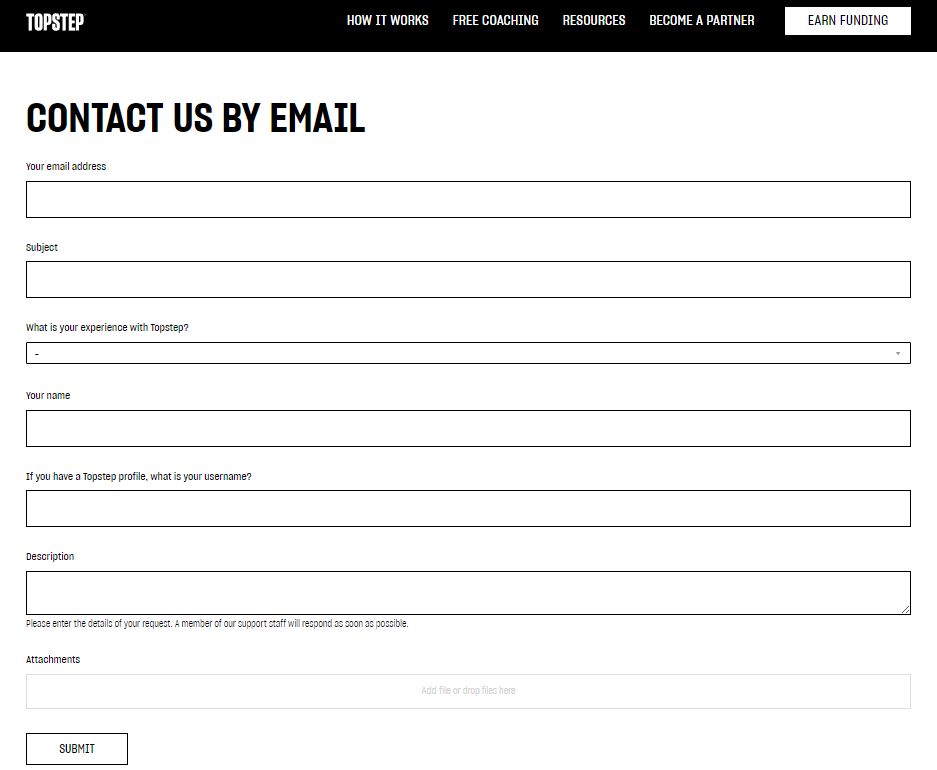 TopStep provides varied avenues for customers to reach out with their concerns or questions. They can be contacted via email or phone between 7 AM to 6 PM (CT) from Monday to Friday.
For those seeking immediate answers, TopStep has a comprehensive FAQ section. This section addresses a wide array of topics.
In addition to traditional contact methods, TopStep maintains a robust presence across multiple social media platforms like Instagram, LinkedIn, Twitter, and Facebook.
Those interested in live market updates and trading strategies can also tap into the insights available on their free Discord channel.
Advantages and Disadvantages of TopStep Customer Support
Advantages
Disadvantages
Multiple contact methods

Email and phone availability

Comprehensive FAQ section

Weekday-only support

Absence of live chat

No callback feature

TopStep Withdrawal Options
TopStep doesn't charge its commission for withdrawals, but fees are determined by the chosen payment system. If these fees go beyond $500, TopStep generously covers the cost. Otherwise, traders will face a flat $50 fee.
For those subscribing to the Trading Combine, a variety of payment options are available, including Visa, MasterCard, PayPal, American Express, and Discover.
When it comes time to withdraw from a Funded Account, users can opt for either a bank transfer or ACH. While the average payment processing time stands at 7 hours, withdrawals from funded accounts generally take around 8 days.
TopStep encourages the use of standard credit or debit cards, hinting that alternative methods like gift cards may not be accepted. Transaction processing times can differ, with bank card transactions usually clearing in 1-2 business days, though e-payment systems might offer faster processing.
Before any withdrawal from the Funded Account, traders need to verify their identity and provide the necessary documents.
TopStep Challenge Difficulties
Facing Potential Drawdowns
In trading, drawdowns are a common occurrence and can sometimes last longer than anticipated. If a trader is using a $50K account with a maximum drawdown limit set at $2,000, it's quite possible to surpass this limit, plunging the trader into a prolonged drawdown.
Adhering to Strict Guidelines
The challenge posed by the broker comes with a stringent set of rules that might be challenging for traders to consistently follow. For instance, they need to maintain their daily Net P&L within a specific range, ensure they are only trading approved instruments, and avoid hitting daily loss limits or breaching the maximum drawdown. Additionally, traders have to be cautious about not surpassing the maximum position size.
Managing Daily Loss Limits
For many participants of the Broker's Challenge, managing the daily loss limit proves to be a significant hurdle. Imagine trying to craft a profitable trading approach with a $50K account; it becomes tough when trying not to touch or cross the daily Net P&L of $3,000. Adapting to a reliable and long-term strategy becomes particularly challenging as the market's dynamics shift.
How to Pass TopStep's Evaluation Process
Navigating the intricacies of TopStep's evaluation process can be challenging, but not insurmountable. A systematic approach, combined with the right training, can significantly enhance your chances of success. Enrolling in a comprehensive training program is often the pivotal step that separates successful traders from those left in the lurch.
Asia Forex Mentor – Rated Best Comprehensive Course Offering by Investopedia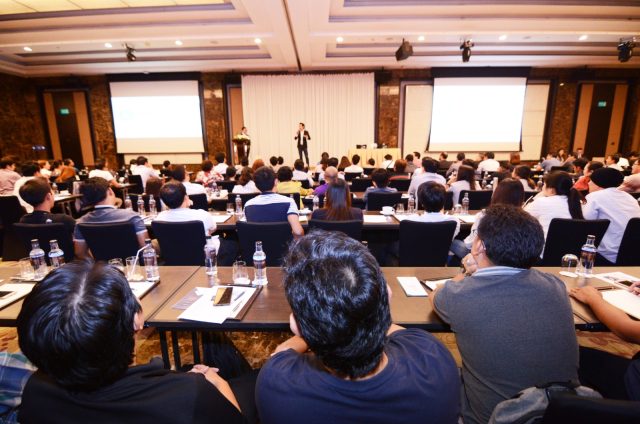 For those genuinely committed to acing TopStep's challenge, Asia Forex Mentor emerges as a beacon of guidance. This esteemed platform, with a track record of assisting thousands to soar through prop firm evaluations, is the creation of Ezekiel Chew.
A seasoned trader who regularly secures six figures per trade, Ezekiel brings over 20 years of formidable trading know-how to the table. Beyond being a forex trading maestro, he's also the founder of the Golden Eye Group and the proprietary One Core Program, which is laser-focused on training individuals to tap into forex trading's profit potential.
Ezekiel's venture into educating others wasn't purely commercial. It sprouted from genuine requests for trading insights from friends. Taking his classes to the online realm was a natural progression, and Ezekiel, along with his Asia Forex Mentor, has been on an upward trajectory ever since. You can read our Asia Forex Mentor Review for more information.
How Could Asia Forex Mentor Help You Pass TopStep's Challenge?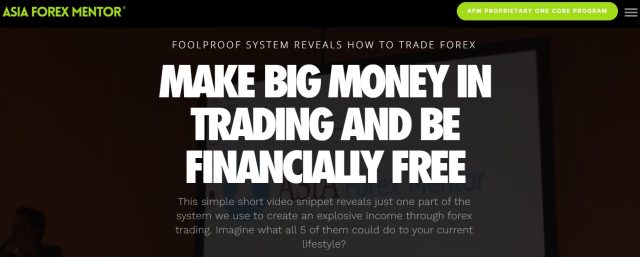 Asia Forex Mentor's prowess in aiding traders to navigate and conquer TopStep's challenge lies in its undisputed credibility and the accolades it has amassed over time. Here's how Asia Forex Mentor stands out in preparing individuals for the TopStep evaluation:
Acclaim from Investopedia: A name synonymous with financial content excellence, Investopedia, hailed Asia Forex Mentor's One Core Program for its breadth and depth. They heralded it as "the best comprehensive forex course offering," testifying to its expansive and in-depth curriculum.
Top Pick by Benzinga: Another feather in Asia Forex Mentor's cap came from Benzinga, a trusted voice in financial and stock insights. They not only recognized the One Core Program as the best forex trading course tailored for beginners but also extolled its virtues for even advanced forex traders.
Foremost Forex Mentorship: The accolades don't stop at the course content. BestOnlineForexBroker.com, in their assessment, conferred upon Asia Forex Mentor the title of the 'Best Forex Mentors of 2021'. Their endorsement suggests that enrolling in Asia Forex Mentor is akin to setting oneself on a path to "make massive gains from forex."
A Superior Trading System: Asia Forex Mentor isn't just about theoretical knowledge. It stands tall due to the practical trading strategies it imparts. Numerous top forex traders and platforms, after a comprehensive review, have found that the trading system taught by Asia Forex Mentor is unparalleled in its effectiveness.
Asia Forex Mentor Members' Testimonials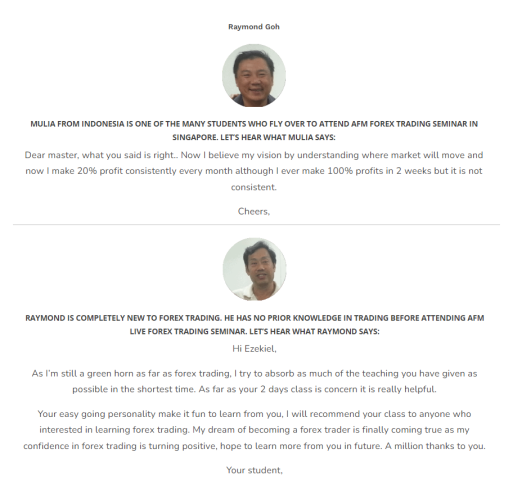 Members of the Asia Forex Mentor's One Core Program have expressed deep gratitude to Ezekiel for the transformative learning they've experienced. One member credited the program for honing their market prediction skills, leading them to consistently achieve 20% profits every month.
Another, despite being relatively new to forex trading, found the teachings invaluable. They appreciated Ezekiel's approachable nature, which made the learning process engaging. This participant feels more confident about their forex trading journey and eagerly looks forward to acquiring more knowledge from the program.
Conclusion: TopStep Review
In conclusion, TopStep gives traders a chance to experience real market circumstances without taking a financial risk at first. Only those who are genuinely prepared can obtain a funded account thanks to their controlled evaluation process.
The platform is a useful resource for aspiring traders despite its drawbacks, which include rigorous restrictions and potential hazards like drawdown limits. A training program like Asia Forex Mentor can be of interest to aspirants looking for a competitive edge to increase their chances of success.
TopStep Review FAQs
How does the evaluation process work?
To make sure they are prepared for real-market circumstances, traders go through a rigorous review procedure. This entails hitting predetermined profit goals and abiding with trading regulations.
Are there any drawbacks to using TopStep?
The rigorous guidelines and drawdown restrictions can be difficult for certain traders. Prior to joining, it is crucial to be aware of these terms.
How can I increase my chances of success on TopStep?
Take into account signing up for training courses like Asia Forex Mentor. These programs offer insightful information and practical tactics that are useful for the evaluation process.