Tastyworks Review: Is it the Best Derivatives Only Broker in 2023?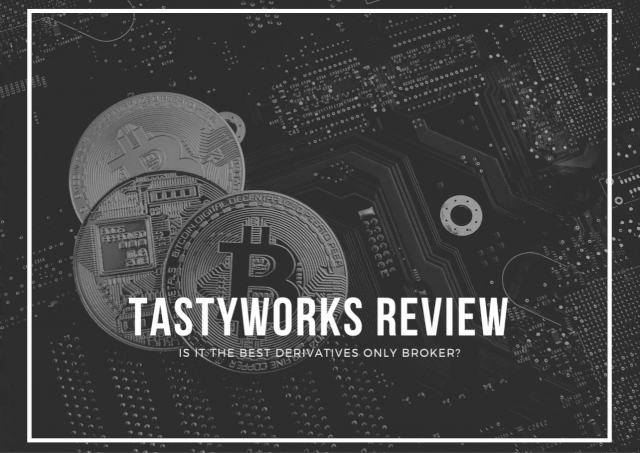 trading has become one of the most popular investment opportunities for retail investors over the last few years. However, trading options is not new in fact, it has been here for decades. But despite this, options trading was massively limited. Only large institutional investors and mutual funds had access to it.
But things have changed thanks in part to brokers like Tastyworks. This is an online US-based broker that is built for options trading. The platform is regarded as one of the most influential players in opening up options trading to retail investors.
It offers superior technology, state-of-the-art trading platforms, and low commissions. Tastyworks also offers options trading on a wide range of assets including stocks and indices. You also get to invest in equity micro futures, commodity futures, and cryptocurrency as well.
In this Tastyworks review, we will give you more information about this broker including how it works, features of its trading platform, and so much more.
TastyWorks Review: What Is Tastyworks?
As noted above, Tastyworks is an online broker that focuses fully on financial derivatives, including stock options, micro futures, cryptocurrencies, and others. The brokerage is a subsidiary of tastytrade, one of the leading and rapidly growing financial networks in the US.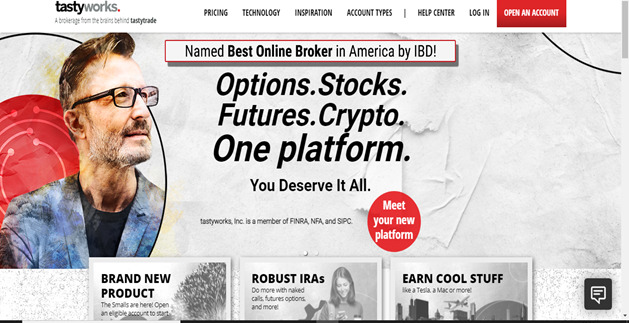 The creators of Tastyworks all come from an investment background. Most of them were floor traders on the New York Stock exchange and they have brought immense experience to the development of the Tastyworks platform.
It also offers leveraged options trading and futures accounts but it has very specific margin and buying power requirements for different asset classes.
The stock and ETF broker is regulated by the Financial Industry Regulatory Authority or FINRA, a respected top-tier securities investor protection corporation in the US.
Account types tastyworks also come in six different options. We will give you more details on these accounts when we discuss how the broker works below.
You will also get comprehensive educational resources on your Tastyworks account on how to execute futures, enter complex multi-leg options trades, and grow as an active trader.
How does Tastyworks work?
Tastyworks prides itself as a leader in derivatives active trading. The main goal for the broker is to give you superior technology and support to be able to execute trades and earn more. The brokerage works in four main steps.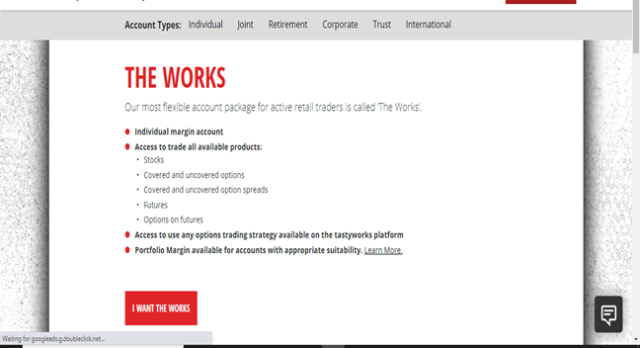 The first one of course is opening up an account. Unlike most brokers that offer quick account opening, Tastyworks has a very rigorous process. You will start off by providing personal information including your name, email, and physical address.
Secondly, tastyworks will also require that you choose the type of account you need. As noted above, the broker offers six different accounts for its experienced options and futures traders. However, these accounts are divided into two major categories, which include margin and cash accounts.
In a margin account, the broker can lend you money to enter financial positions temporarily. This allows you to take advantage of leveraged options trading while boosting your buying power. The second category is the cash account.
Here, you will be required to fund all trades, exchange fees, and cover all losses using cash balances available in your trading account. Despite this, out of the six accounts, there are a few that stand out. The first account is dubbed "the works" and is the most popular one among Tastyworks futures traders.
It is an individual margin account that allows you to access all products including stock options, covered and uncovered options, futures, and individual shares. This account will also allow you to access and use any options trading strategy available on the Tastyworks mobile app platform and other platforms.
To open this account, you will need a US social security number, a valid email address, your full name, and a physical mailing address. Tastyworks also allows you to open a joint account, a cooperate account, where you can trade like an institutional investor, and a retirement trading account as well.
Once you have opened your account, the broker will gauge your skills and ability to trade options. Remember Tastyworks is designed for advanced traders who have know-how on stock and etf trades. You have to demonstrate that you have enough experience, especially if you want to open margin accounts.
If indeed Tastyworks is fully satisfied about your knowledge and experience among futures traders, you will upload supporting documents for verification. Normally, this entire process takes less than 24 hours.
The next step is to fund your account. There are four ways to fund your account. The first one is through ACH, where you set up a link between your bank and brokerage account. This is the easiest way to fund your account and it is completely free.
Then, you can fund through a wire transfer right from your bank to the account. Funds deposited via bank transfer will be available instantly for US clients but they may take a few days for international customers. Tastyworks also allows you to fund your account via a check. You must have a US bank account to do this though and besides, the check will take three business days to clear.
Finally, the broker also allows you to transfer money from selected brokerage accounts. So, if you trade stocks or futures contracts using different web trading platforms, you can consolidate your deposits in one Tastyworks account if you want.
As soon as your account is funded, it's time to begin options trade, stocks and etfs, and all derivatives available on this platform. You can even do penny stock trading using your margin or cash account.
However, Tastyworks has a tiered system. This means that you will not be able to access certain features of the trading platform unless you reach certain thresholds. It may take time to reach there but it should be worth the wait.
What are the Features of Tastyworks platform?
Tastyworks offers a fully tech-focused platform. In line with the broker's vision, the platform offers a series of tools and features designed to make trading micro futures contracts as easy as possible. To start with, the platform offers something called curve analysis.
This tool is designed to give options traders an intuitive view of the tastyworks mobile app platform, something that allows them to easily set up trades with a click and drag method. The interface also allows traders to adjust strike prices and option expiration dates in a breeze.
Tastyworks also has quick roll as part of its web trading platform. The feature is designed to let traders roll over futures contracts and options into the next expiration cycle. It also lets users set default rolls that allow futures to roll over the next expiration cycle automatically.
Tastyworks also delivers a technologically superior platform with quick order execution and advanced charting tools. You also get quick order adjustment, a feature that allows you to adjust working orders on a real-time basis. This gives you a better chance of having orders filled at the right price on both the tastyworks mobile app and web platform.
The tastyworks mobile platform is just as powerful as the web version so you can buy and sell standard futures contracts and other derivatives anytime. You will also get an ETF-equivalent futures delta to help you understand potential risks in your trades.
This feature provides ETF futures data to act as a benchmark for true delta exposure. This allows you to minimize risk while trading stocks.
How much are Tastyworks Commissions and Fees?
Tastyworks thrives on low commissions in fact, it is one of the best derivatives brokers as far as fees are concerned. However, the brokerage charges its fees differently than most other derivatives brokers. Instead of charging opening and closing fees, the company simply charges a one-time opening fee per contract.
So, to open an options or futures contract, you will pay $1 per contract. You do not pay anything to close this position. At first glance, the $1 per contract may seem relatively high compared to other brokers who charge $0.65 to open a contract.
| 1 | 2 | 3 |
| --- | --- | --- |
| 1 Contract | $1.00 | $1.30 |
| Vertical Spread. 1 lot (2 contract) | $2.00 | $2.60 |
| Vertical Spread, 10 lots (20 contracts) | $2.00 | $26.00 |
| Vertical Spread, 50 lots (100 contracts) | $20.00 | $260.00 |
| Iron Condor, 1 lot (4 contracts) | $4.00 | $5.20 |
| Iron Condor, 50 lots (200 contracts) | $40.00 | $520.00 |
But remember tastyworks does not charge you to close. So, in essence, you will only pay the $1 for all transactions. However, if you were to use a different broker, fees for opening and closing trades will be incurred. So, in the end, you will pay around $1.3 per contract which is quite high.
Another great thing about tastyworks is that it has actually capped commission fees at $10 per leg. So, even if you are making large orders, you stand to gain massive discounts on common fees.
Tastyworks also allows you to enter complex options trades using its technology. The fees for these strategies vary. For example, for vertical spreads, the broker charges $2 per lot, which is a minimum of two contracts.
But the more lots you buy, the lower the commission fees. For example, a vertical spread of 50 lots, which includes 100 contracts, costs just $20 in fees. This translates to about $0.2 per contract, one of the lowest fees in the derivatives market.
As for folks who want to trade the iron condor, the same thing applies. Big orders will often attract big discounts. Nonetheless, a single Iron Condor lot attracts a fee of $4. A lot in the iron condor has 4 contracts.
But if you were to buy for example 50 lots, which is about 200 contracts, the fee is $40. Again, this translates to $0.2 per contract. When you compare these fees to industry averages, tastyworks really offers a huge bargain. It's almost trading for free.
Who is Tastyworks Best For?
Tastyworks offers a platform for intermediate and advanced active traders. The platform is in particular perfect for folks who want to invest in financial derivatives. This includes things like options trading, equity and commodity futures, and others.
So, if you are new to options trading, or perhaps you are a beginner retail trader who is not yet versed on how financial markets work, the tastyworks desktop trading platform is probably not for you.
The platform is also ideal for folks who possess technical analysis skills. Tatsyworks offers a series of tools that can help with charting and overall technical analysis on several assets. This gives you an edge, especially in the highly risky futures trading market.
You also need to be tech-savvy and a quick learner to trade with tastyworks. Even though the broker has done everything possible to make its platform simple enough for top traders and mutual funds, it is still quite complicated compared to other stock brokers.
You will need at least a week to learn how it works, where to find key features, and of course how to open and close trades. For those who learn quickly, it will be easier to master the platform. But others will struggle.
Finally, tastyworks is also perfect for anyone who wishes to invest in several asset classes with low fees. This is one of the most affordable brokerages in the derivatives space, and one of the few that offers zero-commission trading on certain assets.
Tastyworks Pros and Cons
Tastyworks, as you would expect of any broker, has some pros and cons that are worth highlighting. Here they are:
Pros
Tastyworks offers superior trading technology with fast trade execution and a host of innovative features
Allows users to trade in complex options strategies
Give your access to financial derivatives on leading asset classes including stocks, indices, and commodities
Zero-commission trading on certain assets and relatively low fees for a derivatives broker
Excellent leadership team with experience in options trading and mutual funds too
Offers a huge variety of educational materials on how to trade and use the platform
Cons
Advanced tastyworks trading platform that can be intimidating for beginners
Designed for intermediate and advanced options traders only
Does not offer a paper trading account
Tastyworks User Experience
Overall, the user experience on tastyworks is good but with a small caveat. You can only be able to enjoy the tastyworks trading platform if you are a tech-savvy and advanced futures and options trader.
After all, this platform is made for experienced traders who have dealt with mutual funds before or in such roles. The tools and technologies that this broker offers through its mobile app and desktop platform take time to learn. It really helps if you have some background in financial derivatives.
But for new folks who are just getting started with trading options and futures, the experience may not be as pleasant as you expect. After all, the trading platform is highly sophisticated and may seem intimidating.
Besides, there is no demo account with this provider. This means that you don't get the chance to experience the trading platform and how it works before you start investing in stocks and etfs or anything you want.
As a result, the user experience for a beginner is going to be terrible. But for experienced folks who are used to mutual fund trades on desktop trading platforms or even a mobile app, then trading options with this provider will be quite rewarding.
Tastyworks vs Competitors
Although tastyworks is one of the leaders in derivatives on stocks and etfs, it faces competition from several big-name firms as well. Interactive Brokers is one of these firms.
Based in the US and regulated by the Securities and Exchange Commission (SEC), Interactive Brokers is known for its superior trading technology, low commissions, and global access to some of the biggest equity and futures markets.
Click Here to Open an Account with Interactive Brokers (Official Page)
The firm also offers a very low financing rate for folks who want to trade on leverage. In fact, by its own estimation, financing rates here for leveraged futures trades are 50% lower than industry standards.
But even with its low trading fees, the broker does not match up to tastyworks. The technology offered by the latter is also better.
>>Read more About Interactive Brokers Review: Is it the Lowest Cost Online Stock Platform?
Despite all this, you can't have a conversation about options brokers and fail to talk about Robinhood. The app, which is relatively new, is billed as the ultimate choice for retail investors.
Although it gives people access to a wide variety of assets. Its options trading is quite robust. Robinhood offers zero-commission trading and its mobile app is accessible from anywhere.
However, its technology still needs to catch up. We have also seen several cases of reported platform downtime at Robinhood. Besides, Robinhood is only available for US customers only.
Click Here to Open an Account with TastyWorks (Official Page)
>>Read more About Robinhood Review: Is it the Best for Beginners Trading Platform?
Choose Asia Forex Mentor for Your Forex and Stocks Trading Success
If you have a keen interest in establishing a successful career in forex trading and aspire to achieve substantial financial gains, Asia Forex Mentor stands as the optimal choice for the best forex, stock, and crypto trading course. Ezekiel Chew, renowned as the visionary behind trading institutions and banks, is the driving force behind Asia Forex Mentor. On a personal note, Ezekiel consistently achieves seven-figure trades, a distinction that truly sets him apart from other educators in the field. Here are the compelling reasons that underpin our recommendation:

Comprehensive Curriculum: Asia Forex Mentor offers an all-encompassing educational program that covers stock, crypto, and forex trading. This well-structured curriculum equips aspiring traders with the knowledge and skills necessary to excel in these diverse markets.

Proven Track Record: The credibility of Asia Forex Mentor is firmly established through its impressive track record of producing consistently profitable traders across various market sectors. This achievement serves as a testament to the effectiveness of their training methodologies and mentorship.

Expert Mentors: At Asia Forex Mentor, students benefit from the guidance and insights of experienced mentors who have demonstrated remarkable success in stock, crypto, and forex trading. These mentors provide personalized support, enabling students to navigate the intricacies of each market with confidence.

Supportive Community: Joining Asia Forex Mentor brings access to a supportive community of like-minded traders pursuing success in the stock, crypto, and forex markets. This community fosters collaboration, idea-sharing, and peer learning, enhancing the overall learning experience.

Emphasis on Discipline and Psychology: Success in trading necessitates a strong mindset and disciplined approach. Asia Forex Mentor provides crucial psychological training to help traders manage emotions, handle stress, and make rational decisions during trading.

Constant Updates and Resources: The financial markets are dynamic, and Asia Forex Mentor ensures that students remain up-to-date with the latest trends, strategies, and market insights. Continuous access to valuable resources keeps traders ahead of the curve.

Success Stories: Asia Forex Mentor takes pride in a multitude of success stories where students have transformed their trading careers and achieved financial independence through their comprehensive forex, stock, and crypto trading education.

In summary, Asia Forex Mentor emerges as the premier choice for those seeking the best forex, stock, and crypto trading course to carve a rewarding career and achieve financial prosperity. Through its comprehensive curriculum, experienced mentors, practical approach, and supportive community, Asia Forex Mentor provides the necessary tools and guidance to mold aspiring traders into accomplished professionals across diverse financial markets.
Conclusion: Is Tastyworks a Good trading platform?
Options and futures trading are part and parcel of the financial market. Although for so many years these assets were reserved for a few Wall Street firms and elite active traders, tastyworks has opened the futures and options market to the retail investor.
The broker brings superior trading technology, extremely low trading fees, and a superb customer experience. It also offers a multi-platform trading approach where you trade options through your browser, a tastyworks platform, a desktop app, and a tablet app. This gives customers enough flexibility and convenience to trade and get price alerts on the go.
Tastyworks offers educational materials too. This is done to assist customers to learn more about options, including tastyworks's proprietary iv rank. However, these materials are not that clear-cut but the customer support team is also readily available to help.
There are however some shortcomings to note. First, tastyworks and its platform are designed for advanced options traders. If you are a beginner, you will have trouble getting by. The broker does not have a demo account as well. It also offers tiered access to its trading technology and tools.
This means that you may need to meet certain conditions before gaining full access to the platform and its margin privileges. But with everything said and done, tastyworks still remains one of the best brokerage firms for options and futures, especially for advanced active traders.
Tastyworks FAQs
Is Options Trading better than stocks?
Well, it really depends on how you look at it. One thing you get with options is the ability to control large financial positions with a small amount of money.
Options are also leveraged and as such, the opportunity to make huge sums of money over a short time is very high. But this also means the risk of rapid loss is also high. If you are looking for a quick way to make decent returns in the stock market, then options are ideal.
But for the long-term value dividend reinvestment, stocks are perfect for you. However, make sure you trade options with brokers approved by your national futures association. You may also need to learn how options work, especially the concept of implied volatility.
Is it Free to open a Tastyworks account?
Yes, you don't have to pay anything to open a tastyworks account. In fact, you will only need to provide personal information, some financial details, and highlight your trading experience.
It doesn't matter whether you are opening cash accounts, margin accounts, or even retirement accounts. No fee is charged. Additionally, tastyworks does not require a minimum deposit. The fees charged by this broker are also some of the lowest in the industry. In the end, you stand to save so much money in fees.
Is Tastyworks secure?
Yes, the tastyworks platform is one of the most secure in the world for experienced traders. This is achieved through several strategies. First, the broker protects your personal information with advanced state-of-the-art cybersecurity solutions.
Transactions are also secured and regular audits of its entire systems are done to ensure nothing is left to chance. Tastyworks also encourages customers to take extra personal responsibility in safeguarding their accounts. You will get materials regularly on how to do this and help from customer support in case of security issues.