9 Swing Trade Alerts With High Performance In 2022!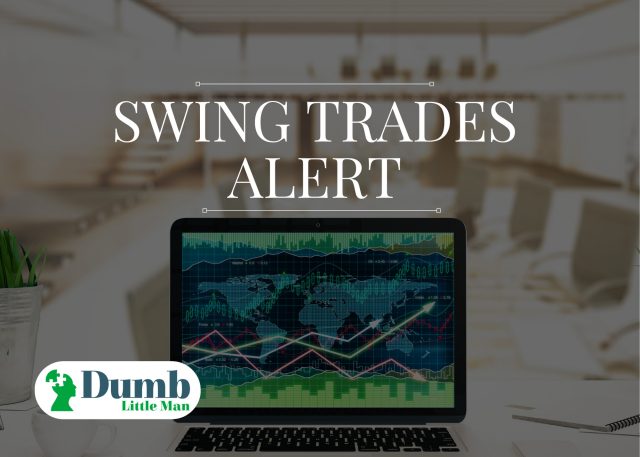 The hardest part of trading is known to be identifying which trade opportunity is profitable. Swing trading requires attention and time to find trades, vets for trading setup and upload them to your trade market and platform.
Moreover, the process requires using one's own swing trading strategies to find best trading opportunity. You have the chance to outsource easily your own swing trade stock picks or choose better swing trade alert service to come up with effective trading strategy for purpose of buying or selling.
Below in the article various swing trade alert service types are outlined and we provided detailed information on swing trading services, technical analysis of trading opportunities for that swing traders will be able to choose the right trading platform to improve trading process.
Swing Trading. What is it?
Swing trading is known as selling or buying stocks in a relatively short amount of time. However, there isn't any existing rule on how quickly swing traders must trade for it to be viewed as trading. The trading strategies aim to capture medium-term prices which are known as individual swings for daily timeframing.
Each one of swing trades usually lasts for a few days, rarely lasts for several weeks. The purpose of swing trading strategies is making profit by only one single swing price rather than riding the trade setup with multiple upswingings and downswingings.
As the interests of stock market are placed upon the price swing of a single day trading, it is crucial to considerthe time when swing is about to begin and end in order to enter in the beginning of swing trade and exit before ending. The swing trade price can be in uptrend, downtrend or moving sideways. For a profit target it is good to do swing trade in trend direction.
Moving sideways is usually factor of a market conditions which means you are able to trade in both of directions if you trading forex, however if you are trading in market, it is suggested to aim for purchasing opportunities because trading stock prices are limited downward potentially while keeping to climp up is never unlimited.To find the best swing trade strategy in stock trades, traders are using various strategies, including stock advisor service, investment advisory service or swing trade alerts service.
An effective swing trading strategy shows you the best time to enter a trade , when to exit without a loss, and when to take your own money out before the reversing of opposite swing trade begins. So, swing trade is easy planning of market without having your own capital tied up for a long period of time. It is recommended to begin from analyzing the market on at the same time subscribing to a swing trade alert service.
9 Best Swing Trade Alerts
1.The most profitable long term swing trading: Motley Fool Stock Advisor
2.Investment Advisory Service: Rule Breakers
3.Ultimate Advisory Service for long term investors: Everlasting Stocks
4.The best program for Penny Stock Day Traders: Tim Alerts
5.Best for momentum traders and active swings: Trade Ideas A.I
6.Eric Ferguson's Swing Trade Alert Service:Mindful Trader
7.Learning Community of Serious traders: Bear Bull Traders
8."All in one" market scanning platform:Scanz
9.Real time trade opportunities on any asset class: Pilot Trading
9 Best Swing Trade Alerts: Here We Go!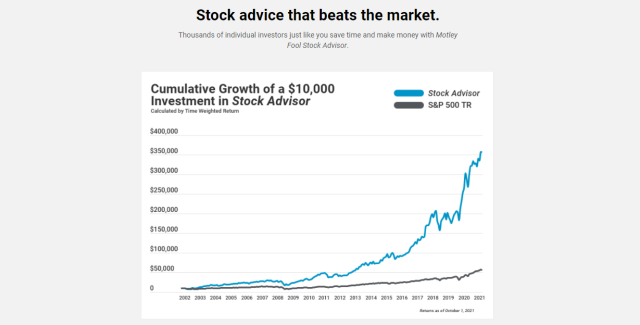 The Motley Fool Stock Adviser is leading in the financial space. It was founded in early 90s. The company provides a huge bulk of free information, guides, news for trade stocks.
However, one of the company's best staples is Stock Advisor Program which is established for informational and educational purposes. It is a program is considered as a membership service, offering stock picks and suggestions for subscribers to aid them in investing wisely.
The main goal of the program is teaching investors to start picking the right stock and improve the results. The programs contain reports of researchs, information on stock alerts and financial decisions, Tom and David Gerdeners' ideas.
Highlights:
Each month 2 new stock picks. This is recent team's recommendation based on analysis which is conducted monthly.
David and Tom Gardener's stock picks have outnumbered s&p 500. Decades of investing and stock market experienced analysts and founders.
Newsletter-The Stock Advisor with analysis. This aid for your understanding of reasons for choices and identify which stock is better.
Investigating resources and additional community. While they provide members with exclusive learning materials, historical data and track record of all recommendations, swing trading alerts swing ever made by The Motley Fool and stock watchlists at the same time they offer live chat room access.
The Program the huge bulk of detailed analysis and research, making it for members easier to make desicions and best trading plan.
Costs
Motley Fool swing trade alert service subscription fee is $99 for a year. The subcription cost is protected which means that you may cancel in 30 days and get 100% back your money if you want.
The Motley Fool Stock Advisor is also included in the Motley Fool Epic Bundle that contains four premium services: Stock Advisor, Rule Breakers, Everlasting Stocks, and Millionacres: Real Estate Winners, with over 300 stock choices and special reports. Previously priced at $499 per year, the package is currently available for a discount pricing of $198 for the first year, saving members over $300.
However, this exceptional discount is only available for the first year, with automatic renewal at the usual price thereafter, providing a cost-effective method to access various Motley Fool insights.
CLICK HERE TO READ MORE ABOUT MOTLEY FOOL

Rule Breakers is the same as the Stock Advisor in many aspects, however its much attention is focus on disruptors of industry rather than household names. Whether you are going to invest with Rule Breakers, you should bear in mind diversity of their program.
Motley Fool's Rule Breakers is actually a program which is run by David Gardener and team of investment. They aim to find the high growing stocks. They search for companies which is developing and setting up for a growth in near future.
Members of Rule Breakers have access to 2 new stock picks monthly and a list of real time swing trade alerts services, track record of growth stocks for all newly joined members.
The "best buys" are shared by analyst team and novice service, investment advice for better trading opportunities and trading service.
Highlights:
Starter stock-provides selection of penny stock, alert services which make a great foundation stone of any portfolio.
Best Buy Options are included. Provides a full list of highly-rated trading stocks worth buying at once to make more money in a single trading day.
Rule Breakers offer Newsletter which is analysis of stock trading market and alerts service, as well as new ideas on developing trading systems.
The presence of Supporting Community. Any swing trader can get trading tips, support from chat room to be a real mindful trader.
The subscribers of Rule Breakers can have access to the Motley Fool library of stock scanners analysis, track record of recent market conditions, financial markets and price swings.
The Investing research services of Rule Breakers have been taking the leading place for so many years in even today's day trading. Outperforming s&p 500 is the proof.
Costs
1 year subscription to Rule Breakers usually costs $99 for a year. This is quite expensive than other swing trading alerts, however, keep in mind that you are having access to top quality tier stock picking service and the best trade ideas for that cost. The program offers a 30-day money pay back if you reject your subscription, this is guaranteed.
Rule Breakers, like the Stock Advisor, is part of the Motley Fool Epic Bundle. While this bundle used to cost $499 per year, it is presently on sale for $198 for the first year, saving customers over $300. It's crucial to remember that this introductory price is only valid for the first year, after which renewals revert to the standard rate, providing a cost-effective way to access a variety of Motley Fool expertise.
CLICK HERE TO READ MORE ABOUT RULE BREAKERS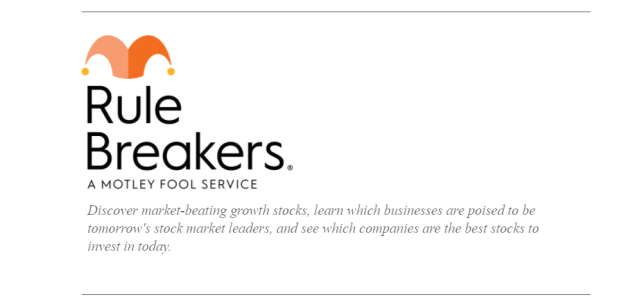 Everlasting Stocks is known to be Fool's trading alerts advisory service for serious investors and for the people who desire to be a mindful trader. The program offers you an exclusive pick at CEO Tom Gardener's own portfolio which is known as Everlasting Stocks portfolio. It includes sufficient gills, trade alerts and quality trading strategies.
Every long-term trade in the Everlasting Stocks will potentially keep increasing for next years. Moreover, every quarter Tom Gardener announces a new pick so one can get streams of new trade stocks, trade ideas and recommendations all year round.
You will have access to all recent trade setups, technical analysis of buying and selling recommendations in one location, so every user can find what they need effeciently and quickly.To say it shortly, Everlasting Stocks portfolio is professional, high-quality, pre-built one which you can use further for your personal account in investing, even for brokerage account.
A lot of swing trade alert service programs only focus on swing trade alerts which are short-term and hot swing trade alerts, however we should note that Everlasting Stocks doesn't seek for momentum swing trades.
As its name suggests, Tom Gardener searches a trading platform for buy-hold forever trading stocks which will endure the testing of time. It is obvious that stocking market conditions fluctuate constantly, so a trader shouldn't expect each pick to increase in a up line.
Highlights:
Alert Services and Updates. As Everlasting Stocks trading service isn't aimed for short-term , it willn't barrage users with stock picks on a daily basis. You will get trading alerts on new stock picks every quarter and portfolio updates.
Updates by Tom Gardener every quarter. He realeses a report on his latest trade ideas and insights about trading financial markets.
Access to 15 stock picks. Bonus. After signing-up, you will get 15 new picks and trade alerts. These stocks can be excellent foundation of any portfolio. They include most of the lucrative stocks of recent years including Shopify,Tesla, Netflix.
Ongoing Analysis.If your profit target is just lots of money, you will likely just earn relatively short amount of money than others who don't do day-to-day analysis of the stock market.
The program offers professional analysis to understand better, expand your experience and sharpen free trade alerts skills.
Costs
On Fool's official website, they offer 1 year subscription for $299 for Everlasting Stocks. Unlimited access to model trade portfolios are also included.
CLICK HERE TO READ MORE ABOUT EVERLASTING STOCKS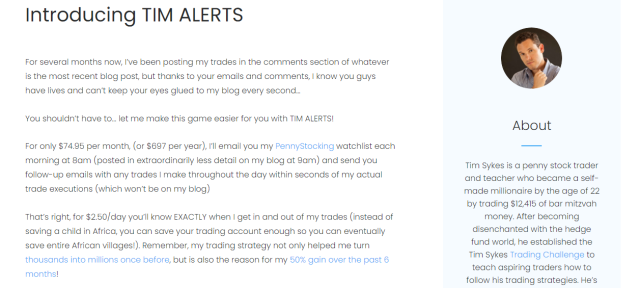 Timothy Skyes ,who is the founder of the program Tim Alerts, is a penny stock trader also a teacher. He became a millionaire at the age of 22. His unique approach ,which is going back to his roots every year and starting with a new account, allows him to teach his students effectively.
In fact, he is known to be one of the first penny stock trader instructor to start online courses. Tim also created some newsletters to meet the needs of both beginner and advanced traders.
Penny stocks trading is a good way of making money. Having a small invested portfolio, still you may have pretty returns. According to Timothy's opinion, today markets have plenty of frauds trading penny stocks and some companies which is usually engaged in promotion only.
They drive the stocks up and will cause their crashing back down. But, he emphasizes that the most effective way of turing a small investment to big is only through acquiring good strategies to trade penny stocks.
Highlights:
Daily 5-10 stock watchlists for penny stock day traders.
Subscribers will have a swing trade alert chat room access every day. It will help you communicate new trade ideas with other traders.
Tim Alerts provides realtime Email, SMS and other alert services for its users.
Profiding realtime swing trade alerts for day trading people.
The program is available for iPhone and Android app users, also weekly new video lessons are added to extensive library of 4,400 video lessons.
Costs
The basic program Tim Alerts goes for $75.95 monthly. However, subscribers have the chance to save money by subscribing annually about 33% of their money. It is a strategy of marketing to attract more subscribers.
Note that this plan includes actual realtime trade alert services, Timothy Skyes personal chat room access which has got about more than 1000 traders.
CLICK HERE TO READ MORE ABOUT TIM ALERTS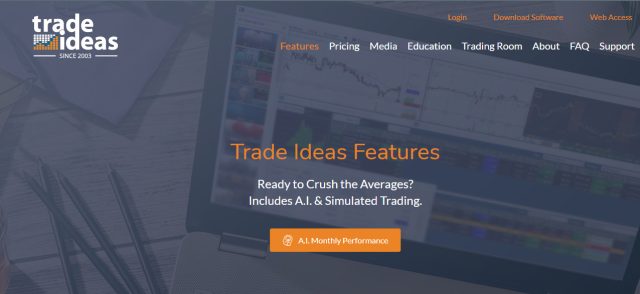 This platform is a great intra-day new stock trading scanner . These stock scanners provide lots of opportunities for active traders. It is a flexible, customizable platform which means we can add some options.
Robo-Advisor which is named as "Holy Grail" analyzes trade setups by using millions of scenarios daily to come up with suggestions for growth stocks. While it may feel a little intimidating at first, the platform eventually is accepted as a necessary tool. Swing trade alerts are also included.
It was originally founded in 2002. With the development of automated trading through the years Trade Ideas scanning platform evolved itself. Today, it is known as one of the best scanner of stock market available. Its co-founder, Dan Mirkin, has been very active by sharing his trade setup ideas, trade alerts in order to establish a loyal community consisting of traders and customers.
Highlights:
Trade Ideas is known as the most powerful scanning tool having lots of built-in scans.
Program offers help of experienced instructors and moderators.
Trading strategies may be shared in the community of other traders and also moderators to discuss trade setups.
The platform is simplified by content, live seminars, video lessons of TI university. The access to library is included in price.
Costs
Free plan option. Available throught the web, providing access to live moderated swing trade alert chat room also curated swing trade alerts work analysis.
Standard plan. Costs $118 monthly, $1,068 annually. Includes Chatroom service and Channel bar, chart based realtime swing trade alerts, 10 price swing trade alerts.
Premium plan. Costs $228 monthly, $2,268 annually. The plan has everything included in Standard one also includes 20 charts, A.I swing trade assistant,swing trade alert service about entry and exit time, risk assessing and functional backtesting. Moreover, it provides access to Brokerage account.
CLICK HERE TO READ MORE ABOUT TRADE IDEAS
6.Mindful trader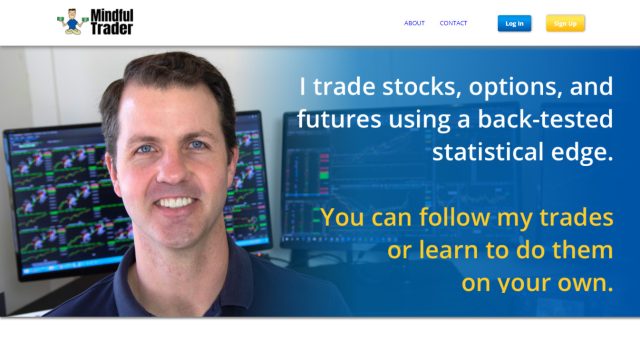 It is swing trades alerts service which is focused on swing trading. It is considered as data- driven way of swing trade.Eric Ferguson is founder and a succesful swing trader who developed his own service using statistics and data of twenty years.
He uses various strategies for buying and selling as a stock picking service and that lowers risk plus can compound much part of returns. Eric has tested each one of his own strategies and compared with data, which he collected.
According to him, every strategy should be successful and also effective regardless of profit and loss. Each one of his strategies is usually tested using the method of Monte Carlo. It is randomly sampling data to know the probable model of different outcomes. During the test 10,000 variations are used.
Highlights:
Long lasting swing trade alert service. Eric recommends to act on your swing trade alerts to get most profit target from them.
Strategies of Mindful trader are backtested. The platform's back-tested strategies have the yearly 147% return.
Incredible transparency. Swing traders are offered statistical tests, including Monte-Carlo Simulations, Statistical Correlation Tests.
Transparent results. After 6 weeks, your total return will be 40%. This is incredible. This is surely the best real time trade alerts service so far on market.
Costs
Compared to other swing trade alert services this platform isn't expensive. It costs $47 monthly. Members may cancel whether they will be dissatisfied with Eric's trade alert.
CLICK HERE TO READ MORE ABOUT MINDFUL TRADER
7.Bear Bull Traders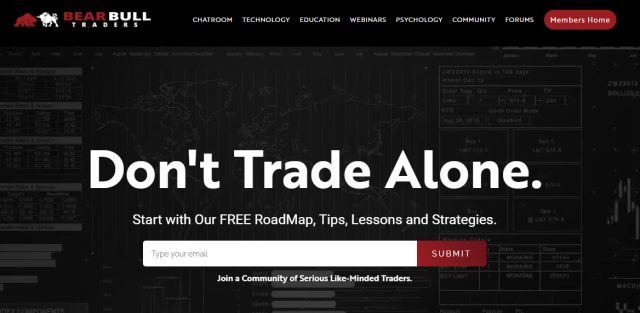 Bear Bull Traders is an online platform for active swing trading, which was established by Andrew Aziz in 2016. The program offers ingoing support and extensive educational materials needed for becoming profitable swing trader.
BBT programs feature a vast bulk of educational resources, books, webinars, classes in order to help any swing trader on this journey.After your singning up, you will take part in live lessons. You may also purchase some lessons.
Highlights:
BBT is a good option for new swing trader who is just beginning to work.
BBT allows you to try "paper trading" so as not to risk your money as a new swing trader.
Offers access to ideas scanner and subscribers will receive investment recommendtions and analysis of other swing trade alerts work.
BBT offers educational classes for all swing trader levels.
The availability of chat room with a group of skillful mentors having various swing trading styles.
Every day one of the mentors of BBT will do analysis of expert and beginner swing trade alerts work.
Costs
Basic Membership: $99 monthly. Preview of swing trade alert world before committing fully. You will have access to all classes both advanced and basic.
Elite Membership: $199 monthly.Basic features plus weekly webinars. Psychology materials are provided.
Elite Annual Membership: $1,199 yearly. This is a hefty price tag .Mostly suitable for a professional swing trader. Front row in a live training and realtime swing trade alert services.
CLICK HERE TO READ MORE ABOUT BEAR BULL TRADERS
8.Scanz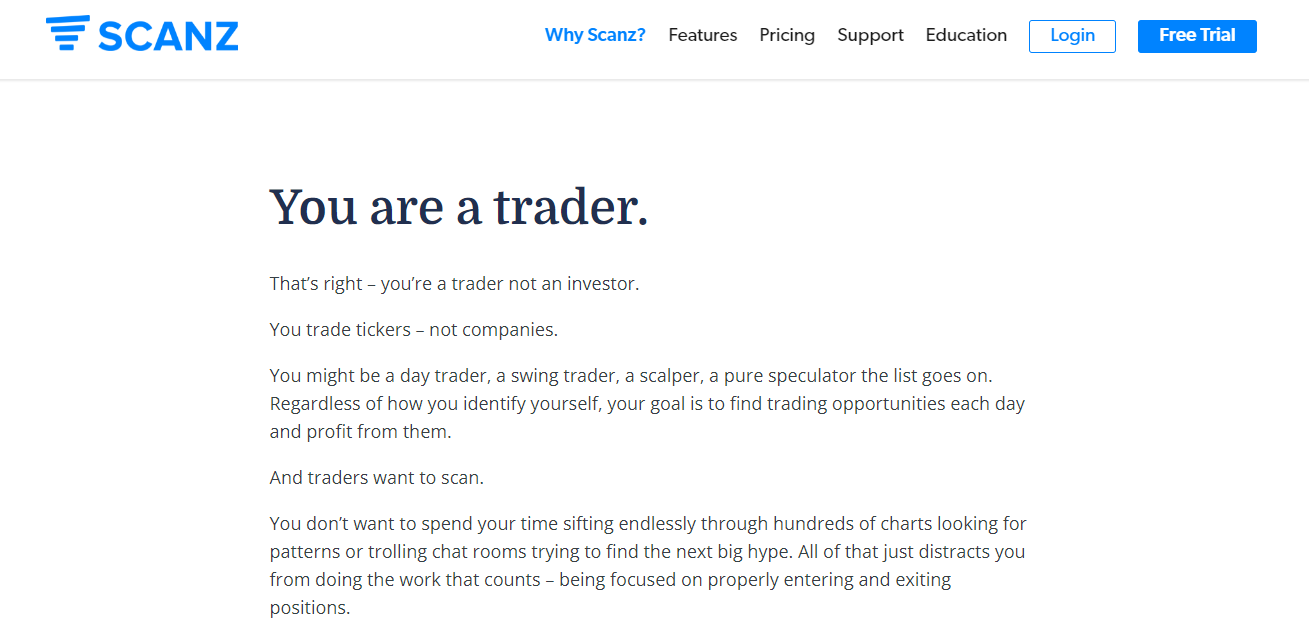 It is a scanning platform, news designer which is used to provide data from market. Real time swing trade alert and its results, endless swing trade opportunities are gained by properly analyzing the data from the market.
The program is completely customizable, it allows to save many scans. About over 50 variable pricings can be used in order to limit scanner results.
The stock scanner is a newly-created product. The most comfortable feature which distinguishes Scanz from others in the market is that results are downloaded to CSV file format.
Scanz platform offers you to scan and send the stock swing trade alerts by e-mails or to your deskop. Scanz system aids you in finding things, sends you swing trade alerts once they are ready
Highlights:
The world's most poweful news scanner for profitable swing trade.
Unlimited Watchlists, Streaming charts, Scan all news, SEC fillings, any combination of data, outstanding e-mail support, daily swing trade alerts.
Breakout alerts, swing trade alerts. Notifications
Costs
News Scanner: $79
Scanner:$99
Total: Both types $149
CLICK HERE TO READ MORE ABOUT SCANZ
9.Pilot Trading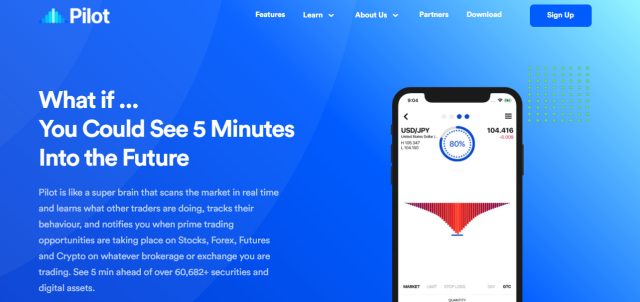 Pilot Trading is an application designed for helping to spot opportunities on trading, helps you trade alert and act. The service includes forex, stock trading having more than 37,000 securities.
The four algoriths make it unique. These are
Perception
Commitment
Equilibrium
Sentiment
They use a combination of movements and Level 2 information so as to predict correctly when a new swing trade begins. The program will trade alert you sharply about market upwards and dawnwards.
Highlights:
The presence of paper trading with pilot.
The app's algorithms track over 37,000 securities.
Inexpensive signals of trading, swing trade alerts.
Simulation and demo versions are available.
Price
The program is free of charge for 14 days only.
Monthly cost is $19,95.
CLICK HERE TO READ MORE ABOUT PILOT TRADING
Conclusion
If you are getting in the world of trading to save time and earn money swing trade alerts will help you if your aim is mostly medium-term profits. Trade alerts are great tools in stock markets.
The best swing trading strategy choice will be Motley's Fool as it has the most returns, legitimate company having over 700,000 subscribers and also over 250,000 employees. If you don't want to spend a lot of time searching stocks, this stock picking and swing trade alerts types of service are strong alternatives.
It is cool that their approach to stock pick is the blending of information and strategy. They don't suggest you to do random stock picks there, getting money for pushing a stock.
Instead, the entire philosophy is about choosing one solid business which is based on business signals such as future potential, market factors, price swings, current trends and current stock picks.