ProfitFarmers Review 2023 by Dumb Little Man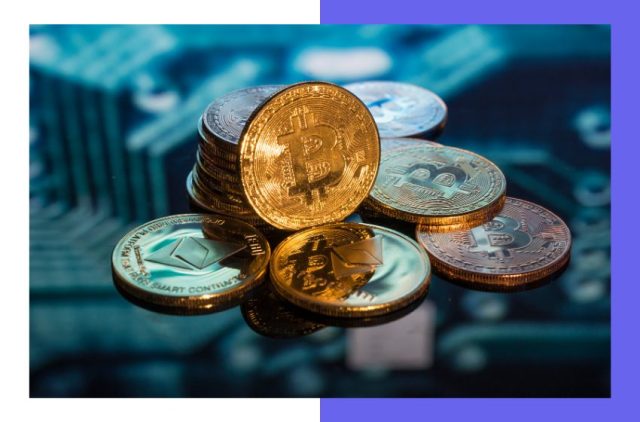 For those embroiled in the world of cryptocurrency – a domain rich with perplexing advice, never-ending losses, and a never-ending wave of FUD and FOMO – frustration runs deep. A group emerged from the heart of the commotion, sharing the collective exhaustion of this chaotic landscape. It became clear that the crypto arena is a harsh battleground, even for individuals with a knack for trading. Years of toil, an armory of intricate tools, and mastery of convoluted trading methods are required for mastery, all with the goal of reaping eventual profits.
To make things simpler, ProfitFarmers was developed as an all-in-one solution. It's a platform that handles your planning, execution, and research. Their artificial intelligence searches the market, identifies high-potential deals, and displays them on your dashboard. You may then use their tools to fine-tune your approach and let their automated system manage and execute transactions on your behalf.
ProfitFarmers' unique advantages and potential drawbacks will be highlighted in this full review. We'll go over how the platform works, its advantages and disadvantages, price options, user feedback, target audience, and other crucial details. This review article aims to provide a balanced viewpoint by combining professional analysis with real-world trader experiences. By the end, you'll have the insights needed to decide if ProfitFarmers' cryptocurrency trading pilot is right for you.
Evaluation Criteria
Dumb Little Man has spearheaded a movement in the market, advocating for secure trading practices and facilitating the understanding of trading markets, enabling thousands of traders to sustain themselves through trading endeavors. Frequently, novice traders view trading as a form of methodical gambling, often falling under the illusion that a decline always precedes an eventual ascent, leading to the unfortunate loss of their investments.
A portion of this predicament is attributable to unrealistic expectations perpetuated by inexperienced mentors. These mentors often entice students by painting extravagant pictures of success, creating lofty aspirations. However, when these exaggerated hopes burst like a bubble, traders are left without a guiding path. Our evaluation framework systematically assesses trading courses across four core dimensions. Our team of experts employs rigorous criteria to ensure that traders enroll in the most suitable courses, safeguarding them from potential monetary and temporal losses.
Convenience: This facet examines the simplicity, comprehension, and accessibility of the course content and information.

Reliability: We scrutinize the company's background, teaching prowess, and the quality of content offered, establishing the course's dependability for traders.

Competency: Through a comparative analysis, we gauge the course's effectiveness against industry-leading programs, considering outcomes, time investment, and customer feedback.

Affordability: We meticulously assess the course's pricing structure and overall expenditure in relation to similar offerings in the field.
Our panel of experts underwent the trading course with a discerning eye, meticulously examining its legitimacy and dependability for traders. Based on our assessment, ProfitFarmer's cryptocurrency trader training course stands as a commendable resource suitable for both beginners and experts in the cryptocurrency arena. Nonetheless, our evaluation has also unveiled certain drawbacks that prospective participants should be aware of.
What is ProfitFarmers?

ProfitFarmers, founded in 2018 and officially introduced to the public in 2020, has quickly established itself as a comprehensive crypto trading platform. It is designed to meet the needs of a wide range of traders, acting as a beginner-friendly guide for those new to the crypto world as well as a competent co-pilot for expert traders looking to supplement their trading tactics. ProfitFarmers' inclusiveness means that a wide spectrum of traders can benefit greatly from it.
ProfitFarmers sets themselves apart from competing platforms by providing a wealth of features. It has features like copy trading, which enables users to imitate the profitable trades of more experienced traders, and signals monitoring, which warns users of prospective trading opportunities. Included are price action scanners, a tool for spotting price patterns, trade guardians, a feature for keeping an eye on and securing trades, and laddering mode, which enables multiple order placements at various prices.
Aside from these advantages, ProfitFarmers offers a full university targeted at educating traders about the complexities of the cryptocurrency market. This resource, in conjunction with their constantly updated blog, provides visitors with up-to-date knowledge and insights about the expanding crypto world. ProfitFarmers' attention to user education demonstrates their devotion to their users' success. Furthermore, the platform offers member testimonials and success stories, which not only motivate new users but also foster a sense of community and shared success among ProfitFarmers network members.
How Does ProfitFarmers Work?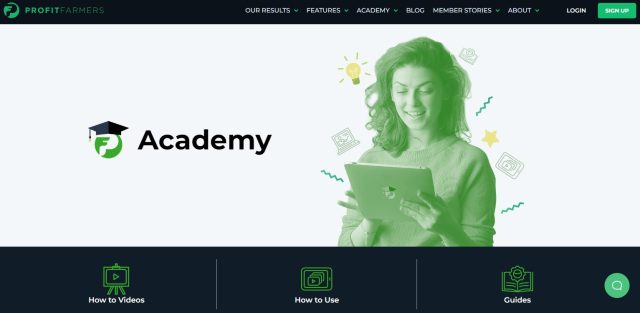 ProfitFarmers' artificial intelligence technology produces a slew of ProfitFarmers trading signals. These profitable trading signals are then reviewed by their staff of expert cryptocurrency traders, who filter out and forward the most promising trading plans to the members.
As a member, you can copy a trade signal and tweak it to fit your preferences and risk tolerance. You can enable any options that suit your approach, such as Laddering Mode or Break-Even Stop-Loss, among others.
At this moment, the ProfitFarmers trading bot takes control and executes the trade on your behalf. ProfitFarmers' powerful algorithm is constantly scanning the crypto market for prospective trading opportunities.
These opportunities are selected using a comprehensive set of criteria. After being accepted by experienced crypto traders, the selected trades are displayed on the members' dashboard for execution.
ProfitFarmers is a trading pilot that also offers crypto trading training to its subscribers. ProfitFarmers offers a diverse range of training courses focused solely on cryptocurrency trading. These include 'how-to' videos that explain trading procedures and the platform's unique features in-depth, step by step. This enables users, regardless of prior experience, to immediately grasp the fundamentals and complexities of trading on the ProfitFarmers platform.
ProfitFarmers Pros and Cons
Pros
Automated trading capabilities for increased efficiency
Increased chances of profitable trades
Cutting-edge trading tools and features
Clear and comprehensible trading signal reports
Comprehensive trading education resources
Assurance of a 30-day refund policy
Availability of a free membership option
Round-the-clock customer support for trading
Cons
It doesn't provide a quick path to wealth
The absence of a mobile application
Needs a large amount of trading capital
Limited to Binance.com and cryptocurrency transactions only
Benefits of Using ProfitFarmers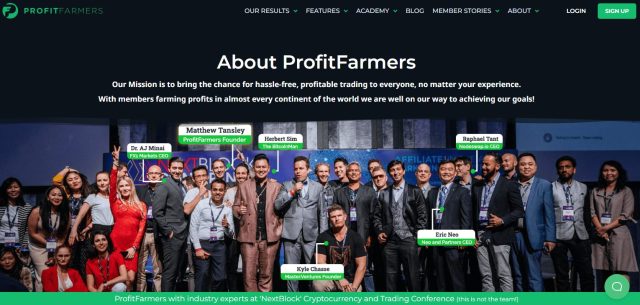 ProfitFarmers' primary value is the simplicity it delivers to the otherwise complex world of cryptocurrency trading. The program's use of automation speeds up the trading process and does away with the necessity for constant market watching. Investors can therefore rest easy knowing that their money is being managed carefully.
ProfitFarmers is a fantastic resource for traders who want to learn more about the crypto markets. Users can develop their trading abilities and deal with the volatility of the crypto markets more easily thanks to the diversity of educational tools accessible.
Any online trader's first concern is security, but ProfitFarmers members don't need to be concerned. The platform offers a safe and dependable trading environment to safeguard the security of its consumers. For instance, safe encrypted data transmission, two-factor authentication, and cold storage wallets.
These characteristics help create a secure trading environment by shielding user funds and accounts from prying eyes. ProfitFarmers gives users peace of mind by ensuring the security and growth of their assets at the end of the day.
How Much Does ProfitFarmers Cost?

To accommodate a range of user preferences and budgetary restrictions, ProfitFarmers features a straightforward pricing structure divided into three subscription tiers. They also offer 21 days of Pro access for $21 for first-time users.
Monthly Subscription Plan: This plan is priced at $399 per month and is invoiced on a monthly basis with no setup charge. Customers can terminate their subscriptions at any moment. This plan is suitable for those who seek flexibility and a short-term commitment.
Quarterly Subscription Plan: This plan offers significant cost savings. Users can save up on their subscription when billed quarterly at $267 per month, for a total of $799 per quarter. There is no startup charge, and subscribers can cancel at any time, just like with a monthly subscription. This plan is ideal for people who are willing to make a little longer-term commitment in order to benefit from the cost-saving advantages.
Yearly Subscription Plan: ProfitFarmers provides a yearly subscription plan for customers seeking the best value. This plan offers the greatest savings at $249 per month, payable annually at $2999. When compared to the monthly plan, subscribers can save $1789 per year. There is no startup charge, and users can cancel at any time, like with the other subscription options. For individuals who are willing to commit to a year-long adventure with ProfitFarmers, this option provides the best value.
Who is ProfitFarmers For?
ProfitFarmers provides a smooth learning curve for those who are just getting started in the cryptocurrency market. With its intricacy and volatility, the crypto world can be scary. There is a widely accepted assumption that newcomers must suffer financial losses before they can efficiently navigate this world. ProfitFarmers, on the other hand, allows newcomers to skip this stage of costly trial and error. The platform fosters learning and growth by providing tools and resources that enable beginners to earn as they study.
ProfitFarmers is also advantageous to experienced cryptocurrency traders. Seasoned traders are accustomed to the rigorous practice of regularly examining charts, executing orders, and watching market trends. Additionally, they must remain vigilant at all times to detect fluctuations in prices. ProfitFarmers provides a respite from these arduous endeavors. ProfitFarmers effectively manages the assets of expert traders by providing a platform equipped with automated processes and innovative tools. This enables traders to select their desired trade settings and confidently delegate the management of their assets to the platform.
ProfitFarmers Customer Reviews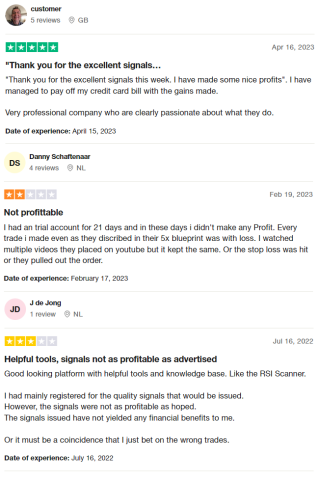 Both positive and negative reviews, from both satisfied and dissatisfied customers, have been submitted to ProfitFarmers. Numerous customers have raved about the service and praised the accuracy of the trade alerts it provides. The individual(s) have made substantial financial progress, allowing them to effectively settle their outstanding debts. The community has praised ProfitFarmers for their professionalism and dedication to the project.
Some users, however, have noted a decline in the platform's utility. Unfortunately, the trial period of using the platform and following the provided recommendations and tactics resulted in a loss of funds rather than a profit. Users praised the platform's intuitive interface, practical tools, and extensive body of information. Nonetheless, they reported that the trading indications did not produce the expected results. Therefore, their transactions did not provide big gains.
What is a Good Alternative to ProfitFarmers?
Asia Forex Mentor – Rated Best Comprehensive Course Offering by Investopedia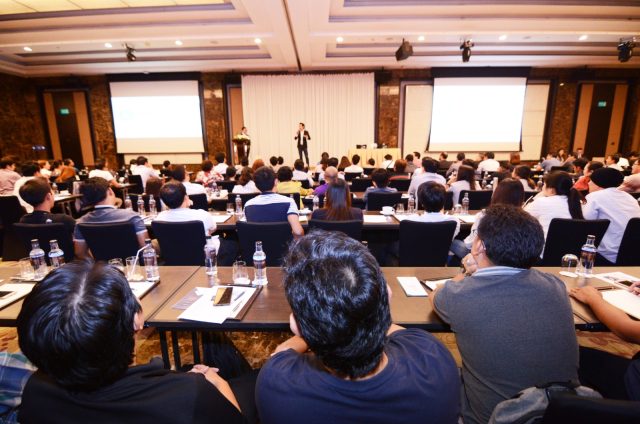 If you're genuinely invested in the idea of immersing yourself in a comprehensive cryptocurrency trading course, consider Asia Forex Mentor as a superior alternative to ProfitFarmers. It stands out as the top-tier trading education for both novice and seasoned traders. Even though the brand carries the name "Asia Forex Mentor", the man behind it, Ezekiel Chew, deals with and imparts his knowledge on both forex and cryptocurrencies. Ezekiel is not your usual forex and cryptocurrency educator. He is a well-known skilled trader in the financial market.
Ezekiel Chew has been sharing his knowledge with thousands of individual traders as well as major financial organizations since 2008. His 5-step program offers a detailed examination of the forex market, based on both technical and fundamental research of stocks. This unique insight enables traders to maximize their trading potential and profit significantly.
Ezekiel's One Core Program displays his sincere desire to improve the trading community. He not only educates regular traders, but also experts from prop trading companies, fund management firms, and banks.
The course provides a thorough overview of the cryptocurrency sector, including the complex blockchain technology. You won't just learn about crypto trading with Asia Forex Mentor; you'll master it. You can learn from the greatest here, making it one of the best, if not, the best crypto trading course accessible today.
Asia Forex Mentor Members' Testimonials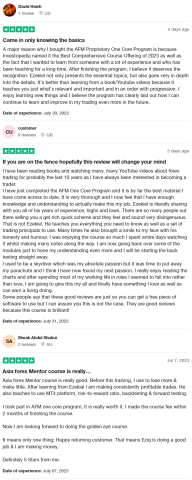 Asia Forex Mentor, led by the experienced Ezekiel Chew, has been met with substantial acclaim from its participants. This course has been lauded for its extensive, up-to-date content and well-structured progression, which set it apart from more conventional learning resources like books or YouTube videos, earning it the title of Best Comprehensive Course Offering of 2023 from Investopedia.
The One Core Program has been hailed as the greatest they've seen by many students, including those who have spent years studying independently. They like that Ezekiel isn't afraid to be open and honest about his own experiences; they learn sound trading ideas; and they enjoy his engaging, often humorous, teaching style. Students learned not just the fundamentals of trading but also advanced techniques like backtesting and forward testing, managing risk, and using the MT4 platform.
Those who have attended this training have said that they were able to reverse years of financial losses and return to profitability very immediately after enrolling. This is evidence of the high quality of Asia Forex Mentor's services and the good impact they have on students' trading success, as demonstrated by the continued high number of repeat clients who have taken courses like the popular Golden Eye course.
>> Also Read: Asia Forex Mentor Review By Dumb Little Man
Conclusion: ProfitFarmers Review
According to our research, ProfitFarmers is an excellent choice for cryptocurrency traders of all experience levels. The platform has several useful tools, such as semi-automated functions, high quality signals validated by experts, and a comprehensive education hub.
These materials equip buyers with the knowledge they need to make informed decisions in the volatile cryptocurrency industry. If you're looking to expand your trading horizons or streamline certain elements of your business, ProfitFarmers could be a reliable ally.
It's important to remember that the platform isn't a get-rich-quick scheme. Trading success still demands a thorough understanding of the market, an approach to several trading strategies, and steadfast dedication.
ProfitFarmers is a reliable and useful tool for everyone interested in trading cryptocurrencies. It's important to note, however, that the platform only supports Binance and does not yet have a mobile app.
>> Also Read: 9 Best Cryptocurrency Trading Course in 2023
ProfitFarmers Review FAQs
Is ProfitFarmers beginner-friendly?
Definitely. Both novice and seasoned traders have been taken into consideration when designing ProfitFarmers. The platform's user-friendly interface, educational resources, and in-depth training will be especially helpful to and accessible to those who are new to crypto trading.
Does ProfitFarmers offer a money-back guarantee? 
Yes, there is a 30-day money-back guarantee offered by ProfitFarmers. Potential clients are drawn to this guarantee since it allows them to check out the service without being obligated to a lengthy commitment. Within the first 30 days of your purchase, you have the option of asking for a complete refund if you're not happy.
Is it possible to use ProfitFarmers with other crypto accounts?
ProfitFarmers' primary exchange platform at the time is Binance, with no other interfaces available. Therefore, in order to trade with ProfitFarmers, you must have a Binance account. To help people create a Binance account, they do, however, offer simple tutorial guides.
Like this Article? Subscribe to Our Feed!
John is an avid researcher and is deeply passionate about health and finance. When he's not working, he writes research and review articles by doing a thorough analysis on the products based on personal experience, user reviews and feedbacks from forums, quora, reddit, trustpilot amongst others.