Lux Trading Firm Review with Rankings 2023 By Dumb Little Man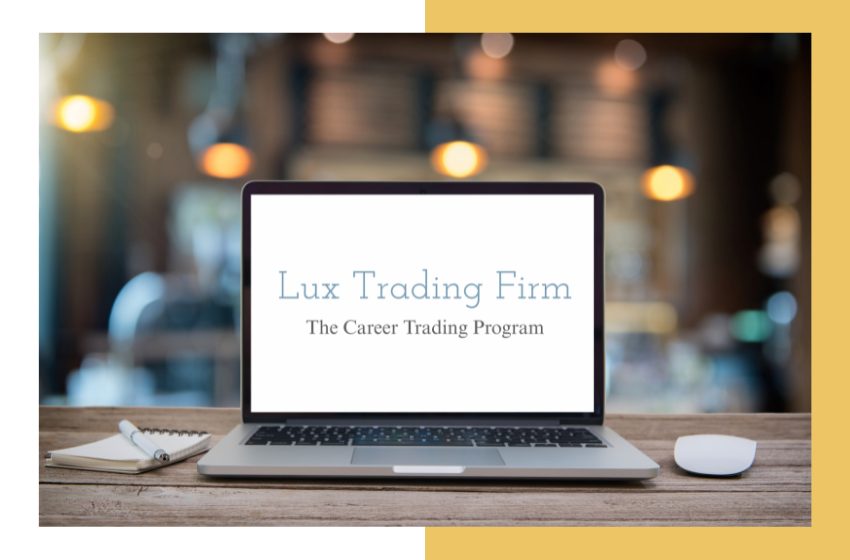 Evaluation Criteria
The renowned team at Dumb Little Man, made up of seasoned traders and financial connoisseurs, is celebrated for their detailed evaluations of prop trading firms. Through a unique algorithm and strict standards, they scrutinize firms on pivotal factors such as:
Client Service Excellence
Timeliness of Withdrawals
Protection of Funds and User Data
Trustworthy Trading Methods
Achievable Trading Goals
Equitable Profit Sharing
Based on our analysis, Lux Trading Firm emerges with high regard. The firm excels in supporting adept traders and has notable capital support. Yet, our examination has also uncovered specific concerns related to the firm, which we will delve into in our review.
Lux Trading Firm Review
In the dynamic world of finance, proprietary (or "prop") trading firms have risen to prominence. They play a crucial role in the market by providing talented traders with the capital and tools to maximize their potential.
Lux Trading Firm is a prop firm dedicated to equipping its traders with capital and cutting-edge platforms, essential tools, and the education required to profit in today's volatile financial landscape. Lux Trading Firm offers unique trading challenges for those who prove their mettle, where participants can access significant capital and operate within established trading parameters.
We have taken the initiative to review Lux Trading Firm. This review aims to shed light on the varied aspects of the firm, weighing its advantages and potential drawbacks. From first-hand customer experiences to in-depth analyses, readers can expect a comprehensive understanding of what it's like to embark on a trading journey with Lux.
We equip traders and investors with unbiased information to decide to select the right prop trading firm that aligns with their goals and expectations.
What is Lux Trading Firm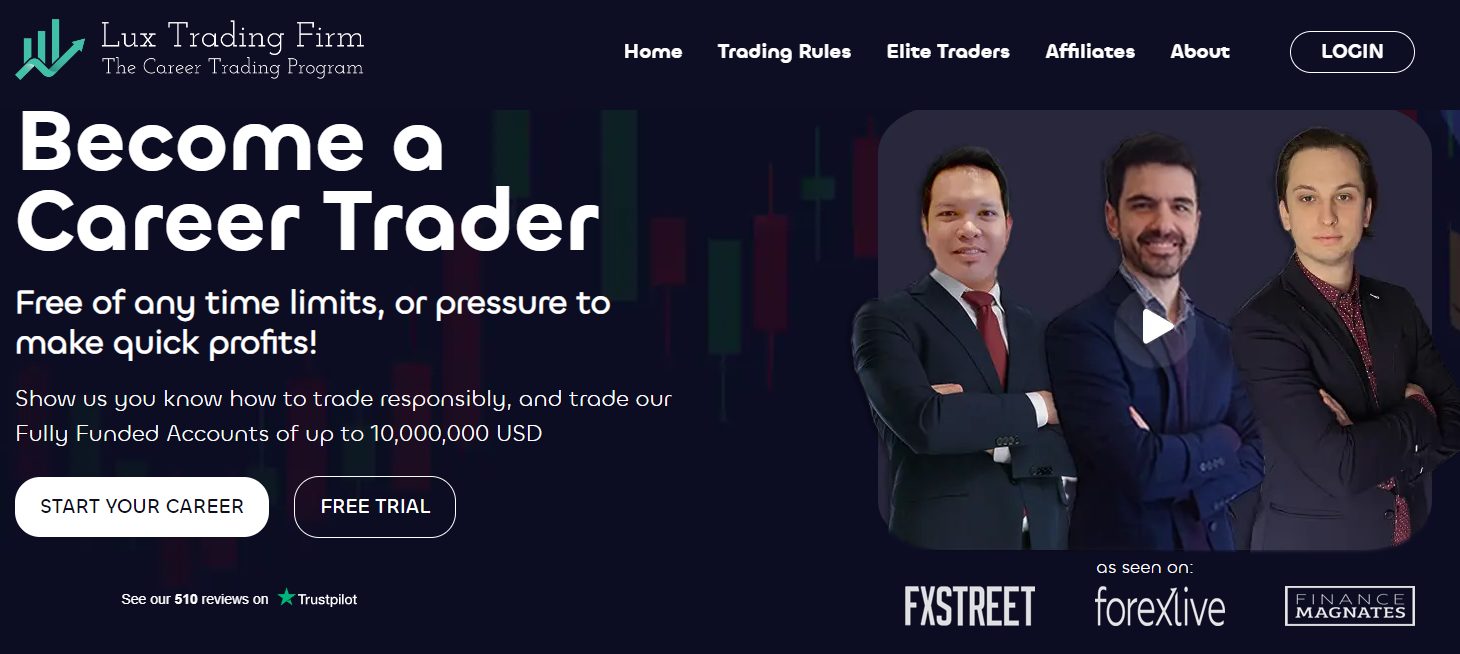 Lux Trading Firm operates as a proprietary trading firm, a unique platform where traders aren't required to make their own money. Instead, the firm gives access to the traders to the firm's capital. This structure enables traders to capitalize on financial markets by using advanced trading platforms, tools, and quality education provided by the firm.
An intriguing aspect of Lux Trading Firm is its trading challenges. These challenges allow adept traders to showcase their abilities, earn more capital, and adhere to the firm's specific trading guidelines.
To utilize the funding provided by Lux Trading Firm, traders need to fulfill two primary criteria. Initially, proving one's capability to make profits and consistently meet profit objectives is crucial.
Beyond just profitability, the firm emphasizes the importance of sound risk management. Adhering to the stipulated trading rules and demonstrating astute risk management is essential for traders aiming to maximize Lux Trading Firm's opportunities.
Lux Trading Firm Pros and Cons

Pros:
A broad spectrum of trading and investment options
Simple trading rules with favorable conditions
Realistic profit targets with flexible trading days
Initial trading capital up to $50,000
Cons:
Intensive screening and evaluation
Higher monthly fees
Lengthy evaluation
More stringent drawdown requirements
Safety and Security of Lux Trading Firm
Situated in London, Lux Trading Firm operates within a financial environment known for its rigorous oversight and regulations. The city's strict economic landscape means businesses are held to high standards, ensuring an added layer of security for traders. According to thorough research by Dumb Little Man, the firm undergoes periodic audits. These audits are pivotal in guaranteeing that user data remains intact and uncompromised.
Lux Trading Firm doesn't just rely on its geographical advantage for security. The firm employs some of the latest and most robust security systems available in the industry to safeguard user information. Additionally, the decision to house funds in leading European banks further underscores their commitment to ensuring their traders' financial security and peace of mind.
However, it's noteworthy that specific details remain obscure. For instance, the firm's website does not clarify its regulatory status. Moreover, there's an absence of clear information about their stance on collecting private user data, which potential users might consider a consideration when making decisions.
Lux Trading Firm Bonuses and Contests
Lux Trading Firm does not provide any bonuses or contests for its traders. Those seeking additional incentives or competitive trading events need to look elsewhere.
It's always recommended for traders to keep updated with the firm's offerings, as provisions can change over time. However, as of now, no additional perks are available at Lux Trading Firm.
Lux Trading Firm Customer Reviews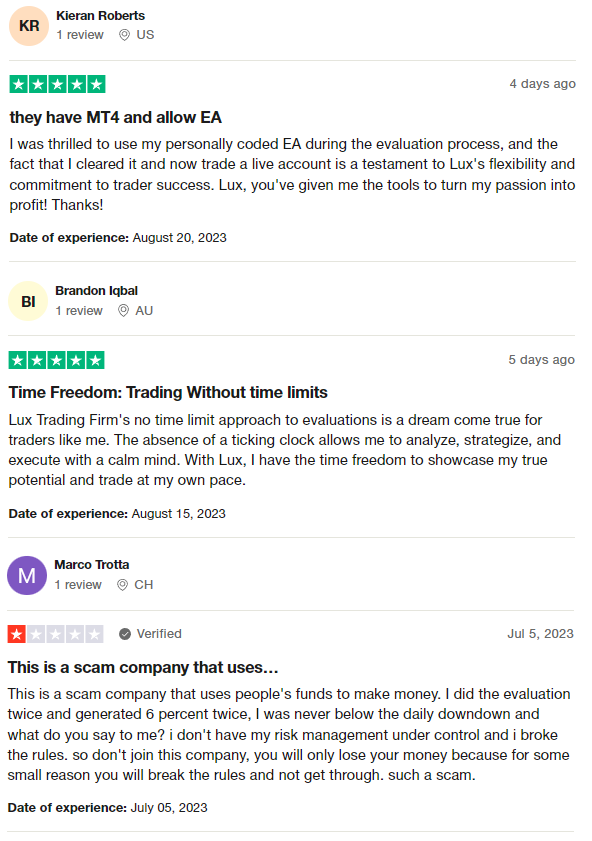 Lux Trading Firm receives mixed customer reactions, with a current 4.4-star rating on Trustpilot, which some may consider on the lower side.
While some traders praise the firm for its flexibility, such as the allowance of personalized trading tools and a relaxed evaluation timeframe, there are critics, too.
Some users allege the firm is a scam, claiming that stringent rules and ambiguous evaluations lead to unsuccessful outcomes, resulting in financial losses.
Lux Trading Firm Commissions and Fees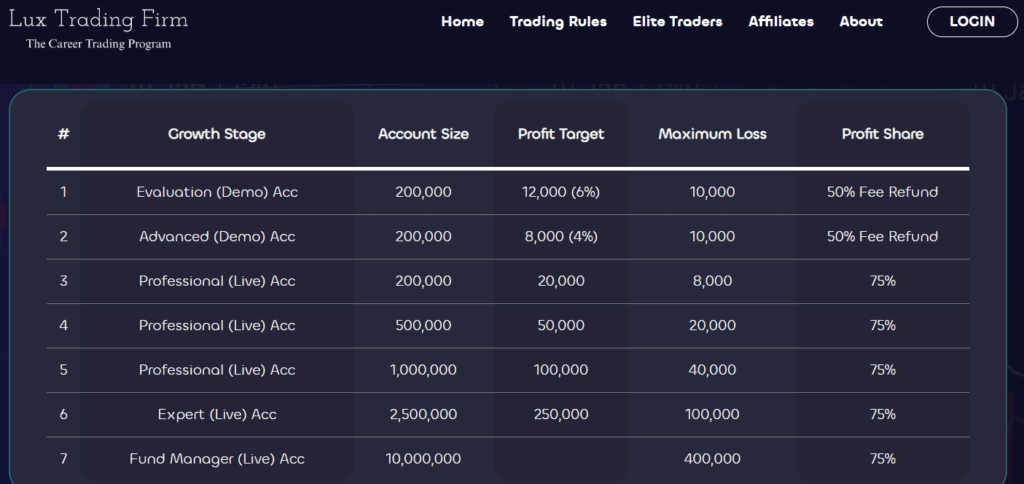 Lux Trading Firm has a dual revenue model like many other proprietary trading entities. Firstly, they impose a monthly fee based on the type of account users select. Secondly, they deduct a portion of the profits from traders utilizing their capital.
For beginners, the firm offers a $50,000 starter account at a monthly cost of £299. For traders looking for more room to maneuver, an intermediate account with a $100,000 capital allocation is available at £399 monthly. Those aiming for a more significant stake can opt for the advanced account, furnishing them with $150,000 in trading capital for a monthly fee of £499.
Beyond the monthly fees, profit-sharing also comes into play. Lux Trading Firm retains 25% of the earnings, allowing the trader to pocket the remaining 75%. This division emphasizes the shared risk and reward model inherent in the firm's operations.
Lux Trading Firm Account Types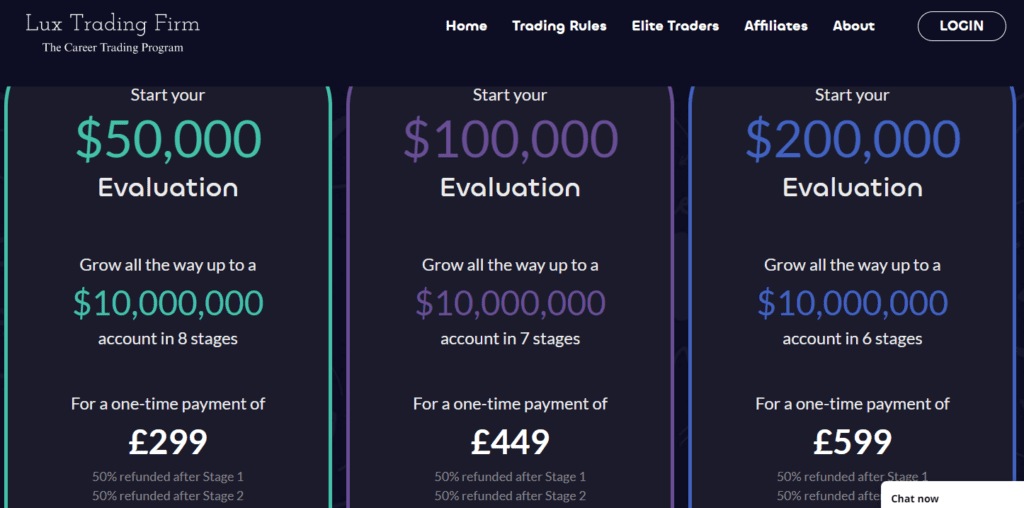 $50K Professional Accounts
Trading Capital: Up to $50,000.
Evaluation Tool: A $5,000 demo account for the evaluation phase.
Typical Users: Often chosen by beginners as a starting point.
Monthly Cost: £299.
$100K Pro Account
Trading Capital: Up to $100,000.
Evaluation Tool: A $10,000 demo account for assessment.
Monthly Cost: £399.
$150K Pro Account
Trading Capital: Up to $150,000.
Unique Features: Comes with a dedicated fund manager, potential access to a personal mentor, and additional tools tailored for growth.
Ideal For: Elite swing traders seeking comprehensive support and substantial capital.
Monthly Cost: £499.
Opening a Lux Trading Firm Account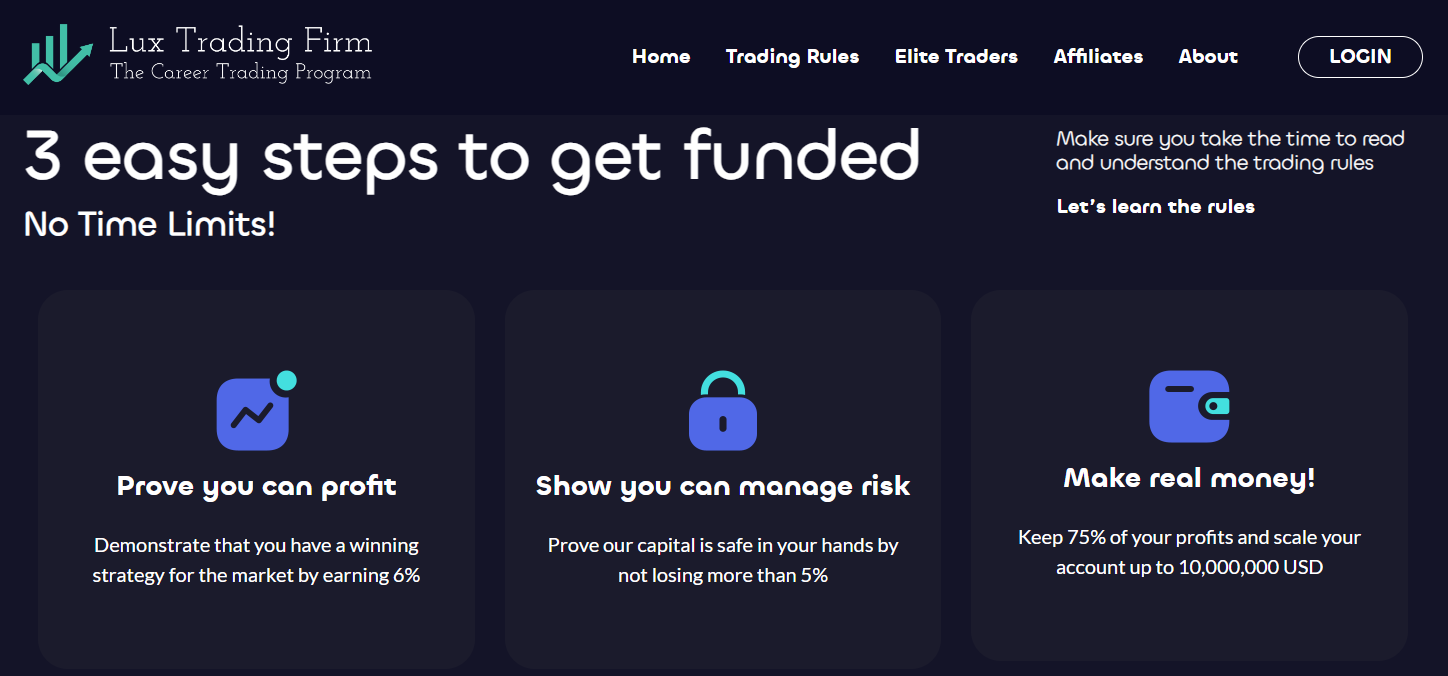 Visit the official Lux Trading Firm website.
Scroll down to view the three main account options.
Select your desired account type.
Click on "Start Now" for your chosen account.
You'll be redirected to a form; fill in your details.
Proceed with the verification process for your account.
Follow the prompts until you reach the dashboard.
If uncertain, instead of "Start Now," click on "Trial" to explore the platform's tools without investing real money.
Lux Trading Firm Customer Support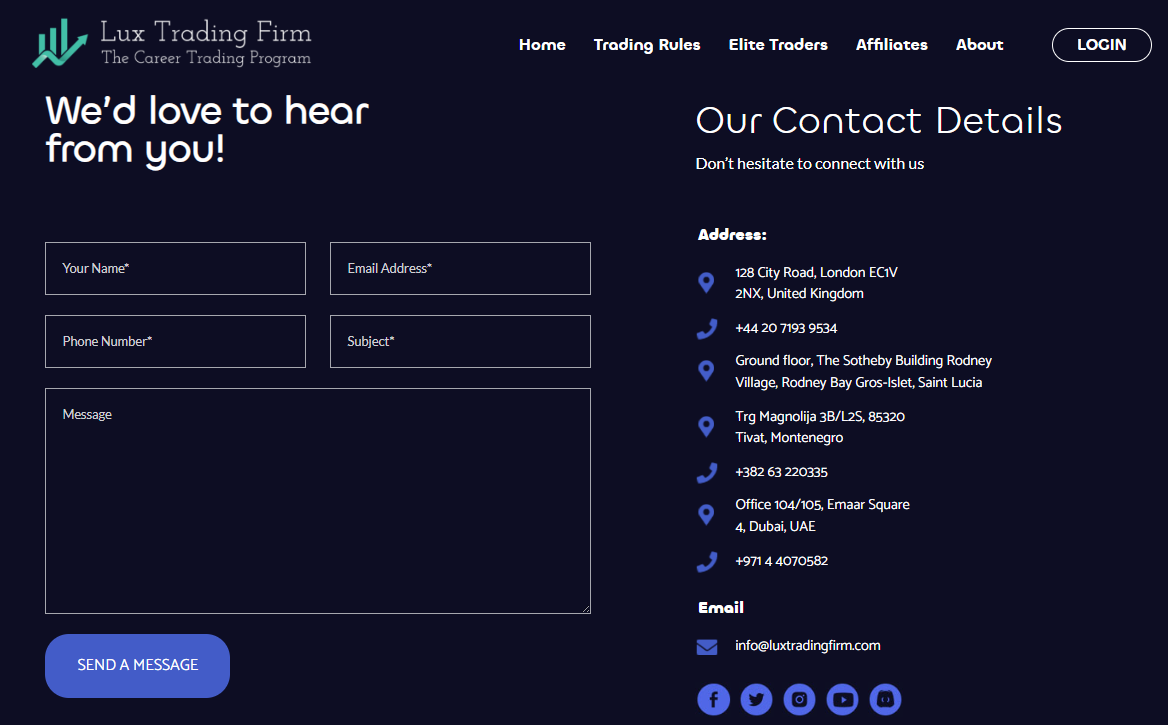 Customer support is a crucial pillar for online businesses, ensuring smooth user experiences, and Lux Trading Firm recognizes this significance. Drawing from the insights of Dumb Little Man, it's evident that Lux has made commendable strides in this realm.
Upon visiting Lux's website, users are immediately greeted by a live chatbot, a testament to the firm's commitment to real-time assistance. But the support doesn't end there. Lux further complements this with dedicated email and phone support options, ensuring that traders have many channels to address their queries and concerns. This multifaceted approach solidifies Lux Trading Firm's reputation for prioritizing its clients' needs.
Advantages and Disadvantages of Lux Trading Firm Customer Support
Advantages
Disadvantages
Multiple contact options, including live chat

Investment in cutting-edge communication technology

Highly trained support staff

24/7 availability

Delayed response times reported by users

Some users find the assistance inadequate

Lux Trading Firm Withdrawal Options
Dumb Little Man's trading experts delved deep into Lux Trading Firm's withdrawal policies to provide traders with the specifics they need. The primary expenses traders encounter with Lux revolve around the profit split and the monthly fees associated with different account types.
Notably, Lux stands out by not charging its traders any withdrawal fees, a point that many traders will undoubtedly appreciate.
That said, traders should be mindful of potential currency conversion fees contingent on the withdrawal method chosen. In terms of these methods, bank transfers remain a staple.
However, Lux offers the flexibility of using both credit and debit cards for those seeking alternatives. It's worth noting that since Lux isn't a traditional broker, they don't levy any spreads, further streamlining the financial aspects for its users.
Lux Trading Firm Challenge Difficulties
Daily Drawdown Constraints
Lux's live trading room currently stipulates a daily drawdown of 4%. While other firms have even stricter drawdown limits, this 4% can pose challenges for traders. Specifically, this limitation can restrict a trader's ability to absorb losses during high market volatility.
Consistency in Achieving Profit Goals
A trader's performance with Lux is primarily gauged by their ability to achieve profit targets consistently. Given the unpredictable nature of the markets, maintaining this consistency can be a challenge, especially during periods of heightened market volatility.
How to Pass Lux Trading Firm's Evaluation Process
Navigating the intricacies of the Lux Trading Firm's evaluation process requires innate skill and targeted preparation. Enrolling in a structured training program is essential for aspirants serious about overcoming the challenges set by Lux Trading Firm and succeeding in their trading venture.
Asia Forex Mentor – Rated Best Comprehensive Course Offering by Investopedia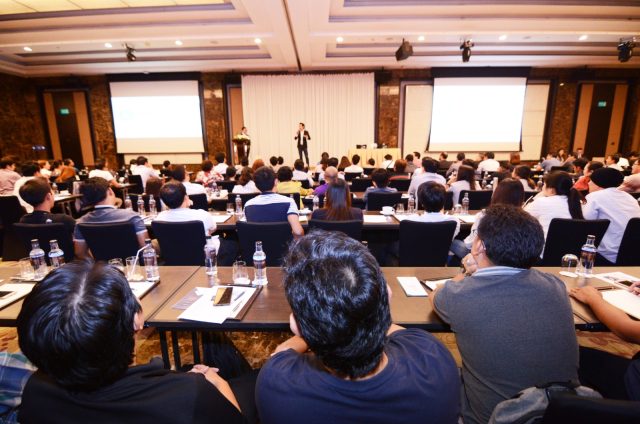 For those seeking the optimal preparation to ace Lux Trading Firm's evaluation, Asia Forex Mentor comes highly recommended by the trading experts at Dumb Little Man.
Asia Forex Mentor, a renowned training platform, has guided thousands of traders through their respective proprietary trading firm evaluations.
At the helm of this platform is Ezekiel Chew, a seasoned forex trading maestro who generates a six-figure sum with every trade and has over 20 years of experience in the arena.
Not only is Ezekiel the mastermind behind the Golden Eye Group, but he has also conceptualized the proprietary One Core Program.
This program is specifically designed to equip forex traders with the necessary tools and strategies to turn a profit. Ezekiel's venture into education initially responded to friends seeking trading insights.
How Could Asia Forex Mentor Help You Pass Lux Trading Firm's Challenge?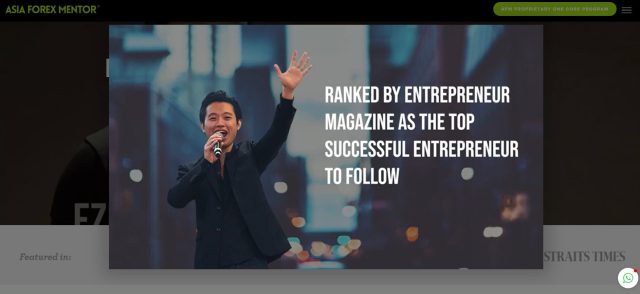 The credibility of any training program is best gauged through its achievements and endorsements by respected authorities in the field. Asia Forex Mentor stands out as a beacon of excellence, making it a prime choice for anyone aiming to conquer the Lux Trading Firm's evaluation.
Recognition for Comprehensive Content: AFM's One Core Program is recognized by Investopedia, a foremost authority in financial content, as the most comprehensive forex course available. This distinction underscores the depth and breadth of the program.
Champion for Beginners and Beyond: AFM isn't only about depth; it's also about adaptability. Benzinga, a trusted name in finance, noted that the One Core Program was lauded as the finest forex trading course for beginners. Moreover, Benzinga emphasized its applicability from novice levels to advanced stages of trading.
Top-tier Mentoring: Mentorship is a cornerstone of effective learning, especially in forex trading. BestOnlineForexBroker, in its 2021 roundup, conferred upon Asia Forex Mentor the title of 'Best Forex Mentor.' Their endorsement hinged on AFM's capability to guide its students toward significant forex gains.
Excellence in Strategy: A sound strategy is pivotal to success in forex trading. Asia Forex Mentor's superior teaching methodology and trading strategies haven't gone unnoticed. AFM emerged at the pinnacle among numerous forex trading courses evaluated by leading forex traders and platforms.
Asia Forex Mentor Members' Testimonials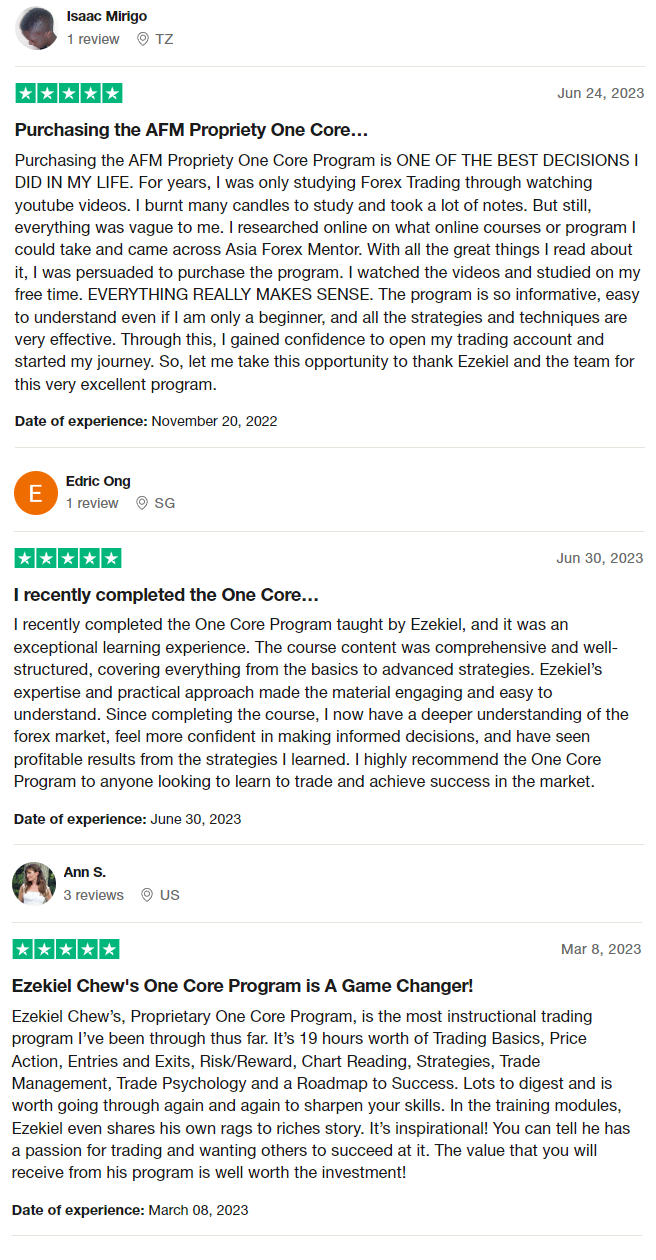 Members of Asia Forex Mentor have consistently lauded the effectiveness of the One Core Program led by Ezekiel Chew. Many attest to the program's transformative impact on their trading journey, emphasizing how it turned vague concepts into actionable strategies.
The course content, from the basics to advanced tactics, has been frequently described as comprehensive, well-structured, and, most importantly, practical.
Ezekiel's hands-on approach and evident expertise make the material engaging and relatable. Beyond just imparting knowledge, he inspires confidence in participants, many of whom have seen tangible, profitable results after undergoing the program.
His journey from struggles to success adds an inspirational touch, reflecting his genuine passion for trading and commitment to helping others achieve similar success.
>> Also Read: Asia Forex Mentor Review By Dumb Little Man
Conclusion: Lux Trading Firm Review
In conclusion, the trading experts at Dumb Little Man have undertaken an in-depth review of the Lux Trading Firm and found several aspects worth highlighting. The firm offers diverse account types to cater to a broad spectrum of traders, from beginners to advanced professionals. The fee structure, primarily derived from profit splits and monthly charges, is transparent, and the absence of withdrawal fees is a definite plus for many traders.
However, potential traders should also be mindful of particular challenges. The daily drawdown and the pressure to consistently hit profit targets can pose significant hurdles, especially in a volatile market environment. While Lux Trading Firm provides a promising platform, traders must understand these intricacies to maximize their trading experience.
Equipping oneself with comprehensive knowledge and strategies is paramount to maximize success with Lux Trading Firm, especially in navigating its evaluation process. Enrolling in top-tier courses, such as Asia Forex Mentor, can significantly enhance one's trading skills and boost the likelihood of passing Lux Trading Firm's rigorous evaluation.
Lux Trading Firm Review FAQs
How does Lux Trading Firm charge its users?
Users are charged based on two primary avenues: a monthly fee depending on the account type and a profit split where Lux takes 25% of the trader's profits.
Are there any withdrawal fees at Lux Trading Firm?
No, Lux Trading Firm does not charge any withdrawal fees. However, currency conversion fees might apply depending on the withdrawal method.
How can one increase their chances of passing Lux Trading Firm's evaluation?
Enrolling in comprehensive courses, like Asia Forex Mentor, can help traders equip themselves with the necessary skills and strategies to navigate and succeed in the evaluation process.
Like this Article? Subscribe to Our Feed!
John is an avid researcher and is deeply passionate about health and finance. When he's not working, he writes research and review articles by doing a thorough analysis on the products based on personal experience, user reviews and feedbacks from forums, quora, reddit, trustpilot amongst others.