Everything You Need to Know about Life Insurance Policy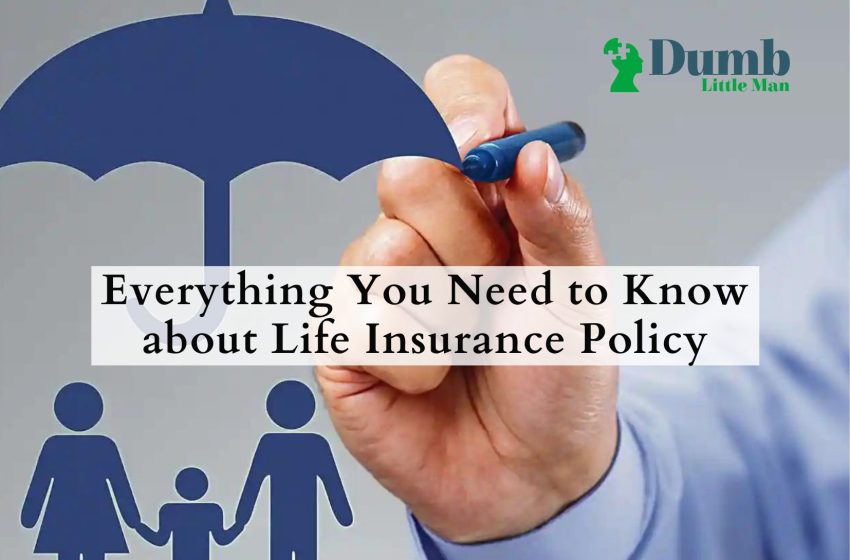 A life insurance policy is a legal agreement between you and an insurance provider. In compensation for your insurance premiums, the insurance company will pay your descendants a lump sum known as a death benefit following your death.
Your beneficiaries are free to use the money anyway they see fit. This sometimes involves paying bills, paying a mortgage, or putting a child through college. Acquiring life insurance as a safety net might ensure that your family can remain in their house and pay for the things you have planned for.
Types of Life Insurance
Life insurance is classified into two types: Term and permanent. Permanent life insurance, such as whole life or universal life insurance, can give lifetime coverage, whereas term life insurance only provides protection for a certain length of time.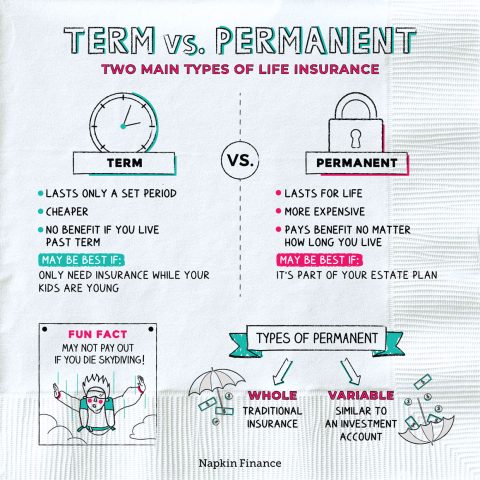 What is Term Life Insurance?
Term life insurance assures the payment of a certain death benefit if the insured dies during the specified term period. Term durations can range from a year to 30 years. Importantly, term life insurance plans have no monetary value until the holder dies during the period. Yet, term insurances are much less expensive than other types of life insurance, such as whole life insurance.
The most common policy lengths are 10, 15, 20, 25, and 30 years. If you die within the policy's term, your beneficiaries can file a claim and receive the death benefit money tax-free. When the policy's term expires, you may be able to renew the coverage in one-year increments, which is known as guaranteed renewability. However, the rate of renewal will increase with each passing year.
According to the Insurance Report, term life insurance is not only the most economical kind of life insurance, but it is also the most common type of life insurance offered. Term life insurance offers coverage for a certain period of time, with premium payments remaining constant throughout the policy's term.
How Term Life Insurance works?
When you purchase a term life insurance policy, the insurance company calculates your premiums based on the policy's value (the payment amount) as well as your age, gender, and health. A medical checkup may be necessary in various instances. Your driving record, current medicines, smoking status, career, hobbies, and family history may all be questioned by the insurance provider.
If you die within the policy's term, the insurance company will cover your descendants the face value of the insurance. Beneficiaries may use this cash benefit, which is usually not taxed, to pay for your healthcare and funeral expenses, consumer debt, or mortgage debt, among other things. Therefore, there is no reimbursement if the insurance expires before your death. You may even be able to renew a term insurance after it expires, but the rates will be adjusted based on your age.
Aside from the guaranteed death reward, term life insurance plans have little value. There is no savings component, as there is with whole life insurance. Term life insurance is often the least expensive type of life insurance available since it gives a benefit for a limited time and just a death benefit. A healthy 30-year-old nonsmoker, for example, may often acquire a 20-year level-premium insurance with a face value of $250,000 for $40 to $50 per month.
Obtaining a whole life equivalent would have substantially higher premiums, maybe $250 to $300 per month or more, depending on the provider. As most term life insurance plans expire before paying a death benefit, the absolute risk to the insurer is smaller than that of a permanent life policy. Because of the lower risk, insurers may pass on cost savings to clients in the shape of cheaper premiums.
Pros and Cons of Term Life Insurance:
Pros:
Beneficiaries will get higher death benefits.
Convertible to full life insurance
Lower rates when you become older
Cons:
When you take out a new term, your premiums may increase.
It is only temporary protection.
At the conclusion of the period, you must re-qualify.
It is difficult to qualify if you have a serious health problem.
The policy has no monetary value.
What is Permanent Life Insurance?
Permanent life insurance covers you for the rest of your life. It costs more than term life insurance since it may continue for the rest of your life and usually generates cash value. The cash value component grows tax-free for the life of the insurance. It serves as the policy's savings component. Normally, you can borrow against the cash value of the insurance or make a withdrawal. If you elect to cancel the insurance, you will get the cash value less any surrender charges.
Some plans cash values may accumulate slowly over time, so don't expect to have access to a large sum of cash straight once. The predicted cash value will be shown on your policy illustration.
Permanent life insurance is an inclusive phrase for non-expiring life insurance coverage. Whole life and universal life are the two main forms of permanent life insurance, and most permanent life insurance combines a death payout with a savings element. Whole life insurance provides coverage for the insured's whole life, and its funds can increase at a guaranteed pace.
Universal life insurance, like term life insurance, has a savings component in addition to a death benefit, but it has distinct premium structures and rewards based on market performance.
Once you've decided on the best policy for you, make sure to properly investigate the companies you're considering to guarantee you obtain the greatest life insurance available.
Whole life insurance: This type provides a fixed death benefit as well as a cash value component that increases at a predetermined rate of return. Many whole life insurance plans give out dividends that may be utilized to lower premium payments or to increase cash value.
Universal life insurance: This is frequently more flexible than whole life insurance. Within certain restrictions, you may be able to change your premium payments and death benefit. Depending on the policy type, the cash value of a universal life insurance policy will grow. A variable universal life insurance policy will usually include investing sub accounts that you may select and control.
Pros and cons of Permanent life insurance:
Pros:
Increases monetary value.
The premium is set.
Cons:
More costly than term life insurance
Death benefit is reduced
What Does Life Insurance Cost?
The cost of life insurance varies greatly based on a number of criteria. The sort of life insurance you get will be one of the most expensive aspects. For example, for the same amount of coverage, a term life insurance policy is much less expensive than a whole life insurance policy. So, contact insurance companies who sell a term life insurance policy, and make things easy for yourself.
How to Determine the Amount of Life Insurance Coverage?
A reasonable rule of thumb for evaluating how much coverage you need is to add up all of the expenditures you want to cover, such as income replacement at work, a mortgage, and education fees for your children.
Subtract the funds that your family could utilize to meet such expenditures, such as savings and current life insurance, from that total. If your spouse will require retirement funds in the future, leave them out.
The outcome is the amount of life insurance you require. It may appear to be excessive, especially if you have accounted for income replacement for several years. Still, because life insurance quotations are free, it doesn't harm to estimate the amount you require.
If it becomes expensive, you can buy what you can now to lock in a decent rate. You can buy more lately, but keep in mind that your rate will be determined based on your age and any health issues you've established many years from now.
How to Select a Beneficiary?
A life insurance beneficiary is the individual who will get the death benefit if you die. You can name numerous beneficiaries and specify how much each will get after you die. You should also include contingent beneficiaries who will get the death benefit if your primary beneficiaries die.
Not everyone identifies individuals as beneficiaries. Some people refer to trusts. You may ensure that the money is spent according to your intentions by establishing a revocable living trust and identifying it as the life insurance beneficiary. For example, trust funds might be used to care for children. If you decide to name a trust as the beneficiary of your insurance, engage with an attorney to properly form the trust. It's also a good idea to consult with a financial consultant to ensure that a trust is part of your overall financial strategy.
It is critical to frequently update and analyze your beneficiary selections. Life events such as marriage or divorce, for example, might influence your choice. Contact your life insurance and submit a change of beneficiary form to amend your beneficiaries. Making modifications to a will alone will not affect life insurance.
What Steps Does a Beneficiary Take to File a Claim?
Claims are normally settled within 30 days after receipt of the relevant paperwork by the insurer. To file a claim, you do not need an original copy of the life insurance policy. To begin the claim, you only need to know the name of the insurance company and contact them.
Claims can be settled quickly in approximately a week if the insurer has all of the necessary papers. Do not expect a life insurance firm to contact you. They are unlikely to be aware that your relative died. While some insurers are attentive in looking for deceased covered clients, they may not detect a death right away. That is why it is important to notify your beneficiaries about your insurance and provide them with the name of the insurer. Furthermore, insurers are contractually required to pay only the persons named on the insurance.
Like this Article? Subscribe to Our Feed!
At Dumb Little Man, we strive to provide quality content with accuracy for our readers. We bring you the most up-to-date news and our articles are fact-checked before publishing.