Learn Lithuanian: Powerful How-To Guide for All Levels In 2023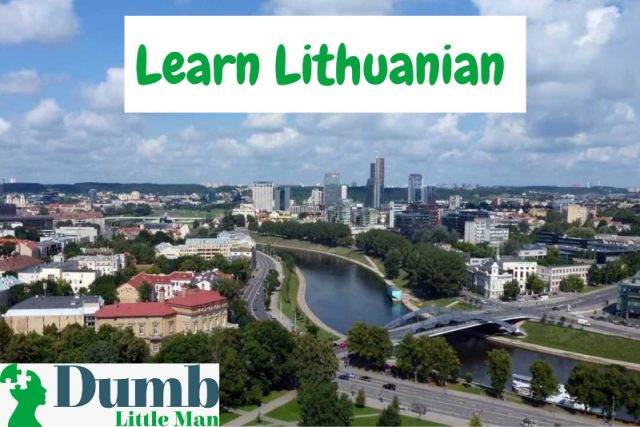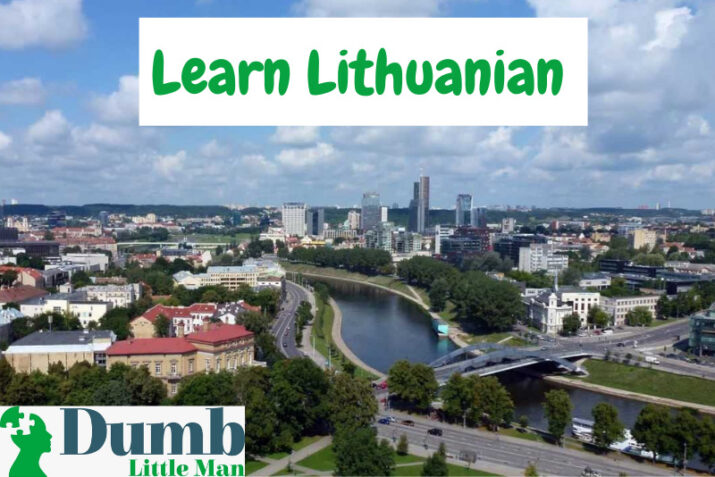 Lithuania is a country with some of the most scenic natural wonders in the world. With nearly 40% of all land covered by magnificent forests, it is home to numerous types of beautiful fauna and exquisite flora. To fully immerse yourself in the wonders provided by the country's beautiful landscapes, learning the Lithuanian language would be considerably rewarding.
When it comes to learning one of the oldest surviving Indo-European languages in history, it is important to understand the language structure first. There are various courses, apps, books, and other resources available to support you in the language learning process.
In this article, we will introduce many of these resources that aim to help make learning Lithuanian enjoyable and give you the practice necessary to read, write, and speak like native speakers.
Learn Lithuanian
Indo-European language
The official language 'Lithuanian' is an ancient one where the publications were banned for decades. However, it has still managed to survive and become one of the oldest languages in the Baltic branch of Indo-European languages in the world.
Latin Alphabet
The Lithuanian language is written using the Latin alphabet. However, very few books managed to survive the test of time and so most of the language was passed down through speech.
Lithuanian History
To effectively immerse yourself in learning Lithuanian, it is important to understand some of the country's long history. Lithuania has spent centuries being ruled by other nations, so it is quite a feat that this archaic language managed to survive.
Russian is the second spoken language for those native to the country. A major reason why Russian is the second most spoken is that during the Soviet Occupation between 1940-1990, Russian was mandatory. As a result, many of those in the older generation are fluent in Russian, whilst many in the younger generation are not fluent.
How Difficult Is Lithuanian?
The Lithuanian language is incredibly complex. For many people, this might be due to its morphological structure. A morphological structure is the internal structure of a word, and every language has a unique structure.
The reason that this language can be difficult to grasp is that the majority of European languages have simplified their morphological structures. However, Lithuania has kept its morphological structure similar to how it was hundreds of years ago.
It is recognized as a difficult language to grasp by the Foreign Service Institute and is considered to be related to Russian in terms of complexity. However, it may be easy to grasp the pronunciation of terms, especially in comparison to languages such as English. Everything in this language is typically phonetically spoken and the correct sentence order is usually as follows: subject-verb-object. This helps balance out the difficulty of the morphological structure.
To learn this ancient and beautiful language, you should understand that it will not be an easy task. It will require copious levels of determination and hard work to feel confident enough to speak with native speakers naturally.
How to Understand the Lithuanian Language
Clearly Define Your Goals
There are several reasons why individuals may wish to gain a better grasp of this language. For example, wanting to move to a new country for business purposes or connect with new friends.
Learning a new language has many proven benefits including improving your ability to think more logically. Depending on your reasons for learning, the level of fluency you should reach will vary. Some people will only need to understand and speak conversational Lithuanian, but others will need to read and write the language. In general, your objectives have an undeniable effect on your estimated learning time and the resources you utilize.
Discover Your Learning Style
Before you start your journey, it would be a wise decision to understand your learning style. Some prefer to work in a traditional pen and paper style while others need more active exercises to speak the language efficiently. There are many different resources you can use depending on your preference.
Make Friends or Language Partners
For those who want to learn more effectively, there is the possibility of finding suitable language partners to help hold you accountable and encourage you to continue with your courses. Friends and family in your real life may also be supportive in reminding you to continue studying.
Define How Much Time to Dedicate to Studying
An important point to consider when looking at how you grasp this romantic language is the amount of time you can dedicate to studying. Most people do not have hours upon hours per day to spend on this goal due to other responsibilities.
Even if you have half an hour to spare a day, that is sufficient time to become a good speaker in the long run. It is important to be dedicated and to have a routine where you can maximise your language learning potential. Other people may also find it helpful to create a study plan to hold them accountable for their routine.
Understand That Learning Lithuanian Will Be a Difficult Task
Setbacks are a natural part of the learning process. However, if everyone gave up when experiencing setbacks then nothing would ever be achieved. It is prudent to build your determination and resilience to ensure that you achieve your goal.
Always take a few minutes to look back on how far you have come and how much you have achieved because no matter where you are on your journey, you should take pride in your achievements.
Resources For Learning the Lithuanian Language
There are several apps to help you become proficient in the language. Classes that you can take in person at your local school and college are also plentiful in many places, and this will help you to practice speaking to other people.
Reading articles, books, and texts will give you a more extensive understanding of the language. This is likewise true for watching movies in Lithuanian to help you understand the normal, conversational Lithuanian that people speak every day. Engaging and well-written shows also have the advantage of helping you adapt to diverse accents and dialects.
Classes And Exchanges
Language classes are available in most cities, and it might be helpful to contact your local schools and colleges to check what classes they have available. Although classes can be hard to find in certain locations, being able to regularly converse with other learners will enable you to become used to hearing the language. Classes can be expensive and if it is out of your budget, there are alternative websites and resources available at a cheaper cost.
Language exchanges include sites where you can connect with other people who are also learning Lithuanian. Alternatively, you can hire a native speaker to help you understand specific vocabulary and grammar. This is a brilliant way to put into practice what you have already learnt.
Classes and exchanges can also be a wonderful way to make friends who share the same passions. Such friends may be inclined to practice speaking the Lithuanian language and so allow you to succeed together.
Private Tutors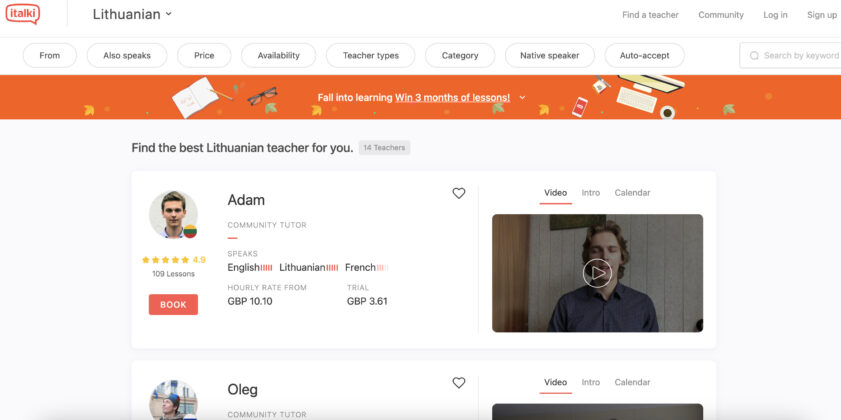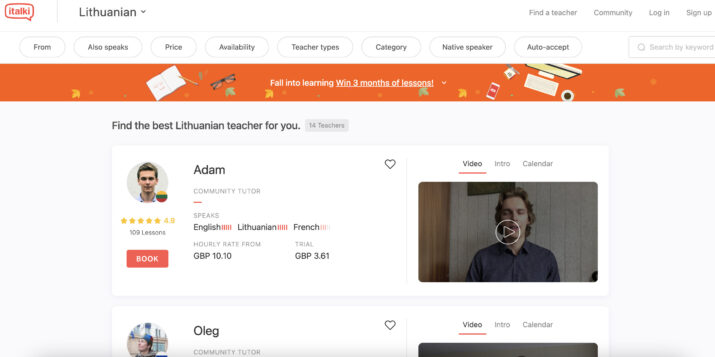 Image from italki.com
Italki allows you to book a highly educated private tutor and gives you total control of whoever you hire. Italki is overall a great resource for anyone at any proficiency level. There are also forums to ask questions and get feedback on your writing.
Before making a payment, you can utilise their free trial to ascertain the suitability of their tutors. However, based on our experience with the app and other verified reviews from long-term users, the quality of their tutors and the value provided by this platform is commendable.
CLICK HERE TO READ MORE ABOUT TALKI
2. Justlearn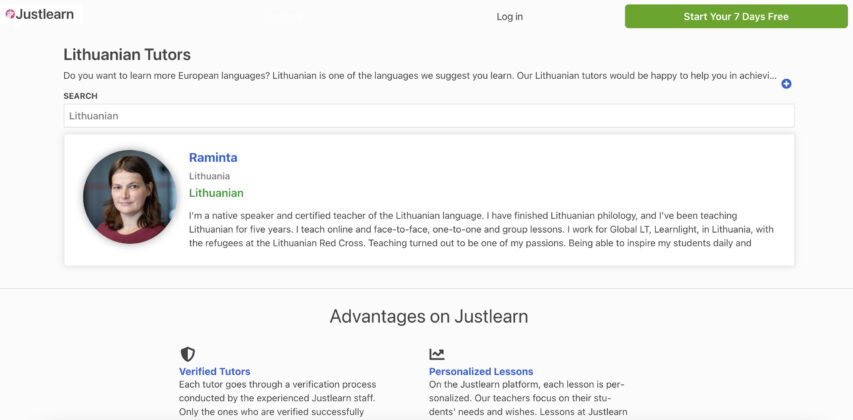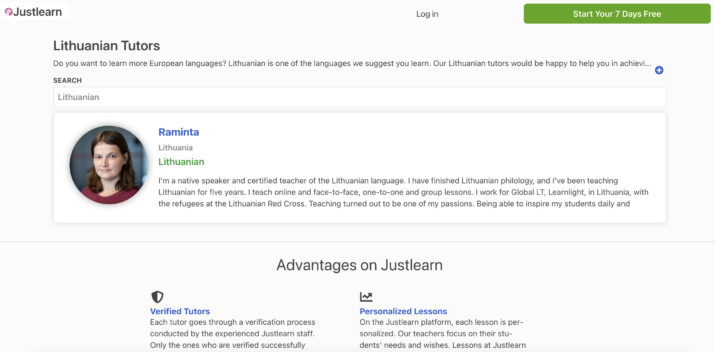 Image from justlearn.com
Justlearn is a site where you can hire tutors to teach you Lithuanian using customised lesson plans. It is cost-effective and gives you a flexible schedule. Certain tutors also have quizzes to help you practice your newly learnt vocabulary and other materials that will help you build your proficiency.
All classes are completed through ZOOM which can be accessed through both your mobile and desktop. This makes it convenient to reach your tutors who have been through several stages in Justlearn's lengthy verification process.
CLICK HERE TO READ MORE ABOUT JUSTLEARN
Preply operates with six fundamental values that include having a diverse and talented team. The team members have been highly trained and understand that ensuring the satisfaction of their clients is the top priority. At present, there are three top-rated tutors available whose prices range from £11-£26 per hour.
Regardless of your budget, under the tutelage of any one of their experienced tutors, you can improve several of your capabilities and become highly proficient at a comfortable pace.
CLICK HERE TO READ MORE ABOUT PREPLY
Forums and Q&As
1. HiNative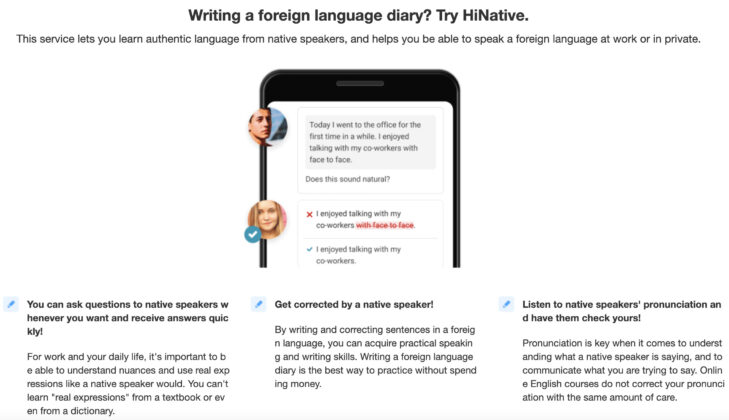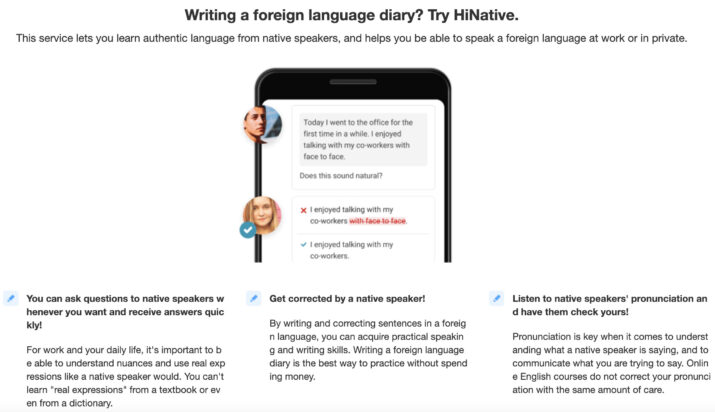 Image from hinative.com
HiNative is one of the best resources for learning Lithuanian. It is essentially a question-and-answer website and app that is free for you to access. For those who wish to pay for the premium version, it will give you access to several videos and audio featuring native speakers.
CLICK HERE TO READ MORE ABOUT HINATIVE
2. Talk Like Antanas
Talk Like Antanas provides courses, video lessons, exercises, grammar explanations, and one-on-one lessons. There is an additional writing course on Facebook so every month you can submit five writing tasks to be marked by experts. There is also a forum service for you to ask questions and get answers from other learners.
CLICK HERE TO READ MORE ABOUT TALKLIKEANTANAS
3. WordReference Forums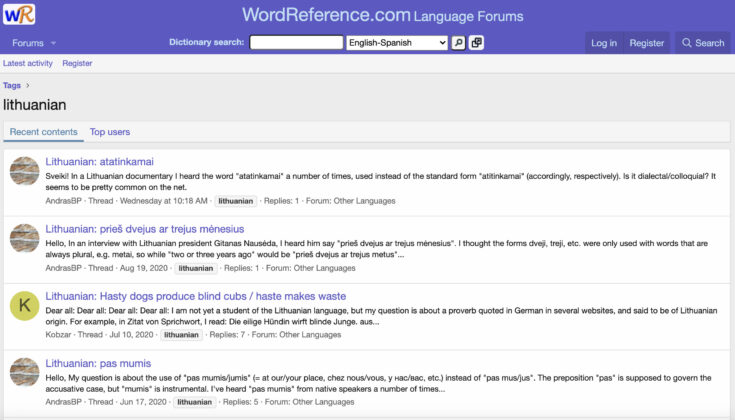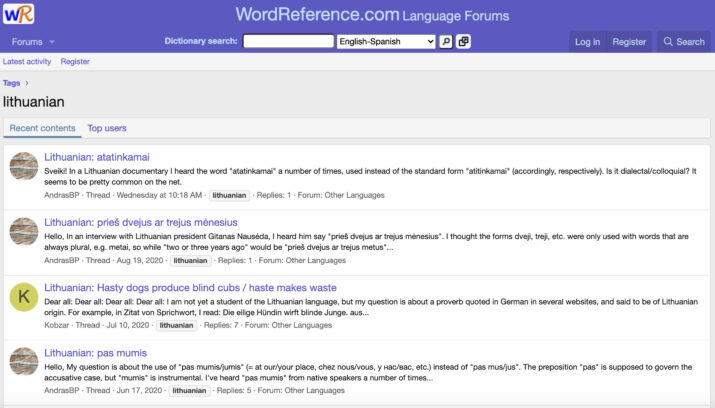 WordReference Forums enables you to ask questions and also receive translations. It is an easy-to-use website and there are senior members who often help to answer your inquiries. However, it is worth noting that the replies you receive may not be from those who are completely fluent. As a result, it is important to double-check the information you have received.
CLICK HERE TO READ MORE ABOUT WORDREFERENCE
Language Exchanges
1. HelloTalk
HelloTalk is a resource where you can send messages or call other individuals to practice your Lithuanian. Speaking regularly with someone fluent should help you practice and become more confident in speaking to others.
CLICK HERE TO READ MORE ABOUT HELLOTALK
2. Speaky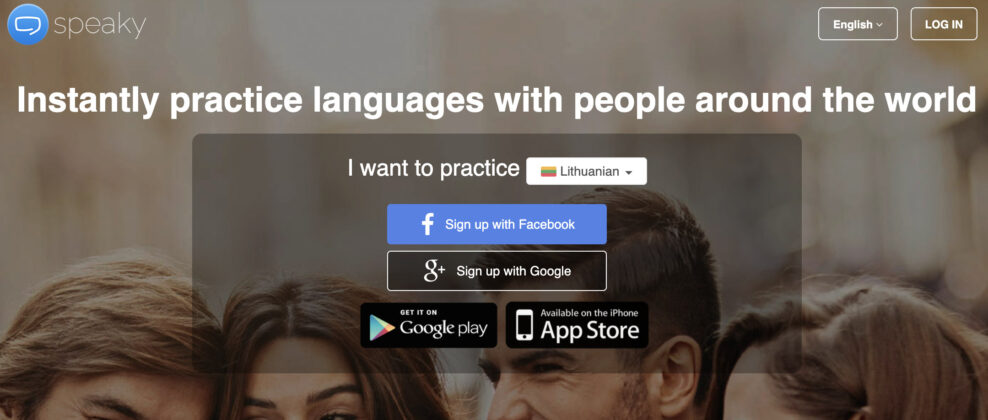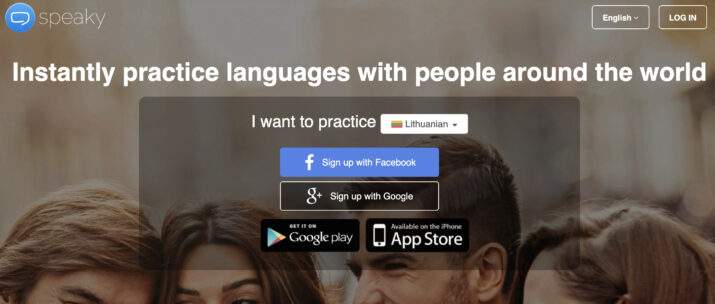 Image from speaky.com
Speaky is similar to HelloTalk where you can talk to other people who are also practising Lithuanian. It is a convenient way of reaching those who share many of your interests and goals across 180+ countries all over the world.
CLICK HERE TO READ MORE ABOUT SPEAKY
3. Tandem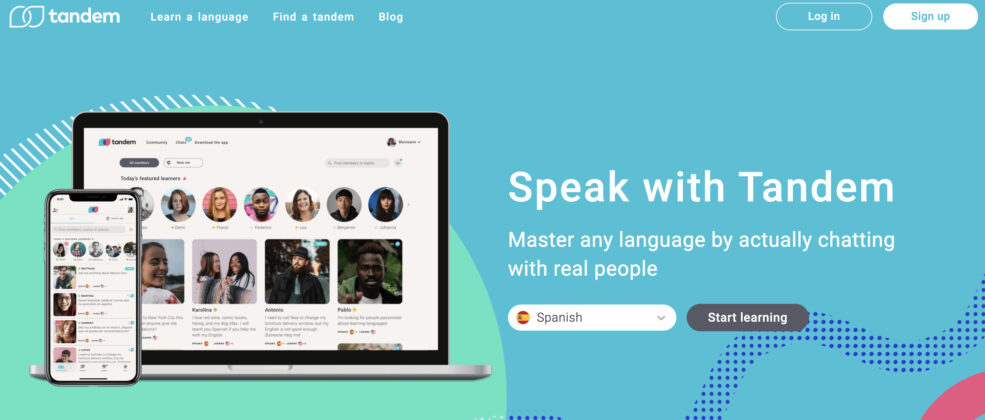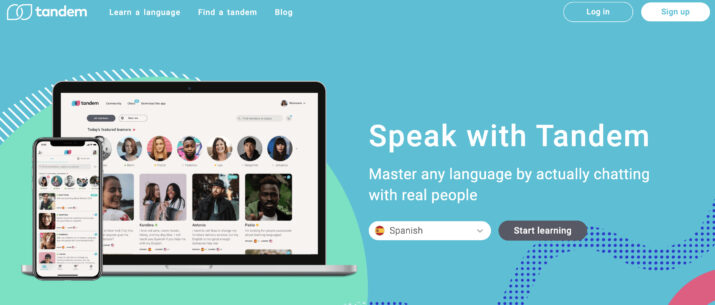 Image from tandem.net
Tandem has innovative messaging tools to help you to find and communicate with capable speaking partners who share similar goals. If you are willing to invest you can upgrade the app to get many more features that have been advocated by existing users.
CLICK HERE TO READ MORE ABOUT TANDEM
Online And App-based Courses
There are several apps available that contain entertaining games and activities to help their users form solid foundations in the Lithuanian language.
1. Ling Lithuanian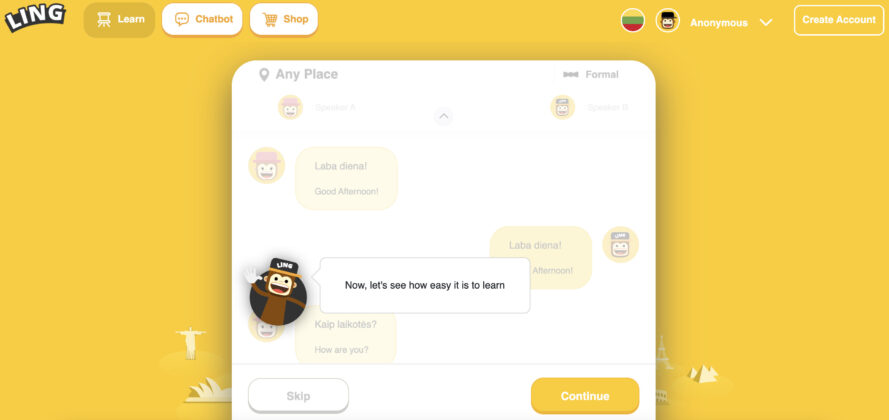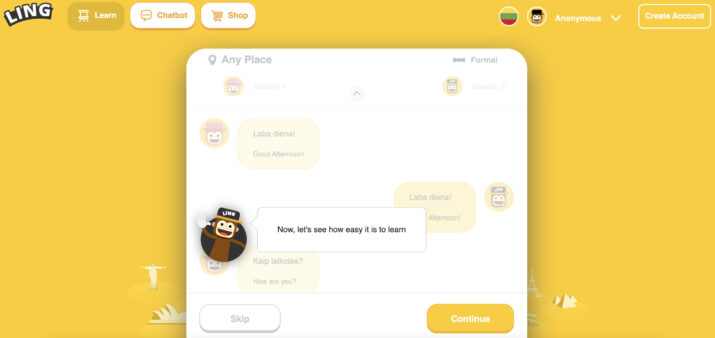 Image from ling-app.com
Languages can be difficult to understand and depending on your methods of learning, you may become demotivated to continue. This uses entertaining activities to help you memorize Lithuanian and give you the motivation to continue expanding your mastery. The course introduces a way to learn through enjoyable games that introduce new vocabulary, intriguing dialogues, and complex grammar structures.
The introductory tutorial contains simple text and how it is pronounced both at a normal pace and a regular pace. The user interface is vibrant, and the use of cartoon-like images makes the quizzes feel more entertaining.
CLICK HERE TO READ MORE ABOUT LING LITHUANIAN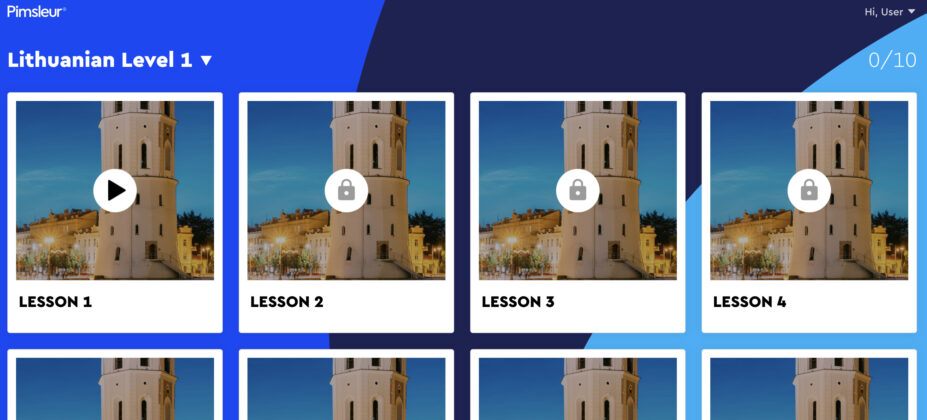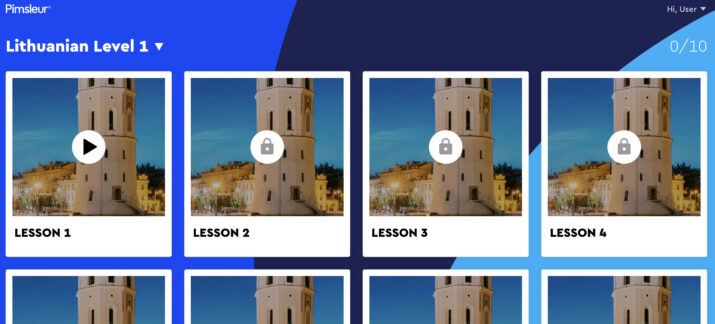 Image from offers.pimsleur.com
Pimsleur is a course designed for those who found language learning tedious, repetitive and did not enjoy having to memorise grammar and spelling in a 'pen and paper' style. The founder created interesting activities, so learners are more likely to stay committed to their goals. Users can hear expressions pronounced fluently and translations in English to help enhance their proficiency.
CLICK HERE TO READ MORE ABOUT PIMSLEUR
3. Glossika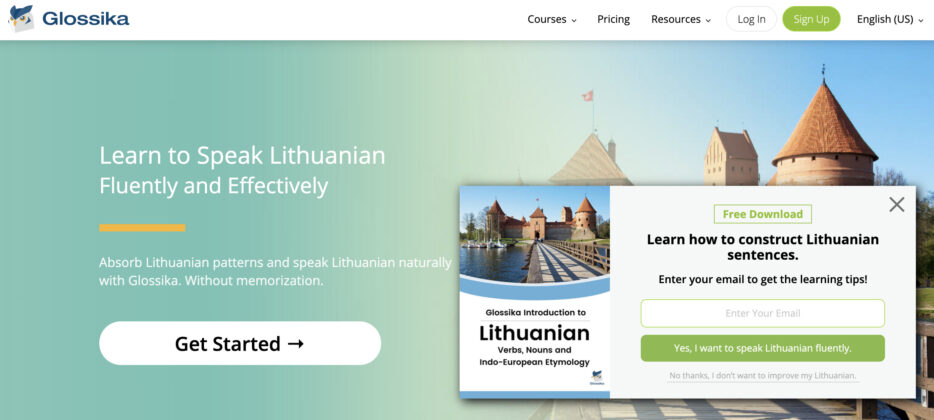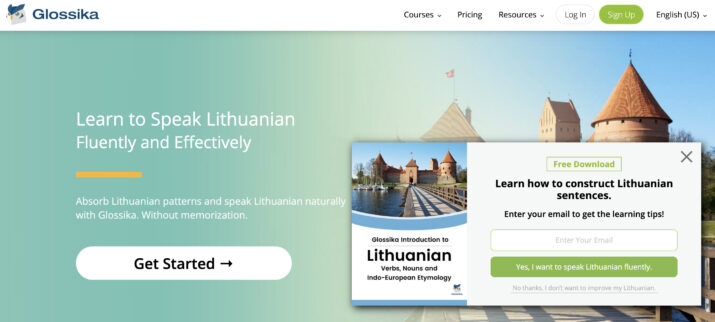 Image from ai.glossika.com
Glossika is an AI-based adaptive training course. It aims to get rid of the typical grammar and vocabulary-based sessions that have often been described as dull and monotonous. Through Glossika you can build your confidence in speaking Lithuanian with fluent speakers from all over the world.
Glossika provides a way of studying where you do not need to completely focus or use your hands. It enables you to easily complete other tasks or chores whilst still studying Lithuanian at a pace that is appropriate for your objectives.
CLICK HERE TO READ MORE ABOUT GLOSSIKA
4. Unofficial Memrise courses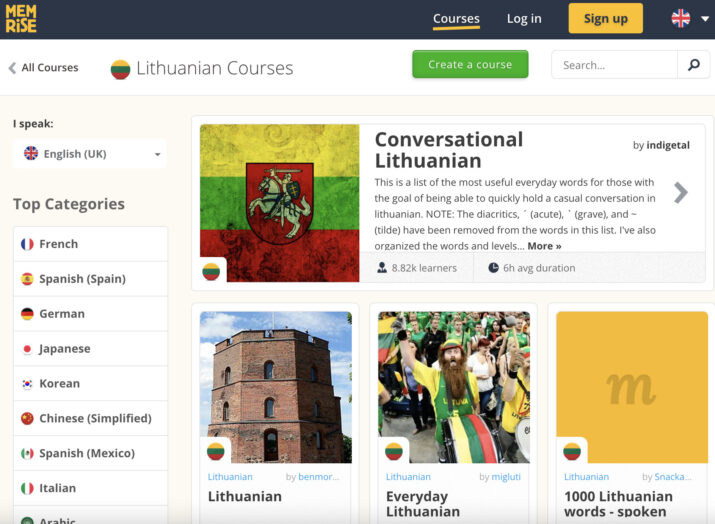 Image from app.memrise.com
These Courses are plentiful and varied. To help beginners form solid foundations in the Lithuanian language, there are several that cover a wide array of manageable topics. Such topics include courses like 'Lithuanian Conjugation', 'Food!', 'Personal Pronouns', and many others. This variety enables you to choose a subject appropriate for your aims.
CLICK HERE TO READ MORE ABOUT MEMRISE
5. I Kinda Like Languages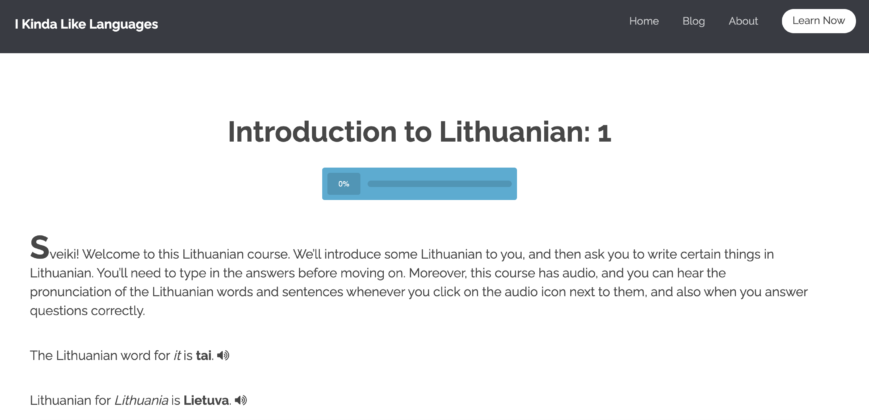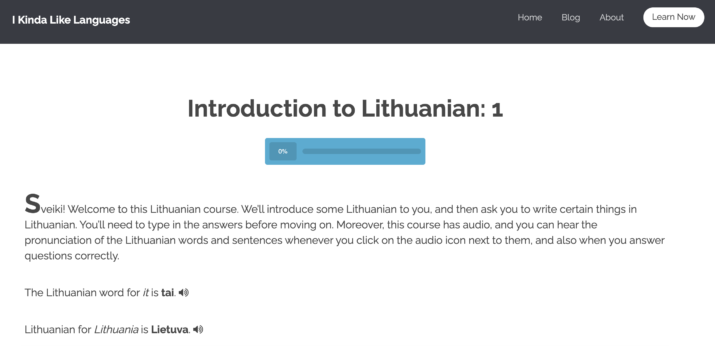 Image from ikindalikelanguages.com
I Kinda Like Languages is the perfect resource for complete beginners. With brilliantly crafted and engaging courses taught by volunteers, this resource is ideal for improving your overall proficiency. It contains introductory courses that are entirely without fees or sign-in barriers that may be uninviting to users.
The introduction activity has 75 questions where you hear the pronunciation for certain words and then type in how it would be written in Lithuanian. This improves your literacy, listening comprehension, and understanding of the complex expressions used in sentences.
CLICK HERE TO READ MORE ABOUT I KINDA LIKE LANGUAGES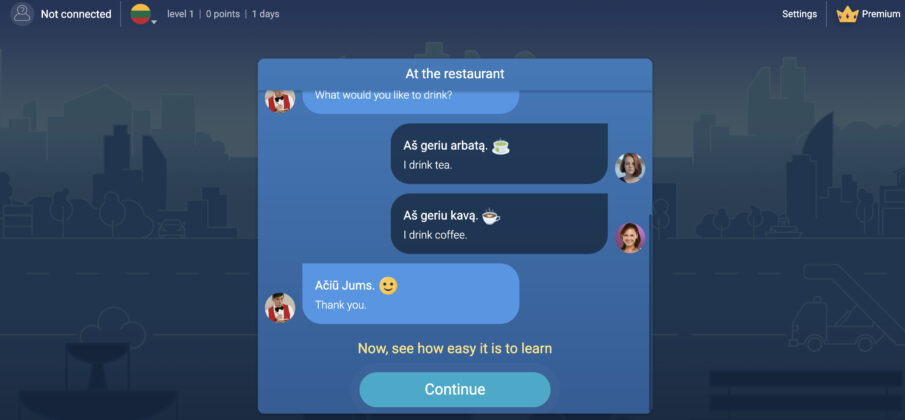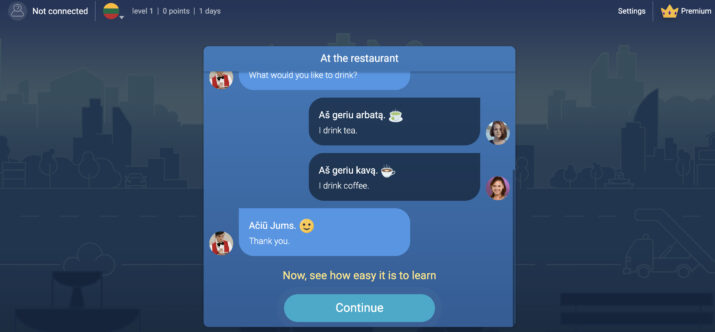 Image from mondly.com
Mondly is a downloadable app used by over 50 million people worldwide. It contains fun games and numerous activities that are suitable for beginners. The use of realistic dialogue and pictures of real-life objects and people are helpful for enabling users to become more immersed in the conversations and quizzes.
Furthermore, the user interface is pleasant and easy to navigate. Despite these advantages, we did notice that completing the exercises became more repetitive in the long run.
CLICK HERE TO READ MORE ABOUT MONDLY
7. Debesėlis
Debeselis is a catalogue of word lists in the Lithuanian language. There are over 200 word lists available created by many different users and each word can be rated by the readers.
8. Talk Like Antanas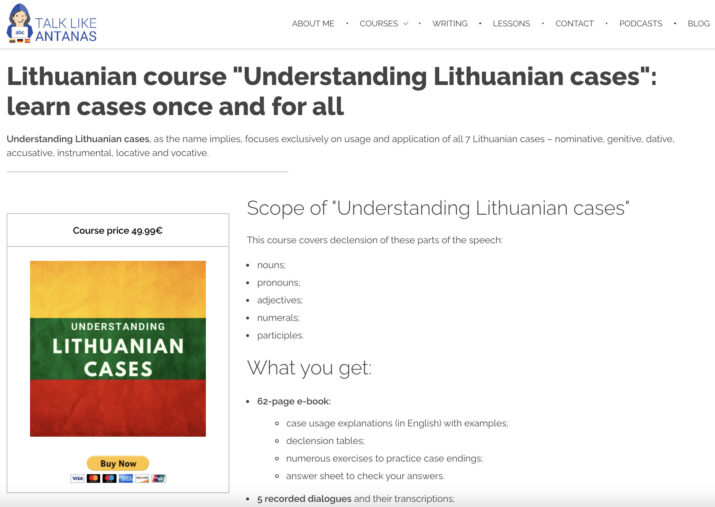 Image from talklikeantanas.com
Talk Like Atanas was mentioned earlier but it also has a podcast service. Perfect to have in the background like when you are doing your grocery shopping or on the bus.
CLICK HERE TO READ MORE ABOUT TALKLIKEANTANAS
9. Instant Immersion
There are two purchasable courses available with Instant Immersion. Although there is a 90-day money-back guarantee, there isn't a free trial, and it can be quite pricey. As a result, we recommend that you try other courses first.
CLICK HERE TO READ MORE ABOUT INSTANT IMMERSION
Vocabulary Builders and Word Games
1. TrueLithuania
TrueLithuania is a dependable website if you wish to acquire more knowledge about the country. It has lists of commonly used terms that any beginner needs to have in their dictionary to be able to hold a full conversation.
CLICK HERE TO READ MORE ABOUT TRUELITHUANIA
2. Loecsen
Loecsen is an exceptional app if you are looking to improve your pronunciation and understand the Lithuanian language for travel purposes. This explains the terms you need to know if you are travelling using an interesting and engaging methodology.
It has 17 themed word lists to search through depending on your location. There is also an option for you to achieve more solid pronunciation through an advanced feature where you can record yourself saying the lines.
CLICK HERE TO READ MORE ABOUT LOECSEN
3. 50 Languages
50 Languages offer many valuable programs and specialize in helping you build new vocabulary. There are 100-word lists available for you to browse through and an option to hear them out loud. Lastly, you can test what you have learnt by using the hide and show toggle.
Self-testing is an exceptional method of recognizing what you have learnt and understanding what you need to practice. It is advisable to regularly test yourself throughout your journey to build your metacognitive skills and feel a sense of accomplishment after studying and 50 languages is a brilliant resource to help you with this step.
CLICK HERE TO READ MORE ABOUT 50 LANGUAGES
4. Learn Lithuanian Free
To encourage you to become more familiar with words, they are presented phonetically by a native speaker through this resource. Some features allow you to play games and complete quizzes to apply what you have learnt and test the knowledge you have gained.
CLICK HERE TO READ MORE ABOUT LITHUANIAN LEARNING
5. Clozemaster
Clozemaster activities test you to see if you can recognise a blank word from completely random sentences. It is one of the few apps that lets you test and enhance your word recall and recognition.
Many websites just test your word recognition, so this is a particularly valuable speciality. However, a downside of this app is that it does not cater to different levels of ability. Once you have mastered their content, it may no longer be advantageous. Though this resource is excellent for beginners and intermediate learners, it is not particularly beneficial for advanced learners.
CLICK HERE TO READ MORE ABOUT CLOZE MASTER
6. Babadum
Babadum tests spelling and word recall through gamified activities where various pictures are presented to the user. The intention is that users must select the correct letters and then spell the word associated to the photograph. Some of the images can be harder to recognize and at points, the only hint given is the number of letters included in each word.
CLICK HERE TO READ MORE ABOUT BABADUM
uTalk contains games for you to enhance your memory. Certain games are more difficult than others and depending on your proficiency, you may find certain activities more useful.
There is also the option of recording yourself running through the phrase lists and listening to those who are fluent in the language say the words and phrases clearly and articulately. As a result, you can quickly become more used to different accents and pronunciations.
CLICK HERE TO READ MORE ABOUT UTALK
8. Anki
Anki gives you the ability to make your own customised flashcards. You can also download pre-made sets from other people. You can also make flashcards with videos, photos, and audio so you can hear people speaking and also improve your pronunciation of complex terminology.
CLICK HERE TO READ MORE ABOUT ANKI
Online Conjugators and Grammar Sites
1. Cooljugator
Cooljugator has thousands of verb tables so you can check that you have used them correctly with the right grammar. It also helps you check if a verb is regular or irregular as well as understand the difference between difficult words.
CLICK HERE TO READ MORE ABOUT COOLJUGATOR
2. Vytautas Magnus University
Vytautas Magnus University has many useful tools. One of these is a morphological annotator which helps you ascertain the structure and form of a word. This feature is essential when you are becoming familiar with Lithuanian. This is because one of the reasons it is such a difficult language is that it is the only Indo-European language where the morphological structure hasn't changed since the language began.
3. Gramtool
Gramtool is a unique resource for those who are familiar with the programming language Python. This resource identifies specific expressions and gives you thorough explanations on that phrase such as the grammar structure.
Unfortunately, Gramtool is only useful for those who already have coding experience as it can be difficult to install this library and even read the instructions.
Lithuanian Textbooks and Reference Books
Beginner Textbooks
1. Easy Lithuanian
If you are a beginner, you may benefit from looking into Easy Lithuanian. It is a textbook used in many courses because it is so simple and easy to understand. It is the perfect book for people who like the modern-day examples and explanations that they have given. You can also get an audiobook with this, which can be beneficial for pronunciation.
CLICK HERE TO READ MORE ABOUT EASY LITHUANIAN
2. Colloquial Lithuanian
Colloquial Lithuanian is another textbook with exercises to back up what you have learnt as well as grammar explanations. However, some of the vocabularies can be dated and they are online audio files you can access for free.
3. Nė Dienos Be Lietuvių Kalbos/Not a Single Day Without Lithuanian, Volume 1
Nė Dienos Be Lietuvių Kalbos/Not a Single Day Without Lithuanian, Volume 1 is another good textbook, but it is entirely written in Lithuanian. As a result, you will likely need a teacher or some prior understanding of Lithuanian.
4. Complete Lithuanian (Teach Yourself)
A well established textbook is Complete Lithuanian (Teach Yourself). It promises to take you from beginner to intermediate-level proficiency. Sometimes it does lack English explanations so you may need another book or translation service to help yourself through it.
5. Teach Yourself Lithuanian
A great book for grammar explanations is Teach Yourself Lithuanian. Grammar is far harder to grasp in comparison to new vocabulary because you have to understand the rules and be able to translate them to different situations, so this book will help you through.
Intermediate and Advanced Textbooks
1. Nė Dienos Be Lietuvių Kalbos/Not a Single Day Without Lithuanian, Volume 2
Nė Dienos Be Lietuvių Kalbos/Not a Single Day Without Lithuanian, Volume 2 covers vocabulary, spelling, and grammar. While it is quite useful, this textbook can be difficult to source and gain access to.
2. Practical Grammar of Lithuanian
This textbook is suitable for helping you to understand the grammar rules that can be very complex and confusing for new learners. We advise that you purchase the more recent version instead of the 2008 version if you choose to buy this textbook as it does contain more updated text.
Podcasts and Audio Classes
Such courses are powerful resources. They allow the audience to listen to how the language is spoken when they are busy with regular chores. While going about your day you can train your brain to subconsciously become more used to Lithuanian.
1. Lithuanian Out Loud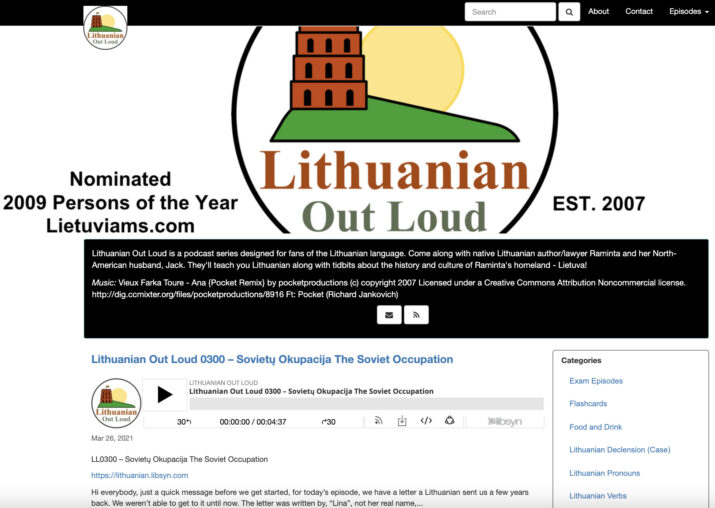 Image from lithuanian.libsyn.com
Lithuanian Out Loud is a podcast with around 300 episodes ready for you to listen to. While there are no new episodes being uploaded, the existing episodes have feature content. Listeners can hear the words in English and then Lithuanian to master their understanding.
CLICK HERE TO READ MORE ABOUT LITHUANIAN OUT LOUD
2. Real Lithuanian Podcast
Patreon-supported podcasts are not uncommon, and the Real Lithuanian Podcast can be accessed through that site. This podcast has multiple episodes that tell short yet entertaining stories. It also provides transcripts for you to practice reading.
CLICK HERE TO READ MORE ABOUT REAL LITHUANIAN PODCAST
3. Talk Like Antanas
Another podcast on Patreon is Talk Like Antanas who also makes Lithuanian podcasts as well as transcripts. The only thing about Patreon is the content is for a monthly fee, so you will have to pay for access.
CLICK HERE TO READ MORE ABOUT TALK LIKE ANTANAS
4. Flyent
Flyent is an audio course that lets you hear to Lithuanian texts, however, there are only five free texts.
CLICK HERE TO READ MORE ABOUT FLYENT
5. Colloquial Lithuanian
Colloquial Lithuanian has 52 audio tracks that follow the book 'Colloquial Lithuanian'. The book was written by highly educated teachers and the accompanying audio files are downloadable for use offline.
Fiction Books
When it comes to learning Lithuanian, reading books may be a highly effective method for certain learners.
1. Interlinear Books
Interlinear Books contains established short stories in Lithuanian as well as English. The original text is displayed in bold, and the accompanying English translation is written in smaller text below.
For a smooth and straightforward introduction to reading, Interlinear Books is an excellent start. It has books by Jonas Biliunas, one of Lithuania's most famous authors. However, some of these works are modernised, for those searching for authentic books, it may require more searching.
CLICK HERE TO READ MORE ABOUT INTERLINEAR BOOKS
2. Lithuanian folklore
Another good option is to look into traditional Lithuanian folklore. In the past, many authors used fables to pass the censorship laws set by the Soviet Union, so there are plenty of such texts to read through.
3. Lietuviai prie Laptevų jūros
Lietuviai prie Laptevų jūros by Dalia Grinkeviciutes depicts the account of an individual who has unfortunately experienced being in a Soviet labour camp.
4. Ričardas Gavelis
Another well-known and well-loved author is Ričardas Gavelis who is famous for his collection of short stories and novels that have been translated into many different languages.
5. Silva Rerum
The series called Silva Rerum by Kristina Sabaliauskaite contains accurate historical portrayals that might be a little difficult to read for beginners.
YouTube Channels
1. Lithuania For You
This frequently updated YouTube channel has a wide variety of videos. The content available is divided into several playlists for you to browse through and the host speaks clearly and succinctly throughout each video.
2. LaisvėsTV
A great way to hear conversational Lithuanian is to watch the videos made by LajsvesTV. Their videos are entertaining, and the channel is often updated so there is plenty of new content to watch.
3. Proto Industrija
For those who are learning Lithuanian for business purposes, Proto Idustija is a fantastic resource. Many of their videos are more than 1 hour long, however, it is important to note that this may not be suitable for beginners or even lower-intermediate learners.
TV Shows
1. Lithuanian television shows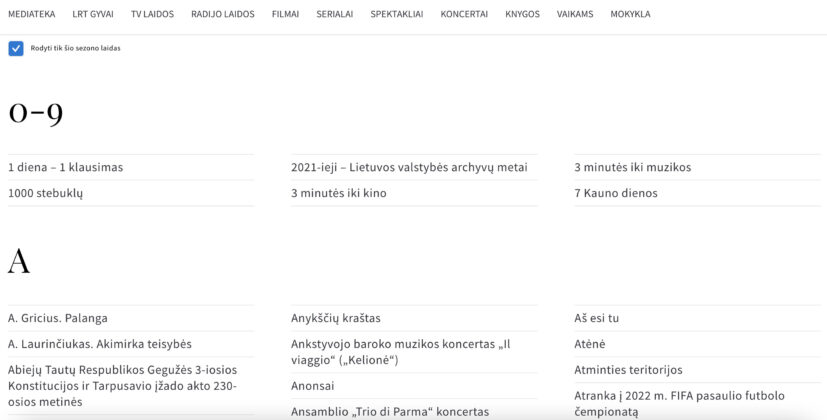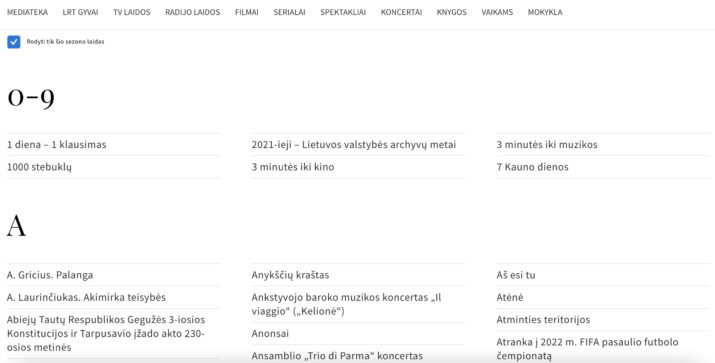 Image from lrt.lt
We have already mentioned how important it is to watch Lithuanian media to understand the culture and hear people talking in a fast-paced and natural conversation.
If you are looking for a large selection of media content, you have the option of watching thrilling shows from LRT
2. Talk Like Antanas
Talk Like Antanas has a playlist called 'Lithuanian cases' which has six videos. Although the videos are short, they are comprehensible and thus good for beginners.
CLICK HERE TO READ MORE ABOUT TALK LIKE ANTANAS
3. Žinių radijas
When you feel you understand enough of the vocabulary to move onto content designed for native speakers and those who are fluent in the language, you may wish to consider Žinių radijas. Consuming content designed specifically for those native to the country enables you to get a good understanding of their use of slang and grammar. This resource is frequently updated and can also be good for beginners.
CLICK HERE TO READ MORE ABOUT ZINIU RADIJAS
Music, News, and Other Resources
1. Lithuania 100 Spotify playlist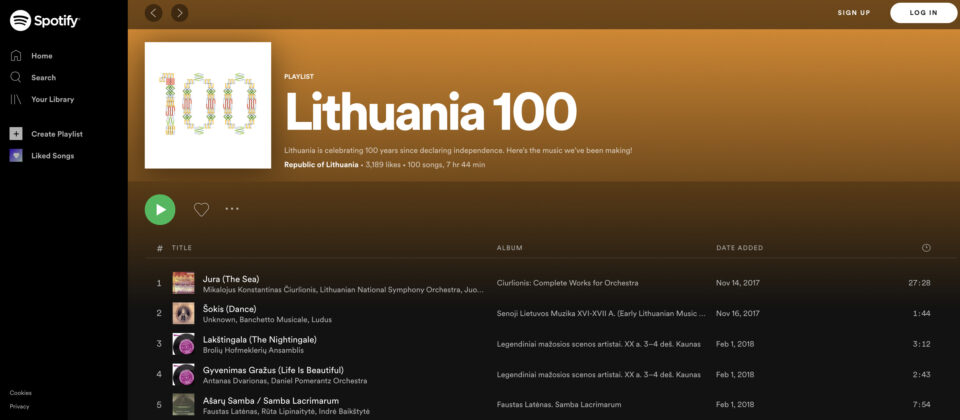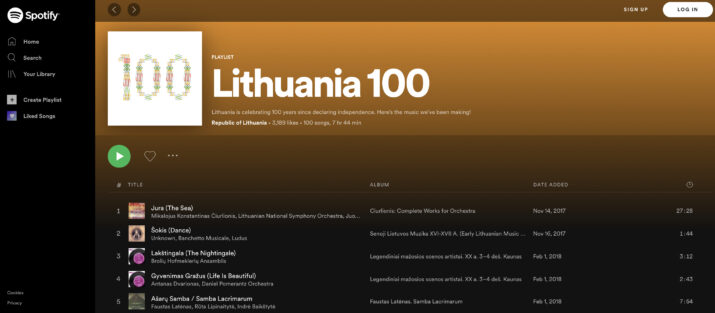 Image from open.spotify.com
The Republic of Lithuania has an official Spotify account with a playlist featuring many old and new songs. There are 100 songs in total and a listening time of 7 hours and 44 minutes to celebrate 100 years of independence.
CLICK HERE TO READ MORE ABOUT LITHUANIA 100 SPOTIFY PLAYLIST
2. Manga Method
Manga Method helps you learn a new language through translations of comics and manga. For those who want easy to read content and pictures to help them become immersed in the story, this is an ideal resource.
3. LingvoSoft Online Dictionary
LingvoSoft Online Dictionary will give you an accurate translation of Lithuanian words.
CLICK HERE TO READ MORE ABOUT LINGVOSOFT ONLINE DICTIONARY
4. Forvo
Throughout your journey, you are likely to encounter several new vocabulary. The issue when reading this is that you cannot hear how the words are pronounced, so Forvo will be your new best friend.
CLICK HERE TO READ MORE ABOUT FORVO
5. Readlang beta version for Lithuanian
An amazing web app and chrome extension are Readlang Beta Version for Lithuanian. It translates phrases and lets you create your own set of flashcards. This resource also gives you the ability to upload videos and texts and similarly to Anki, you can download flashcards created by other learners.
Flashcards provide a way to learn more efficiently. For example, it allows you to build your vocabulary list, review how well you have memorised a specific word, create a quiz to review your general comprehension, or even learn on the go through creating cards of basic phrases.
CLICK HERE TO READ MORE ABOUT READLANG
News Sites
To help you immerse yourself in the culture, you can read online Lithuanian news. This will help you to improve upon many of your language competencies, for example, reading and literacy.
1. LRT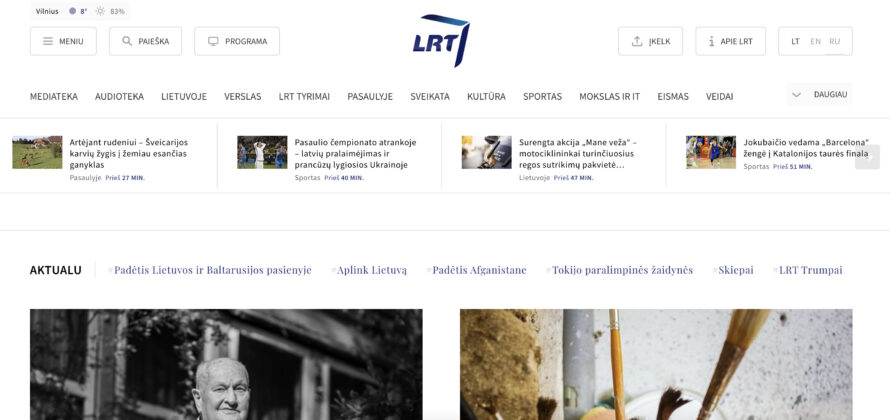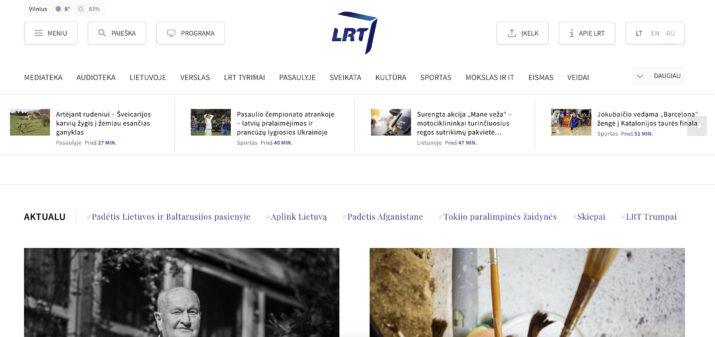 Image from lrt.lt
LRT articles have many photographs accompanying each story, this makes it easier for readers to understand certain sections of the text. It is written in simple language and is thus easier to read.
CLICK HERE TO READ MORE ABOUT LRT
2. Delfi
Delfi has several news articles on various topics. Readers have the option of listening to the accompanying audio and printing the article to either read later or make notes with.
CLICK HERE TO READ MORE ABOUT CLICK HERE TO READ MORE ABOUT DELFI
3. 15min
15min can be difficult to navigate through for beginners. Each story is accompanied by tags which helps you to filter through the articles and read ones that you are interested in. There are also plenty of pictures to help you make sense of the story and give context to the article.
CLICK HERE TO READ MORE ABOUT CLICK HERE TO READ MORE ABOUT 15 MIN
4. Lietuvos Rytas
Lietuvos Rytas is a typical news site that covers sports, events going on around the world, and business-related stories.
CLICK HERE TO READ MORE ABOUT LIETUVOS RYTAS
Lithuanian Language Courses to Avoid
1. Transparent Language
Transparent Language is a course that is used by governments, schools, and libraries to help students make progress in their language learning journeys.
It is useful when many people are using it, however, it is costly. It does not provide enough content or dive deep into the language to be worth the price.
CLICK HERE TO READ MORE ABOUT TRANSPARENT LANGUAGE
2. Cudoo
In comparison to other resources, Cudoo produces basic content that is often taught at an expedited rate. For beginners, it can be difficult to keep pace with and is overall not enjoyable and the vocabulary taught does not appear to be substantial enough for learners to become fluent.
CLICK HERE TO READ MORE ABOUT CUDOO
3. 17 Minute Language
17 Minute Language uses spaced repetition and audio to teach Lithuanian. However, a disadvantage is that the content that is produced can be dull and demotivating. Furthermore, there was also a significant number of errors.
CLICK HERE TO READ MORE ABOUT 17 MINUTE LANGUAGE
Conclusion
This ancient Baltic language may not be the easiest to grasp fully, however, with the right resources you can make so much progress in your speaking, reading, writing, and listening. Regardless of your reason for improving your proficiency in Lithuanian, there are plenty of materials that would suit your learning style and proficiency level.
No matter what stage of proficiency you are in your journey to grasp this ancient language, there is always room for improvement. For example, you could continue to expand your vocabulary or even put your literacy skills to use through writing a book. Overall, learning Lithuanian is likely to be very rewarding by giving you more career opportunities or allowing you to make great friends.