Top 5 Best Learning Language Apps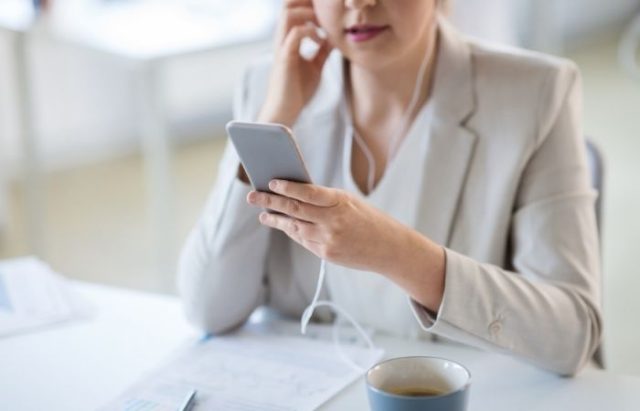 Whether you want to learn a foreign language so you can watch that movie without subtitles or communicate with the locals fluently when you travel abroad, you will most likely need a language learning app to get started. You might even be interested in widening your knowledge, in which case, learning a new language is the closest thing to taking a new course.
A good language app should be able to guide you through the basics of your new language, at the very least. Language apps do everything a physical tutor can: help you acquire the right vocabulary, enhance your grammar, and probably even attain fluency. They are conveniently low-budget and you can even sign up for several languages.
There are tens of language learning apps out there and while some of them are great, others may end up being a waste of your time and money. That is why we have put together the top five learning language apps on our radar. You can learn wherever you are and most importantly, speak like a local in record time.
Babbel
Babbel is one of the most beginner-friendly language apps you can find. It is like signing up for an elaborate school module. The app's basic structure makes you feel that learning your new language is not as complicated as you think.
Every class includes synonyms of the word or expression, the different ways to apply them, and translations. It also shows if a term is formal or slang. If you are required to do any spelling, the app displays the letters that constitute it.
It is really committed to helping you learn the most you can by showing you how you can use the words you have studied in regular dialogues. You can turn on the audio to listen to the words being spoken out loud or even repeat the clauses until you know them by heart.
The classes are fifteen minutes long: perfect to work around a busy school or work schedule. What's more? You can monitor your progress from within the app. It is free but you can subscribe to the monthly, quarterly, and yearly subscriptions.
Rosetta Stone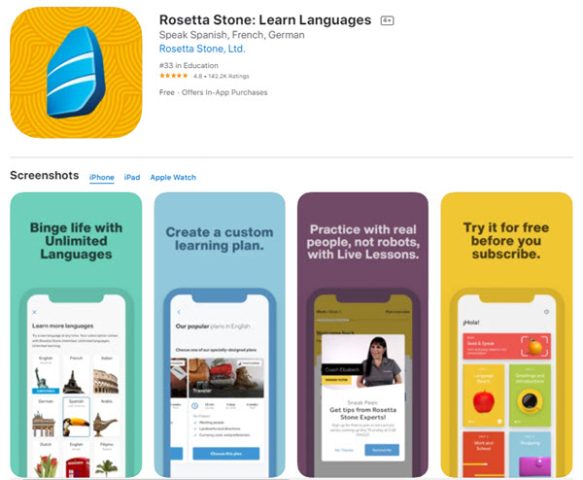 This app has been around for quite a while, in fact, it is considered one of the first language learning programs in the world. Rosetta Stone has one of the widest language varieties with over 20 dialects ranging from Dutch to Russian. You can access it on your desktop and it's mobile-friendly as well.
The app has Phrasebook as one of its features. It is an effective facility for someone looking to learn the elementary ropes of a foreign language. The collection includes common expressions and primary greetings with audios to equip you with the right vocabulary.
Another one of its priceless features is TruAccent. If you want to sound like a native speaker in the language you are studying, TruAccent is the tool for you. The app has free offers from time to time but usually, you will pay at least $11.99 for one language per month.
Duolingo
Duolingo is right up there with Babbel when it comes to being simple yet effective. It has appealing tutorials that are certainly a great alternative to long explanatory paragraphs. You can answer quizzes based on what you have learned and even match words to their most suitable uses.
The app offers more than 30 languages that include minorities like Klingon and Navajo. It is especially engaging due to the points you earn every time you answer a quiz correctly. You can choose the intense mode that requires 20 minutes a day or if you have little time to spare, the five-minute casual option. The app is free all year round although you can sign up for the premium at a monthly fee of $6.99.
Memrise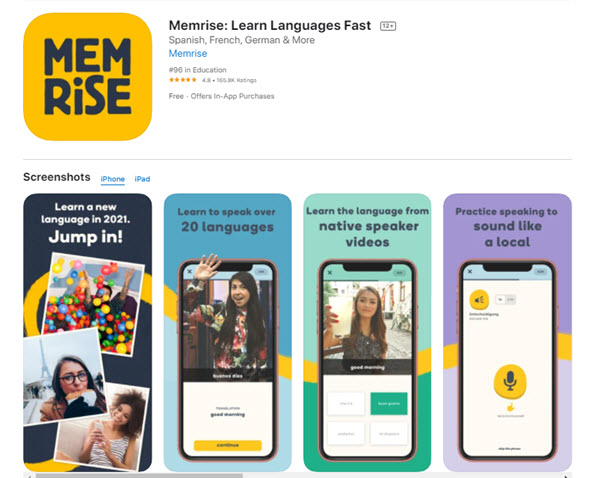 As its name suggests, Memrise is all about helping you remember what you have learned and use it in common conversations. It comprises short videos of natives speaking a variety of words and expressions. This is ideal for helping you acquire the right pronunciation for different words.
Once you have listened to the clips severally, the app asks you to write those new words by typing them into it. You earn points for every correct answer, just like on Duolingo. The app angles on your competitive nature with a leaderboard that shows your score against fellow users.
It is a mobile-friendly app with at least twenty languages. There is a free version but you might need to purchase a monthly plan for $8.99 for more in-depth learning.
Busuu
Busuu is all about getting to know your goals and helping you achieve them. The app asks a couple of questions when you sign up so it knows the level of fluency or knowledge you require. It then assigns you a learning plan that reflects how often you would like to learn.
It offers 12 languages and its free plan is decent compared to other paid apps. Busuu also has Premium and Premium Plus subscriptions for as low as $3 per month annually.
Conclusion
All the features we have highlighted in the above apps depend on the level of language app development employed by a particular company. Developers must factor in all the tools needed to make an app resourceful for you and help you reach your goals. With the current technology, you can learn a new language every year!
Like this Article? Subscribe to Our Feed!