27 Russian Classes For Different Levels: From Beginner to Advanced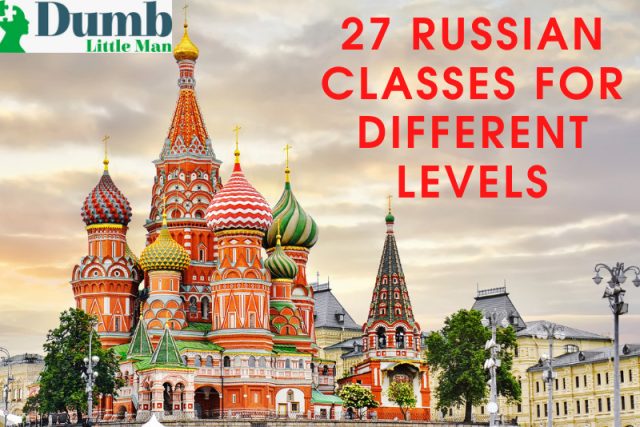 A flourishing economy, an abundance of business opportunities, and a rich and colorful culture. Those are all statements that describe the beautiful country of Russia. Including their unique and aesthetic architecture, it's a country with a fascinating history and a charming language.
The Russian language is so highly sought after that there are multiple Russian courses available to help those who want to learn to speak the language. We've compiled a list of 27 programs that will help you in your endeavor to learn Russian and improve your ability to adapt to the Russian culture.
27 Russian Classes For Different Levels
Cost:
€29 / month – Subscription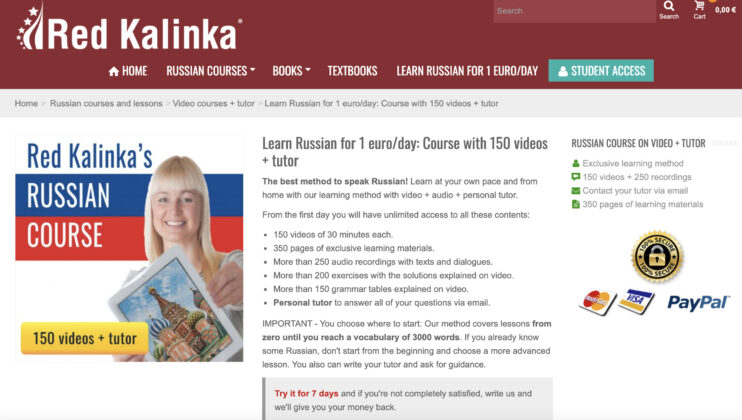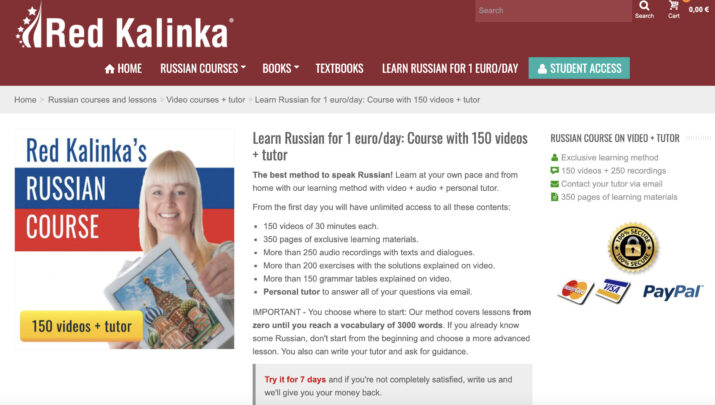 Pros:
Red Kalinka is an online school that thoroughly teaches its students the intricacies of the Russian language. Through their course, students receive access to 150 exclusive videos, 250 audio recordings, high-quality learning materials, and a one-on-one tutor to help with any queries.
Unlike at university where Russian is taught using a strict timeline, through Red Kalinka you can take language learning at your own pace. In this course, you have a wide variety of learning resources available to help you learn advanced Russian.
Cons:
All aspects of the language are thoroughly covered, however, as the course material is so detailed, going through it can easily begin to feel like a chore. This is especially true once learners reach an intermediate level of Russian through Red Kalinka.
Click Here To Read More About Red Kalinka!
Cost:
Premium – $19.95 /month + 7 days free trial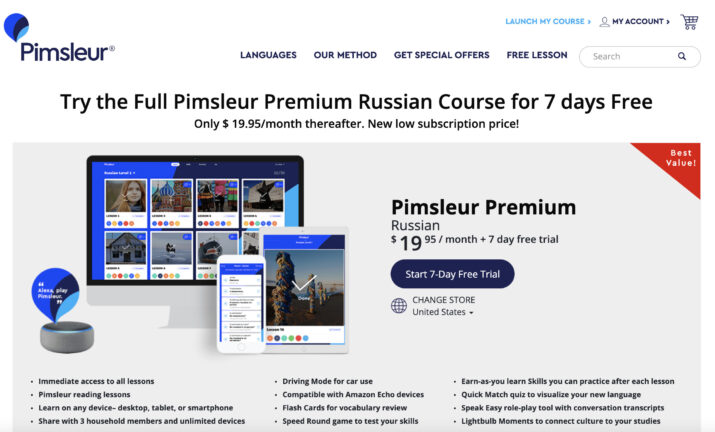 Pros:
Pimsleur focuses heavily on the reading and pronunciation part of language learning. To help you learn Russian, Pimsleur Premium gives you direct, instant access to all reading lessons on any tablet, desktop, or phone.
The course also enables you to learn on your commute through the 'driving mode'. To test your comprehension, the Pimsleur Russian course also has vocabulary flashcards and speed round games to help test and improve your proficiency.
Cons:
Whilst Pimsleur is one of the best language courses to focus heavily on improving listening, speaking, and pronunciation, it isn't the most effective for visual learners.
Click Here To Read More About Pimsleur!
Cost:
3 months £9.99 – £29.97 charged every 3 months
6 months £7.49 – £71.88 charged annually
12 months £5.99 – £44.94 charged every 6 months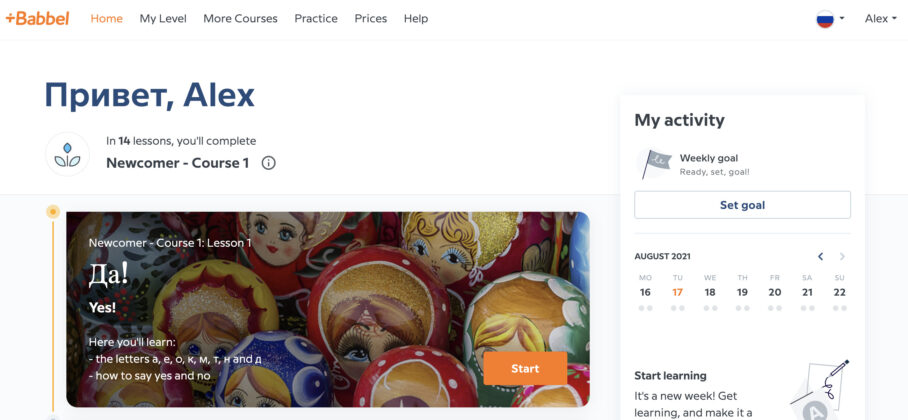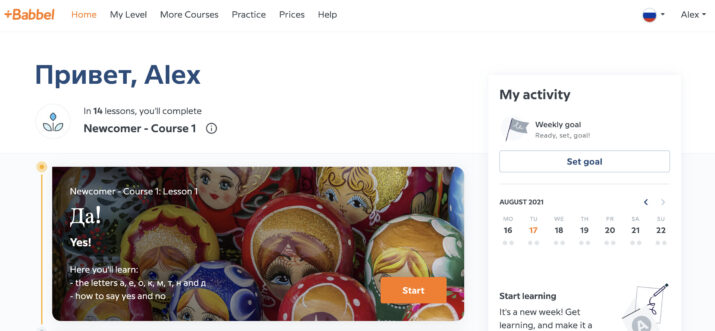 Pros:
Babbel has an ideal methodology for teaching the fundamentals of the Russian language. It teaches you essential vocabulary through short 10-15 minute lessons that can be easily memorised.
Babbel is also brilliant for visual learners since they use images combined with words as part of their database of learning materials. With the use of daily goals, it can also be more motivating for you to learn the language and develop your skills at a much faster pace.
Cons:
Babbel doesn't offer much material or practice for those who have advanced level Russian. Babbel has 2 'Newcomer' Russian courses, 8 'Beginner I' Russian courses, and various lessons for topics such as 'words and sentences'. When it comes to helping you behave like a native speaker, the lessons that this program offers aren't quite enough.
Click Here To Read More About Babbel!
Cost:
Basic – $4 /month
Premium – $10 /month
Premium Plus – $23 /month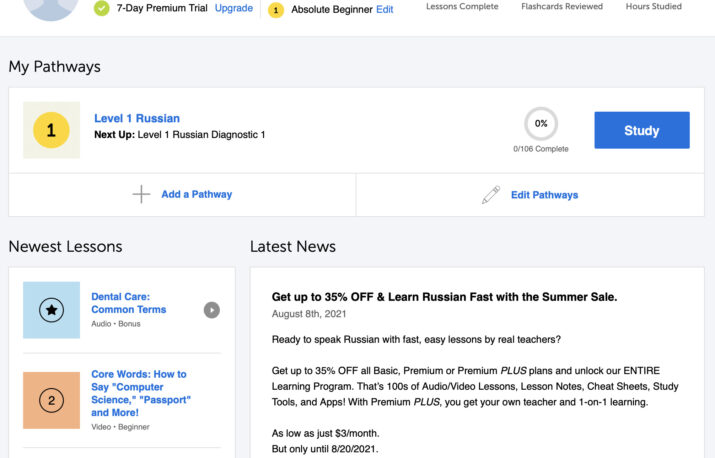 Pros:
With a subscription, you have access to short, yet comprehensive video and audio lessons that are brilliant for beginners. You could learn and practice the Cyrillic alphabet thoroughly, and their videos are wonderful for building your reading comprehension skills. The audio recordings are also particularly of great quality.
There are flashcards and slideshows available which help to quiz students on keywords, and with the Premium Plus subscription, you can receive valuable feedback from your personal Russian teacher who will assign weekly exercises.
Cons:
The user interface could use a little more work. For example, when completing the initial skill assessment, if you skip a question then at the end of the test, you're taken back to the question you've skipped. Once you've answered then it will ask you to click the 'next question' button again until you reach the end of the questions (even though you've already answered them).
Click Here To Read More About RussianPod101!
5. Grammar Hero
Cost:
$197 one-time payment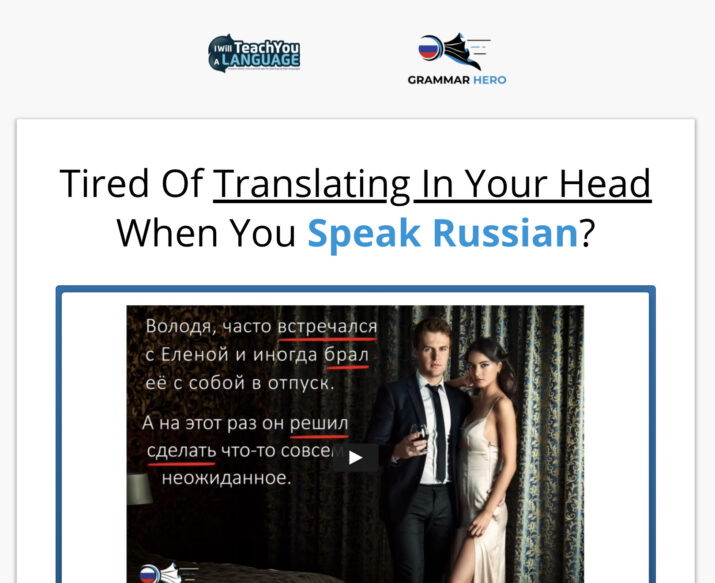 Pros:
As in the name, through this Russian program grammar is taught rigorously and thoroughly. The site gives you instant access to any difficult terminologies at the end of each story you've read through, and you receive access to grammar exercises that help you to make use of the grammar and other language rules you've learned.
The system also provides you with story summaries that you can read through at the beginning to help build your understanding.
Cons:
When it comes to their reading exercises and their grammar briefings, often you'll be faced with a 'wall of text' that makes learning Russian less enjoyable. Some of their activities can sometimes feel like a difficult school assignment that you've been required to complete, thus making learning less enjoyable.
Click Here To Read More About Grammar Hero!
6. LingoDeer
Cost:
Free content with Premium Plans:
$13.99 /month
$34.99 /quarter
$79.99 /annual
$119.99 lifetime access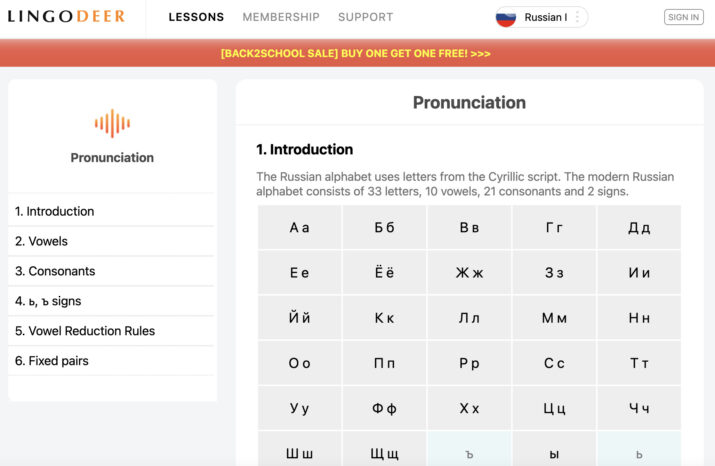 Pros:
At the beginning of the course, you're given an easy-to-understand overview of the Cyrillic alphabet. Their system for conducting Russian classes helps you to get a better grasp of the language by first introducing all the important consonants, vowels, vowel reduction rules etc.
This course can make language learning feel more fun through tests that allows you to practice all of the Russian you've learned and lessons that are wonderful for helping you to learn vocabulary through multiple choice card selections.
Cons:
Grammar is covered thoroughly, however, to reach an advanced level of Russian, the number of terms they introduce throughout the course isn't enough. Students will require supplementary material to learn advanced level Russian.
Click Here To Read More About LingoDeer!
7. FSI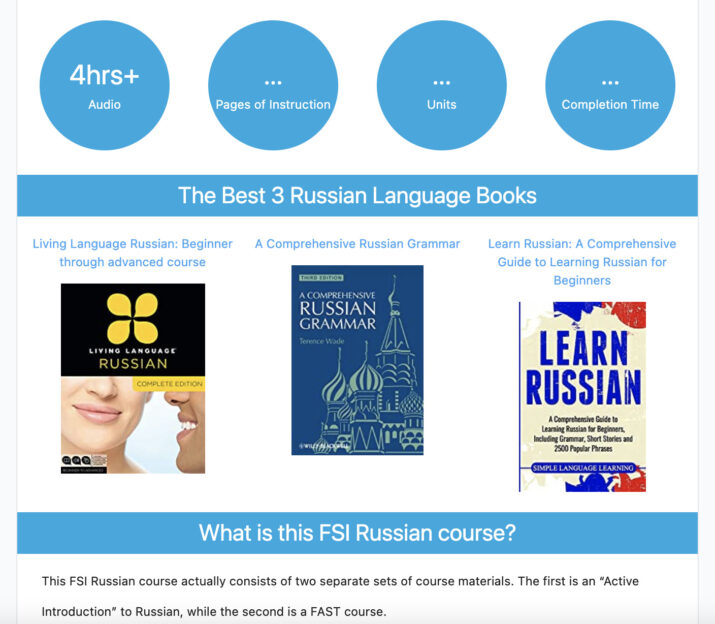 Pros:
To start learning Russian through the free FSI course, you're given 4+ hours of audio recordings and several PDF files that are wonderful for consolidating your understanding of the Russian language. In the PDF files, you receive in-depth explanations of vocabulary and language structure that help you to build a solid foundation.
Cons:
The FSI Russian classes aren't suitable for beginners. Following along with the recordings can be very difficult without already having a basic understanding of the Russian language.
Click Here To Read More About FSI!
8. Mango Languages
Cost:
$7.99 /month + free content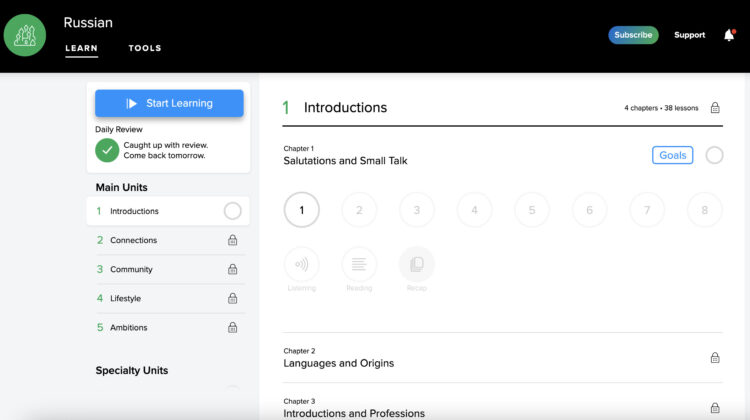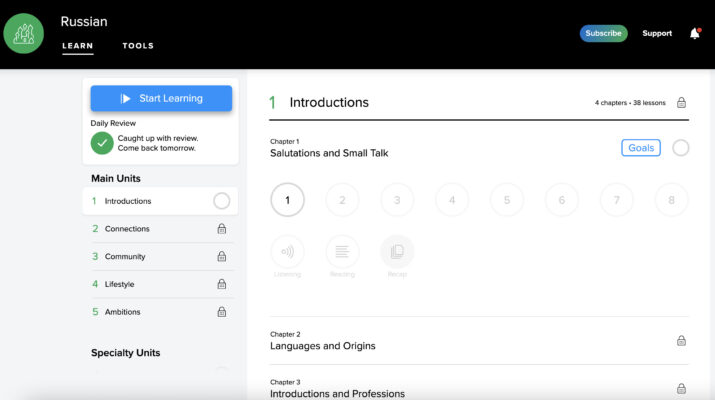 Pros:
With the 'Mango Languages' Russian course you have the option of recording your speaking and pronunciation to compare it with native speakers. For each lesson, you're given clear conversational and grammar goals that easily help you to track how much you're supposed to have learned.
The recordings themselves use a variety of voices that enables you to get used to the language at a faster rate and the translation gives you both the understood meaning of the word(s) as well as the literal meaning.
Cons:
Whilst you can compare your speaking with those of natives, there's no automatic software to give you accurate feedback on your pronunciation.
Click Here To Read More About Mango Languages!
9. Duolingo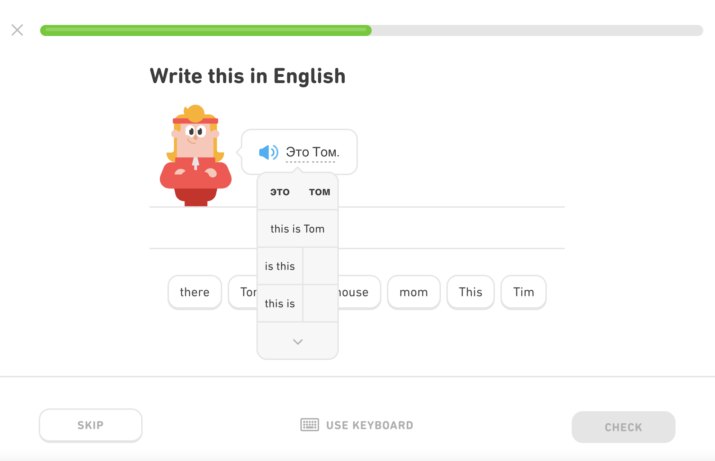 Pros:
Duolingo offers a large amount of courses for free and through their Russian course you can learn enough Russian to have a basic converse (the premium account starts from £6.50 /month).
Each lesson covers a specific topic in detail and there is a considerable number of topics that you can easily work through including business, education, and people. This introduces you to more categories of the language and thus helps prepare you more thoroughly for the real world.
Cons:
Due to the game-like lessons, it can often feel like you're not learning the language earnestly. The use of colorful images does make language learning more enjoyable, however, when it comes to learning Russian in a serious context, it can become tiresome.
Click Here To Read More About Duolingo!
10. Memrise
Cost:
The first lesson is free, and you have access to some free material
£8.99 /month
£5.83 /month – Annual subscription
£139.99 – Lifetime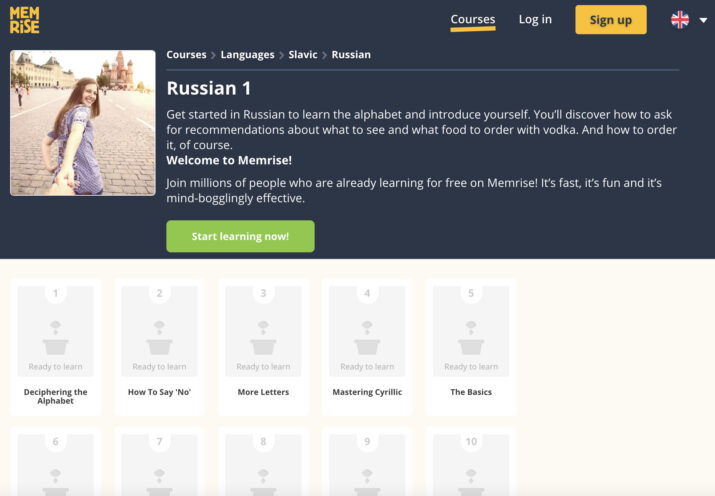 Pros:
Vocabulary is thoroughly covered with the Russian program offered by Memrise. With a subscription, you have access to their high-quality app and space-repetition methodology, enabling you to practice and retain information easily.
Learners can learn Russian at their own pace, and due to the app, it's also more convenient to learn and practice during commutes. The app itself is well designed, interactive, and easy to navigate through compared to courses like Red Kalinka.
Cons:
Grammar lessons are only available on the app, meaning that it's much more inconvenient for those who want to learn on their laptop. On the lesson overview, you're given a display of Russian words and their translations, however, you can't listen to how the words are pronounced until you go into the lesson itself.
Click Here To Read More About Memrise!
11. BeFluent
Cost:
$49.99 – Basic
$99.99 – Premium
$199.99 – Ultimate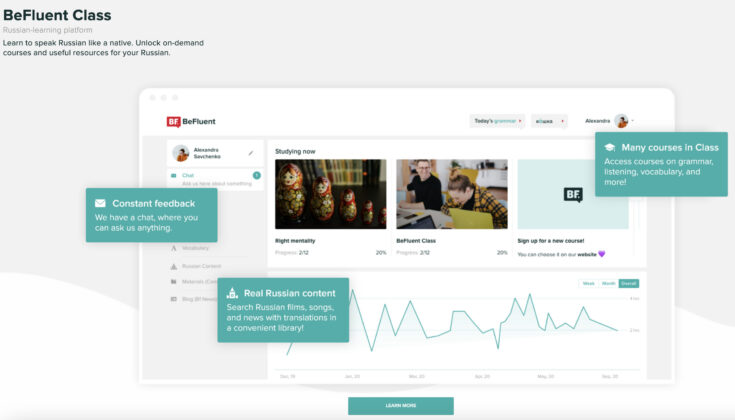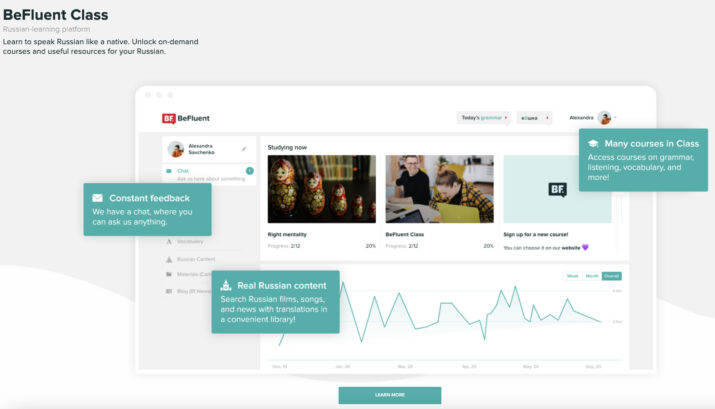 Pros:
Students get access to daily Russian exercises and exclusive methods that help with achieving fluency in the Russian language. The option of participating in weekly group Russian classes can be incredibly useful when helping you to consolidate the knowledge you've learned over the last week with a group of individuals who have the same goal.
For students who purchase the Premium subscription, you can also receive feedback on the exercises you've completed, and with the Ultimate subscription you gain access to 8 private lessons that further develop your speaking, writing, listening, and reading skills.
Cons:
BeFluent doesn't give you the option of language learning at your own pace. You develop your Russian through an 8-week course and when it comes to the weekly call, you can't decide the date and time by yourself as it is voted through a group session.
Click Here To Read More About BeFluent!
12. Busuu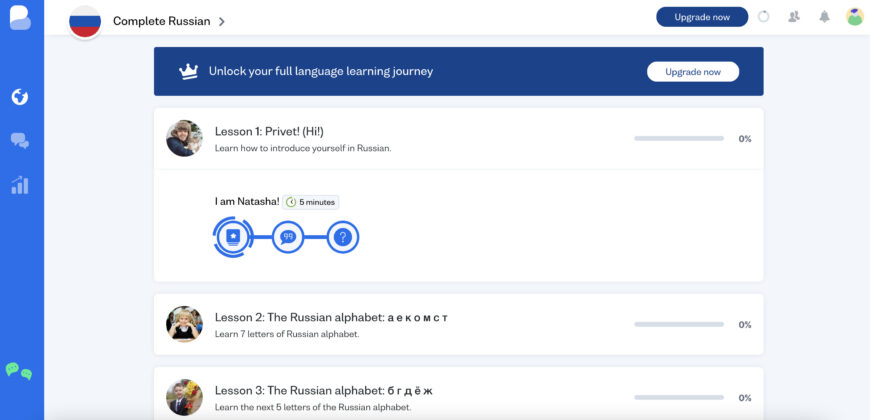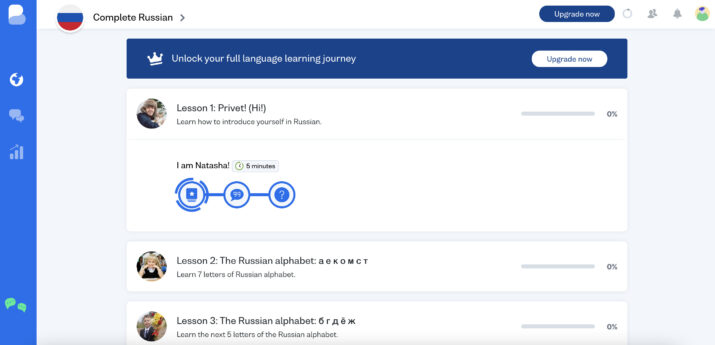 Pros:
Busuu is an online program that offers a wide range of materials for free (Premium costs £5.83 /month and Premium Plus £6.66 /month). Materials include comprehensive exercises, dialogs that help you learn how to put words into context, and flashcards that are brilliant for learning vocabulary.
Instead of using cartoon-like images, the pictures used in each class shows real people or places, making it feel less simplistic and thus enabling you to feel more connected to the real world. You also have the option of taking quizzes to help improve memory.
Cons:
This program doesn't offer any options to try and either slow down or increase the speed of the audio recordings. The conversations spoken are at the same, consistent speed which doesn't replicate what Russian is like when spoken in real life.
Click Here To Read More About Busuu!
13. Bite Size Languages
Cost:
$67 one-time payment (at the time of writing)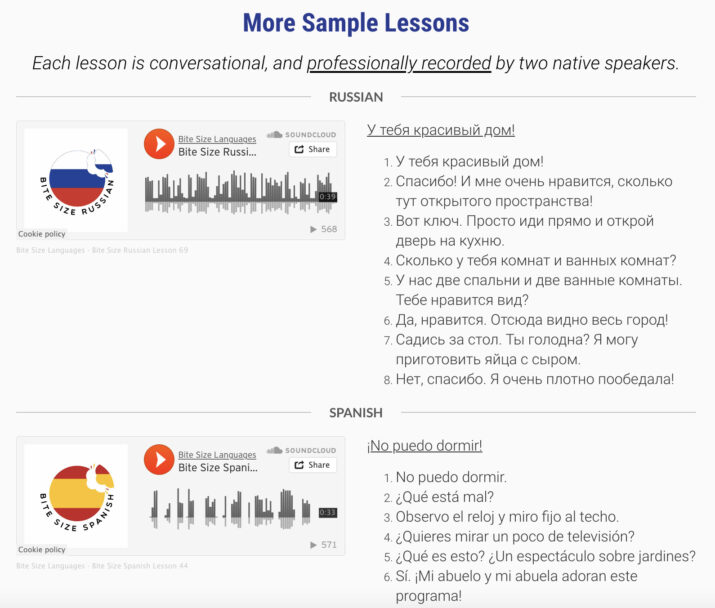 Pros:
Bite Size Languages is one of the only online Russian courses that go into such depth when it comes to spoken Russian. You learn to develop your language skills using their system for building listening comprehension. Their easy-to-understand notes also give thorough explanations for vocabulary, grammar, and more.
Each of the dialogs contains beginner-friendly phrases and 100 lessons that teach the kind of Russian spoken in everyday conversation. When it comes to the translations, you also receive the literal translation of the phrases/words in question, making it easier for you to understand how the grammar works.
Cons:
Since Bite Size Languages focus heavily on building your speaking and reading skills through audio files and transcriptions, it isn't the best online Russian course for those who learn by visual stimulation.
Click Here To Read More About Bite Size Languages!
14. Rosetta Stone
Cost:
3-day trial (free)
$11.99 /month – 3 months
$7.99 /month – 12 month
$179 one-time payment – Lifetime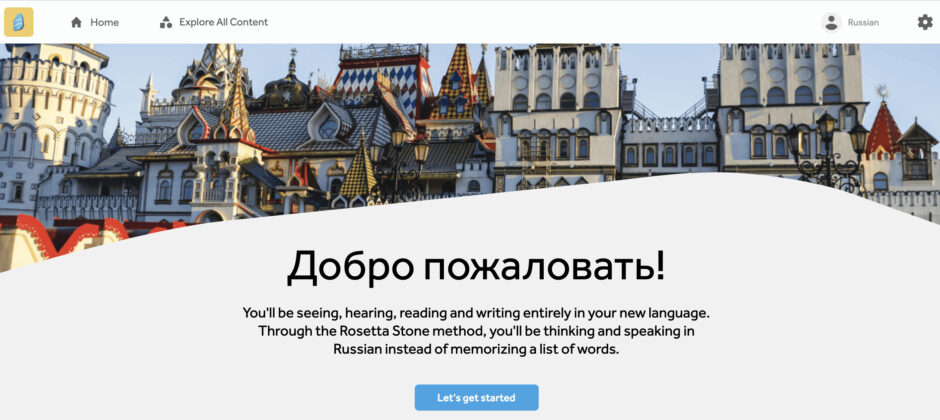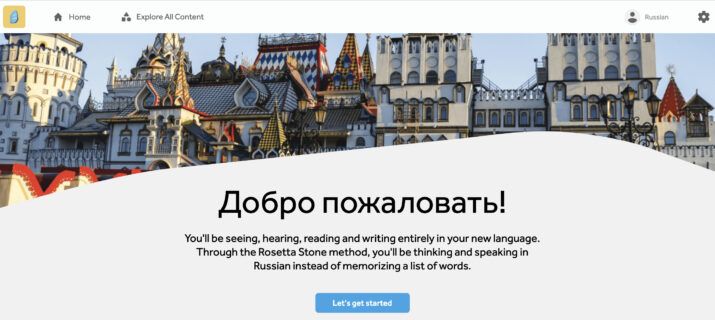 Pros:
Rosetta Stone is an online program where each lesson takes you through a series of exercises. The Russian course is accompanied by audio files made by native speakers to help you gain a better grasp of how Russian is spoken. You can also improve your listening and reading comprehension through their interactive stories.
For the price, this online course is a great way to start learning about grammar, Russian culture, and phrases that directly relate to topics you might come across in your daily life.
Cons:
Whilst Rosetta Stone is a great online course for a complete beginner, the course doesn't have many resources or Russian classes for those who speak advanced level Russian. It also doesn't cover the more complicated aspects of the language, including complicated grammar and language rules.
Click Here To Read More About Rosetta Stone!
15. Michel Thomas Russian
Cost:
$11.99 (1-hour taster course)
$100.00 (Foundation Russian course)
$90 (Intermediate Russian course)
$75 (Russian Vocabulary course)
$198.75 (Michael Thomas Russian Course Bundle)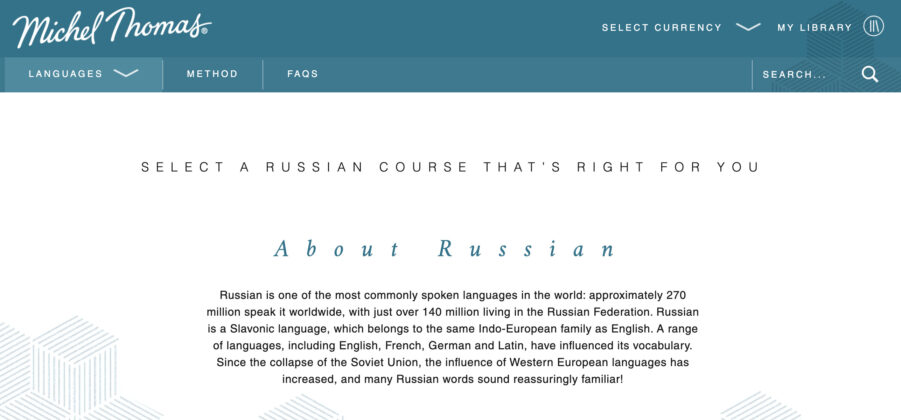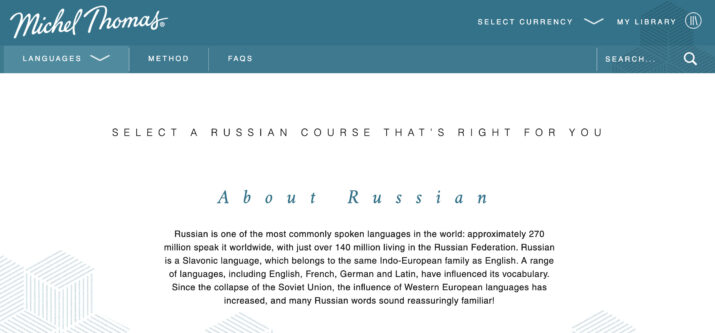 Pros:
Michael Thomas Russian is a brilliant online course to learn grammar. The teacher comprehensively explains the Russian grammar rules, gives example phrases that help you to see the rules in action, and when the students in the videos make mistakes, it better commits the rules to memory.
Learning specific words is also much more effective with these classes due to the thorough explanations, and the spaced repetition of words that have been mentioned in previous lessons. This helps to further cement the vocabulary into your long-term memory.
Cons:
The course is structured such that to effectively learn all the newly introduced Russian words, phrases, and other materials, you must pause the recordings with each new introduction. This is especially true for beginners who are unlikely to know any words in Russian.
Click Here To Read More About Michel Thomas Russian!
16. Live Lingua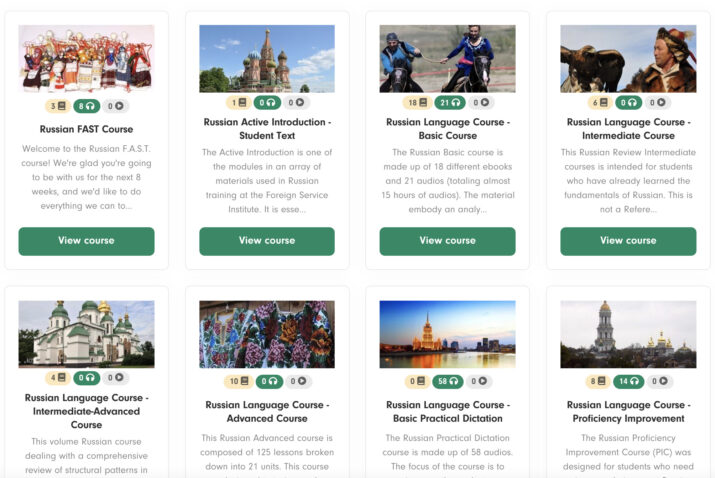 Pros:
With the many online Russian courses available through Live Lingua, there's a free course for everyone with beginner level, intermediate level, or advanced level language skills.
Some courses give you a large selection of downloadable eBooks and audio recordings. For the price (free) of the courses, you get plenty of comprehensive resources that give detailed explanations of the concepts they introduce.
Cons:
At present, the Russian courses don't feature videos and the materials aren't very interactive. The system can also be quite confusing to navigate through.
They have articles and courses that say they offer private tutors, however after clicking the relevant links it only shows 'Spanish Tutors Online', and Russian isn't one of the languages listed on their 'choose a language' page for private tutors.
Click Here To Read More About Live Lingua!
17. Rocket Languages
Cost:
$99.95 (at the time of writing)
$19.00 /month (at the time of writing, 6 payments paid over 6 months – total $114.00)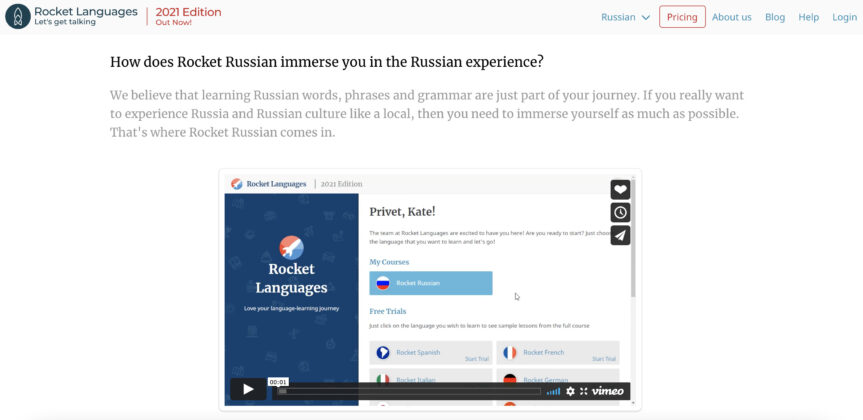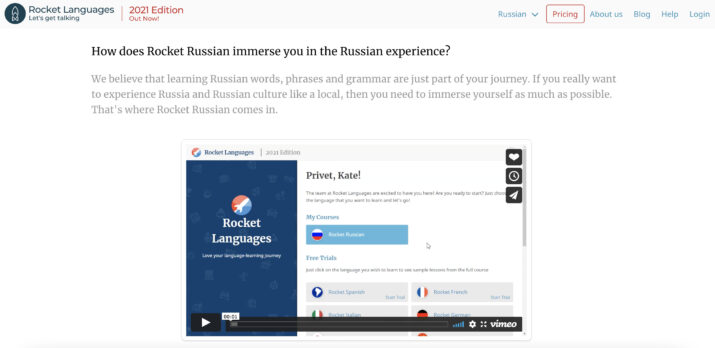 Pros:
The audio dialogs for the online Rocket Languages program are realistic and smooth flowing. The informal speech can better prepare learners for how Russian is spoken in the real world, and there are a total of 4210 voice recognition phrases that help with learning Russian at a reasonable pace.
There are 32 audio lessons, 32 writing lessons, and many more online resources that can help learners go from beginner to intermediate level Russian. Such lessons are known to be highly effective and have been advocated by many learners since launch.
Cons:
The Rocket Languages online Russian lessons are better taught in the free app rather than the desktop version. Whilst the course material and lessons feature the same content, the website is slower and has the worst user interface in comparison to the free app.
Click Here To Read More About Rocket Languages!
18. Living Language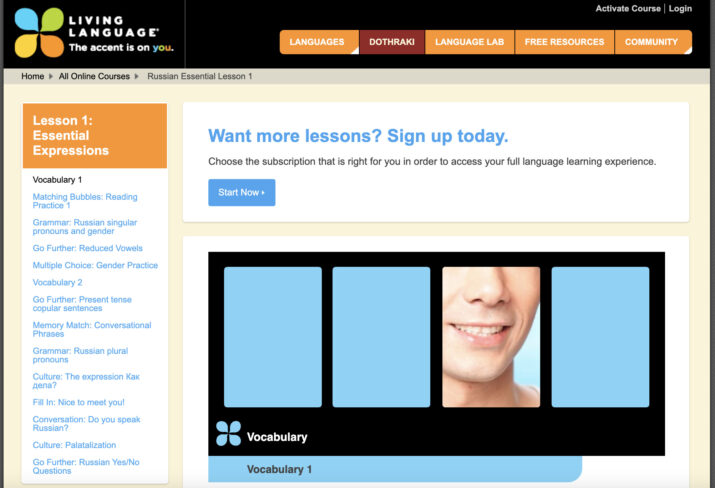 Cost:
$39 – 1 month
$50 – 3 months
$ 75 – 6 months
$ 150 – 1 year
Pros:
Living Language is incredibly thorough when it comes to their explanations of grammar and Russian culture. Their online Russian course features comprehensive transliterations and a large amount of practice material to help with the learning process.
For the price, they offer valuable online Russian lessons, engaging audio files, and fun games throughout the course that helps learners go through beginner, intermediate, and advanced level proficiencies through Living Language's building block technique.
Cons:
The online Russian lessons in 'Living Language' aren't very suitable for those who simply wish to learn simple, conversational Russian.
Click Here To Read More About Living Language!
19. Learn Russian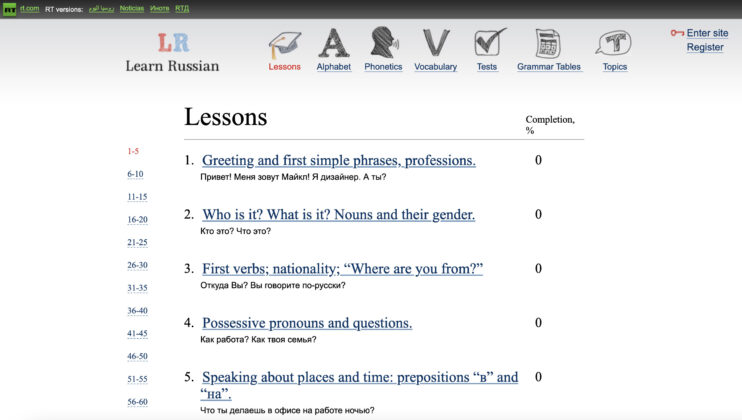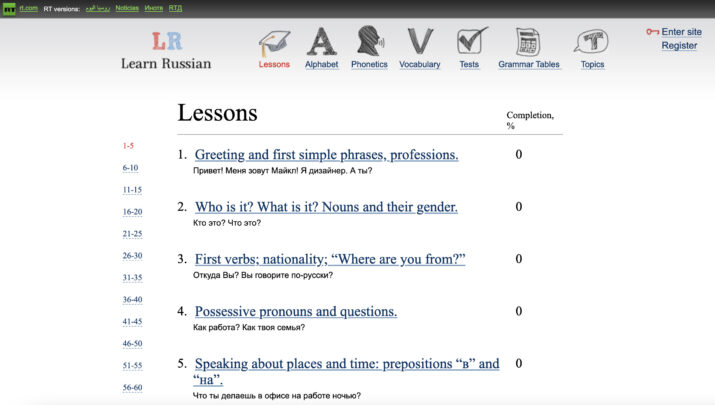 Pros:
'Learn Russian' is a free online Russian program that offers 100 lessons, tests, grammar tables, and a Cyrillic keyboard to help you type in Russian words. Valuable material is abundant for beginners and intermediate level Russian speakers, and with the lessons, you can begin to develop a good understanding of grammar, verbs, phrases etc.
Cons:
The site doesn't have the best user interface. It appears to be very simplistic and the tests themselves aren't as enjoyable to complete. For more visual learners there aren't any videos available that would show conversations between native speakers.
Click Here To Read More About Learn Russian!
20. FluentU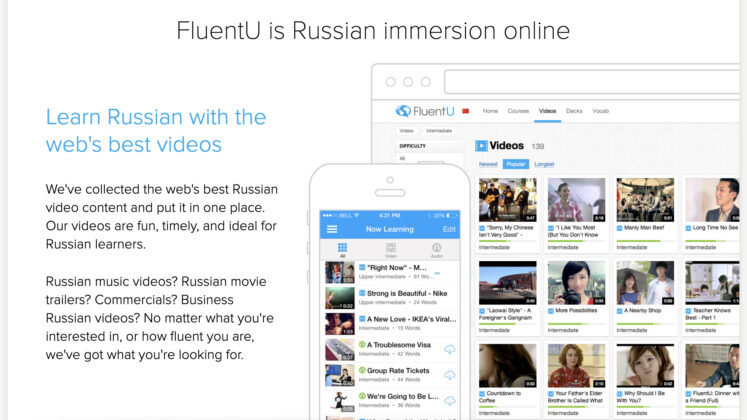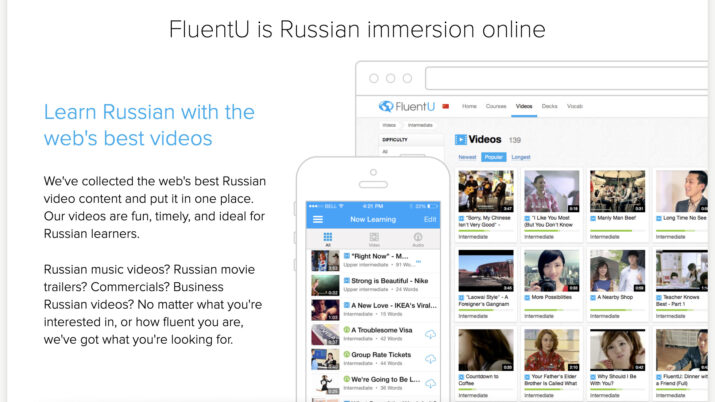 Cost:
$29.99 /month
$19.99 /month (billed annually)
Pros:
Compared to other online Russian courses, FluentU has a database of some of the best and most engaging Russian videos in the world to help learners immerse themselves in both the stories and the language itself. Each featured video has been approved and ranked based on the level of proficiency that a learner should have in order to understand the contents of the video.
Each video in the FluentU Russian program has Russian subtitles and English translations so you can learn the language whilst immersing yourself in the culture. The videos also give real-world context to language learning
Cons:
Other than videos, there aren't any other resources that are as high quality that can be used for practice. Beginners, and sometimes intermediate level learners, often have to pause the video when they come across words/phrases that they don't understand.
Click Here To Read More About FluentU!
21. Russian For Everyone


Pros:
'Russian For Everyone' contains free online Russian resources that are excellent for learners who want to learn or practice the foundations of the language. There are a variety of online introductory lessons and well-spaced quizzes that help learners thoroughly practice and digest the material.
For the $0 price tag, the contents are plentiful and the audio recordings are clear and concise.
Cons:
Unlike many of the other courses (FluentU in particular), there aren't any videos that could help learners to see how actual conversations would be conducted. The user interface could use more structure, a better color scheme, and more pleasant text properties.
Click Here To Read More About Russian For Everyone!
22. Udemy
Cost:
Various prices
Example: Complete Russian Language course for Beginners A1 costs £10.99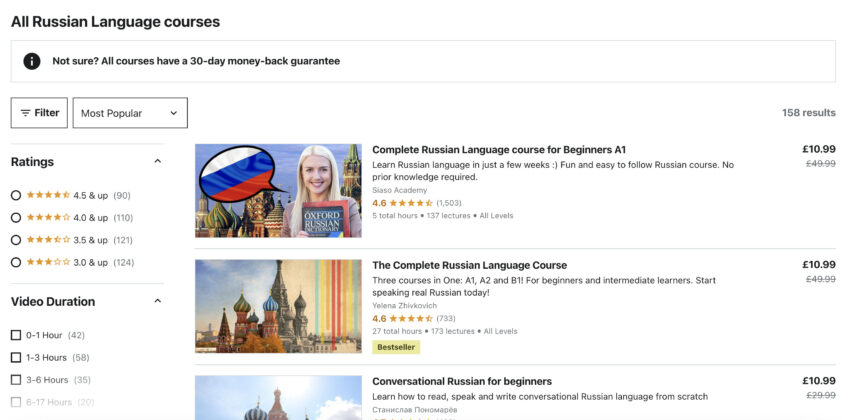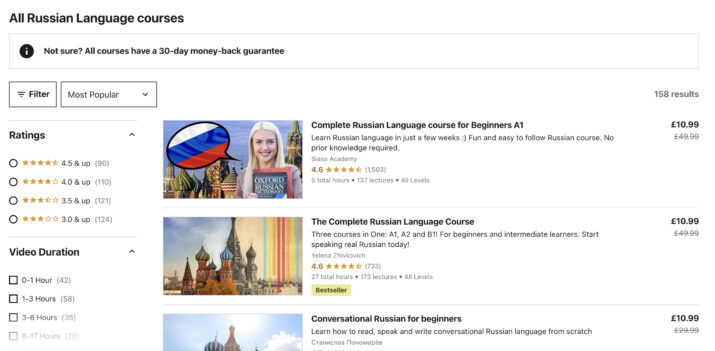 Pros:
Udemy has a large variety of online courses that helps learners in their goal of learning Russian at a comfortable pace. For example, the Complete Russian Language course for Beginners A1 has 45 video lectures, 150 PDF files, 4.5 hours of good quality video content, and plenty of other materials to help learners learn and practice the language.
Cons:
The online courses all differ in terms of content, quality, quantity of materials, and price. To find a suitable program amongst all of the courses, learners will need to spend some time combing through all of the available online courses
Click Here To Read More About Udemy!
23. Russian Mobile Academy
Cost:
Depends on the course. For example, $399 for the Russian Morning Podcast course, $9.99 – ALL Russian VERBS of MOTION, and $14.99 to $249.99 /month – Conversational Russian METRO Club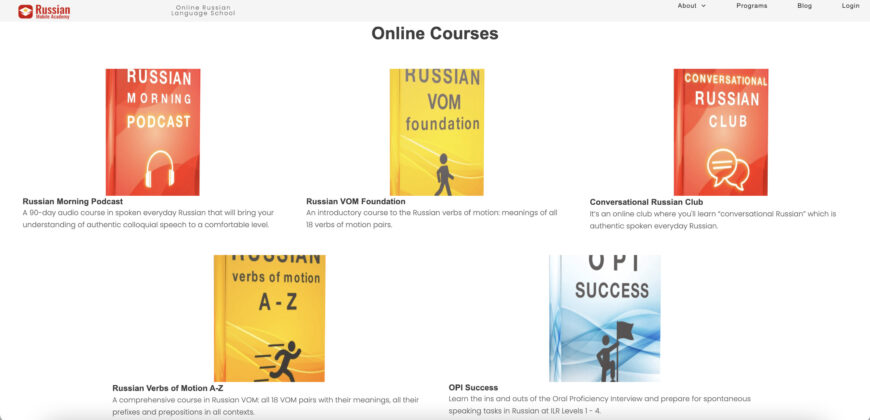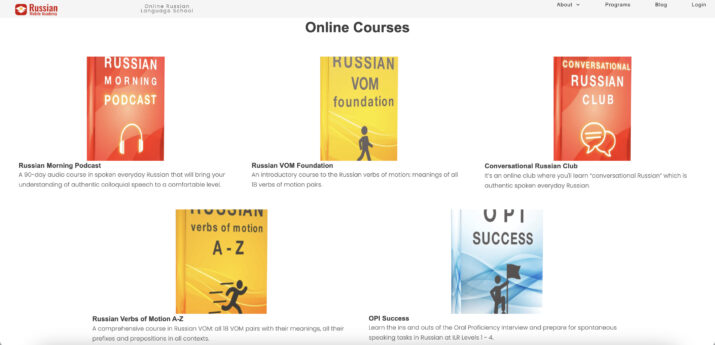 Pros:
This online Russian school offers multiple courses that help with a variety of language categories including grammar and vocabulary. There are 5 courses available with Russian classes that all have highly structured content and clear objectives so you can practice specific topics depending on the class.
The online courses also meet high USG/ILR standards of proficiency which makes them ideal for government proficiency tests.
Cons:
The courses available in this school aren't suitable for complete beginners and they have enrolment periods. This means that sometimes you might be unable to attend until the next enrolment period.
Click Here To Read More About Russian Mobile Academy!
24. LingQ
Cost:
Free with premium and premium plus. Premium rates are as follows:
£11.99 /month – 1 month
£1o.99 /month – 6 month
£7.99 /month – 12 month
£6.99 /month – 24 month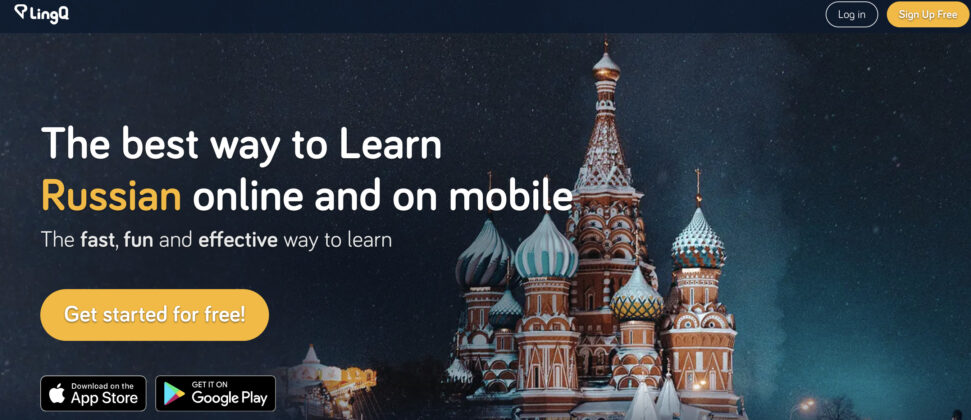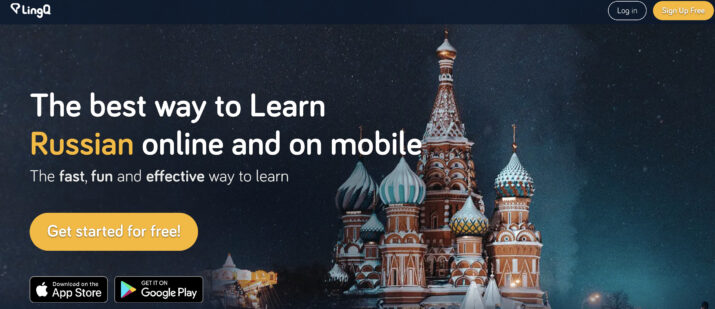 Pros:
Learners of the LinQ online Russian lessons have access to 1000s of hours of audio recordings along with transcripts. The sheer amount helps you to thoroughly practice and improve your listening and reading skills. The LingQ library also contains an abundance of translations (in fact over 8 million) and the Russian grammar guide helps you to understand pronouns, conjugations, prepositions, and several other topics.
The Russian lessons contain short, spaced paragraphs that are easy to read through and also enables you to immerse yourself in Russian.
Cons:
Whilst there are large amounts of resources, the negative is that they can become overwhelming.
Click Here To Read More About LingQ!
25. Real Russian Club
Cost:
Free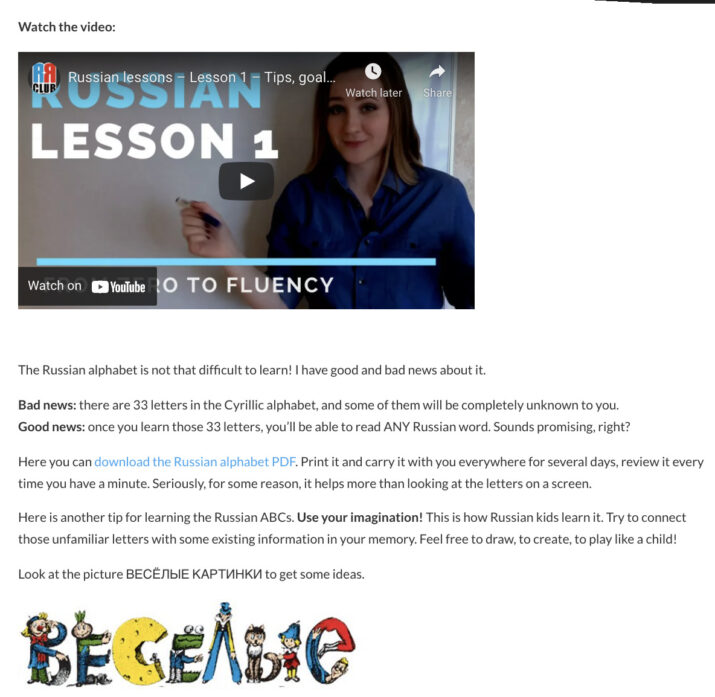 Premium courses range from $5 – $69 (or you can buy all materials for a total price of $150)
Pros:
From lesson 1 you begin with learning the Russian alphabet through a 43-minute video and a downloadable PDF file. As demonstrated, the videos are detailed, meticulous and cover almost all aspects of writing, speaking, and reading Russian.
Cons:
Some of the homework exercises ask you to go to Google Translate to find specific translations. As expected, this isn't the most effective practice method, especially since the translations aren't perfect.
Compared to other online language learning courses, 'Real Russian Club' isn't interactive, and the length of the videos can make learning Russian feel more tedious in the long term.
Click Here To Read More About Real Russian Club!
26. Beelinguaapp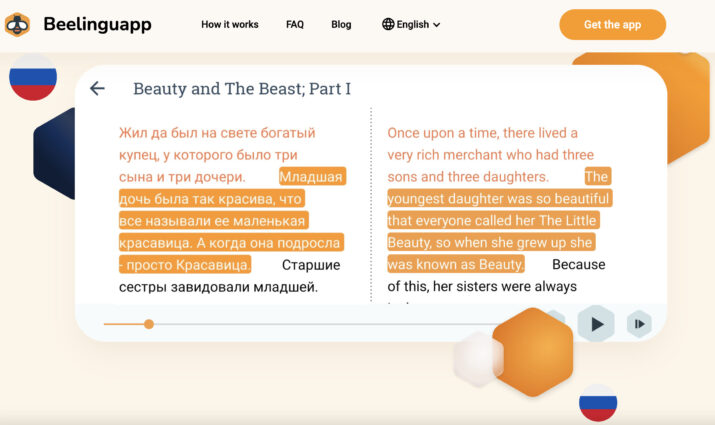 Pros:
Beelinguaapp is available as either an iOS or Android app for free (with in-app purchases that you're unlikely to require). It's convenient to use when learning Russian on your commute, waiting in lines, or in any other situation where you aren't likely to have a laptop available. It has a lot of high-quality content for beginners, and with its game-like interface, learning becomes much more enjoyable.
Cons:
Whilst learning through an app is convenient, the lack of materials for those who prefer to learn using their desktop makes this rather irritating.
Click Here To Read More About Beelinguaapp!
27. Exlinguo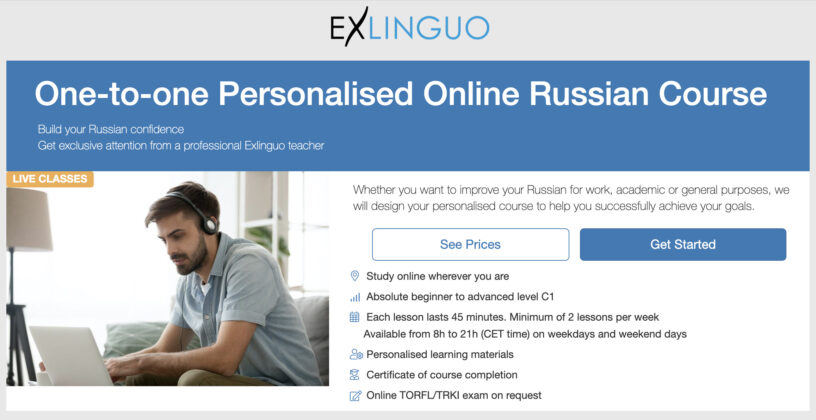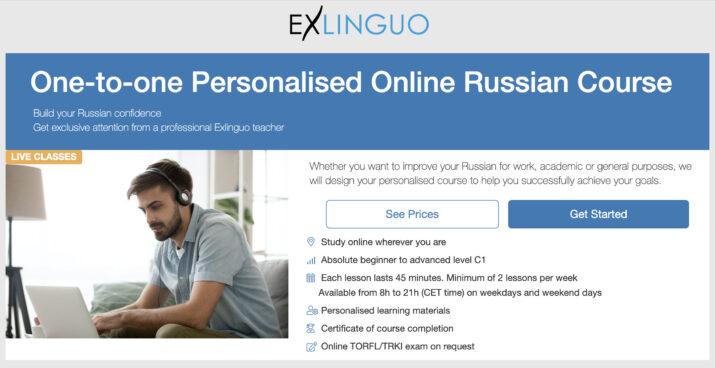 Cost:
€269 – 10 lessons
€498 – 20 lessons
€687 – 30 lessons
Pros:
With one-to-one Zoom lessons at 45 minutes each, Exlinguo is excellent if you want to receive comprehensive lessons that are directly tailored to your personal goals and abilities. With educated, native Russian speakers as teachers, you get high-quality materials and lessons that teach beginner to advanced level Russian.
Compared to language courses like Red Kalinka, through private lessons with personal tutors, you gain a better insight into language, culture, and the gestures and behaviors of native Russians.
Cons:
The lessons do come with a relatively high price tag, and it would be much easier to commit to Exlinguo if they had allowed individuals to have a free trial.
Click Here To Read More About Exlinguo!
Conclusion
There exists a wide array of online Russian courses to choose from, all with their unique methodologies for teaching the Russian language. Some are interactive, some focus heavily on certain aspects of language learning, and some have a multitude of free resources available for learners.
Depending on your preference you can choose the course (or courses) that best fits your level, objective, and unique situation. With enough practice, you can surely develop your skills such that you learn to speak like a native speaker and can confidently venture out into all of the beautiful Russian speaking countries or the world.
To sum up, we rank Red Kalinka as the best one in this shortlist as it has a variety of lessons which include outstanding methods for teaching the language!
Click Here To Get Red Kalinka At A Discounted Rate!
Like this Article? Subscribe to Our Feed!
Passionate in tech, software and gadgets. I enjoy reviewing and comparing products & services, uncovering new trends and digging up little known products that deserve an audience.