27 Russian Classes For Different Levels: From Beginner to Advanced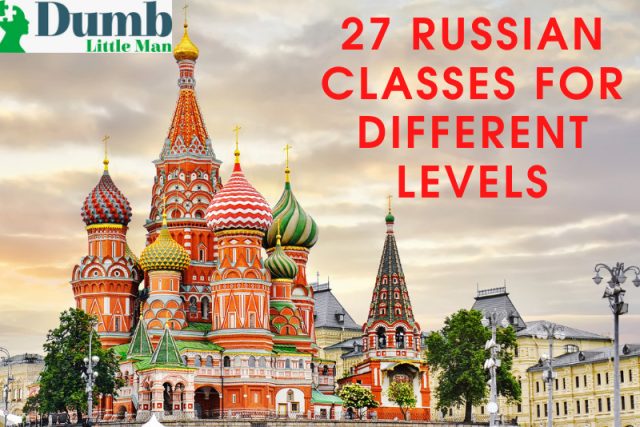 A flourishing economy, an abundance of business opportunities, and a rich and colorful culture. Those are all statements that describe the beautiful country of Russia. Including their unique and aesthetic architecture, it's a country with a fascinating history and a charming language.
The Russian language is so highly sought after that there are multiple Russian courses available to help those who want to learn to speak the language. We've compiled a list of 27 programs that will help you in your endeavor to learn Russian and improve your ability to adapt to the Russian culture.
27 Russian Classes For Different Levels
Cost:
€29 / month – Subscription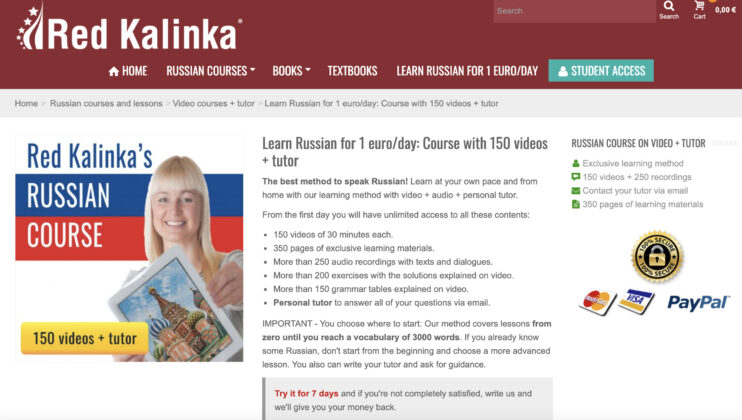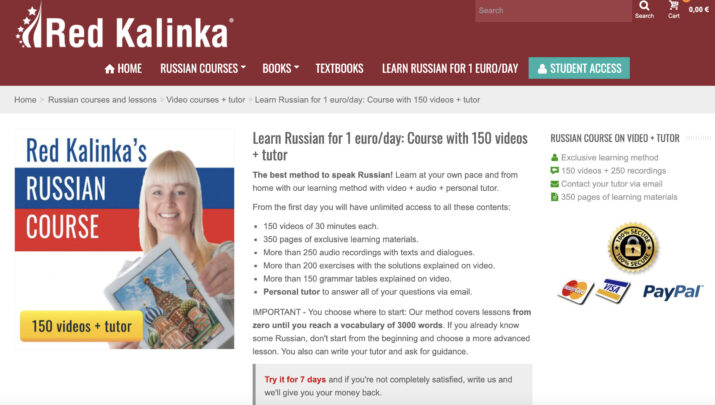 Pros:
Red Kalinka is an online school that thoroughly teaches its students the intricacies of the Russian language. Through their course, students receive access to 150 exclusive videos, 250 audio recordings, high-quality learning materials, and a one-on-one tutor to help with any queries.
Unlike at university where Russian is taught using a strict timeline, through Red Kalinka you can take language learning at your own pace. In this course, you have a wide variety of learning resources available to help you learn advanced Russian.
Cons:
All aspects of the language are thoroughly covered, however, as the course material is so detailed, going through it can easily begin to feel like a chore. This is especially true once learners reach an intermediate level of Russian through Red Kalinka.
Click Here To Read More About Red Kalinka!
Cost:
Premium – $19.95 /month + 7 days free trial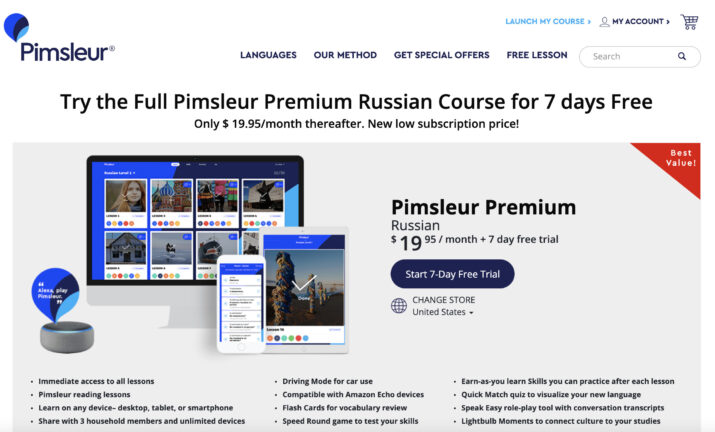 Pros:
Pimsleur focuses heavily on the reading and pronunciation part of language learning. To help you learn Russian, Pimsleur Premium gives you direct, instant access to all reading lessons on any tablet, desktop, or phone.
The course also enables you to learn on your commute through the 'driving mode'. To test your comprehension, the Pimsleur Russian course also has vocabulary flashcards and speed round games to help test and improve your proficiency.
Cons:
Whilst Pimsleur is one of the best language courses to focus heavily on improving listening, speaking, and pronunciation, it isn't the most effective for visual learners.
Click Here To Read More About Pimsleur!
Cost:
3 months £9.99 – £29.97 charged every 3 months
6 months £7.49 – £71.88 charged annually
12 months £5.99 – £44.94 charged every 6 months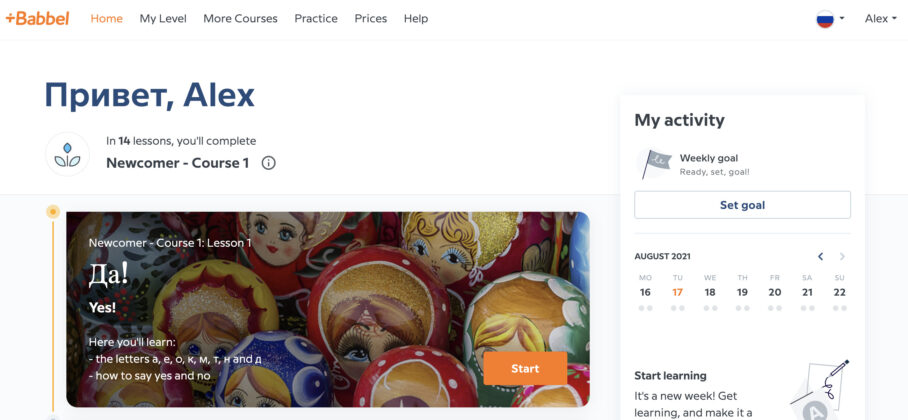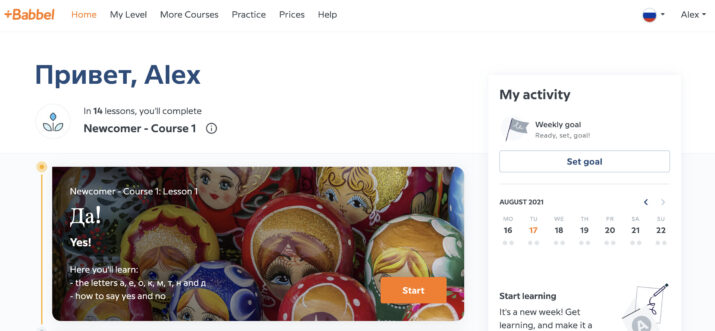 Pros:
Babbel has an ideal methodology for teaching the fundamentals of the Russian language. It teaches you essential vocabulary through short 10-15 minute lessons that can be easily memorised.
Babbel is also brilliant for visual learners since they use images combined with words as part of their database of learning materials. With the use of daily goals, it can also be more motivating for you to learn the language and develop your skills at a much faster pace.
Cons:
Babbel doesn't offer much material or practice for those who have advanced level Russian. Babbel has 2 'Newcomer' Russian courses, 8 'Beginner I' Russian courses, and various lessons for topics such as 'words and sentences'. When it comes to helping you behave like a native speaker, the lessons that this program offers aren't quite enough.
Click Here To Read More About Babbel!
Cost:
Basic – $4 /month
Premium – $10 /month
Premium Plus – $23 /month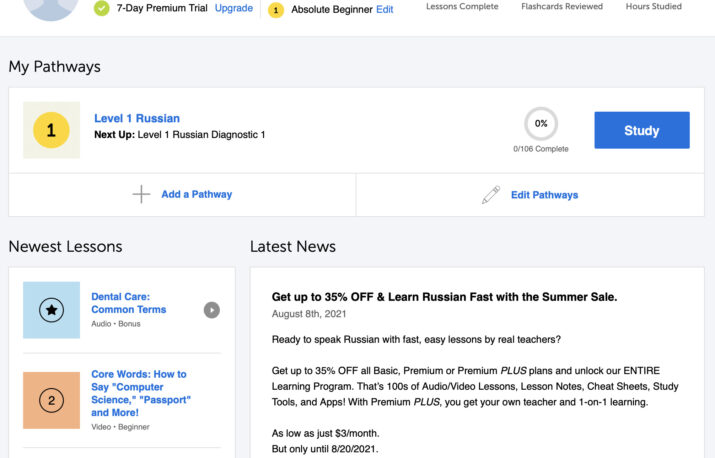 Pros:
With a subscription, you have access to short, yet comprehensive video and audio lessons that are brilliant for beginners. You could learn and practice the Cyrillic alphabet thoroughly, and their videos are wonderful for building your reading comprehension skills. The audio recordings are also particularly of great quality.
There are flashcards and slideshows available which help to quiz students on keywords, and with the Premium Plus subscription, you can receive valuable feedback from your personal Russian teacher who will assign weekly exercises.
Cons:
The user interface could use a little more work. For example, when completing the initial skill assessment, if you skip a question then at the end of the test, you're taken back to the question you've skipped. Once you've answered then it will ask you to click the 'next question' button again until you reach the end of the questions (even though you've already answered them).
Click Here To Read More About RussianPod101!
5. Grammar Hero
Cost:
$197 one-time payment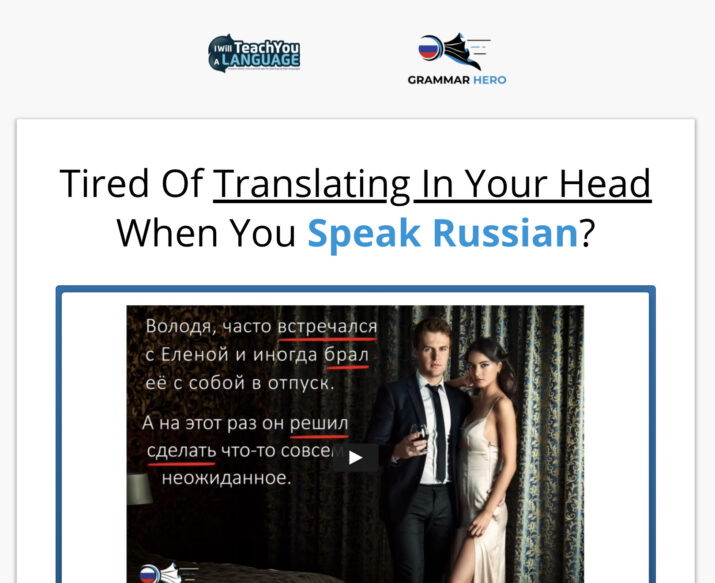 Pros:
As in the name, through this Russian program grammar is taught rigorously and thoroughly. The site gives you instant access to any difficult terminologies at the end of each story you've read through, and you receive access to grammar exercises that help you to make use of the grammar and other language rules you've learned.
The system also provides you with story summaries that you can read through at the beginning to help build your understanding.
Cons:
When it comes to their reading exercises and their grammar briefings, often you'll be faced with a 'wall of text' that makes learning Russian less enjoyable. Some of their activities can sometimes feel like a difficult school assignment that you've been required to complete, thus making learning less enjoyable.
Click Here To Read More About Grammar Hero!
6. LingoDeer
Cost:
Free content with Premium Plans:
$13.99 /month
$34.99 /quarter
$79.99 /annual
$119.99 lifetime access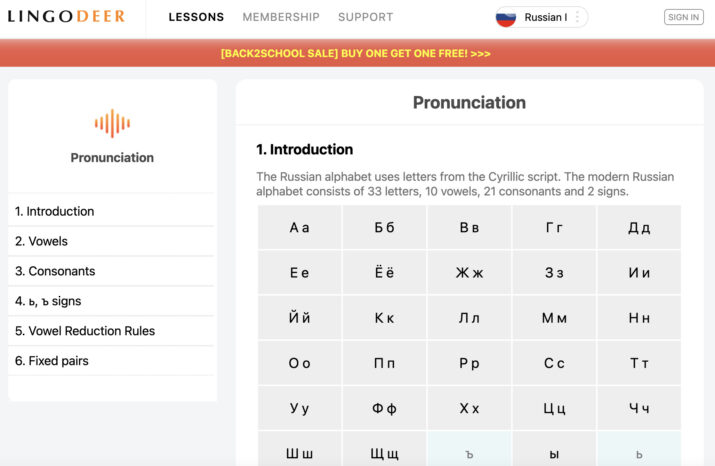 Pros:
At the beginning of the course, you're given an easy-to-understand overview of the Cyrillic alphabet. Their system for conducting Russian classes helps you to get a better grasp of the language by first introducing all the important consonants, vowels, vowel reduction rules etc.
This course can make language learning feel more fun through tests that allows you to practice all of the Russian you've learned and lessons that are wonderful for helping you to learn vocabulary through multiple choice card selections.
Cons:
Grammar is covered thoroughly, however, to reach an advanced level of Russian, the number of terms they introduce throughout the course isn't enough. Students will require supplementary material to learn advanced level Russian.
Click Here To Read More About LingoDeer!
7. FSI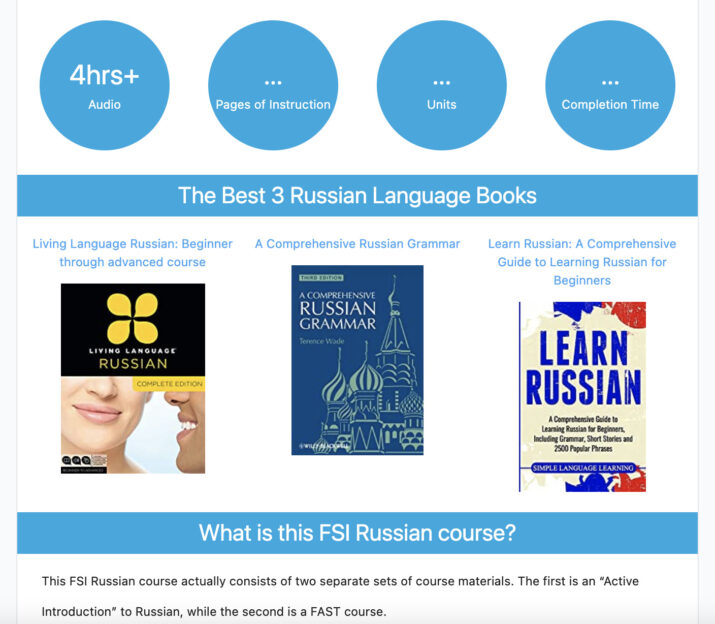 Pros:
To start learning Russian through the free FSI course, you're given 4+ hours of audio recordings and several PDF files that are wonderful for consolidating your understanding of the Russian language. In the PDF files, you receive in-depth explanations of vocabulary and language structure that help you to build a solid foundation.
Cons:
The FSI Russian classes aren't suitable for beginners. Following along with the recordings can be very difficult without already having a basic understanding of the Russian language.
Click Here To Read More About FSI!
8. Mango Languages
Cost:
$7.99 /month + free content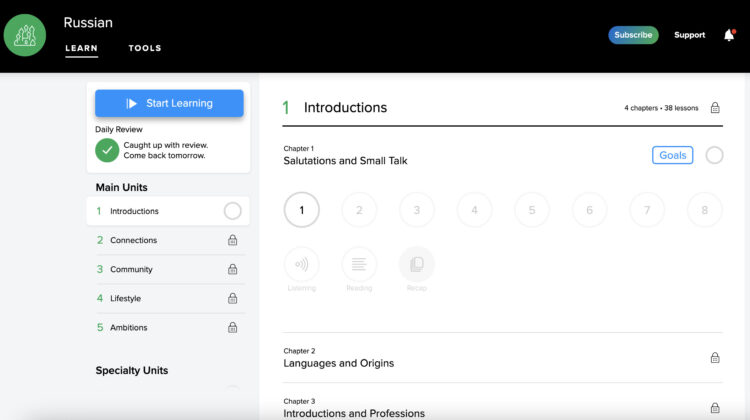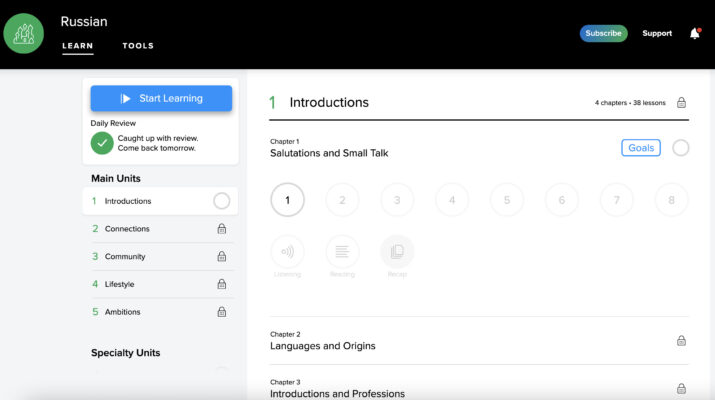 Pros:
With the 'Mango Languages' Russian course you have the option of recording your speaking and pronunciation to compare it with native speakers. For each lesson, you're given clear conversational and grammar goals that easily help you to track how much you're supposed to have learned.
The recordings themselves use a variety of voices that enables you to get used to the language at a faster rate and the translation gives you both the understood meaning of the word(s) as well as the literal meaning.
Cons:
Whilst you can compare your speaking with those of natives, there's no automatic software to give you accurate feedback on your pronunciation.
Click Here To Read More About Mango Languages!
9. Duolingo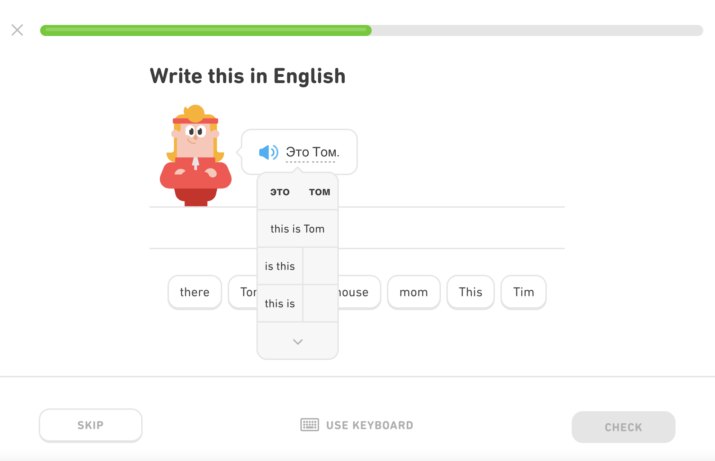 Pros:
Duolingo offers a large amount of courses for free and through their Russian course you can learn enough Russian to have a basic converse (the premium account starts from £6.50 /month).
Each lesson covers a specific topic in detail and there is a considerable number of topics that you can easily work through including business, education, and people. This introduces you to more categories of the language and thus helps prepare you more thoroughly for the real world.
Cons:
Due to the game-like lessons, it can often feel like you're not learning the language earnestly. The use of colorful images does make language learning more enjoyable, however, when it comes to learning Russian in a serious context, it can become tiresome.
Click Here To Read More About Duolingo!
10. Memrise
Cost:
The first lesson is free, and you have access to some free material
£8.99 /month
£5.83 /month – Annual subscription
£139.99 – Lifetime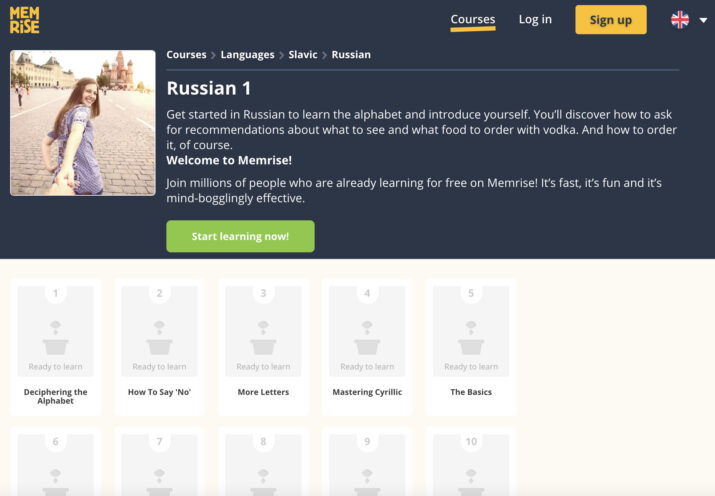 Pros:
Vocabulary is thoroughly covered with the Russian program offered by Memrise. With a subscription, you have access to their high-quality app and space-repetition methodology, enabling you to practice and retain information easily.
Learners can learn Russian at their own pace, and due to the app, it's also more convenient to learn and practice during commutes. The app itself is well designed, interactive, and easy to navigate through compared to courses like Red Kalinka.
Cons:
Grammar lessons are only available on the app, meaning that it's much more inconvenient for those who want to learn on their laptop. On the lesson overview, you're given a display of Russian words and their translations, however, you can't listen to how the words are pronounced until you go into the lesson itself.
Click Here To Read More About Memrise!
11. BeFluent
Cost:
$49.99 – Basic
$99.99 – Premium
$199.99 – Ultimate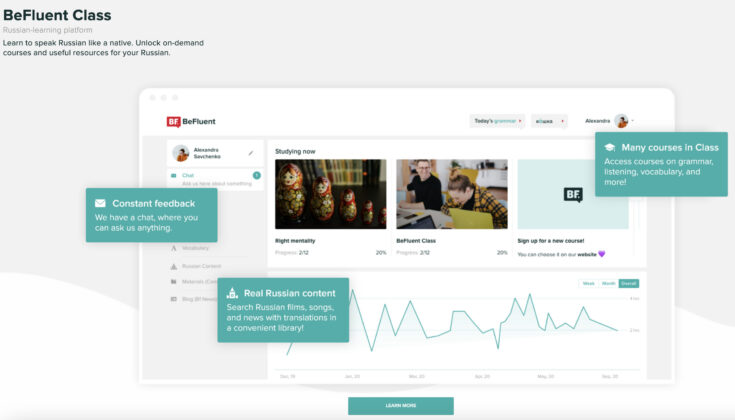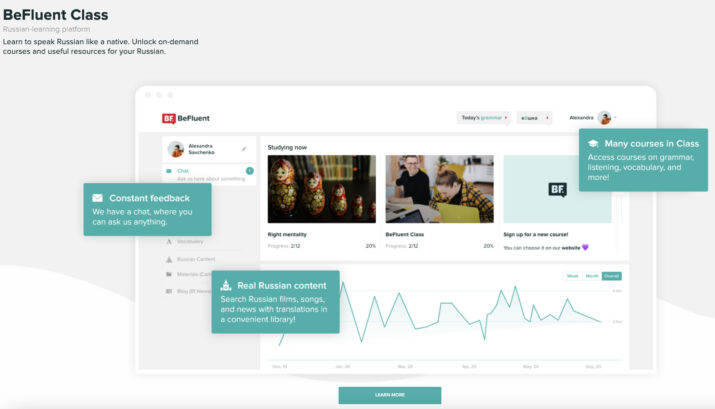 Pros:
Students get access to daily Russian exercises and exclusive methods that help with achieving fluency in the Russian language. The option of participating in weekly group Russian classes can be incredibly useful when helping you to consolidate the knowledge you've learned over the last week with a group of individuals who have the same goal.
For students who purchase the Premium subscription, you can also receive feedback on the exercises you've completed, and with the Ultimate subscription you gain access to 8 private lessons that further develop your speaking, writing, listening, and reading skills.
Cons:
BeFluent doesn't give you the option of language learning at your own pace. You develop your Russian through an 8-week course and when it comes to the weekly call, you can't decide the date and time by yourself as it is voted through a group session.
Click Here To Read More About BeFluent!
12. Busuu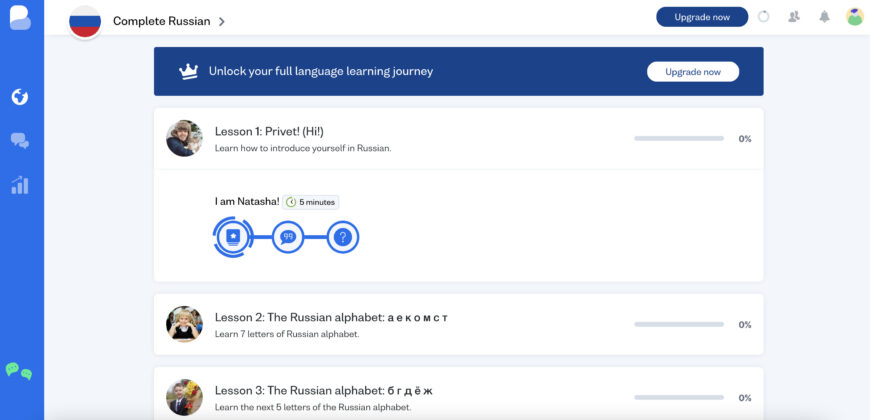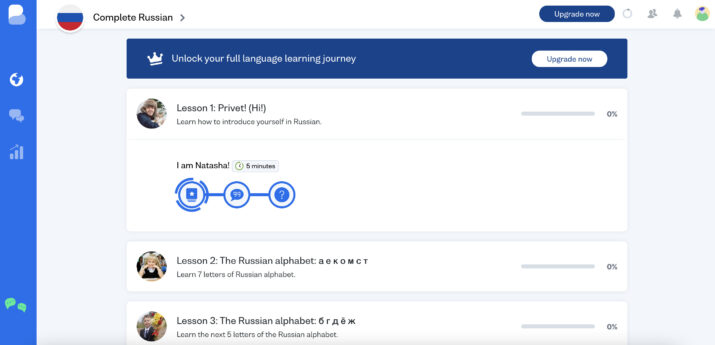 Pros:
Busuu is an online program that offers a wide range of materials for free (Premium costs £5.83 /month and Premium Plus £6.66 /month). Materials include comprehensive exercises, dialogs that help you learn how to put words into context, and flashcards that are brilliant for learning vocabulary.
Instead of using cartoon-like images, the pictures used in each class shows real people or places, making it feel less simplistic and thus enabling you to feel more connected to the real world. You also have the option of taking quizzes to help improve memory.
Cons:
This program doesn't offer any options to try and either slow down or increase the speed of the audio recordings. The conversations spoken are at the same, consistent speed which doesn't replicate what Russian is like when spoken in real life.
Click Here To Read More About Busuu!
13. Bite Size Languages
Cost:
$67 one-time payment (at the time of writing)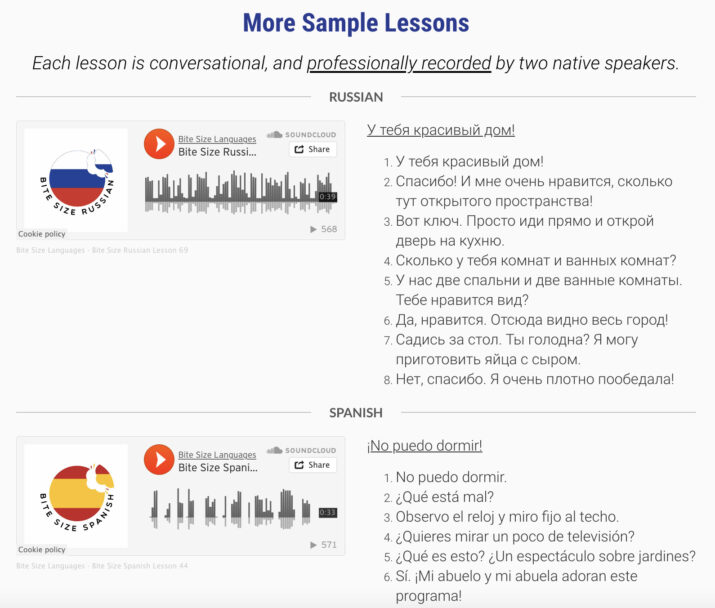 Pros:
Bite Size Languages is one of the only online Russian courses that go into such depth when it comes to spoken Russian. You learn to develop your language skills using their system for building listening comprehension. Their easy-to-understand notes also give thorough explanations for vocabulary, grammar, and more.
Each of the dialogs contains beginner-friendly phrases and 100 lessons that teach the kind of Russian spoken in everyday conversation. When it comes to the translations, you also receive the literal translation of the phrases/words in question, making it easier for you to understand how the grammar works.
Cons:
Since Bite Size Languages focus heavily on building your speaking and reading skills through audio files and transcriptions, it isn't the best online Russian course for those who learn by visual stimulation.
Click Here To Read More About Bite Size Languages!
14. Rosetta Stone
Cost:
3-day trial (free)
$11.99 /month – 3 months
$7.99 /month – 12 month
$179 one-time payment – Lifetime