iHub Message Board: The Best Review [2022]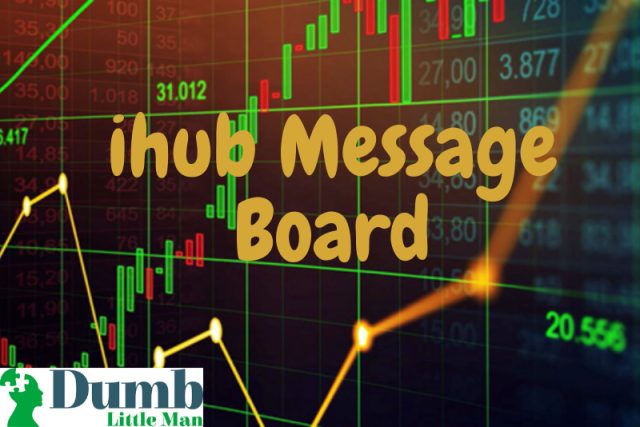 Investors Hub Message Board is also known as the Investors Hub by its users. This investing site lets members interact with each other through message boards that have been created by different users.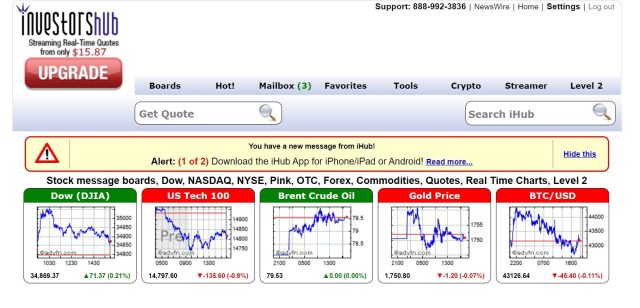 It is one of the most popular message boards said to be a civil-level dialogue, unlike other websites.
Message boards on iHub are mostly centered on trading penny stocks and other instruments such as forex, currencies, and crypto.
In this investors hub review, we will explore the good the bad, and the ugly of this trading software
| RECOMMENDED TRADING COURSE | REVIEW | VISIT |
| --- | --- | --- |
| | #1 Forex, Crypto and Stocks trading course. Ranked most comprehensive by Investopedia and Best by Benzinga. Free to Try! | |
What Is iHub Message Board?
InvestorsHub is an independent subsidiary based in the US whose parent company is ADVN PLC located in the UK.
This platform was created to give serious penny stock traders an inclusive forum to discuss topics related to the stock market.
Some of the most debated topics include low floating stocks and day traded penny stocks giving investors perspectives and insights about the stock market.
Among the popular message boards on investors hub includes the following;
Forex
Stocks
Cryptocurrencies
Commodities
The lounge
Included in the free package are tools such as portfolios, trading, stock scanners, charting, newsletters, penny stocks newswire, and more.
You will get to see more features as you continue reading this investorshub review.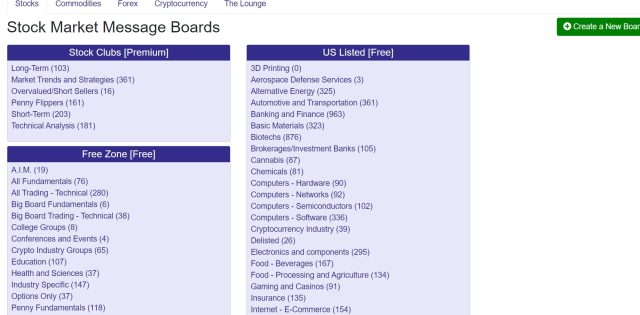 Investors Hub: Who Is It Best For?
This platform is best for speculative investors interested more in low-cost penny stocks whose share price is less than $5.
Trading penny stocks is known to be a very speculative and risky venture therefore investors can lose their money with one bad move.
This is why InvestorsHub message boards are here to help penny stock dealers in their scalping and day trading activities as you will continue seeing on this investors hub review.
CLICK HERE TO READ MORE ABOUT IHUB INVESTORS BOARD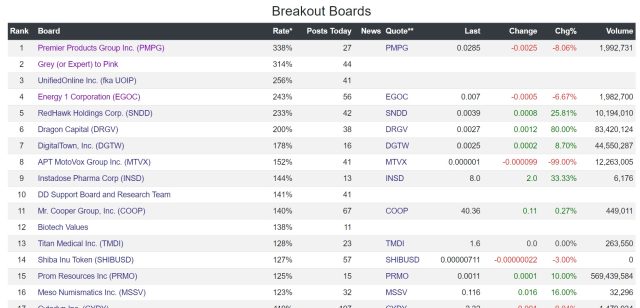 It is among the best message boards for investors who know the risks of trading in penny stocks.
At the same time, Tim Sykes is another popular alternative with outstanding data tools.
CLICK HERE TO READ MORE ABOUT TIM SYKES
The Hot! Tab
This is one of the busiest sections of the Investors Hub message platform.
By hovering your mouse over the Hot! tab, you find a list of the following options;
Breakout Boards
Follow Feed
iHub My Stocks Activity
Ticker Buzz Cloud
Most Read
Most Posted
Most Followed Members
Recent News
News By Market
Active Boards
Site Stats
New Boards
Cannabis Stocks
Top PlusOneCoin Posters
Let us go over some of these features to see what InvestorsHub offers.
Breakout Boards
This section of the Hot! tab displays various message boards that have different breakout postings comparing against trading done in the last seven days
The breakout board displays the company with the highest rating as the first in descending order.
Once you click on any company message board you are taken to an interface showing details date the date of boards creation, number of followers, board type, and the number of posts on that particular day.
On top of that, you can search within the boards for information on any of the companies on specific dates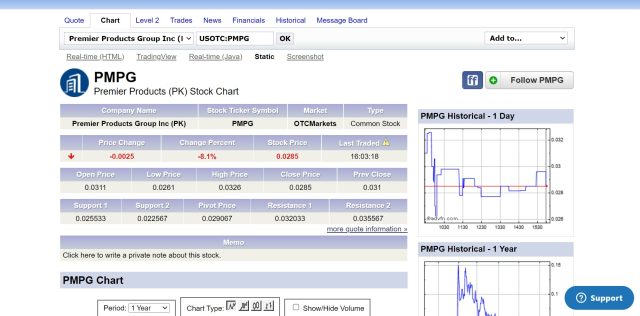 You also get details such as the volume of shares traded and on clicking further, charts indicating highs and lows of the particular company.
Other Items On The Hot! Tab
The Hot! tab sections contain 14 different subsections of which not all have useful content to discuss in this Investors Hub Review.
The Ticker Buzz Cloud feature helps you keep track of the buzz level of any stock ticker.
According to the website, the bigger the text in the ticker the more mentions by the community.
The category of most-followed members is another interesting feature, ClayTrader being the most followed trader with over 8,500 followers.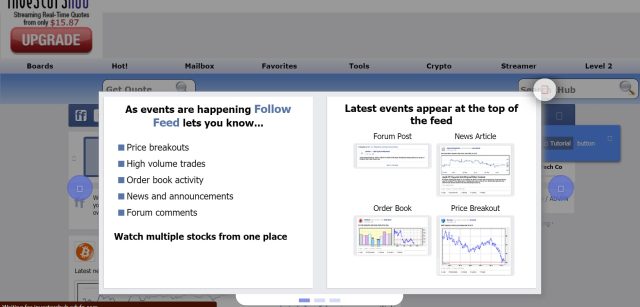 Membership Options For Trading Penny Stocks
Most of the sections of investorhub are actually free as you can access tools and features, markets, brokers, and take advantage of the prices.
The premium memberships however get access to more market data such as level 2 screen, stock charts, and boards.
Premium members get access to market cap details, more news, real-time data, and such like additional services.
Whether a trader is using the premium tools or the free ones, they get access to free educational material from their Stock Market 101 page.
More to this investors hub review, let's look at traders get with the premium plan.
CLICK HERE TO READ MORE ABOUT IHUB INVESTORS BOARD
InvestorHub Premium Membership Review
Premium users have the option of doing unlimited posts as well as enjoy the community feel within the message boards especially for stocks investors who like to have other opinions.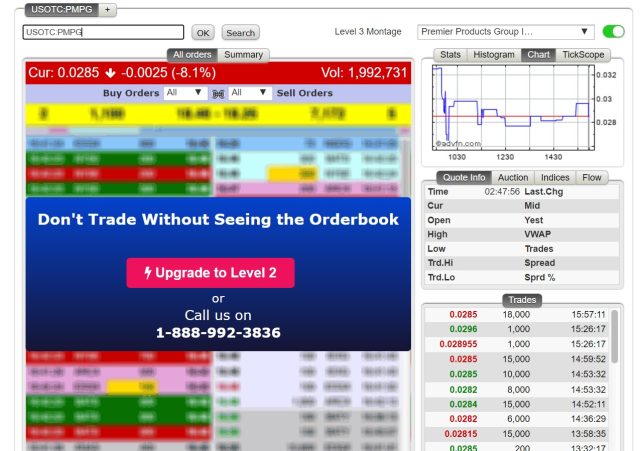 How Deep is Investors Hub?
Oh, the platform is deep for sure. You can also add the international bourse to your subscription to provide you with real-time data so that you won't lose your money because of blind trades.
Investing in this platform means you get mobile access to European markets, Forex market, industry-specific newsletters, swing trade reports, and such services.
InvestorsHub seems to have mastered their art through their freemium add-ons that users can subscribe to at low rates.
If you decide to pay annually you save a lot more money upfront while having their premium data tools, investors briefings, and discussions between traders all in real-time.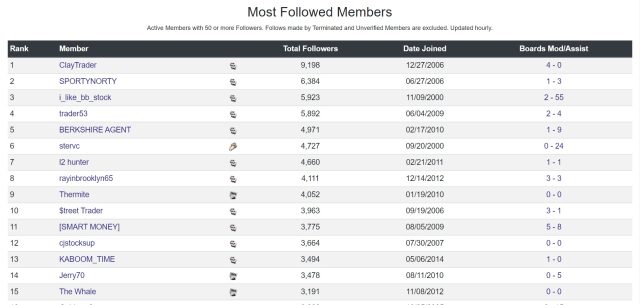 Investors Hub Tools For Penny Stock Traders
As discussed in this Investorshub review, the platform is commonly known as a message board moreover, it has excellent tools that help you track your money at the stocks exchange.
Such tools include stock charts, historical data, company financials, and information on particular message boards discussing particular stocks.
Level 2 services will provide you with real-time access to information on trades and you can customize the interface to give you data on the particular stock you want.
CLICK HERE TO READ MORE ABOUT IHUB INVESTORS BOARD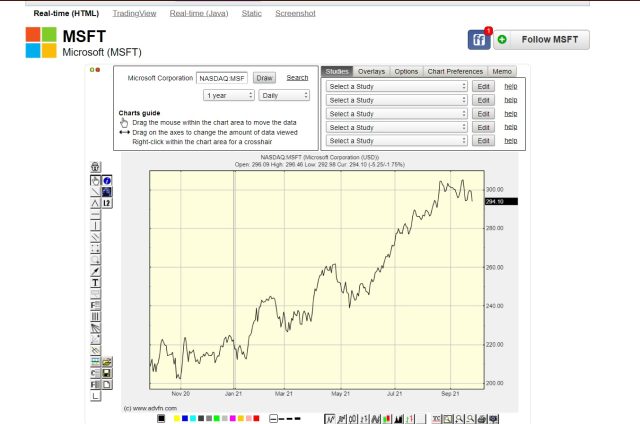 Charts
The charts at InvestorsHub have a very basic view however very informative.
Stock traders get access to overlays, charting studies as well configuring charting preferences.
With that said, Trading View or Tim Sykes might just be better on this end.
CLICK HERE TO READ MORE ABOUT TIM SYKES
CLICK HERE TO READ MORE ABOUT TRADING VIEW
Stock Screener
With this tool, investors can screen more than 10,000 stock companies with more than 500 criteria and save the settings for later.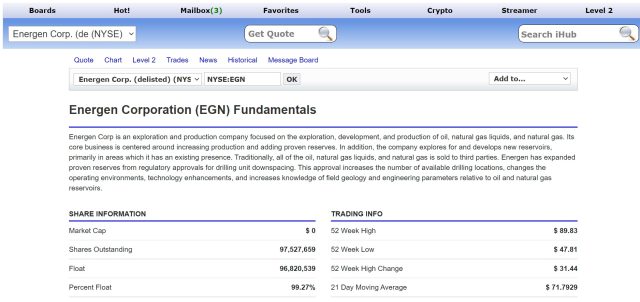 Being one of the most exciting tools on this platform, the process of handling it is easy and investors can add or remove any key metrics within a click of a button.
It is definitely an interesting stock screener though not the best in the business as Trade Ideas seemingly have the best Stock Screener.
CLICK HERE TO READ MORE ABOUT TRADE IDEAS
Stock Streamer Tool
This InvestorsHub review cannot be complete without checking out the stock streamer tool.
Traders investing in different stocks and crypto enthusiasts can all be able to track the performance of their ventures live.
Cryptocurrencies are free to track the performances of their investments 24 hours a day however stock indices and equities are best tracked on the premium version of the platform.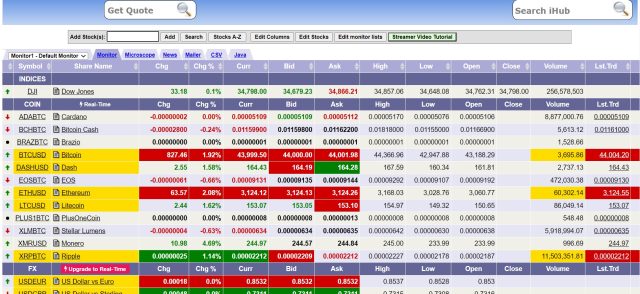 InvestorHub Crypto Tab Review
Termed as one of the hottest investments in the 21st century, it would have been a shame for the developers to not include this platform.
Among the services offered here is a list of the top 100 cryptos by their market capitalizaton, daily prices change, volumes traded, access to historical data for each coin spaning years.
Among tools built-in here include a crypto conversion calculator to various major currencies, crypto news, alerts, and a social media token faucet for PlusOneCoin.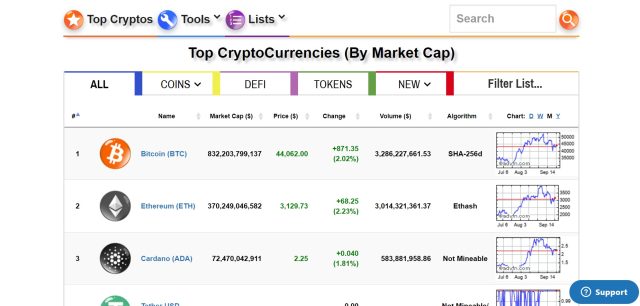 One thing to note in this investorsHub review is that cryptocurrencies are not going anywhere and are here to stay.
This is why Investors Hub has offered to provide a section of their investing site to crypto enthusiasts.
CLICK HERE TO READ MORE ABOUT IHUB INVESTORS BOARD
Investors Hub Pricing Options
Earlier in this InvestorsHub review, we had indicated that most of the sections of this platform are free except a couple which actually makes a lot of difference for people investing their money in stocks.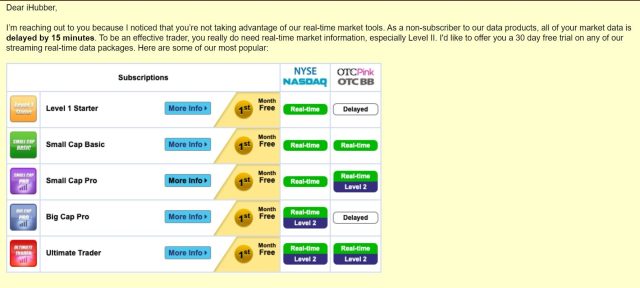 You only need to register for free to gain access to tons of delayed data.
Go for the priced version and you will get real-time data of various stock market trades.
Level 1 Starter
The level 1 investor looking to trade will have to pay $15.87 monthly then get live real-time streaming of the following;
NASDAQ
AMEX
Stock prices
S&P indices
Dow Jones
Small-Cap Basic
When you pay a monthly fee of $33.03 for this package you get access to Level 1 Starter products including pink sheets, OTC BB, and grey sheets.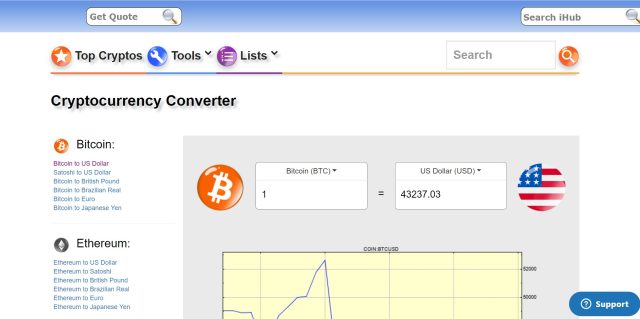 Small-Cap Pro
This level is priced at a monthly fee of $49.05 and you get the services offered on Level One Starter, Small Cap Basic, and level 2 data for pink sheets and OTC BB.
Big Cap Pro
Priced at $52.04, this plan offers all products indicated in the above three tiers and level 2 data for AMEX, NASDAQ, and NYSE.
Big Cap Pro
This is the ultimate premium package plan offered by Investors Hub with packages posted in the previous packages with the addition of level 2 OTC Markets and OTCBB.
Pricing Summary
Any trader looking to invest will need access to level 2 premium plan to be able to connect with brokers or trading partners that are within this trading site.

New to investing in the penny stock world? Worry not, start with the free version and build your way up and take advantage of the free educational material listed at the bottom of each page on the site.
Once you accept to register to the free site version as a trader, you will get access to lots of news feeds, free content, and stock analysis tools.
InvestorHub Review Pros
Free membership option with great site tools and features.
Users have access to daily posts of charts and quotes for their use in stock analysis websites.
Easy to use interface without much advertising.
A huge number of crypto posts and analysis which is a nice feature to have.
Moderately priced premium membership fees for any trader.
InvestoHub Review Cons
The site currently does not have live chat support for its customers.
Some premium features like level 2 access can be obtained free
InvestorsHub Review of currencies and indices
The first thing you realize after a sign-in is that most of the services offered at Investors Hub are free including data on major currencies and indices.
However, the messages boards are the actual heartbeat of the site since charts and other analyses tools can be provided by other human traders.
By posting messages on the site forums, investors get tips and tricks as well as data that helps bring in discussions between the investors regarding the stock exchange.
As earlier indicated in this investors hub review, posting such messages in the forums helps investors interact and learn with the community.
It is actually known to be one of the most respected and established trading sites on the web.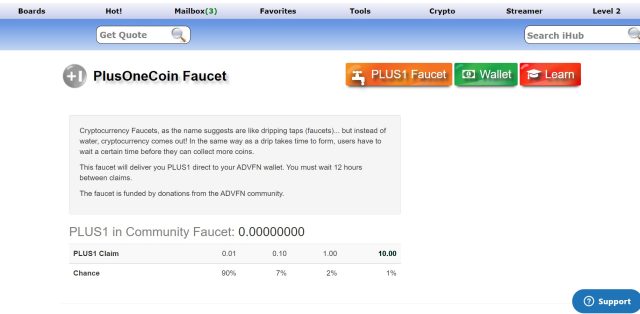 InvestorsHub reviews on Videos
The site allows analysts, partners, sponsors, and other qualified members to post videos under certain search categories including business commentary, educational, stock chart, and just for fun content.
When you search for videos, you realize that each of them has a stock ticker showing the number of views, the index, and the date each post is concerned with on the site.
What is Happy Hour and When Is It?
I know it sounds crazy to write in this InvestorsHub review but it is true they do have happy hour every other Friday between 4-5 pm ET.
When users sign in during the happy hour block, they get to enjoy the full premium highlights such as full-text searches, being able to rea 100s of messages in a single click, and sending private messages to other members in the platform.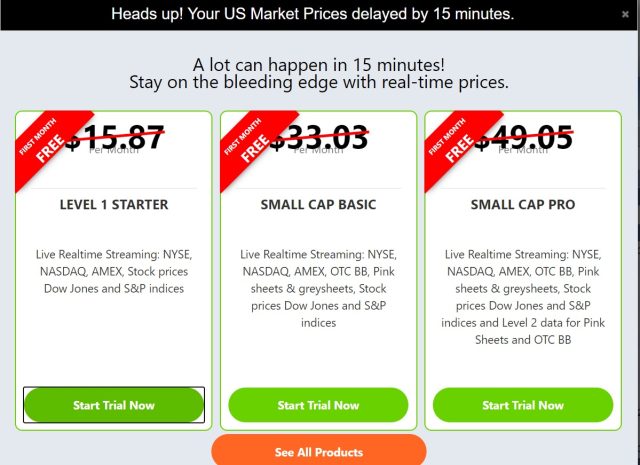 How do you search for a message board?
This is a very easy process as you only need to type in the ticker symbol or part of the name of the company you are searching for.
| RECOMMENDED TRADING COURSE | REVIEW | VISIT |
| --- | --- | --- |
| | #1 Forex, Crypto and Stocks trading course. Ranked most comprehensive by Investopedia and Best by Benzinga. Free to Try! | |
Conclusion
After going over this InvestorHub review, we conclude that the site is legit and has a lot of free content which is worth it however we feel that level 2 data is a bit too expensive.
This is because there are stockbrokers out there providing the same data for free to their clients.
As said in an earlier post in this InvestorsHub review, trading penny stocks can be a risky venture so you have to be careful with the investments you are working on.
We still consider Tim Sykes and Trade View as the better platforms to trade with because some of the premium features offered as shown in this InvestorsHub review are free on the other platforms.
CLICK HERE TO GET TIM SYKES AT A DISCOUNTED PRICE
CLICK HERE TO GET TRADING VIEW AT A DISCOUNTED PRICE
Like this Article? Subscribe to Our Feed!
Passionate in tech, software and gadgets. I enjoy reviewing and comparing products & services, uncovering new trends and digging up little known products that deserve an audience.