How To Trade Currency: A Trader Beginners Guide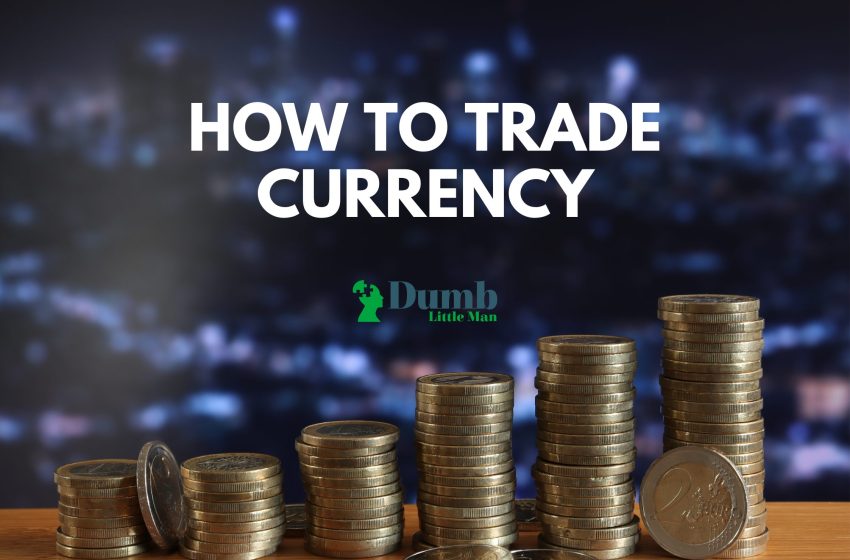 Want to jump straight to the answer? The best forex broker for traders is Avatrade
The #1 Forex Trading Course is Asia Forex Mentor
Trading the currency market can prove one of the best ways to make money online. All you need is the right information and know-how. That said, learning how to trade forex is not as simple as any sources like to make it out as.
Matter of fact, forex trading can prove to be one of the most difficult ventures you can get into. Let's take a closer look at trading and whether it is a good idea for you.
In this review, we take a closer look into currency trading, what it is and how you start trading forex. We will also consider how to set up a reliable forex trading strategy.
Here to help us understand how to trade forex and set up a forex trading strategy, we've got Ezekiel Chew. He is a world-renowned trader who has taught retail investors and large financial institutions alike.
How to Trade Currency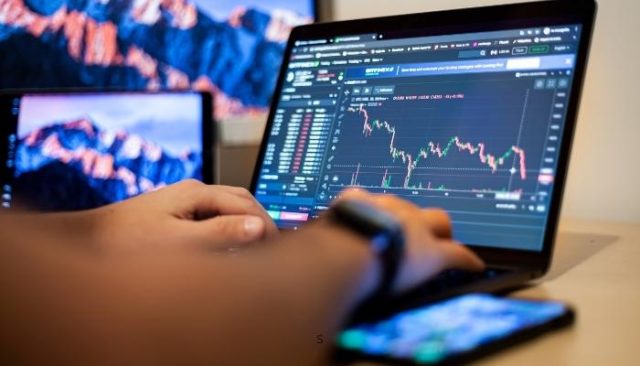 The foreign exchange market is just one of the markets where traders can make money in. That said, the currency market can be one of the most frustrating forex markets to trade-in. Granted, the idea of making money in the forex market is to buy at a low price and sell at an even higher price.
However, there is so much information to consider which makes the whole thing seem complicated. Many traders end up losing money rapidly and eventually drop out of trading. For many hardly a year passes before they decide to call it quits.
But once you make the right decisions, forex trading can prove pretty lucrative. To be a successful currency trader, you must invest in the right information and do the practice.
Forex Trading Basics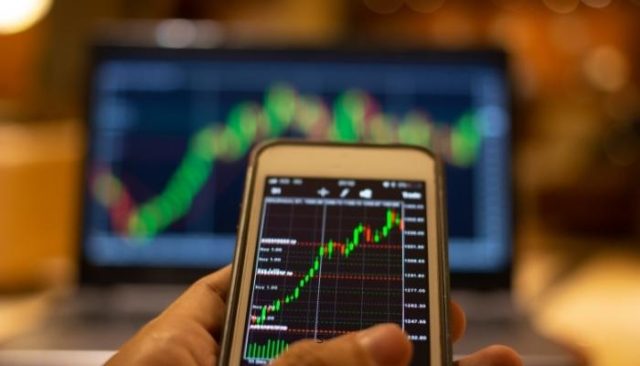 Many traders who start trading forex often ask themselves, what is forex trading? Forex trading is all about making the most of currency price movements. The forex market is the biggest financial market in the world and every day several trillions of dollars exchange hands. Surely there is a lot of benefit to learning how to trade forex.
With forex trading, you will be buying one currency using another currency. This explains why each transaction is always carried out as a pair.
The forex market is a 24-hour market. The exception is that the forex market doesn't operate during the weekend which is from Friday evening to Sunday evening. The forex market can remain in operation for the rest of the week from Monday to Friday because it is mainly controlled by three major markets.
They are the American market, the European market, and the Asian Market. When one market closes, the other is about to open. Keep in mind that there is some overlap between the opening and closing times of one session to the next. Also, when a market opens, there is usually a volatility spike.
For the stock market, it is possible to find out what is causing the price movements of a stock by looking at other factors that are affecting the company. But is it possible to find out which factors affect the currency pair's price? A strange thing is that factors that affect stock prices also tend to affect currency prices. As a result, many stock traders have moved to trading forex.
One of the major factors that influence price movement in the currency market is demand and supply. For instance, if there is a demand for more dollars, then the value of the dollar will go up. The value in turn will be determined by the issuing country's command of political stability.
That said, other factors that can influence the currency pair's price include interest rates, geopolitical reasons, and shifts in the economy. Trading forex is the same regardless of where you are in the world.
The forex market is decentralized. This is why when you want to trade forex, you will need to do so using a forex broker. He gives you real live data from the forex market. There are benefits as well as disadvantages of trading forex through a broker. We shall find out about this later on.
How to Trade Currency Pairs
So, we've looked at what the forex market is about and found that it can be a lucrative way to make money. So, how do you trade forex? Well, you will need to find a broker and open a trading account with them. Then you wil need to charge your trading account and now you are ready to start buying and selling currencies.
#1. Choose a Currency Pair
Traders are spoilt for choice when it comes to picking a currency pair to trade forex. However, investment advice tells you to choose currency pairs that have high liquidity. These are the currency pairs that will be traded the most.
The advantage of this is that you can quickly buy or sell. You are also able to make the most of the avoid high-end exchange fees. more on that later.
The most traded currency pair is the EURUSD. Other currencies that you may want to go for are the GBP, USD, NZD, CHF, JPY, CAD, and AUD
#2. Analyze the Market
Having chosen your desired currency such as the EURUSD, you also want to make sure that you are updated about the news that is capable of influencing the currency pair. This, however, is just one of the things and there are other things to check.
You simply cannot rely on news alone. As far as fundamental analysis goes, news releases are often used for forex trading in the long term. To get into the market in real-time, you need to be good at technical analysis.
With technical analysis, you will analyze historical charts, and real-time charts as well as consider news releases. The goal is to find out whether taking a trade is a good idea or if you are much better off staying out of the market.
#3. Understand the Quotes
Whenever you are standing in the currency market, you will need to choose a currency pair. This pair will have the base currency and the quote currency. It will also feature numbers as you can see below in the case of the EUR USD.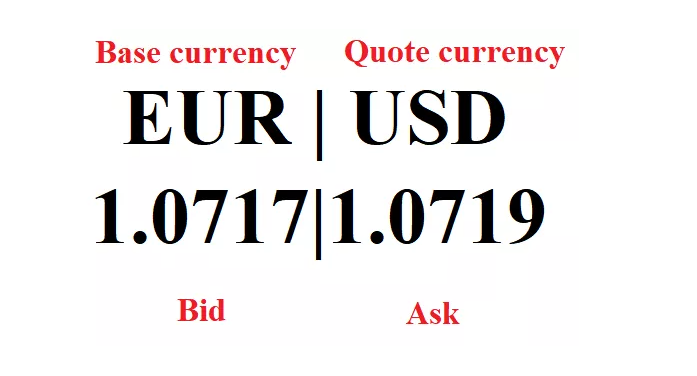 The number that is on the right of the EUR USD is the Ask price. This is the rate at which your forex broker is willing to sell to you. The number on the left is the bid price which is the price that the forex broker is willing to buy from you.
The difference between the asking price and the bid price is the spread. This is how forex brokers who charge zero commission will make their money. It is best to choose a broker with minimal spreads to allow you to maximize your profits.
#4. Take a Trading Position
The next step is to decide on the position. What sets trading forex apart from the other trading assets is that with forex, you are actually going to trade currencies simultaneously.
Because of this, when you are speculating the price movement of the pair in question. What we are discussing is the strength of the base currency against the quote currency.
Let's consider the forex trading example above of the EUR USD. Assuming you believed the EUR value would increase compared to the dollar, then you will be looking to enter a long position.
Similarly, if the EUR value falls compared to the Dollar, you will want to enter a sell position. Now all you have to do is hope that you got it right.
Best Forex Trading Course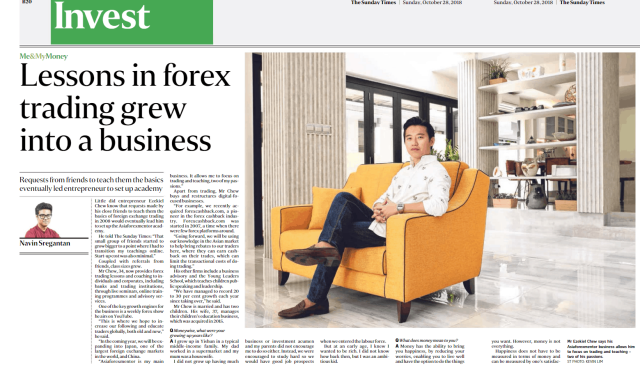 The best Forex trading course is the One Core Program from Asia Forex Mentor. Many traders turn around their trading careers fortunes by taking the course. One Core Program helps traders to upskill with the key but missing trading ingredients for lifelong and profitable trading in futures contract.
One Core program transforms you into a 6 figures profit-taking trader with a confident and proven model. Your approach to markets aims at picking a few trades with high chances of winning while protecting your capital for future trading.
Lastly, One Core Program is an award-winning course – that has helped thousands of retail traders and large assets institutions, including banks and trading corporations. It's a holistic approach that builds on the pillars of analytical, low-risk, and mentorship exposure that most traders miss from other courses.
| RECOMMENDED TRADING COURSE | REVIEW | VISIT |
| --- | --- | --- |
| | #1 Forex, Crypto and Stocks trading course. Ranked most comprehensive by Investopedia and Best by Benzinga. Free to Try! | |
Best Forex Brokers
Broker
Best For
More Details


Best Overall Broker
Read Review




securely through Avatrade website
Broker
Best For
More Details


Intermediate for Non US Traders
Read Review




securely through FXCC website
Conclusion: Currency Trading for Beginners
Our discussion so far looks at a generalized overview of trading the currency market. In actuality, there are several factors taking place with each step and between the steps we've mentioned above.
This is especially the case with the trading strategies. Traders will use multiple indicators to help them decide on the likely price movement. If you want to bring the best out of your forex trading strategy, it is a good idea to know what each indicator does and the type of information that it provides.
Let's consider for example the relative strength index. It is among the most popular trading indicators. Its main role is to offer the trader insight into the moment, of the trend. The relative strength index has values that range from 0 to 100.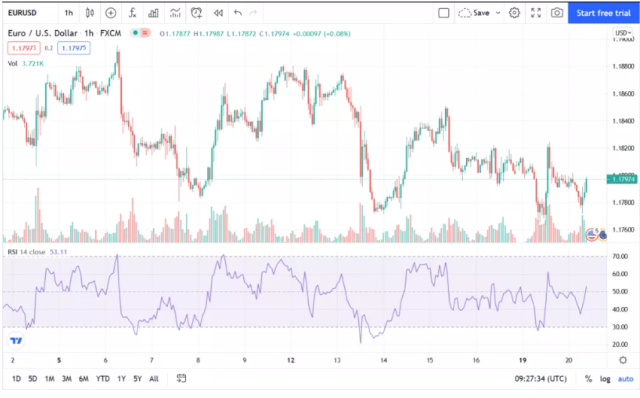 The values that are above 70 show an overbought and the values below 30 show an oversold. Whenever an asset is in the overbought area, this tells you that there is plenty of overbought pressure and the trader may be looking to reverse. In this case, you will be looking for a sell position to trade forex.
The opposite is also true, When prices are in the oversold area, there is plenty of selling pressure and the price may be looking to reverse. In this case, you would be looking for a buy position.
One of the major benefits of including the relative strength index indicator in your technical analysis is that you can tell when the price is likely to reverse before the move happens. This provides you with plenty of time to set everything in place.
How to Trade Currency FAQs
Can you get rich trading currency?
If you are a skilled forex trader, then the currency can indeed make you rich. However, the vast majority of retail traders will end up losing money in currency trading.
Is currency trading a good idea?
If you have money to invest that you can afford to lose, you have access to a reliable training course, and you also have access to a mentor, then currency trading is a good idea with huge potential.
| RECOMMENDED TRADING COURSE | REVIEW | VISIT |
| --- | --- | --- |
| | #1 Forex, Crypto and Stocks trading course. Ranked most comprehensive by Investopedia and Best by Benzinga. Free to Try! | |
Like this Article? Subscribe to Our Feed!
Wilbert is an avid researcher and is deeply passionate about finance and health. When he's not working, he writes research and review articles by doing a thorough analysis on the products based on personal experience, user reviews and feedbacks from forums, quora, reddit, trustpilot amongst others.