Haven Life Insurance Reviews: Insurance Coverage, Features, Pros & Cons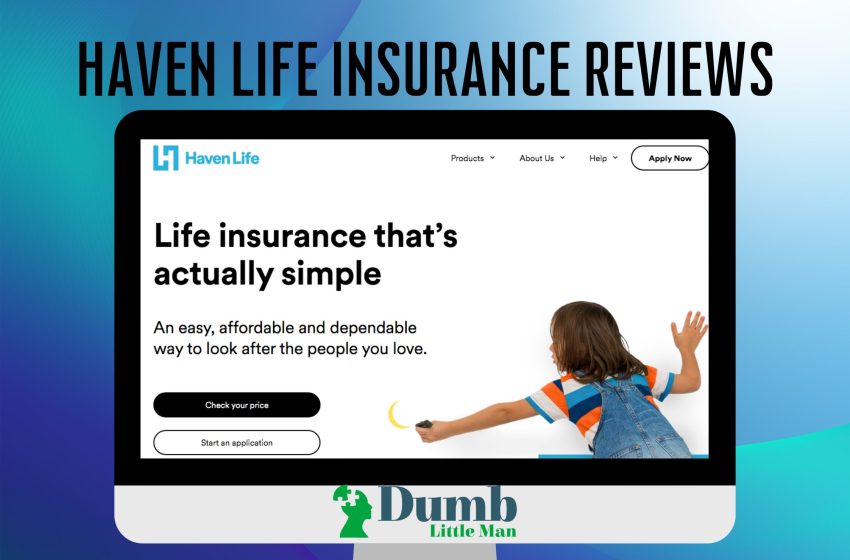 Death is inevitable, we will all die, whether we like to think about it or not and it could disrupt plans. Getting life insurance from a reputable term life insurance company could make a difference and prevent disruption.
This is why we advise you to buy life insurance, as buying life insurance could help protect your loved ones. The risk of financial issues post-death is a lot, and you could prevent this with a term life insurance policy.
Choosing a term life insurance company can be an impossible task as there are different life insurance companies. One of those life insurance companies you will see is Haven Life, and as you have guessed, this is a Haven Life review.
What is Haven Life Insurance Company?

Haven Life has a simple story and humble beginnings; it is the product of a man who was looking for a friendly traditional life insurance policy but couldn't get one. The man, Yarom Ben-Svi, wanting the best life for his family, took his search online, but the ones he found had complicated application processes; this inspired him to create Haven Life
Haven Life insurance offers term life insurance, and per many who have used them, they are one of the best term life insurance companies presently. Their incredible rise to the top is fascinating when you look at the fact that they are a relatively new term life insurance company that began in 2014.
Despite starting in 2014, Haven life offers a great Haven term life insurance policy as Haven Life's parent company is MassMutual; yes, the MassMutual, one of the largest life insurers in America. Picture Haven Life's life insurance products as an online version of the existing traditional life insurance policy that MassMutual offers.
One thing that sets the Haven Life insurance policy apart is the ease of applying, which could take nothing more than 10 to 30 minutes, depending on how comprehensive your medical history is. Notwithstanding, Haven Life as a term life insurance company offers term life insurance policy which is a term life insurance policy that doesn't require you to take a medical exam.
What are the Types of Insurance Offered by Haven Life?
As a friendly life insurance company, Haven Life provides different Haven Life policies or insurance products we will cover in this Haven Life insurance review. So as promised, the types of term life insurance products you can get from this life insurance company are;
Term Life Insurance
Through our research for this Haven Life insurance review, we have discovered this life insurance company provides the Haven term life insurance. The Haven term life insurance , which the Haven Life insurance agency provides, covers for a specific period, 10, 15, 20, 25, with the maximum being 30 years.
For these periods, you have to pay a fixed premium each month, and you have to renew after these periods so that your beneficiaries will get death benefit from your Haven term life insurance. Failure to extend this period means that this Haven term insurance terminates, and your loved ones will not get your death benefit.
Although the need for an extension is a bit wonky, unlike permanent life insurance, it is pretty cheap to get this life insurance. And as long as it continues to run before the expiration period, your loved ones stay protected.
Whole Life Insurance
The Haven life insurance agency doesn't provide only term life insurance; they also sell permanent life insurance (at least a version). As permanent life insurance, this insurance continues for as long as you continue to pay your Haven term insurance premiums at the stipulated time; no maximum period would require renewal.
So, this means that your loved ones will get your death benefits as long as you continue to pay the fixed premium. Interestingly, there is the growing cash value concept which means that your loved ones could get more payout; also, the tax on this growing cash value is deferred.
In addition, you can borrow against the cash value, but it reduces the benefits your loved ones will get after your demise. There is also the risk of terminating the insurance because of your borrowing.
Unlike the Haven term insurance we've discussed earlier, this life insurance is costlier, but it has juicy benefits, which you can't ignore too.
Universal Life Insurance
How does having insurance that allows you to determine (within specific limits, of course) the amount of premium you have to pay sound (within specific limits, of course)? Sounds neat, doesn't it?
This is one of the perks of this Haven Universal insurance. This insurance is also a version of permanent insurance which means that it exists for your lifetime as long as you continue to meet the premium payment obligations.
This insurance policy allows you to choose between a fixed payout or a payout that increases. You can also change your coverage amount as you can adjust the amount of premium you pay (but your policy must have enough value to cover insurance and administrative costs).
How does Haven Life Insurance work?

Most people fear to ask this question out loud, 'do I need to approach life insurance companies and get insurance?' So, they live answering the question until they become terminally ill, rack up debts, and put their loved ones in a repayment pickle.
You can become a student loan hero for your loved ones by taking out term life insurance policies which would help with student loans, mortgages, or any other type of death. You can also get insurance to help your loved ones' income and maintain your business stability.
You see, an insurance policy helps protect entities you want protected, and it works by entering into a contract with an insurance company and paying a fee to them monthly. So, when you pass, and your life insurance is still subsisting, the life insurance company pays an aggregate sum to your listed entities.
That money the insurance company pays out could do wonders to those you have listed to pay it out too. It could cover the cost of the funeral, daily expenses, pay debts, or for future purposes.
Click Here to Get Started With Haven Life Insurance.
What is the Coverage of Haven Life Insurance?

This part of our Haven Life insurance review covers the different Haven Term coverage. Our Haven Life insurance review promises to provide details on the coverage.
Haven Term
Convenience is the mantra for this Haven insurance coverage. You can easily buy it; it isn't costly and comes with other sweet benefits, but a medical exam is possible when you apply.
Yes, for this insurance medical exam is required to determine if you are eligible, but first, you will provide answers to certain questions about your health and lifestyle.
The Haven Term is one of Haven Life's first insurance policies, and it is an online application with an offline medical exam and to apply, you must be between 18 and 64 years. The term for the Haven Term is 10, 15, 20, 25, or 30 years but healthy applicants between 50 to 64 years get 10, 15, and 20-year terms, so no applicants can get the same terms.
The benefits here range between $250,000 and $3,000,000, and it applies to applicants depending on their age. As mentioned earlier, applicants should do a medical exam to get this coverage.
Haven Term Simple
So you don't want a medical exam? Well, no problem, as our research for this Haven Life insurance review reveals that the Haven term doesn't require you to have one.
So, to be eligible when you apply, you don't need a medical exam, but you must be 20 – 55 and must not be in California, New York, North Dakota, South Dakota, and Delaware. The maximum payout on this coverage is $500,000 with a $25,000 minimum payout.
The coverage has a period of five, starting from 10 years with a maximum of 20 years. This means that you can only get a period of only 10, 15, and 20 years depending on your age.
Haven Secure
Life insurance doesn't get more secure than Haven Secure. Haven Secure coverage provides income replacement for 30 years, and it is eligible for 18 to 60-year-olds.
Depending on their choice, beneficiaries can take the payment in an aggregate sum or elect for a monthly installment within 5 years or more.
So, as you can see in our Haven Life insurance review, Haven Life has significant coverages, but there is more. There are boosts for those who already have life insurance with Haven, and these boosts or riders are;
Accelerated Death Benefit
Accelerated death benefit allows you to get part of your benefits when you become seriously ill. Also, when you get injured or disabled, you can buy a waiver of premium rider, which means you wouldn't have to pay premiums if disabled totally.
Haven Life Plus
Through this, you will get a customized will, free fitness app subscription, etc. However, you aren't eligible in North Dakota, Florida, Washington, and New York.
Haven Life Insurance Requirement?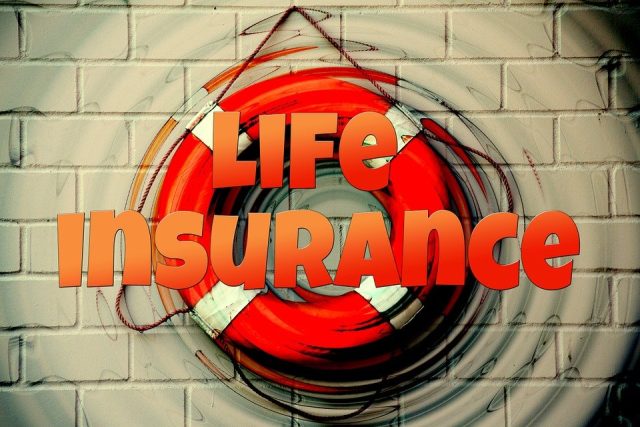 Haven Life doesn't have imposing requirements for those that want to buy Haven Life insurance. The requirements depend on the term life insurance you want to get.
These requirements are;
Applicants have to be or above 18 or 20 years.
Applicants must be ready to conduct a medical exam in some cases.
Applicants must provide medical history
Applicants must not be more than 64 overall.
How to Apply for Haven Life Insurance?
To get Haven Life's life insurance, you will not be extending yourself as the process is incredibly straightforward, and you can use your smartphone to apply online. When you get on their website, you will get a quote that will estimate rates and coverage options; then click get your real rate to begin your application.
Then when you being your online Haven Life application, they will give you a form to fill, and in that form, you will state your gender, age, and weight. In addition, they would also ask about your lifestyle, if you smoke, and other relevant medical history information.
The good news, you might decide on your eligibility early enough and if necessary, Haven Life might require that you take an offline medical exam that you can take when you want. Also, Haven Life would come to where you prefer and have their expert paramedic examine you and review your medical history.
You must be honest when you are filling the form. Any attempts to play tricks could be mean not getting your beneficiaries won't get a payout.
Click Here to Get Started With Haven Life Insurance.
How much does Haven Life Insurance Cost?

For Haven, life insurance cost depends on the age, gender, coverage amount and type, lifestyle, medical history, and if you want to purchase Haven Life's riders. Also, the cost is determined by what the company believes to be your risk of death during coverage, the kind of risk you encounter through hobbies and activities.
In addition, Haven Life insurance agency examines your medical history, current income, family medical history, and whether you smoke. For instance, smokers pay more monthly premiums for their life insurance, and people with dangerous hobbies and activities might not get life insurance on account of their activities.
Essentially, the healthier you are, the less you would pay. So a young, healthier applicant could lay as low as $21.32 towards their life insurance while an older applicant could pay more.
Who is Haven Life Insurance Best For?
People Looking for Great Life Insurance
Haven provides excellent insurance, especially when you look at the area of cost. As long as you are healthy, you would be able to get a great deal from Haven.
Also, Haven provides some flexible insurance for people and add-ons that they call riders. These riders give you more control over the insurance and cater to unforeseen circumstances.
In addition, if you are looking for insurance that doesn't require a medical exam, Haven is your choice. However, don't let this be the reason you wouldn't be truthful with your application, as it could end up harming the interest of your beneficiaries.
Haven Life Insurance Pros and Cons
👍 PROS
► It is easy to apply for insurance because the process is primarily digital.


► Riders come with a customized digital will and subscription for a fitness app.


► Generous coverage for users.
👎 CONS
► It doesn't have established permanent insurance.


► The age cap for eligibility is 64 years.


► Healthier candidates pay less premium while others pay more premium.
Click Here to Get Started With Haven Life Insurance.
Haven Life Compare to other Insurance Company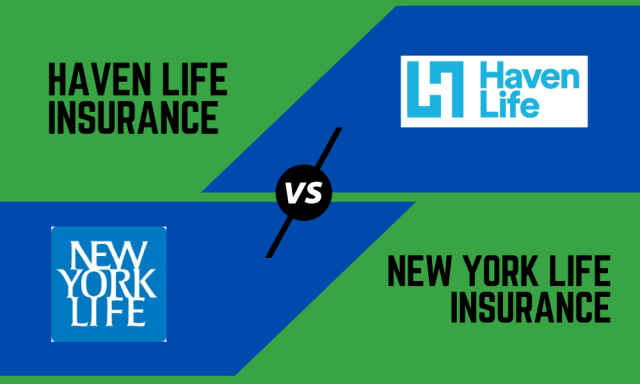 There is a crucial reason why customers flock to Haven despite its relatively new company. Haven offers more for less.
New York Life is a great company and understands the insurance industry. However, its costs are not for the average person.
Essentially, your budget is safer with Haven than New York Life.
>> Full Article Review: New York Life Insurance Reviews: Is New York Life a Great Company?
Haven Life Insurance vs. State Farm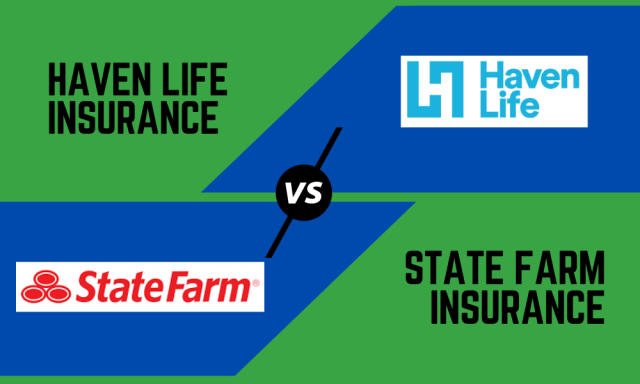 State Farm is a respectable insurance company much like Haven Life. The two companies have a great understanding of the insurance industry, but Haven has admirable unique qualities.
Better Customer interaction. Customers find interacting with the professionals at Haven Life easier than those at State Farm.
In addition, State Farm is limited to what it provides. State Farm provides auto insurance, while Haven includes life insurance.
>> Full Article Review: StateFarm Car Insurance Reviews: Insurance Offers, Features, Cost, Pros & Cons
Haven Life Insurance vs. Bestow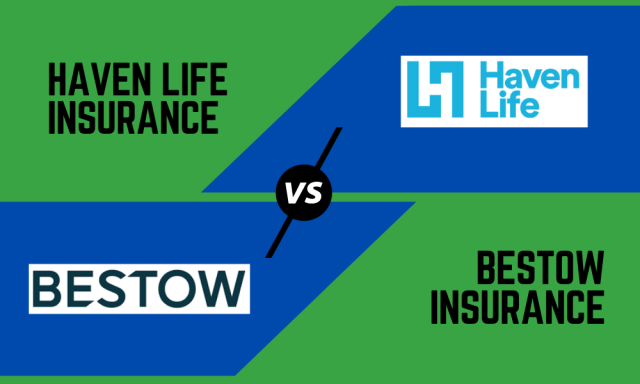 Like Haven, Bestow is also an online insurance company. These two companies are similar in that their application is digitized, but Haven is better in some aspects.
One of those aspects where Haven is better is the issue of payouts. For Haven, the maximum payout is $3,000,000, while Bestow has a payout of $1,5,000,000.
Also, Haven has riders which makes their already brilliant policy even better. Bestow doesn't have riders; they have their plans and nothing more.
>> Full Article Review: Bestow Life Insurance Reviews: Insurance Offers, Features, Cost, Pros & Cons
Final Verdict
Haven Life is affordable and a great alternative to expensive insurance in the insurance industry. Haven Life has an online application that is simple to use and also has a website with a smooth interface
Apart from its relative cheapness and ease of use, Haven Life provides diverse coverage for its users. Interestingly, some of these coverages don't require a medical exam.
However, unlike other insurance companies, Haven doesn't genuinely provide permanent insurance. This is not much of a problem as they have terms reaching up to 30 years and are renewable.
So, we conclude our Haven Life insurance review on the note that this agency is an excellent fit for you.
Haven Life Insurance FAQs
How to Apply For Haven Life Insurance
Apply for Haven Life insurance using your PC or smartphone to visit the Haven Life website. You will fill in your details then get your rate.
Is Haven Life Good
Haven Life is an affordable choice when you are looking to buy insurance on a budget. There are different coverage to choose from.
Do you Need a Medical Exam for Haven Life?
It depends. Whether you will medical examination depends on the coverage you are going for.
Click Here to Get Started With Haven Life Insurance.
Like this Article? Subscribe to Our Feed!
John is an avid researcher and is deeply passionate about health and finance. When he's not working, he writes research and review articles by doing a thorough analysis on the products based on personal experience, user reviews and feedbacks from forums, quora, reddit, trustpilot amongst others.