New York Life Insurance Reviews: Is New York Life a Great Company?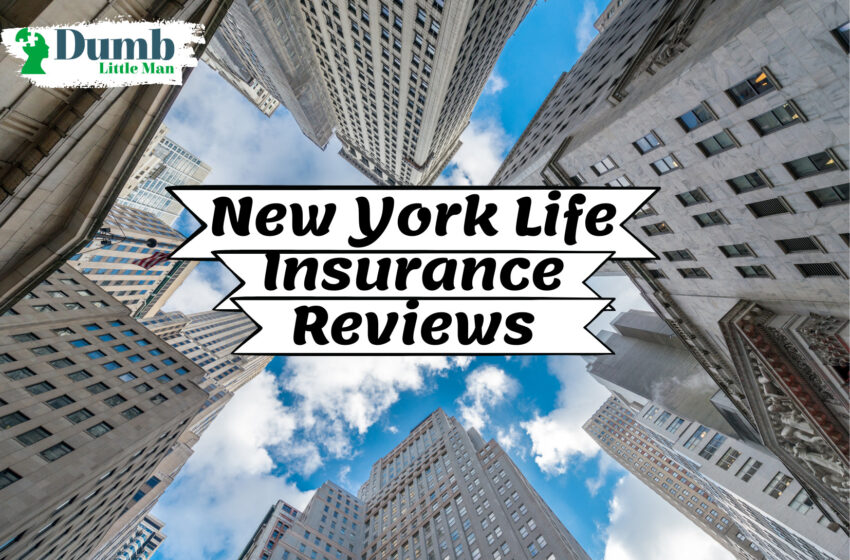 When it comes to making financial plans for the future, there are a plethora of life insurance products and businesses to choose from. But how can you determine which one is the best fit for your long-term requirements?
New York Life comes into this picture. A behemoth in the insurance industry, New York Life Insurance Company is a behemoth. The company's commitment to providing excellent customer service and maintaining solid financial ratings has not changed throughout the course of its 175-year existence.
When evaluating permanent life insurance policy possibilities, we looked at New York Life's financial soundness, policy plan options, riders, and customer satisfaction rankings in order to assist you in making an informed decision.
This New York Life review will provide you with further information about one of the most important players in the insurance industry.
New York Life Insurance Reviews: What is New York Life Insurance?
New York Life is a well-known life insurance firm that provides a variety of products such as term, whole, variable, and universal life. Unlike other organizations that rely only on independent insurance brokers.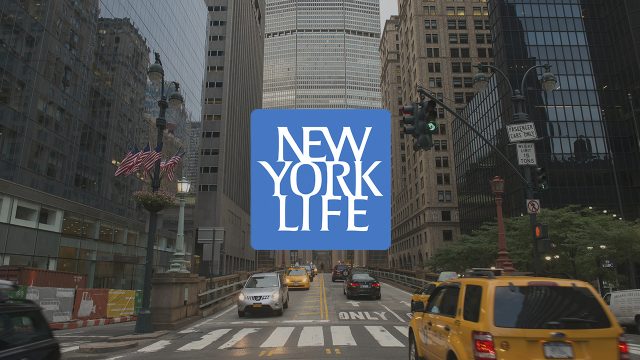 New York Life links clients with experienced financial specialists who can give individualized advice on the appropriate insurance coverage for your circumstances. It has a more personalized approach that customers with more complicated insurance requirements would welcome.
In terms of client satisfaction, New York Life was placed sixth out of 23 life insurance firms in J.D. Power's 2020 Life Insurance Study. Companies were graded based on their pricing, communications, interactions, product offers, and remarks, according to J.D. Power.
How does New York Life Work?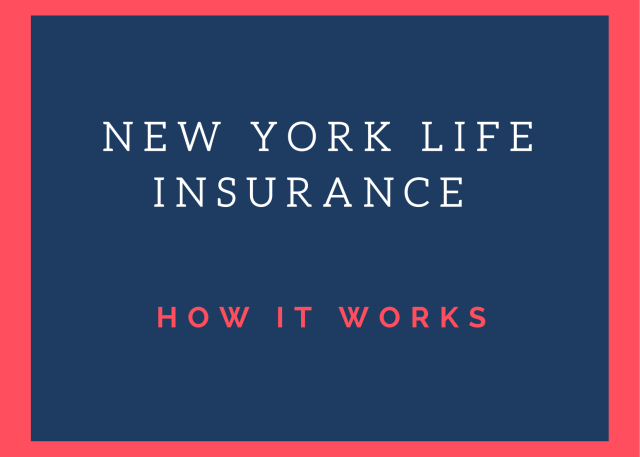 If you need to secure and protect your beneficiaries in your family after you die and you want to have a wealth that you can get from a flexible insurance policy, NY Life provides you with varieties of life insurance options for you to select.
Customers may purchase nine distinct life insurance plans from New York Life, each with its own set of options.
Term Life Insurance
This insurance offers you the protection that you can customize which you can choose how long you need protection. Term lengths vary in 10 to 20 years' time and you will just pay a premium for the duration of your desired policy.
These plans are often less expensive than other types of insurances and New York Life offers three types of this option:
Level Premium Convertible – This insurance premium provides you with consistent payments for your contract duration. When the flat premium term ends, your rates will rise on a yearly basis.
Million Plus Level Term 10 – This insurance coverage offers more than $1 million in coverage with level rates for a period of ten years. This is the ideal choice if you want to convert within the following five years or if you do not intend conversion at all.
Yearly Convertible – Yearly Convertible coverage requires you to renew your insurance every year. Your premiums begin cheap but rise yearly. This choice is appropriate if you want to convert to permanent insurance later on.
Whole Life Insurance Policies
This insurance policy provides lifelong protection as well as certain additional advantages. You will get be insured with an insurance payout, and your cash value will increase tax-free.
Dividends are also not guaranteed, however, you may receive dividends over time, providing you the opportunity to increase the cash value. New York Life Insurance company offers two types of whole life insurance:
Custom Whole Life Policy Insurance – You may personalize your policy if you only want to pay premiums for a specified period of time. You may plan your payments, and choose the duration of your pay to premiums, and optimize the cash value of your insurance.
Whole Life Insurance – This whole life insurance combines assured life insurance coverage with the growth of monetary value. The insurance cash value may enhance your retirement income as your account increases.
Universal Life Insurance Coverage
Universal life insurance is an excellent option for folks who want to have long-term security than financial value. It provides you with longer protection and is more adaptable than other life insurance plans.
You can choose among the three various kinds of universal life insurance in New York Life Insurance Company:
Basic Universal Life Insurance – Basic Universal Life insurance is a low-cost alternative that provides a longer duration of protection. You may tailor your coverage, including the quantity of coverage, the coverage period, and the rates.
Custom Guarantee Universal Life Insurance: You need to pay a fixed premium to keep the coverage for as long as you want.
Protection Up to Age 90: When you want to have a large quantity coverage for short periods then this is a good alternative option. The minimum coverage level for this type of policy is $1 million.
Variable Universal Life Insurance– This type of life insurance combines perpetual coverage with cash value accumulation options in which you may invest. Because you are investing, there are certain risks connected with this insurance, but some individuals are willing to take that risk in order to possibly profit from the stock market.
If the assets you choose perform effectively, your cash worth may rise quicker, but there is also the danger that the investments may perform badly. Furthermore, NYL's variable universal life insurance only includes a five-year no-lapse guarantee.
From the basic to the variable universal life insurance policies, there are a variety of choices for distributing the death benefit:
Fluctuating benefit: This kind of benefit pays out an amount dependent on the minimum face value of the death benefit plus any existing cash value. It is a "variable benefit," meaning that the amount of monetary value you get at the time of distribution is dependent on your financial situation.
Return of premium rider: You will get a death benefit equal to the minimum face value of the policy plus the total adjusted premiums you have put into it.
Level death benefit: Provides a death benefit equal to the minimum face value of your policy.
Riders
If you require further customization, you may add riders or add-ons which is a policy amendment that endorses insurance. New York Life Insurance Riders may be used to supplement your selected coverage or to add folks to your insurance.
New York Life offers a variety of riders that may be added to your desired life insurance policy to guarantee everything you need.
Chronic Care
Chronic care may be added to your life insurance policy. If you become chronically sick, you may utilize a Chronic Care Rider to advance your death benefits.
Living Benefits
The Living Benefits Rider, which is available with both term and whole life insurance, allows you to utilize a part of your death benefit to pay for treatment if you become terminally ill.
Accidental Death Benefit
When you decide to ensure your family to be covered in the event of your death due to accidents, you may buy a rider partnered with whole life insurance.
Disability Waiver of Premium
If you add this premium option to your term or whole life insurance policy, the company will pay your premiums once you have become disabled.
Policy Purchase
For term life insurance, the Policy Purchase rider is offered. You may add more coverage at a later date without having to take another medical test.
Option to Purchase Paid-Up Additions
When it's good for you, it is possible to raise your death benefit and develop additional cash value through your whole life policy by using this rider option.
Spouse's Paid-Up Option
If you have the Spouse's Paid-Up Rider, your spouse may use your death benefits to buy insurance even without getting a medical exam.
No lapse Guarantee Rider
A return of premium option may be implemented that would enable you to retrieve all of, or a part of your payment if you no longer require the coverage.
Click Here to Open an Account with New York Life (Official Page)
What are the Features of New York Life Insurance?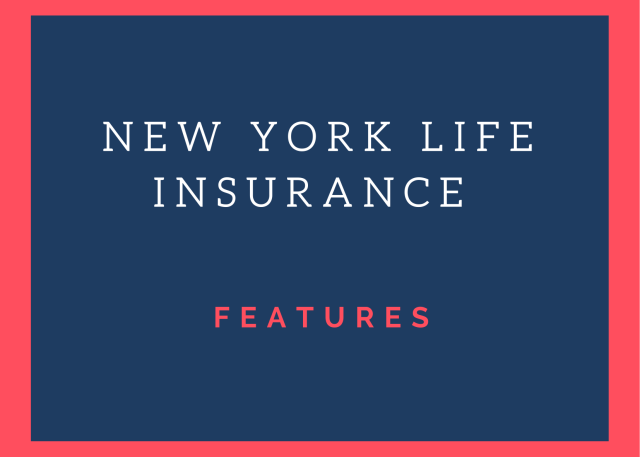 In addition to the elements of a life insurance policy, New York Life offers additional aspects that will assist you to navigate the insurance market.
Convenient Tools Online
You may use the Life Insurance Needs Calculator and Retirement Calculator online for planning reasons. These tools will ask you a number of questions before recommending things. There are also various articles on estate preparation, retirement, and small company concerns.
Various Policy Options To Choose From
You have various alternatives within each category whether you pick a term life, whole life, or universal life insurance. This enables you to tailor insurance to your specific needs. The add-on choices give another degree of flexibility, but they do increase the cost of your plans.
Affordable and Flexible Premiums
No matter what your budget or retirement objectives are, New York Life offers to assist you in selecting the best product for your needs. There are several insurance alternatives available to customize your plan perfectly to your needs.
How much does New York Life Insurance Cost?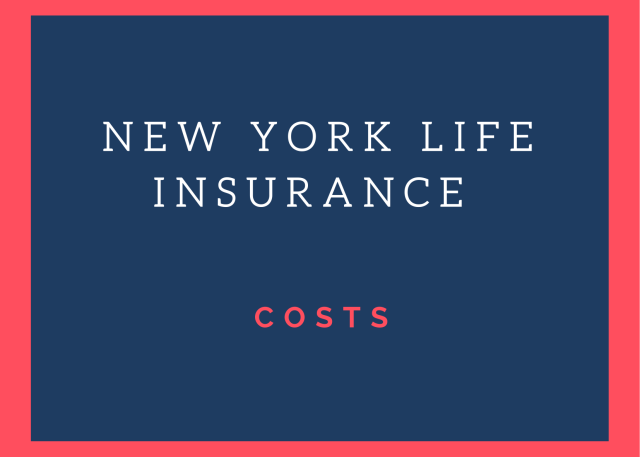 Like other insurance and financial products, it's tough to quote an exact cost for you. There are a multitude of factors influencing the cost of your policies or products based on age, health, coverages selected, and optional add-ons.
If you have a budget in mind then it's best to stay within your budget. Also, you need to keep in mind the following factors:
Overall health and pre-existing health conditions
Engaging in a multitude of activities and hobbies
Your age and address
Driving record
Premium charges might vary greatly for every person, and New York Life does not provide online quotations. New York life provides a financial adviser to discuss coverage requirements, budget allocations, and a selection of whole, term, universal, and variable universal life insurance.
Who is New York Life Best For?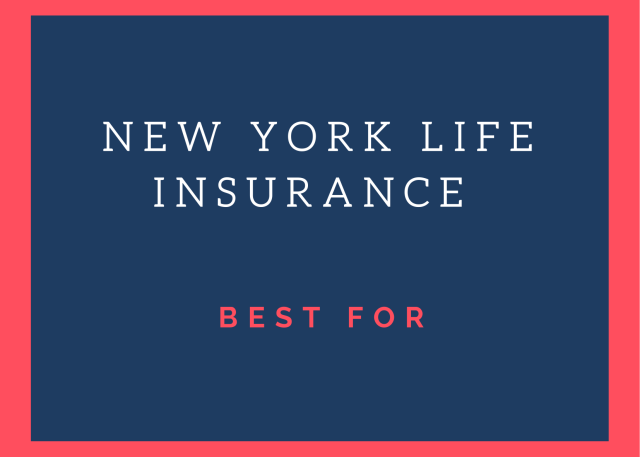 If you want more options with a limited budget on the scale
Whether you are on a tight budget or have unlimited resources, if you are interested in learning about all of your alternatives, you will be pleased with what New York Life has to offer policyholders.
If you want a wide array selection of policy scenarios
In the event that you are unaware of how much life insurance or retirement savings you need, and you want someone to guide you through the many possibilities, you will benefit from the extensive agent network.
If you value ratings
If you place a high emphasis on excellent customer service as well as the security of outstanding financial ratings, New York Life is a great candidate.
New York Life Insurance Pros and Cons
✅ PROS
▶ Term policies are convertible to permanent coverage
If you decide later that you desire more coverage without having to take another medical exam, you may use the policy purchase option to convert your current term life insurance to permanent life insurance policies.

▶ Life proceedings of a spouse are available
By adding the Spouse's Paid-Up Option to New York Life's term life insurance, your spouse may utilize the funds from your insurance policy upon your death to get insurance without a medical exam. This is a one-of-a-kind option exclusively accessible via New York Life.

▶ Accelerated Death Benefits
You may utilize a part of your accelerated death benefits to pay for treatment or care with living benefits or chronically ill care alternatives by modifying your policy with riders.
🚫 CONS
✖ Unavailability of online quotes
Unlike other insurance firms, New York Life does not provide pricing standards on their websites or enable you to acquire online estimates. You must contact a New York Life financial expert to get a quotation.

✖ Lack of digital assets
Although you may manage your policy online after you become a client, New York Life does not provide a mobile app for policy administration.
New York Life Insurance Compared to other Insurance Company
| Insurer | J.D. Power Rating | A.M. Best Rating | Multiple Discounts | Number of Plans |
| --- | --- | --- | --- | --- |
| New York Life | 784 out of 1,000 | A++ | Yes | 9 |
| StateFarm | 838 out of 1,000 | A++ | Yes | 3 |
| Lemonade | 806 out of 1,000 | A+ | Yes | 14 |
Click Here to Open an Account with New York Life (Official Page)
New York Life Insurance vs State Farm

If you want a more comprehensive policy, New York Life outperforms State Farm as the superior alternative for life insurance coverage. Rather than interacting simply with an agent, you may meet with financial specialists to obtain specialized advice regarding your insurance requirements.
Both companies have been awarded an A++ rating by AM Best for their customer service. But the downside of State Farm is that it only has three options of life insurance to choose from.
>>> Read More About StateFarm Car Insurance Reviews: Insurance Offers, Features, Cost, Pros & Cons
New York Life Insurance vs Lemonade

The products and services of New York Life are more diversified than Lemonade since the latter isn't a traditional life insurance firm, though customers shouldn't be concerned about the insurer's long-term financial viability.
New York Life offers the most possibilities among the two providers, particularly for individuals who want a more hands-on approach to investing in their accounts.
Lemonade's coverage is provided by the North American Company for Life and Health Insurance. This implies that the pricing applicants are offered, as well as the policy's underwriting, are sourced from North America. As a result, if the insured dies, the beneficiary will have to deal with North American if they need to file a claim.
Lastly, the conversion possibilities provided by New York Life, the company provides a better product overall. New York Life is the preferable choice for folks who do not have health difficulties and who do not smoke because of the superior service and the chance for policyholders to get dividends.
Final Verdict: New York Life Insurance
Customer service at New York Life is exceptional, and the company is leading in the financial strength rating awarded by AM Best, allowing you to rest certain that you are protected by the most recognizable brands in the realms of the insurance business. They have a track record of paying dividends to policyholders and provide a diverse range of policies.
New York Life would be the best top choice for permanent life insurance with flat rates and a fantastic alternative for anybody seeking life insurance on a budget. The life insurance offered by New York Life is a fantastic option if you want to provide full security for your family and your financial well-being.
Lastly, it is possible to work with a skilled financial expert to develop an insurance policy that is tailored to your specific requirements, whether you want permanent life insurance coverage or a cash value that can be used to augment your retirement fund.
New York Life Insurance FAQs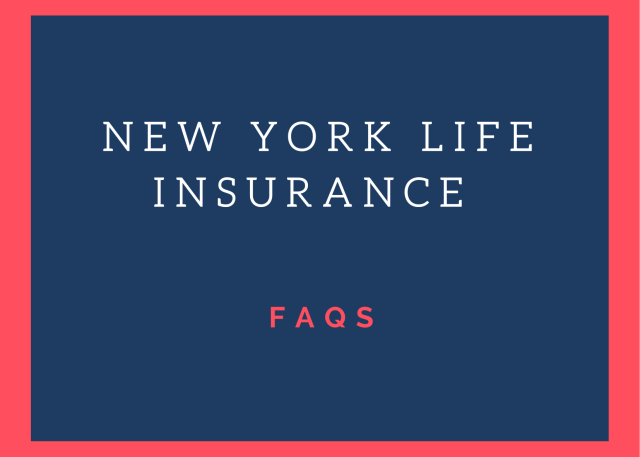 Is there a need to take a medical exam to take a life insurance policy?
In many cases, consumers put off the process of acquiring a life insurance policy because of the medical test that must be completed. Additionally, depending on whether you pick permanent life insurance or term insurance, you may be required to undergo a medical exam for underwriting reasons.
If you decide to change your term life insurance policy to a permanent life insurance one at the conclusion of the term, you will not be required to undergo a medical exam.
Which is better: Whole life policies or term life insurance policies?
The sort of insurance coverage you choose is determined by your retirement age, the demands of your family, and your financial situation. Although a whole life insurance policy is often rather costly, you may be able to take advantage of additional advantages.
Temporary life insurance plans are incredibly low, but they only offer coverage for a limited period of time.
Does New York Life Insurance has Great Customer Satisfaction Service?
New York Life Insurance operates via a network of insurance commissioners. When you need to speak with a representative, you may contact (800) 225-5695 Monday through Friday between the hours of 9 am and 7 pm Eastern Standard Time.
You can also find a local office or agent to connect with through the website. Once you have a policy with New York Life, you may make use of their handy online tools for policy administration.
Does New York Life Insurance has a cancellation policy?
As part of the application process for life insurance financial services, inquire about what happens if you decide to cancel your coverage. Permanent coverage plans often include surrender values, which means that you must pay a fee if you want to withdraw the money and terminate the insurance policy.
Do the insurance premiums in New York Life increase over a duration of time?
It is determined by the kind of life insurance purchased. Customers with permanent life insurance may enjoy a fixed premium for the rest of their lives, while term life insurance prices rise every five years.
Click Here to Open an Account with New York Life (Official Page)
Like this Article? Subscribe to Our Feed!
Vanessa is a mom of 3 lovely children and a software geek. Outside of her career as a health and wellness instructor. She enjoys writing and researching on topics such as finance, software, health and culinary.