39 Greatest French Podcasts For 2023!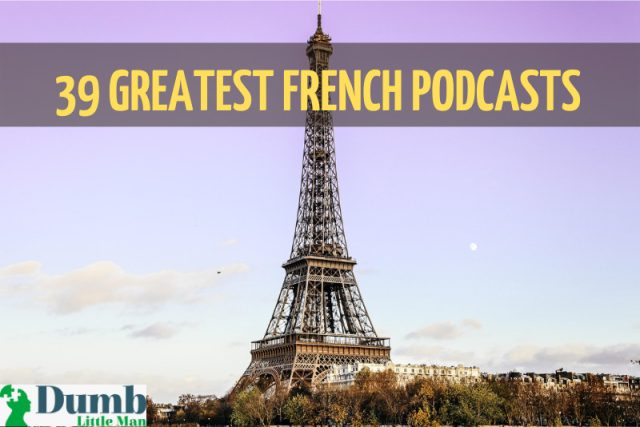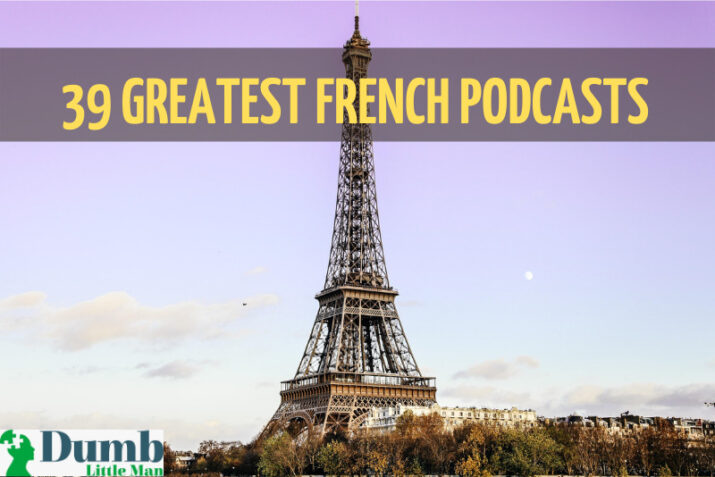 French is a romantic and sophisticated language. If not for the beauty of the French language itself, then the career opportunities that come alongside learning French should be inspiration enough to begin the process of language learning.
Effective and inexpensive resources for learning how to speak like a native French speaker include great podcasts that immerse language learners into fascinating discussions.
There exists a large variety of entertaining podcasts for learning French online. These podcasts offer resources that range from beginner level audio to intermediate and advanced level episodes to help expand your vocabulary and enhance your listening comprehension skills.
These podcasts also often display or discuss French culture and topics known to arise in real-life conversations with French speakers.
French Podcasts
ALL LEVELS
1. FRENCHPOD101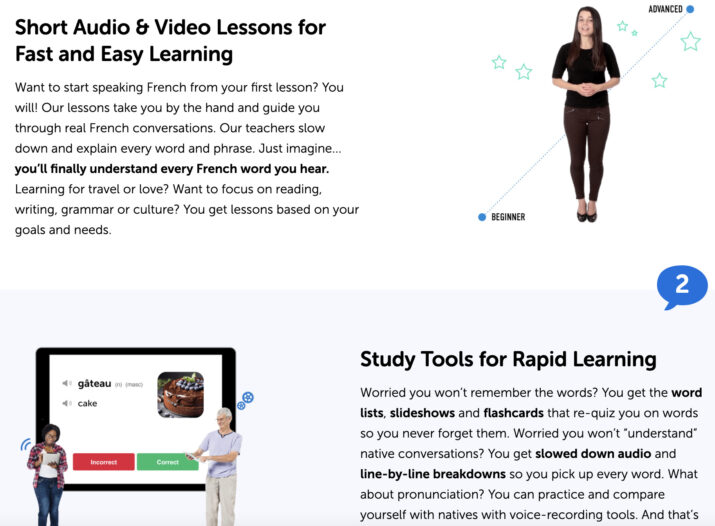 Image from alllanguageresources.com
The FrenchPod101 podcast has been developed for every proficiency level. Beginners, intermediate-level learners, and advanced-level learners can listen to materials suited for their proficiency level. The creators of this podcast understood that all individuals have different goals and learning styles, hence they've developed lessons for specific topics and lessons that help improve specific language skills.
FrenchPod101 has over 2,500 audio and video lessons that you can use to improve your French listening, reading, writing, or general knowledge.
CLICK HERE TO READ MORE ABOUT FRENCHPOD101
2. LEARN FRENCH BY PODCAST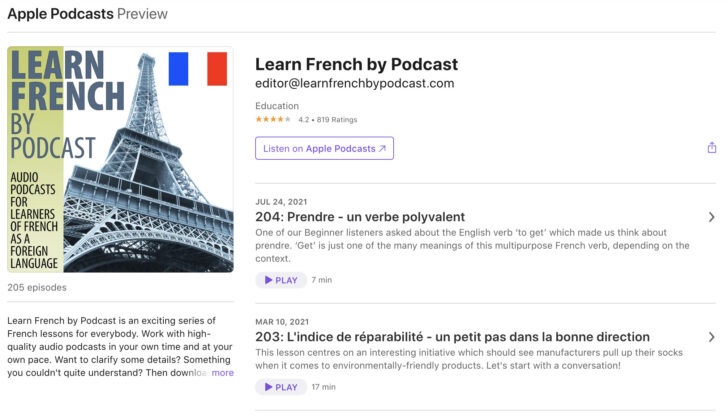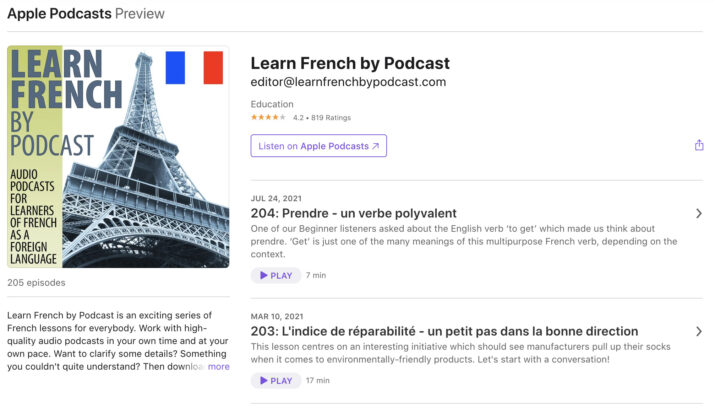 Image from podcasts.apple.com
With over 200 (and counting) lessons on the French language and French culture, each lesson in the 'Learn French by Podcast' podcast is taught by an experienced French teacher. Each lesson lasts around 10-30 minutes in total and covers many different topics of varying difficulty.
Beginners may benefit from starting at the beginning and then working their way up to where more complex subjects are being discussed.
CLICK HERE TO READ MORE ABOUT LEARN FRENCH BY PODCAST
3. COFFEE BREAK FRENCH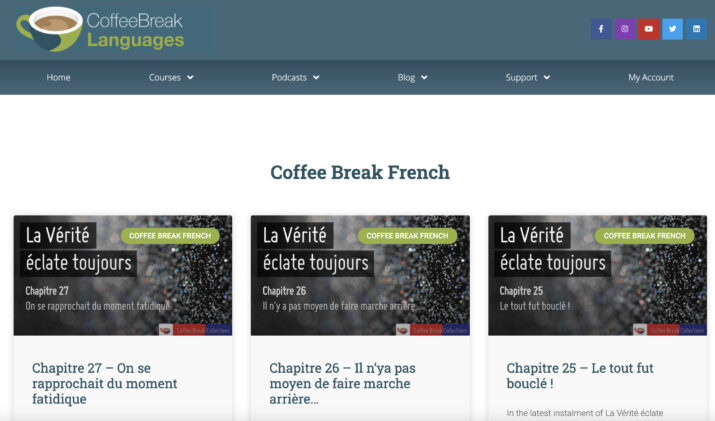 Image from radiolingua.com
Radio Lingua Network has produced the French Coffee Break course to help French learners become more proficient in the language. A French learner can listen to the podcasts for free and watch YouTube videos as supplementary material.
Each lesson lasts roughly 15-20 minutes long and covers a wide range of topics revolving around language structure, grammar, common phrases, and words to build your vocabulary.
There are French podcasts suitable for all levels featuring a French teacher who will conduct lessons in a fun and engaging manner.
CLICK HERE TO READ MORE ABOUT COFFEE BREAK FRENCH
4. FRENCH BLABLA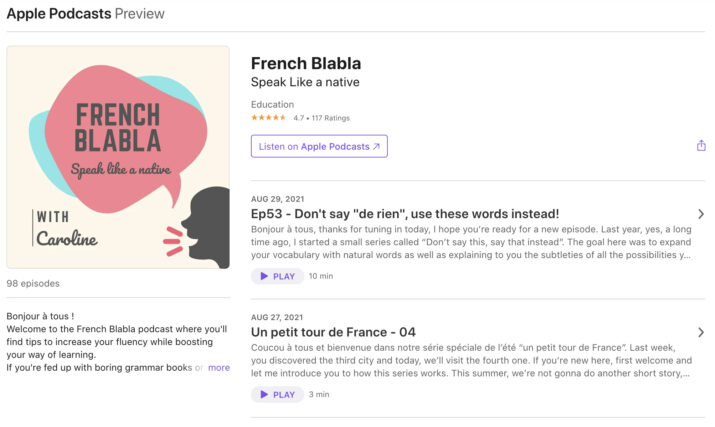 Image from frenchblabla.org/blog
French Blabla has over 98 episodes (at the time of writing) to help learners speak like native speakers. There are episodes suitable for a complete beginner, an intermediate learner, and even an advanced level student.
The majority of episodes tend to be quite short at around 10 minutes or less for each one. However, this type of teaching can help students to better understand the topic discussed and learn more words in a shorter amount of time.
It allows learners to practice what they've learnt in each episode as opposed to having them sit through an hour-long lesson where they may need to frequently pause the podcast.
CLICK HERE TO READ MORE ABOUT FRENCH BLABLA
BEGINNER
5. LANGUAGE TRANSFER

Image from languagetransfer.org
There are several French podcasts available that will help you speak on the same level as native speakers. However, rather than being a podcast, 'Language Transfer' is better categorised as a high-quality audio course.
CLICK HERE TO READ MORE ABOUT LANGUAGE TRANSFER
6. LITTLE TALK IN SLOW FRENCH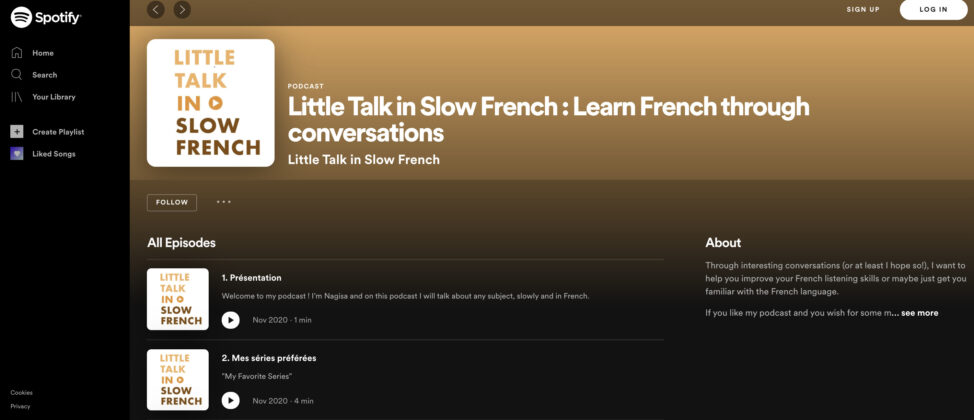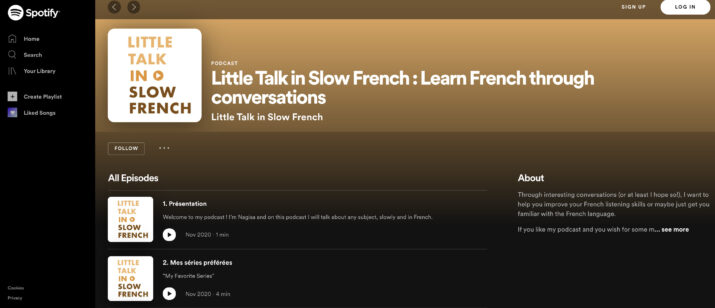 Image from open.spotify.com
For upper-level beginners, Little Talk in Slow French commentates on a wide array of topics. Such topics include film, history, and culture.
Though the podcast is made up mostly of French, the narrator does use English for more complicated words and phrases.
CLICK HERE TO READ MORE ABOUT LITTLE TALK IN SLOW FRENCH
7. À PODCASTS: POUR APPRENDRE LE FRANÇAIS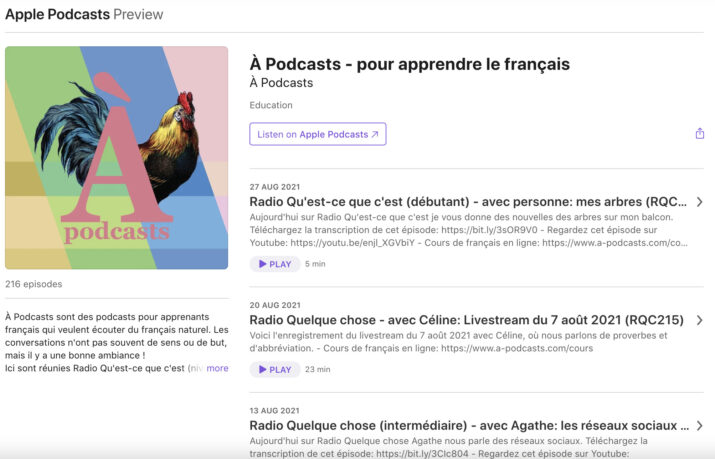 Image from kite.link/apodcasts
A 5-minute episode is all that is needed for a complete beginner to hear, learn, and understand several words and phrases. Unlike many French podcasts, many of the conversations in the À Podcasts episodes aren't intended to have a purpose.
These episodes provide a great way of learning French without the language learning process feeling too challenging.
Listening to smooth flowing and natural French can help a complete beginner to feel less overwhelmed when visiting France or French-speaking countries.
CLICK HERE TO READ MORE ABOUT À PODCASTS: POUR APPRENDRE LE FRANÇAIS
8. CULTIVATE YOUR FRENCH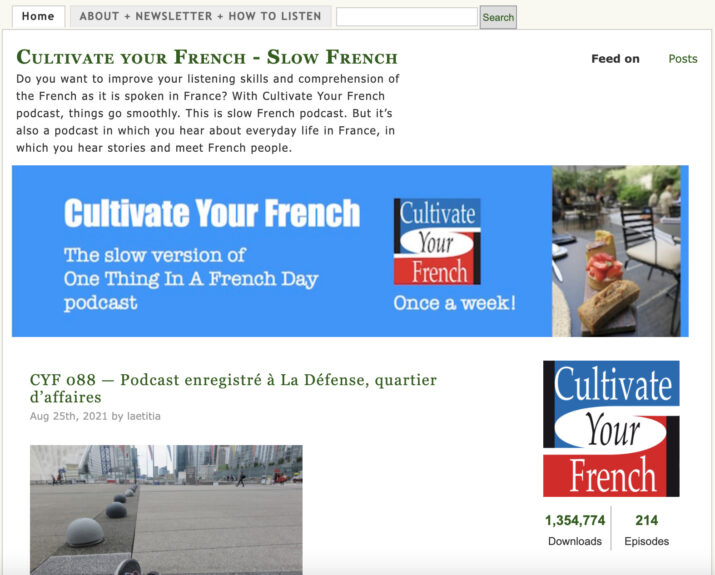 Image from pod.link
To help you enhance your ability to comprehend French as it is spoken in France, Laetitia Perraut narrates several episodes where you can listen to text available in 'One Thing in a French Day'. The text is first spoken slowly and articulately before Laetitia then repeats the same text at regular speeds.
This process of rereading text is a clever way to encourage learning French through repetition.
CLICK HERE TO READ MORE ABOUT CULTIVATE YOUR FRENCH
9. DUOLINGO FRENCH PODCAST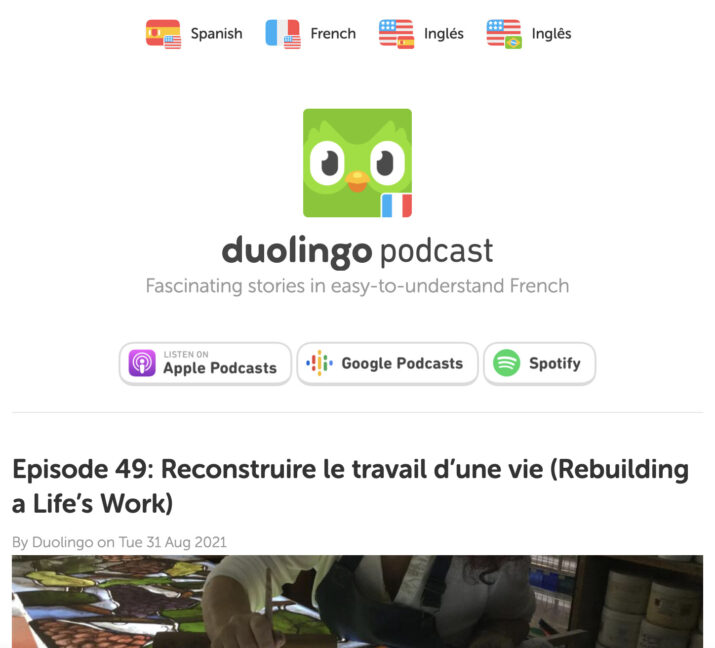 Image from podcast.duolingo.com/french
Duolingo is a well-established company known all over the world for its online courses that teach a large variety of languages. The French course teaches you about grammar, vocabulary, how a normal conversation is spoken in France, and French culture.
The podcast is entirely free, and each episode contains a detailed transcript of the audio recording. We have found that, unlike many other French podcasts, this one discusses unique and eye-catching topics to help listeners build their vocabulary and improve their understanding of grammar rules.
CLICK HERE TO READ MORE ABOUT DUOLINGO FRENCH PODCAST
10. UN PETIT CAOUA?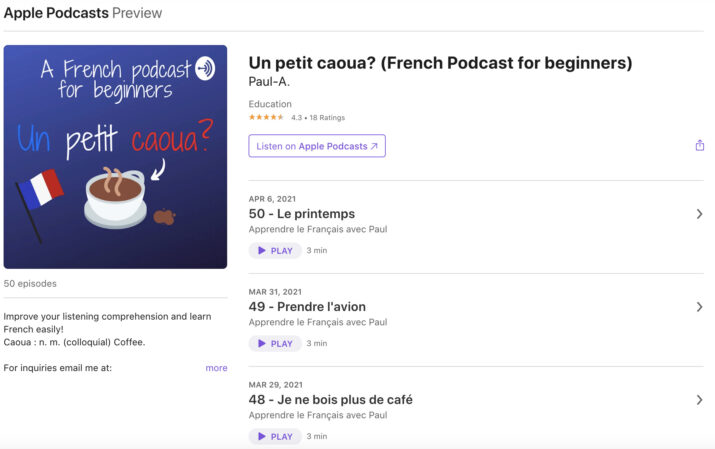 Image from podcasts.apple.com
The Un Petit Caoua podcast is free for all learners. Each episode is centred around a specific topic. Topics include film, sport, technology, and several other interesting categories that are discussed in less than 5 minutes.
Through this podcast, language learning feels more natural. Learners hear the French language, learn the meaning of certain words and phrases instinctively, and then practice what they've learnt through self-study.
CLICK HERE TO READ MORE ABOUT UN PETIT CAOUA?
INTERMEDIATE
11. JOIN US IN FRANCE PODCAST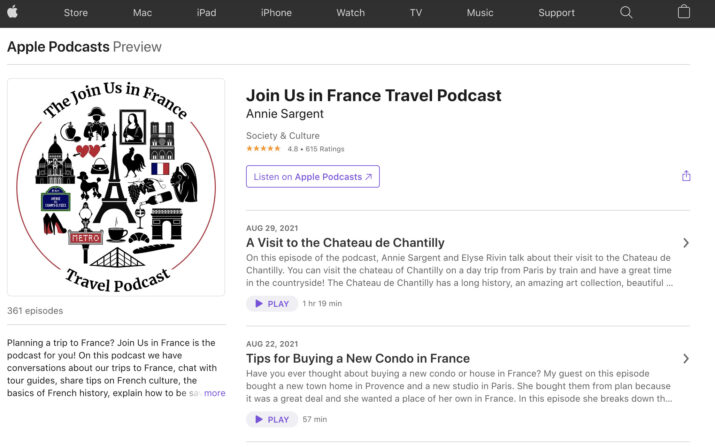 Image from joinusinfrance.com
To help you navigate France with confidence, each episode in the 'Join Us in France' podcast typically involves more than an hour of discussion. The topics covered relate to the beautiful places that the host and guests have visited in France, notes on French culture and French history.
CLICK HERE TO READ MORE ABOUT JOIN US IN FRANCE PODCAST
12. LE FRANÇAIS À LA UNE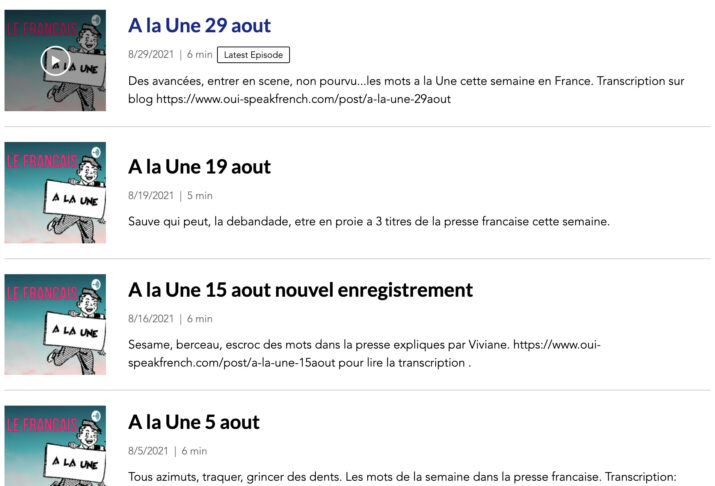 Image from oui-speakfrench.com
The narrator for Le Français À La Une, Viviane, is an excellent teacher native to Western France. Using both her language skills and the journalism experience she gained earlier in life, Viviane reads several headlines from different news sources multiple times per month in this podcast.
Listening to how French news is structured allows you to hear natural French that's spoken in many countries all over the world. News also involves interesting and relevant current events which can help you learn and remember more vocabulary.
CLICK HERE TO READ MORE ABOUT LE FRANÇAIS À LA UNE
13. LEARN FRENCH WITH DAILY PODCASTS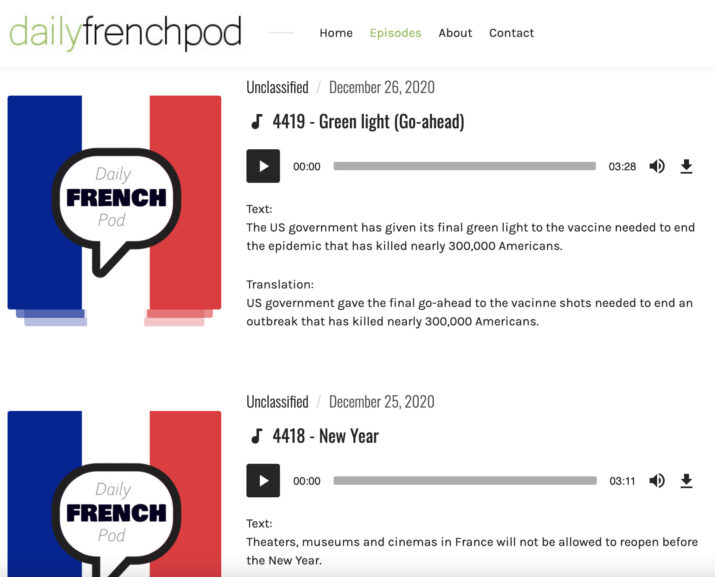 Image from dailyfrenchpod.com
Learn French with Daily Podcasts publishes an episode daily discussing various topics in life. Listening to the episodes isn't challenging since each phrase is spoken slowly and each episode is typically less than 5 minutes long.
Learners can listen to the episodes to gain a stronger grasp of French grammar without the learning process feeling like a chore. The episodes are also downloadable so you can hear the French language spoken as you are going about your daily life.
CLICK HERE TO READ MORE ABOUT LEARN FRENCH WITH DAILY PODCASTS
14. FLUIDITÉ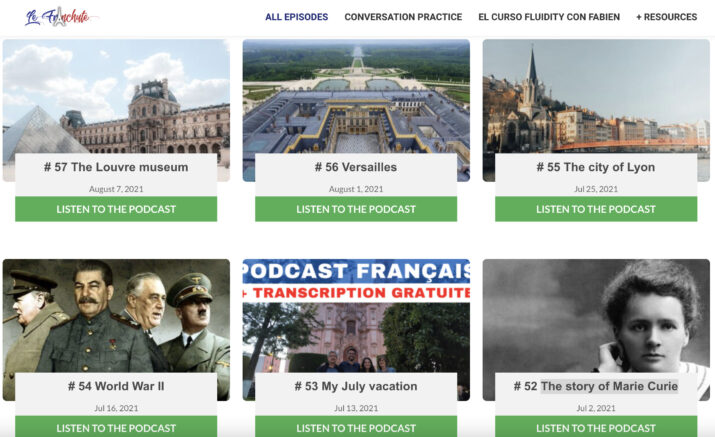 Image from podcast.lefranchute.com
The Fluidity podcast covers polyglot tips, francophone culture, and interesting stories such as 'The story of Marie Curie'. Each episode features a YouTube video about the topic as well as a free transcription. The bilingual transcription requires a paid membership to access.
CLICK HERE TO READ MORE ABOUT FLUIDITÉ
15. PARIS O'CLOCK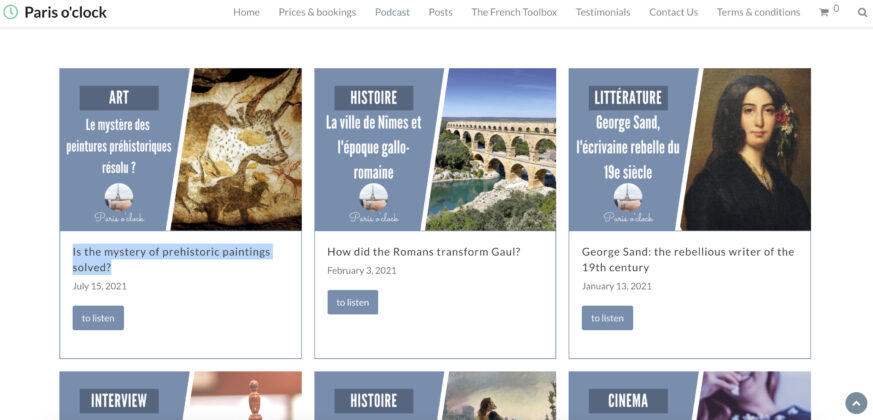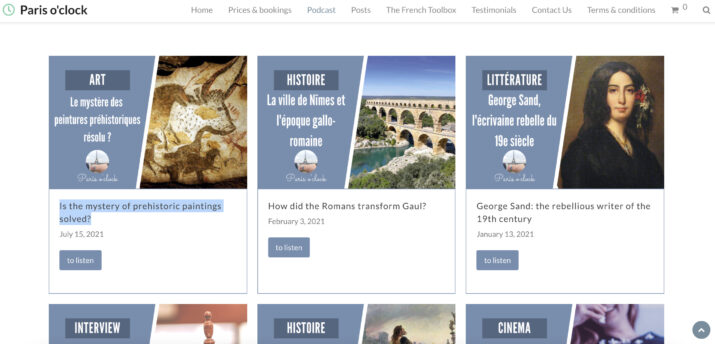 Image from parisoclock.com/podcast
Paris O'Clock is designed specifically for helping intermediate level learners improve their vocabulary and oral comprehension.
Aurélie (the founder) talks about subjects such as travel, history, and literature. Accompanied by each lesson is a transcript for students to consolidate what they have learnt from the podcast.
Aurélie covers difficult topics such as 'Vercingetorix against Caesar: the battle of Alesia' and 'How did Claude Monet become one of the most famous painters in the world?'. These topics have been carefully designed to help those with intermediate level proficiency become more advanced.
CLICK HERE TO READ MORE ABOUT PARIS O'CLOCK
16. FRANÇAIS AVEC PIERRE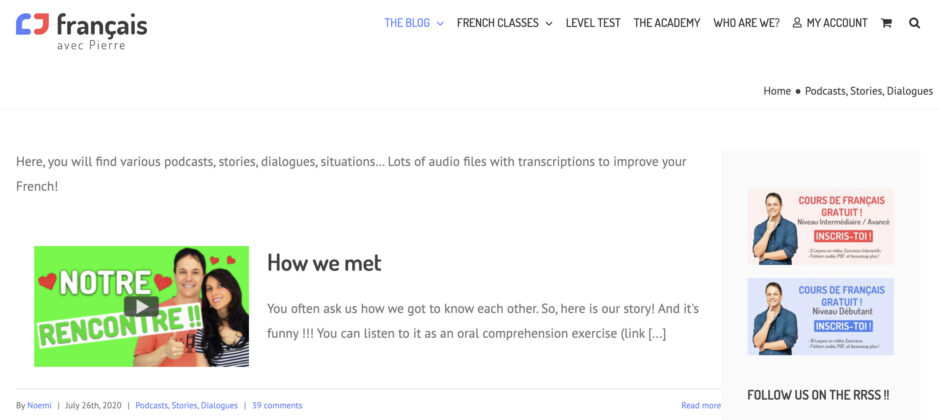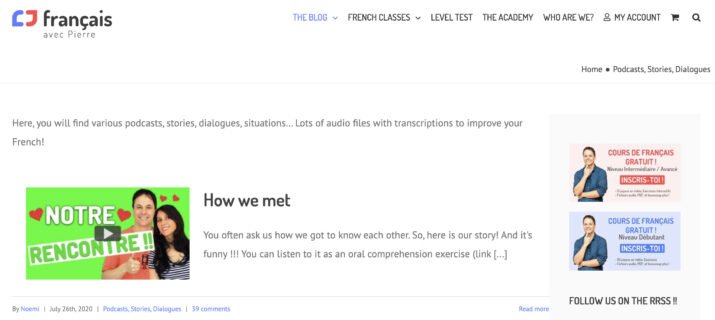 Image from francaisavecpierre.com
Pierre Babon is the founder and narrator of Français Avec Pierre. Each episode in the podcast is the audio version of specific videos in Pierre's popular YouTube channel. Intermediate learners can learn through interesting topics spoken slowly and articulately.
Each episode can also be downloaded so that you can listen to the podcast whilst going about your daily life.
CLICK HERE TO READ MORE ABOUT FRANÇAIS AVEC PIERRE
17. LOUIS FRENCH LESSONS AND DAILY FRENCH POD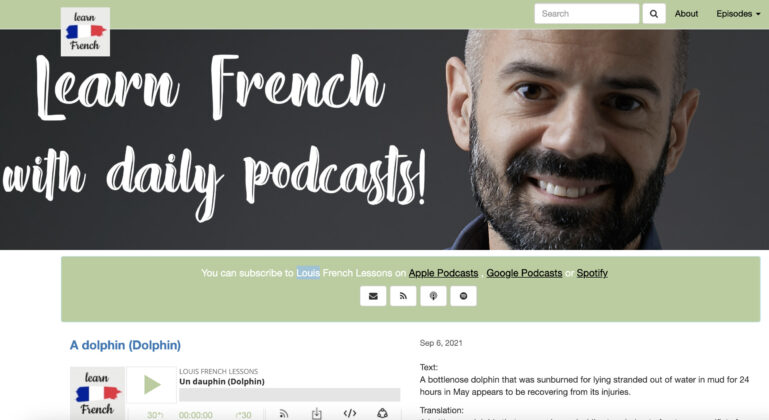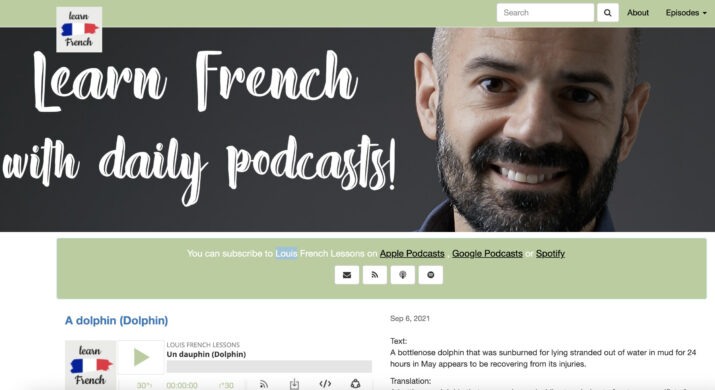 Image from louisfrenchlessons.libsyn.com
Both podcasts have a similar structure, and they are both developed by the same person. Louis (the narrator) creates several episodes that are downloadable. Transcriptions are also available in French and the English translations are available in the description fields.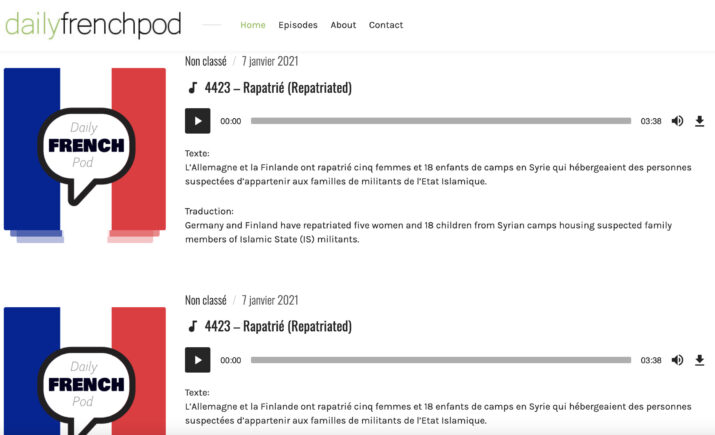 Image from dailyfrenchpod.com
CLICK HERE TO READ MORE ABOUT LOUIS FRENCH LESSONS AND DAILY FRENCH POD
18. ONE THING IN A FRENCH DAY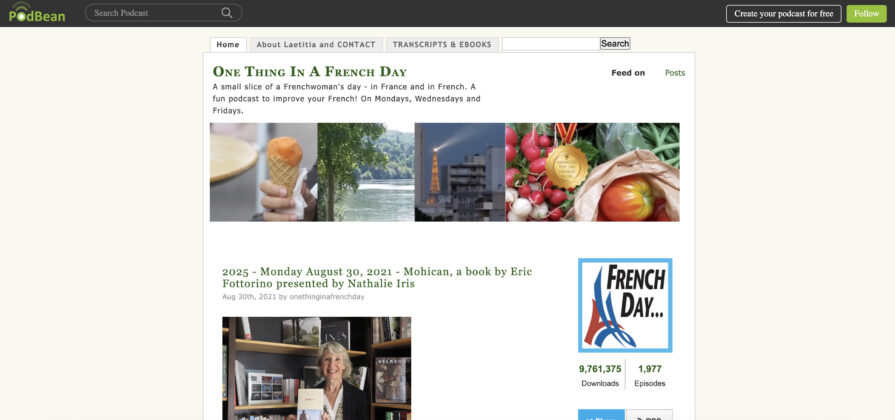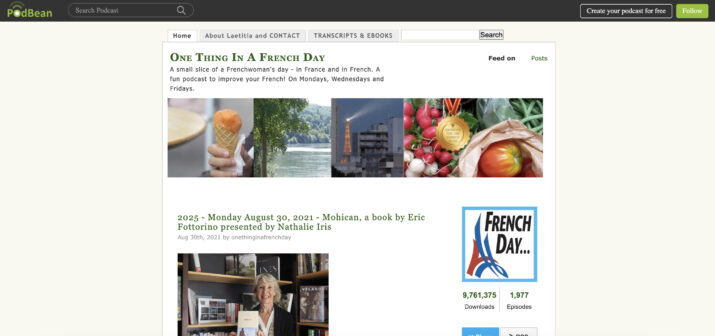 Image from onethinginafrenchday.podbean.com
This podcast is updated 3 times a week (Mondays, Wednesdays, and Fridays) and features the narrator Laetitia who will speak for around 3-5 minutes in each episode. She typically speaks about her regular day in France and purposely ensures that each episode is short to help her audience build on their listening skills.
With One Thing in a French Day, you can learn expressions and phrases spoken in everyday conversation and discussion.
CLICK HERE TO READ MORE ABOUT ONE THING IN A FRENCH DAY
19. FLEUR-DE-LIS: A FRENCH PODCAST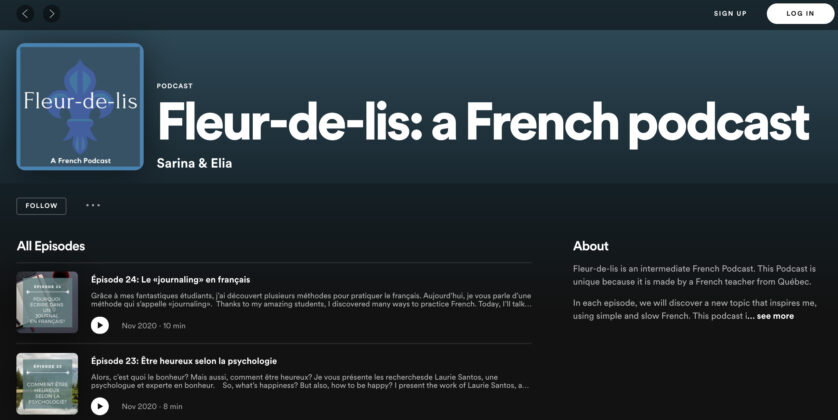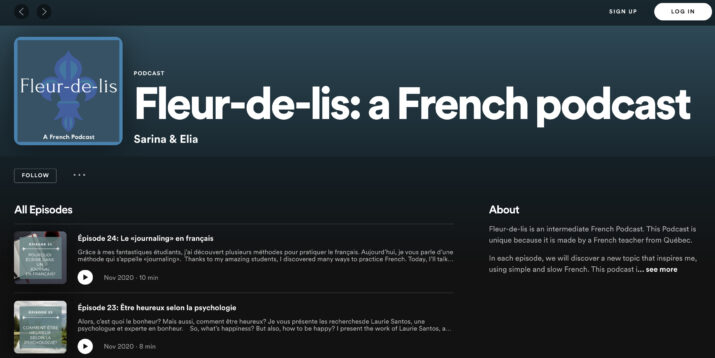 Image from open.spotify.com
Each lesson in the Fleur-de-lis French podcast immerses its audience in a fascinating topic chosen by a native speaker from Québec. The spoken French in each episode is slow and easy to understand, making it an excellent resource for learning about the French language and culture.
CLICK HERE TO READ MORE ABOUT FLEUR-DE-LIS: A FRENCH PODCAST
20. EHOUI!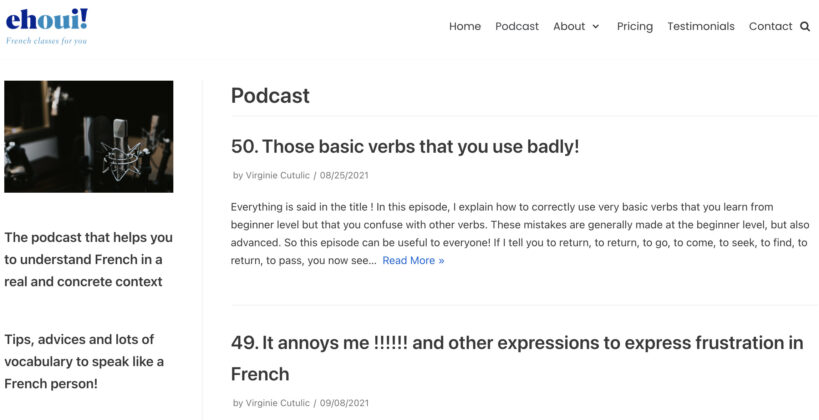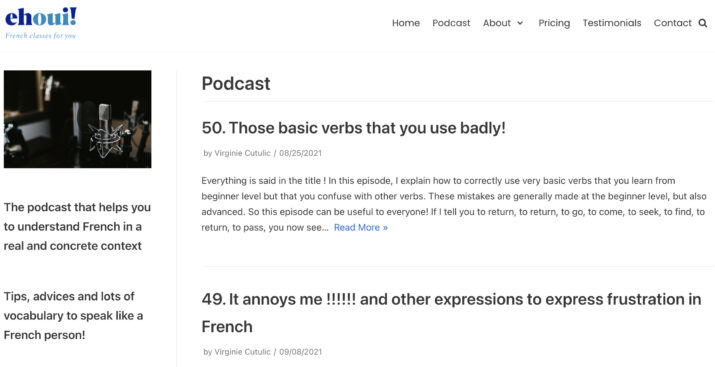 Image from ehouionline.com/my-podcast
Virginie Cutuli, a native French speaker, narrates several audio lessons to teach intermediate learners how to interact with native speakers naturally and thus navigate French-speaking countries with relative ease.
CLICK HERE TO READ MORE ABOUT EHOUI!
21. MANKAI YOUR FRENCH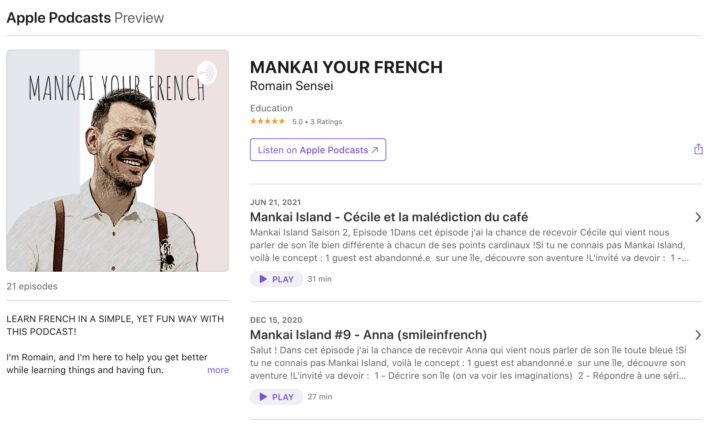 Image from open.spotify.com
Through Mankai Your French, learning can be made more fun through the lively and engaging narrator Romain. There are 2 series that differ greatly in content, the first one talking about typical subjects such as culture and history.
The 2nd series is unique and very interesting as guests are encouraged to imagine that they are stranded on a desert island. The guests then attempt to describe their perception of their surroundings and answer Romain's questions about the situation.
CLICK HERE TO READ MORE ABOUT MANKAI YOUR FRENCH
22. LE FRANÇAIS AVEC YASMINE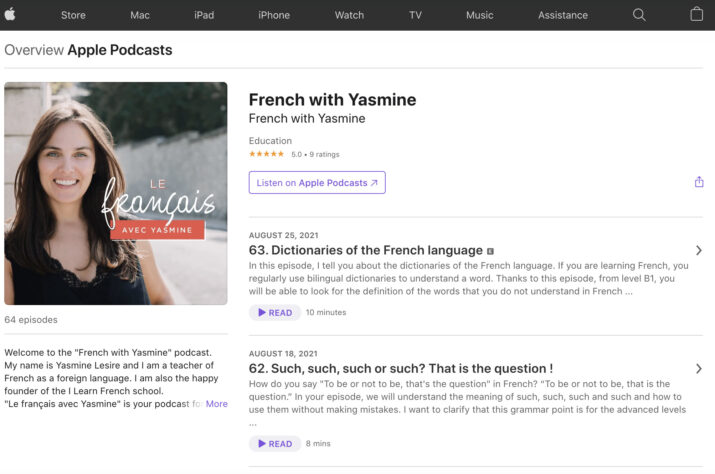 Image from ilearnfrench.eu/podcast
French with Yasmine contains more than 60 episodes narrated by Yasmine who aims to help you progress from an intermediate level French proficiency. Yasmine covers language structure, grammar, and other language-related topics such as reflexive verbs.
Through this podcast, you can significantly improve your listening comprehension and understanding of the French language. Transcripts for each episode are available for free when you sign up for their newsletter.
CLICK HERE TO READ MORE ABOUT LE FRANÇAIS AVEC YASMINE
23. FRANÇAIS AUTHENTIQUE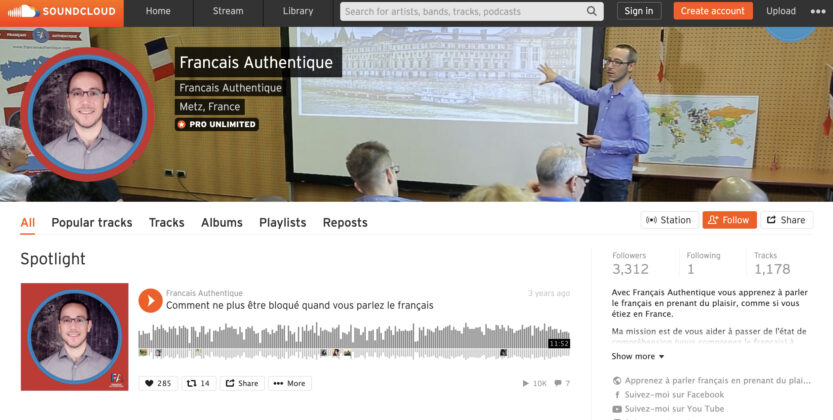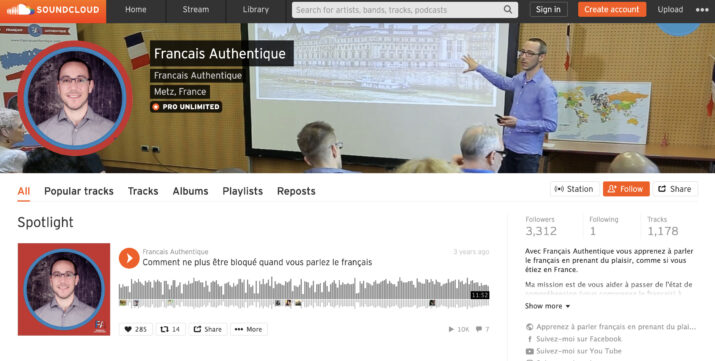 Image from soundcloud.com
Each episode in the Français Authentique podcast is accompanied by a transcript beneath the recording to help you follow the lesson.
Through the lessons, intermediate learners will be able to improve their reading, listening, and through practice, their pronunciation skills by listening to each free online episode.
CLICK HERE TO READ MORE ABOUT FRANÇAIS AUTHENTIQUE
24. NOUVELLES EN FRANÇAIS FACILE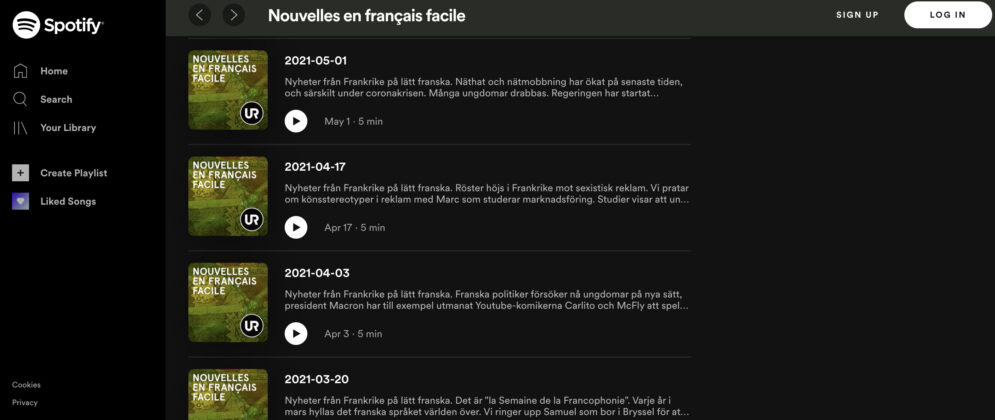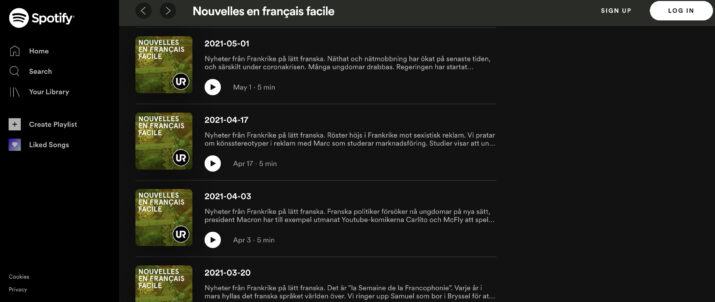 Image from open.spotify.com
Nouvelles en français facile is a French podcast that covers news and current events in slow and easy to comprehend French.
The narrators will often explain complex words and phrases in French and although the descriptions are in Swedish, for those with intermediate level French it becomes easy to understand.
CLICK HERE TO READ MORE ABOUT NOUVELLES EN FRANÇAIS FACILE
INTERMEDIATE/ADVANCED
25. FRENCH VOICES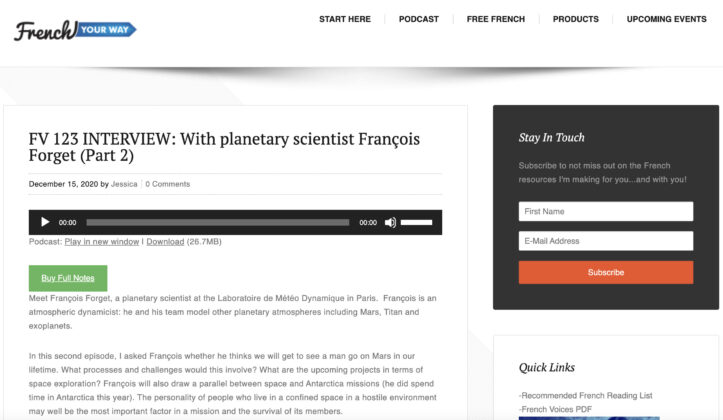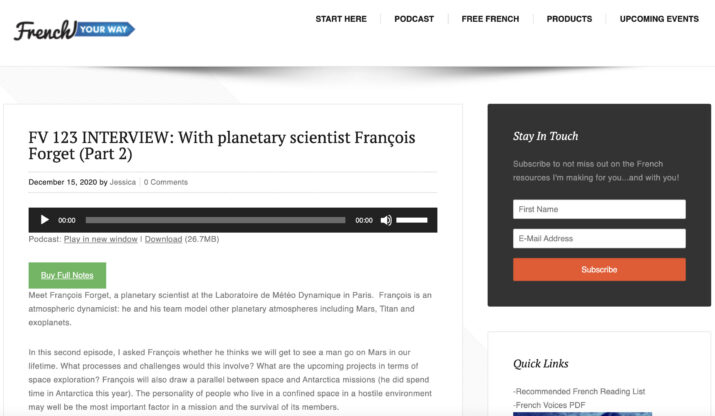 Image from frenchyourway.com.au
The narrator Jessica interviews native French speakers of various backgrounds. Past interviews involved guests who work as artists, diplomats, and planetary scientists.
The podcasts are downloadable so you can learn during your commute or even when completing your chores. The episodes include a vocabulary list and a description of what you should expect from the podcast.
The introductions are in English but the interviews themselves are entirely in French. This enables you to listen to French speakers who have different dialects and different ways of speaking, thus helping you to further familiarise yourself with the French language.
CLICK HERE TO READ MORE ABOUT FRENCH VOICES
26. NEWS IN SLOW FRENCH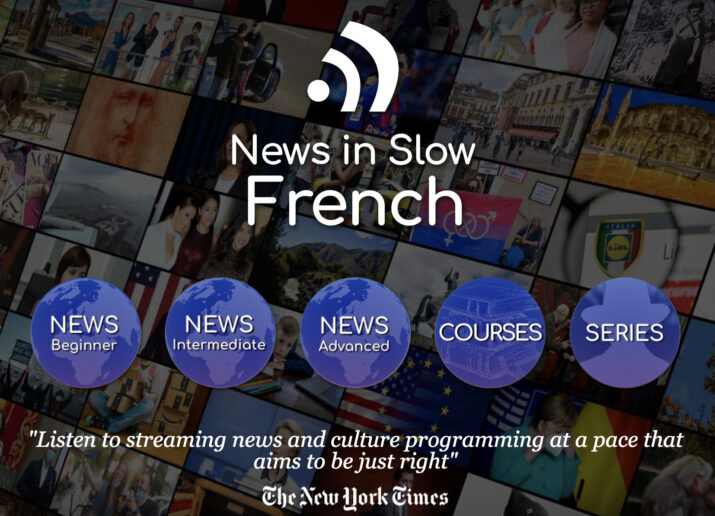 Image from alllanguageresources.com
Through the French podcasts available in News in Slow French, learning is made more interesting through the option of listening to world news in clear and understandable spoken French.
CLICK HERE TO READ MORE ABOUT NEWS IN SLOW FRENCH
27. CHOSES À SAVOIR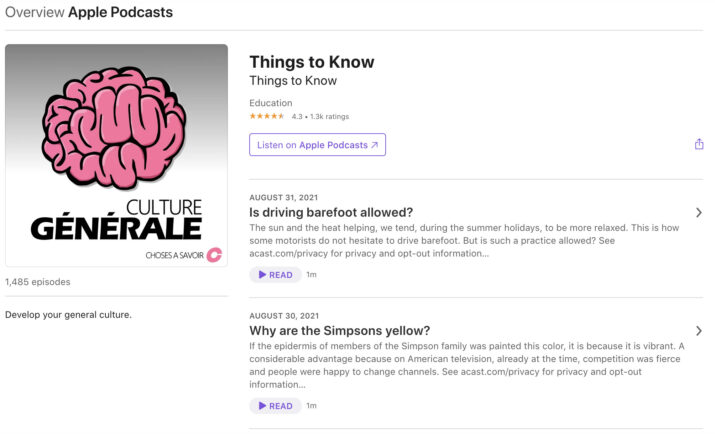 Image from itunes.apple.com
Covering topics related to science, the economy, health, and more, Choses À Savoir features discussions that help intermediate learners develop a better understanding of how native French speakers discuss complicated topics.
CLICK HERE TO READ MORE ABOUT CHOSES À SAVOIR
28. 1JOUR 1 MOT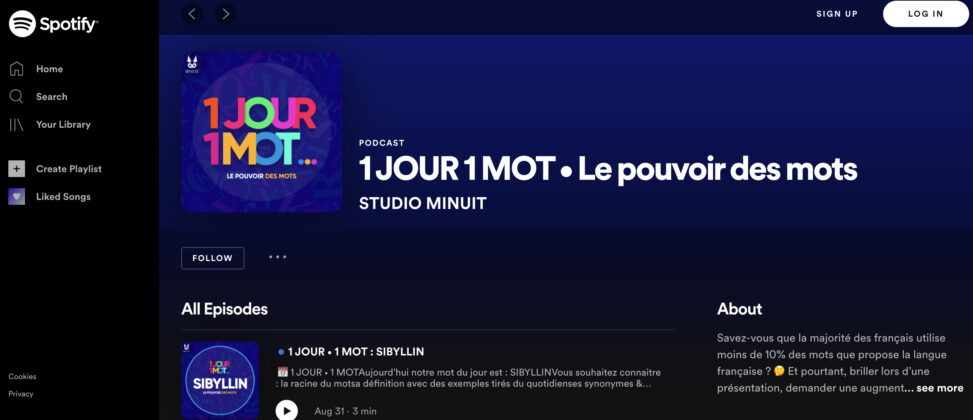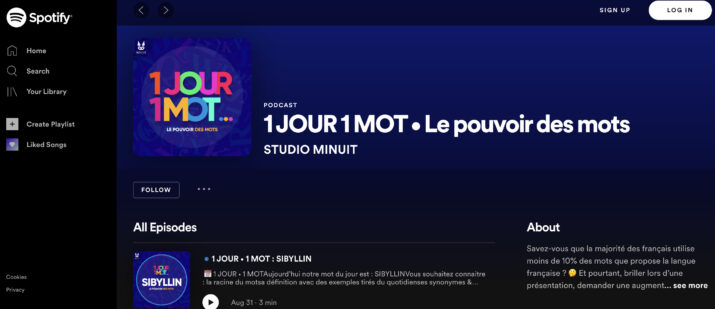 Image from open.spotify.com
The narrator Jean-Alain introduces and talks about a single French word with every 3-minute episode. The meaning of the word is first introduced (in French), then Jean-Alain provides both synonyms as well as antonyms to help learners fully comprehend the word.
Next, to encourage memory retention, the narrator reads a news section or quote involving the word before finally giving you the English translation. Often, he also provides translations in other languages.
CLICK HERE TO READ MORE ABOUT 1JOUR 1 MOT
29. JOURNAL EN FRANÇAIS FACILE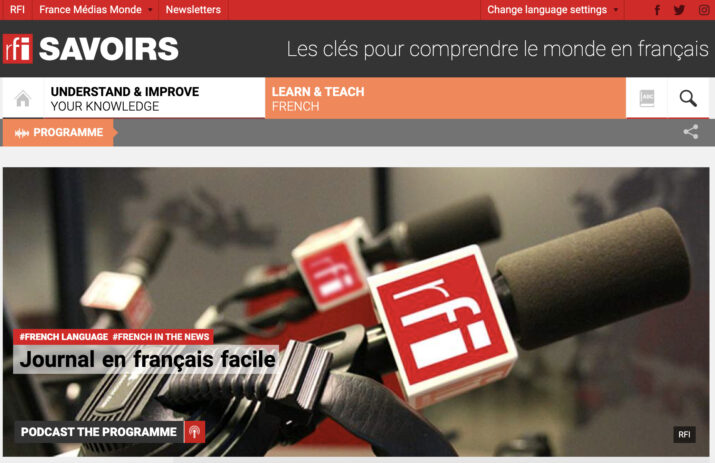 Image from savoirs.rfi.fr
Each episode in this podcast involves a 10-minute summary of the most covered headlines that day. It is updated every weekday and the episodes themselves are structured to resemble actual news. As a result, those with beginner level French proficiency are unlikely to understand or benefit largely from listening to this podcast without context.
CLICK HERE TO READ MORE ABOUT JOURNAL EN FRANÇAIS FACILE
ADVANCED
30. PARLER COMME JAMAI‪S

Image from binge.audio/podcast
The intricacies of language are often worth extensive discussion and debate. Nouvelle École features episodes designed for advanced French learners with topics such as 'The French language, a model of integration?' and 'Are dead languages ​​alive?'.
Unlike many other French language podcasts, Nouvelle École ensures that each topic of discussion is accompanied by academic references and recommendations for further reading. This podcast also makes sure that advanced learners are thoroughly challenged by the subjects that are covered.
CLICK HERE TO READ MORE ABOUT PARLER COMME JAMAI‪S
31. ÉMOTIONS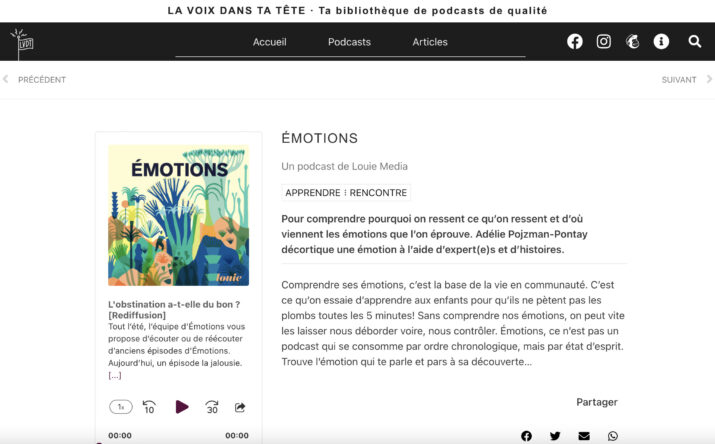 Image from lavoixdanstatete.com
Émotions features complex discussions on human emotions. Each episode appears to be well researched and clearly articulated.
The topics are intended for advanced-level learners to improve upon their already well established language skills. The discussions are thought provoking and memorable so that it becomes easier for listeners to immerse themselves into the debate.
CLICK HERE TO READ MORE ABOUT ÉMOTIONS
32. LES BALADEURS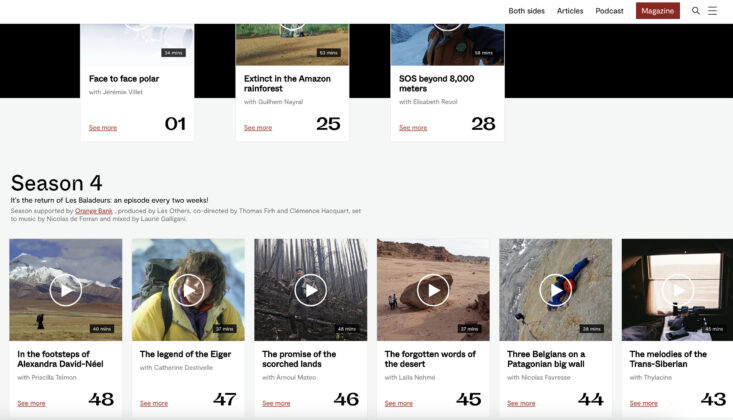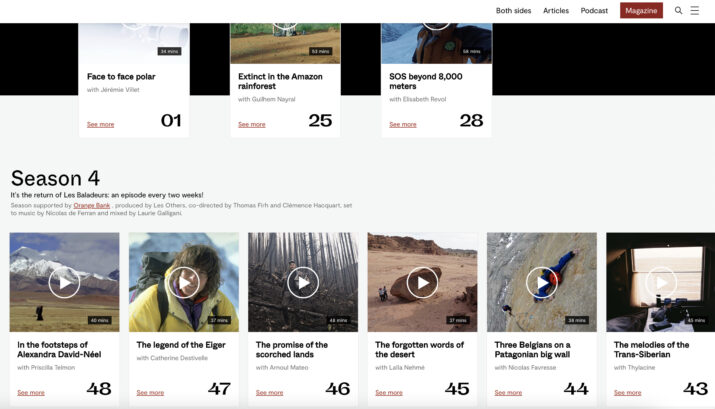 Image from lesothers.com
Each season in Les Baladeurs features stories from steel nerved adventurers who embark on often dangerous yet adrenaline-filled journeys.
The individuals featured in Les Baladeurs include cavers, scientists, astronauts, and others who have been on thrilling adventures around the world. Adventures such as traversing a 3,000-kilometre trail in New Zealand and photographing animals in the snowy North are covered in the Les Baladeurs podcast through enthralling discussions and interviews.
The content in Les Baladeurs is aimed towards those who can speak and understand advanced-level French, however advanced/intermediate level learners may be able to comprehend a large amount of each episode.
CLICK HERE TO READ MORE ABOUT LES BALADEURS
33. NOUVELLE ÉCOLE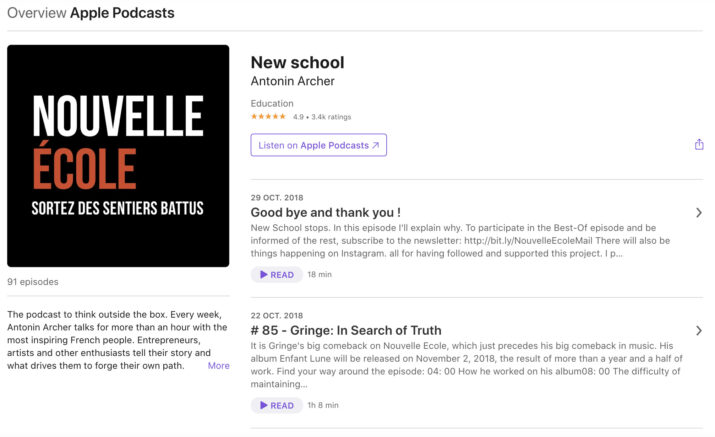 Image from podcasts.apple.com
Nouvelle École is a podcast that features guest appearances by French entrepreneurs and individuals who speak about their journeys. The interviews can be inspiring and there are 91 episodes in total that are typically around 1.5 hours long.
CLICK HERE TO READ MORE ABOUT NOUVELLE ÉCOLE
34. GÉNÉRATION XX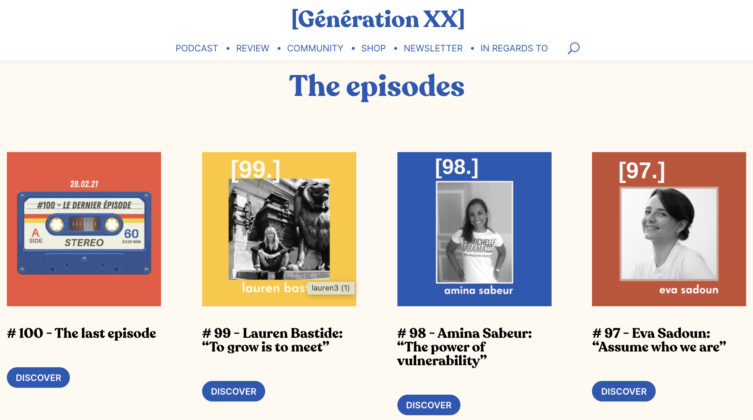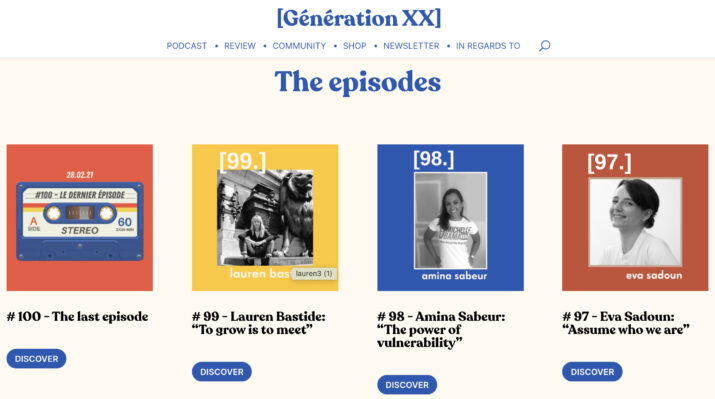 Image from generationxx.fr/podcast
The struggles and successes of admirable women are discussed and presented through the Génération XX podcast by the individuals in question.
With 100 episodes in total, advanced-level French learners can improve their listening comprehension skills and understanding of how French is naturally spoken during interviews.
CLICK HERE TO READ MORE ABOUT GÉNÉRATION XX
35. LA GRANDE LIBRAIRIE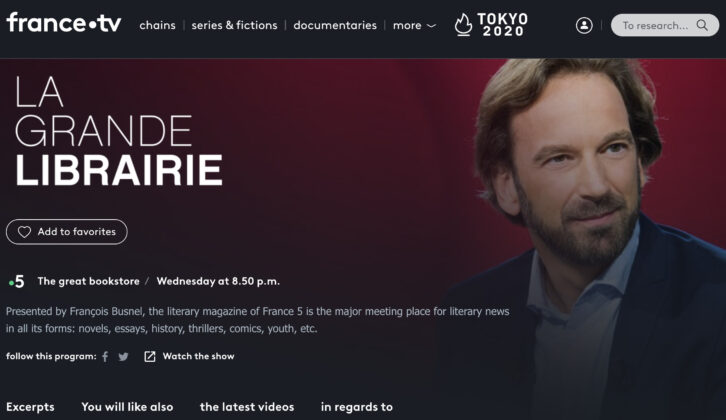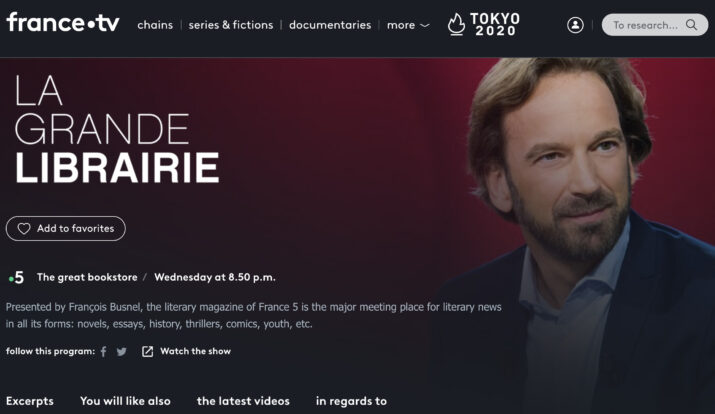 Image from france.tv/france-5
La Grande Librairie is a weekly broadcast that presents literary news by inviting new and well-established authors to discuss their new books.
CLICK HERE TO READ MORE ABOUT LA GRANDE LIBRAIRIE
36. 3 BIÈRES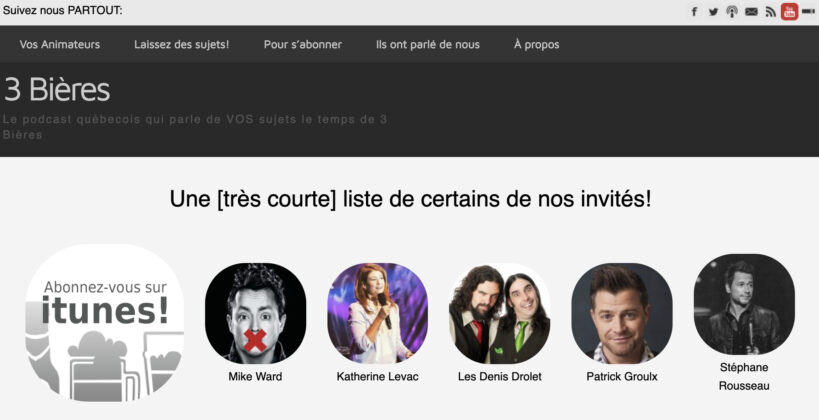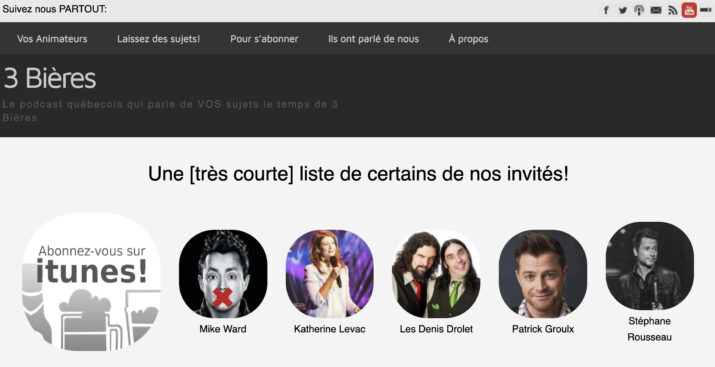 Image from 3bieres.com
3 Bières is a Québécois podcast that features topics sent by their audience through various social media platforms. Over the duration of an episode the hosts will choose 3 topics and then talk about it.
CLICK HERE TO READ MORE ABOUT 3 BIÈRES
37. À POÊLE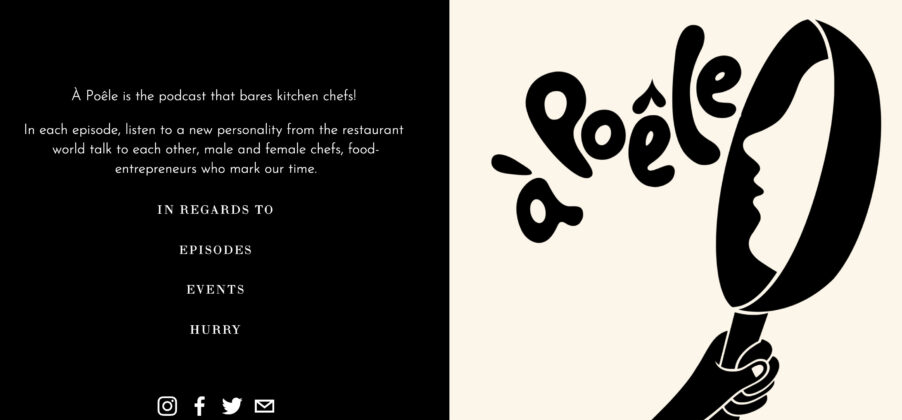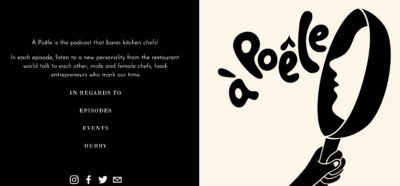 Image from apoele-lepodcast.com/podcasts
À Poêle is a biweekly podcast that invites dedicated food connoisseurs to speak about food-related topics. There has been a variety of chefs, restaurant owners, and other individuals heavily involved in the food industry who have been featured in the episodes.
CLICK HERE TO READ MORE ABOUT À POÊLE
38. RADIO FRANCE INTERNATIONAL (RFI)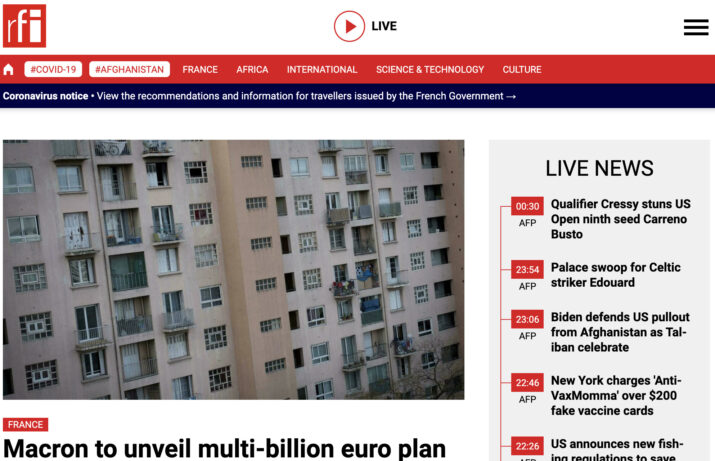 Image from rfi.fr/fr/podcasts
There doesn't exist a way to learn French that is suitable for the needs and learning styles of all learners. A brilliant resource that is likely to pique the interest of individuals who have different interests and methods of learning is Radio France International (RFI).
RFI has developed more than 100 channels that prove to be incredibly advantageous for advanced French learners. With a varied list of available podcasts and topics, RFI makes it easy for you to improve your French comprehension and listening skills.
CLICK HERE TO READ MORE ABOUT RADIO FRANCE INTERNATIONAL
39. RADIO CANADA INTERNATIONAL (RCI)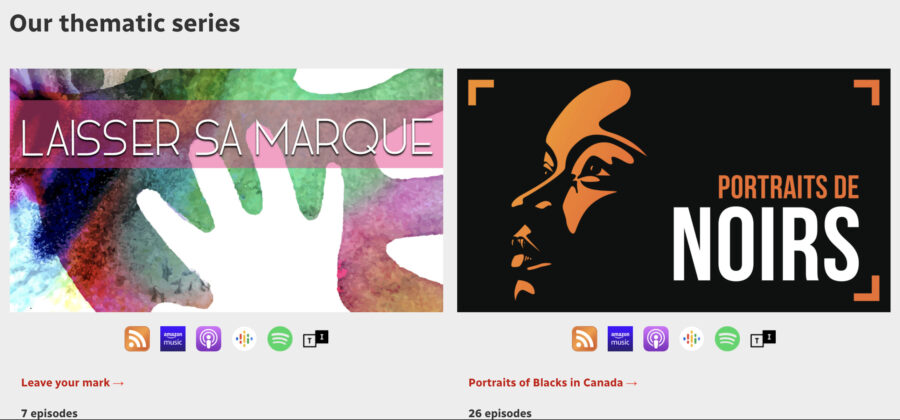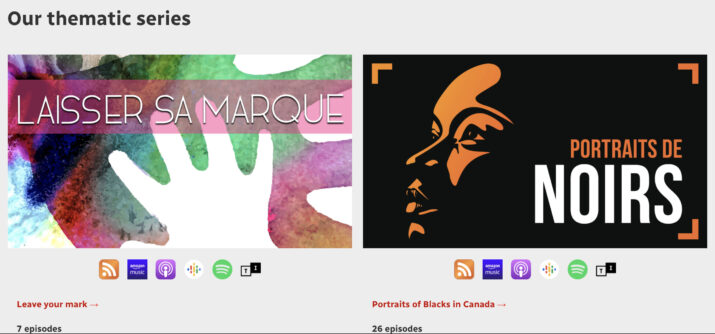 Image from rcinet.ca/fr/balados
Radio Canada International contains numerous podcasts in French. They typically cover Canadian history, current events, and other events mentioned in mainstream Canadian media.
The speakers often have French-Canadian accents to help you better familiarise yourself with how French is spoken in different accents and potentially different dialects.
CLICK HERE TO READ MORE ABOUTRADIO CANADA INTERNATIONAL
Conclusion
In this article, we have covered 39 top-rated French language podcasts suitable for beginners, intermediate-level learners, and advanced learners.
Overall, all podcasts have unique features that make them part of the list of greatest French podcasts for 2021. In particular, the resource that has outshone the others is FrenchPod101. FrenchPod101 has demonstrated its capacity and capability of teaching the French language through engaging podcasts.
FrenchPod101 produces a wide variety of resources that are suitable for all individuals at different proficiency levels. Their resources have also proved to be engaging and efficient at helping individuals improve their language skills depending on their goals.