Forex Trendy Review 2023 By Dumb Little Man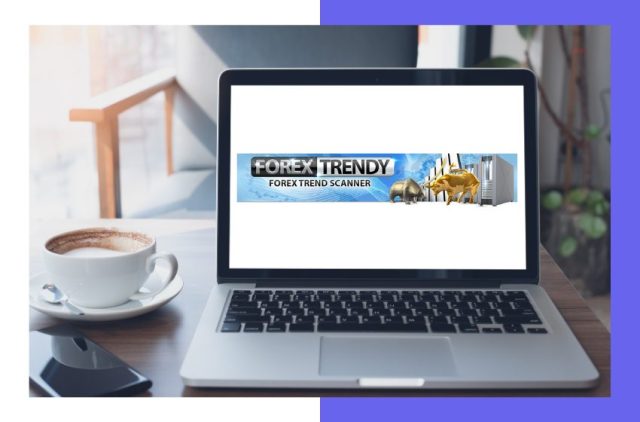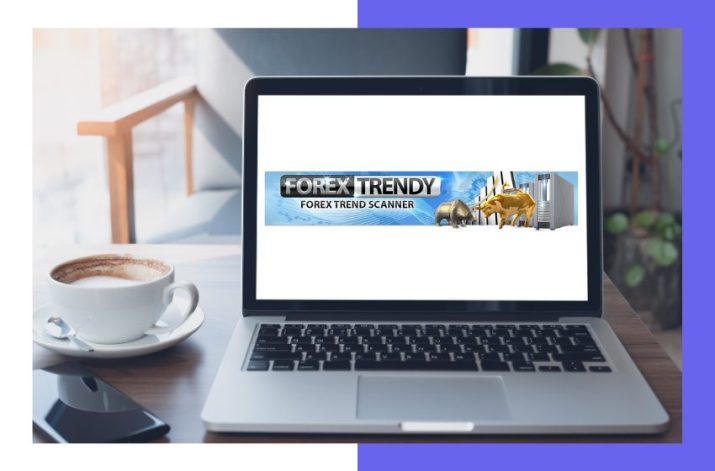 Forex Trendy Review
The forex market has evolved with technology, and expert advisors (EAs) have become essential tools. EAs automate trading, and help traders find profitable trades. Forex Trendy is one such tool. It's a web-based and downloadable software that scans real-time forex data. It analyzes currency pairs to find the best trading opportunities.
This article serves as a comprehensive Forex Trendy review. Our Forex experts at Dumb Little Man have evaluated this tool in detail. We'll cover its features, pros and cons, cost, and setup process. This review aims to give traders an in-depth look at Forex Trendy, revealing any drawbacks to help you make an informed choice.
What is Forex Trendy?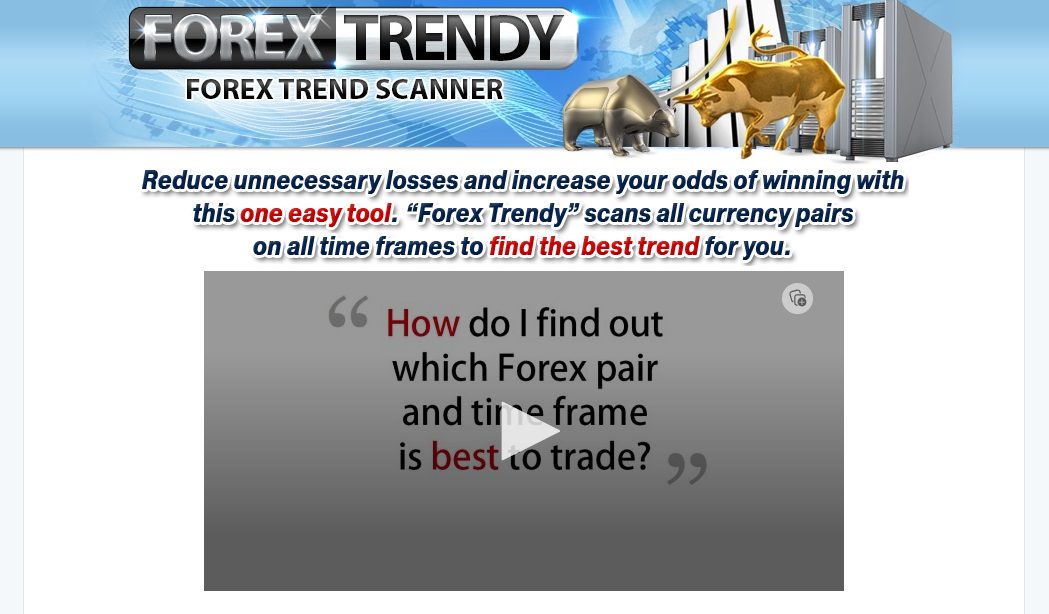 Forex Trendy is a tool designed for scanning and analyzing the forex market. You can use it via a web browser or download it as software. It works with 34 major forex pairs, making it useful for seasoned investors who want to automate research. 
The tool is an expert advisor that performs automated market analysis. It helps users avoid trading during unstable times by evaluating numerous price action scenarios. The software is easy to use, so even if you're new to trading, you won't find it challenging to navigate.
[wptb id="129307" not found ]
How Does Forex Trendy Work?
Forex Trendy operates using advanced algorithms to identify trading patterns. Dumb Little Man found that it scans 34 global currencies and claims a 90% accuracy rate. Users can get trading predictions ranging from 60 seconds to 30 days, helping them seize profitable opportunities.
The tool scans different time frames to pinpoint potential breakout patterns. These scans use a scientific algorithm to make them as accurate as possible. Forex Trendy offers straightforward trading suggestions designed to maximize profits. It aims to make trading safer and more profitable, even for those new to forex.
What are the Features of Forex Trendy?

Forex Trendy has several features that Dumb Little Man found valuable for traders. 
Profitable Trend Identification: 

Forex Trendy uses advanced algorithms to spot promising trends across multiple currency pairs and time frames.

User-Friendly Interface: 

The software features an easy-to-navigate interface suitable for beginners and experienced traders.

Charts and Graphs: 

Forex Trendy provides visual aids like charts and graphs, helping traders understand current market trends.

Customization and Alerts:

 Users can tailor their settings and set up alerts for specific directions or patterns.

Pattern Recognition:

 The software can identify key chart patterns, such as triangles and flags, which are crucial for trading decisions.

Pattern Scanner: 

This unique feature allows simultaneous scanning of multiple currency pairs, saving traders time and effort.
[wptb id="129307" not found ]
Forex Trendy Pros and Cons
Pros
Software is easy to use

Offers nine chart options

Supports 34 currency pairs

Uses pure price action for trend calculations

Scanning options from one minute to one month

No need to download
Cons
Supports a limited number of assets

Can't integrate with MT4

Only supports manual trading
Benefits of Trading with Forex Trendy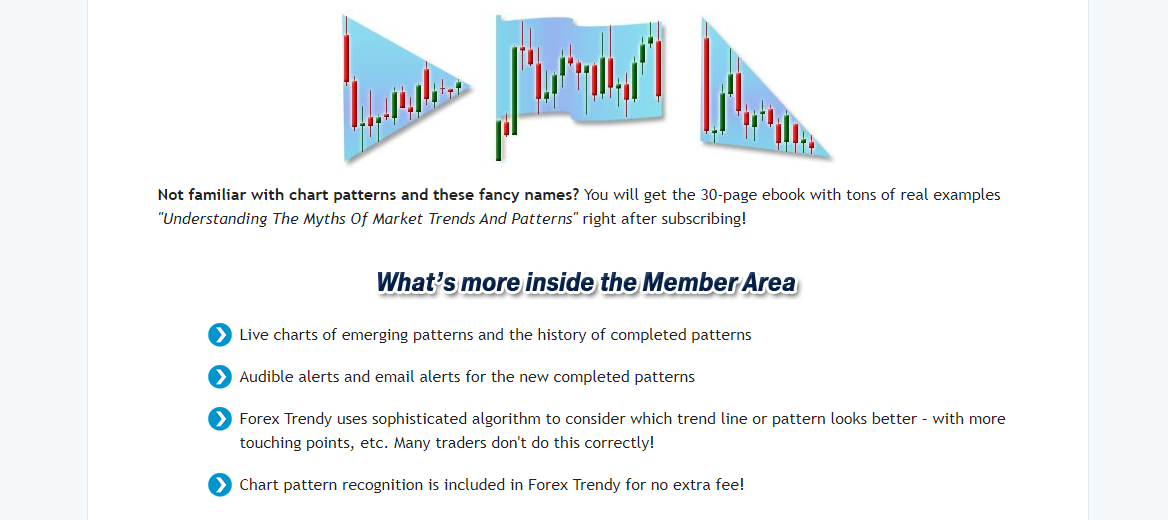 Platform Compatibility:

 Forex Trendy works well on most popular forex trading platforms. This makes it versatile for different trading environments.

Clear Charts:

 The charts provided by Forex Trendy are easy to follow. They help traders make quick and informed decisions.

Profit Potential:

 This tool offers solid opportunities for earning profits in forex trading. Whether you're a beginner or an expert, it aims to boost your earning potential.

Money-Back Guarantee:

 The product comes with a 100% 60-day refund guarantee. This provides a safety net if the software doesn't meet your expectations.

Comprehensive Coverage:

 Forex Trendy can monitor up to 34 currency pairs across nine time frames. This broad scope increases your chances of finding profitable trades.

Time-Saving:

 The software allows traders to focus on other tasks as it automates the market scanning process. It's useful for new and experienced traders aiming to maximize their investments.
[wptb id="129307" not found ]
How Much Does Forex Trendy Cost?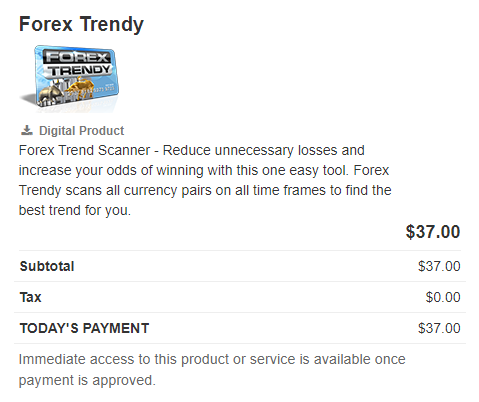 Forex Trendy comes with certain costs. An initial deposit of $250 is needed to use the trend scanner. Additionally, users pay quarterly fees of $37, which breaks down to $12.33 per month. 
In the first year, you'll spend $398, including the upfront deposit and quarterly fees. After that, the yearly cost drops to $148.
The platform also offers a 60-day money-back guarantee. This gives users confidence, knowing they can get a full refund if the software doesn't meet their needs.
Setting Up Forex Trendy
Open your web browser and log in to the Forex Trendy platform.

Navigate through the user-friendly interface to start the setup process.

Select the currency pairs you want to focus on from the list of 34 options available.

Pick the time frames you're interested in, ranging from one-minute to monthly charts.

Let the software begin its real-time market analysis based on your selections.

Wait for the software to display profitable trends on easy-to-read charts.

Use the information provided to make informed trading decisions.
Who is Forex Trendy Best For?
After testing Forex Trendy, it's clear that the platform is best suited for both new and experienced forex traders. New traders will find the user-friendly interface and automated analysis helpful. Professional traders will benefit from the software's ability to scan multiple currency pairs and time frames, allowing for more strategic trading. Overall, it offers various features that cater to different trading needs.
[wptb id="129307" not found ]
Choose Asia Forex Mentor for Your Forex Trading Success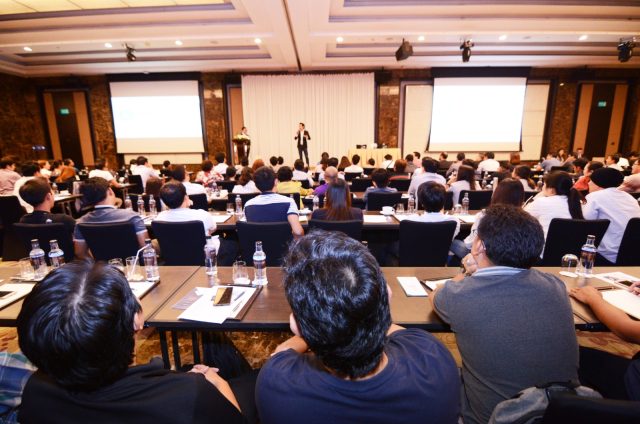 Before you consider using advanced tools like Forex Trendy, it's crucial to have a solid grasp of Forex trading. Tools like these come with complex features that can be confusing for newcomers. Making uninformed decisions can be costly. The experts at Dumb Little Man highly recommend Asia Forex Mentor as the go-to course for mastering trading basics and beyond.
Asia Forex Mentor is the top choice for anyone serious about a career in forex, stock, or crypto trading. The course is led by Ezekiel Chew, a highly successful trader known for achieving seven-figure trades. With his guidance, you'll be well on your way to substantial financial gains.
The course offers a broad curriculum covering multiple trading markets. You'll be learning proven methods that have helped produce consistently profitable traders. The mentors are experts in the field, providing personalized support. You'll also get access to a community of like-minded traders, enhancing your overall learning experience.
Emotional control and disciplined decision-making are crucial in trading. Asia Forex Mentor focuses on these psychological aspects to prepare you for the highs and lows of trading. The course keeps you updated with the latest market trends and offers ongoing access to valuable resources. Many students have found financial independence through this comprehensive education in forex, stock, and crypto trading.
Why Learn with Asia Forex Mentor?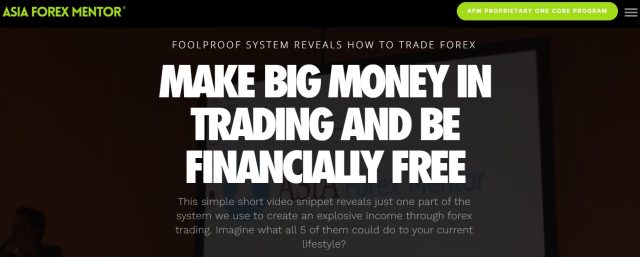 If you're wondering why you should choose Asia Forex Mentor for learning to trade, consider its strong credibility backed by multiple awards and accolades. It won the "Best Comprehensive Course Offering" by Investopedia, a leading financial content site. This means the course provides extensive coverage of trading topics.
Adding to the credibility, Benzinga named the Asia Forex Mentor One Core Program the "Best Forex Trading Course for Beginners." Benzinga is a trusted name in financial and business information, and it highlighted the course as ideal for traders of all levels.
The title of "Best Forex Mentor of 2021" was awarded to Asia Forex Mentor by BestOnlineForexBroker. According to them, Asia Forex Mentor helps traders make "massive gains from forex," underscoring its effectiveness.
Lastly, Asia Forex Mentor outshined other platforms in a recent roundup of top forex trading courses. This demonstrates the high-quality trading strategies and systems taught in the program. 
These multiple recognitions prove that the course exceeds expectations for both new and advanced traders. Therefore, learning with Asia Forex Mentor is a wise choice for anyone serious about trading.
>> Also Read: Asia Forex Mentor Review By Dumb Little Man
Conclusion: Forex Trendy Review
In conclusion, our team at Dumb Little Man found Forex Trendy to be a valuable tool for traders looking to navigate the complex forex market. Its key features, like real-time scanning of 34 currency pairs and a user-friendly interface, make it easy for beginners and experienced traders to identify profitable trends.
However, it's essential to note that Forex Trendy has its limitations. The software doesn't support many assets and is incompatible with MT4. Additionally, it only promotes manual trading. Despite these downsides, Forex Trendy is helpful for those keen on optimizing their forex trading strategies.
>> Also Read: Wall Street Forex Review By Dumb Little Man
[wptb id="129311" not found ]
Forex Trendy Review FAQs
What is Forex Trendy?
It's a forex scanning software that identifies profitable trends in 34 currency pairs.
How much does it cost?
Initial deposit of $250 and quarterly fees of $37, averaging about $398 for the first year.
Is it user-friendly?
Yes, it offers a straightforward interface suitable for beginners and experienced traders.
[wptb id="128895" not found ]