Best Forex Signal Providers for 2022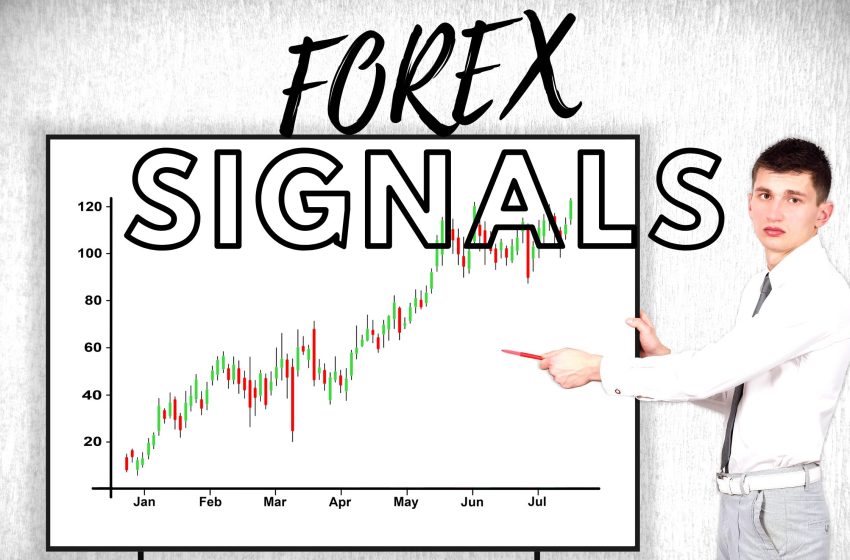 Want to jump straight to the answer? The best forex brokers for traders are Avatrade and FXCC
Becoming a profitable trader requires hard work, discipline, and a dedication to growing in several aspects of trading; to develop solid trading psychology, a profitable system of technical and fundamental analyses. Forex traders who are yet to master a trading strategy or become profitable can still profit from the forex market, by taking advantage of forex signals and market analysis provided by professional traders or trading mentors.
This article covers everything you need to know about forex trading signals – what they are, why you may need them, and the best forex signals provider available right now.
Forex Signals: What are Forex Signals?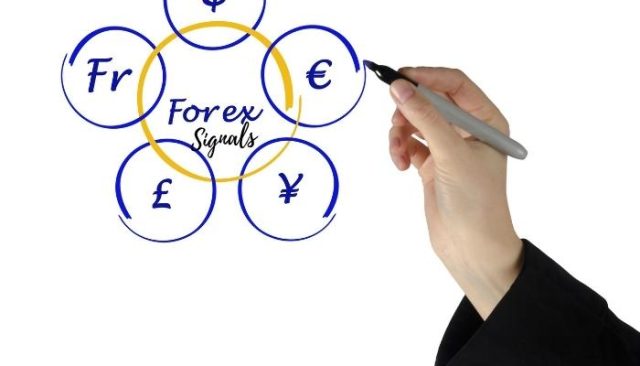 If you have traded any instrument online, you have probably heard of trading signals, but you might not know what they are. Forex signals are used to identify the optimal ways to enter trades in the forex market.
A signal provider provides forex signals and trade ideas or trading alerts to help both experienced and less experienced traders make profits. These forex signals may be presented in form of speculations about the future movement of price, or a trade idea with parameters such as entry price, stop loss, and take profit, as outlined in the signal provider's channel, app, or website.
They are usually provided by successful traders with enough forex trading experience to mitigate their losses with their wins. This is important because trading in the financial markets carries the risk of incurring losses and forex signal providers also take losses. However, a successful trader or profitable forex signal provider can effectively mitigate losses through a high win rate and risk to reward ratio.
How to use Forex Signals?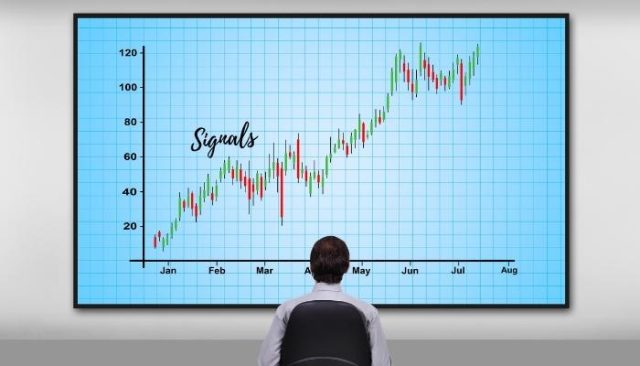 As discussed earlier, forex signals are simple instructions that show you how and when to enter trades. These instructions can be gotten from trade ideas provided by successful traders in a signal provider's channel. When these signals are sent, you simply have to input the necessary values – limit order, stop loss and take profit – into your trading platform. But, it is advisable to carry out your analysis (if you can) before you trade forex with the signals.
Fortunately, free forex signals can also be gotten from tools and systems of technical analyses which tell you when to enter and exit trades. These tools and systems make up a trading strategy.
Learning to use these tools will help you enter profitable trades in the forex markets. Choosing the right trading strategy requires significant forex trading experience, sufficient back-testing, and practice to ensure that the chosen system is profitable.
Some traders choose to combine different strategies to form a robust trading methodology. This helps them take advantage of the strengths of different trading systems in order to maximize their win rate and risk to reward ratios while trading forex.
One of the most popular trading strategies is support and resistance levels. These help traders to identify price levels where buyers and sellers might converge. A knowledge of these regions allows the trader to determine where to place a buy limit order ahead of support or a sell limit order close to the resistance level.
These levels also inform the trader where to place stop-loss orders to avoid being swept out of the market.
Here are other forex signals used by forex traders:
Moving Averages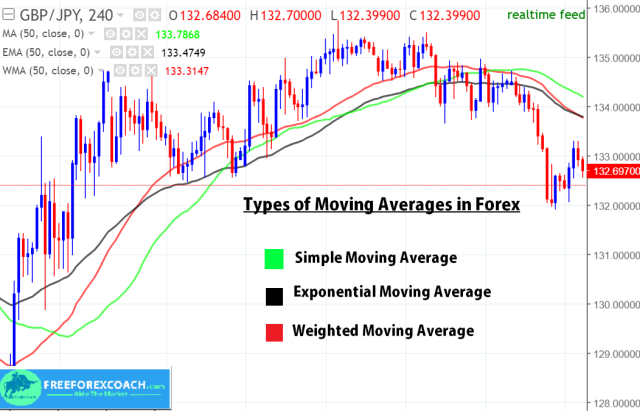 Moving average is calculated by analyzing data points to identify a series of averages. The result is short-term and long-term moving averages that show the mean of a series of price data. Moving averages allow traders to forecast price movement by analyzing the mean of past price data. Traders use moving averages of short or long periods, depending on their trading styles.
In forex trading, moving averages can help you trade forex in line with the market trends, or confirm a trend reversal. They provide forex signals (entry and exit signals) for all kinds of traders and help to improve their trading performance.
Moving Average Convergence Divergence: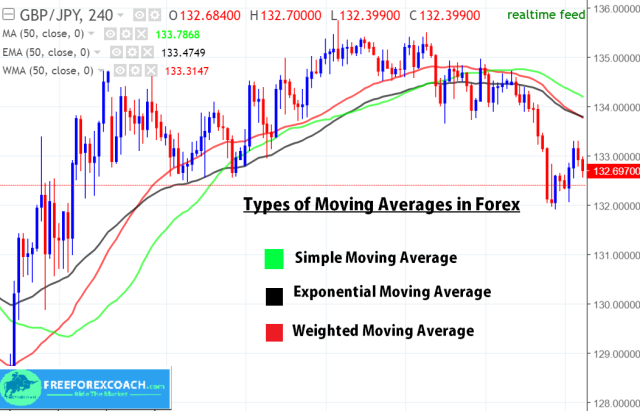 It's not easy to identify changes in market trends ahead of time. But, MACD is a technical indicator used by traders to predict whether a new trend is leaning either bullish or bearish. The MACD is read as two line graphs (MACD and Signal lines), in the case of a trend change, the MACD will react first and cross the signal line.
This strategy is relevant for trend following and counter-trend traders to help them determine when a change in market trend is likely to occur.
Bollinger Bands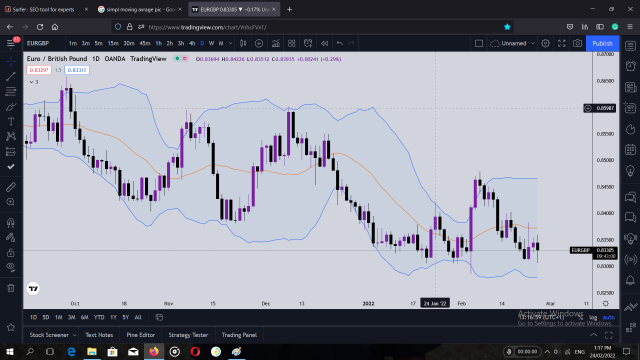 The reality of forex trading is that most traders take losing trades at overbought and oversold conditions. Bollinger bands are indicators designed to measure volatility and identify overbought and oversold conditions. When the candle starts to break out of the top band, the price will continue to move higher.
Many forex signal providers use this in combination with other trading strategies to provide profitable forex signals.
Directional Movement Indicator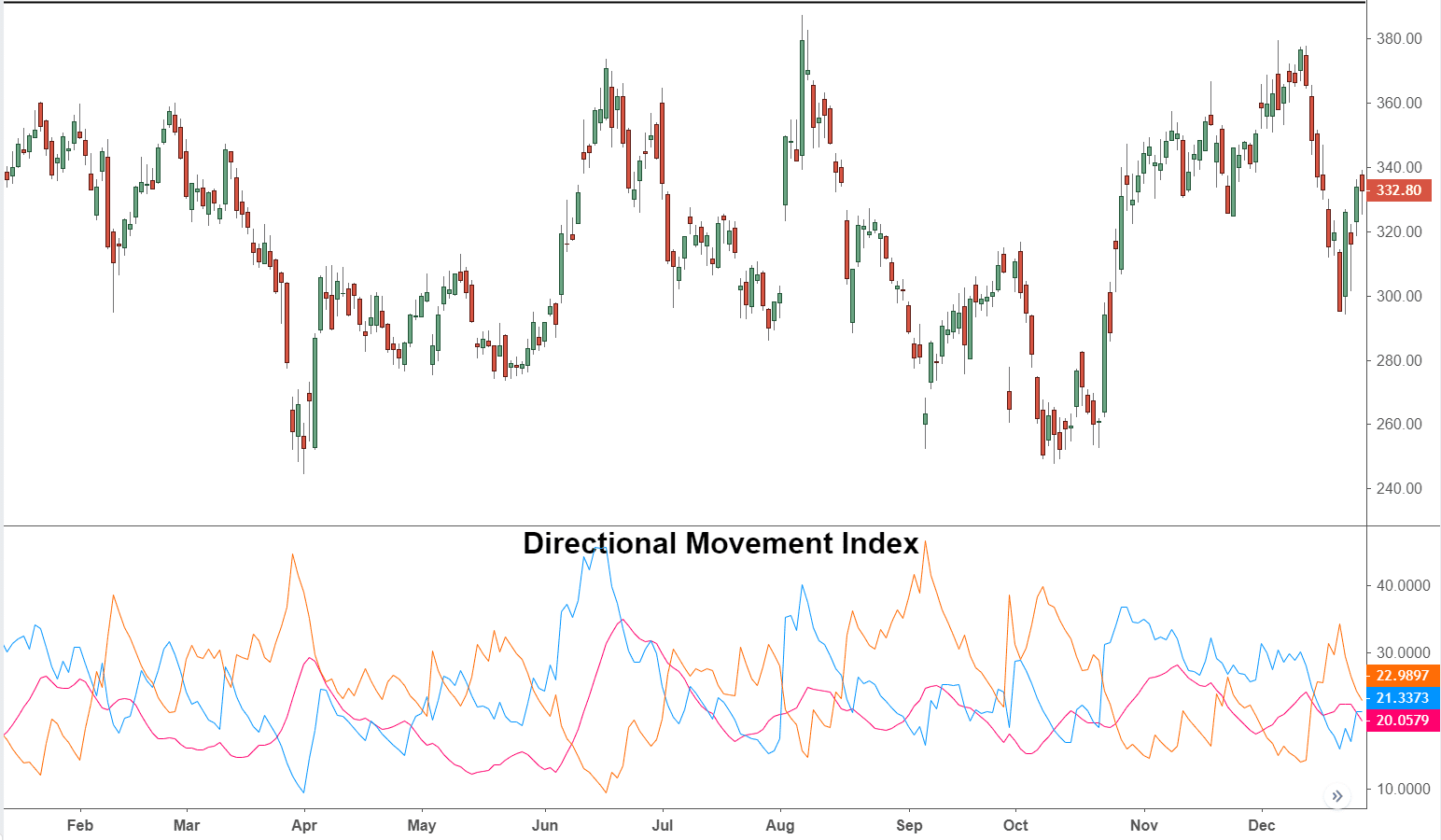 One aspect of the forex market that is rather appealing and just as scary is the rate at which new trends are established. The directional movement index is designed to determine the direction of an asset's price. You read two lines – the positive and negative DMI.
If the positive DMI is above the negative DMI, there is more buying pressure than selling pressure on a currency pair.
Historical Volatility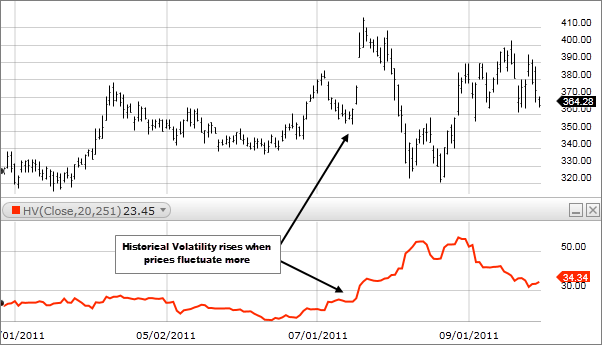 Looking at the historical price of forex helps to determine when a pair is likely to trade actively. Historical volatility is a measure of forex price movement against the historical price patterns. This indicator will help you to determine when buyers and sellers are likely to make a move on the market once it retests key levels. This helps you trade the right forex pairs and enter high-probability forex trades.
Oscillators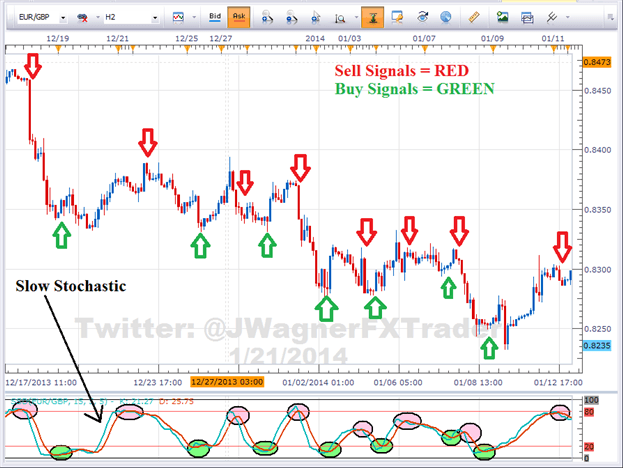 Monitoring overbought and oversold conditions is a tried and time-tested strategy for making profits in the forex market. Oscillators generate forex signals by identifying where a possible reversal could happen and help you to confirm the establishment of a new trend. You can use oscillators just as you would use Bollinger band indicators when trading.
Relative Strength Indicators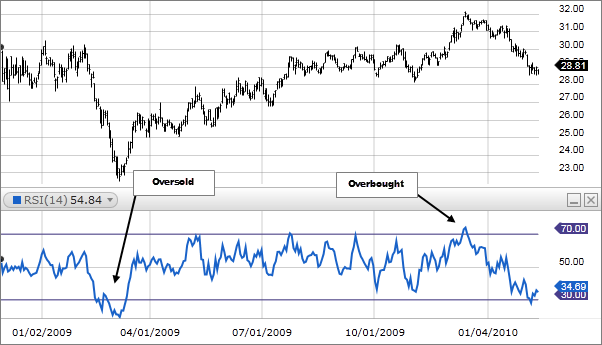 Similar to oscillators, RSI identifies overbought and oversold conditions. The relative strength index is commonly used to determine the strength of a trend. If the RSI reading is below 50, you are looking at a possible downtrend. Remember to use 50 as a benchmark to avoid fake-outs and confirm trends with a greater degree of accuracy.
| RECOMMENDED TRADING COURSE | REVIEW | VISIT |
| --- | --- | --- |
| | #1 Forex, Crypto and Stocks trading course. Ranked most comprehensive by Investopedia and Best by Benzinga. Free to Try! | |
Best Free Signal Providers
Broker
Best For
More Details

Has the world's biggest trading rooms
Read Review





securely through Forexsignals.com website




Beginners for Non-US Traders
Read Review





securely through eToro website




Advanced Technical Analysis


Read Review





securely through Learn2Trade website




My FX Book Tracking Verification

Read Review





securely through 1000pip Builder website




Provides High-Quality Forex Signals
Read Review





securely through ForexGDP website



#1. ForexSignals.com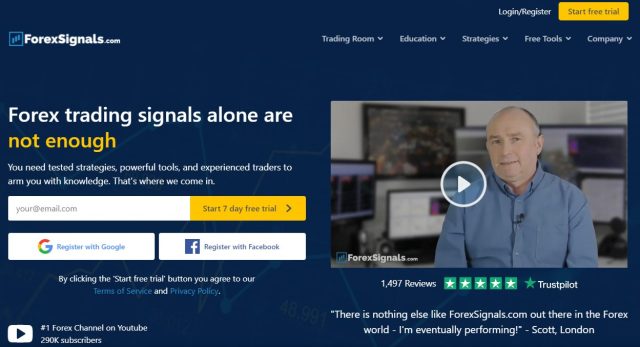 Forexsignals.com was launched in 2012 and is one of the world's biggest trading rooms allowing traders to interact with other traders and facilitate knowledge transfer. Now the firm is a global leader in its industry, having won the hearts and minds of millions of traders of all walks of life. It provides trading signals and valuable insight to individuals trading forex worldwide.
Forexsignals.com has a team of forex traders and signal providers with a wealth of experience in forex trading and market analysis. The team supports the growth of ambitious traders through a versatile platform where ideas flow freely, and opportunities are identified and assessed by leveraging on the experience of all traders.
The future is truly yours to shape with an experienced team of traders by your side. With forexsignals.com, the opportunities in the currency trading market are open to everyone – not just a handful of professionals. This website has everything you need to turn your aspiration into reality with a product offering focused on helping you invest and trade better.
Get access to the best traders of their time, and leverage the understanding of other up-and-coming traders from around the world. Plus everything you need to learn from the best, including chat rooms that allow you to question the reasoning and challenge your skill level. Forexsignals.com has worked for millions of traders before and continues to do the same today.
How does it work?
​Forexsignals.com operates under the banner of a simple mission – to connect ambitious traders to opportunities. That means linking you to everything you need to navigate the currency markets, including educational resources and training materials, hands-on practice on the best strategies in the industry, and a wide range of free tools to help you grow.
In forex trading you need the right information to make every trade count – forexsignals.com puts profitable strategies at your fingertips to help you navigate the forex market. They provide forest traders with expert market commentary, smart trading opportunity alerts, charting and analysis tools, in-depth webinars, and curated trading themes focused on helping you meet your goals.
Unlike other trading signal providers, the company delivers more than trading signals, but the whole package with added extras that facilitate your growth in forex trading. It delivers a variety of tools to help you become a forex trading professional, including a live stream session that allows you to pick up daily signals from professional mentors and make profits in the forex market.
In summary, you never have to trade alone when you are on the forexsignals.com platform. The trading room hosts thousands of traders where you can communicate and share experiences to improve your prospects. With such an army of profit hunters, it will be near impossible to miss a worthwhile trading opportunity.
Pros
​Wide range of educational materials
A large community of professional trading mentors
Live market commentary
Direct line to mentors
Cons
Website maintenance is subpar
Fewer strategies than peers
Commission & Fees
​Forexsignals.com offers three premium accounts including professional, committed, and apprentice plans. The professional and committed account offer 12-months and 6-months access billed $47 and $49.5 per month respectively. For 1-month access, the apprentice plan charges $97 billed monthly.
#2. eToro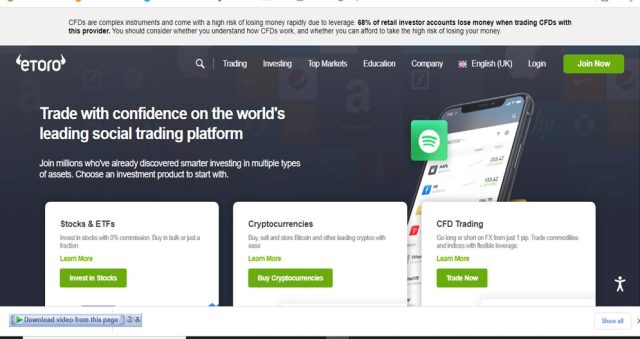 eToro is an Israeli-based brokerage firm that offers multi-asset investing for global clients. However, what really sets eToro apart is its advanced social trading approach. This approach allows relatively inexperienced forex traders to copy successful traders and earn returns.
In essence, eToro offers the average trader the chance to step into the market with confidence and comes with its own interactive trading platform that feels so easy to use. You also get a free demo account from the brokerage to train yourself before getting into real money. This makes eToro one of the best brokers. The firm is also highly regulated too.
In fact, eToro is regulated by the UK Financial Conduct Authority FCA, the Cyprus Securities and Exchange Commission, the Australian Securities and Investments Commission ASIC, and others. You also get 100% zero commission trading on stocks and a good variety of CFD products. The firm has also done well to offer new traders extensive training materials, including research on stocks and other assets. For traders looking for a simple and easy-to-use online brokerage firm, then you won't find a better option out there than eToro.
How does it work?
As a leading copy trading app, eToro has structured its financial services to make it so easy for average people to trade. So, how it works depends on your level of trading experience. But if you are an average forex trader, the first thing would be to open an account. eToro has some of the most accommodative KYC requirements for forex traders so you should be able to get an account opened and approved in hours.
Secondly, find the most experienced investors to copy. Each of these experienced investors will have a rating under their names and the average returns they have made over the past 12 months or so. This is done to ensure there is trust and integrity in social trading. As a rule, always copy your trades from investors with a history of consistent returns.
Also, you can open a free demo account and trade with virtual money just to get acquainted with the online trading platform. Once you have decided it's time to trade and you have a few investors to copy trade, you can deposit money through bank transfer and other methods and start your journey. Please also note that there is a minimum deposit requirement of USD 200.
Pros
One of the most highly regulated brokers in the world in general
Offers social trading to reduce the high risk associated with CFDs
Has huge asset classes to invest in including crypto, stocks, and currency pairs
Zero commission trading on US stocks and ETFs is also offered
Easy to use online trading platform for beginner traders
Cons
The online broker charges deposit fees for non-USD deposits
You also have to pay a minimum deposit of USD 200 before you start trading.
Price
Like many forex brokers, eToro uses a spread-based system to charge commissions albeit there are certain assets that have fixed commissions as well. First, it is important to note that the social trading app offers zero commission trading on all stocks in the US. There are no ticketing fees, stamp duty, or markup up fees. It's simply 100% free of charge.
But other assets attract fees. For example, for folks who want to try CFD trading on crypto, fixed commissions will be charged as a percentage of the trade volume. For instance, Bitcoin attracts a fee of 0.75% of the trade volume while Ether stands at 1.9%. Fees for buying crypto can go as high as 5% of the trade volume. For currency pairs, it all depends on the pair and its liquidity. Nonetheless, spreads on currencies start from as low as 1 pip while those on commodities start from 2 pips.
#3. Learn2Trade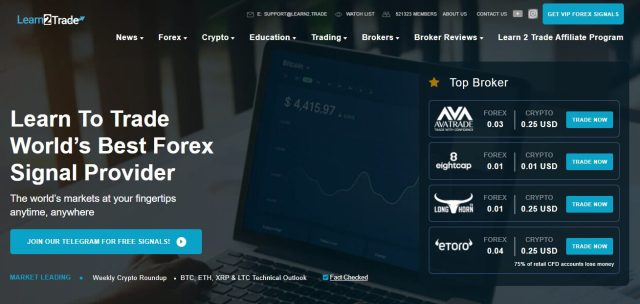 ​To become a better trader, you need the trading experience of a serious trader, which Learn2Trade delivers with unmatched excellence. The goal for Learn2Trade has been to provide new traders with the ultimate trading boot camp, and the service is constantly innovating and looking for ways to improve how people trade in the financial markets.
Learn2Trade is a professional gateway to the world's financial markets. For more than a decade, the company has been empowering traders from all parts of the world to take back control of their trading outcomes. It delivers exceptional access to education, resources, and services that help traders to pursue their forex trading goals with confidence.
The complete package is suitable for both new and experienced traders. Learn2Trade offers intuitive tools and innovative trading platforms alongside an educational webcast, live chat and broadcast.
There's more than one way to achieve your forex trading goals, Learn2Trade has the options that meet your needs on your terms.
How does it work?
​Learn2Trade is not a one-size-fits-all because every trader has unique goals, and therefore unique needs. Instead, it offers a lot of options to build, manage, and trade the currency pairs in your portfolio. The company helps make it easy for you to be an informed trader on the world stage by clearly explaining forex signals and helping you understand the thought process behind each one of them.
Since the world of currency trading is vast and nuanced, Learn2Trade offers educational resources to help you understand it all with thousands of curated, easy-to-search forex trading articles on topics ranging from today's market to tomorrow's predictions.
With an outstanding depth of market knowledge, Learn2Trade offers real-time market news, ideas, market analysis, recommendations, forex signals, and other products. This provider helps you make better trading decisions with insights on all major markets, including cryptocurrencies and commodities.
Learn2Trade uses automated technology that scans the market using advanced technical indicators for trading recommendations on major and minor currency pairs. You get notified via a telegram group of upcoming opportunities, even when using a free account plan.
Pros
High-quality educational material and training resources
Newsroom grade alerts
Good video content
Trade chat rooms
Cons
​Crowded interface
Poor customer support
Commission & Fees
​The best of Learn2Trade is hidden behind a paywall, but the free account also offers access to automated forex signals. This provider offers multiple premium plans tailored for individuals and groups and further broken down to preferred payment terms. They charge a fee of £35 billed monthly to £250 for a lifetime subscription.
#4. 1000pip Builder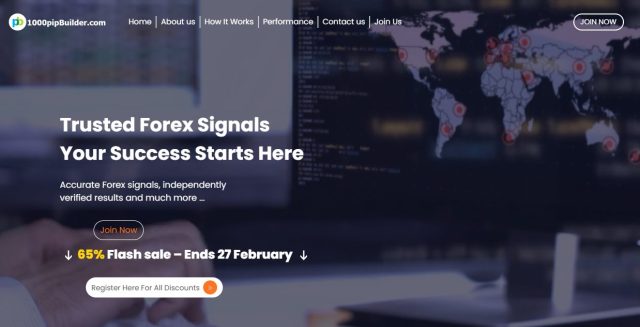 1000pip builder is on a mission to change trading for all. That means creating products that allow you to improve your trading skill at your own pace, on your terms.
1000pip Builder is modeled to empower every step of your trading journey – from paying for signals to getting paid for signals. It is the kind of platform where traders of all walks of life come together led by the belief that anyone can grow their fortunes through forex trading.
Backed by leading traders and advisors, everything is designed to create a lasting impact in your forex trading journey. That means its success is anchored in the wealth of opportunities it aims to create every day. 1000pip builder is engaged in the business of driving positive change for millions of traders around the world.
How does it work?
​It's the platform where forex trading experiences enhance the growth of traders. Thousands of satisfied traders and millions of profits are earned from trading with the forex signals, making 1000pip Builder valuable to the seasoned professional and the novice trader.
1000pip Builder boasts of a long track record of delivering high-quality trading signals that have been capitalized upon to yield great success. The secret to the success of this provider is a feature that allows you to assess the return on investment through independently verified historical data. There is a lot of profit to back its claim as the best trading partner for all.
Proceeding with confidence, you can utilize the automated trading signal that puts price data at the heart of what it does, to identify, assess, and take profitable positions no matter the market condition. 1000pip builder sits atop the industry with a wide range of educational and training materials that grooms you to challenge the unpredictable nature of the market.
This platform is fast advancing, giving traders the tools and technology to become profitable traders in the market. It combines an intuitively designed platform with sophisticated tools to remove the barriers to profitable trading. 1000pip builder prioritizes the growth of new traders and increases the trading skills of experienced ones.
Pros
Verified historical data and ROI
Supports copy trading
Wide range of educational resources
Good video content
Cons
Poor customer support
No direct mentor access
Commission & Fees
​1000pip builder is quite forthcoming in its fee schedule. This provider only offers a standard membership account in three membership options that are differentiated by the payment terms. They include 1-month, 3-month, and 12-month plans that cost $97, $227, and $397 respectively. There are no special features in any of the plans.
#5. ForexGDP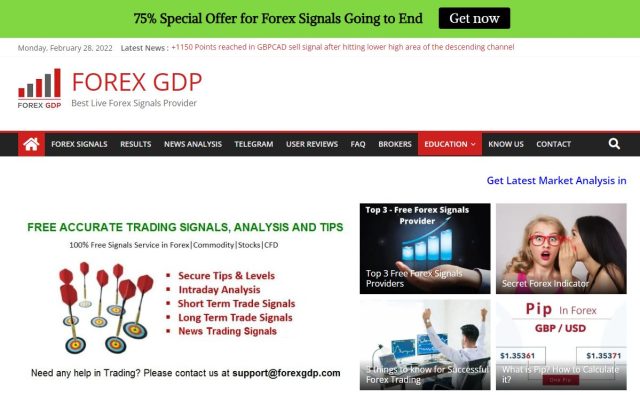 ​
As a strong proponent for educated trading, ForexGDP has established high standards of trading signaling to help traders jump-start their careers. This company has built an ecosystem of reliable forex signals that allows traders around the world to discover opportunities and begin a trading day on the right move.
Whether you are an advanced or novice trader, this service gives you the trading insights you need to close most of your trades in profit. The good reputation of this forex signals provider makes it worthwhile for traders all over the world.
ForexGDP is committed to helping traders become profitable. It is one of the first platforms that made forex signals available to average traders and the team has placed great effort in developing and maintaining robust relationships with its clients through profitable forex trading results.
How does it work?
ForexGDP provides access to trading opportunities, sophisticated tools, in-depth commentary, and lots of data. This platform is built to help traders to convert their understanding of how markets work, and knowledge of indicators into action.
ForexGDP offers a free subscription plan that includes the provision of four signals a month. These forex signals are sent directly to the trader, with entry and exit recommendations. The free plan alone is worth trying, delivering a target of 90 to 150 pips every month. However, additional tips and features are provided in the premium membership as well.
The premium plan guarantees between 8 to 12 recommendations each month that could bag the trader a profit of between 300 to 700 pips. Unlike the free plan, the user on a premium membership account receives specific information, including detailed entry and exit points, and buy stop order recommendations. You also get email support for six or more trading recommendations.
This provider brings together real-time data from the market, breaking news, in-depth market research, advanced analytics, sophisticated communication tools, and world-class execution to create a fully integrated solution for profitable trading. ForexGDP has the trader at the core of everything they do.
Pros
​Easily verifiable data
Access to trading signals on the free account
Signals sent directly to WhatsApp, Telegram, and Email
Email support for more trade ideas
Cons
Cramped interface
Subpar website maintenance
Commission & Fees
​The premium plan on ForexGDP comes at a reasonable price of $84 per month. It offers three more payment terms, including 3-month, 6-month, and one-year plans that go for $69, $59, and $49 respectively. A supreme plan will set you back $126 for three months, $111 and $99 for 6 months and one year.
Conclusion: Forex Signals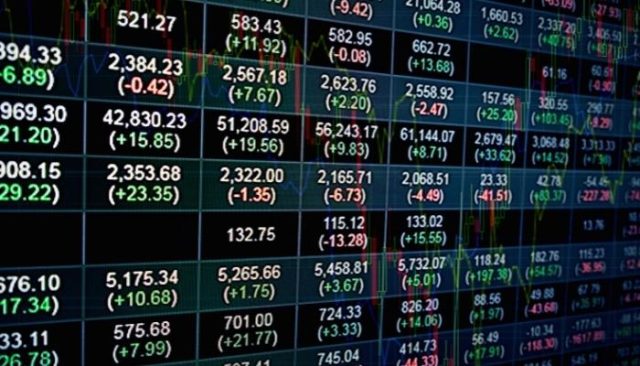 The best forex signals are trade signals that are profitable in the long run. They are signals that have a significant level of consistent profitability in terms of trading results. This ensures that your trading account can recover from drawdown and maintain a steadily rising equity curve.
Ultimately, when it comes to the market for trading currencies, the odds are usually stacked against you and are often unpredictable. The best way to increase your chances of making profits is to keep up with every possible trading opportunity and capitalize on worthwhile recommendations.
Forexsignals.com easily takes the first spot and is one of the most versatile forex signal services that provide trade signals in real-time. This broker uses an automated system to leverage multiple technical indicators to identify trading opportunities with a greater degree of accuracy.
Selecting the best trading signal website should not be so complicated. You simply have to ensure that you carry out adequate research and choose a signal provider with a verified track record.
Best Forex Trading Course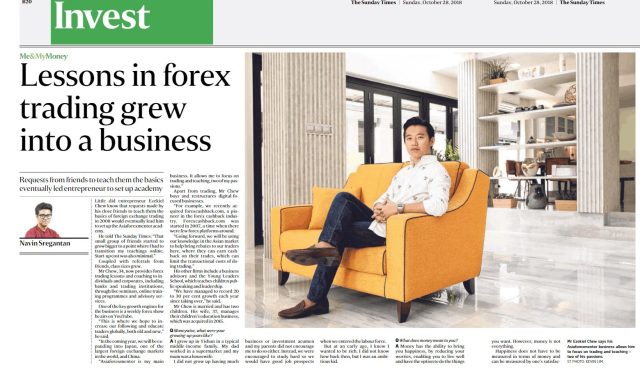 Investing in the Forex market might seem to be a daunting task especially if you are a beginner, and have just started exploring the Forex market. Although experience is said to be the best teacher when dealing in the Forex market, it is good to learn about the Forex market briefly before making your first investment.
There are several ways in which you can start expanding your knowledge of the stock market. You can either start reading books or ask for tips from your friends or family members who have prior experience of trading on the Forex platform. However, the former is a time-consuming method while the latter is not always a credible learning source.
If you want to learn about investing in the Forex market that would help you gain knowledge, and tell you all you need to know about the market, then you can opt for some professional courses available on the internet. These courses are developed by Forex markets experts who have years of training Forex traders.
Now, there are thousands of courses on the internet that claim to teach you about Forex investment. However, not all of these courses are reliable and give accurate information. So which is the best Forex course for learning the ins and out's of the Forex market?
Asia forex mentor course by Ezekiel is by far one of the best Forex learning courses on the internet, and they are one of the best learning sources if you want to expand your Forex trading knowledge.
They have been featured on multiple different leading forex platforms and Forex events happening around the world. Ezekiel's platform is the perfect solution for you to learn because their clients include multiple trainees and bank traders from private trading institutions around the globe.
It is the number one course available on the internet because it also reaches new bank traders and has fun managing if you want to make money from trading forex stocks and other commodities.
You can get a great return on investment by indulging yourself in this systematic course. Even if you are a beginner in the field and do not have enough experience and knowledge about Forex trading, you still join this program with zero knowledge. Everything will be taught to you from scratch, and you can enroll yourself in this program right now to get started.
Check out the testimonials on the website and start your Forex trading journey right away. The good thing about this course is that you will be crystal clear about what you need to do from day one.
They are using a return on investment approach to teaching their students. It is a scientific method of beating the market, and you will not be taught this somewhere else.
| RECOMMENDED TRADING COURSE | REVIEW | VISIT |
| --- | --- | --- |
| | #1 Forex, Crypto and Stocks trading course. Ranked most comprehensive by Investopedia and Best by Benzinga. Free to Try! | |
 Best Forex Brokers
Broker
Best For
More Details

Advanced Non US Traders
Read Review




securely through Avatrade website




Intermediate Non-US Traders


Read Review





securely through FXCC website






Overall Broker
Read Review





securely through Forex.com website




Professional Forex Traders

Read Review




securely through Interactive Brokers website