FinoTrader Review with Rankings 2023 By Dumb Little Man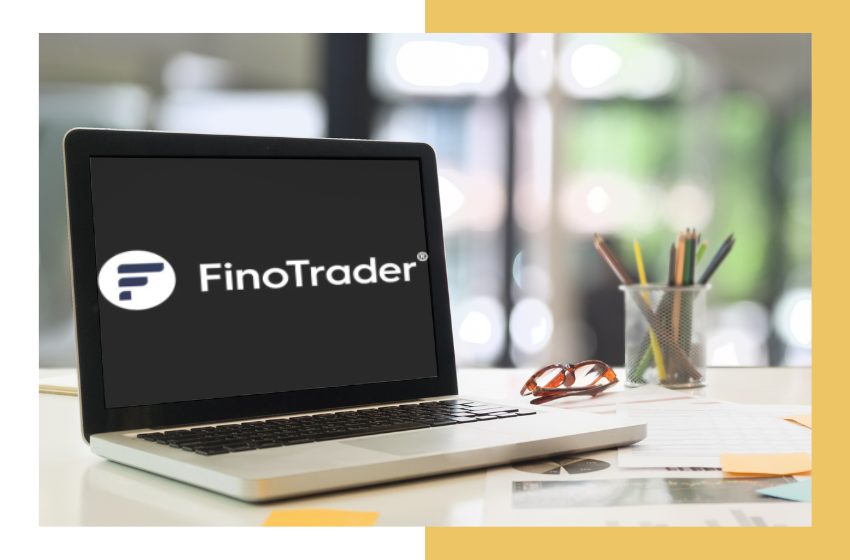 Evaluation Criteria
The respected team at Dumb Little Man, consisting of seasoned traders, financial aficionados, and adept trading professionals, is renowned for their thorough assessments of prop trading firms. Leveraging a unique algorithm and rigorous benchmarks, we evaluate each firm based on vital elements like:
Client Service Excellence
Timeliness of Withdrawals
Protection of Funds and User Data
Trustworthy Trading Methods
Achievable Trading Goals
Equitable Profit Sharing
Our research highlights FinoTrader in a positive light. The firm excels in supporting talented traders and has an impressive capital reserve to aid them. Yet, we've also pinpointed a few areas of concern with the company, which we'll delve into in this review.
FinoTrader Review
Prop trading firms, or proprietary trading firms, allow traders to trade with the firm's capital rather than their own. These firms often offer substantial financial leverage, enabling traders to amplify their gains.
FinoTrader is one such prop trading firm, promising investment capital of up to $500,000 to eligible traders. Hundreds of traders leverage FinoTrader's capital daily, seeking to maximize their skills and returns.
This article aims to shed light on FinoTrader from multiple perspectives. The insights provided here stem from trading experts at Dumb Little Man and candid feedback from actual platform users.
Through this FinoTrader review, readers will understand the advantages, potential drawbacks, security measures, features, and more.
What is FinoTrader?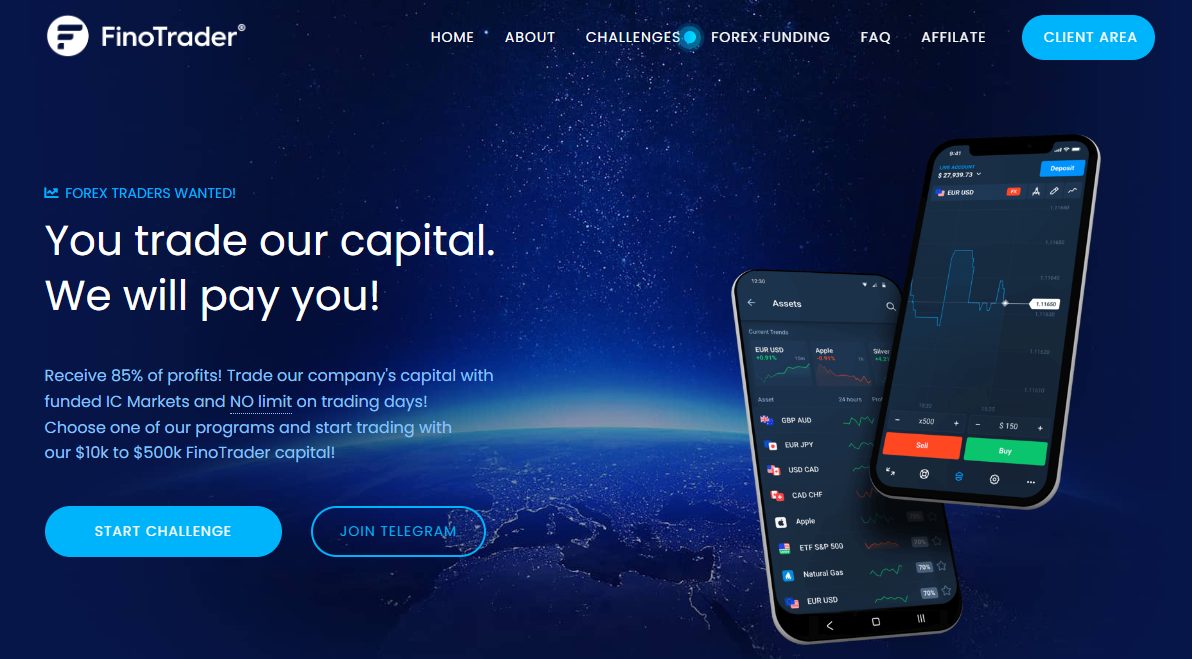 FinoTrader is a proprietary trading firm located in London, United Kingdom. They offer free forex-funded trading accounts to both professionals and experienced traders. 
To gain access to these funded accounts, potential traders must undergo a 2-step evaluation process. Once successful, traders are empowered to manage accounts ranging from $10,000 to $500,000, and they get to keep a generous 85% of the profits they make.
The journey to becoming a funded trader with FinoTrader starts with the trial account. FinoTrader expects traders to showcase their trading skills and discipline in this initial phase. However, there is a fee to access this trial.
Once you complete the trial phase, you move on to the verification stage. This is where FinoTrader checks the authenticity of your results. FinoTrader offers you a chance to trade with the total capital, free from prior restrictions if you clear this phase.
After clearing the first two steps, you officially become a funded trader with FinoTrader. Here, the main focus is responsible trading. While you get to keep a whopping 85% of your profits, ensure you trade wisely and follow their stipulated guidelines.
FinoTrader Pros and Cons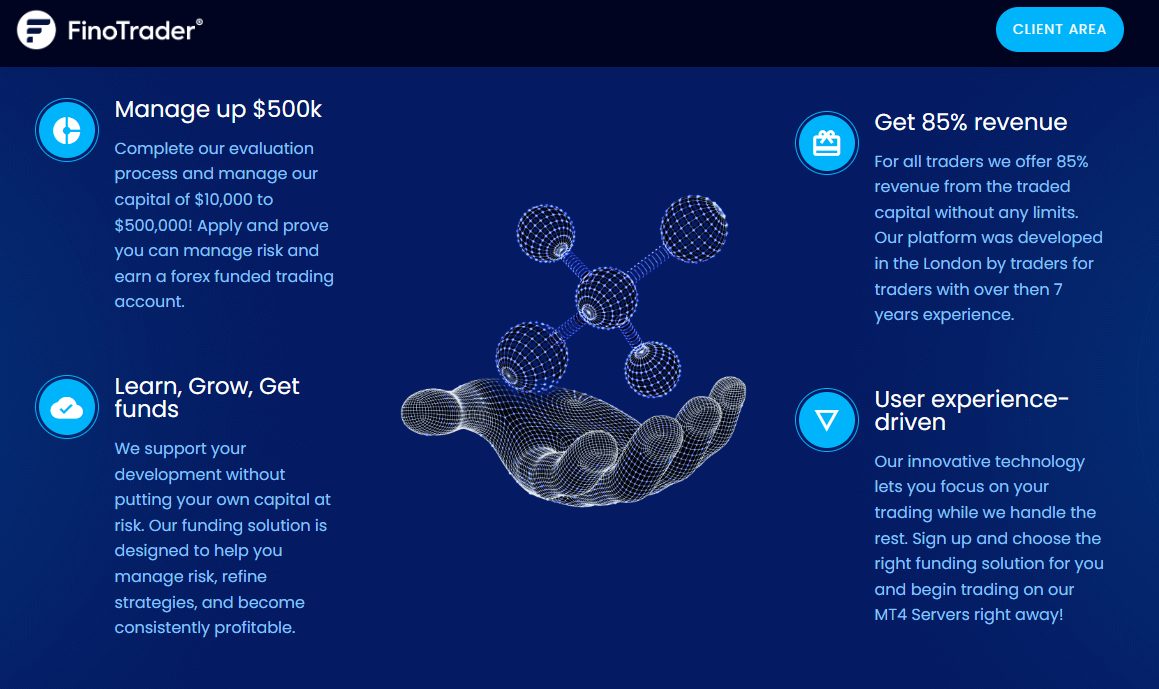 Pros:
Diverse assets, including Forex and CFDs
Under an international brokerage firm
Over $500,000 funding availability
Uses MT4 platform with VPS tech
Competitive spreads and fees
FCA-regulated broker
Own trading academy dedicated to its traders
Rewarding challenge programs
Cons:
Tough challenges
Slow refund process
Capital Schemes are hard to secure
Reports of dubious operations
Safety and Security of FinoTrader
After comprehensive research conducted by Dumb Little Man, we highlighted several key points about the safety and security of FinoTrader.
FinoTrader operates under the regulatory oversight of the FCA (Financial Conduct Authority). This regulation adds a layer of trustworthiness as the FCA has stringent rules for financial entities. Additionally, FinoTrader is supported by FinoTec Trading UK Limited, further enhancing its credibility in the trading realm.
One of the safety nets for traders is the compensation fund maintained by FinoTrader. This fund is a financial cushion, ensuring traders are protected in unforeseen circumstances. Furthermore, the firm employs the MT4 trading platform with VPS-enabled technology. This ensures swift trading operations and enhances the security of trading activities.
Additionally, all Finotrade investors are covered by the Financial Services Compensation Scheme (FSCS), which safeguards funds up to GBP 85,000 per client if the broker becomes insolvent. Being under a regulated broker, client funds are consistently segregated and stored in separate bank accounts.
However, not everything about FinoTrader is seen in a positive light. Multiple accusations have been directed towards the firm regarding potential fraud and scams. This raises concerns for potential traders. Moreover, a noticeable gap in their transparency is the need for a detailed description concerning trading fees, leaving traders in the dark about potential costs.
FinoTrader Bonuses and Contests
When it comes to deals and promotions, FinoTrader maintains a clear stance. The company does not offer any bonuses or promotional schemes. The reason behind this decision is the regulations the Financial Conduct Authority (FCA) set.
The FCA has stringent rules that strictly prohibit incentivized trading schemes. As a result, FinoTrader complies with these regulations, ensuring that they prioritize regulatory adherence over promotional activities.
FinoTrader Customer Reviews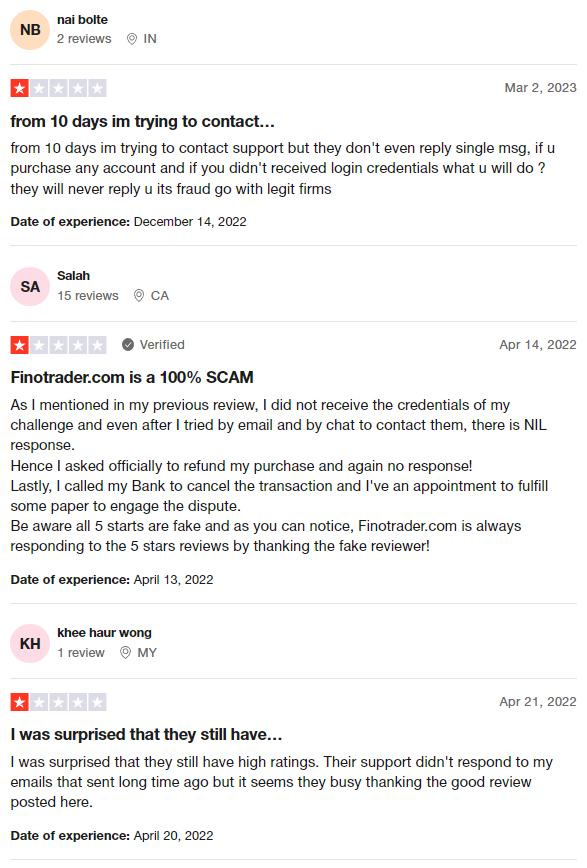 Based on recent feedback, FinoTrader's customer service has come under scrutiny. With a current 2.1-star rating on Trustpilot, the company's reputation appears to suffer. Many users report a lack of responsiveness from FinoTrader's support team, even after multiple attempts at contact through various channels.
After purchasing accounts, several customers have not received login credentials and feel left in the dark without any support. Additionally, there's skepticism about the authenticity of some of the positive reviews, as the company seems to promptly respond to high ratings but not to the concerns raised by those who had negative experiences.
FinoTrader Commissions and Fees
FinoTrader, unlike many other brokers, prioritizes its challenge plans. While they offer independent trading plans, a significant portion of their website emphasizes enrolling in their challenge.
Through a partnership with IC Markets, FinoTrader provides its traders access to global asset markets. This collaboration offers traders an STP/ECN account designed to optimize profit potential. It's essential to note that the ECN account requires a minimum deposit of $10,000, making it most suitable for traders who deal in high volumes.
The prop firm promises competitive trading conditions and spreads. Forex spreads initiate from 0 pips, fluctuating based on currency pairs. For instance, the GBPUSD pair has an average spread of 0.4 pips, while the EUR-USD pair is slightly higher.
On the topic of commissions, while exact details are sparse, it's known that commissions begin from 0.0035% per lot, and this could vary based on trading volume. Additionally, sources indicate that FinoTrader applies a swap fee for overnight trades.
FinoTrader Account Types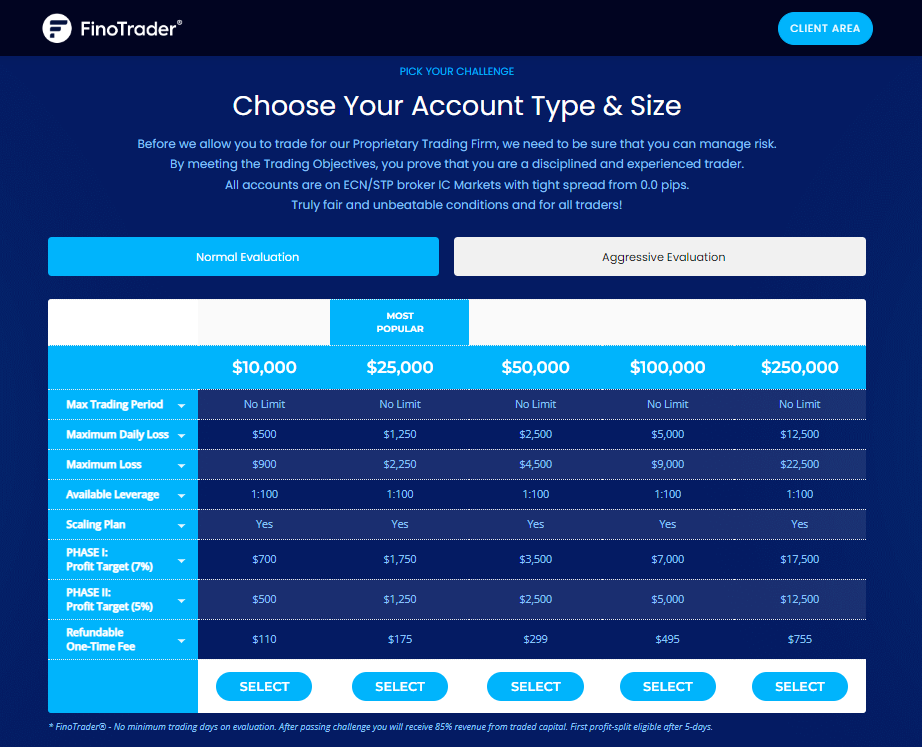 Based on a meticulous investigation carried out by the team of experts at Dumb Little Man, various account types offered by FinoTrader have been outlined and detailed:
Classic Account
Minimum Deposit: $1,000 (which is notably higher than many other brokers).

Features: Basic trading tools and conditions; users may need extra resources for a comprehensive trading experience.
Additional Resources: Daily market reports curated by seasoned traders and access to video tutorials beneficial for newcomers.
Gold Account
Minimum Deposit: $10,000.

Features: While the offerings are limited relative to the deposit requirement, Gold account holders receive special invitations to financial webinars and seminars.
Spreads: Improved compared to the Classic account, but still not as competitive as some leading brokers in the industry.
Platinum Account
Minimum Deposit: $25,000.

Features: Designed for trader flexibility, it supports continuous trading throughout the week. Users have access to automated robot strategies and can consult general account managers.
VIP Account
Minimum Deposit: Over $100,000.

Features: Positioned as FinoTrader's most elite account, the VIP account provides a holistic trading experience. Account holders benefit from all the features of previous accounts.
Exclusive Benefits: Personalized fund managers and superior customer service.
FinoTrader's account types seem to cater to a broad spectrum of traders, from newcomers to high-net-worth investors. In contrast, the Classic and Gold accounts could offer more deposit threshold features; the Platinum and VIP accounts are geared towards serious and professional traders.
The emphasis on continuous trading, automation, and personalized management in the higher-tier accounts suggests FinoTrader's commitment to catering to a more dedicated trading clientele.
However, potential users should evaluate the cost-benefit ratio of each account, especially given the relatively high minimum deposit requirements.
Opening a FinoTrader Account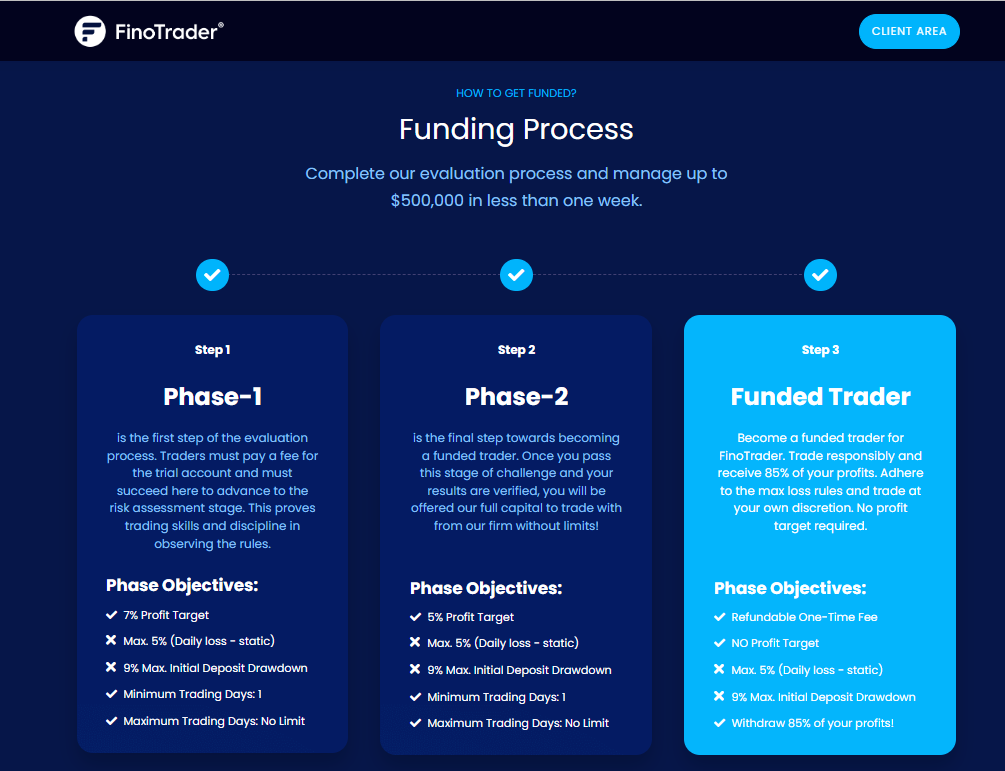 Visit the official FinoTrader website.
Click on the 'client area' located on the top bar.
From the login page, select the 'Sign up' button.
Fill out the form with the necessary identification details.
Verify your email by clicking the link sent to your inbox.
Sign in and select your preferred account type and deposit method.
Wait for 3-4 days for FinoTrader to approve your account.
Once approved, choose the challenge program and pay the required one-time fee to begin the evaluation process.
FinoTrader Customer Support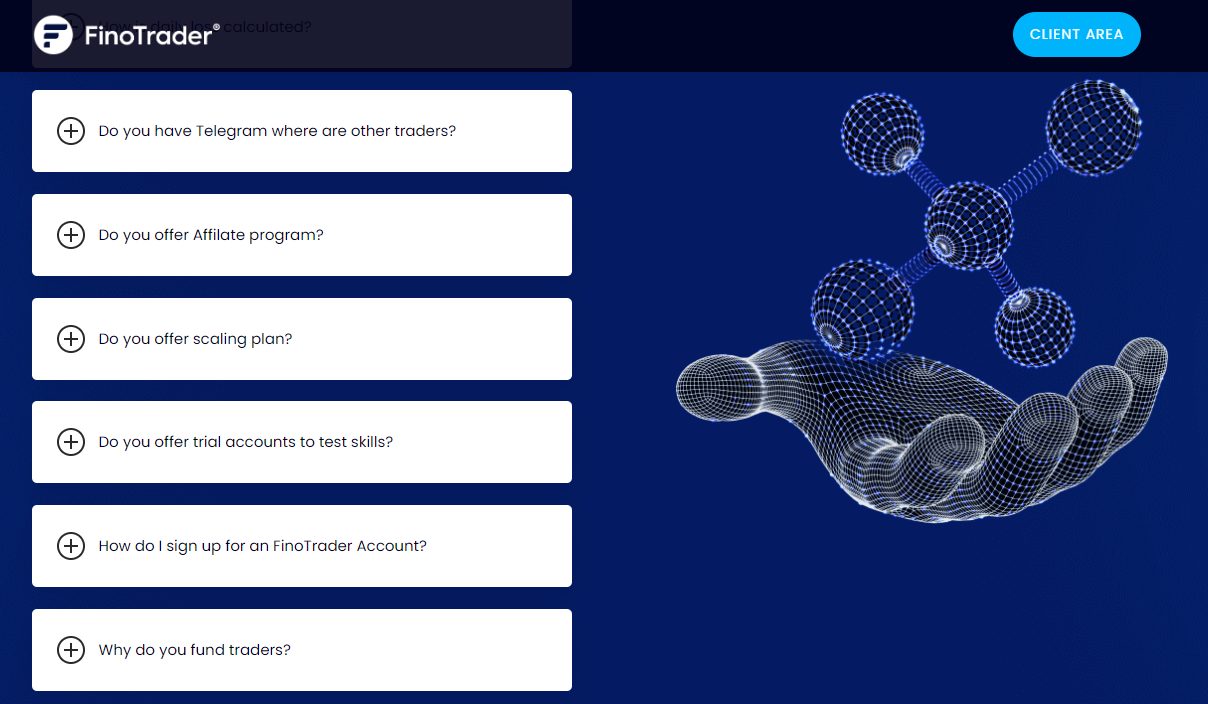 Based on the experiences of Dumb Little Man with FinoTrader's customer support, there are several points worth noting. First and foremost, while customer support is crucial for any prop trading firm, FinoTrader's assistance left a bit to be desired. The team numerous times reached out, but the responses weren't always up to par.
The company lacks dedicated live chat support agents. Instead, they utilize a chatbot powered by Artificial Intelligence, which, unfortunately, struggles to grasp intricate trading-related questions. This resulted in slow interactions with answers that didn't align with the posed queries. Despite this, FinoTrader does offer phone, email, and fax options for communication.
For immediate queries, we recommend to call FinoTrader directly. They provide support in multiple languages and can address questions about their trading platforms and services.
Emailing you might be the better option if you have specific concerns or complaints. This method is typically used to escalate issues to higher management.
However, a word of caution: some customers have reported that FinoTrader occasionally neglects to respond to emails. The reliability of their email support, therefore, needs to be investigated.
Advantages and Disadvantages of Finotrader Customer Support
Advantages
Disadvantages
Knowledgeable agents offering multi-lingual support

Various methods available for reaching customer support

Provision of video tutorials for query resolution

Inefficient and sluggish live chat

Delayed response to emails

Negative feedback from several users

FinoTrader Withdrawal Options
FinoTrader offers a clear-cut withdrawal process. After testing by a trading expert at Dumb Little Man, we observed that they promise no fees on deposits and withdrawals. Yet, it's noteworthy that certain intermediaries might levy a commission of approximately 2.5-3%.
To initiate a withdrawal, traders can proceed via their trading application. But there's a catch: FinoTrader mandates that the account used for depositing funds should match the withdrawal account, adhering to the UK's Anti-Money Laundering (AML) regulations.
Offering versatility, FinoTrader supports over ten distinct transfer methods, with a few newer ones added recently. Options such as Union Pay, MasterCard, Visa, and other banking channels are available for traders. Moreover, the VIP account holders enjoy certain privileges, including reduced payment provider fees and benefits related to fund management.
FinoTrader Challenge Difficulties
Struggling with Daily Loss Caps
Many traders find FinoTrader's daily loss limit of 5% a tough hurdle. Going beyond this threshold means a failure in the evaluation, pushing the trader back to the initial phase. Given the unpredictable nature of the forex market, maintaining within this 5% boundary poses a challenge.
Even seasoned traders find it challenging to stay within bounds, especially if the market is downturned. With a 9% drawdown ceiling in Phase 1, traders can find it hard to manage if the market remains bearish for extended periods.
Chasing Profit Goals
Setting profit benchmarks can be tricky with FinoTrade, primarily due to market fluctuations. For the first phase of their challenge, the broker has set the bar at 7% – notably lower than the usual 10% seen industry-wide.
To clear the evaluation, traders must hit this 7% profit mark with their settled trades. On the brighter side, FinoTrade mandates only a single trading day for each phase. This shorter timeframe gives traders more leeway to fully harness their trading prowess.
How to Pass FinoTrader's Evaluation Process
Navigating FinoTrader's evaluation process can be daunting for many, especially given the volatility of forex markets. To increase the chances of passing this evaluation, traders must arm themselves with the proper knowledge and strategies.
Enrolling in a well-structured training program can be the pivotal factor that transforms a hopeful trader into a confident and competent one.
Asia Forex Mentor – Rated Best Comprehensive Course Offering by Investopedia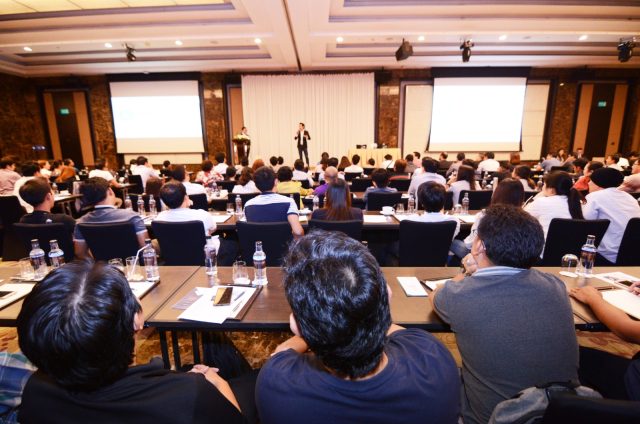 For those keen on conquering FinoTrader's challenge, the Asia Forex Mentor comes highly recommended by the trading experts at Dumb Little Man. With a track record of aiding thousands of traders in successfully navigating prop firm evaluations, this platform stands out in the forex training landscape.
The brain behind Asia Forex Mentor is Ezekiel Chew, a prominent figure in the forex trading realm. Earning six figures per trade, Ezekiel boasts over twenty years of in-depth trading experience. He's the founder of the Golden Eye Group and the mastermind behind the proprietary One Core Program.
Ezekiel meticulously designed the One Core Program to educate aspiring forex traders on the intricacies of profitable trading. Ezekiel's foray into educating others about trading began humbly, stemming from requests by close friends for trading insights.
Recognizing the potential to make a difference, he transitioned these classes online, creating the Asia Forex Mentor, which has been thriving ever since. Read our full Asia Forex Mentor review here.
How Could Asia Forex Mentor Help You Pass FinoTrader's Challenge?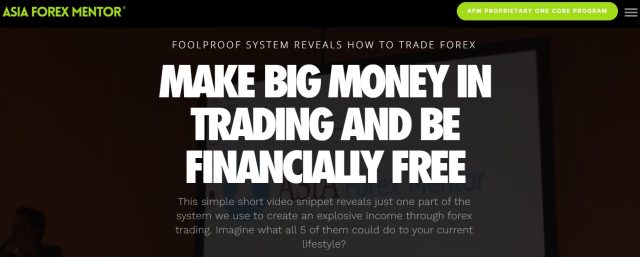 Asia Forex Mentor is not just another name in the world of forex training; it's a proven beacon of excellence. When considering embarking on FinoTrader's challenge, relying on such credibility can make a monumental difference. Here's how the Asia Forex Mentor establishes its unrivaled credibility:
Best Comprehensive Course Offering: Awarded as the most comprehensive course by the reputable Investopedia, Asia Forex Mentor's One Core Program has been hailed as expansive and inclusive. In Investopedia's words, it "is as extensive as you will find," cementing its place as a top-tier comprehensive forex course offering.
Top Pick for Beginners: Benzinga, a trusted platform for financial and business insights, recently recognized the Asia Forex Mentor One Core Program as the best forex trading course tailored for beginners. This accolade reaffirms the course's adaptability to cater to both beginner and advanced traders, ensuring a comprehensive learning journey.
Best-in-class Mentorship: BestOnlineForexBroker, a known online platform, has crowned Asia Forex Mentor as the best forex mentor in 2021. Their endorsement emphasizes the potential for learners to achieve "massive gains from forex" under the guidance of Asia Forex Mentor.
Exceptional Trading Strategies: In a comprehensive evaluation by seasoned forex traders and platforms, Asia Forex Mentor was the premier choice.
These prestigious recognitions are just the tip of the iceberg. New and advanced traders have consistently found value in the AFM and its One Core Program, echoing its effectiveness and transformative experience.
Asia Forex Mentor Members' Testimonials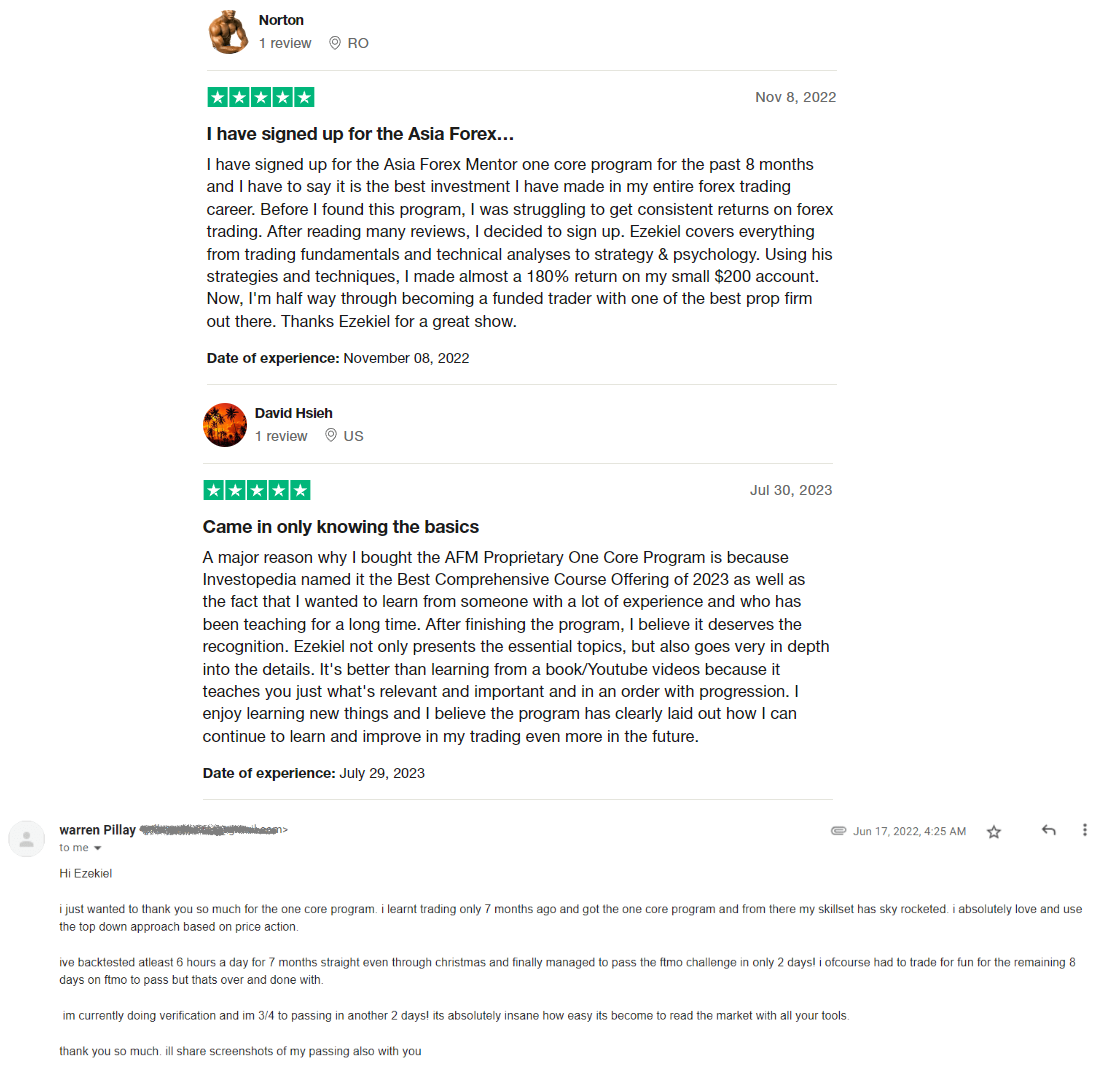 Members of the Asia Forex Mentor's One Core Program have consistently expressed their gratitude and appreciation for the guidance received from Ezekiel. Many have witnessed significant improvements in their forex trading abilities and outcomes within just months of enrolling.
The program, recognized by Investopedia for its comprehensive content, delves into essential trading fundamentals, techniques, and psychology. Participants have not only achieved consistent returns, with some even seeing as much as a 180% return on small accounts, but many have also successfully navigated proprietary firm evaluations.
The structured and relevant content, surpassing typical resources like books or YouTube tutorials, equips traders with the tools to read the market efficiently and continuously evolve in their trading journey.
Conclusion: FinoTrader Review
FinoTrader offers some distinct advantages for traders looking to break into the forex market. Their varied account types give traders flexibility and access to unique trading tools, catering to novices and seasoned professionals. Moreover, their transparent approach to withdrawal options stands out, ensuring that traders understand how to access their funds.
However, it's essential to tread with caution. While FinoTrader does have its strengths, the customer support experience leaves many areas for improvement. The absence of prompt responses and efficiency in their live chat and email services has been a point of contention for many traders. Additionally, concerns around their withdrawal policy, based on feedback from some customers, should be considered.
Preparation is crucial for those considering FinoTrader's challenge and aiming for a successful evaluation. Enrolling in top-notch courses to bolster one's forex trading proficiency is highly recommended. Given its esteemed reputation and awards, Asia Forex Mentor can significantly enhance a trader's chances of achieving the FinoTrader evaluation. Investing in quality training not only aids in navigating challenges but also lays the groundwork for long-term trading success.
FinoTrader Review FAQs
What is the primary focus of FinoTrader?
FinoTrader primarily emphasizes its challenge plans and offers various trading plans through its platform.
How is FinoTrader's customer support?
FinoTrader's customer support has received mixed reviews, with some issues noted in their live chat and email responsiveness.
How can traders improve their chances of passing FinoTrader's evaluation?
Enrolling in comprehensive courses, like Asia Forex Mentor, can significantly enhance a trader's skills and probability of succeeding in FinoTrader's evaluation.
Like this Article? Subscribe to Our Feed!
John is an avid researcher and is deeply passionate about health and finance. When he's not working, he writes research and review articles by doing a thorough analysis on the products based on personal experience, user reviews and feedbacks from forums, quora, reddit, trustpilot amongst others.