Fidelcrest Review with Rankings 2023 By Dumb Little Man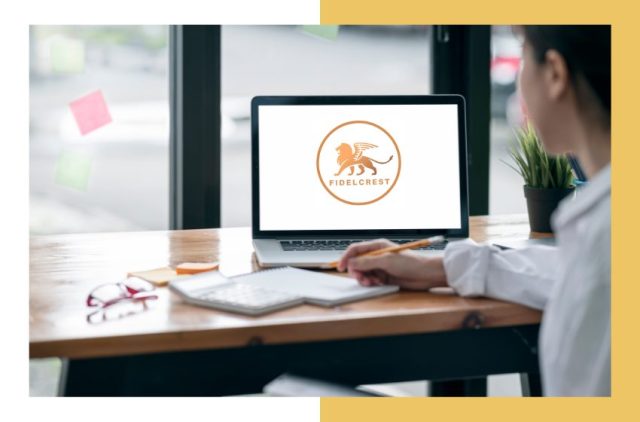 Evaluation Criteria
The renowned team at Dumb Little Man, composed of retail traders, financial advisors, and seasoned trading professionals, is known for its comprehensive reviews of proprietary trading firms. Using a unique algorithm and a meticulous evaluation process, the team benchmarks every broker against critical criteria to provide a well-rounded assessment. Their key evaluation metrics include:
Customer Service
Efficient Fund Withdrawal Process
Security of Funds and Data
Trading Practices
Realistic Trading Targets
Distribution of Profits
In the case of Fidelcrest, Dumb Little Man's review points towards a favorable standing. The firm not only meets the essential criteria but offers a depth of broker expertise and caters to a wide spectrum of trader needs. As a result, Fidelcrest emerges as a notable proprietary trading firm in the industry.
Fidelcrest Review
Proprietary trading firms, or "prop firms," are businesses where the company's capital is used by its traders to buy and sell financial instruments, aiming for profits. The unique aspect of these firms is that they take on the financial risk, not the trader.
A prime example of a relatively recent player in this space is Fidelcrest. Located in Nicosia, Cyprus, Fidelcrest came onto the scene in 2018. Like its peers, it presents talented traders with the chance to handle funded accounts, granted they can satisfy the stipulations set forth in their specified challenges.
In this article, we'll be delving into a comprehensive Fidelcrest review. We aim to furnish readers with critical insights into the company's advantages and disadvantages, customer feedback, bonuses, security measures, and other pivotal facets that shape a trader's experience.
By highlighting both the strengths and potential areas of improvement, we aspire to empower traders and investors to make an informed decision when selecting the right prop firm for their needs.
What is Fidelcrest?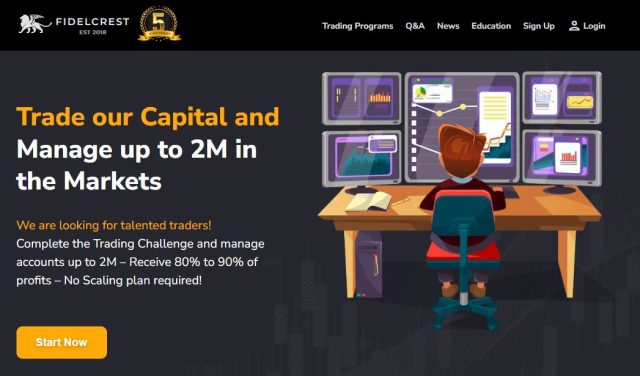 Fidelcrest stands as a proprietary trading firm with a global reach, having commenced its operations in 2018. One of its standout features is its accessibility to USA citizens, making it one of the select offshore proprietary platforms catering to this audience. As a result, its customer base is vast.
For traders seeking funding, Fidelcrest doesn't hold back. Successful candidates, who can navigate and pass the Fidelcrest challenge, can receive funding up to a whopping $2 million. To ensure a good fit for all types of traders, Fidelcrest provides an array of account types. The path to a live funded account involves a two-tiered challenge that traders must successfully clear.
One of Fidelcrest's strong suits is its adaptability. Traders, regardless of their experience or investment capacity, can find an account size that aligns with their needs. Plus, with the choice to trade on various leading platforms and over 1,000 trading instruments, which include both forex and cryptocurrencies, the possibilities are expansive.
Fidelcrest Pros and Cons
Pros:
Provides funding for accounts up to $2 million
Offers a variety of account types
Charges low trading fees
Accepts traders from all regions
Cons:
Strict approval process
Does not permit robots, EAs (Expert Advisors), or copy trading
Safety and Security of Fidelcrest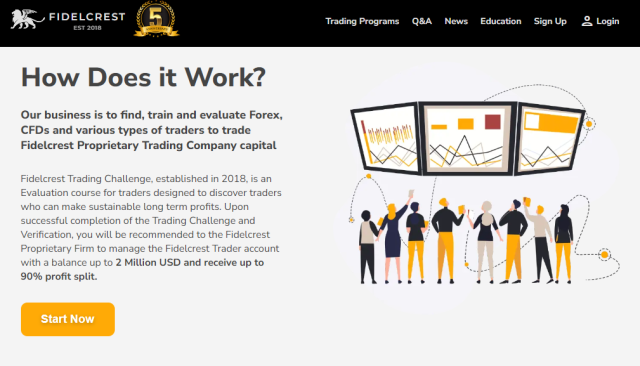 Fidelcrest doesn't operate as a broker, meaning it doesn't directly handle or trade any funds. Instead, it partners with platforms that are overseen by the FCA, ensuring they have a good reputation. Although Fidelcrest likely adheres to common security measures in the industry, it's always a good practice for users to be careful when providing personal or payment information.
>> Also Read: Beginner at Crypto Trading: How Much to Invest
Fidelcrest Bonuses and Contests
After the launch of the 2FOR1 promotion, Fidelcrest took note of the significant positive shift in traders' approaches when given two challenge accounts. This not only boosted their confidence but also enhanced their trading performance. Based on these findings, Fidelcrest now introduces three promising bonus options for its traders:
Fast Track: The insights gained from the 2FOR1 promo underscored the need for speed in trading. To cater to this, Fidelcrest now has a special provision for its Micro Trader Aggressive accounts: there are no mandatory trading days. This facilitates traders to get into action promptly.
Backup Account: Every trader now gets an additional account as a backup, irrespective of the outcome of their initial attempt. This means that even if a trader doesn't pass the challenge on the first go, they're still in the game.
Double Your Capital: With the primary goal of ensuring traders see profits, Fidelcrest introduces an enticing proposition. After successfully completing their first Phase 3 Trading Period, traders can lay claim to another account, identical in size and type. However, it's crucial to note that traders can only opt for one of the aforementioned bonuses.
Fidelcrest Customer Reviews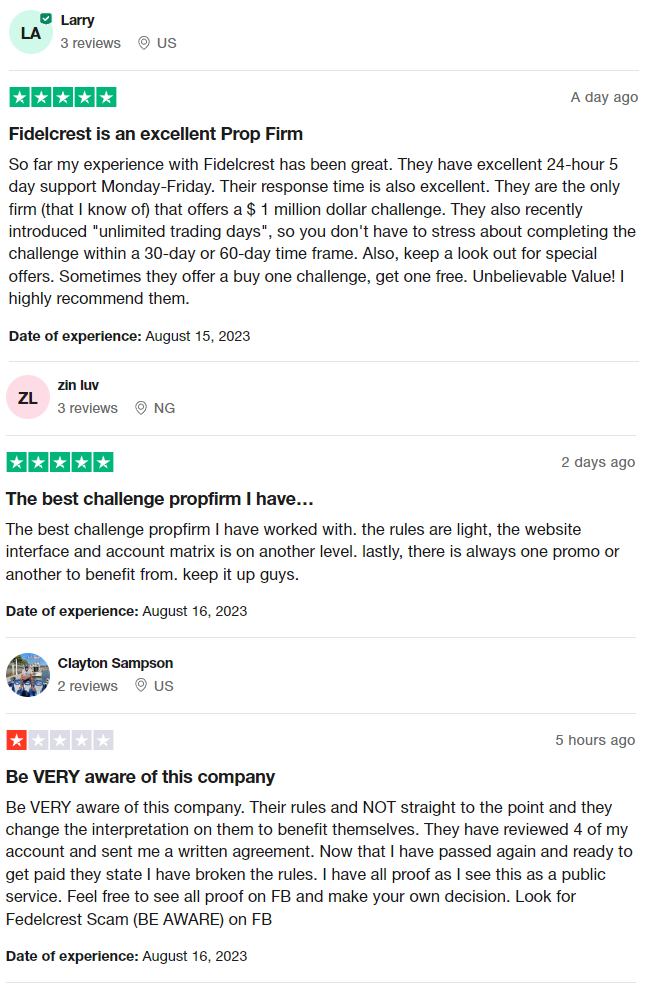 Feedback on Fidelcrest from its clientele is varied. Many users praise the company for its top-notch 24-hour support from Monday to Friday and prompt response times. Unique offerings, such as the $1 million challenge and the introduction of "unlimited trading days," are often highlighted as standout features. Some customers also appreciate the user-friendly website interface and regular promotions.
However, there's a contrasting perspective as well, with some clients cautioning about the company's rules and alleged inconsistencies in their interpretation. Prospective users are encouraged to conduct their own research and consult various sources, including social media, for a holistic view.
Fidelcrest Commissions and Fees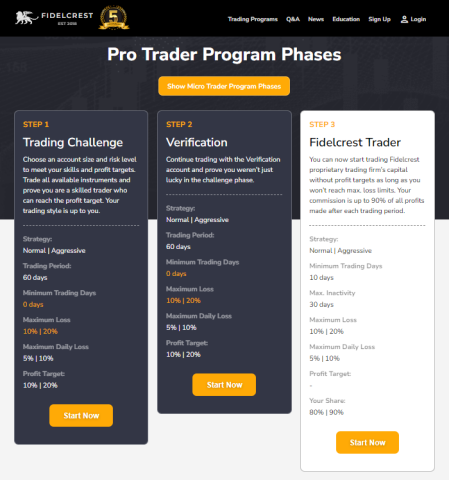 For those looking to trade with Fidelcrest, the process is straightforward. Interested traders simply need to acquire a Challenge account and ensure they complete it successfully. The good news is that Fidelcrest doesn't impose any monthly fees or demand a specific profit threshold. The starting fee for registration is a reasonable €99.
When it comes to commissions, Fidelcrest stands out for its competitive rates. On average, they charge about $2 per trade, which is relatively low when pitted against other prop trading firms. Additionally, Fidelcrest doesn't levy any charges for withdrawals or deposits. However, traders should remain vigilant as fees from third-party services might be applicable.
Fidelcrest Account Types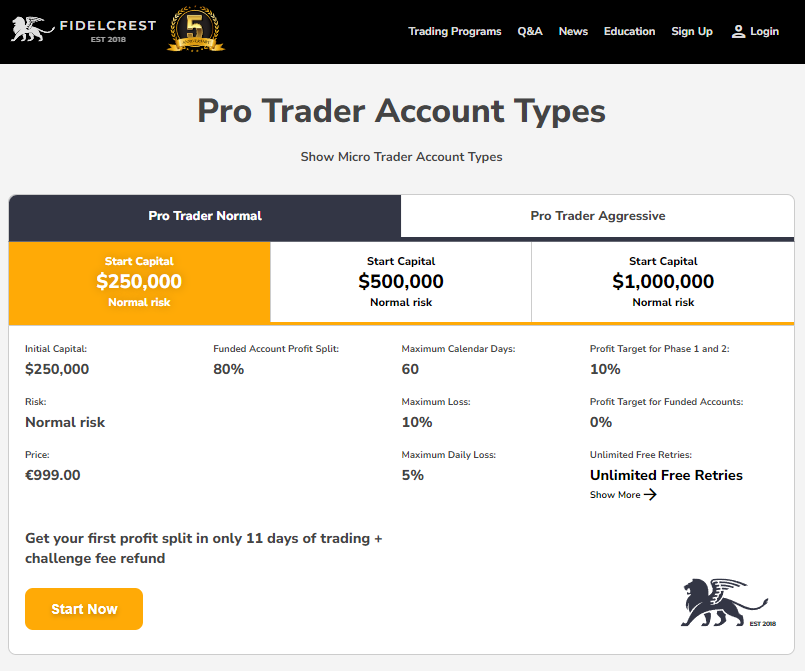 Fidelcrest offers a broad range of account options tailored to individual trading preferences. They present two primary categories: the Micro Trader account and the Pro Trader account. The distinction between these lies in their respective trading platforms.
Micro Trader Normal Accounts: Here, traders can opt for virtual funds of $10,000, $25,000, or $50,000. In the challenge's initial phase, the total loss is capped at 10%, with a daily drawdown limit of 5%. The profit goal for this account stands at 5% across all phases. Traders also benefit from attractive bonuses, such as the potential to double their capital and a second opportunity at no additional cost.
Micro Trader Aggressive Accounts: This account type comes with a slightly steeper subscription fee set at 140 Euros. However, it promises more aggressive targets with a 15% profit goal, thrice the normal account's benchmark. The overarching loss limit is pegged at 20%, with a daily allowance of up to 10%. Beyond these specifics, the Micro Aggressive accounts maintain features consistent with their Normal counterparts.
Pro Trader Normal Accounts: For those looking at more substantial initial capital options, the Pro Trader accounts present choices of $150,000, $250,000, and $500,000. A subscription to this type kicks off at 649 Euros. Here, traders are given a maximum loss threshold of 10% and a daily cap of 5%. The profit objectives for this account stand at an elevated 10% for both phases.
Pro Trader Aggressive Accounts: Carrying a heftier subscription fee of 999 Euros, this account type is for those seeking higher stakes. The loss limits mirror the Micro Aggressive accounts at 20% overall and 10% daily. Moreover, traders target a formidable 30-day profit mark of 20%. Bonus structures remain consistent with other account types, ensuring traders always have a cushion to fall back on.
Opening a Fidelcrest Account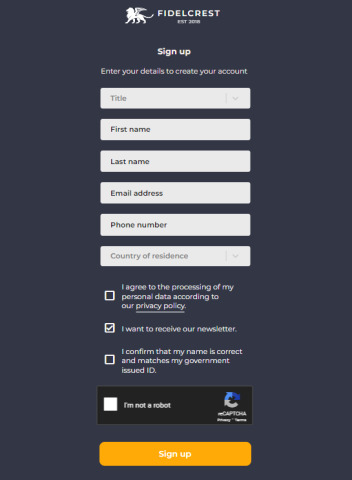 Visit the Website: Start by navigating to the official Fidelcrest website using any browser.
Find the "Start Now" Tab: On the homepage, you'll come across multiple "Start Now" tabs. Clicking on any of these will lead you to the registration page.
Complete the Registration Form: Here, you'll need to input your personal information, such as your first name, last name, email address, phone number, and country. After entering all the required details, click on the "next" button.
Verify Your Email: A verification link, along with account login details, will be sent to the email address you provided. Make sure to click on the link to complete the verification process.
Log in to Your Account: Return to the Fidelcrest website and log in using the provided account details.
Select Account Type and Preferences: Once logged in, decide between the Micro Trader or Pro Trader account options. You'll also need to pick your preferred risk mode (either normal or aggressive) and the desired virtual capital amount.
Proceed to Payment: The next step is to pay the subscription fee, which varies depending on your chosen account type and risk mode.
Await Fee Confirmation: Once you've made the payment, wait for a notification confirming that your initial fees have been received.
Begin Your Challenge: With the fees confirmed, you're all set to start your trading challenge. Remember, your progress will be tracked and can be viewed on your dashboard.
Fidelcrest Customer Support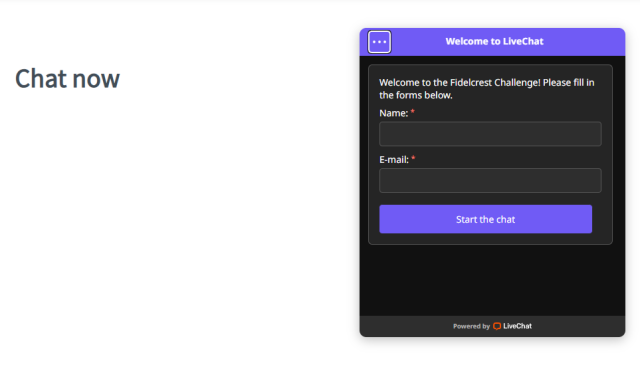 Fidelcrest offers high-quality technical support. This service isn't limited just to account holders; even general website visitors can access technical help via the live chat feature. Feedback from users indicates that this live chat support is effective and efficient. The support is multilingual and operates 24 hours a day from Monday to Friday.
On the flip side, customers only have the option to either use the live chat or send an email. Unfortunately, there's no direct phone support, which some users might prefer for more immediate assistance. Additionally, the absence of customer support on weekends means that any issues arising then will have to wait until the next working week for resolution.
Advantages and Disadvantages of Fidelcrest Customer Support
Advantages
Disadvantages
Available in multiple languages

Can be reached via Live Chat

Expert Customer Support Team

Available 24/5

Not available during weekends

Cannot be reached via phone

Fidelcrest Withdrawal Options
When traders accumulate notable profits, they can promptly request a withdrawal from Fidelcrest. This process is typically swift, with funds being processed either instantly or within a span of up to 3 business days.
Multiple withdrawal methods are at the trader's disposal, including bank transfers, PayPal, and both credit and debit cards. Impressively, Fidelcrest does not impose any charges for withdrawals, enhancing the client experience.
Additionally, there's no set minimum withdrawal amount. When considering starting with Fidelcrest, the subscription fee for a micro trader normal account with minimal risk is just €99, which stands competitive when compared to other prop firms.
Fidelcrest Challenge Difficulties
The Verification Process is Two-Step
Unlike many prop trading firms that offer a single-phase challenge, Fidelcrest sets itself apart with a demanding two-step verification process. This includes ambitious profit targets and stringent loss limits.
Restrictive Conditions of the Second Stage
When it comes to the specifics of the verification phase, numerous traders express concerns about the restrictive conditions of the second stage. While the first phase offers a bit more leniency with a 10% drawdown limit, this narrows down to a mere 5% in the subsequent phase, leaving traders with minimal margin for error.
How to Pass Fidelcrest's Evaluation Process
Navigating the evaluation process of Fidelcrest can be challenging given its stringent requirements. To enhance your chances of success, it's essential to equip yourself with the right knowledge and strategies.
This is where enrolling in a comprehensive training program comes into play, ensuring that you're well-prepared to tackle and pass the evaluation.
>> Also Read: 13 Best Stock Trading Courses in 2023
Asia Forex Mentor – Rated Best Comprehensive Course Offering by Investopedia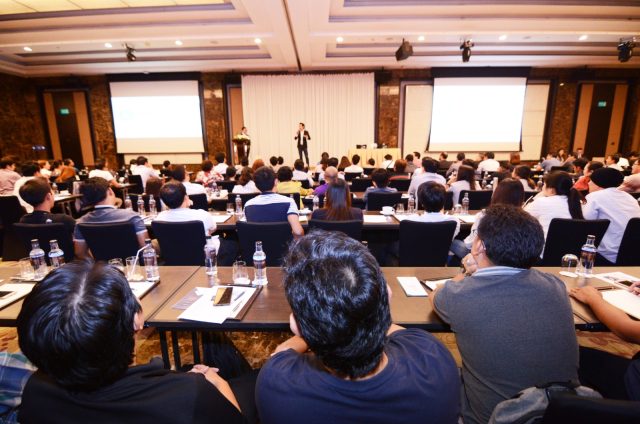 Don't let the name fool you; Asia Forex Mentor caters to aspiring forex traders from all over the globe. Recognized as a leading provider of forex education worldwide, this platform has a rich legacy of molding successful traders.
Founded by Ezekiel Chew, a renowned forex expert who boasts impressive trading feats, including six-figure trades, the platform stands as a testament to his two decades of trading wisdom. His journey began with the One Core Program and the establishment of the Golden Eye Group.
With Asia Forex Mentor, Ezekiel extends his expertise, born out of personal success and requests for training from close associates. The platform's transition to online classes expanded its reach, making it an invaluable resource for traders aiming to conquer challenges like the Fidelcrest evaluation.
How Could Asia Forex Mentor Help You Pass Fidelcrest's Challenge?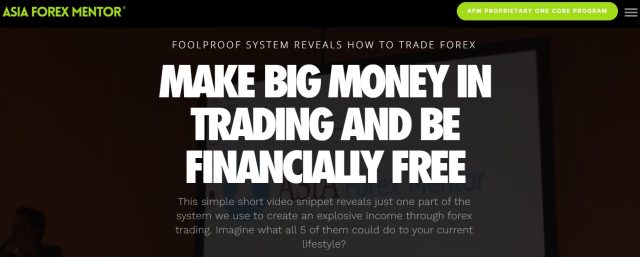 For those wishing to succeed in forex trading and pass tests like the Fidelcrest exam, Asia Forex Mentor stands out as a beneficial resource. Numerous honors and recommendations from reputable financial institutions support its credibility:
Depth of Content: Asia Forex Mentor's One Core Program was named the "most comprehensive course" by Investopedia, a well-known source of financial information. Their appreciation demonstrates the breadth and depth of knowledge the course provides, paving the path for effective forex instruction.
Best for Beginners and Beyond: Another renowned financial information portal, Benzinga, named Asia Forex Mentor's course as the "best forex trading course for beginners." This distinction highlights how adaptable the program is, serving both inexperienced traders and those with more knowledge.
Top Mentoring: BestOnlineForexBroker, a website devoted to forex news, recognized Asia Forex Mentor as one of the "best forex mentors of 2021." This award emphasizes the professional advice you can expect to get from the program, which will help you achieve transforming trading results.
Unparalleled Trading Strategies: In a thorough analysis of the best forex trading programs, Asia Forex Mentor came out on top. Its trading techniques and strategies in particular received high recognition, highlighting the program's realistic, goal-oriented approach.
With these recommendations and continuously encouraging responses from both novice and experienced traders, it is evident that Asia Forex Mentor's One Core Program provides the knowledge, techniques, and mentoring necessary for success in forex trading challenges like Fidelcrest's evaluation.
Asia Forex Mentor Members' Testimonials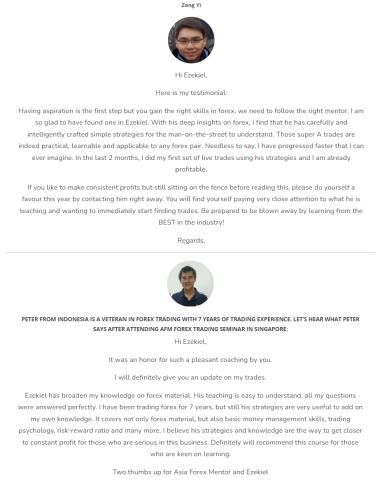 Members of Asia Forex Mentor's One Core Program thanked Ezekiel for the knowledge and direction he had imparted to his students. These testimonials show the talent of Ezekiel to expound complex trading techniques and terms in a simple way that beginners and experts in trading can understand.
Moreover, One Core Program also dives into other important topics on trading like money management, trading psychology, and risk-reward dynamics, which has received praise from participants. Students of Ezekiel found success in prop trading firm evaluations by applying what they have learned from Ezekiel's teachings.
>> Also Read: Asia Forex Mentor Review By Dumb Little Man
Conclusion: Fidelcrest Review
Fidelcrest offers various trading account options, catering to both cautious and more risk-taking traders. While their customer support is available in multiple languages and operates extensively throughout the week, there are limited methods to reach them, and they're not available on weekends.
Their withdrawal system is efficient, often processing requests within three business days without additional charges.
Fidelcrest also presents a challenging two-step verification process for traders, which can be demanding but ensures only skilled traders proceed.
Overall, Fidelcrest provides a range of features suitable for traders at different stages in their careers but may require external training, like from Asia Forex Mentor, to navigate their stringent evaluation processes successfully.
Fidelcrest Review FAQs
What account types does Fidelcrest offer?
Fidelcrest provides both Micro and Pro trader accounts, each available in normal or aggressive risk modes.
How is Fidelcrest's customer support?
Their customer support is multilingual and accessible 24/5. However, you can only contact them via live chat or email.
How can I prepare for Fidelcrest's challenge?
Enrolling in external training programs, like Asia Forex Mentor's One Core Program, can provide the skills and strategies needed to pass the evaluation successfully.