City Traders Imperium Review with Rankings 2023 By Dumb Little Man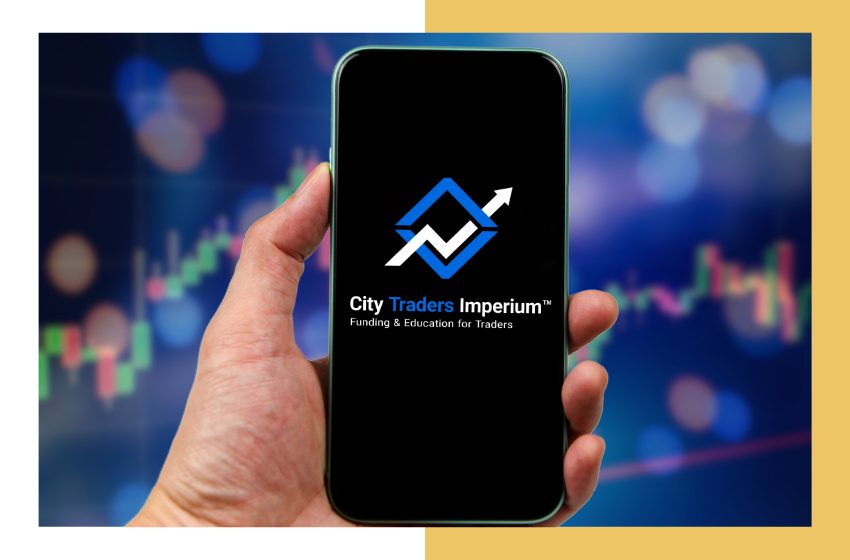 Evaluation Criteria
The expert team at Dumb Little Man, known for their in-depth reviews of prop trading firms, uses a special algorithm and rigorous criteria to evaluate key aspects like:
Client Service Excellence
Timeliness of Withdrawals
Protection of Funds and User Data
Trustworthy Trading Methods
Achievable Trading Goals
Equitable Profit Sharing
Our review finds City Traders Imperium highly commendable, particularly in its support for skilled traders and substantial capital backing. However, we have also identified certain drawbacks, which will be discussed in our full review.
City Traders Imperium Review
Proprietary trading firms, or "prop firms," offer traders the capital they need to execute trades. These firms provide a unique business model where they fund traders to trade in financial markets. City Traders Imperium is one such prop trading firm based in the UK. Founded in 2018, it aims to empower traders by providing educational resources and capital for trading.
If you clear the evaluation stage, City Traders Imperium funds your trading account. They offer a lucrative profit split, ranging from 70% to 100% for successful trades. The firm only funds those who actively participate in the market and make their own trading decisions. They also have various plans suitable for intraday trading and long-term strategies. A direct funding program is available too.
This article aims to offer an in-depth review of City Traders Imperium. Insights from trading experts at Dumb Little Man and customer reviews will be featured. The review will cover pros and cons, features, security, and other vital details. This information will help traders and investors make an informed choice about partnering with this prop firm.
What is City Traders Imperium?

City Traders Imperium is a UK-based prop trading firm with an educational focus. Founded in 2018 by two professional traders, the company aims to help traders grow their skills while offering capital to trade. It stands out as a platform where education meets real-world trading opportunities.
To work with City Traders Imperium, traders must pass an evaluation stage. Once through, they get funded by the company for trading activities. Successful trades can earn traders a profit split ranging from 70% to 100%, which is a compelling offer in the industry.
The company has strict guidelines on who gets funded. Only active market participants qualify for funding, ruling out those who copy trades from others. This ensures that the firm's capital is used by those who understand market trends and can make informed trading decisions.
Various trading plans are available to meet different trading styles. Whether you're into intraday trading or long-term strategies, City Traders Imperium has got you covered. Additionally, they offer a direct funding program for those looking to get capital without going through an evaluation.
City Traders Imperium Pros and Cons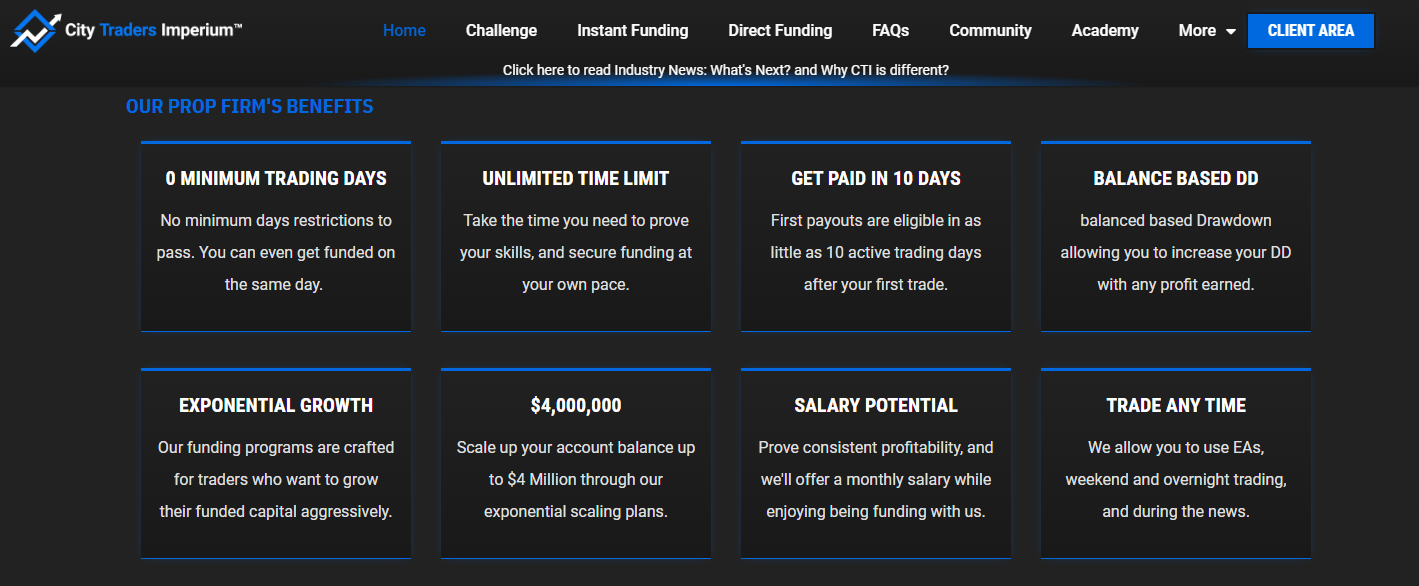 Pros:
Multiple evaluation options including direct funding

Free retake for Day Trading Challenge

High profit split up to 100%

Funding ceiling of $4 million

Supports various trading approaches

Weekly cash-outs on all programs
Cons:
Limited trading strategies allowed

Fewer asset options than rivals

No free demo account; subscription required for testing
Safety and Security of City Traders Imperium
Safety and security are vital concerns for traders looking to partner with a prop trading firm. After thorough research by Dumb Little Man, it's clear that City Traders Imperium takes certain steps to enhance security. One significant advantage is that traders don't use their own money, eliminating the risk of personal financial loss.
The firm recommends brokers who are fully licensed, providing an additional layer of security. The account opening process is straightforward and involves straightforward verification procedures. This ensures that user accounts are genuine and minimizes risks associated with fraudulent activities.
However, it's worth noting that City Traders Imperium is not responsible for traders' funds; that responsibility falls on the broker. This is an important detail for traders to consider while assessing the overall safety of trading with the firm.
The firm also mandates that subscription fees be paid only via a personal bank card. This payment restriction offers an extra measure of safety by limiting unauthorized transactions.
While City Traders Imperium takes several security precautions, it's important to note that the firm is not monitored by financial regulators. This lack of oversight may be a point of consideration for some traders.
City Traders Imperium Bonuses and Contests
As of now, City Traders Imperium doesn't offer bonuses or contests specifically for its users. This is an important detail for traders who may be seeking such incentives as part of their trading experience.
However, the firm does offer occasional discounts and promotional offers. These can provide financial benefits to traders and may serve as a different form of incentive. Keep an eye out for these limited-time promotions, as they can offer value in lieu of traditional bonuses or contests.
City Traders Imperium Customer Reviews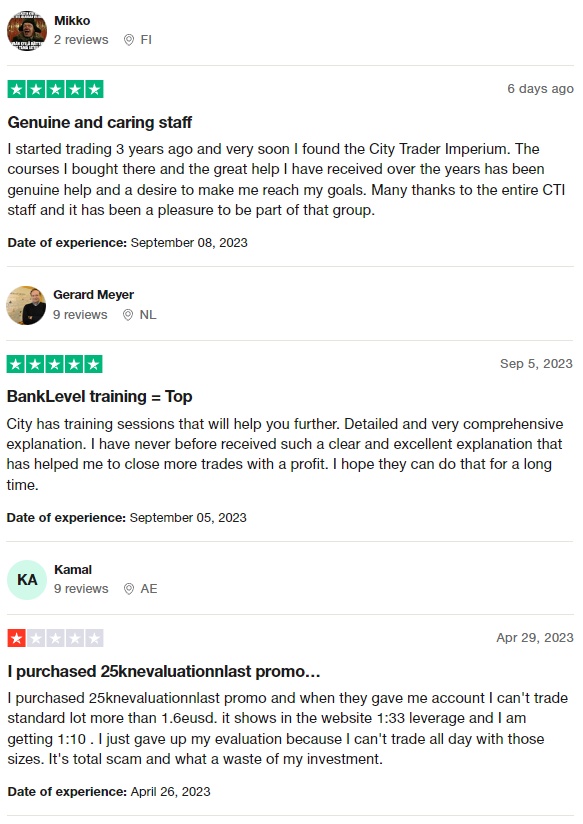 Customer reviews of City Traders Imperium present a mixed picture. While some users praise the educational courses and individualized support, others raise concerns about trading conditions. 
Notably, the company has a 4.8-star rating on Trustpilot, which is generally considered strong, not poor. The educational offerings receive commendation for their clarity and comprehensive nature. 
However, issues such as discrepancies in leverage and trade sizes have also been reported, leading some traders to label their experience as unsatisfactory. Overall, prospective traders should weigh both the positive and negative reviews when considering City Traders Imperium.
City Traders Imperium Commissions and Fees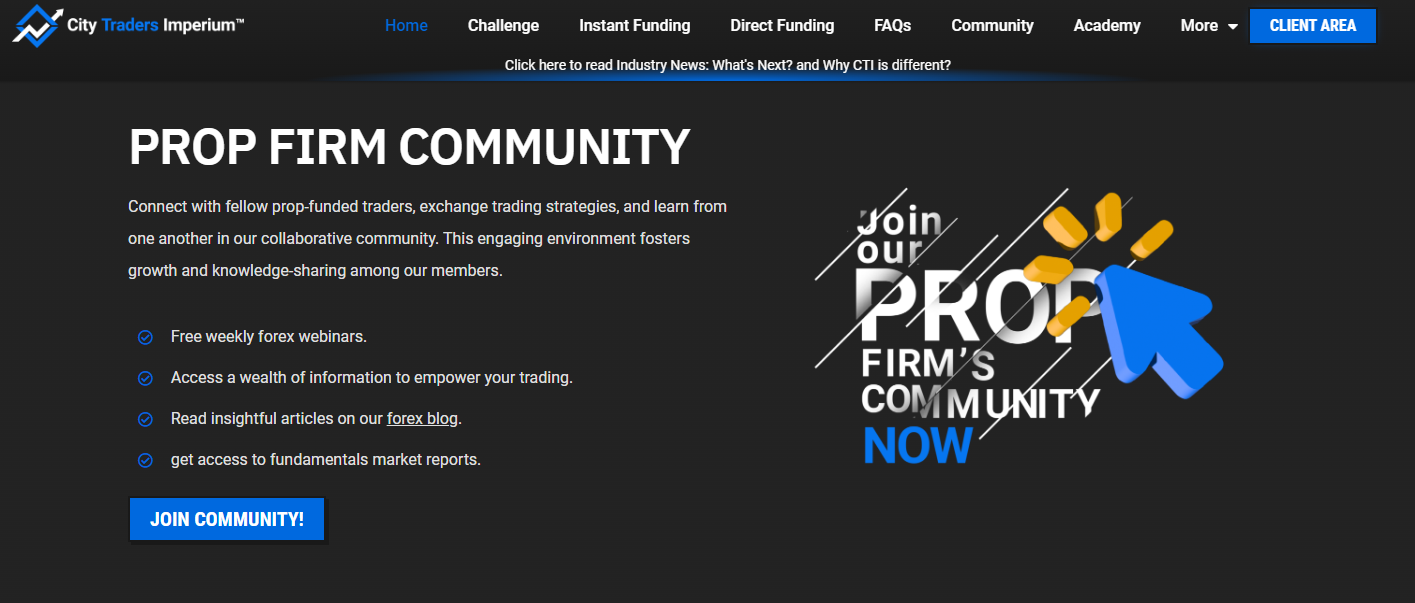 Commissions and fees are crucial factors for traders when choosing a prop firm. At City Traders Imperium, funded traders are not charged fees for executing trades. The firm earns its revenue by taking a percentage of the traders' profits. This creates a win-win situation for both parties, aligning the firm's success with that of the trader.
However, it's important to note that trading Contracts for Difference (CFDs) incurs a fee. This fee is not charged by City Traders Imperium but by the broker and is included in the spread. The minimum spread size for EUR/USD is 1 pip, and the spread type is floating.
Additional costs might come into play during the withdrawal process. Banks and online payment systems may charge withdrawal fees. These are separate from any fees or profit-sharing arrangements with City Traders Imperium.
City Traders Imperium Account Types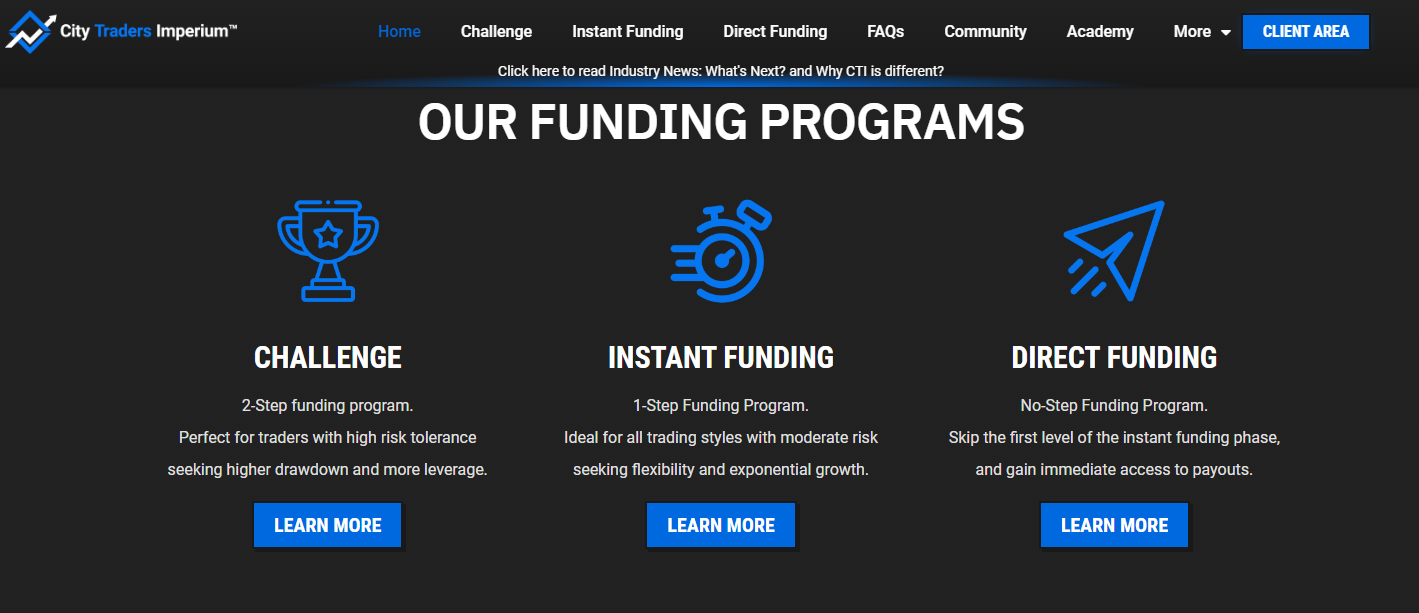 City Traders Imperium offers various account types to suit different trading needs and styles. Our team at Dumb Little Man conducted thorough research and testing to provide accurate information on these options. Below is a clean and organized list of the account types available:
Challenge Account
2-Step Funding Program

Ideal for high-risk traders seeking higher drawdown and leverage

Funding: $5,000 to $100,000

Time Limit: 45 days per phase

Profit Split: Up to 100%

Profit Target: 10% for phase 1, 5% for phase 2

Daily Drawdown: 4% from daily balance start

Fee: $59 to $509, varies by funding level
Instant Funding Account
1-Step Funding Program

Suitable for all trading styles, particularly those seeking moderate risk and flexibility

Funding: $5,000 to $100,000

Time Limit: Unlimited

Profit Split: Up to 100%

Profit Target: 9%

Daily Drawdown: 5% from the initial balance

Fee: $99 to $949, varies by funding level
Direct Funding Account
No-Step Funding Program

Skip initial levels and gain immediate payout access

Funding: $5,000 to $100,000

Time Limit: Unlimited

Profit Split: Up to 100%

Profit Target: 10%

Daily Drawdown: 5% from the initial balance

Fee: $299 to $5,999, varies by funding level
Each account type comes with its own set of features, so traders can choose the one that best aligns with their trading goals and risk tolerance.
Opening a City Traders Imperium Account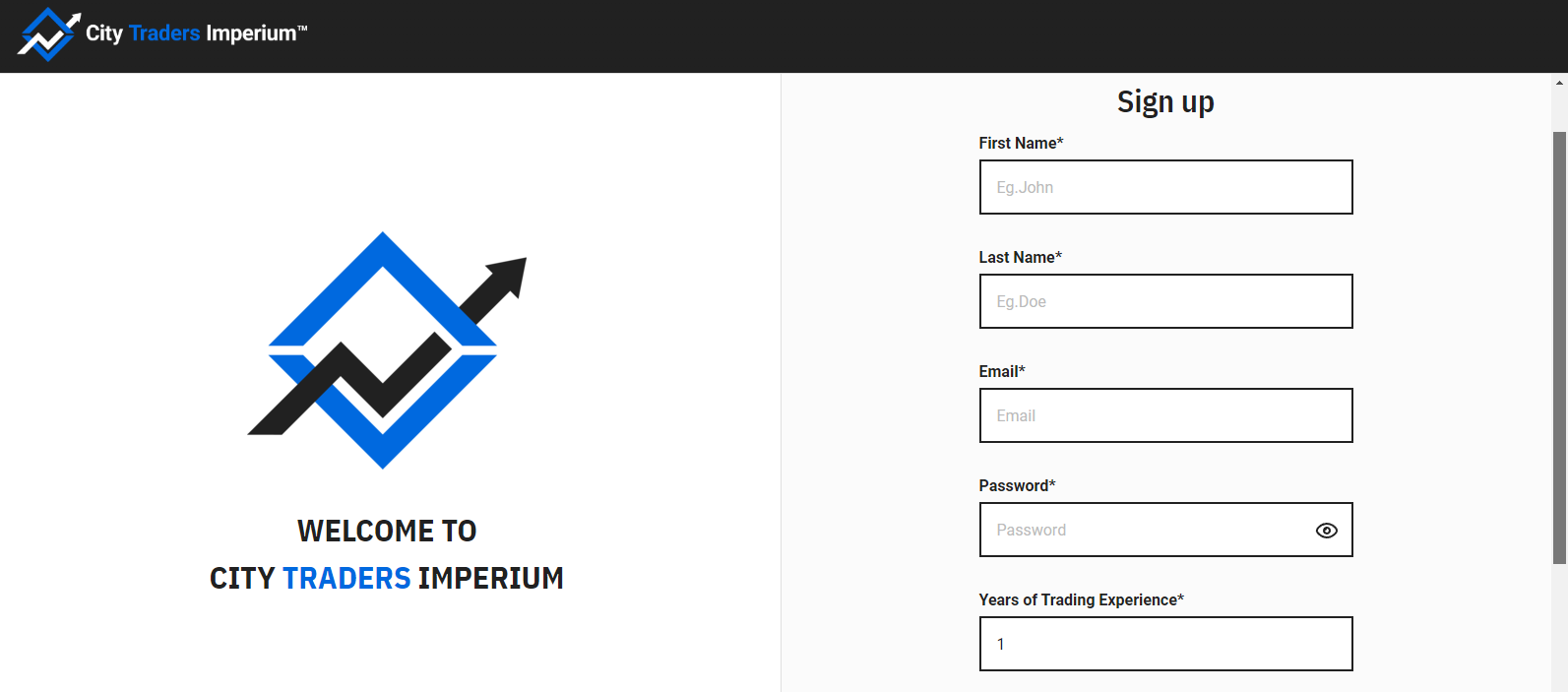 Visit the official City Traders Imperium website.
Locate and click on the "Funding Programs" button.

Browse through the funding options and choose a suitable program.

Click the "Get Funded" button relevant to the chosen program.

Fill in your first and last names in the registration form.

Provide your email address, phone number, and trading experience.

Add your address and country of residence.

Agree to the terms of service.

Complete the payment for the chosen tariff plan to receive your username and password via email.
City Traders Imperium Customer Support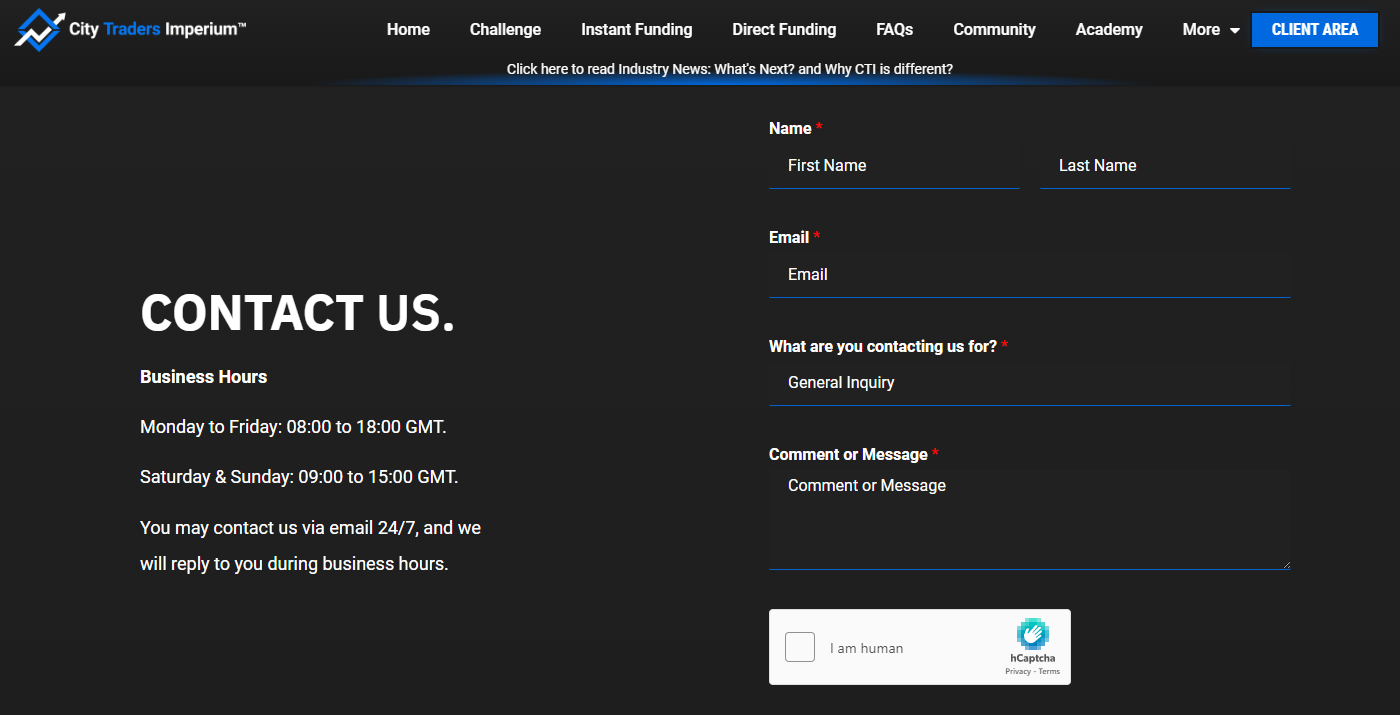 Based on our experience, City Traders Imperium offers multiple channels for customer support. Funded traders can reach out via online chat, email, or Discord. These options make it convenient to get the help you need when trading.
It's worth noting that live chat support isn't available on weekends or public holidays. If you have a query during these times, you can leave a request for an email response. Customer service operators are responsive but do stick to the firm's business hours. This is something to keep in mind when seeking support.
Advantages and Disadvantages of City Traders Imperium Customer Support
Advantages
Disadvantages
Live chat available for quick and real-time assistance

Expert customer support team

Email responses can take up to 2 days

No option for telephone support

City Traders Imperium Withdrawal Options
City Traders Imperium offers several withdrawal options, validated by experts at Dumb Little Man. Traders can only withdraw profits after completing the evaluation and qualification stages. The withdrawal request is made via email, specifying the account number and amount.
Withdrawal conditions differ by financing plan. Standard and Classic plans require a 50% target profit for withdrawals. Direct Funding allows withdrawals once net profits surpass initial payments. Multiple methods, including bank transfers and PayPal, are available for withdrawing funds.
For Day Trading Challenge participants, withdrawals become available after one month or sooner if a 15% profit target is met. The firm also supports USDC cryptocurrency withdrawals, processed within 24-48 hours on the Polygon/Matic network.
City Traders Imperium Challenge Difficulties
Minimum Trading Days Requirement
City Traders Imperium mandates a minimum of 30 active trading days. This requirement could be challenging for traders who are used to shorter-term commitments.
Drawdown Limitations
The firm enforces a 5% Relative Drawdown rule. This rule adds another layer of difficulty, as traders need to maintain their loss within this threshold to stay active.
Leverage Disadvantages
Compared to rival firms, City Traders Imperium offers lower leverage. This limitation may affect traders who rely on high leverage to maximize returns.
How to Pass City Traders Imperium's Evaluation Process
Passing City Traders Imperium's evaluation isn't easy. One of the most effective ways to improve your chances is by enrolling in a quality training program. Doing so will equip you with the skills and strategies needed to meet the firm's strict criteria.
Asia Forex Mentor – Rated Best Comprehensive Course Offering by Investopedia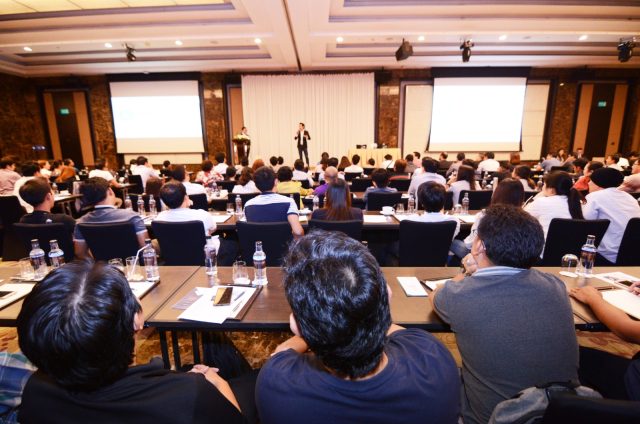 For those serious about passing the City Traders Imperium evaluation process, Asia Forex Mentor is a top recommendation by trading experts at Dumb Little Man. Founded by Ezekiel Chew, a successful forex trader, Asia Forex Mentor has helped thousands clear their prop firm's assessments. The platform offers the One Core Program, which focuses on profitable forex trading strategies.
Ezekiel Chew brings over 20 years of trading experience to Asia Forex Mentor. Initially created to teach close friends, the platform has since expanded online, reaching a broader audience. With a consistent record of success, Asia Forex Mentor remains a trusted resource for aspiring traders.
How Could Asia Forex Mentor Help You Pass City Traders Imperium's Challenge?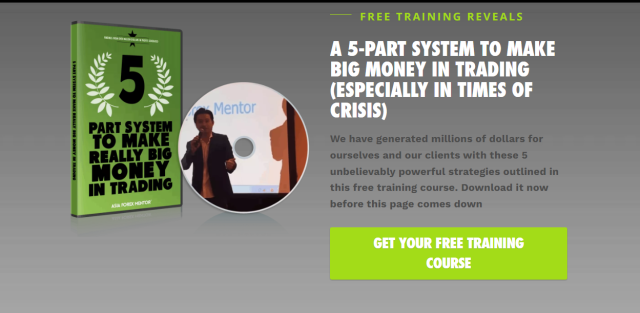 If you're looking to successfully navigate City Traders Imperium's evaluation, Asia Forex Mentor could be your game-changer. The platform boasts significant credibility, backed by numerous awards and positive reviews from reliable financial sources.
Best Comprehensive Course Offering Award:

 Asia Forex Mentor received the title of "most comprehensive course" from Investopedia, a top financial content site. The One Core Program is praised for its extensive coverage, enhancing its reliability as a top forex course.

Best Forex Trading Course:

 Another accolade comes from Benzinga, a trusted financial information site. It named the One Core Program as the best forex trading course for beginners. The course is suitable for both novice and seasoned traders, offering a robust forex trading curriculum.

Best Forex Mentor:

 The credibility of Asia Forex Mentor extends further with the Best Forex Mentor award in 2021 by the BestOnlineForexBroker website. According to their review, the platform can help traders achieve substantial gains in forex trading.

Unmatched Trading Strategies:

 A recent review by top forex traders and platforms also lauded Asia Forex Mentor for its top-tier trading strategies and system, bolstering its reputation as a leading educational resource for traders.
These endorsements show that Asia Forex Mentor's One Core Program is highly esteemed in the industry, making it a reliable choice for those aiming to pass City Traders Imperium's rigorous evaluation process.
Asia Forex Mentor Members' Testimonials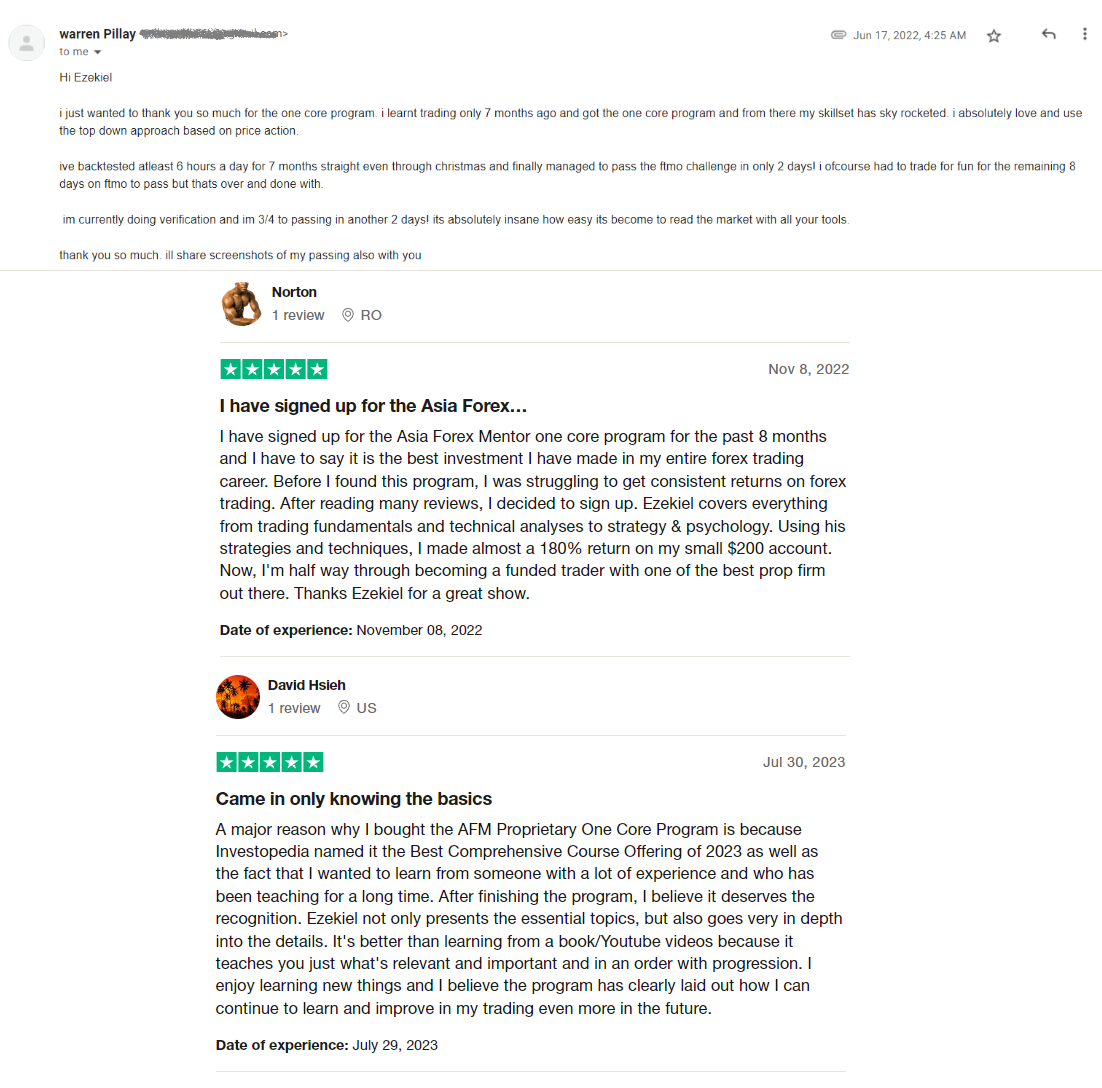 Members of Asia Forex Mentor's One Core Program are overwhelmingly positive about their experiences, attributing their trading success to the platform. They describe the course as a complete package that covers essential trading fundamentals, technical analysis, strategy, and psychology. 
Some members report achieving notable returns on their accounts, like a 180% increase, and successfully passing evaluations for proprietary trading firms. Others have found that their trading skills improved dramatically in just a few months. 
The program has been particularly praised for its structured and focused approach, as opposed to learning from books or random online videos. 
Overall, members believe the One Core Program is a worthy investment that has substantially upped their trading game.
>> Also Read: Asia Forex Mentor Review By Dumb Little Man
Conclusion: City Traders Imperium Review
City Traders Imperium offers a variety of account types that cater to traders with different risk tolerances and trading styles. The firm provides options like Challenge, Instant Funding, and Direct Funding accounts, allowing traders to find a plan that best suits their needs. The firm's business model benefits both the company and traders; it profits from successful trades, which means no trading fees are charged to its clients for most activities.
However, potential clients should be aware of certain drawbacks. The evaluation process may be challenging and the customer support options are limited, especially outside of business hours. Also, while there are no trading fees, CFD traders still have to pay a spread to the broker, and withdrawal conditions can be specific and stringent depending on the type of account.
For those looking to improve their chances of passing City Traders Imperium's evaluation process, enrolling in top-rated courses like Asia Forex Mentor can make a significant difference. The course has received high praise and offers comprehensive training that could give you the edge you need to succeed.
>> Also Read: Traders With Edge Review By Dumb Little Man
City Traders Imperium Review FAQs
Do City Traders Imperium charge trading fees? 
No, City Traders Imperium doesn't charge trading fees. They earn from a percentage of traders' profits.
What types of accounts does City Traders Imperium offer? 
They offer Challenge, Instant Funding, and Direct Funding accounts to cater to different trading styles and risk levels.
How can I withdraw profits from City Traders Imperium? 
You need to send an email to [email protected] with your account number and the withdrawal amount. Conditions vary depending on your account type.
Like this Article? Subscribe to Our Feed!
John is an avid researcher and is deeply passionate about health and finance. When he's not working, he writes research and review articles by doing a thorough analysis on the products based on personal experience, user reviews and feedbacks from forums, quora, reddit, trustpilot amongst others.