10 Best Digital Marketing Tools in 2023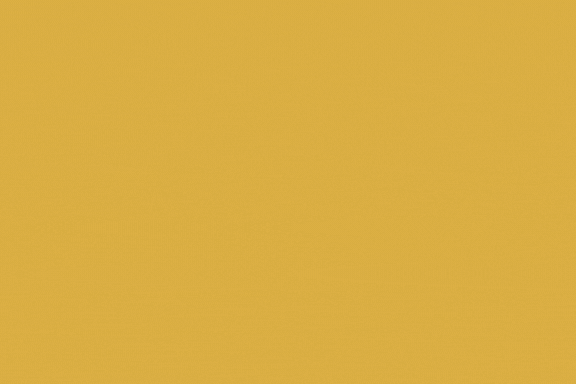 With the advancement of technology, more and more people are now engaged in the digital world. Each day more start-up companies are now risking competing with the big companies.
With this, small company owners need a competitive advantage. If you're starting a company, you're probably searching for methods to gain a leg up on the competition. To do so, you'll need a solid marketing plan as well as access to the finest digital marketing tools.
When it comes to assessing software for your marketing team, there are hundreds of choices available today. And most successful businesses depend on a portfolio of digital marketing tools to build their company, not just one. Below are digital marketing tools that you can use in order for your business to be successful.
Each of these digital marketing tools will assist you in gaining the competitive advantage you want. From streamlining your social media marketing efforts and project management to locating freelancers.
Best Digital Marketing Tools in 2022
10 Best Digital Marketing Tools: Detailed Insights
#1. Top Consumer's Choice:

Sprout Social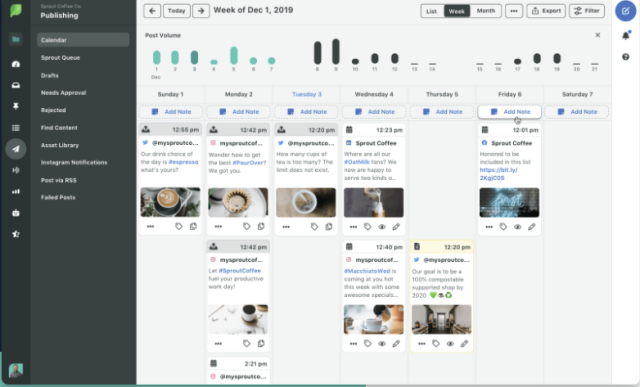 Sprout Social has an all-in-one social management solution that enables users and clients to accomplish more with their social media strategy. It can further improve audience engagement, simplify publishing processes, interact in real-time, and convert social data into actionable insights—all at scale.
Additionally, it is among the digital marketing tools that offer social media management, marketing, customer service, analytics, and data intelligence solutions to major companies and agencies such as Ticketmaster, Grubhub, and Zendesk, and others. Sprout's user-friendly platform is built with every client's needs in mind, simplifying social posting, interaction, reviews, analytics, and listening.
Sprout Social is one of the industry's earliest and most venerable social media management and analytics systems. Following a $40.5 million Series D financing round in December 2018, it has continued to expand features for small to medium-sized companies (SMBs).
It also includes social listening and influencer identification tools, as well as certain social media-specific customer relationship management (CRM) capabilities. It has a sensible price, a simple user interface (UI), and excellent analytics features are what maintain the solution at the top of the market, particularly for SMBs who may find it meets the majority of their requirements.
How does it work?
The very good thing about sprout social digital marketing tool is that it is simple to set up. It also has a simple to onboard new users and platforms and is simple to use on a regular basis.
Its reporting tools are excellent, particularly when you connect several systems and compare performance across platforms. When it comes to customer satisfaction, the competitive information supplied by the extra-cost listening function makes a significant impact.
Sprout has its own analytics, scheduling, and content curation tool that is very strong on which it is very simple. Its analytics data is segmented by tags, categories, and competition comparison. Individual campaign and paid advertising analysis have never been simpler.
Sprout Social is effective in monitoring social media mentions and searching for posts that contain specific keywords. It is useful for pre-planning social media postings. The version we use also tells us what time we should plan our posts depending on the performance of prior articles.
Pros
Manages social media networks and businesses via a unified and effective dashboard.
Excellent reporting and visualization
Strong social CRM and help desk functionality.
Does a good job of monitoring social media mentions, posts, and searches
Cons
Many functions have extra-cost add-ons
There are too many navigation bars and buttons on the platform
Price
Standard Price: $89 per user/month
Professional Price: $149 per user/month
Advanced Price: $249 per user/month
#2. Best in Social Assistance: Audiense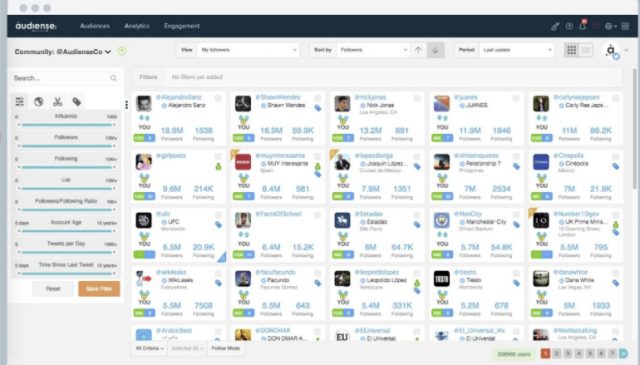 Audiense is among the social digital marketing tools and platforms that are based on three main solutions: social insights, social marketing, and social advertising. The platform is designed to assist companies in connecting with their target audience and discovering, understanding, attracting, or encouraging them to take action.
It has been regarded as a more sophisticated social media platform with advanced capabilities intended to provide genuine commercial value to huge agencies and big brands all over the globe.
Other than that, Audiense offers strong digital marketing tools that assist businesses in gathering accurate and actionable data, increasing reach, designing and implementing successful social marketing campaigns, and identifying lucrative segments and actions.
Audiense recognizes and comprehends every audience, no matter how specialized or distinct it is. It creates highly personalized audience segments by utilizing filter options such as user profiles, affinities, demographics, and job positions.
How does it work?
Audiense is used in businesses to identify their audience and their quality, as well as collect high-quality social information to drive the success of their social initiatives.
The digital marketing tool also includes a slew of social marketing and social advertising features. Another feature of this platform is that its assists users in optimizing their interaction with their consumers and potential clients by using audience data, creating distinct audiences, and tracking their ROI for sponsored and earned media.
Businesses can easily discover and assess the quality of their audience with Audiense. Understanding the overlap across groups is likewise simple, and consumers benefit from a seamless mix of content research and connection analysis.
By using sophisticated audience data, the platform also aids in the optimization of users' interaction with their consumers and prospects. It is also feasible to build ultra-targeted audiences in order to enhance marketing reach and outcomes. The system also includes a slew of features that enable customers to track all of their organic and paid campaigns in great detail.
Pros
Provides deep insight into segments, influencers, and psychographics
Its dashboard can generate valuable insights to help sort out useful information
Support is open and responsive with recommendations and suggestions
It can define your audiences for your brand or product
Cons
Pre-built categories are limited
UI in audiense connect & loading time and it is limited to 50K results
Price
Free Version Available
Audiense Connect: $79/month
Audiense Insights: $696/month
#3. Email Wanderer: SendGrid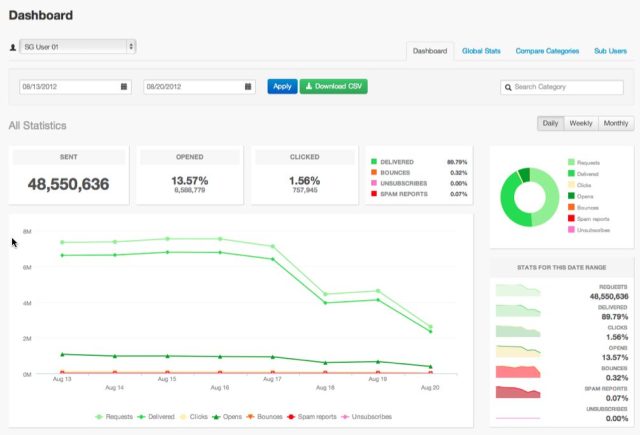 The Twilio SendGrid platform enhances transactional email delivery while also allowing you to quickly expand to suit business requirements. It is a platform that can simply connect with any cloud-based email infrastructure thanks to its versatile Web and SMTP APIs. Your transactional email will be up and running in minutes thanks to its strong cloud-based email infrastructure.
It also supports a variety of frameworks, languages, and apps, allowing you to concentrate on your company while we handle email delivery.
Twilio's higher price tiers may offer clients extra advantages such as a separate IP address. Because the address isn't shared with other senders, the risk of receiving a worse reputation rating is reduced.
Twilio SendGrid is the preferred email distribution technology for top businesses such as Airbnb, Uber, and Spotify. It sends over 70 to 90 billion emails each month to small to enterprise-level businesses.
How does it work?
Twilio SendGrid offers world-class email deliverability expertise to application developers, guaranteeing that your emails reach consumer inboxes. It provides a fast and simple connection through an SMTP relay or by using more powerful and versatile APS's.
With accurate statistics on your email marketing, you can make sound business choices. Separate email campaigns can be easily classified, and data can be tracked down to the email address level.
Requests, delivered, bounces, repeat bounces, spam reports, repeat spam reports, invalid email requests, open tracking, unique open tracking, click tracking, unique click tracking, unsubscribe tracking, and blocks are all tracked.
All metrics are accessible and can be customized using its Event and/or Web APIs.
Pros
API modifications are quite powerful.
Promotional emails that are responsive and operate everywhere
Insights on performance and deliverability are provided via reports.
Access to a high-volume email marketing campaign
Cons
Templates and HTML editors are rudimentary.
Only the Pro Plan includes a dedicated IP address and email validation.
Price
Free version available
Essentials Price: starts at $14.95 monthly
Pro Price: starts at $89.95 monthly
Premier Price: Contact sales for custom pricing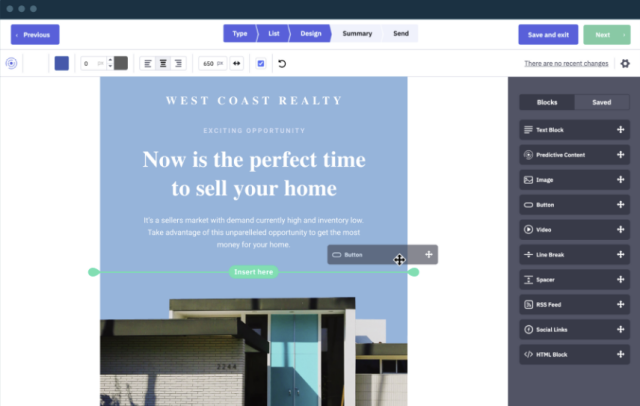 ActiveCampaign provides 500+ pre-built automation templates that allow clients to quickly build and execute linked campaigns across all channels, as well as free customer care that includes live chat and phone support, a self-help knowledge resource, and complimentary data transfer.
With all of your information and activity in one location, you can immediately obtain a comprehensive picture of how your sales and marketing initiatives are working. Not having to deal with several suppliers for various tools may also save you money.
Creating a deal pipeline in ActiveCampaign requires you to divide your whole sales cycle into stages. Instead of seeing sales as a chaotic and unpredictable beast, you may begin to visualize the phases that your transactions must go through in order to be completed.
Furthermore, ActiveCampaign enables you to create as many deal pipelines as you want, so you can simply create separate pipelines for different audience groups.
How does it work?
From personal email to bulk mailings, Active Campaign offers a variety of methods to interact and engage with your audience. The possibilities with automated sequences are limitless, allowing you to provide a highly customized experience for your customers.
Automations are one of its most significant characteristics. Aside from autoresponders, which may be triggered by a variety of circumstances, you can also utilize their CRM software to automate list and contact maintenance, as well as sales.
This 'Deals' system also enables you to add notes to contacts, schedule appointments, send direct messages to them, and do a variety of other things.
ActiveCampaign's design is extremely user-friendly, with readily accessible menus. The dashboard has a helpful 'Getting Started' slider to assist new users, as well as demo data to show you how to effectively utilize parts. The Content Manager is one of the most useful online marketing tools that saves all of your materials in a single location, making it simple to keep everything organized.
Pros
Track buyer preferences, activity, and a variety of unique characteristics throughout the customer lifetime for better segmentation and marketing.
Create completely personalized ads with little work, then adjust your send strategy in real-time depending on consumer behavior.
Can rapidly create or modify your email content without the assistance of a professional
Active campaigns teams are very helpful and supportive in all aspects.
Cons
Somewhat difficult to understand the reports
Can be a steep learning curve
Price
Lite Plan Price: $9 monthly
Plus Plan Price: $49 monthly
Professional Plan Price: $129 monthly
Enterprise Plan Price: $229 monthly
Check out Active Campaign here.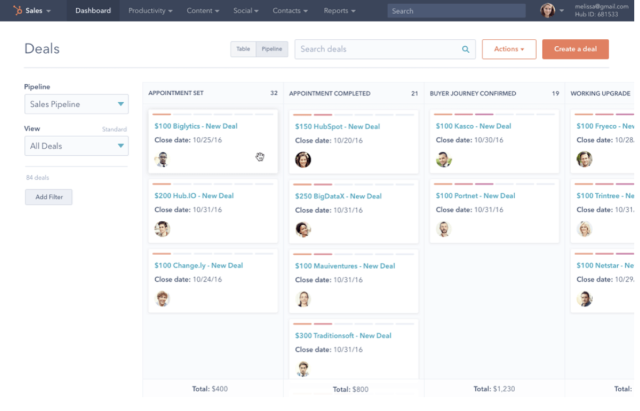 HubSpot Marketing is a sophisticated all-in-one marketing analytics software, which is among the top digital marketing analytics tools, that integrates all of your marketing activities to assist your team in increasing traffic and conversions.
It has a drag-and-drop capability that allows you to create interesting websites with dynamic landing pages that look great on any device. HubSpot Marketing allows you to create and optimize appealing content, as well as deliver it to the appropriate people.
It also includes contact forms and A/B testing to help you create effective lead generation methods, as well as a ready-to-use marketing funnel, scheduling, a contact database, mobile marketing, and much more.
Overall, HubSpot is an excellent option for companies whose marketing teams wish to consolidate all campaign operations.
How does it work?
It is used primarily in creating landing pages for your campaigns, send both static and dynamic HTML messages, prepare and format material for publication, and incorporate data from other systems. All of this is possible without any coding knowledge.
It includes SEO and social media recommendations to increase traffic in major search engines, as well as capabilities to customize messaging for particular website visitors thus you can monitor the success of your social media strategy across all marketing channels. You may also gauge the success of your campaign by comparing the performance of other social networks.
With built-in analytics, SEO strategy, reports, and dashboards, it allows you to monitor your whole marketing funnel from acquisition to closure, allowing you to make better, data-driven marketing choices.
It also has a HubSpot analytics tool that enables you to connect social media success to company and revenue development.
Pros
Analytics are integrated into everything you do from the start.
Break down any report in your database or CRM by contact or company-level attributes.
Analyze the performance of your website using important website metrics.
Gain visibility into your whole funnel to determine which marketing materials are most effective and to demonstrate how marketing affects the bottom line.
Cons
Contracts upon subscription are not flexible
Templates are somewhat difficult to modify
Price
Starter Plan Price: $45/month
Professional Plan Price: $800/month
Enterprise Plan Price: $3,200/month
#6. The One you can Trust: Loomly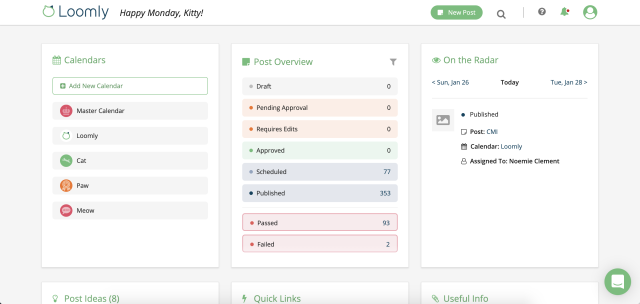 Loomly is among the cloud-based digital marketing tools that assist freelancers, influencers, and social media managers in managing content across many platforms. Marketing analytics, automatic posting, keyword filtering, technical SEO, multi-account administration, and post scheduling are all important aspects.
It supports many social media sites such as Twitter, Facebook, Pinterest, Linked In, and Instagram, Loomly offers a master calendar that allows users to manage numerous social media calendars, calendar views, and blog post overviews.
Loomly also has automatic scheduling and posting capabilities, as well as an analytics engine that allows users to track the success of their articles.
Users may also save, access, and share different kinds of material in their libraries, including pictures, videos, blog post templates, notes, and links.
How does it work?
This digital marketing tool allows marketing teams to communicate, publish, and assess their results. It also streamlines collaboration across your entire content management process, including managing digital assets, fueling narrative, polishing material, approving messages, reaching your audience, engaging your community, and measuring success.
Organic contents, promoted posts, and goal-driven campaigns are now supported in the digital platform.
Loomly offers an open design that enables you to tailor the user experience to your specific requirements. The simple and widget-focused design arranges information in an easy-to-read dashboard.
The social media digital marketing tool was obviously created in response to the need to replace outdated processes and the need to utilize several tools to effectively set up and prepare social media postings. Other than that, it has a unique edge when it comes to generating, organizing, and scheduling posts since it was developed by social media managers for social media managers.
Pros
Has comprehensive tools that you can use from
The support team is very active and responses are quick
Very easy to use
Has content suggestions for social media managers
Cons
Lost connections can be annoying sometimes
Doesn't offer direct posting to Instagram
Price
Base Price: $25 monthly
Standard Price: $57 monthly
Advanced Price: $119monthly
Premium: $249 monthly
Enterprise: Contact sales for a quote
#7. Worldwide Email Fanatic: Mailchimp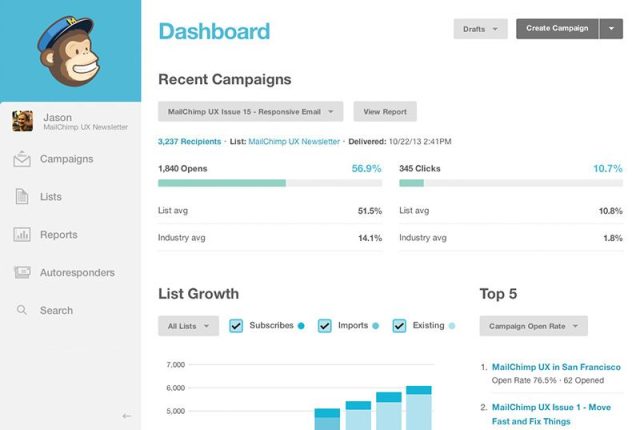 Mailchimp is a web-based email marketing service that has millions of users across the globe. Users may use the app to distribute newsletters on different social networks and monitor consumer interaction.
Among other things, the program offers capabilities for creating targeted emails, running Facebook ad campaigns, automating follow-ups, and monitoring campaign progress. Users may use Mailchimp to gather and analyze their email replies.
The software acts as a shortcut to users' email marketing accounts, allowing them to get campaign updates, gain subscribers, and stay up to current on social media activities.
The service is offered on a monthly subscription basis and supports a broad variety of companies, from tiny e-commerce to large online shops.
How does it work?
In a variety of forms, the program provides graphical representations of data and client interactions. Mailchimp enables users to create, distribute, and monitor email newsletters from anywhere. Users may build and share appealing email campaigns using an interactive drag-and-drop interface.
Marketers may track consumer activity and create ad hoc reports using the built-in analytics and reporting capabilities. Mailchimp also has a mobile app available for both Android and iOS devices.
Mailchimp serves as the foundation for your customer interactions, providing AI-powered, user-friendly email marketing tools that anybody can utilize to succeed.
It puts your audience first, allowing you to send marketing emails and automated messages, construct landing sites, send postcards, enable reporting and analytics, and sell online.
Pros
It has a thorough and comprehensive reporting
Most of the tools are available on their free plan
It has a very unique and simple interface
It has a full marketing hub and belongs to the top digital marketing tools
Cons
Campaign tracking is limited
High-cost subscription plan
Price
1,001 – 1,500 subscribers with unlimited emails monthly: $20.00/month
1,501 – 2,000 subscribers with unlimited emails monthly: $25.00/month
2,001 – 2,500 subscribers with unlimited emails monthly: $30.00/month
2,501 – 2,600 subscribers with unlimited emails monthly: $35.00/month
Pro Plan: + $199.00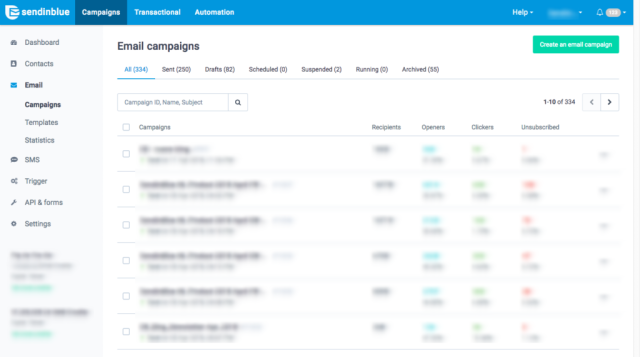 Sendinblue is a small to medium-sized company email marketing service (SMBs). The most recent version has streamlined certain features and developed others, allowing it to act as a more comprehensive digital marketing center.
Sendinblue does not require any type of installation and can be used directly from the web, making work much more ergonomic and achieving greater interactivity with emails. In fact, the number of contacts with which the platform allows you to work is completely unlimited and can reach thousands of people if you have purchased the appropriate plan.
Sendinblue's customer assessment system is probably the most significant feature of the platform, as it allows you to set parameters for the kind of client that you want to attract for the business and who can pay according to your work approach. In other words, it may be shaped and tailored to your sales approach.
Sendinblue is such a fantastic program for carrying out marketing strategies for your social media marketer needs. Sendinblue has managed to adapt to every requirement to marketers by adjusting to all of the customer assessment and follow-up activities in order to maintain an acceptable level of sales, and it's all due to the platform's practicality.
How does it work?
Sendinblue provides fairly sophisticated level management via its remote support staff, which will assist you in resolving all of our previous concerns about our dynamic content application capabilities inside the platform, which you can leverage much more as a result of the interaction with them.
Sendinblue's free plan offers marketing automation, phone assistance (for the first 60 days), and up to 300 emails each day. Web tracking and lead scoring are among the sophisticated automation provided.
Unlike other providers, they charge depending on the number of emails sent rather than the number of contacts. Sendinblue also has some social media platforms and social media campaigns.
This is a new addition to Sendinblue, but they are making a great first impression with an outstanding module for generating Facebook advertisements.
Pros
It has low-cost plans and is among the top social media management tools
Complete and comprehensive email automation
Provides an SMS email marketing Tool
Great deliverability and flexibility
Cons
Sendinblue does not have any search marketing tools for consumers that find their way to their website.
It also does not fully automate the tasks of synchronization with other sales software.
Price
Free Version available
Lite Plan Price: 25$ monthly
Premium Plan Price: $65 monthly
Enterprise: Contact sales team for a quote
#9. Boss Marketer: Trello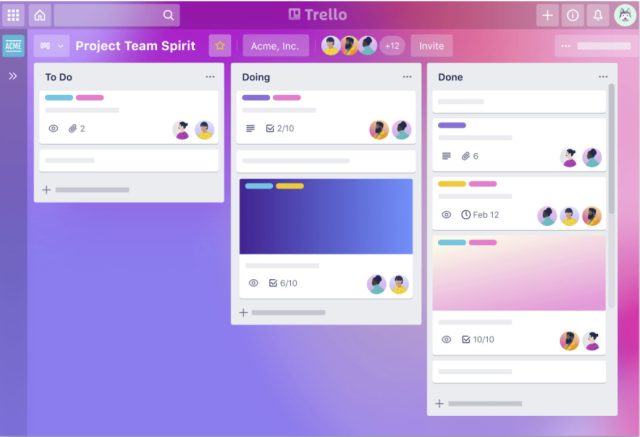 Trello is most likely one of the most well-known project management applications available. It is both free and simple to use, which is why it is so popular.
Trello is a visual collaboration platform for task and project planning that is also employed in other areas such as marketing, sales, support, and human resources. The web-based system includes tools for defining projects, their requirements, and the workflow to guarantee that projects are executed in the order they were intended.
Trello provides a professional solution that includes the privacy and administrative options that big businesses need. Trello interacts with many online services, including Slack, JIRA Cloud, Google Drive, and GitHub.
Trello is a real, breathing project center of cross-team communication no matter where your work needs to happen, with over 100+ connectors with other important apps like Google Drive, Slack, Jira, and more.
How does it work?
Trello provides a digital board for creating, organizing, and prioritizing tasks. Administrators and supervisors may also create processes, assign tasks to people or groups, establish deadlines, and track progress.
Trello cards enable users to work together on projects. Users may add comments, members, and documents to tasks that have been given to them.
Trello allows teams to build and modify it to suit their specific requirements and work styles, from sales and marketing to HR and operations. Its free tools is a great tool for small business and for different social media platforms.
Trello makes collaboration more enjoyable by making it visible and readily shared between boards and teams. With features like board backgrounds, emoji responses, and stickers, users can personalize Trello.
Pros
The UI is very simple to understand
Less complex pricing
It promotes collaboration
Keeps track of to-do list and is mobile friendly
Cons
No Gantt chart and somewhat difficult to handle big projects
Lower storage limit and can't review iterations
Price
Free version available
Standard Plan Price: $5 monthly
Premium Plan Price: $10 monthly
Enterprise Price: Contact the sales team for a quote
#10. Email Organizer: Hootsuite
Hootsuite is a cloud-based social media management system that allows organizations and companies to run campaigns across several social networks, including Twitter, Instagram, LinkedIn, Facebook, YouTube, and Pinterest.
Hootsuite, the world's most recognized social media management system, can set you up for success by providing professional certifications, training, and coaching in social marketing, social listening, and customer service.
With Hootsuite, you can extend your results and gain more from social media quicker. It can streamline further your customer service and support by forwarding incoming messages across your social media accounts to the appropriate individuals in your company. With its analytics, you may get a deeper knowledge of what your consumers desire and quickly compile those insights into customized reports.
Furthermore, Hootsuite enables social media for organizations all around the globe, from tiny companies to big corporations, with over 200,000 paid accounts and millions of users.
How does it work?
Hootsuite can build your brand, improve customer relationships, and deliver outcomes that business executives care about. You can also get access to industry-leading certifications, digital ads such as google ads, digital marketing space, training, and coaching to help you drive your social media platforms outcomes farther and quicker.
You can manage organic and sponsored social media posts and contents simultaneously, easily monitor customer interactions, break down barriers in how you communicate with your company and get actionable real-time information from social media to make key business decisions—all from a single simple dashboard.
You can save time by creating and scheduling posts from a single dashboard for social media landing pages and websites. It can also be used for collaboration by assigning tasks, controlling permissions, and evaluating team performance, you can fine-tune how your teams interact.
It can also increase your engagement on search engines and attract more consumers by marketing automation your posts to reach your audience at the optimal moments. Other than that, it can monitor mentions of your brand, important industry issues, and rivals may help you turn real-time data into strategic insights with competitive analysis.
Pros
The paid tool allows you to easily schedule publications simultaneously
Can further boost your marketing strategies through social networks
Can seamlessly manage and maintain your social identity online
Can reach beyond your dedicated followers thus increasing social advertising performance
Cons
Does not work best with Instagram
Somewhat it contains bugs
Price
Professional Plan Price: $49 monthly
Team Plan Price: $129 monthly
Business Plan Price: starts @ $599/month
Enterprise Plan Price- Contact the sales team for a quote
How We Rank the Best Digital Marketing Tools?
To choose the finest among the best digital marketing tools available, we must examine the following factors:
Make a Marketing Budget
It is a good idea to establish a budget for your small business before beginning your search for digital marketing tools.
Price-Performance Relationship
It is critical to choose the right digital marketing tools based on the price-performance ratio. First, consider the advantages and disadvantages of these instruments for your marketing campaigns.
Accountability
Check which businesses are utilizing this product, how long they have been in the industry, and whether there are any security issues before choosing the finest digital marketing tools for your company. Inquire with the support staff and consultants regarding maintenance, software upgrades, refund policies, and other issues.
Features
You must choose just those digital marketing solutions that improve your performance and have excellent features such as google keyword planner, task management tool, link building, organic traffic, content research, for your specific requirements among the hundreds available on the market.
Set your key performance indicators (KPIs) and goals.
Defining your marketing objectives and establishing your marketing KPIs allows you to concentrate your roadmap and choose the best digital marketing solutions.
Integrations
To keep the company running smoothly and to offer a customized experience, all digital marketing tools must be compatible with one another.
Pricing
Depending on the size of the business, most digital marketing tools are subscription-based or paid. If you have a bigger workforce, think about whether a plan based on the number of users or a fixed monthly cost is a better option. Your long-term goals, on the other hand, should include the supply of add-ons and upgrades at little or no extra cost.
Tested and Proven
Before investing in a digital marketing tool system, study the platform and evaluate the benefits it may provide your business. Consider buying an easy-to-use solution that will assist employees in performing better across many channels, such as social media, email marketing, blogs, newsletters, SEO, and so on.
Benefits
Your goal is to enhance marketing campaigns and boost ROI. As a result, you must leverage the platform's benefits, such as business operations and marketing automation, data collection, data filtering and extraction, insights, analytics, reporting, segmentation, visualization, forecasting, and so on.
Customer Support
In the world of digital marketing, anything may go wrong for no apparent reason at any time. And you need help right immediately so that the business is not damaged. Look for systems that provide live chat customer support 24 hours a day, 7 days a week.
How to Choose the Best Digital Marketing Tools?
As digital marketers, one should consider the difficulties you encounter and where you spend the majority of your time. If social media monitoring is a problem, look for a solution that can plan postings and track mentions.
Conduct a competition analysis to see where you are falling short and search for resources to assist you. Read the reviews to determine which software tools and analytics tools provide the features, support, and price plans that are most appropriate for your company.
Using the appropriate digital marketing tools at the right moment is critical to the success of your company. This list is intended to assist you as digital marketers in the online field and offer you the results you desire.
Conclusion: Best Digital Marketing Tools
The first stage is to develop a solid digital marketing plan that includes social media marketing, search engine optimization, email marketing, and regular, quality content that speaks directly to your target audience.
With the proper digital marketing tools, it can simplify the roles of digital markets while also automating a slew of activities.
Any of the tools listed above may be used to build a strong digital marketing stack. Don't be afraid to put your ideas to the test and go through trials to see what works best for your company and budget.
Once you've sorted out your digital marketing tools, you'll be able to go ahead with your campaigns with confidence while also keeping a better pulse on your marketing efforts.
And if you haven't already, then have a go at our top pick which is Sprout Social. This platform can help you plan and evaluate your social marketing efforts which can be a very good fit with your company's objectives.
Digital Marketing Tools FAQs
What is Digital Marketing?
Digital marketing, often known as online marketing, is the promotion of companies via the use of the internet and other kinds of digital communication to interact with prospective consumers.
Not only does this encompass email, keyword research, social media, and web-based advertising, but it also covers text and multimedia communications as a marketing channel.
What is a Digital Marketing tool?
Top digital marketing tools can only assist you in carrying out a good plan for the best appropriate technological stack that may help you fly past the competition. There are lots of free digital marketing tool that you can take advantage of that can benefit your marketing team. Among these are social media marketing tools.
Some digital marketing tools are essential, such as email marketing, SEO tools, online forms, analytics, and a CRM. Other tools, such as keyword research, rank monitors and design tools, are more specialized.
What is a good digital marketing strategy?
A digital marketing strategy is a plan that details how your company will accomplish its marketing objectives via online channels such as search and social media.
Most marketing strategy plans will include the online channels and digital marketing techniques you want to use, as well as how much money a digital marketer intends to spend on these channels and tactics.
How does a Digital Marketing campaigns help businesses?
The value of digital marketing is that it allows you to quickly manage and monitor your efforts. When you put time and money into a campaign, you want to know that it is effective.
Digital marketing enables you to easily monitor your efforts, allowing you to adjust and generate greater outcomes.
Like this Article? Subscribe to Our Feed!
Vanessa is a mom of 3 lovely children and a software geek. Outside of her career as a health and wellness instructor. She enjoys writing and researching on topics such as finance, software, health and culinary.