3 White Soldiers – A Complete Expert's Guide 2023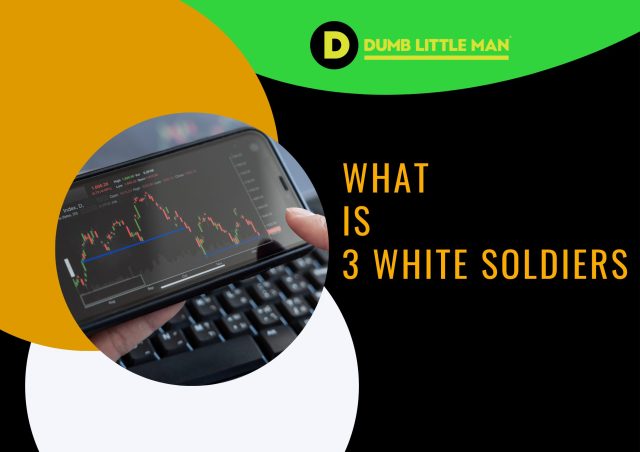 Traders frequently employ forex indicators to improve their chances of success when trading on the FX market. The Three White Soldiers indicator and other types of data and research can affect trading choices and serve as the foundation for various Forex trading techniques.
In the "three white soldiers" technical analysis of stocks, currencies, indices, etc., candlestick patterns are employed to forecast when a decline will finish. Three Advancing White Soldiers is another name for this pattern. After a protracted downturn, bullish forces start to outweigh bearish forces on three consecutive candlesticks.
In terms of the stock, commodity, or pair constituting the price action on the chart, the three white soldiers' candlestick pattern signals a significant shift in market sentiment. A candle that closes with little to no shadows indicates that the bulls successfully kept the price at the session's high range point.
Ezekiel Chew, your favorite and one of the best forex mentor, will share his take on the three white soldiers as you read further. In essence, the bulls control the rally the whole session and close within a few points of the day's high for three straight sessions. Read through the article to get more insight into what the three white soldiers are and how employing it will improve or affect your trading game.
What is 3 White Soldiers Pattern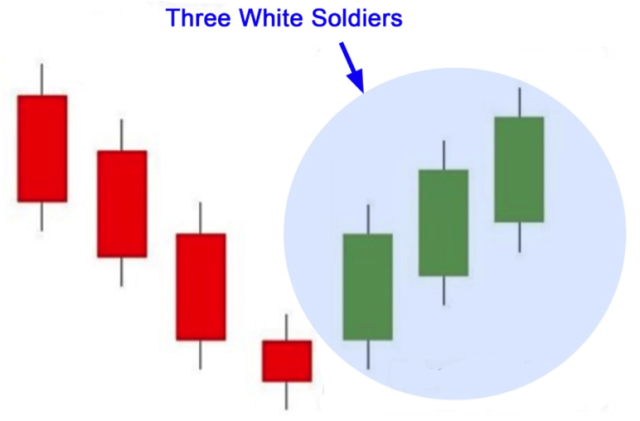 A bullish reversal pattern is represented by the candlestick chart pattern known as the "Three White Soldiers" in the financial market. It is created from 3 successive candlesticks that trend upward like a staircase; each opening above the previous day's open, ideally in the middle price range of that last day. It is usually white, green, or blue, depending on the trading software that gets used or your choice of selection, and signals intense buying pressure that results in a reversal of a trend.
Often, it's utilized as an indicator for a reversal of a downtrend because it forms a favorable ratio of reward to risk.
The Three White Soldiers Pattern can signal the completion of a downtrend, which makes it form a pattern at the bottom of a downtrend. The candles that form the pattern are long, which signals an evident symptom of the stability of the transition from sellers to buyers.
Traders use the three white soldiers to confirm that a bear market has ended and market sentiment has turned positive.
In the case of this pattern, it's displayed with three successive typically upward candles that create the top of an uptrend. It emerges if three bearish candles pursue a strong uptrend, implying that a reversal is in progress.
How to Identify the 3 White Soldiers Pattern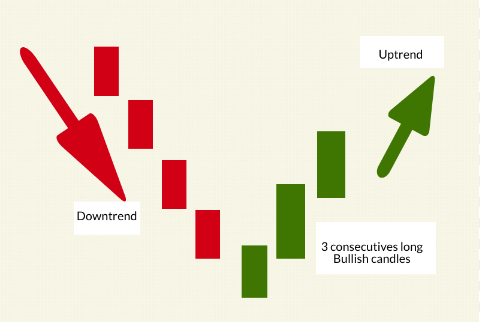 When more candlesticks are in play, things get more complicated when traders need to locate a trend. And with three candlesticks that form the three white soldiers, it can be a challenge.
Below are a few elements that can be used to identify the three white patterns:
Three consecutive long, bullish (i.e., white or green) candlesticks make up this pattern.
Each candle must light up above the one from the day before. The ideal opening price will be in the middle of the previous day's pricing range.
Every candle must gradually open upward, creating a new short-term high.
All three candles should have very small (or nonexistent) upper shadows or wicks, signaling buyers control the market.
The second candle's body has to be larger than the initial candle in the pattern.
Candles number two and three must-have roughly identical lengths.
The pattern emerges at a support level, appearing after a downtrend.
Learning from the Pattern
A profitable trader needs to learn from this pattern that the market is in a bullish reversal phase, signaling that bears are no longer dominant, and expectations are that there will be a trend reversal.
To demonstrate that the bulls are in charge, the second and third candles should be in a similar size range as the first.
If the third candle is smaller (or shorter) than the first two, you might want to refrain from posing any queries to the Three White Soldiers.
Other candlestick patterns indicative of a reversal, such as a Doji, may appear before the pattern.
The three white soldiers' pattern is reliable and productive when combined with other indicators; with the pattern, investors can start a trade, and at the same time, it can be used to leave a position.
Though it might not be easy to locate the pattern, it's beneficial, and traders should attempt to identify it and use the data provided to improve their trading strategy.
The Three White Soldiers pattern's major flaw is that it can happen during a moment of consolidation. You can find yourself stuck on the market's wrong side due to confused feelings that may result from this.
Identifying Entry and Exit Points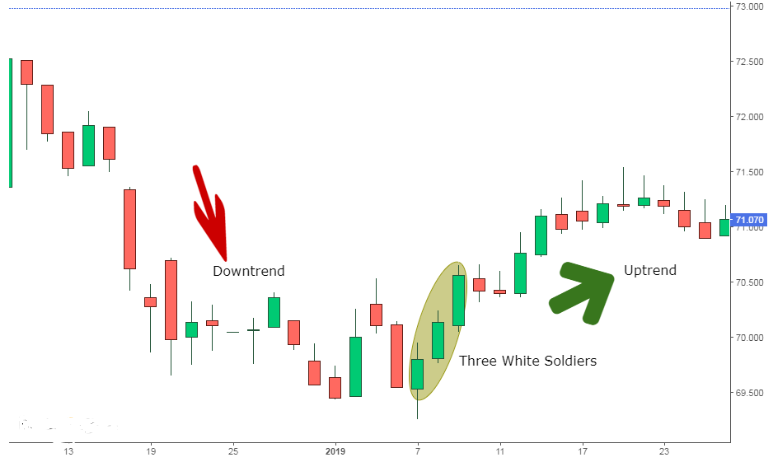 The three white soldiers can be traded in a variety of ways. There are typically two methods that anyone can use:
First, use relevant technical indicators to validate the signal, such as the stochastic oscillator or the relative strength index (RSI). As a result of indicators' ability to shed additional light on price movements, this can aid in validating what the candlesticks indicate.
You can confirm the signal with the RSI if, for instance, you see three white troops at the lower part of a downtrend and believe a reversal is imminent. This indicator might assist you in predicting price changes because it monitors the market's pace and momentum. You might choose to start a long trade if the reversal is verified.
Purchase of the Pullback
In other words, a long position is established using the Three White Soldiers pattern as an entry. The price reversal signal can also be used as an exit point for traders riding the current downtrend. When the pattern of the three white soldiers appears on the price chart, bears frequently close out their short bets.
The three white soldiers pattern will frequently result in an overbought market because of the significant upward movement that follows. Technical indicators in this situation can provide you with a better understanding of what goes on behind the scenes.
3 White Soldiers Limitations
Three white soldiers sometimes appear during consolidation, a simple method to get mired in the consolidation. Watch to see if the volume is supporting the three white soldiers.
Traders should combine the Three White Soldiers candlestick pattern with other technical indicators like trend lines, moving averages, and Bollinger bands to overcome the limitations of visual patterns.
Investors can look for areas of impending resistance and open a long position once they locate it, or they can look at the volume and confirm that a lot of currency is being exchanged.
Investors should exercise patience and wait for additional breakout confirmation when the pattern occurs on low volume with nearby resistance before opening a long trade.
3 White Soldiers Candlestick Pattern – Trading Conditions
There are three significant conditions necessary when trading with the three white soldiers candlestick pattern;
Condition 1:
The first candle tends to look like the bullish series. Since it is a bullish candlestick, the closing price tends to be higher than the opening price and signifies that the bulls or downtrends are back into action.
Condition 2:
The second candlestick must also be bullish.
It is required that the opening price be on the principal candlestick's true body, ideally at the midpoint and closing prices of the preceding candlestick.
The closing price should be higher than the last candle's closing price and above that of the previous candle's closing price.
Condition 3:
The third candlestick must also be a bullish candlestick amassing no or little shadow. The opening price must be on the actual body of the second candlestick, preferably along the midpoint and the closing price of the second candlestick.
The closing price tends to be higher than the previous candle's closing price and has to be greater than the last candle's closing price.
The second and third candlesticks tend to have similar conditions.
Best Forex Trading Course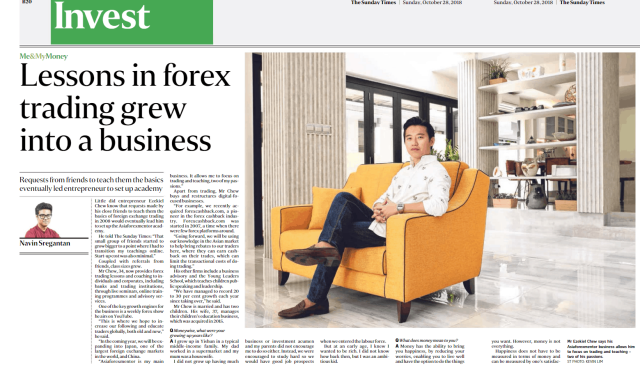 Ezekiel Chew is a professional forex trader, coach, and founder of Asia Forex Mentor. With over a decade of trading experience, he has helped many people achieve financial freedom through forex trading.
Ezekiel is one of the most seasoned traders and makes 6-figures per trade. His trading methods are backed by mathematical probability. He has trained many people from all walks of life, including bankers and traders from institutions.
The Asia Forex Mentor program is a complete forex trading course covering everything from beginner to advanced. The course is designed to help people achieve financial freedom through forex trading. It includes all the essential information a trader needs to know to succeed.
So, if you are looking for a comprehensive forex trading course taught by a professional trader with years of experience, then the Asia Forex Mentor program is a great choice.
| RECOMMENDED TRADING COURSE | REVIEW | VISIT |
| --- | --- | --- |
| | #1 Forex, Crypto and Stocks trading course. Ranked most comprehensive by Investopedia and Best by Benzinga. Free to Try! | |
Best Forex Broker
Broker
Best For
More Details

Advanced Non US Traders
Read Review




securely through Avatrade website




Multi Asset Trading Platform


Read Review





securely through Roboforex website






Professional Traders
Read Review





securely through FXchoice website




Copy Traders

Read Review




securely through FXTM website



Conclusion: 3 White Soldiers Pattern
Due to intense buying demand, three white troops indicate a change in trend direction. After a protracted fall, this candlestick pattern develops when bullish forces prevail over bearish forces for three straight days.
A few requirements must be met to recognize this pattern on candlestick charts. One should pay attention if the volume supports the formation of three white soldiers.
According to the trading advice, the three white soldiers candlestick pattern is bullish and can be a helpful tool in trading strategies.
Traders who use Japanese candlestick charting methods know that the previous candle's closing price is crucial for the appropriate context. Finding the pattern on the chart shouldn't be too challenging if you know the requirements to identify the pattern in the chart.
Once recognized, it also offers crucial information that might help you determine the market's mood. It can help spot bullish trend reversals.
Some investors utilize the pattern to identify good market entrance points, making it helpful for determining a price reversal following a decline.
It can be a tremendous ally if the pattern is regularly employed to search for upward progress. The "three white soldiers" pattern is similar in that it can only be relied upon when used in conjunction with other technical indicators.
3 White Soldiers Pattern FAQs
What do 3 White Soldiers mean?
An economic market candlestick chart pattern is called "three white soldiers." It spreads across three trading rounds and depicts a decisive price setback from a bear market to a bull market.
What will happen after 3 White Soldiers?
In a few cases, a brief consolidation interval comes after the "three white soldiers" pattern, but the quick- and mid-term tendency follows an uptrend reversal.
What does 3 Candles mean?
The three candles are typically seen as an indication of an acceleration following a downtrend.