13 Best Web Hosting Services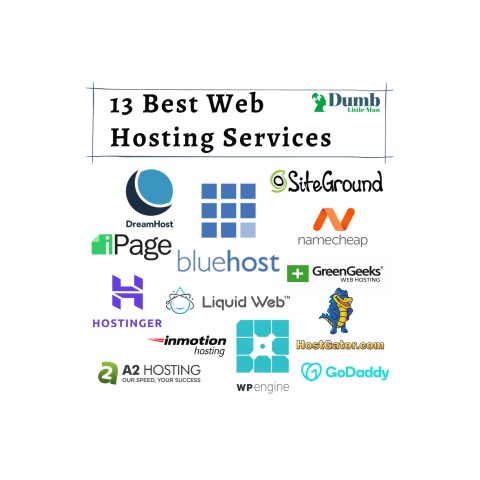 Websites are now an indispensable part of our lives, which has only been made possible by website hosting services. Ranking the best web hosting services does not come easy, considering the immense number that currently exists. However, as with similar services with many providers, some boast better features than others.
There is no doubt that small businesses want a web host that is secure, reliable, and does not take all long before loading. Since evaluating some hosting features before using their services might not be possible, you find it challenging to choose the best web hosting provider.
We realized the need for an expert discussion on this topic, and after extensive research and discussion with the top players in the game, we narrowed down the 13 best web hosting services you can find. These web hosting companies have been ranked based on a wide range of features, including speed, security, customer support, hosting plans, dedicated servers, etc.
Let's jump right in!
Best Web Hosting Services
Whether you run a small business or need a website for any other reason, selecting the best web hosting service need not be challenging. Below, we present the top options you should pick from for a truly reliable website.
1. Bluehost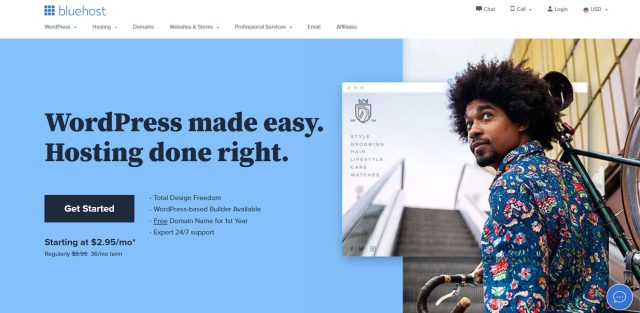 Overall Best Web Hosting starting at $2.95/month
Bluehost is a name that is synonymous with web hosting and ultimately the first option that comes to mind whenever there are discussions about the best web hosting services. The fact that WordPress.org has recommended Bluehost already speaks volumes of the quality services on offer. However, you should discover why it is our top choice in no time.
Click here to get a FREE Domain Name for 1st Year with Bluehost!
This hosting provider has supplied excellent web hosting services since 1996, and the over two million websites they service are a testament to that. With benefits such as reliable hosting services, advanced hosting features, affordable pricing, convenient user interface, digital marketing, and fantastic uptime, Bluehost remains a top provider of the best web hosting services.
Click here to get a FREE SSL Certificate and 1-Click WordPress Install!
Bluehost has a clean interface that lets you get started quickly. You can install WordPress with one click and choose from the abundant number of domains and themes. However, one feature that has got users glued is the 99.99% uptime. And that's not all. Bluehost has an incredible security system to keep your information safe at all times.
Top Features
Free security (SSL) certificate
Free domain name for a year
Multiple email accounts
Video compression
Unmetered bandwidth
Easy-to-use interface
30-day money-back guarantee
Managed WordPress hosting and installation in one click
Pros
99.99% uptime
24/7 customer support
Amazing security and integration
Regular backup system
Flexible and affordable hosting plans
Shared hosting options
Abundant disk space
Cons
You won't get window server hosting
They do not offer monthly plans
Plans and Pricing
Bluehost Plans
Bluehost offers four types of plans to cater to every website owner. They are as follows:
Shared Hosting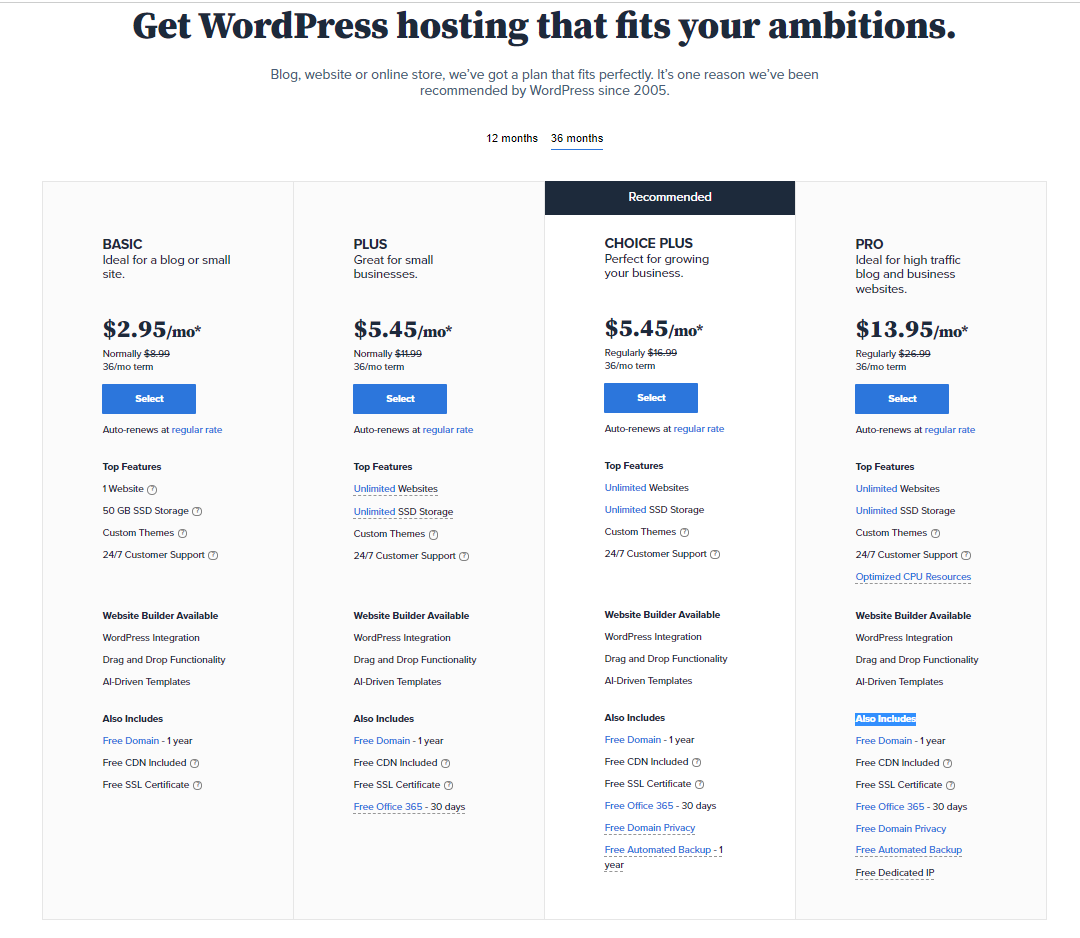 The Shared Hosting is suitable for anyone building a website from scratch. This plan is further divided into Basic ($2.95/month), Plus ($5.95/month), Choice Plus ($6.95/month), and (Pro: $13.95/month).
While the Basic gives you amazing standard features, like the outstanding Bluehost performance, 25 subdomains, five parked domains, unmetered bandwidth, SSL certificate, and a whopping 50GB storage. With the Pro plan, you even have more, including site backup and spam experts. Whichever plan
VPS Hosting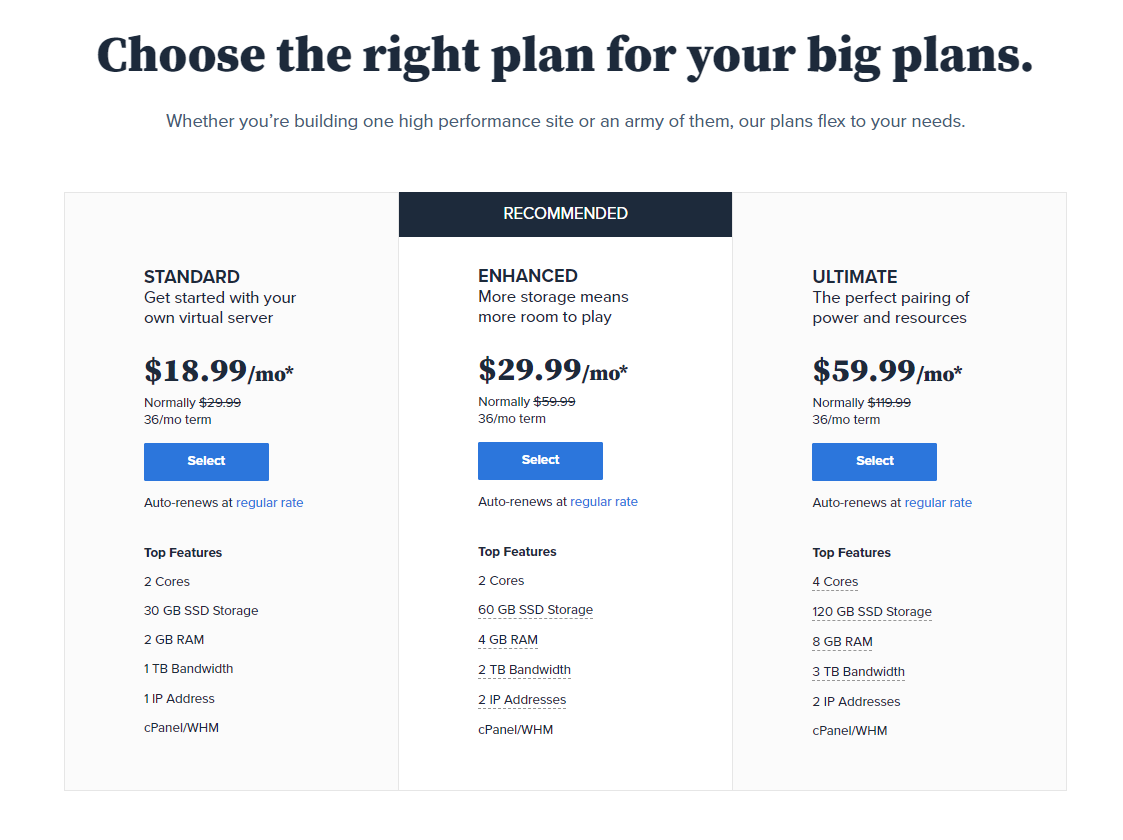 This revolutionary hosting plan gives you adequate control and freedom to dictate the pace of your website. It has three distinct plans under it. The first plan is Standard ($19.99/month) and offers 30GB storage, 2GB RAM, and 1TB bandwidth.
The Enhanced plan is accessible at around 30 percent more of the Standard's price ($29.99/month), but it doubles all the benefits. That is 60GB storage, 4GB RAM, and 2TB bandwidth. However, for those who want more, you get double that – 120GB storage, 8GB RAM, and 3TB bandwidth – with the Ultimate plan at just $59.99/month.
Dedicated Hosting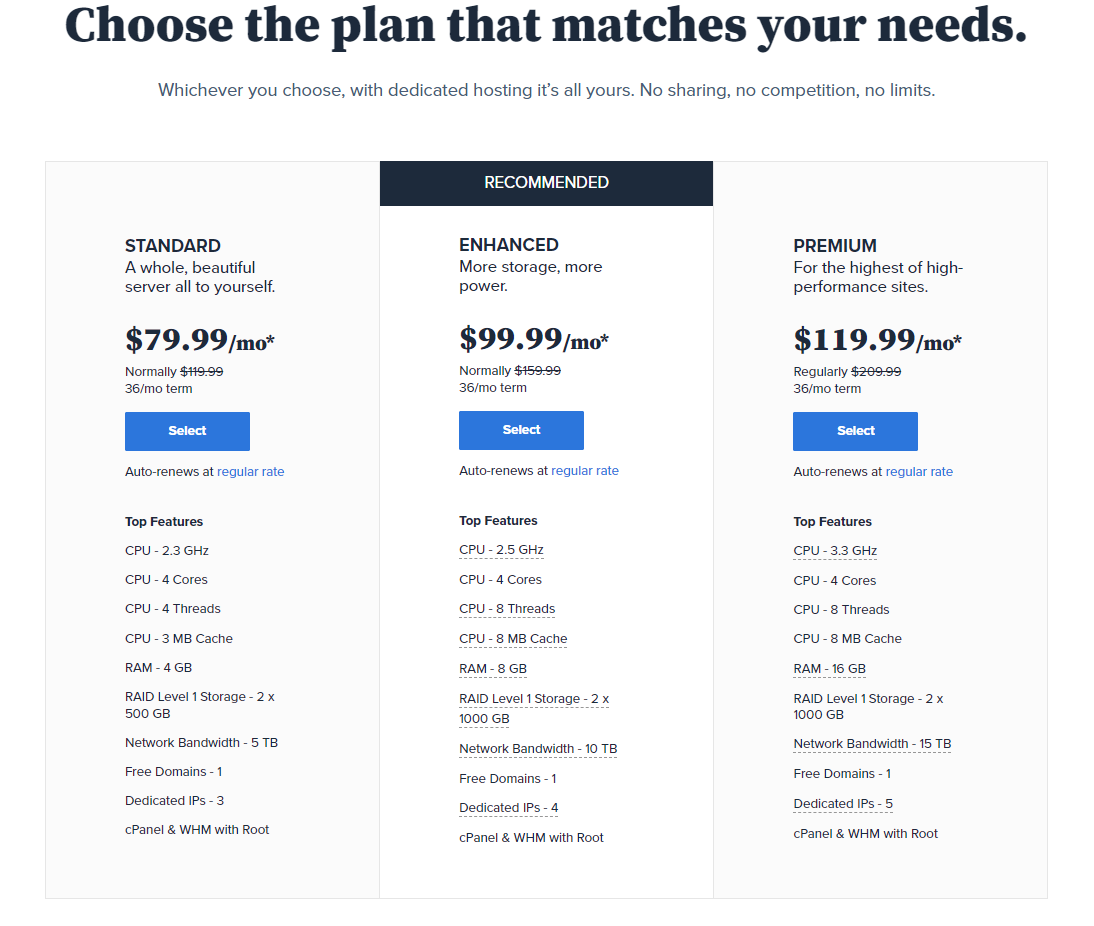 This is quite similar to VPS Hosting but offers even better control through features, such as an improved cPanel and a management system for multiple dedicated servers. The sub-plans are Standard ($79.99/month), Enhanced ($99.99/month), and Premium ($119.99/month).
As for benefits, Standard gives you 500GB (Mirrored) storage, 4Gb RAM, 3 IP addresses, and 5TB Bandwidth. The enhanced plan offers 1TB (Mirrored) storage, 8Gb RAM, 4 IP addresses, and 10 TB Bandwidth. Premium gives you 1TB storage, 16GB RAM, 5 IP Addresses, and 15 TB bandwidth.
Managed WordPress Hosting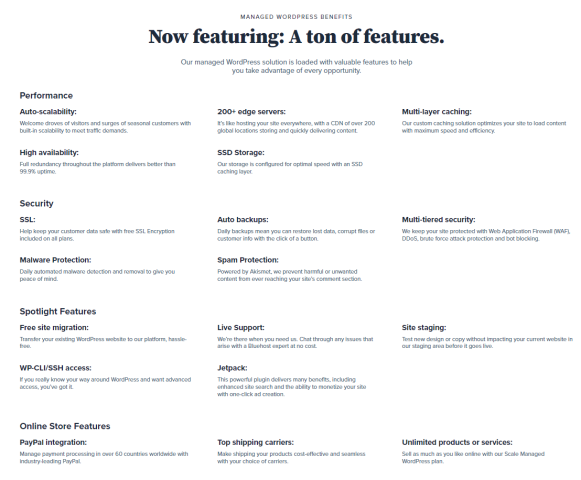 If you run a WordPress site, you should take advantage of the WordPress hosting at $3.95/month for the Basic plan, $5.95/month for the Plus plan, and $6.95/month for the Choice Plus plan, which gives unmetered storage, site backup, unlimited domains, and subdomains, as well as a month of free Microsoft Mailbox.
Click here to get a FREE Domain Name for your Blog!
2. HostGator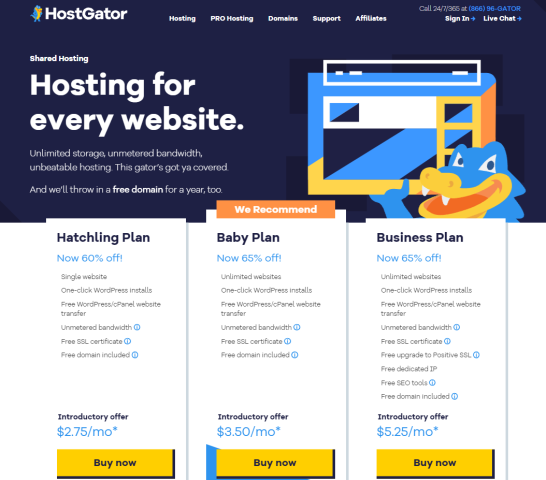 Best Web Hosting for Beginners starting at $2.75/month
HostGator is a household hosting service that powers millions of websites. This web hosting provider is widely known for providing an easy-to-use shared web hosting service that even inexperienced beginners can use. They offer a free domain name and complete SSL certificates for a year. On HostGator, you also have access to extra hosting services, such as free email marketing software.
The service ensures a powerful and efficient website creation process, i.e., you don't have to worry about website crashes due to internet traffic. Their hosting plans allow easy installation for WordPress, Wix, and Squarespace sites. Also, they have a round-the-clock customer support service that can be accessed via phone calls or live chat.
HostGator offers website builders and website or domain transfers free of charge. You have access to a one-click WordPress installation. They also have a FAQ section for users that want to understand their services better.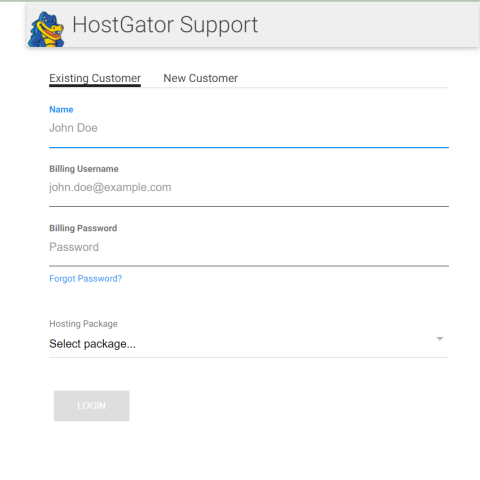 You can utilize the eCommerce tools on HostGator to build an online store/market where you can sell goods and services. Providing links to your social media accounts helps other users easily reach out. The cPanel is another feature you have access to.
HostGator allows customers to upscale their web hosting services with professional emails, SEO tools, extra safety measures, data encryption, and computerized backups.
If you are looking for a web host with shared web hosting that is user-friendly, cheap, and reliable, then HostGator is an option that is guaranteed to tick all the boxes for you. Also, it is easier to scale your business on a long-term deal.
Pros
User-friendly for beginners
A Free domain name and SSL certificates for 12 months
Unlimited bandwidth
99% uptime surety
Site migration support
Round-the-clock support via emails, live chat, or calls.
Unlimited storage
Cons
Site backups come with a cost
Pricing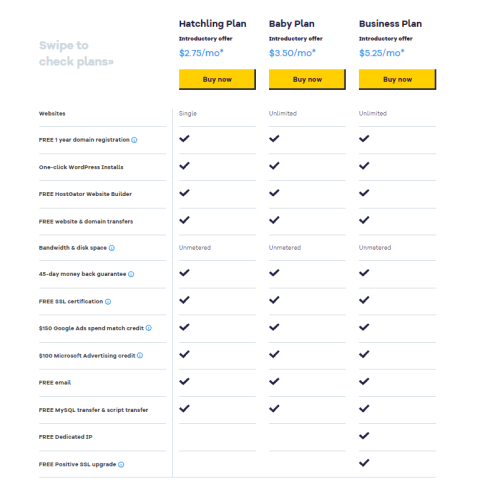 HostGator has three subscription plans. They are the Hatchling plan, Baby plan, and Business plan. These plans come with different features from the least to the highest. Let's take a look at how much they cost and what each of them has to offer.
Hatchling Plan
This is the basic plan with features, such as:
Unlimited bandwidth
Free domain
Free SSL certificate
One-click WordPress installs
Single Website
Free website transfer
$2.75 per month
Baby Plan
This is the intermediate plan. It includes everything in the Hatchling plan plus:
Business Plan
This is the premium plan, which includes all the features in the Baby plan plus:
Free upgrade to positive SSL
Free dedicated IP
Free domain
Free SEO tools
$5.25 per month
The basic plan is good to start with. But as your site's traffic increases, you should migrate to a higher plan that will offer you more features and better functionality. Also, if you are not happy with your current plan, you have a 45-day money-back guarantee. That way, there's not much of a risk you are taking.
Thirty percent of the customers on HostGator are web pros. For the pros, there are advanced features like:
Unlimited MySQL databases
Full CGI access
Server Side Includes (SSI)
Secure Shell (SSH) access, etc.
Both newbies and pros want hosting tools that are easy to work with. So the extra tools are available for people who want to upscale their business and upgrade their websites.
Click here to get a FREE Domain Name for your Blog!
3. Hostinger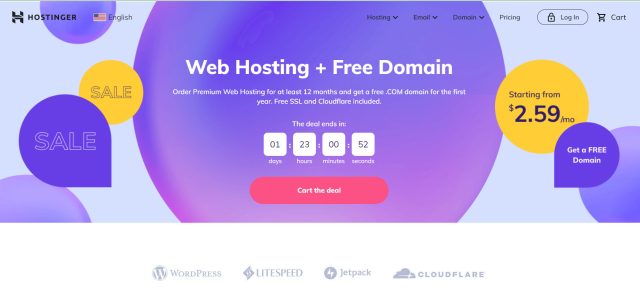 Best Affordable and Reliable Hosting starting at $2.59/month
Hostinger is a web hosting provider that takes no time to impress users. That explains why they have a massive over 29 million users who trust them. Not only is Hostinger reliable, but it is also one of the most affordable, with plans starting from as low as $1.39/month. And all these are with the opportunity to experiment with coding at no extra cost.
This web host expert is also known for its top security. They provide a wide range of features for site security, including SSL certificates, Cloudflare protection, SSH access, etc. Their services promise your site a strong internet connection with a 99.9% uptime.
Top Features
WordPress optimization
Optimization with many other services
Multiple server management
Free backup services
99.9 uptime guarantee
Website builder with tons of templates
24/7 support
30-days money-back guarantee
Pros
One of the most affordable web hosts
Easy-to-use interface
Extremely fast with few to no downtimes
Some nice benefits for even the simplest plans
Reliable security
Flexible plans
Cons
The simplest plans give you just one site.
There is no phone support.
Pricing
This all-inclusive web hosting provider offers everything, from shared hosting to cloud hosting, virtual private server hosting, and even email hosting. You can web host with the standard Web Hosting plans or WordPress Hosting. However, if you want better control or more powerful web hosts for your site, consider checking out the Cloud Hosting and VPS Hosting services.
Web Hosting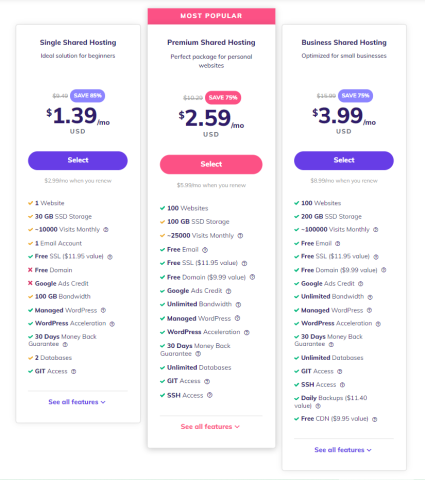 Single Shared Hosting starts at $1.39/month
Business Shared Hosting starts at $3.99/month
The Single Shared is reserved for beginner web hosts and lacks hosting options, such as free site domain and Google credit. All these features are available for the other plans, with the values depending on how high the web host plan is on the list.
For instance, Premium Shared Hosting offers just 100GB of storage space, compared to Business Shared Hosting's 200GB. Other benefits, such as email account, site security, database, 30 days money-back guarantee, etc., are all available for all web host plans, albeit with some variations.
WordPress Hosting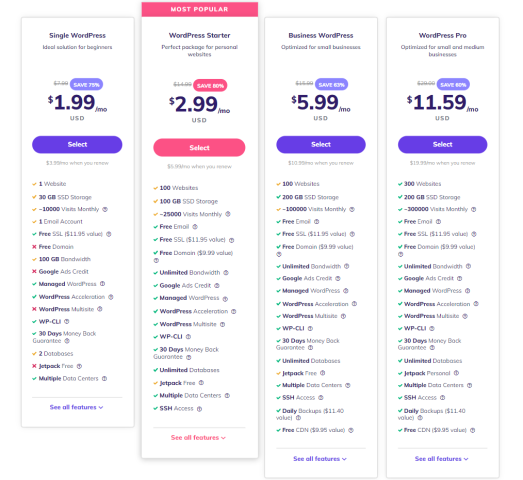 Single WordPress starts at $1.99/month
WordPress Starter starts at $2.99/month
Business WordPress starts at $5.99/month
WordPress Pro starts at $11.59/month
Similar to the Web Hosting, this plan also has varying benefits and similar free features.
Click here to get a FREE Domain Name for your Blog!
4. DreamHost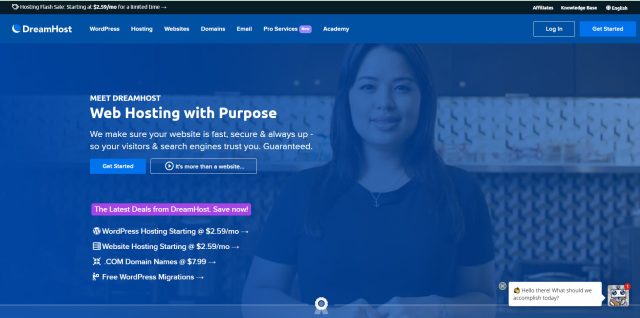 Best Web Hosting Service for Developers starting at $2.59/month
DreamHost is one of the best hosting services that is certified by the tech space. It houses proficient hosting services at reasonable prices. It is a perfect tool for the individuals managing the tech section of an organization or even a website. DreamHost hosts millions of websites and is strongly recommended by ThemeForest, C-Net, WordPress, etc.
This outstanding web hosting provider, alongside their web hosting services, also provides cloud hosting, VPS hosting, dedicated hosting, WordPress hosting, VPS, and website building. DreamHost helps its customers to initiate dedicated servers within seconds. They may not be topping the web hosting service league, but they have established a niche for themselves.
Their services are primarily beneficial to the developers and site bloggers seeking to control their websites. Due to this, it doesn't come with cPanel (backend control panel), which means you would require some programming experience to customize the backend. Even at that, DreamHost has a simple user interface.
DreamHost has an average of 99.95% uptime guarantee. They ensure that your site is always secure and quick to load. They organize hosting flash sales periodically to help people create websites with little cost. New accounts are open to promotional hosting offers, while new and existing accounts are open to promotional domain offers.
What makes DreamHost unique?
Respect for Privacy: DreamHost believes strongly in securing customer's data, and they back that up with the necessary policies.
Security Consciousness: They have many security measures such as data encryption, multi-factor authentication, etc.
Open-source Solutions: DreamHost provides open source solutions for its customers whenever it is required.
Round-the-clock Support: The customer support team works any day, anytime, to ensure smooth operations for the customer.
DreamHost is a full-featured hosting service that extends functionality beyond web hosting. The FAQ section answers every possible question users might have, but you may find the control panel slightly less sophisticated.
Pros
24/7 customer service support via emails and live chat
Three-month money-back surety
Free SSL certificates
Cheaper price options compared to rivals
Free WordPress installs
Availability to pay monthly
RAID-1 storage for better functionality
Open-source codes for better customization
Cons
Monthly charges on emails
Domain name registration comes with a cost
Little skills are required to customize the back end
Pricing
DreamHost has three types of hosting: the Shared hosting plan, DreamPress plan, and VPS plan. The Shared hosting is sub-divided into Shared Starter and Shared Unlimited. Also, the DreamPress plan is sub-divided into DreamPress, DreamPress Plus, and DreamPress Pro. Lastly, the VPS plan is sub-categorized into Basic, Business, Professional, and Enterprise.
Let's take a look at how much each plan costs and what they have to offer.
Shared Starter plan
One website
Free domain
Unlimited bandwidth
Free SSL certificates
Unlimited traffic
Round-the-clock support system
Pre-installed WordPress
$2.59 per month
The Shared Unlimited plan includes everything plus unlimited websites and emails.
DreamPress plan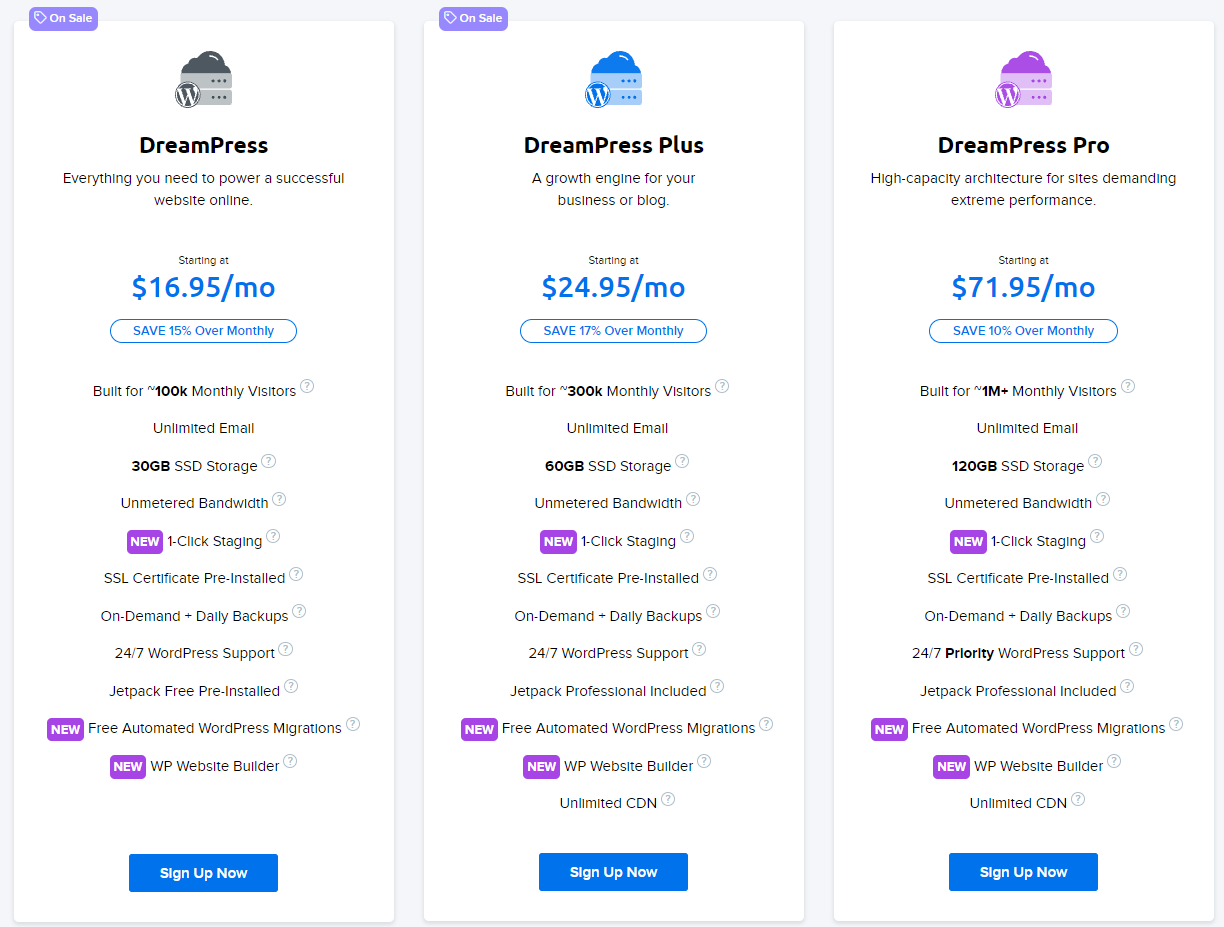 This plan includes everything in the Shared hosting options plus:
Approximately 100k monthly visitors
One WordPress website
30GB SSD storage
$16.95 per month
The Plus plan features:
Approximately 300k monthly visitors
60GB storage
$24.95 per month
The Pro plan features:
About 1 million monthly visitors
120 GB storage
$71.95 per month
VPS plan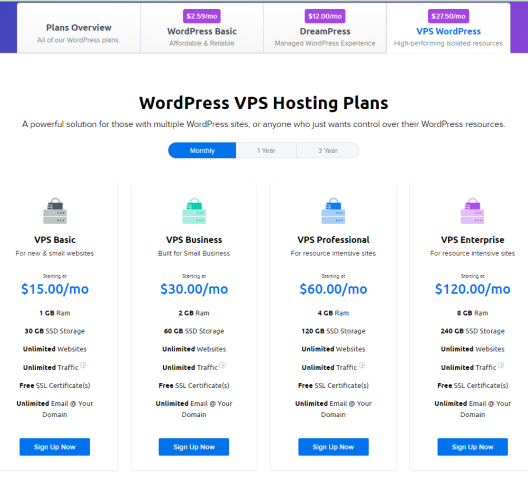 The Basic plan includes everything on the DreamPress plan plus:
Easy addition of domains
One-click WordPress installs
$13.75 per month
The Business plan is for small businesses, and it costs
$27.50 per month.
The Professional plan is for resource-intensive websites, and it costs $55.00 per month. The Enterprise plan is the highest pricing plan on DreamHost. You are open to all of the premium features at $110.00 per month.
Click here to get a FREE Domain Name for your Blog!
5. SiteGround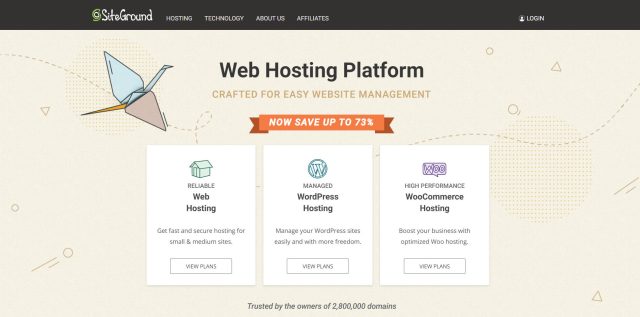 Best 99% Customer Satisfaction starting at $4.99/month
SiteGround made it to the list of the best web hosting services mainly due to offering high-value services at low costs. Over the years, they have been delivering beyond prospects, even though they are still comparatively new in the game. SiteGround's customer support service is second to none and is rated at 99.9% for satisfaction.
This hosting provider has one of the best web hosting plans and services for business and personal purposes. Apart from web hosting, they also provide enterprise hosting, cloud hosting, WordPress hosting, etc.
They have data centers across North America and Europe, and many big eCommerce platforms use SiteGround for various hosting services. Also, they have an uptime guarantee of 99%, meaning there is assurance that your website might never go down during operations. SiteGround's page loading time is very incredibly fast, with web pages that load in microseconds. That way, customers don't get annoyed by slow loading pages or site glitches.
If you need help regarding their services, you can get a support ticket, and feedback will be sent within minutes. Also, you can reach them via phone support, either through email or live chat. The customer support team is very multi-functional, multi-skilled, and responsive. They work 24/7/365 to address any issues concerning their services.
SiteGround is a hosting company that makes it easy to create or migrate your website. They have tools with functions like the drag-and-drop site builder and editor to enable easy designs. These tools have their free versions, in case you're okay with the basic tools.
WordPress sites transfer is also easy with the Free WordPress Migrator tool. There are eCommerce solutions for users who want to build online stores, including Free SSL, daily backups, free shopping cart installation, etc.
SiteGround's other perks include:
Clients' management tools
Web page design tools
Site builders
Free and automated site migration
Pros
Free Cloudflare CDN and SSD servers
Regular updates of the WAF (Website Application Firewall)
Online store development tools
Daily backups of website copies
Regular updates of websites to the latest version
One-month money-back surety
Rapid server response time
Cons
Limited data storage
Rigid resource over-usage rules
Pricing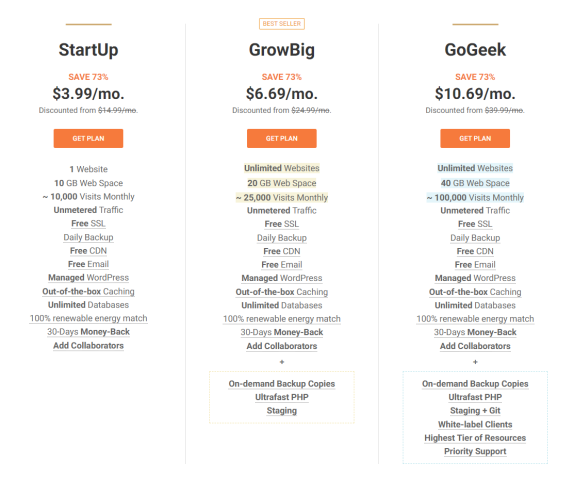 The three subscription plans on SiteGround are StartUp, GrowBig, and GoGeek. Each has its features, discount offers, and costs. Let's take them one after the other.
StartUp Plan
One website
10GB SSD storage
Free SSL certificates
Daily backups
Free email and CDN
Unmetered Traffic
Approximately 10k visits per month
One month money-back
$4.99 per month (special price discounted from $14.99 per month)
GrowBig Plan
This is the intermediate plan. It includes everything from the StartUp plan plus:
Unlimited websites
20GB SSD storage
Approximately 25k visits per month
Ultrafast PHP
On-demand backups
$7.99 per month (special price discounted from $24.99 per month)
GoGeek Plan
This is the highest plan on SiteGround. You are open to every feature on the GrowBig plan plus:
40GB SSD storage
Approximately 100k visits per month
Priority support
Free resources
White-label clients, etc.
For you to get access to the special price, you must have made an annual payment in advance. After that payment, all subsequent renewals will cost the regular price. SiteGround has some additional essentials like top-notch security, credible email service, site and domain management, etc.
Click here to get a FREE Domain Name for your Blog!
6. A2 Hosting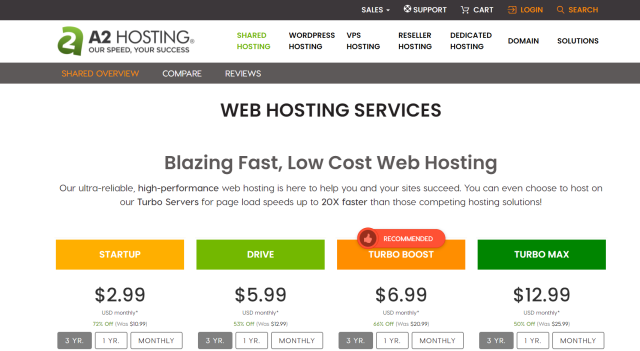 Best Cheap Hosting Options starting at $2.99/month
A2 Hosting is an excellent service suitable for users with little or no tech skills but who desire a professional website at a low cost. Besides web hosting, they also offer VPS hosting, dedicated hosting, WordPress hosting, server hosting, all for a considerable amount compared to other services. Even with the cheap hosting options, customers still enjoy a money-back guarantee anytime they want it.
They have a 99.9% uptime guarantee, i.e., a smooth website run without incessant crashes due to internet traffic. The web page load-time is 10x faster than the average hosting service. These fast-loading pages support multiple platforms like Magento, WordPress, Shopify, Drupal, etc. Advantages of fast-loading sites on A2 Hosting are higher SEO rankings, better conversion rates for landing pages, etc.
A2 Hosting's customer support is top-notch and unrivaled. They offer round-the-clock customer service via live chats, Emails, or phone calls. Whichever way you choose to reach them, be sure to receive helpful feedback as quickly as possible. The support team is very friendly and easy to access. In addition to valuable input on your issues, they provide some tips to help you prevent subsequent occurrences.
" alt="A2 Hosting General Plans" />
Most times, the customer team offers free account migration for its users. Domain transfer from these web hosts is also swift and reliable. What makes their services one of the best is that they focus on acquiring the best and latest versions of your software. Also, they update their security settings and hardware models to deliver the best services to customers.
Additional A2 Hosting key features are:
Hosting packages with SSDs
Carbon-free footprints
Storage configuration that prevents data loss
Multiple coding languages support
Pros
Free site migration
SSD-optimized hardware
Live chat support
Available WHM control panel
Free SSH
Multiple data centers
Extra speed sites
Uptime surety
Cons
Limited bonus features
Domain name registration comes with a price
Pricing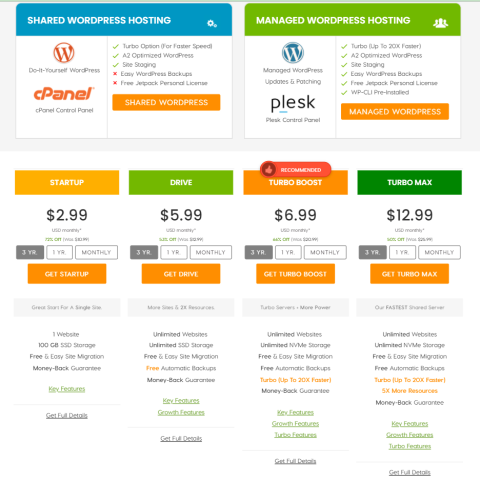 A2 Hosting has different four different pricing plans. They are Startup, Drive, Turbo Boost, and Turbo Max. Let's take a look at the cost of each plan, the features, and offers.
StartUp Plan
One website
Free and easy site migration
100GB SSD storage
Money-back surety
Free security certificates
Unlimited Emails
Free website builder
24/7 customer support
$2.99 per month (discounted from $10.99)
Drive Plan
This plan includes every feature from the StartUp plan plus:
Unlimited websites
Free backups
Unlimited SSD storage
Unlimited databases
$4.99 per month (discounted from $12.99)
Turbo Boost Plan
This plan includes everything from the Drive plan plus:
20x faster Turbo sites
Unlimited NVMe storage
Better conversion rates
Higher SEO rankings
Faster page loads
$9.99 per month (discounted from $20.99)
Turbo Max Plan
It is the highest plan on A2 Hosting. It has every feature from Turbo Boost with a little upgrade like:
5x resources
$14.99 per month (discounted from $25.99)
If you are creating a personal website, it would be best to start with the basic plan. For this plan, you would have the basic tools to build your site. As your site's traffic grows, you can upgrade your plan on subsequent renewals to give you a better experience. The higher the plan you subscribe to, the more features you are open to.
Click here to get a FREE Domain Name for your Blog!
7. InMotion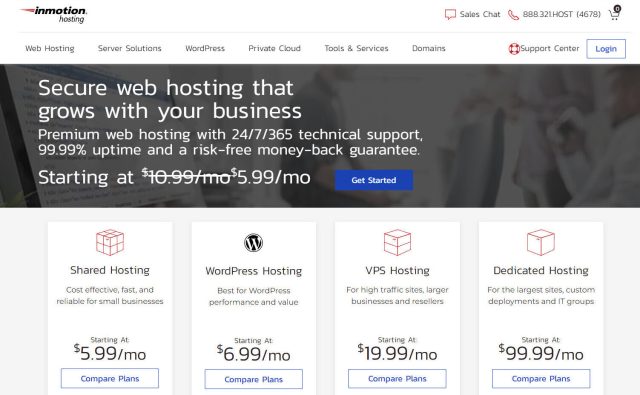 Best Maximum Website Security starting at $2.49/month
InMotion is the best web hosting option that provides top-notch security for its customers. They make extra efforts to ensure website security. The tech space increases daily with lots of hackers trying to get into the firewalls of companies illegally. So, in addition to the SSL certificates most hosting services have, InMotion provides hacker protection, strong custom firewalls, and DDoS protection to make your website inaccessible to hackers.
Their site speed is 10x optimized for your websites. The sites also allow up to 20k visitors and have a large free storage for users. Over the years, website speed has been a key advantage in turning potential visitors into customers. InMotion also has free SSD drives that aid the website's speed. They can also host multiple websites simultaneously for different brands.
The customer service team is impressive. They are friendly and willing to help. They are well-versed in general hosting services. You can contact them via Email, live chat, or phone support. They work 24/7 to make sure no customer has any issue regarding their services. Once you make your demands, the right expert in charge of your complaints will send quick feedback on how and when the issue will be rectified.
" alt="InMotion All Plans" />
InMotion gives access to other types of hosting services such as WordPress hosting, dedicated server hosting, VPS hosting, etc. Their service offers a 90-day money-back surety for users. It is a flexible deal that allows customers a 30-day money-back guarantee if they are not satisfied with any plan they subscribe to.
Suppose you need a web hosting service that offers extra hosting services, maximum data security, and high-level hacker protection at a considerable price. In that case, InMotion is your 'go-to' service.
InMotion's additional features are:
cPanel included
free site builder
free one-click installs
SSH access
Multi-lingual coding, etc.
Pros
3-months money-back guarantee
Free SSL certificates
Free security updates
Unlimited Emails
Firewall Protection
Round-the-clock customer support
10x optimized website speed
Cons
No NGINX server
No monthly billing option
No available data centers in Asia
Pricing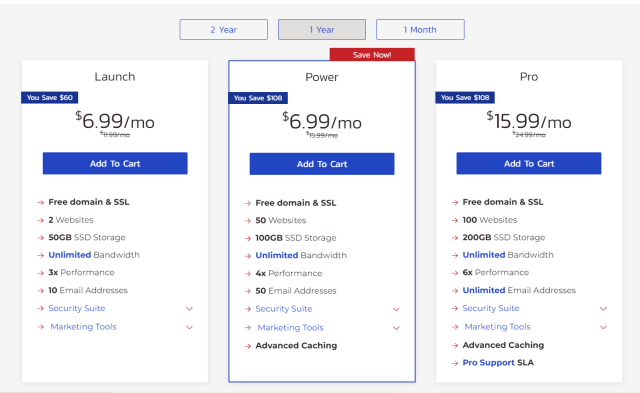 InMotion has three subscription plans, and they are Launch, Power, and Pro. In that order, from the smallest to the biggest, they have their features. Let's go through what each plan entails; when to use it, discount offers, and the costs.
Launch Plan
This is the smallest plan, and here are the features:
Two websites
Unlimited bandwidth
Ten Emails
Free SSL and domain registration
50GB SSD storage
Security suite
3x performance
$4.99 per month (discounted from $10.99)
Power Plan
This is the intermediate plan. It includes every feature in the Launch plan plus:
50 websites
100GB SSD storage
Fifty Emails
4x performance
Advanced caching
$5.99 per month (discounted from $14.99)
Pro Plan
This is the highest plan, and it includes every feature in the Power plan plus:
100 websites
200GB SSD storage
6x performance
Unlimited Emails
Pro Support SLA
$14.99 per month (discounted from $23.99)
The Launch plan is perfect for someone who wants to start an online business. The Power plan is suitable to improve your flexibility and power for heavy internet traffic. The Pro plan is for people who want maximum functionality and speed for large eCommerce sites.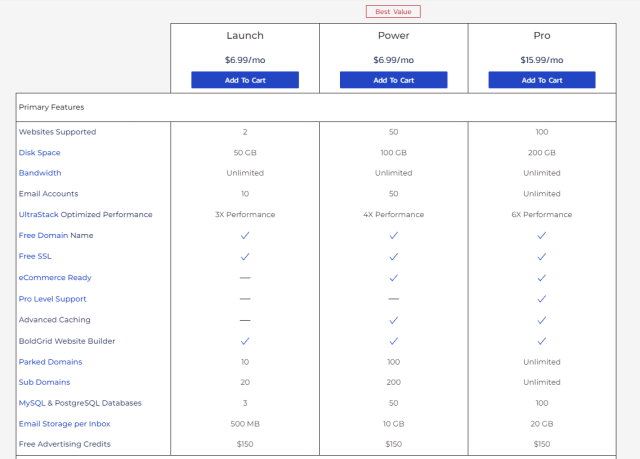 8. WP Engine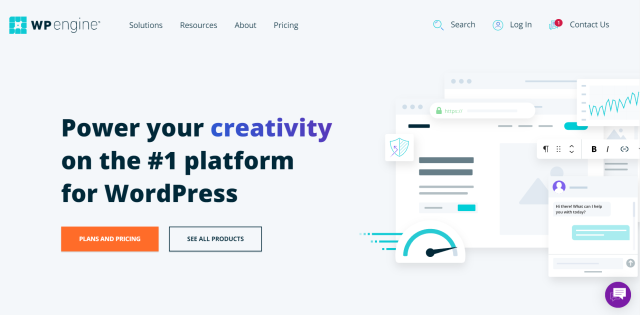 Fastest Managed WordPress Hosting
Talking about lightning-fast website speed, WP Engine is the top in the game. They have a track record of offering the best managed WordPress hosting service with ultra-fast software. WP Engine helps prevent website crashes by providing fast-loading software to store raw data on various dedicated servers. Whether your business is small-scale or enterprise-level, you need a service provider to ensure a fast-loading website.
Page load speed is an essential feature in search rankings on different search engines. The faster your site loads, the more traffic is directed to your site. Page load speed also boosts site performance. Once the site performance is okay, it increases the site's conversion rates and reduces bounce rates.
The managed hosting service relieves you of the worries about security certificates, consistent daily backups, and advanced tech solutions. Their unique technology restricts the installation of cache plugins to avoid destructive interference. The platform also provides necessary tools for website builders, website management, and cloud hosting. These tools enable a sense of creative agility, which improves your site's optimization.
WP Engine's integrated solutions set up a digital experience on WordPress hosting to grow your business. They use open-source technologies to maintain a faster pace of innovation. Open-source technologies deliver more innovative ideas than closed systems.
Over 1.2 million websites in the world use WP Engine. This is because they've been able to trust the platform to deliver beyond expectations. Security solutions block millions of cyber attacks on websites daily. Website protection automatically protects your business. There are constant updates that monitor your website's performance, safeguard your data, and secure your website.
The customer service comprises award-winning experts who work 24/7/365 to ensure smooth website development. Only chat support is available round-the-clock. Other means are available at specific hours during the weekdays. Live chats pop up constantly just in case you need help with anything. The team is committed to helping customers achieve digital milestones.
Additional features are:
Ecosystem Integration
Website Analytics
Premium WP themes included
WordPress sites update
Multiple websites conversion, etc.
Pros
Free security certificates
The best option for programmers and developers
Round-the-clock chat support
Powerful security checks
60-day money-back surety
Cons
Limited storage space and bandwidth on the lowest plan
Customer service is limited to weekdays only
Not friendly for beginners
Quite expensive
No cPanel
Pricing
WP Engine has two managed hosting solutions with different pricing plans. They are Managed Hosting and Managed Hosting Plus. These plans have sub-categories with different features and costs. Let's take a look.
Managed Hosting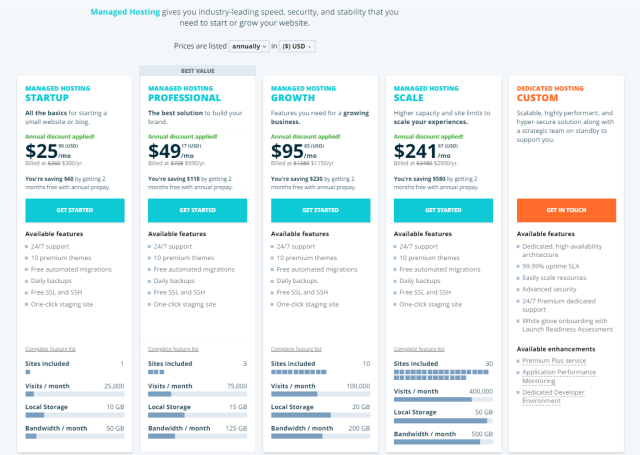 Startup Plan
Here are the features:
This plan is for people who want to start a small website or blog.
Daily backups
24/7 support
Ten premium themes
Free SSL certificate and SSH
Automated migrations
$30 per month
The Pro plan is the best solution to build your brand, and it costs $59 per month.
The Growth Plan has the best features to grow your brand, and it costs $115 per month.
The Scale plan is for higher capacity and more experience. It costs $290 per month.
Managed Hosting Plus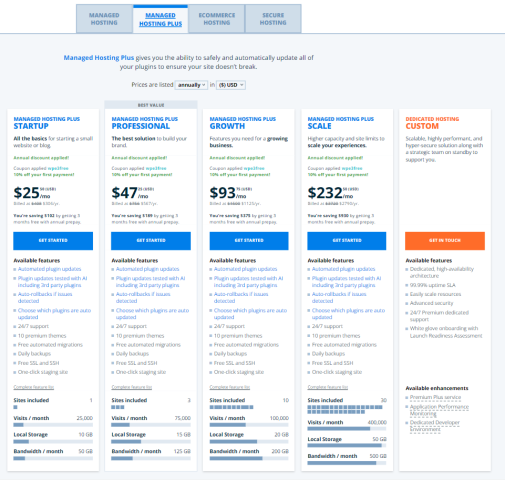 Startup plan
This plan includes features from managed hosting options plus:
Auto-rollbacks
Automated plugin updates
Availability to choose which plugins to update
$34 per month
The Pro plan costs $63 per month.
The Growth plan costs $125 per month.
The Scale plan costs $310 per month.
Click here to get a FREE Domain Name for your Blog!
9. GoDaddy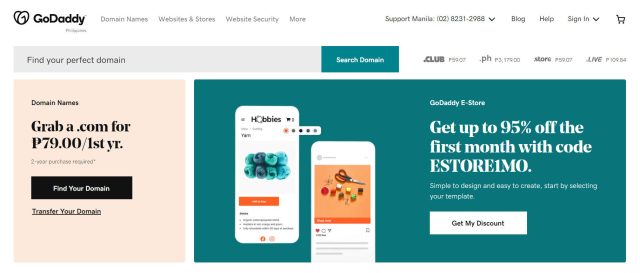 Best Beginner-friendly Interface starting at $5.99/month
GoDaddy is one of the best web hosting options suitable for newbies or people with little tech knowledge. The services ensure full support to new website owners who need a step-by-step guide on building their digital experience. They have a good selection of add-ons for users at an average budget. For newbies, there is a collection of easy-to-understand guides on building a website of your own without any hassles whatsoever.
The platform is one of the pioneers of web hosting services, and over the years, they have gotten bigger and better across all phases. They've been able to build a reputation for their credibility and outstanding performances. Their hosting plans include VPS hosting, shared hosting, and many more types of hosting, which are pocket-friendly for small and medium-scale businesses.
GoDaddy is your best bet for hosting plans that are compatible with operating systems like Windows and Linux. They have a variety of Windows and Linux-based hosting on the platform. This is a rare opportunity that people don't get to enjoy from most web hosting service providers.
As regards security, the platform exhibits expertise in providing a solid firewall and DDoS attack protection. Hackers always relentlessly force their ways through the firewalls of some businesses to steal their information for a blackmail stunt. This is why the tech support in GoDaddy goes the extra mile to provide necessary updates, security solutions, and technical configurations to ensure a smooth digital experience.
They have a 99.9% uptime guarantee, meaning little or no cases of website crashes. The customer service team is available every hour of the day, every day. They send quick feedback on any message they get. They are quick to rectify any errors they find concerning the hosting services. The platform's performance is impressive because its page load time is super fast.
The dedicated server hosting comes with full root access and no resource restrictions. Also, GoDaddy has some additional features like:
Access to developer tools
In-built drag-and-drop website builder
Easy-to-scale control panel
Network security guarantee
Global data centers
Pros
Budget-friendly
99.9% uptime surety
Tutorial clips for beginners
Full technical support
Round-the-clock customer support
WordPress installation
Cons
Site backups come with a cost
The basic plan has no free security certificate
Pricing
GoDaddy has four subscription plans, and they are Economy, Deluxe, Ultimate, and Maximum. Let's take a look at their features and costs.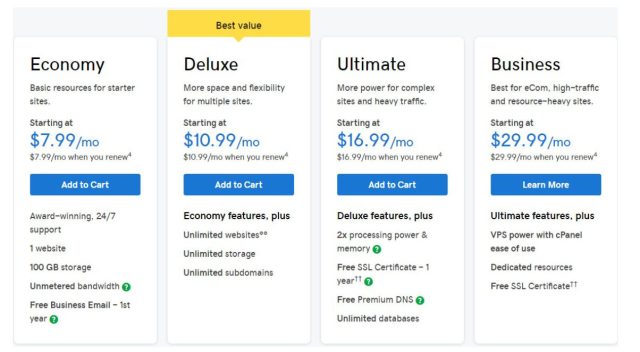 Economy Plan
Here are the features:
One website
Unmetered bandwidth
100GB SSD storage
Ten databases
Free WordPress installs
Free domain
3.99 Pounds per month
Deluxe Plan
It includes features from the Economy plan plus:
Unlimited websites
Unlimited storage
Twenty-five databases
4.99 Pounds per month
Ultimate Plan
This plan includes features from the Deluxe plan plus:
Unlimited databases
Improved processing power
Free SSL certificates
7.99 Pounds per month
Maximum Plan
This is the highest plan on GoDaddy, and it includes features from the Ultimate plan plus:
Increasing speed
Free and unlimited SSL certificates for all your websites
9.99 Pounds per month
The Ultimate and Maximum plans are recommended for people who manage a high-traffic website.
Click here to get a FREE Domain Name for your Blog!
10. GreenGeeks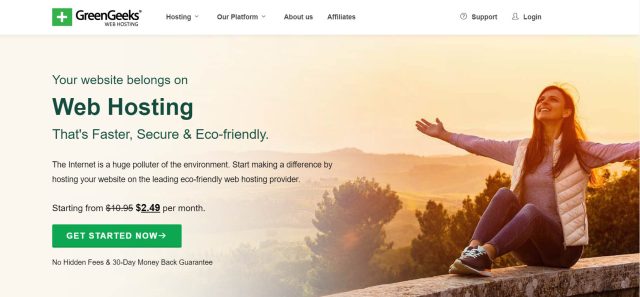 Best Eco-Friendly Web Hosting starting at $2.49/month
GreenGeeks is an eco-friendly web host provider that powers your site with unique web hosting plans while paying particular attention to keeping the environment green. These web hosts use wind energy in a bid to reduce environment-damaging carbon dioxide.
Founded in 2008, GreenGeeks powers over 600,000 sites and provides numerous advantages, such as 99.9% uptime, efficient all-day customer support, among other benefits. This web host company is renowned for its contribution to the environment, and it has received numerous awards for that.
The central web hosting control system on GreenGeeks is cPanel, just like several web hosting companies that are Linux-based. And fortunately for web hosts, this gives them access to Fantastico and Softaculous script installers. Web host administrators utilize these tools to install WordPress, Drupal, Joomla, and any other content management system (CMS) on site.
Top Features
Environmentally friendly
Reliable cPanel control panel
Free site migration
Daily backup service
Free 1-year domain name
Websites builder
Dedicated servers
Pros
Decent uptime and speed
Multiple customer support channels
Advanced security
Several optimizations
30-day money-back guarantee
Cons
Limited phone support
Less powerful WordPress
Pricing
GreenGeeks offers multiple hosting services, namely: web hosting, reseller hosting, and VPS hosting. The shared web
Web Hosting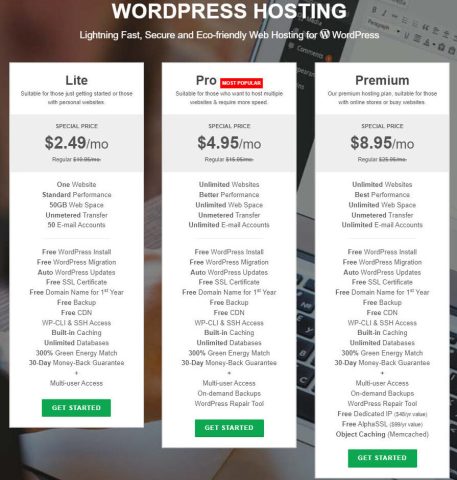 Lite: $2.49/month
Pro: $4.95/month
Premium: $8.95/month
WordPress Hosting/Managed WooCommerce Hosting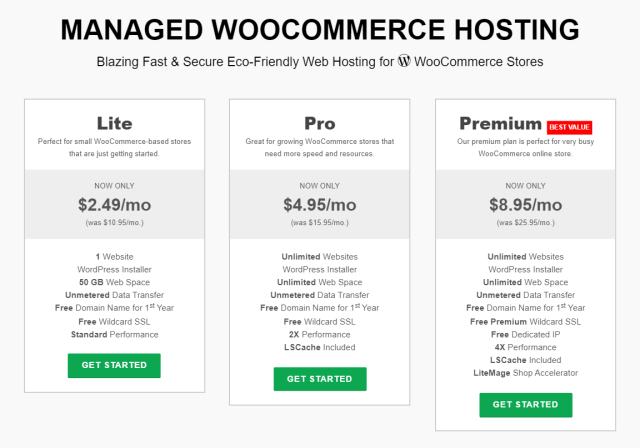 Lite: $2.49/month
Pro: $4.95/month
Premium: $8.95/month
Managed VPS Hosting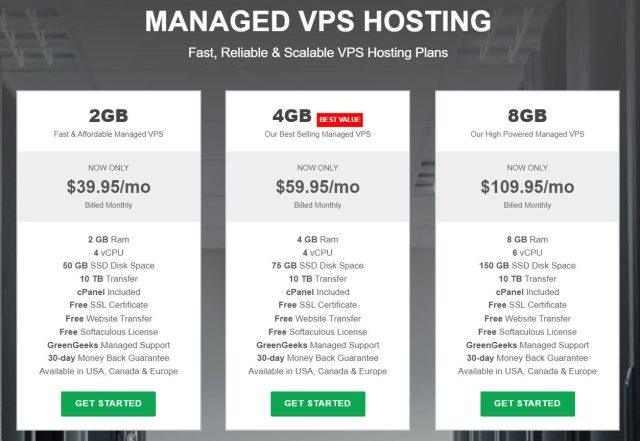 2GB: $39.95/month
4GB: $59.95/month
8GB: $109.95/month
11. Namecheap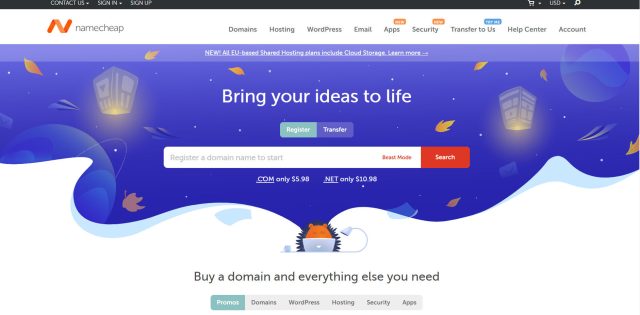 Best Abundant Hosting Options starting at $1.58/month
When you hear of Namecheap, you would think of a domain registration and management company. Albeit true, Namecheap is also a web hosting company that has been around for over 20 years. It is an ICANN-accredited registrar founded by Richard Kirkendall. Over the years, this company has succeeded in making a name for itself in the web hosting industry through its flexible and affordable services with millions of clients worldwide. Some of the services provided by this company are:
Domain Privacy Protection
After buying and registering a domain name, there is a big chance that your personal information is now stored in a public directory where anyone can access it. To protect sensitive data, hosting providers like Namecheap offers domain privacy protection, a service where your accurate information is modified in a manner to protect you before it is uploaded to a public directory.
Free Domain Names
As mentioned above, Namecheap also provides domain management services, and surprisingly, customers can also get a free domain name upon signup. However, a renewal fee will be required for the domain after the first year.
After purchasing or receiving a free domain, the next step is hosting, and uptime is one of the crucial factors to consider in this process. Namecheap is known for its impressive uptime ranging from 99.96% to 100% in some months.
DNS Hosting
This is another service offered by Namecheap, and it aims to convert your domain name to a unique IP address for your website. In a situation where you already have a registered domain without DNS hosting, you can purchase it from this company.
More extensive DNS networks have also been found to contribute to faster load time. Next to uptime, the load time is the second most crucial factor for choosing a web hosting service. This is so because speed is often associated with client's satisfaction. Research has proven a higher probability of a user leaving a web page if it takes up to six seconds to load.
In addition to the services above, Namecheap also provides services in Managed WordPress Hosting, Shared WordPress Hosting, Reseller Hosting, VPS Hosting, Private Email Hosting, and many more.
Pricing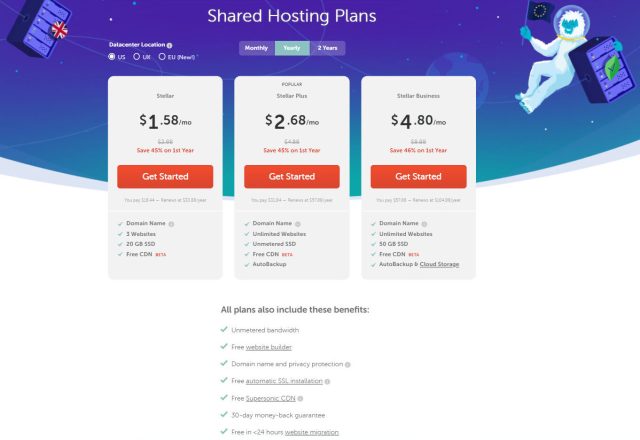 Namecheap offers a variety of hosting plans depending on the kind of website to be hosted. A small blog site will not require the same hosting plan as an e-commerce site with millions of visitors. With that being said, below are the prices for some of Namecheap's popular services.
Shared hosting starting at $1.58/month.
WordPress hosting starting at $3.88/month.
VPS hosting starting at $6.88/month.
Reseller hosting starting at $19.88/month.
Dedicated hosting starts at $48.88/month.
Pros
A credible brand with over 20 years of experience.
Offers cheap domain names.
Reliable help center.
They provide customer-oriented services
User-friendly interface.
Impressive security features.
Website builder
Swift and easy migration from other web hosting services. A full cPanel migration can be done in less than 24 hours with a downtime not exceeding 15 minutes.
Daily backups.
Allows bitcoin payment.
Cons
SSL certificate is often difficult to set up.
Limited space.
Doesn't support mobile devices.
Finally, Namecheap has a reputation for providing a personalized user experience. Being a "small" company, its services are more customer-oriented compared to others.
Click here to get a FREE Domain Name for your Blog!
12. Liquid Web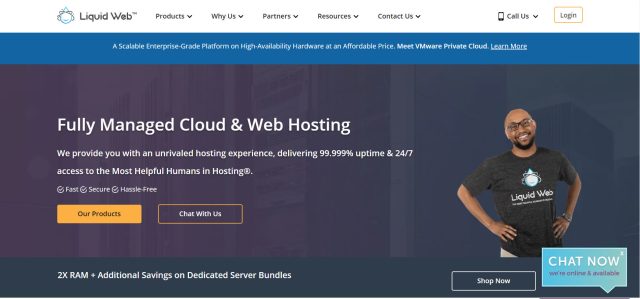 Best Fully-Managed Web Hosting starting at $15/month
Liquid Web is a web and cloud hosting provider founded over 22 years ago. It is a business class hosting company that provides top-notch security and performance. It is also one of the best options to consider when your website needs are not shared hosting services related.
Although this company does not offer a shared hosting plan, it provides other exciting services like managed WordPress hosting, dedicated server hosting, cloud hosting, and virtual private server.
In addition to this, Liquid Web has about 250 professionals ranging from engineers to administrators, technicians, and customer services agents who work together to enhance user experience. Aside from these professionals, there is also a "Sonar Monitoring" team created solely to resolve problems with servers even before the customer becomes aware of them.
In 2015, the company also earned a top Net Promoter Score (NPS), a score used by businesses to rate customer loyalty, superseding top companies like Amazon, JetBlue, and Apple.
Managed WordPress Hosting
WordPress hosting requires optimum speed, security, and load time for satisfactory operation. For this reason, it is best to use a managed WordPress hosting service. Although using a shared hosting plan that supports PHP and MySQL may seem less expensive, it does not provide as much security and remarkable performance as a manage WP hosting.
What makes Liquid Web different from other web hosting companies is that they are in charge of hardware management. They also provide control server administration and go further to provide monitoring and restoration services.
Virtual Private Server (VPS) Plans
This hosting plan is quite similar to shared hosting plans; however, it offers a better performance despite hosting multiple websites. This is because each website on a virtual private server is allocated exclusive resources by hosting providers, unlike shared hosting, where all websites draw from the same pool of resources.
Cloud Hosting
This service provides you the benefits of a distributed network. Here, your website is hosted on a distributed network of servers, making it constantly accessible even when parts of the network become faulty.
Pricing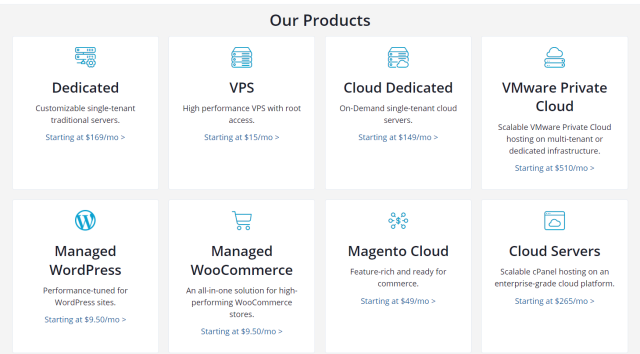 Liquid Web offers a wide range of hosting plans based on your needs and budget. Some of them are:
Dedicated server, that is, customizable traditional servers for a single tenant. This starts at $169/ month.
VPS with high performance and root access starting at $15/month.
Cloud dedicated server, that is, single-tenant cloud servers starting at $149/month.
VMware Private Cloud with infrastructures for dedicated and multi-tenant hosting starting at $510/month.
Managed WordPress Starting at $19/month.
Managed WooCommerce starting at 19/month.
Magneto cloud starting at $49/month.
Cloud servers starting at $265/month.
Private VPS parent starting at $139/month.
Server clusters, a custom-built hosting service for businesses starting at $749/month.
Payments can be made via PayPal or credit card.
Pros
Full dedicated, VPS, cloud, and reseller hosting packages
Diverse VPS plans
Powerful, high-end server specs
Top-notch customer service
Excellent uptime in testing
Free daily backups
Easy to use with sign up process in seconds
30-day money-back guarantee
Cons
No shared hosting plans
Expensive
Generally, Liquid Web has received lots of praises over the years for its incredibly fast load time and reliable support team. However, you get to enjoy its services better if you are willing to pay more for advanced hosting services.
Click here to get a FREE Domain Name for your Blog!
13. iPage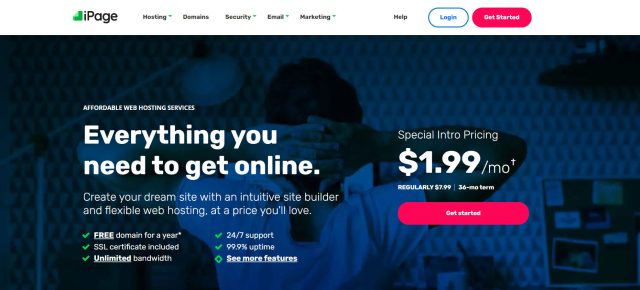 Easiest Hosting Plans starting at $1.99/month
For over two decades, iPage has offered brilliant web hosting services for over a million websites worldwide. iPage is a part of the mega-conglomerate, EIG (Endurance International Group), home to Bluehost and HostGator. iPage is renowned for a host of impressive web hosting services, such as 99.9% uptime and one-click WordPress hosting installation.
With iPage, you get a free security suite, a drag and drop website builder, and other ingenious tools required for building and managing a website successfully. However, what makes iPage a favorite for many is its super affordable hosting plan. Despite offering one of the best web hosting services, iPage still comes as one of the most cost-effective options, with discounts that rise above 80%.
iPage positions itself nicely for business owners who want to keep small business costs substantially low without settling for less.
Top Hosting Features
Simple, Free, and Easy-to-Use Website Builder: As a beginner on your first visit, iPage offers effortless navigation that makes you comfortable. Even if you're not using WordPress site hosting, their web hosting services have an excellent plan that helps with a custom website builder.
Good Customer service: iPage provides 24/7 uptime monitoring and little to no records of downtime.
Decent Uptime: The services boast outstanding reliability with 99.9% uptime.
Guarantee: iPage provides a 30-day money-back guarantee in case you are not satisfied with the services offered.
Pros
Free domain name for the first year.
Organized interface with a custom shortcut button
Prompt response time.
A reliable hosting provider with 99.99% uptime
Low-cost at $1.99/month
iPage provides 27/4 customer support via email, phone calls, and live chats
Cons
No free day-to-day automatic backup
No custom cache plugins
Poor instructions for SSL certificate installation and email creation
Slow load speed
Limited server locations, which are both in the US
Pricing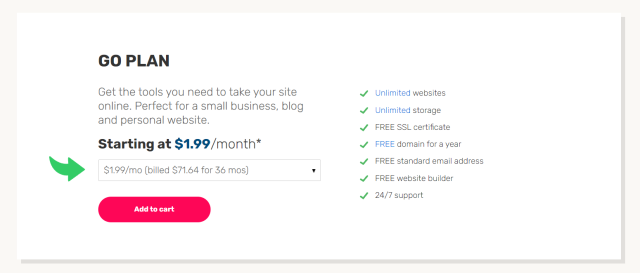 iPage prides itself on simplicity. This is why it offers only one web hosting plan, known as the Go Plan, and could cost as low as $1.99 per month. This is a pocket-friendly hosting dedicated to providing all you will need to take your business online. In this package, you also get a free domain that lasts for a year, free security certificate, and unlimited bandwidth.
To help you understand the value on display better, iPage is offering unlimited domains instead of a one-domain offer that you get with the cheapest plans from most web hosting companies. Other benefits that are included in this plan are as follows:
Limitless email addresses
Easy WordPress site hosting feature
e-commerce functionality
Free credits for use on search engines
Free site analytics
Even though you get the free domain name for the first year, the iPage domain is still going to cost $17.99 per year for renewal plus another $9.99 for domain privacy.
Billing Periods
12 months – $35.88, that is $2.99 per month
24 months – $59.76, that is $2.49 per month
36months – $71.64, that is $1.99/month
iPage rewards customers for longer subscriptions. The longer you buy, the cheaper the hosting plans get. The $2.99 fee per month goes down to $1.99 per month when you subscribe for three years. Hence, it is recommended that you purchase the longest possible plan, as this will save you some money.
VPS Hosting
For customers who want better control and flexibility, iPage offers the VPS hosting that comes with a 1-year free domain and free installed scripts. They also offer custom and cloud-based support. The hosting plans include:
The basic plan (from $19.99 per month) gives you 40Gb disk space, 1GB RAM, an IP address, and 1TB bandwidth.
Business (from $47.99 per month) gives you 90Gb storage space, 4GB RAM, 2 IP addresses, and 3TB bandwidth.
Optimum (from $79.99 per month) offers 120Gb storage space, 8GB RAM, 2 IP addresses, and 4TB bandwidth.
Dedicated Hosting
This is another plan that has similar features as VPS Hosting, but also includes special resources and complete customization. The hosting plans are:
Startup (from $119.99 per month) gives you 500Gb disk space, 4GB RAM, 3 IP addresses, and 5TB bandwidth.
Professional (from $151.99 per month) gives you 1000Gb disk space, 8GB RAM, 4 IP addresses, and 10TB bandwidth.
Enterprise (from $191.99 per month) offers 1000Gb disk space, 16GB RAM, 5 IP addresses, and 15TB bandwidth.
Final Thoughts
More website hosting companies continue to spring up, but guaranteeing yourself an excellent service requires that you choose from the best web hosting services listed above. While many web hosting providers focus on basic hosting, our top picks have led the race by offering web hosting services alongside other unique provisions. These include live chat support, SSL certificate, disk space, unmetered bandwidth, domain name freedom, phone support, etc.
Bluehost is undoubtedly the best web hosting service provider, offering convenience, reliability, competitive pricing, and customer support. HostGator and Hostinger are closely behind with fantastic web hosting. However, other web hosting providers on the list offer unique services that are sometimes better suited for specific businesses. You definitely would not go wrong with any of the web hosting providers listed above.