Zacks Review 2023: The Beneficial Sides Of Zacks Investments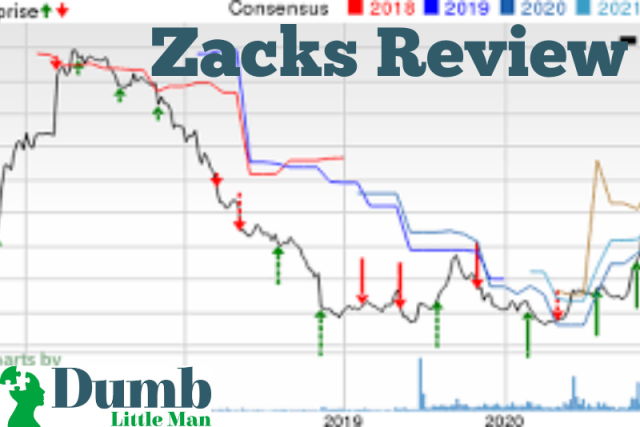 Zacks Investments is a personal finance company that offers stocks market investing, retirement planning, and mutual funds. Zacks site provides investors with information on stocks, bonds, ETFs, premium screens, Mutual Funds, 401k plans, and IRAs.
The Zacks Investment team includes certified financial planners to provide personalized service for your needs.
Zacks also have an award-winning stocks research department that follows the latest news in the industry so you can stay up-to-date on what's happening in the global economy.
To know more! Keep reading!
Zacks Investments Review: Here We Go!
What is Zacks?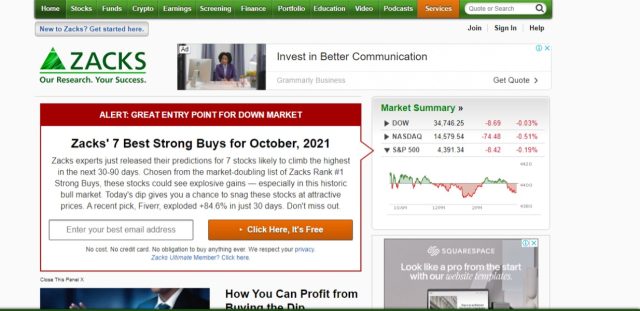 Stay on the right side of the market with Zacks. Get insights from Zacks analysts daily to help you find new money-making opportunities and avoid big blunders.
Insightful, timely stocks research by seasoned professionals = Success
When you start your day looking at your investments, it's vital that you have a good idea of where they stand and what could happen next. It is critical for investors to be cut off from all distractions so they can concentrate fully on making informed decisions on their investment strategies.
You can find stocks and gain access to portfolio-based new stocks on Zacks via the stock research tool.
| RECOMMENDED TRADING COURSE | REVIEW | VISIT |
| --- | --- | --- |
| | #1 Forex, Crypto and Stocks trading course. Ranked most comprehensive by Investopedia and Best by Benzinga. Free to Try! | |
Who should use Zacks Premium/Investments?
An individual has different needs than an investment group. Retail investors, for example, are less experienced active investors who typically buy and hold investments they make in stocks through funds or other means for years at a time.
Surprise traders, on the other hand, are not long-term investors and aim to beat short-term stock movements by grabbing quick deals on securities that their analysts have deemed overvalued or undervalued based on the latest news releases.
Surprising releases of information can include anything from quarterly earnings updates to announcements of mergers or acquisitions with competitors or partners.
These surprise traders may also pay attention to the relative strength index (RSI) curve, which tells them whether stock prices are overbought or oversold.
Both a retail investor and surprise trader can use Zacks Premium/Investment's software to gain a better idea of how security may perform in the immediate future.
However, neither type of trader should expect to consistently make money from their trades – professional analysts who spend all day working with market data may be better suited for that task.
Zacks Premium/Investments' (ZI) software can be used by different types of investors and traders: "retail" or less experienced traders like healthcare innovators; "surprise" or more active; and/or more advanced traders, who spend all day working on market data.
CLICK HERE TO READ MORE ABOUT ZACKS
Membership has its privileges
And when it comes to investing, the right information can mean the difference between Success and failure. Zacks premium screens provide readers not only with insightful daily analysis but actionable advice that makes sense for their individual strategies.
Zacks offers three membership services to meet different types of investors.
Zacks Ultimate
The timely, actionable insight that doesn't come at a price. Members are able to choose from 3 packages for more information on specific stock research areas and receive access to all reports without paying an upgrade fee. Let Zacks give you the edge in trading services today!
Zacks Investor Collection
A vast collection of timely, informative updates is gathered in one place to ensure every investor has the information they need to make informed decisions with their money.
With three subscription levels designed for all types of investors, you will get quick access to investment news that impacts your portfolio no matter how big or small it is. Get started on achieving your goals by signing up today!
Zacks Premium
In Zacks Premium you get timely, actionable insight with a focus on specific industries. Zacks Premium Members receive up-to-the-minute Zacks Premium stock research to help them make the best possible investment decisions every day based on the latest news and updates from Wall Street.
In addition to access to all reports, Zacks Premium members also enjoy additional perks such as email alerts whenever new information is posted along with quarterly conference calls featuring market analysts and industry experts.
With Zacks Premium, give your portfolio an edge over the competition by signing up today.
CLICK HERE TO READ MORE ABOUT ZACKS
Various Tabs and Features of Zacks Investments
Earnings
Zacks platform provides many great tools to help you find the best stocks to buy on your portfolio. It has a screener that allows you to screen for different portfolio options in order to find the most promising investments out there.
It has earnings calendars so you can see when next quarter is coming up and which companies are likely to release their profits soon.
Furthermore, it also has earnings ESP (expected surprise prediction) which tells you whether or not analysts predict that the company will beat expectations or not. All of these features allow investors like yourself to make more informed decisions about your investments.
Stock Screener
Zacks platform also provides a stock screener. A sell signals stock picks screener can quickly search through thousands of candidate stock picks with one click on a button.
You can use the screening feature to screen by factors such as market cap, price/earnings ratio, and PEG ratio.
Furthermore, you can also screen for stock picks in the Zacks 1 rank list that have a Zacks Rank of 1 or Zacks Rank 2 which features stocks that are expected to go up in value soon.
Mutual Fund Screener
The site also has a Mutual Fund screener which lets you search through thousands of MFs and other investment vehicles and find those with the highest returns.
ETF Screener
The website even contains an ETF (exchange-traded fund) screener where you can find those investments with the highest returns over time as well as those predicted to rise in value soon.
There is also a premium research wizard portfolio whereby you can select your own stocks and see how they would perform in a portfolio.
Education
Zacks offers to educate its users on the stocks market. It has a podcast section where you can listen to interviews from some of the top financial leaders out there for informational purposes and learn from them about how to make your money grow according to your portfolio.
In addition, it has an education center with many tutorials on how to use the website and get started investing right away on the portfolio. Also, Zacks Investments has a blog that lists articles on all aspects of finance and investment so that everyone could learn something new every day.
Stock Picking Services using Zacks Rank
The website also lists stock picking services for you to buy and invest in such as those who have received a 1 or 2 stars rating from Zacks Investment Research (Zacks Rank) in the Zacks 1 rank list.
Zacks 1 rank list designations indicate that these companies are expected to go up in value soon. Other great options by Zacks 1 rank list are those companies that have a Zacks Rank of 1 or Zacks Rank 2 with an expected surprise prediction of beat earnings estimates.
These Zacks 1 rank list earnings estimates are all considered to be high-quality investments that will likely see your money grow over time by earnings estimate revisions.
Zacks Investment Research
Zacks Rank research is powered by Zacks Rank, a powerful tool for investors that provides insight into stocks performance relative to thousands of other stocks and ETFs via Zacks 1 rank list
Summary of Zacks Premium Worth Offerings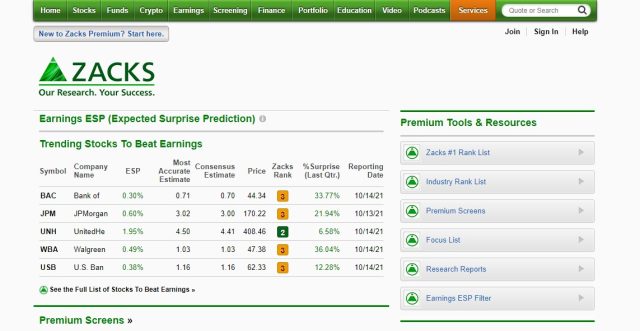 For one month Zacks Premium review subscribers receive access to daily Zacks Rank updates via email in the form of a Zacks 1 rank list.
Zacks Rank of a total of 58 Firms is covered including 22 SMA50 stocks, 28 DMA150 Stocks, 4 Nifty100 Stocks & 2 Nifty 50 Stocks in the Zacks 1 rank list. After 30 days free trial of using Zacks 1 rank list you will have to subscribe to keep using the following tools and resources:
Zacks 1 Rank List: Zacks Premium review provides Daily Zacks Rank updates of their Zacks 1 rank list stocks.
Industry Zacks Rank List: In Zacks Premium review, Daily Zacks Rank updates of the top 25 stocks in each industry group.
Premium Screens: Zacks ranking of 4-5 premium screens updated daily in Zacks Premium review including a library screener, earnings per share screen, dividend yield screener & relative valuation screen with Zacks ranking based on Zacks Premium Industry Zacks Rank and Zacks Premium review Common Stocks Ratings System.
Focus List: You get 40 names that meet specific selection criteria every day in Zacks Premium including highest EPS Growth, Net Income growth, Sales Growth, and Return on Equity figures' relative to sector'.
Zacks Premium review is a great resource for analysts who need to quickly narrow down their options.
Daily Earnings ESP Filter: Dow Jones Industrial Average earnings esp filter applied to Zacks Rank list so you can find filter stocks that are expected to report on earnings esp filter the same day in Zacks Premium. The filter stocks zacks scores tell you of recommended stocks or you may say stock recommendations to gain access to new stocks investment style/ financial decisions by earnings release of the overall market.
Zacks Research Report: There is 5 Zacks research report that includes Zacks Premium Top EPS Gainers, Zacks Premium Top Net Gainers, Zacks Premium Highest Relative TSI, equity research reports.
Zacks Premium Provides a research report on specific holdings of Zacks #1 Ranked stocks.
CLICK HERE TO READ MORE ABOUT ZACKS
Alternatives to Zacks Investments
Zacks Premium/Investments is for people who don't mind paying for their investment tips, especially if they are new to trading. But there are other options out there other than Zacks Premium, including free ones like FinViz (good charts + ideas), Tradier (tons of content), and Tradingview (technical analysis). If you can already trade well on your own or just want ideas, go with these alternatives.
But if you're looking for something that gives solid research insights in addition to good stock ideas, I would recommend Zacks Premium.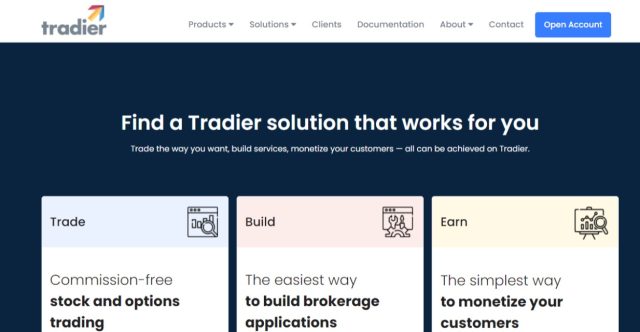 One of my personal favorites! This website has an insane amount of content, including individual analyst picks (chart+technicals included), sector analysis reports with their 'camp' assigned on the chart based on how they see the stock in the future, and even articles about different investment strategies. The downside is that they charge $149/month for their version of 'insightful', but I think it's worth it considering how much information you get!
CLICK HERE TO READ MORE ABOUT TRADIER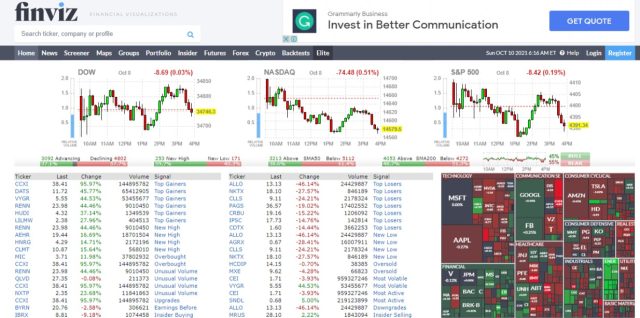 Great charts and good stock ideas, plus social media integration (if you're into that). My main problem with this site is that it's slow when scrolling through charts to find what indicator or pattern you want to study more closely. Sometimes when doing a quick scan of an entire page, there are stocks at the bottom of each column without description because they went off-screen, so you have to scroll all the way back up to the top. Finviz is usually pretty good about putting important levels directly on the chart, so if you have a quick question about P/E or other metrics, you can find it quickly enough.
CLICK HERE TO READ MORE ABOUT FINVIZ
3. FidelCrest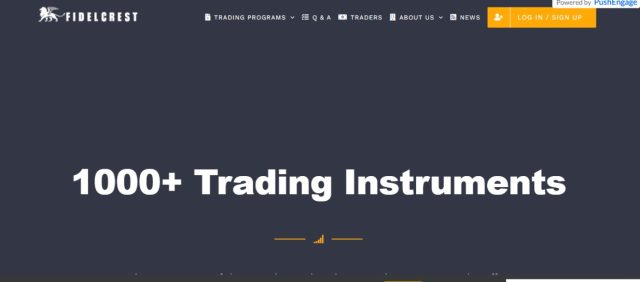 This website has an 'insight' section with analyst reports that are decently strong in both content and presentation! More of a stock idea generator than anything though… I'd say this is your best free option for ideas that aren't available anywhere else (or just need more confirmation).
CLICK HERE TO READ MORE ABOUT FIDELCREST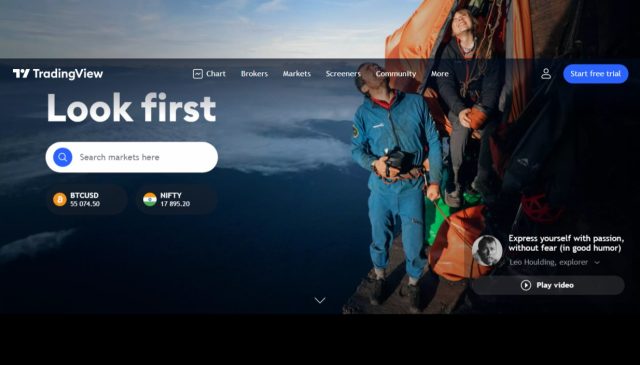 Tradingview is my go-to when I want to do some technical analysis. It has a bit of everything, but I'd say its strength is definitely the charting tools. They have their own indicators that are helpful for finding patterns, and there are also tons of free ones available on the site – think Oscillators, Pivots, Ichimoku Clouds, you name it!
CLICK HERE TO READ MORE ABOUT TRADINGVIEW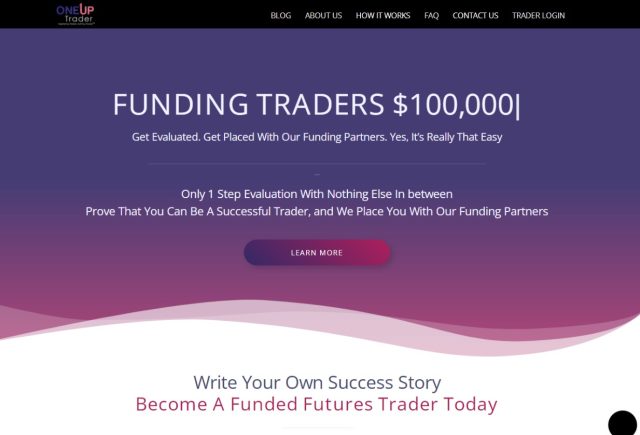 This is a website that presents all the key moving averages for each stock analyzed on their site. They also have an analyst section, where you can read about a particular idea and see how it has performed so far. Additionally, they have a great charting tool with very user-friendly indicators! The only downside is that I don't know of any websites that allow easy import from OneUp Trader charts… they're definitely worth checking out, though!
CLICK HERE TO READ MORE ABOUT ONEUP TRADER
| RECOMMENDED TRADING COURSE | REVIEW | VISIT |
| --- | --- | --- |
| | #1 Forex, Crypto and Stocks trading course. Ranked most comprehensive by Investopedia and Best by Benzinga. Free to Try! | |
Conclusion
If you're interested in investing and want to make more informed decisions, Zacks Investments is a great resource. With everything from earnings reports to stock screener features, there's something for everyone at Zacks Investments. And with the variety of premium services available on offer, it doesn't matter what your needs are – it has got you covered!
CLICK HERE TO GET ZACKS INVESTMENT RESEARCH AT A DISCOUNTED PRICE
Like this Article? Subscribe to Our Feed!
Passionate in tech, software and gadgets. I enjoy reviewing and comparing products & services, uncovering new trends and digging up little known products that deserve an audience.