Transparent Language Review: Reasons Why You Shouldn`t Choose It [2023]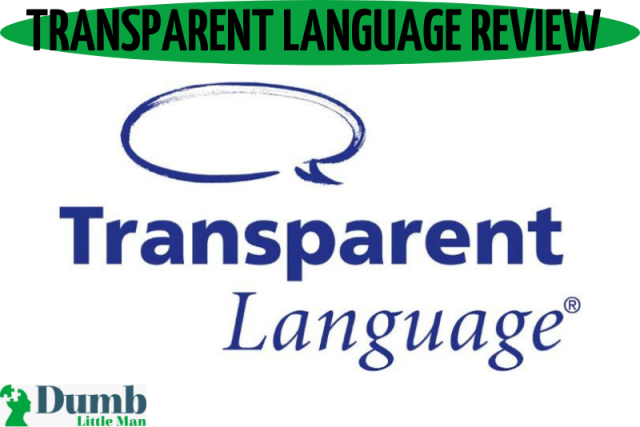 With the online web brimming with tones of software applications and web platforms for learning new languages, is Transparent Language worth your earned money?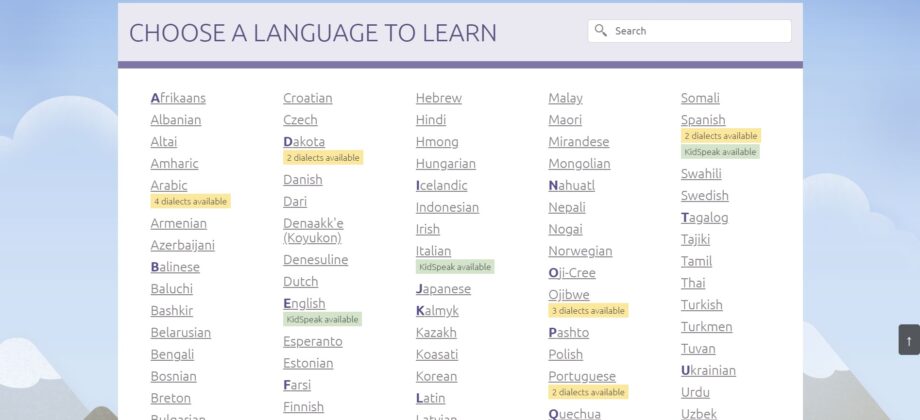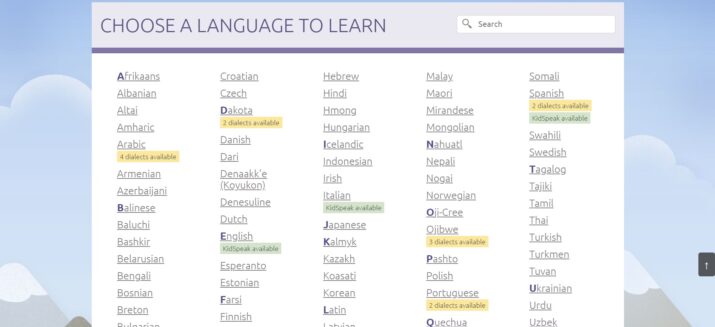 In this Transparent Language review, we will look at the pros and cons of this language learning platform as well as compare it with others like it and get a verdict.
Transparent Language Review
Here is a list of its strengths and shortcomings below.
Pros
The website includes over 100 languages for users to learn from.
It has an easy-to-use interface for people of all ages.
Users get some degree of access to the local libraries.
It has a superb speech analysis.
It has a well-designed course structure with a clear learning path
Cons
It has almost nonexistent grammar explanations or writing.
The lessons are quite repetitive because they mostly follow the same pattern.
The course is more expensive compared to other similar platforms.
Some of the languages taught have a lot more content than others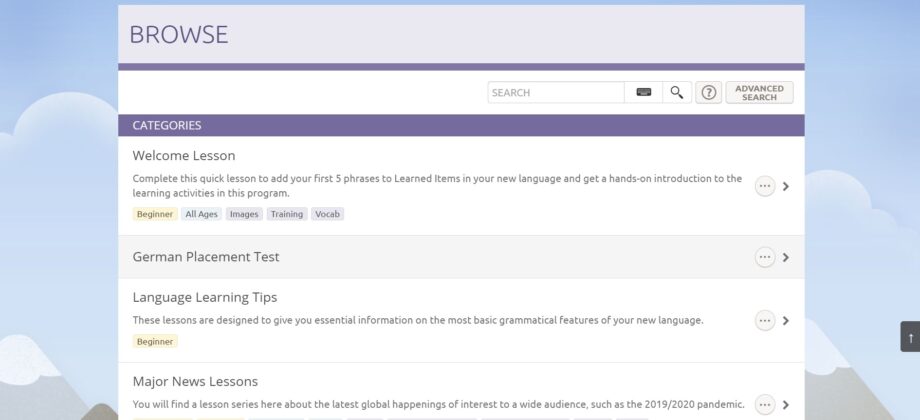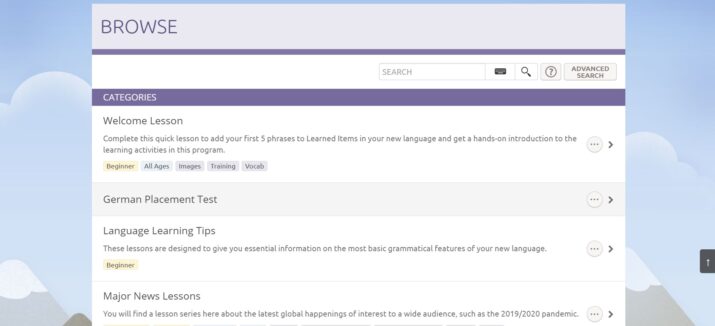 What is Transparent Language Online Program
This is a well-structured language learning platform that combines a number of exercises to help a complete beginner to gain an understanding of a new language.
With more than 100 languages being offered by Transparent Languages, anyone can be excited to try their essential courses.
Other than the common languages taught by most apps, Transparent Language also teaches languages such as Bengali, Hindi, Pashto, and more which are quite hard to find in the online supermarket.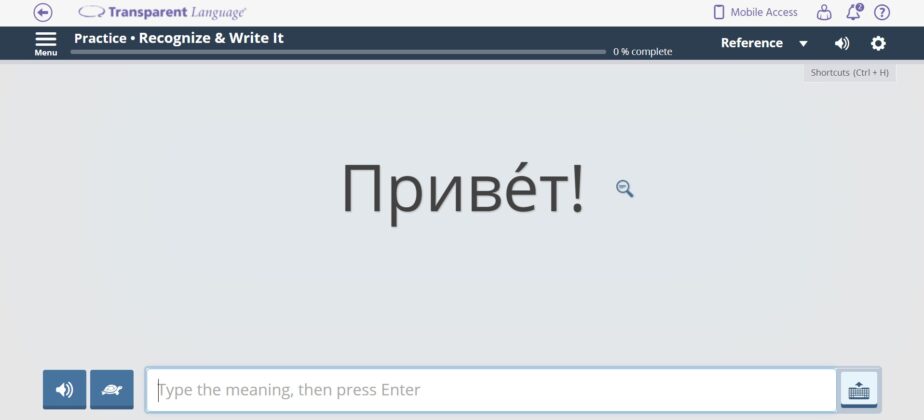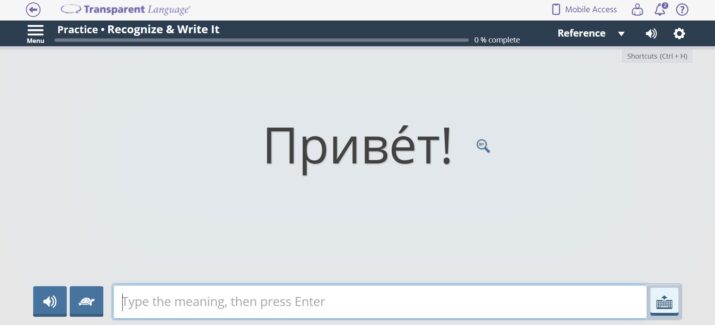 Some languages like Japanese may have slight differences related to the accent of the orator.
Most of these languages are usually ignored by a number of platforms that focus more on traditional ones such as Spanish, French, Mandarin, and others.
So is it the best language learning app? Of course, not, there are far much better platforms such as Pimsleur. Does it have potential? Yes, if the developers work more on it.
Let's jump into this Transparent Language Review to find out more.
CLICK HERE TO READ MORE ABOUT TRANSPARENT LANGUAGE
Course Summary
As earlier said in this review, the language courses vary from one to another based on content size. In as much, all essential courses are similar with comparable arrangements for learners to work through.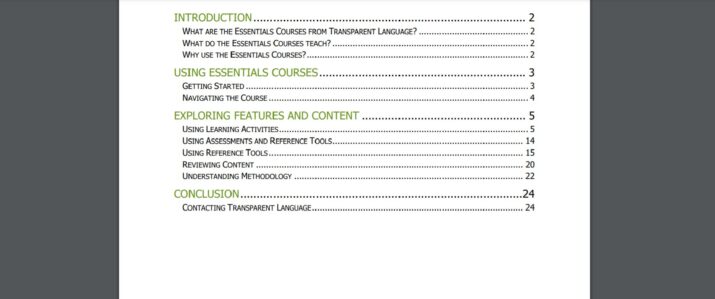 Through these essential courses, Transparent Language helps complete beginners including kids to study a new language
The My Learning Path tab of the interface is where the majority of the subjects are located. It covers topics such as staying at a hotel, eating out, dealing with money among others.
Most units in this languages program have at least 10-11 lessons while others can have as few as 7 such as Brazilian Portuguese.
We noted the Spanish plan has both the Castilian Spanish and Latin American lessons.
With each unit, Transparent offers 3-4 lessons for the learner to go through after which they have to engage in 6-9 exercises for every lesson.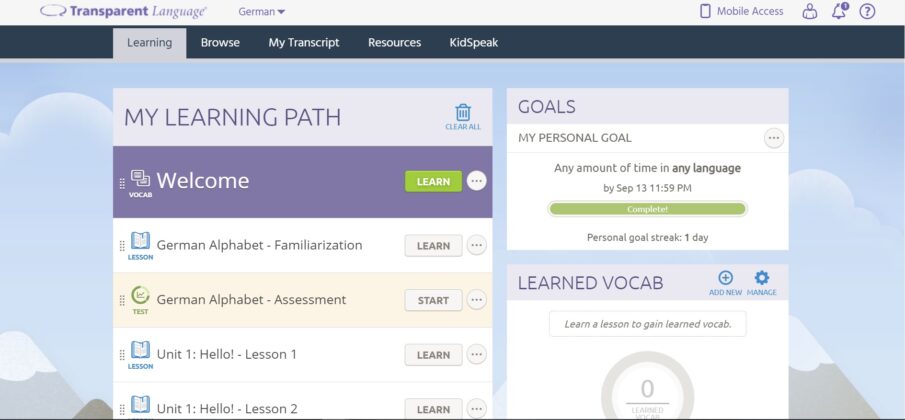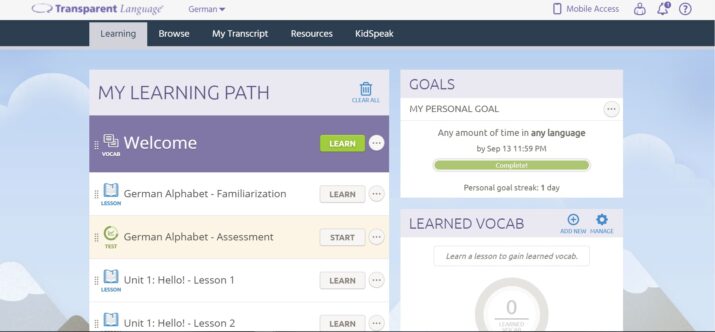 The exercises vary from one language to another and lesson to another but the pattern is mostly the same.
Each language unit has about three to four lessons.
You first start by learning the alphabet characters of a new language then practice how they are pronounced.
Grammar and dictation practice will help you learn how to write as well as pronounce each term spoken by the native speaker as we will see in a while.
Learning languages through these lessons can sometimes be very repetitive as they follow the same pattern and therefore are boring.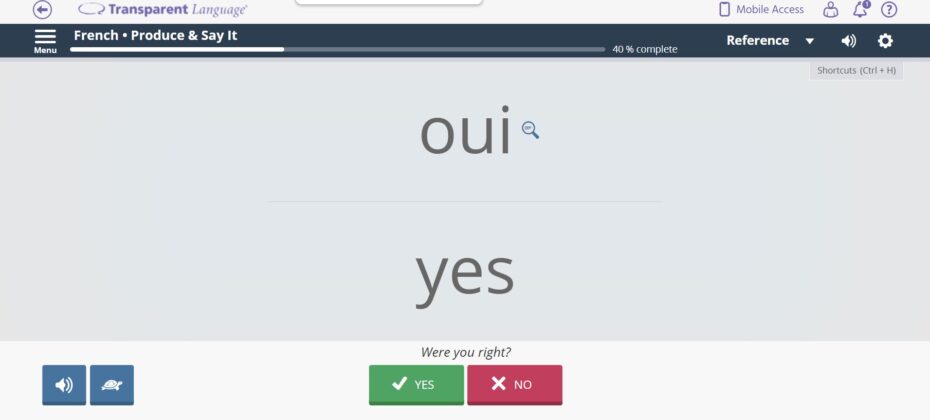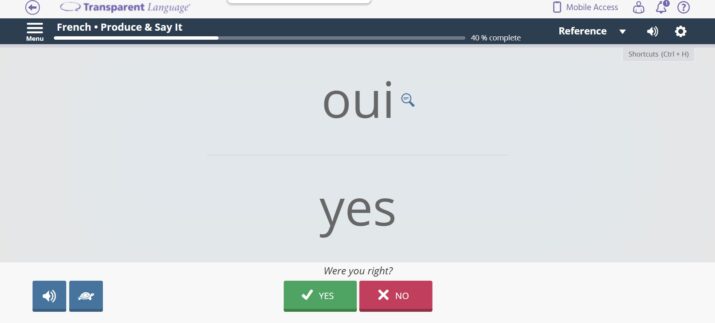 The essential language course also focuses on speaking or pronunciation, diction, listening recognition, and a little bit of grammar as shown in the browser section.
The audio clarity is excellent with a native orator speaking the words, characters, and phrases in the lessons.
The rigidity of the lessons however makes transparent Language less appealing to the learner.
There are far better apps that make the learning process less tedious, with fun incorporated into it.
However, a basic learner will get all the necessary words and phrases and start making phrases and sentences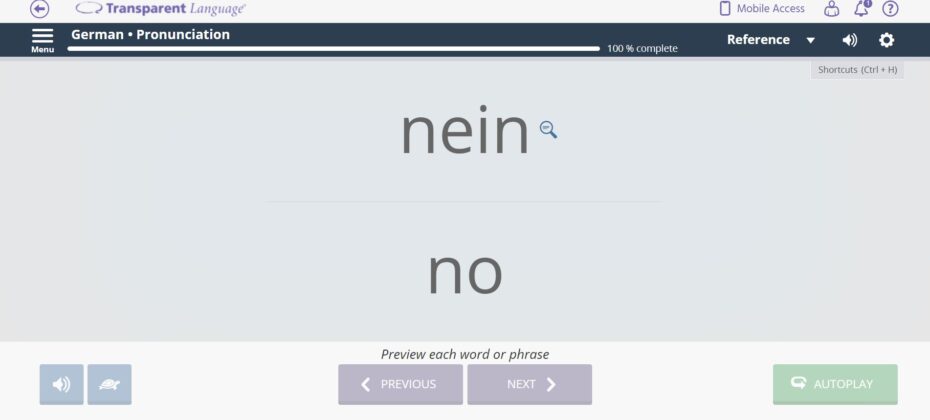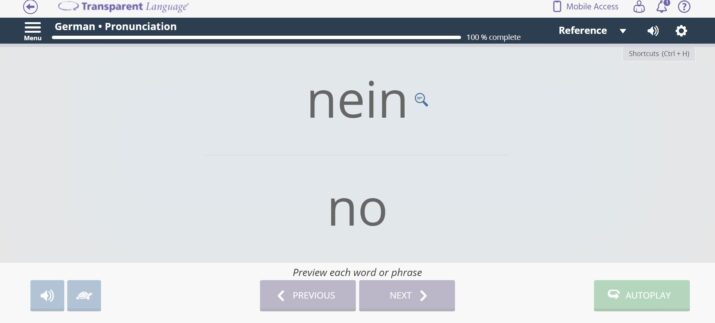 How it works
After signing up for the 14-day free trial, you are taken to a page where you select the language you want to learn.
CLICK HERE TO READ MORE ABOUT TRANSPARENT LANGUAGE
Starting Out
Once you select your language, you are taken right to the My Learning Path page where you are provided with several lesson units to learn from.
Each unit comes with its own lessons and exercises. Here, Transparent Language teaches you how to hear and say different words such as hello, thank you, no, yes, and more in different languages.
An English translation is provided at the bottom of the word in the language you have chosen to help you identify with it as you are listening.
When you click next, you are taken to the next term or phrase, and when you click on the word itself you are shown how to pronounce it, spell it, and hear the letter sounds.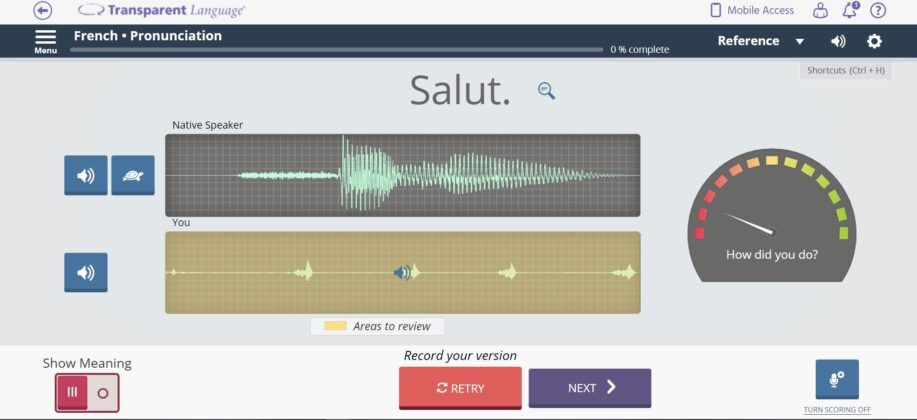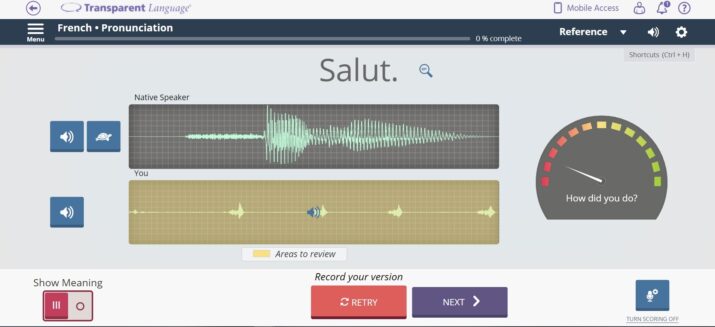 Pronunciation
In this section, learners are expected to be listening to and reading and recording themselves speaking whichever languages they're studying.
There is a speedometer-looking gauge situated on the right of the interface that shows you how well your pronunciation is though not a huge add-on.
This is after your vocals have been recorded and compared to that of the native speaker.
When learning a longer phrase, the slow-mo button when pressed somehow distorts the sounds by making them sound skewed which can be a disappointing experience.
CLICK HERE TO READ MORE ABOUT TRANSPARENT LANGUAGE
Recognition Exercises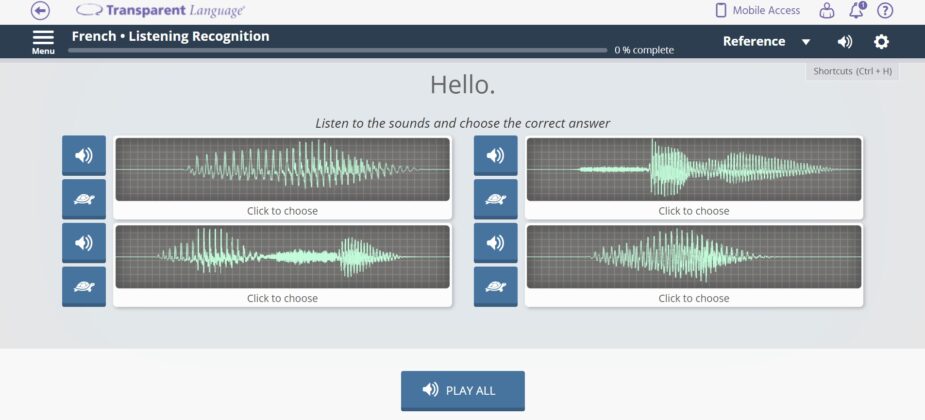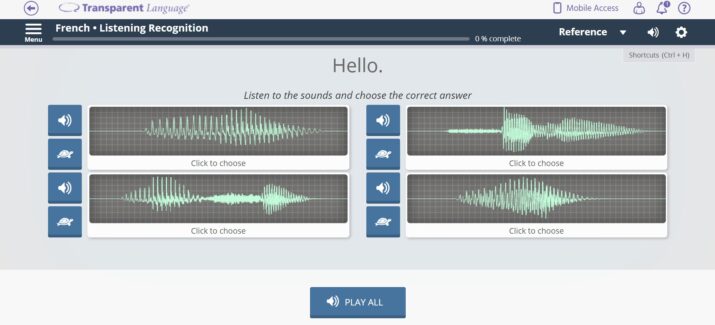 In this section of the lesson, you are required to watch and listen as words, characters, or phrases are being narrated to you as you study new vocabulary.
By use of repetitive flashcards, Transparent Languages expects you to get the vocabulary from the first time.
This is challenging however because of the little and in some languages, no grammar explanations at all from Transparent Language.
This feature could therefore feel more like an afterthought as the grammar part is hugely lacking from the tiny screen popo us that try to explain the construction.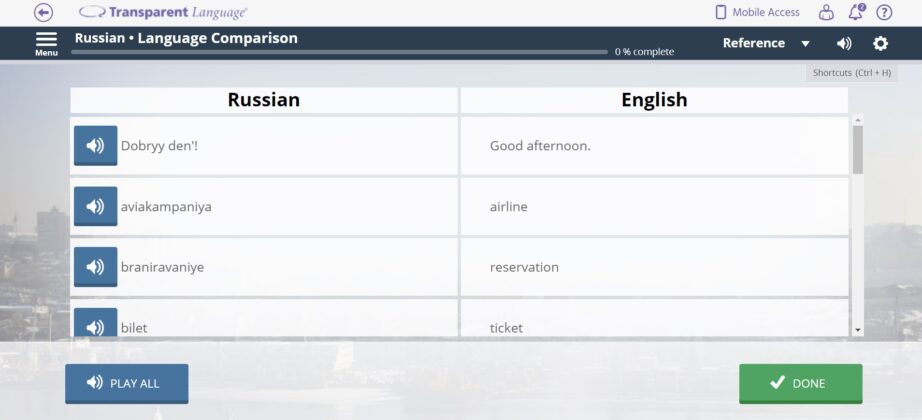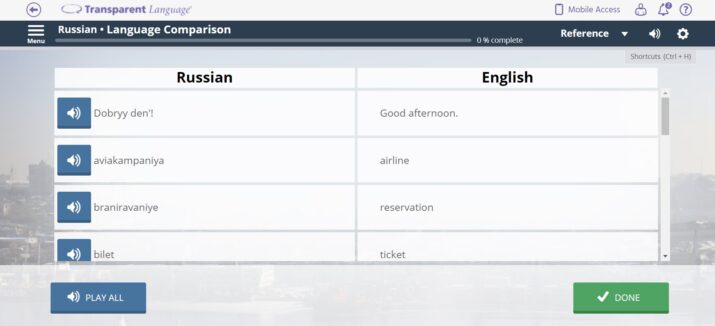 This shortcoming makes us highly recommend other alternatives such as Rosetta Stone or Rocket Languages.
They have much better grammar explanations for every vocabulary term or phrase learned as well as reviews.
Matching Section
This is the part where you get to march the German or Russian vocabulary you have learned with the English version of it.
To be successful in this free languages lesson you must have a good memory as it is more of a memorization game.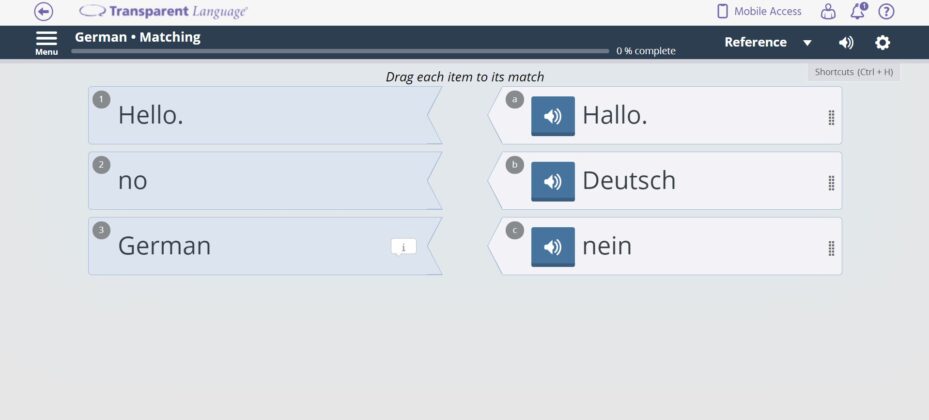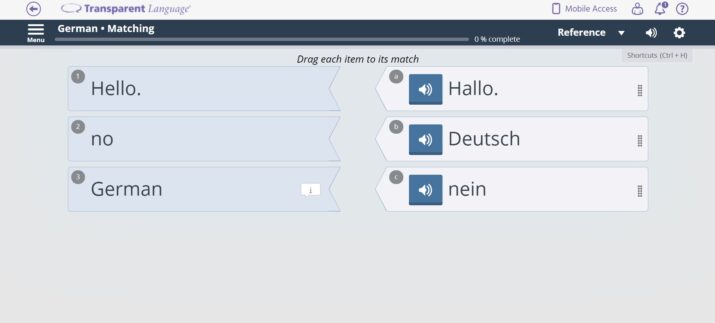 Being totally new to Russian, you will find it tough to identify a couple of words and characters. While it is a good way of learning, it does not have the slo-mo feature which helps you to listen to the word more slowly to capture the tones of the native speaker.
Once successfully done with this section of the curriculum, you go right into the next section.
CLICK HERE TO READ MORE ABOUT TRANSPARENT LANGUAGE
Produce and Say It Section
This is the part where Transparent Language is teaching you to practice by reading the English version of a word and then saying it in Russian or any other language you are learning in the program.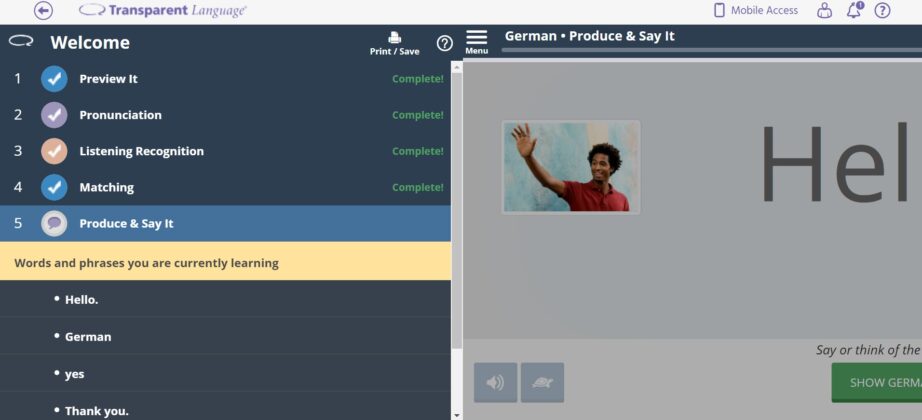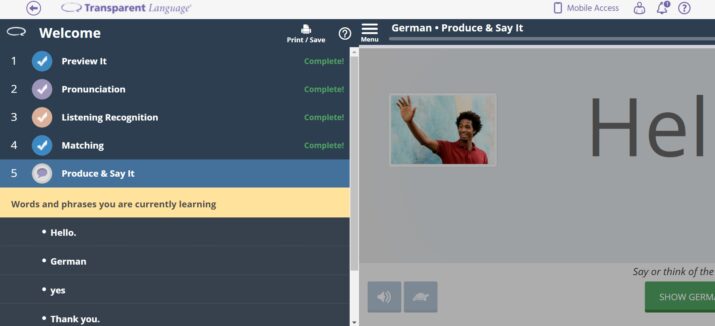 The narrator says the word whose translation is right below it and two buttons at the bottom to choose between right and wrong with no comments on.
Recognize and Write it Section
Transparent Language provides the writing part in each lesson you go through in your learning path
In this free practice session, you are requested to write down the word you see on the screen in the language you are learning in the space provided below the word.
This helps you when remembering words as well as their spellings however it can be a little congested especially when it gives the choice to add an accent as compared to other programs.
Assessment
At the completion of every unit lesson, you are expected to through reviews to test your comprehension of the language you are learning be it Russian, Japanese, or any other.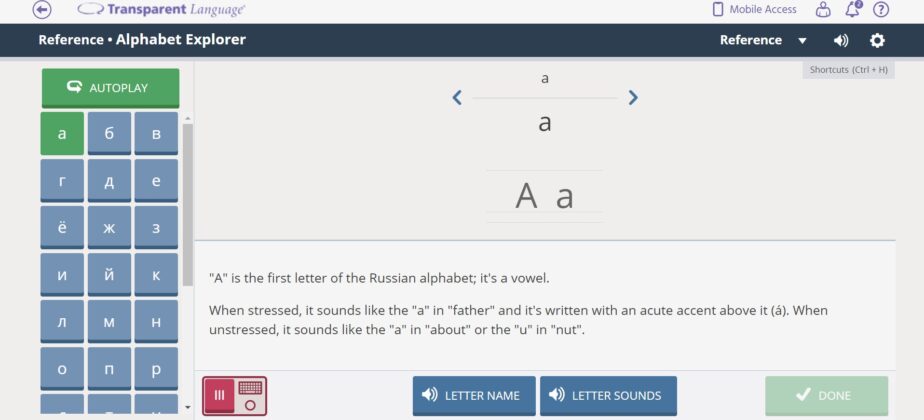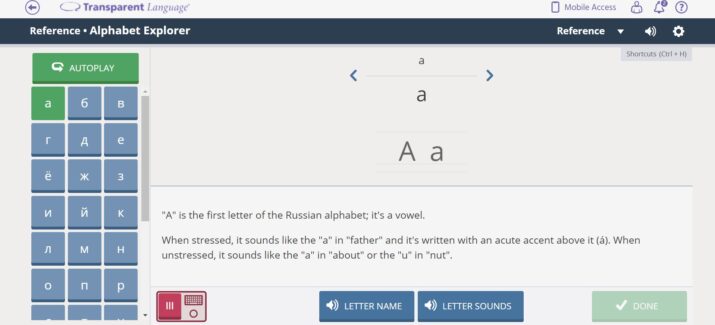 A score is awarded based on the number of questions you get right however despite the score the program always jumps you to the next unit.
A Closer Look at Transparent Language Learning
One of the things you notice with the vocabulary lesson is that not all words are useful to learn as a beginner as they could have chosen better phrases and words.
In as much, you can be surprised by the amount of information you retain due to the repetitive activities in the app.
A beginner is expected to hear words and phrases that are commonly used in everyday conversations. These include greetings or money conversations, however, there are lessons with emergency discussions that you wonder when you'll get to use them.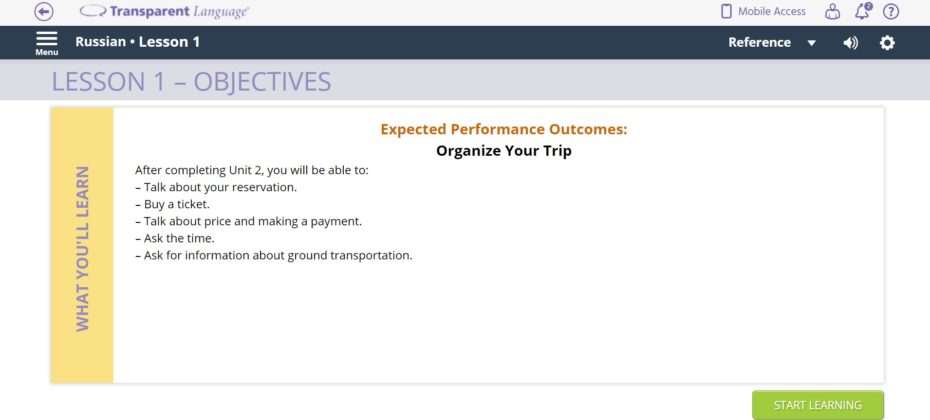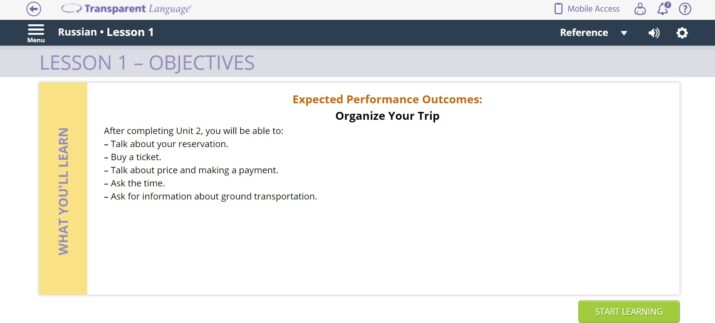 The pronunciation and writing part of the whole exercise is also lacking because you never seem to get the right native tone or accent.
Transparent Language resources also never seem to teach how to properly connect vocabularies together to form a sentence.
Instead, you only learn bits and pieces such as hungry, I want to buy, Bread, and not connecting a whole sentence after learning individual vocabs.
The boring part is that the initial words and phrases you learn at the beginning of a lesson are the same all through until you finish.
As you continue to cover the rest of the units on the language chosen, you learn more practical words and phrases through relevant topics such as dealing with money, getting around the city, eating out, and more.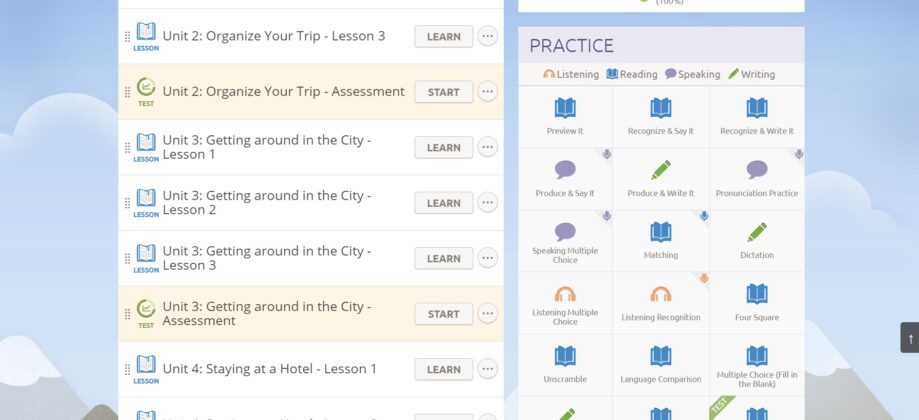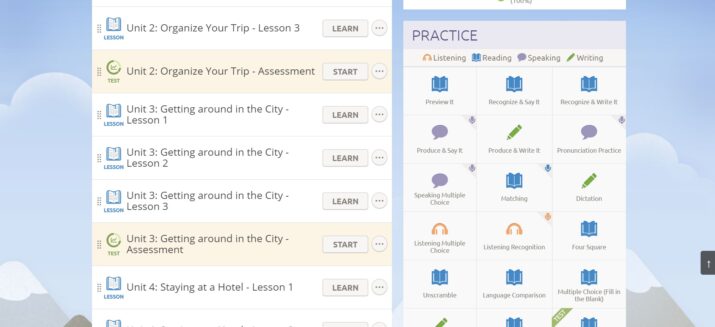 The progression however follows the similar pattern displayed in the previous units meaning it has more to do with repetition and memorization.
For instance, when learning the essential course in Russian, Transparent Language does not show the language practically works.
Instead, it forces the learner to read and memorize all words and phrases presented at the start of the lesson.
CLICK HERE TO READ MORE ABOUT TRANSPARENT LANGUAGE
General Vocabulary
Transparent offers a huge list of general vocabulary under the browse tab with a range of sections including grains, verbs, and adjectives.
Other sections include asking for directions, at the hotel, buying tickets, communication facilitation among others.
While the exercises in this Transparent Language online program section are still repetitive, it is notable that the lessons are more than the fundamental ones available on the Website.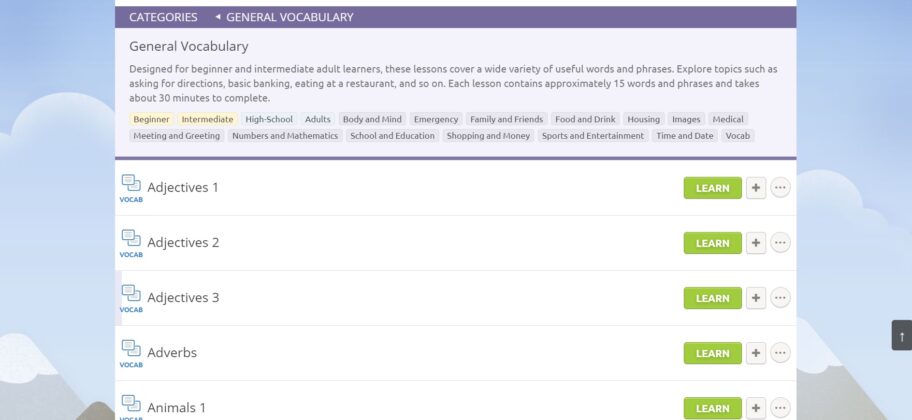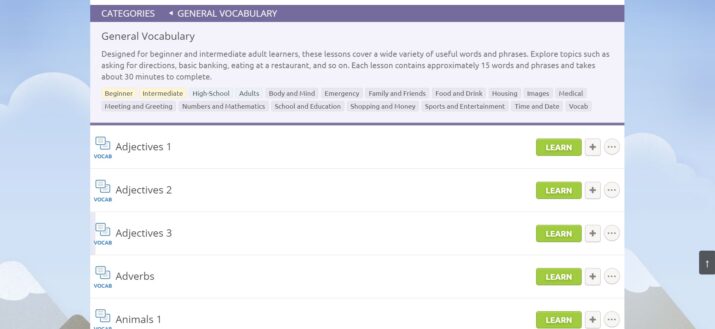 Grammar and More References
Still under the browse tab is this section where learners get to learn grammar points, the sound of each letter as well as how the alphabet works.
This part of the resource is still hugely lacking as earlier stated in this Transparent Language review.
It is however a surprise to see all the grammar lessons that have been hidden in plain sight.
The grammar tips section contains 19 videos that are between 40 seconds and two minutes in length to provide pointers on how the Russian language works.
These explanations have not been delved into in detail which is frustrating and therefore the reason we call it an afterthought.
When you click and enter into the alphabet explorer section, Transparent Language presents you with the Russian Cyrillic alphabet which you will learn in a game-like way.
You will also get to have grammar details such as adjectives, verbs, pronouns, conjugations, adverbs, etc. This section is also not well covered.
It's funny how the Russian program is so identical to the Portuguese course with minor differences such as the Russian class having 11 courses and 7 for the Portuguese lesson.
Essentials
Transparent Languages apparently seems to have provided more material in writing for the Portuguese essential course which includes an essentials reader and an e-workbook.
With 11 core essential lessons, Transparent Language provides language learners with written exercises for better comprehension as well as short conversations for analyzing and reading.
While the programs actually help you to progress to more difficulty levels depending on the number of words learned. The material provided is short of expectations and therefore more worthwhile to look for alternatives such as Rosetta Stone.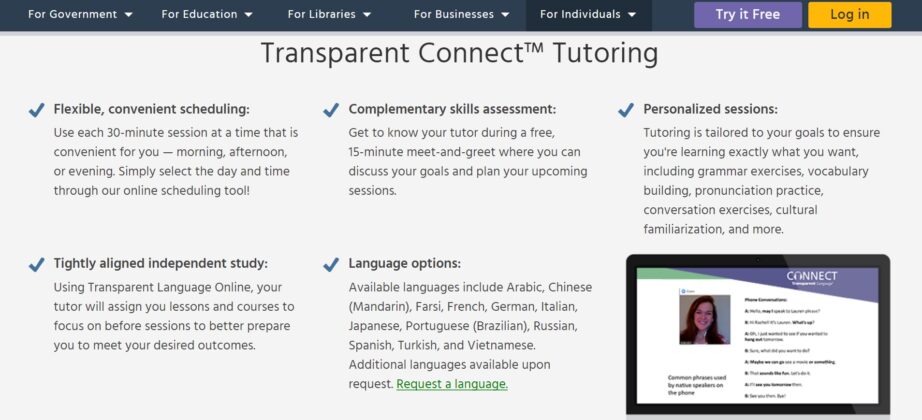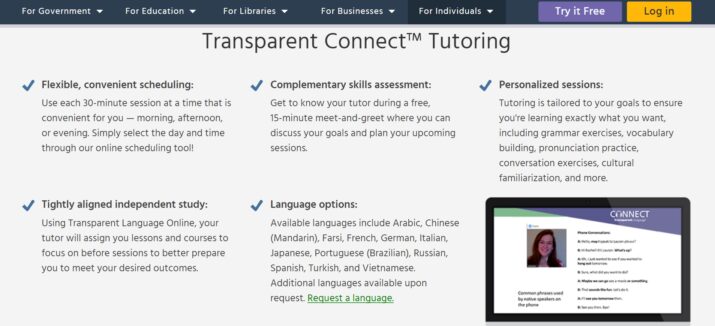 The disappointment comes in the monotony of the lessons, reciting and writing the same things over and over even in different languages.
What is impressive is that Transparent offers more than 100 languages and the range of activities it has its coverage.
The platform will be of more assistance for someone looking to learn languages that are not so common such as Arabic, Turkish, Swahili, and many more.
Transparent Language Plans and Pricing
The 14 day free trial period offered by Transparent Language is one of the best things you can get out of this service other than the many languages it teaches according to most reviews.
Within the free time period, a learner has the time to decide which language to study before making any payments or subscribing to a plan.
At the price of $24.95 per month, you get access to only one language and not all of them.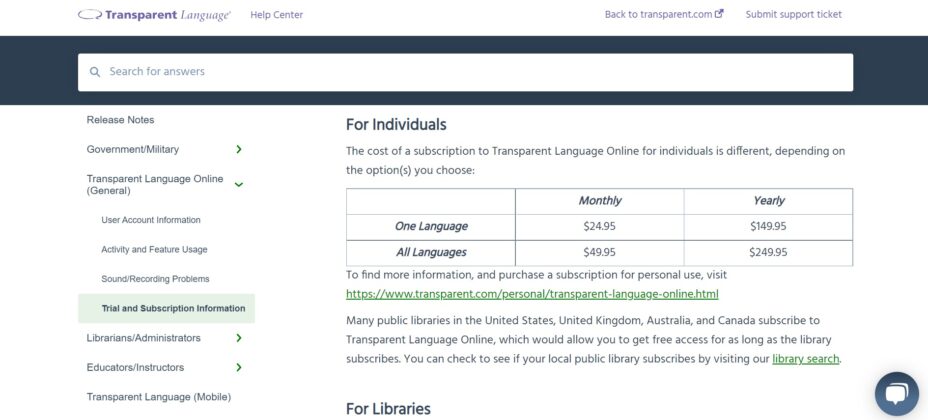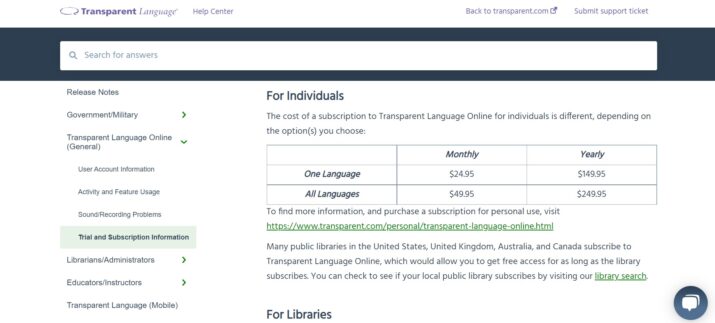 Acknowledging that the language courses do not have good grammar lessons, essential units, alphabet lessons, and vocabulary lists, the service price is quite on the higher side.
If you take the yearly plan, you get to save 50% of the cost by paying $149.95 for a 12-month program.
To access all the languages on the platform you pay a subscription of $49.95 per month or $249.95 per year.
We appreciate the fact that you get access to more than 100 languages however the cost is insanely expensive considering the material provided is lacking in a huge way.
It still wouldn't be enough to learn with even if it were free.
Not to say that the platform is not helpful because if you're interested in learning the more esoteric languages, this is a good platform to use starting with the free trial period.
CLICK HERE TO READ MORE ABOUT TRANSPARENT LANGUAGE
Other Features of Transparent Language
Transparent Connect Tutoring
For an extra $79 you get a 2 session tutoring package from Transparent Language Online that includes 30 minutes of live tutoring and 90 minutes of assignment time.
You also get access to Transparent Language Online per month.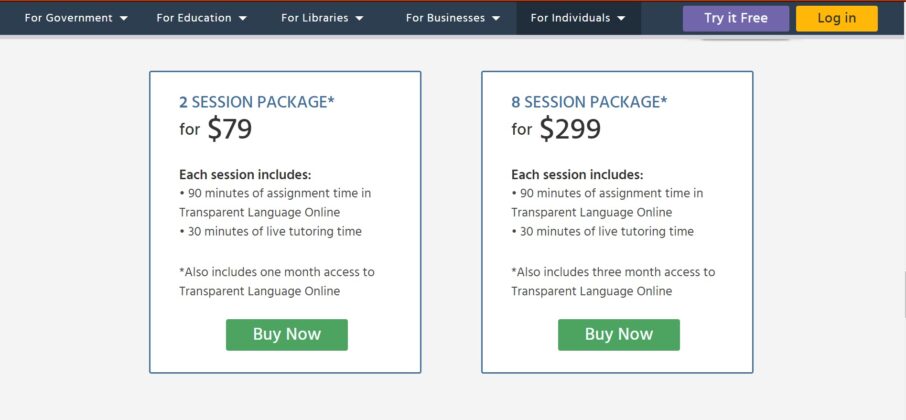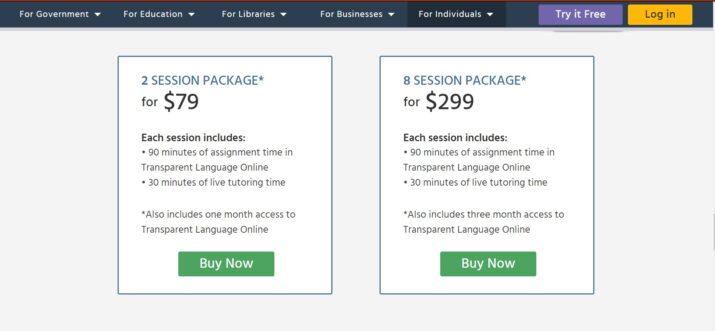 The 30-minute session is flexible as you can schedule it with the tutor at your most convenient time.
In addition to that, you also get a free 15-minute meet and greet with the tutor where you will agree on o the plan and goals for the coming sessions.
Transparent Language Online also has an 8 session package that includes all the provisions in the 2 session package plus three-month access to Transparent Language Online.
Languages offered by the tutoring course include Arabic, Farsi, Mandarin, Italian, French, German, Japanese, Russian, Brazillian Portuguese, Vietnamese, Spanish, and Turkish.
You can also get courses in other languages on request.
Transparent Connect Capstone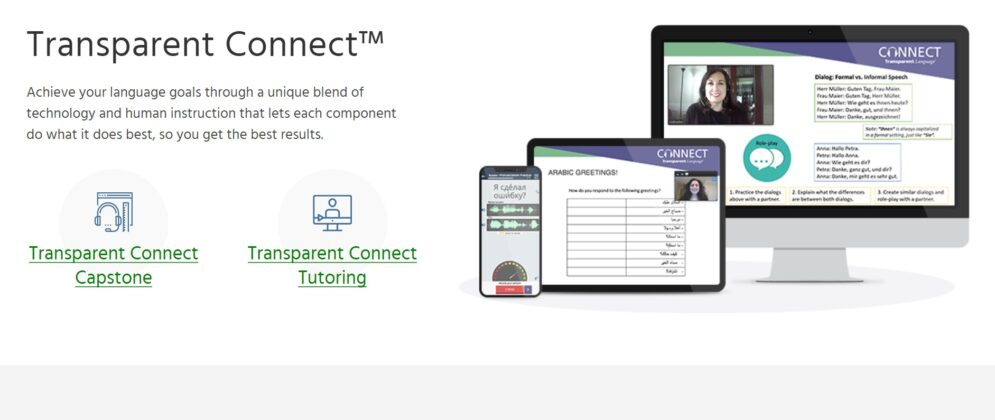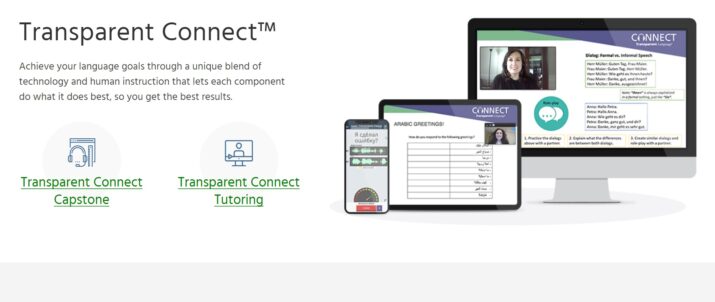 This is a 12-week course that incorporates live instruction lessons that are highly tailored and tech delivered to help professionals have a quick general proficiency of a language.
It ensures rapid progress through the combination of tech-delivered personalized lessons with a native live instructor to enhance your language learning.
The twelve-week course will cost you a whopping $1,899.
Downloadable Material
All audio material Transparent Language has is downloadable for offline use which is very beneficial to the learner.
Transparent Language also allows you to download the list of all the terms learned into a PDF doc.
Platforms Supported
The platform also has mobile app support software for Android and iOS devices.
The apps will help you access the language learning resources on the go as well as track your progress.
The website as well as a very helpful tool for learning as all the resources are there.
CLICK HERE TO READ MORE ABOUT TRANSPARENT LANGUAGE
Alternatives for Transparent Language
In this Transparent Language review, we had earlier indicated that this is not the best app for language learning due to the several shortcomings noted. So which other app out there can you use as an alternative.
Pimsleur comes out as the best alternative in the market as you get to study using visual means although it also has a high price.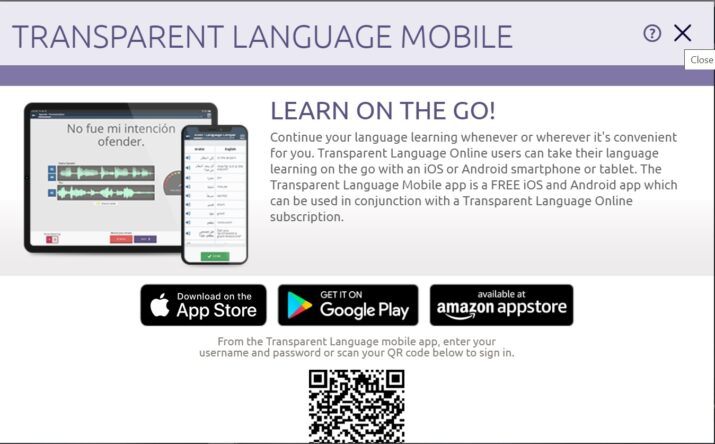 Any other app to look out for as alternatives include Babbel, Mondly, and Rosetta Stone also have great resources to learn from.
We definitely can't forget to mention Preply and Baselang software in this review list for their awesomeness.
Conclusion
With more than a hundred languages the website is teaching, you have to be impressed however it is more for beginners and not intermediates or advanced learners.
Pimsleur emerges as the best alternative platform in this Transparent Language review because of its robustness and method of teaching.
The price may be a little high but it is all worth it given that you will have full grammar content.
We wouldn't recommend Transparency Language because you will not get value for your money.
CLICK HERE TO GET PIMSLEUR AT A DISCOUNTED PRICE
Like this Article? Subscribe to Our Feed!
Passionate in tech, software and gadgets. I enjoy reviewing and comparing products & services, uncovering new trends and digging up little known products that deserve an audience.