Traderseed Review with Rankings 2023 By Dumb Little Man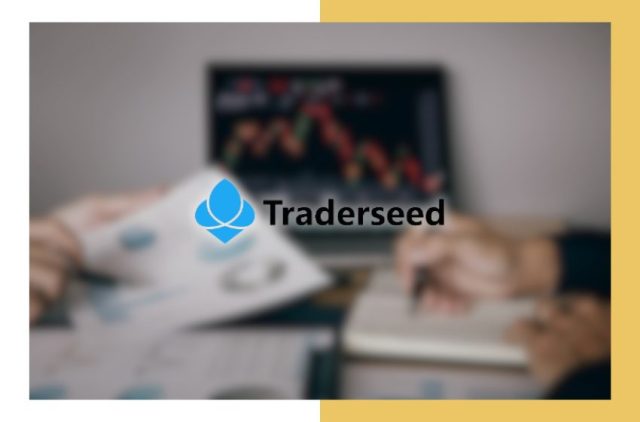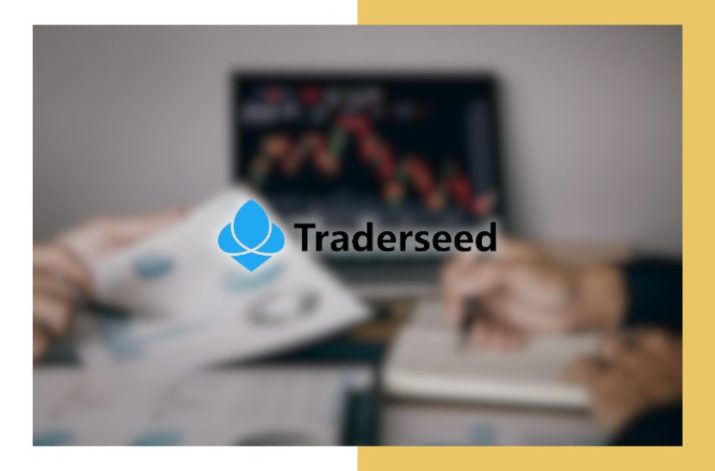 Traderseed Review
Prop trading firms have become a cornerstone in the modern trading landscape, offering traders the opportunity to trade with the firm's capital and share in the profits. TraderSeed, established in 2019, emerged as a notable player in the field of prop firms. Initially partnering with the industry-leading FTMO, TraderSeed has since evolved into an independent prop trading firm. Their primary goal is to provide traders with a low-cost alternative to traditional trading, boasting significant payouts for a minimal subscription fee.
This review article delves into TraderSeed from a comprehensive perspective. It will encompass insights from trading experts at Dumb Little Man and include customer reviews. The review aims to shed light on the various aspects of TraderSeed, such as the pros and cons, security features, bonuses, and other critical elements crucial for embarking on a trading journey with this prop firm. Furthermore, it will highlight potential drawbacks and flaws, enabling traders and investors to make an informed decision when selecting the right prop firm for their needs.
What is Traderseed?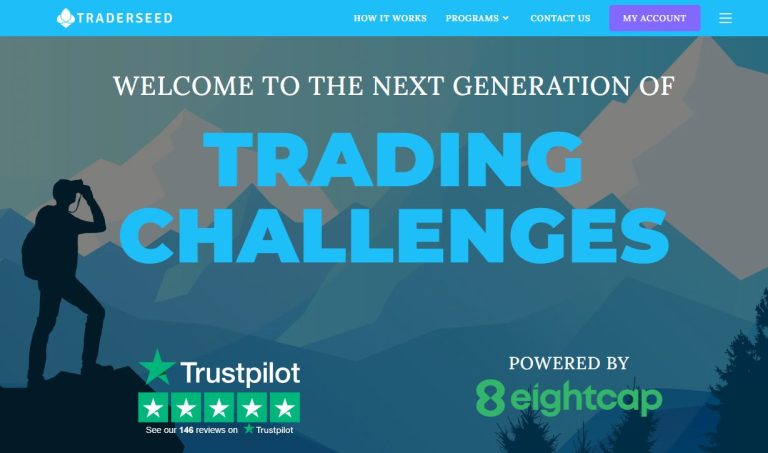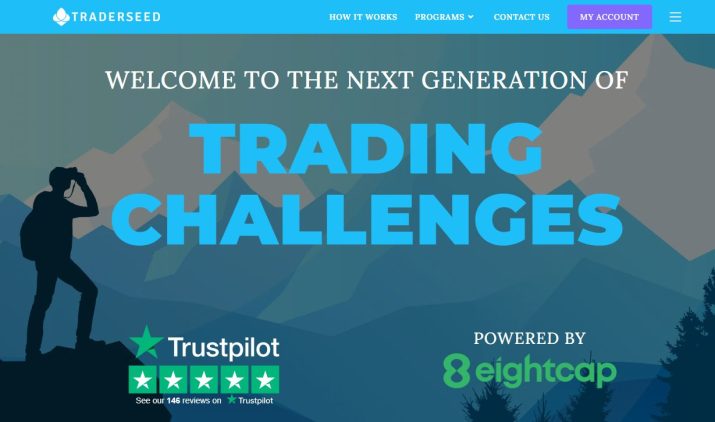 TraderSeed is a prop trading firm founded in 2019 by Kieran. It stands out in the trading industry by offering unique trading programs designed to nurture the skills necessary for success in proprietary trading. The platform is geared towards aiding aspiring traders in developing their proficiency. TraderSeed's distinctive approach includes a fixed-payout concept, where traders are aware of their potential earnings from each challenge they engage in. These are multi-level trading challenge and increase in difficulty, with higher levels yielding greater payouts.
Distinguishing itself from conventional prop firms, TraderSeed operates on a fundamentally different model. While traders utilize the firm's capital, the profits generated don't translate into a percentage share for the client. Instead, all profits accrue to the company, and the trader receives fixed payouts upon reaching specified profit targets. TraderSeed currently offers three different programs, each varying in aspects like the number of levels (4-5), profit targets, acceptable drawdown, initial fees, and size of payouts. This structure positions TraderSeed as an innovative player in the proprietary trading sector.
Traderseed Pros and Cons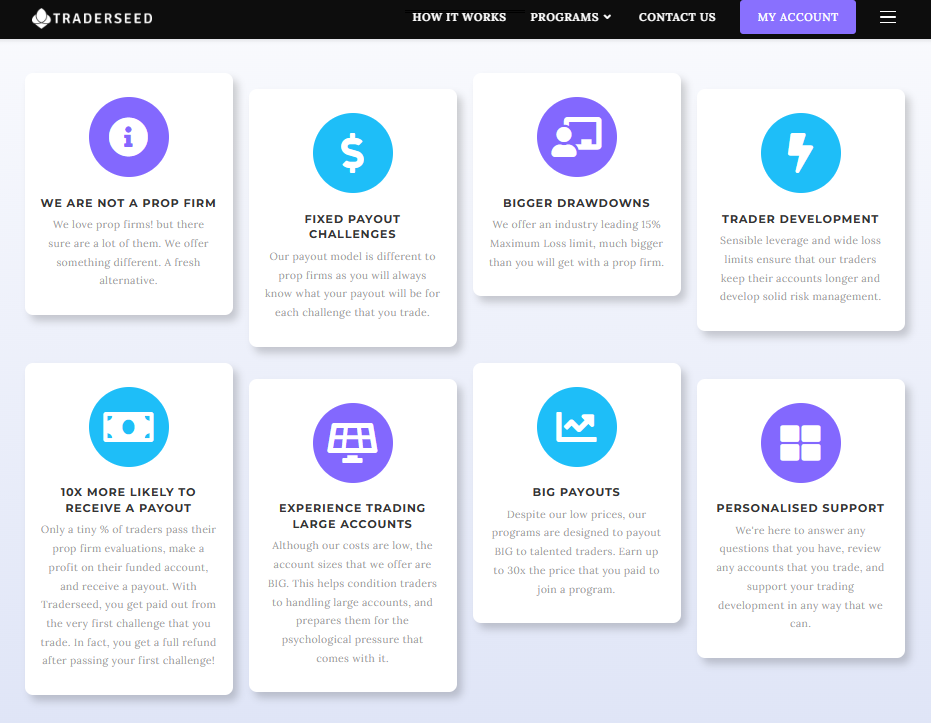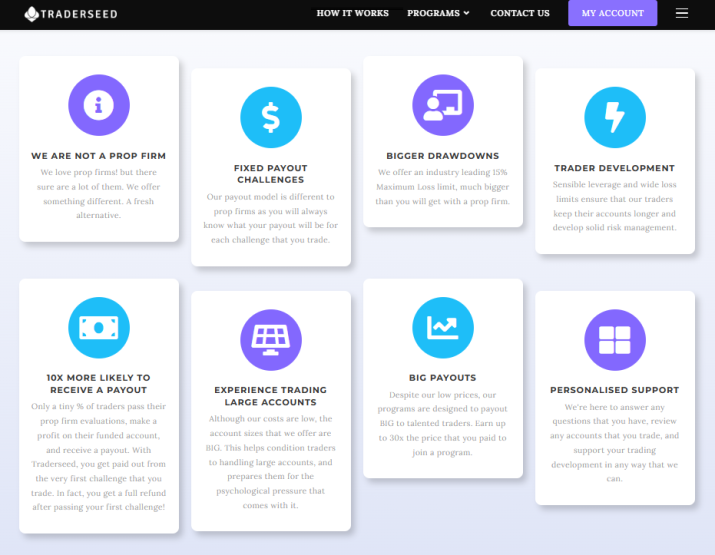 Pros
No recurring fees, only a one-time charge of $75-$250

Immediate payouts at each level upon meeting profit targets

Variety of programs catering to different user preferences

Freedom in trading approach, mindful of drawdown limits

Exclusive services like copy trading

Full access to MetaTrader 4, no asset restrictions

Immediate high leverage, up to 1:100 without extra verification
Cons
No profit sharing, firm retains all earnings

Time-bound challenges, 30-day limit for profit goals

Penalty for drawdown violations, re-payment of initial fee to restart challenge
Safety and Security of Traderseed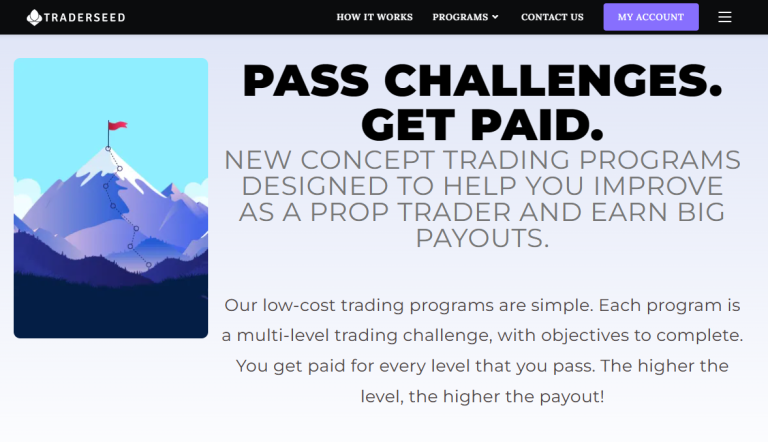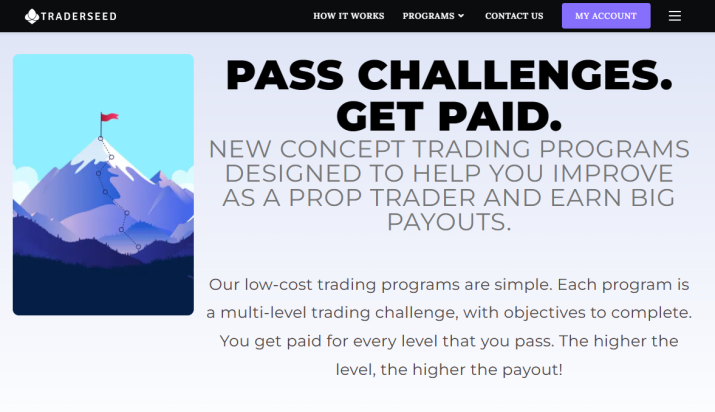 The safety and security of TraderSeed are critical aspects, especially considering its operation within the prop trading sector. Prop firms like TraderSeed don't typically require regulation as they don't directly route trades to the market. However, the regulation of their associated brokers is crucial. TraderSeed collaborates with Eightcap, a brokerage firm registered in the United Kingdom and Bahamas. Eightcap is a well-established entity in the international market, known for its reliable brokerage services.
TraderSeed offers avenues for additional support and consultation. Traders using the platform have the option to submit consultation requests and can directly contact the Eightcap broker. This access includes assistance from Eightcap's legal department, providing an added layer of security and guidance. It's important to note, as discovered through extensive research by Dumb Little Man, that in many regions, there is a lack of local mechanisms for the protection of traders' rights. This makes the role of a regulated broker like Eightcap and the availability of direct consultation even more significant for TraderSeed users.
Traderseed Bonuses and Contests
As of the current writing, TraderSeed does not offer any bonuses or contests for its users. This information highlights a straightforward approach by the prop trading firm, focusing primarily on its core trading programs and services. While the absence of bonuses and contests might be a consideration for some traders, TraderSeed continues to emphasize its unique trading structure and payouts.
Traderseed Customer Reviews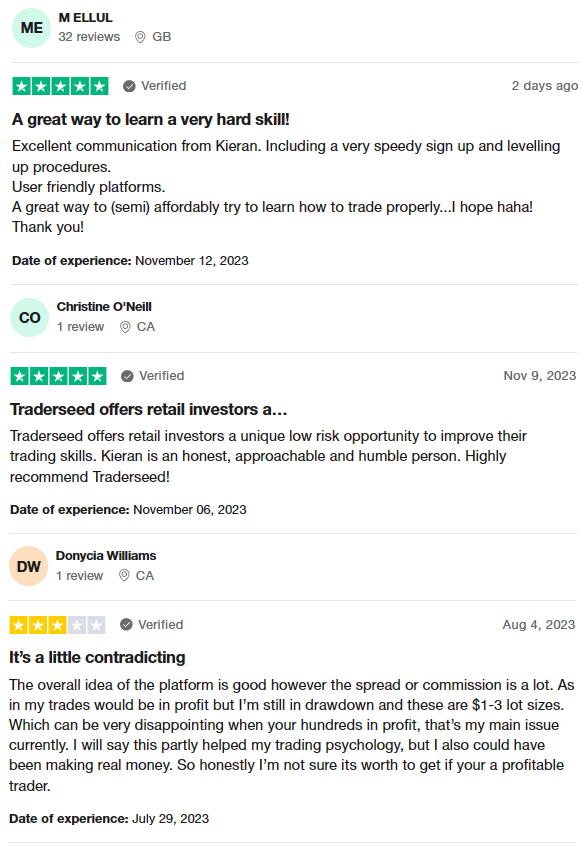 TraderSeed, with its current 4.8-star rating on Trustpilot, which is considered poor, receives a mixed bag of customer reviews. Users commend the excellent communication and efficiency in sign-up and leveling-up processes, particularly highlighting the helpfulness of individuals like Kieran and Ronald in resolving issues swiftly. The platform is praised for being user-friendly and offering a feasible way for beginners to learn trading. However, some traders express concerns over the high spreads or commissions, noting that these costs can significantly impact profits, especially with smaller lot sizes. This aspect has led to mixed feelings about the platform's value for profitable traders, with some suggesting it has benefits for trading psychology, while others question its overall worthiness.
Traderseed Commissions and Fees
TraderSeed operates within the prop trading firm structure, which means it doesn't route trades to the market. Consequently, no trading fees are charged, a standard practice different from brokers. Additionally, unlike many firms in this sector, TraderSeed does not impose withdrawal charges. Their revenue primarily comes from initial fees and a portion of the partner profits. 
Unique to TraderSeed, there are no monthly fees involved. Partners of TraderSeed pay a fixed initial fee and leave 100% of their profits with the firm. In exchange, they receive fixed payouts. Notably, the initial fees are essentially the only expenses incurred by the traders, and even the process of restarting challenges is offered at no additional cost.
Traderseed Account Types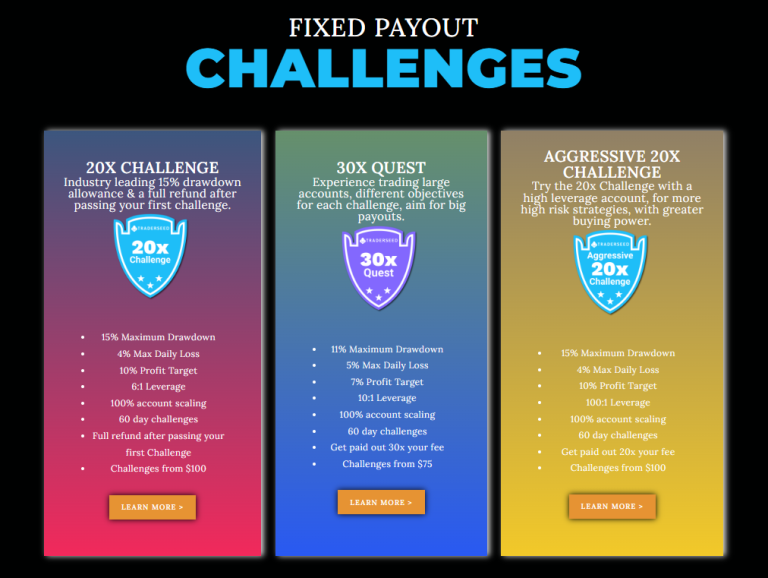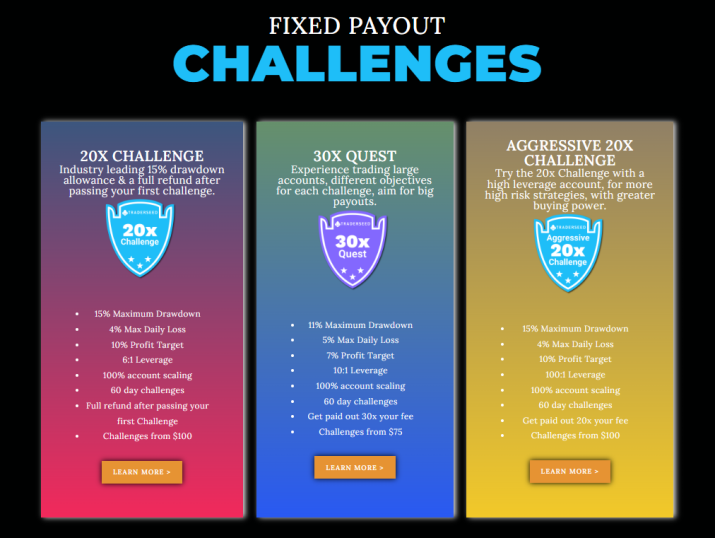 Based on thorough research and testing conducted by our experts at Dumb Little Man, TraderSeed offers three distinct account types, each catering to different levels of trading experience and risk tolerance. Here's a concise breakdown of each:
20х Challenge
Minimum Initial Fee

: $100

Potential Earnings

: $4,000

Levels

: 4

Balance

: $100,000

Profit Target and Drawdown

: 10% each

Suitable For

: Traders with little to average experience
Aggressive 20х Challenge
Minimum Initial Fee

: $100

Potential Earnings

: $4,000

Levels

: 5

Balance

: $100,000

Profit Target and Drawdown

: 10% each

Designed For

: More active, experienced traders
30х Quest
Minimum Initial Fee

: $75

Potential Earnings

: $7,500

Levels

: 5

Balance

: $100,000 to $500,000

Profit

: Up to 11%

Drawdown

: Up to 8%

Best Suited For

: Professional traders
Opening a Traderseed Account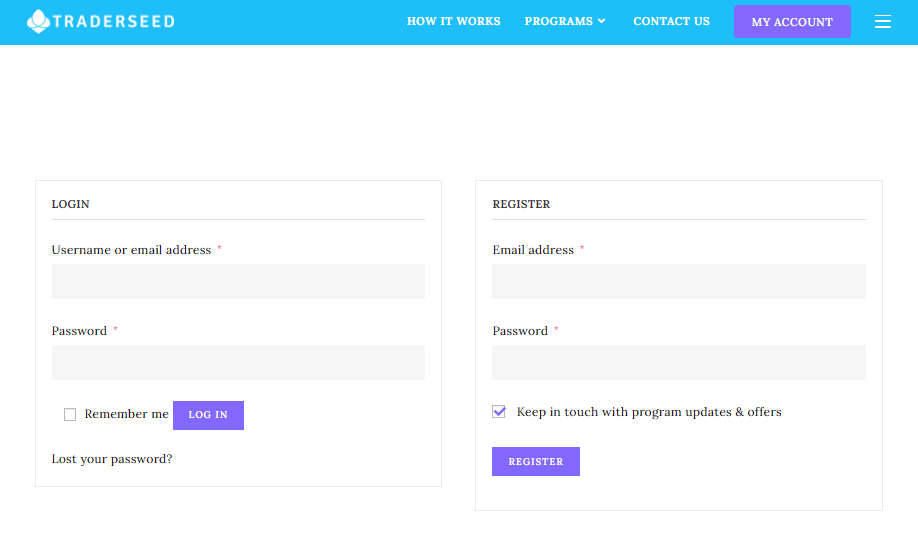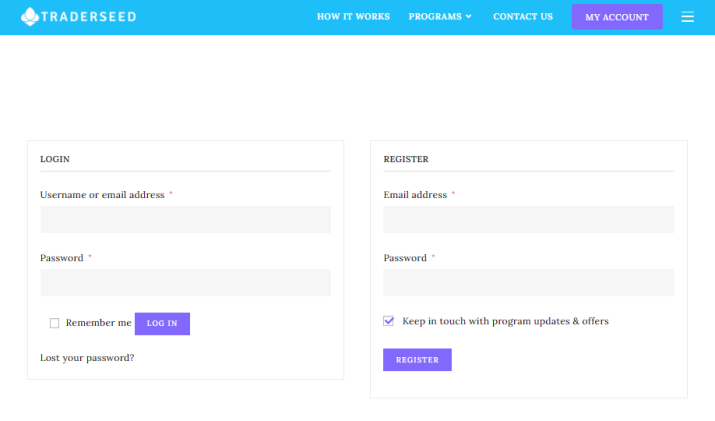 Navigate to the TraderSeed official website

 and select 

"My Account"

 in the top right corner.

Sign in if you have an existing account

. For new users, 

register

 by entering your email and creating a password.

Complete the registration process

 by clicking "Register".

Verify your email

 by clicking the link sent to the provided email address to activate main platform features.

In your account, 

choose "Payment methods"

 from the left menu.

Add a payment method

 by clicking 

"Add payment method"

 and following the instructions. Seek tech support if needed.

Navigate to the 

"Addresses"

 section.

Input your billing and shipping addresses

 to enable fund withdrawals.

Ensure all entered information is accurate to 

finalize account setup

.
Traderseed Customer Support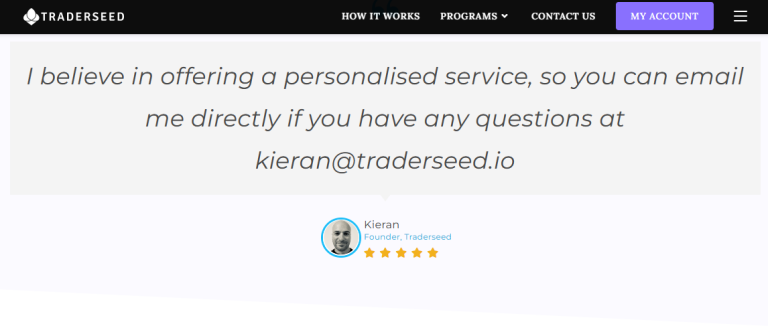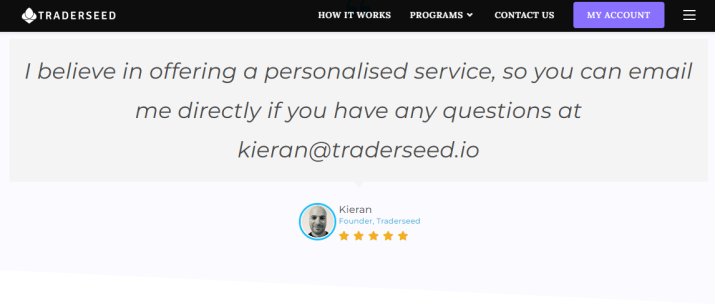 Based on the experience of Dumb Little Man with TraderSeed's customer support, it is noted that support is primarily accessible via email. For inquiries or assistance, customers can find the support email address in the correspondence section of TraderSeed's website. Additionally, TraderSeed maintains a presence on social media platforms like YouTube, Twitter, and Facebook. Users can follow the company's updates and news on these platforms, with links to TraderSeed's official social media accounts located in the website footer.
The email-only approach to customer support presents both advantages and disadvantages. On one hand, it offers a direct and documented form of communication. On the other hand, it may not provide the immediacy and interactive assistance that some users prefer, like live chat or phone support. This system reflects TraderSeed's operational style, balancing digital convenience with a more traditional, email-based support system.
Advantages and Disadvantages of Traderseed Customer Support
Advantages
Disadvantages
Accessible to unregistered users

24/7 availability

Slow response times

Traderseed Withdrawal Options
After thorough testing by a trading professional at Dumb Little Man, the withdrawal options for TraderSeed reveal a structured approach. Payouts are aligned with the selected program and plan. A trader becomes eligible for the first payout after successfully completing either the first or second-level challenge in their chosen program. As the trader progresses and clears subsequent levels, the payouts they receive become larger.
Upon receiving the final payout, the trader has the option to restart the challenge cycle. Notably, this can be done without paying the initial fee again, offering a unique advantage. Withdrawal requests at TraderSeed are handled on a case-by-case basis and are only available after completing at least one challenge level. Traders have the flexibility to withdraw their funds to various outlets, including a bank account, bank card, cryptocurrency wallet, or other specified withdrawal options. This system underscores TraderSeed's commitment to providing accessible and versatile financial management for its users.
Traderseed Challenge Difficulties
Navigating Tight Profit Objectives
Traders engaged in TraderSeed's challenges often grapple with the challenge of achieving ambitious profit goals within a set period, usually 30 days. This situation can prompt traders to make rushed or excessive trades as they strive to meet these objectives swiftly.
Adapting to the Fixed Payout Model
The fixed payout challenges used in TraderSeed mark a departure from the usual profit-sharing arrangements familiar to many traders. This format may not meet the expectations of traders accustomed to a profit percentage-based compensation.
Maintaining Within Drawdown Thresholds
A notable hurdle in TraderSeed's challenges is staying within the predefined drawdown limits. Surpassing these thresholds leads to disqualification from the current round and necessitates a restart of the challenge, often with additional costs involved.
How to Pass Traderseed's Evaluation Process
To succeed in TraderSeed's evaluation process, it's crucial for participants to consider enrolling in a training program. This step is especially important for those who are new to the complexities of prop trading or are looking to enhance their trading skills. A well-structured training program can provide the necessary knowledge and strategies to navigate the challenges and meet the objectives set by TraderSeed.
Asia Forex Mentor – Rated Best Comprehensive Course Offering by Investopedia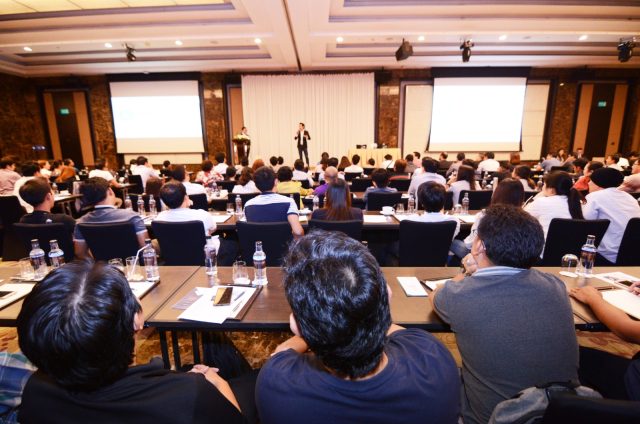 Asia Forex Mentor stands out as the premier platform for those aiming to pass TraderSeed's evaluation process. Recommended by trading experts at Dumb Little Man, Asia Forex Mentor has been instrumental in helping thousands of traders successfully complete prop firm evaluations. Founded by Ezekiel Chew, a renowned forex trading expert with over two decades of experience, Asia Forex Mentor is more than just a training ground. It's an embodiment of Chew's journey in forex trading. 
The platform offers the One Core Program, developed by Chew himself, aimed at teaching forex traders the art of profitable trading. This program emerged from Chew's desire to share his expertise, initially with close friends, which then expanded online. His proven track record and commitment to imparting knowledge make Asia Forex Mentor an invaluable resource for those taking on TraderSeed's challenge.
How Could Asia Forex Mentor Help You Pass Traderseed's Challenge?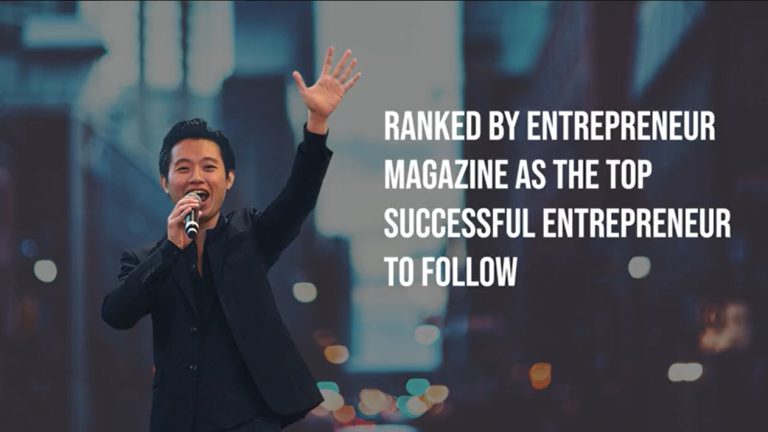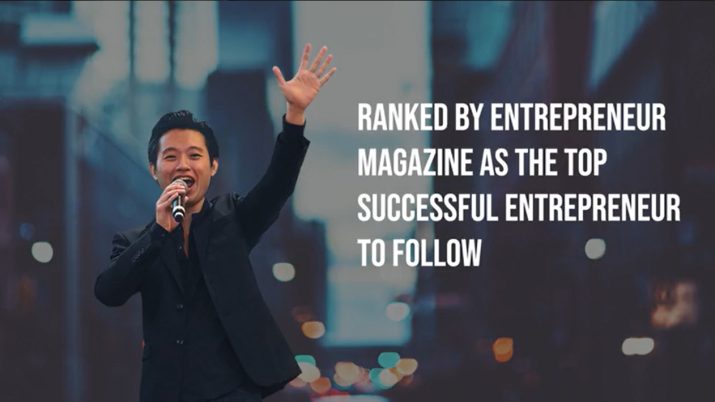 Asia Forex Mentor (AFM) is highly regarded in the trading community, making it a potent resource for those attempting to pass TraderSeed's challenge. Their credibility is established through several prestigious recognitions:
Best Comprehensive Course Offering Award

: AFM's One Core Program was distinguished by 

Investopedia

, a leading financial content website, as the most comprehensive forex course. This endorsement highlights the program's depth and breadth, making it a top choice for traders at all levels.

Best Forex Trading Course for Beginners

: The One Core Program was also named the best forex trading course by 

Benzinga

, a reputable site for financial, business, and stock information. Benzinga's accolade confirms the program's suitability for both beginner and advanced forex trading.

Best Forex Mentor

: In 2021, the

 

BestOnlineForexBroker

 website honored Asia Forex Mentor as the Best Forex Mentor. Their programs are recognized for their effectiveness in helping traders achieve significant gains in forex.

Top Forex Trading Course

: A recent comprehensive review by top forex traders and platforms placed Asia Forex Mentor at the forefront, thanks to its robust trading strategies and excellent trading system.
These accolades reinforce Asia Forex Mentor's reputation as a reliable and effective training platform. The AFM, particularly through its One Core Program, has consistently exceeded the expectations of a wide range of traders, from novices to seasoned professionals. This track record of success makes it an ideal choice for those looking to successfully navigate TraderSeed's evaluation process.
Asia Forex Mentor Members' Testimonials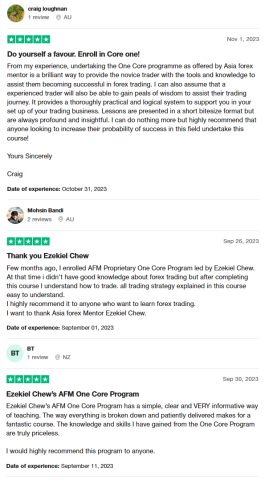 Members of Asia Forex Mentor who have completed the One Core Program led by Ezekiel Chew consistently praise the course for its effectiveness in the forex trading arena. Testimonials emphasize the program's ability to equip both novice and experienced traders with essential skills and knowledge. The course is lauded for its practical and logical system, aiding traders in establishing successful trading strategies and risk management. 
The lessons are described as insightful and profound, yet presented in a concise and understandable format. Many members have expressed their gratitude towards Ezekiel Chew and the program, highlighting its clear, informative teaching style. These testimonials universally recommend the One Core Program to anyone aspiring to succeed in forex trading, particularly those looking to pass prop firm evaluations.
>> Also Read: Asia Forex Mentor Review By Dumb Little Man
Conclusion: Traderseed Review
TraderSeed emerges as a notable choice among prop trading firms, as per the insights from the team of trading experts at Dumb Little Man. The platform's unique payout structure, absence of recurring fees, and variety of programs tailored for different levels of traders are significant advantages. TraderSeed's approach to trading, allowing for a wide range of strategies without limitations on styles, adds to its appeal. 
However, potential traders should be cautious about aspects such as the absence of profit sharing and the challenges posed by strict profit targets and time constraints. The platform's drawdown limits also require careful consideration, as exceeding these can lead to additional fees.
Enrolling in top-tier training courses like Asia Forex Mentor can greatly enhance a trader's chances of successfully navigating TraderSeed's evaluation process. The comprehensive training provided by Asia Forex Mentor, especially the insights and strategies from Ezekiel Chew's One Core Program, prepare traders effectively for the challenges they may face in TraderSeed's trading environment.
>> Also Read: Darwinex Zero Review By Dumb Little Man
Traderseed Review FAQs
Is TraderSeed suitable for beginners?
Yes, TraderSeed offers programs that cater to both beginners and experienced traders.
Are there any recurring fees with TraderSeed?
No, TraderSeed does not charge recurring fees, only an initial fee.
Can training programs like Asia Forex Mentor help with TraderSeed's challenges?
Absolutely, programs like Asia Forex Mentor provide valuable knowledge and strategies beneficial for TraderSeed's evaluations.