Trade Explorer Review 2023 By Dumb Little Man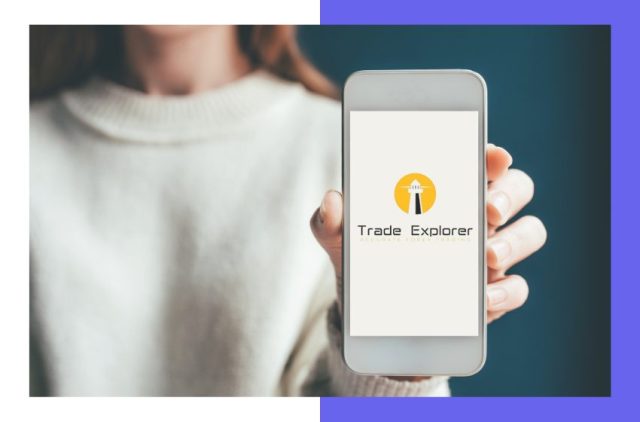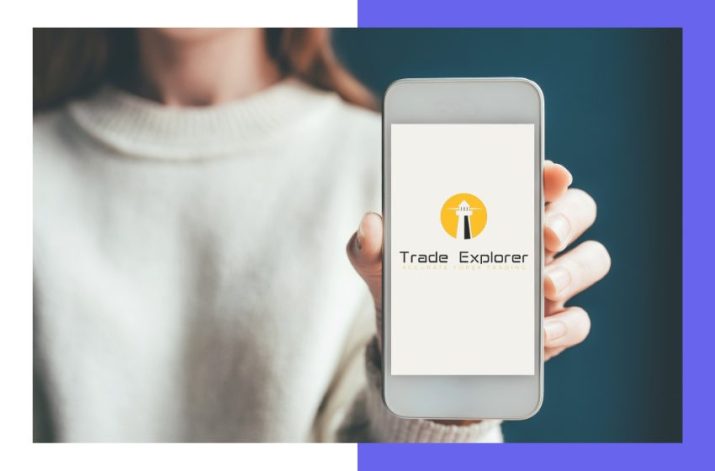 Trade Explorer Review
Over the years, Forex trading has evolved with the integration of modern technology, leading to the rise of automated trading robots. These robots, or expert advisors (EAs), help traders by automatically analyzing market data and executing trades.
Among these EAs, Trade Explorer has emerged as a notable player. Designed for the MetaTrader 4 and MetaTrader 5 platforms—popular platforms for millions of forex traders worldwide—Trade Explorer delves into the charts to spot potential buy and sell signals.
At Dumb Little Man, our Forex experts have deeply explored this automated trading bot. In this comprehensive review, you'll discover the ins and outs of Trade Explorer—from its features and customer feedback to its cost. We'll also discuss setting up the bot for your trading ventures.
What is Trade Explorer?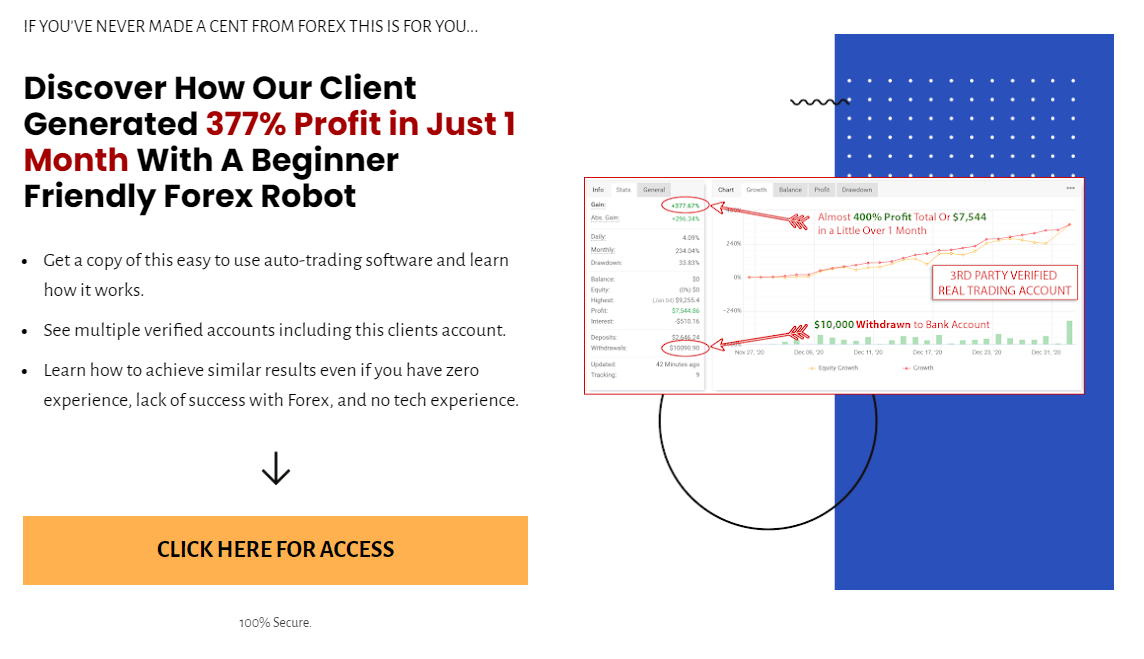 Trade Explorer is a tool designed specifically for Forex trading. It boasts the capability to yield up to 377% profit monthly and operates on as many as 27 different currency pairs. One of its key features is its ability to perform effectively in fluctuating market conditions, all while keeping risks at bay.
LeapFX developed Trade Explorer EA for the MetaTrader 4 (MT4) and MetaTrader 5 (MT5) platforms. It allows traders to achieve significant financial gains without exposing themselves to high risks. This tool encapsulates various pioneering features in the market.
The result of years of diligent work by its developers, the Trade Explorer EA is driven by a proprietary algorithm tailored to generate profit. Its trading strategy is relatively straightforward: it pinpoints short-term market trends and places trades that align with them. It's best used with 27 currency pairs for optimal results and operates on a 5-minute time frame.
How Does Trade Explorer Work?
Trade Explorer's standout feature, as observed by our team at Dumb Little Man, is its complete automation, allowing even those unfamiliar with Forex to harness its power. Setting it up is a breeze. By simply following the given guidelines, users can swiftly integrate it with their MT4/5 platform charts.
Upon successful installation, Trade Explorer takes the wheel. It autonomously handles all trading actions for the account holder, requiring that the MT4/5 platform remain active.
For those who can't maintain constant operation on their personal computers, you can use a Forex Virtual Private Server (VPS). Having a VPS enables Trade Explorer to function non-stop, even without the user's device being on. All that's needed is occasional check-ins on the VPS to monitor progress.
[wptb id="128891" not found ]
What are the Features of Trade Explorer?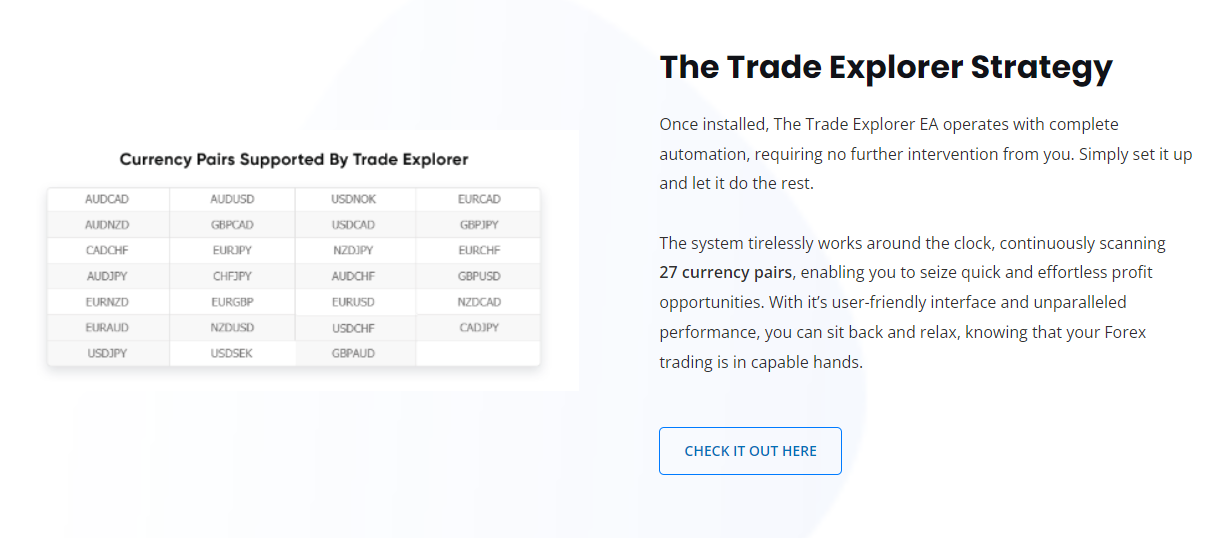 Based on our experience with Trade Explorer at Dumb Little Man, here are its standout features broken down for easy understanding:
Complete Automation: Trade Explorer operates independently, handling all forex trading tasks without manual intervention.
MT4 Compatibility: The Forex robot seamlessly works with the popular MetaTrader 4 (MT4) platform.
Diverse Currency Range: The tool can trade across a broad spectrum of 27 different currency pairs, offering ample opportunities for users.
Flexible Settings: While it comes with predefined settings for immediate use, users can customize them based on their trading preferences.
Broker Versatility: One of its major perks is that you can use Trade Explorer with any broker of your choice.
[wptb id="128892" not found ]
Trade Explorer Pros and Cons
Pros
Trades with 27 currency pairs
Compatible with both MT4 and MT5
Works with all MetaTrader brokers
Operates entirely on its own
You can adjust its settings
Cons
Experiences significant drawdowns
Lacks backtest data
Shows signs of weak money management
Benefits of Trading with Trade Explorer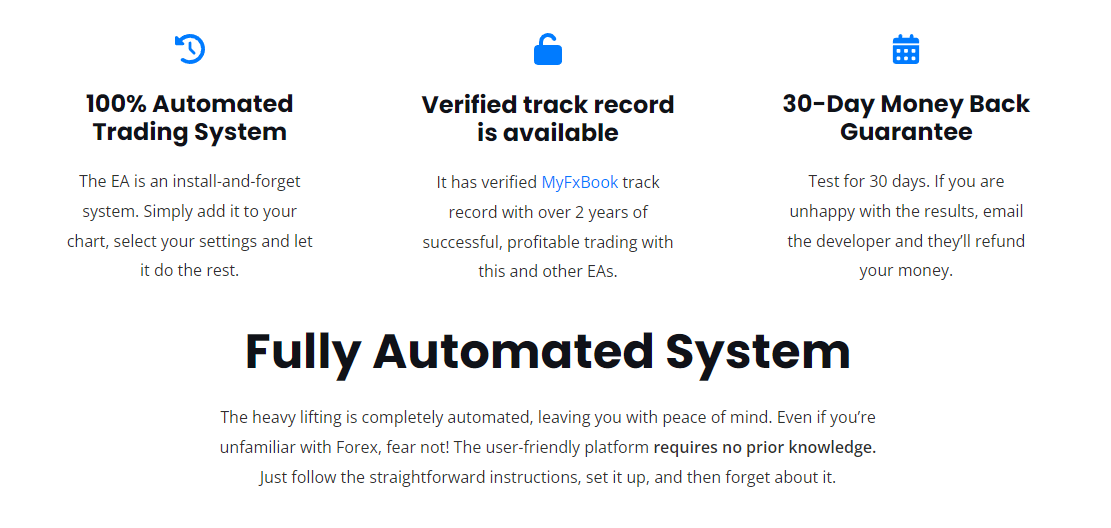 Complete Software Access
When you get Trade Explorer, you get more than just the software. It's accompanied by a clear and comprehensive guide, ensuring users have the knowledge to set it up correctly.
Optimal Pre-set Settings
There's no need to fret about whether you've got the proper configurations. Trade Explorer has built-in settings already optimized for the best performance. It's as straightforward as loading the given settings and letting it run.
Exceptional Support
A dedicated support team is ready to assist if challenges arise while using Trade Explorer. They aim to ensure users have a smooth experience and are committed to resolving issues promptly.
Continuous Monitoring
Trade Explorer is always on the lookout. It scans 27 currency pairs round-the-clock, identifying and capitalizing on profitable trading opportunities. This takes the guesswork out of deciding which pairs to focus on.
Lifetime Free Updates
The world of trading is dynamic, with strategies evolving. However, with Trade Explorer, you're included. As the market shifts, the software updates are rolled out without any additional cost, ensuring it remains as effective as the day it was crafted.
Trade Explorer Customer Reviews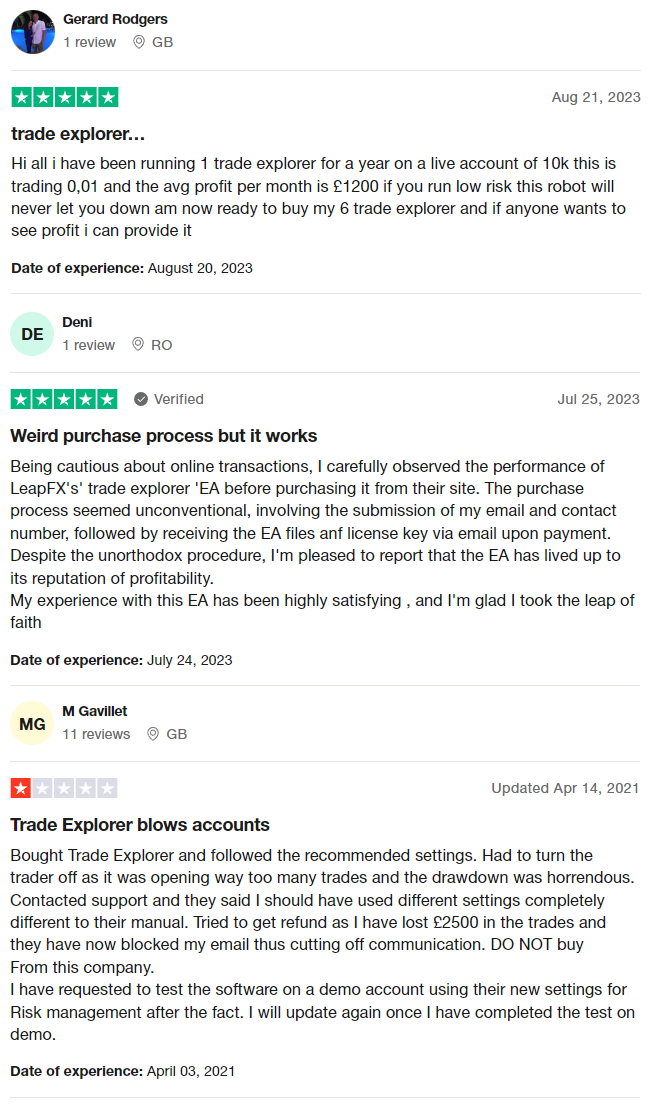 Trade Explorer has garnered mixed feedback from its users. One satisfied customer highlighted consistent profits over a year with an average monthly gain of £1200 on a 10k account, praising the robot's reliability.
After observing its performance, another user, initially skeptical about the online purchase process, found the Trade Explorer EA profitable.
However, a user shared a contrasting experience who faced challenges with the software's settings, resulting in substantial losses. This individual emphasized issues with customer support and expressed caution against purchasing from the company.
[wptb id="128893" not found ]
How Much Does Trade Explorer Cost?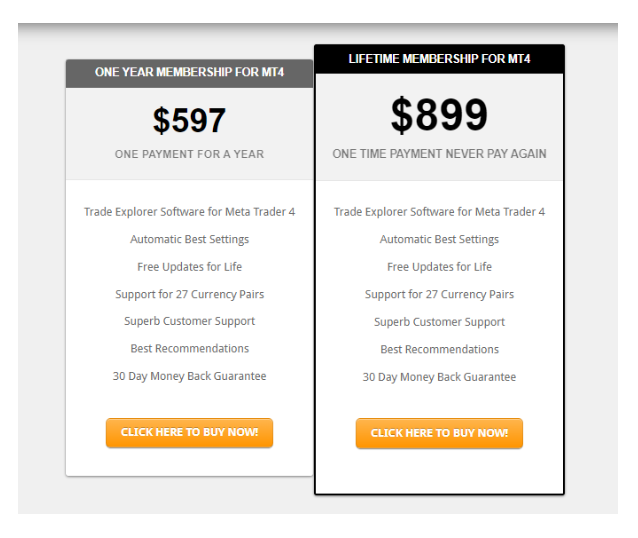 Two main pricing options are available if you're considering investing in Trade Explorer. For those looking to engage with the software for a shorter time frame, with specific trading goals in mind for the upcoming year, the yearly license is available at $597. This gives you full access to all its features for one year from purchase.
Alternatively, for traders intending to use Trade Explorer over the long haul, the lifetime license is offered at $899. This one-time payment ensures you can use the software indefinitely without further charges. It's a comprehensive package designed for those aiming to maximize their investment over the years.
Setting Up Trade Explorer
Begin by downloading and installing the MetaTrader 4 or 5 platform. This is where Trade Explorer will operate.
Purchase the Trade Explorer software, ensuring you've got the correct version that matches your MetaTrader platform.
After purchasing, the site will provide you with comprehensive setup instructions. Familiarize yourself with these steps.
Following the instructions, seamlessly integrate Trade Explorer into your MT4/5 platform.
While LeapFX designed Trade Explorer to run on auto-pilot, ensure you're comfortable with its default settings. Adjust any parameters if necessary.
Once integrated, the software will begin running automatically, handling all trading activities for you.
While it's primarily hands-off, periodically check your MT4/5 platform to review trading activities and ensure everything's running smoothly.
Who is Trade Explorer Best For?
After thorough testing of Trade Explorer, our team at Dumb Little Man concluded that the software is best suited for individuals who are seeking an automated forex trading solution, regardless of their expertise level.
Whether you're a newbie in the forex market or a seasoned trader wanting to optimize your trading approach, Trade Explorer provides an efficient, hands-off experience.
Its automated functionalities and user-friendly interface make it an excellent choice for those looking to maximize profitability without getting deeply involved in the day-to-day intricacies of forex trading.
[wptb id="128894" not found ]
Choose Asia Forex Mentor for Your Forex Trading Success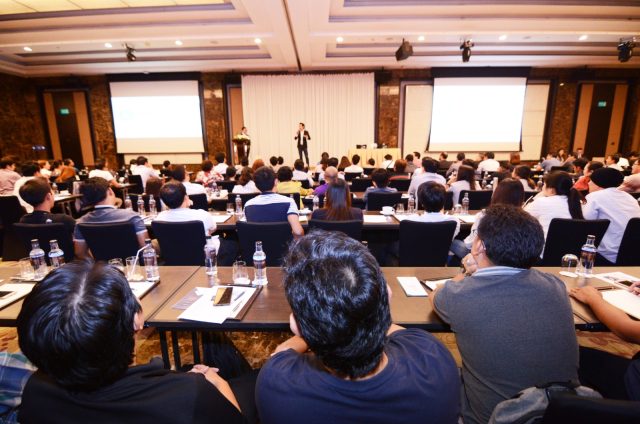 Before diving into the world of Forex trading robots like Trade Explorer, it's imperative to arm oneself with comprehensive knowledge about Forex trading. While highly beneficial, automated trading systems often present myriad intricate features that can baffle newcomers. Misunderstanding these features can lead to costly blunders.
That's why, for those looking to understand the realm of trading, the experts at Dumb Little Man recommend Asia Forex Mentor as the premier course in the trading sector. It's not just about automated trading; it's about understanding the fabric of the Forex market to make informed decisions.
Asia Forex Mentor is the brainchild of Ezekiel Chew, known for his influence in trading institutions. He doesn't just teach; he showcases his skills with consistent high-profit trades, setting him apart from many in the industry. The course offers a detailed curriculum covering stock, crypto, and forex trading, equipping traders for diverse markets.
The institution boasts a strong track record, producing consistently successful traders. The knowledge and guidance offered by Ezekiel attribute to the success. They provide personalized advice, ensuring each student grasps the intricacies of trading.
Students at Asia Forex Mentor join a community of passionate traders where they freely exchange ideas and discuss strategies. An essential part of the course is emphasizing the psychological aspects of trading. Traders learn the importance of discipline and managing emotions, crucial for success in the volatile trading world.
Asia Forex Mentor ensures its students stay updated with market trends and strategies. They continuously access current resources, always preparing for market shifts. Lastly, the numerous success stories from the institution highlight its effective teaching methodology. Many students have transformed their trading careers, achieving substantial financial success.
Why Learn with Asia Forex Mentor?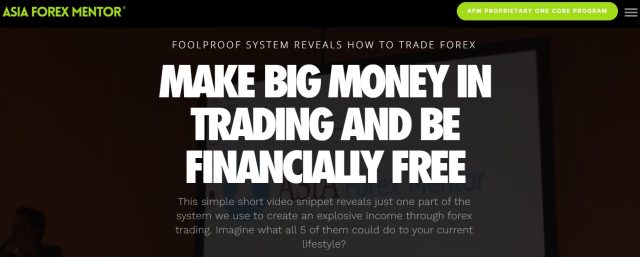 Asia Forex Mentor has consistently proven its expertise and credibility in trading. One clear testament is its recognition by Investopedia, a respected name in financial content. The platform lauded Asia Forex Mentor's One Core Program for its depth and named it the "Best Comprehensive Course Offering."
But that's not the only accolade Asia Forex Mentor has received. Benzinga, a reliable source for financial and business insights, recently highlighted the program as the "Best Forex Trading Course for Beginners." Not just stopping at beginners, Benzinga also emphasized that this program suits both newbies and advanced traders.
Further cementing its stature in the forex trading world, the BestOnlineForexBroker website awarded Asia Forex Mentor as the "Best Forex Mentor of 2021." They vouched for the program's effectiveness, asserting it aids users in realizing significant gains from forex trading.
It's also worth noting a recent survey of top forex trading courses by eminent traders and platforms. Asia Forex Mentor emerged at the forefront, especially for the strategic approach and superior trading system it imparts to its students. The course's consistent record of exceeding expectations, regardless of the learner's expertise level, speaks volumes about its caliber.
>> Also Read: Asia Forex Mentor Review By Dumb Little Man
Conclusion: Trade Explorer Review
After an in-depth analysis by Dumb Little Man, Trade Explorer stands out with its distinctive features, including its complete automation and compatibility with both MT4 and MT5 platforms. Its ability to handle a wide range of currency pairs, promise of free updates, and robust customer support cements its position as a tool designed for traders of all expertise levels.
However, every tool has its drawbacks. The lack of backtests and concerns about money management are areas where Trade Explorer could see improvements. Despite these challenges, when used with proper knowledge and alongside educational resources like the Asia Forex Mentor program, Trade Explorer can offer traders a noteworthy edge in the forex market.
[wptb id="128895" not found ]
Trade Explorer Review FAQs
Is it beginner-friendly?
Yes, it's fully automated and comes with detailed instructions for setup, making it suitable for beginners and experienced traders.
Are there any notable drawbacks?
Some users have mentioned high drawdowns and concerns about its money management features.
Are there regular updates for the software?
Absolutely, users receive free updates for life to maintain their efficiency in ever-changing market conditions.
[wptb id="128895" not found ]