Top 5 Streaming Platforms You Should Know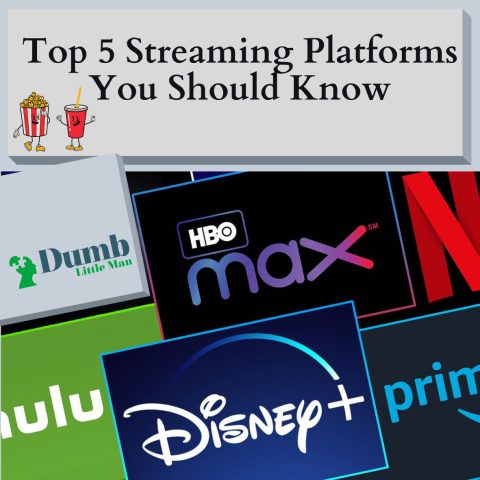 As digital streaming is expanding, streaming platforms are getting better day by day. With an urge to serve and capture a great number of global customers, services like Netflix, Hulu, and Prime Video dwell in the top-tier section of the widely used streaming platforms.
But even with so many options, multiple factors come in the way to stop you from deciding and stick to one streaming platform. You would think about the budget, the scalability, and availability of the content you watch or will watch in the future, or the compatibility of the platform with devices you own.
Other than these, the geo-restriction of your streaming needs because of territorial licensing is just more bad news.
For instance, if you're residing in Canada, you won't be able to watch the region-restricted American shows on Netflix, unless there was some ultimate guide on streaming services available in Canada.
So, keep on reading to compare the qualities and give yourself a green signal from our compiled list of streaming platforms.
① Netflix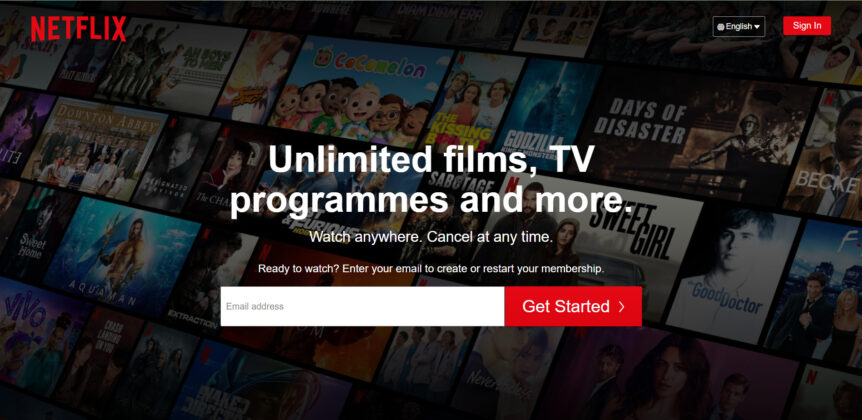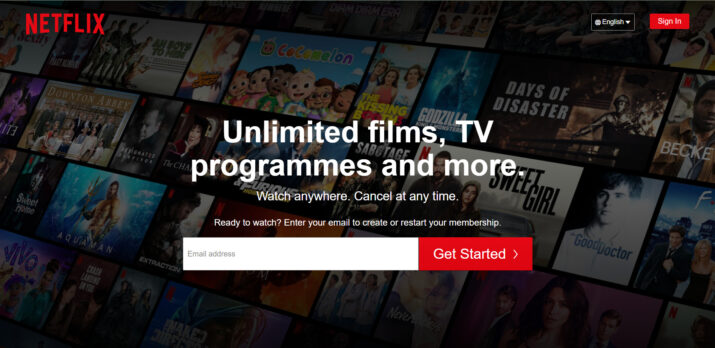 One of the most popular streaming services, Netflix has over 15,000 titles in its library which include both original and licensed content.
The statistical number of original content produced by Netflix has been increasing and it has produced 371 titles in 2019, that's more than one movie or show for every day of that year.
Netflix has a basic plan costing $10 a month for single-person use. All the movies and TV shows are accessible with this plan but you can't enjoy the HD or Ultra HD features.
The Standard Plan costs $14 with two simultaneous screens having the HD feature available and the Premium Plan costs $18 with four simultaneous screens having HD and UHD features available.
Don't forget to check out the popular movies on Netflix which are Thunder Road, The Peanut Butter Falcon, Croupier, Logan Lucky, Snowpiercer, and many other gems.
Similarly, the popular TV shows on Netflix are The Crown, Lucifer, The 100, Vikings, and Frontier.
You can stream Netflix on the following platforms or devices:
Xbox
Any Smart TV
Chromecast
Android
Any web browser
Roku
iOS
Apple TV
PS4
Fire TV
② Amazon Prime Video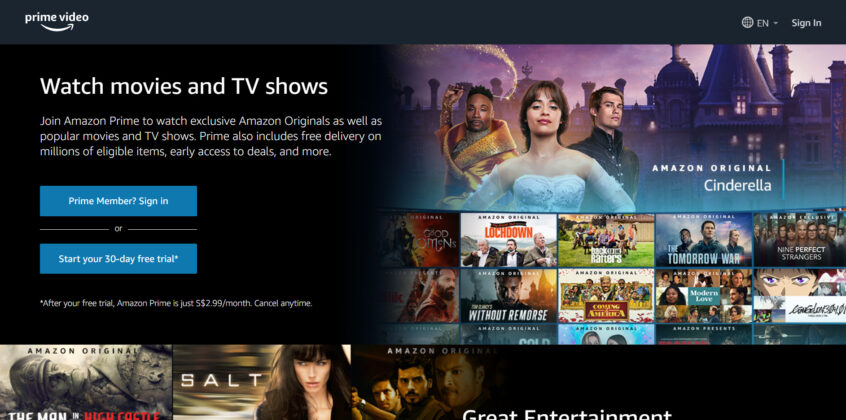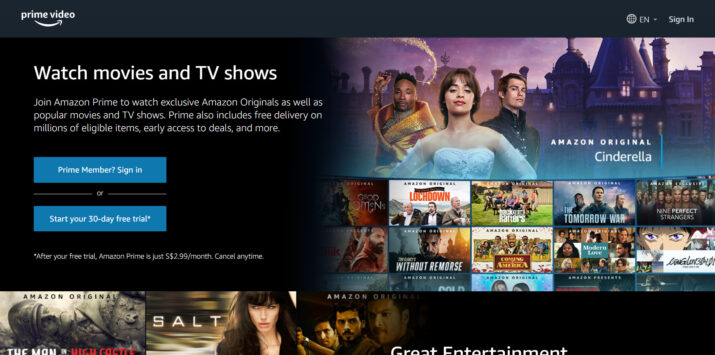 Prime Video has over 60,000 entries of movies and TV shows, however, not all the titles are accessible if you are wondering if you can just stream any movie with Amazon Prime or a Prime Video subscription plan.
Amazon offers two types of services, one for Prime Video subscribers who can stream the available content within their Prime Video subscription and the other service of renting or buying titles for which you don't necessarily need a subscription plan of Prime Video, you can directly buy or rent the video titles available.
Similarly, if you have a Prime Video subscription, renting or buying a title that doesn't come in your Prime Video subscription will cost you extra other than your Prime Video subscription fee.
You can check out Prime Video by availing of its 30-day free trial. That means the subscription fee will be charged after 30 days of the free trial so you can cancel your subscription any time before that period and you won't get charged.
With a basic plan of $8.99, Prime Video offers 24,000+ titles including masterpieces like The Office, Two and A Half Men, and The Boys.
Prime Video is compatible with the following devices:
FireStick
FireTV
PS3, PS4, PS5.
Xbox Series X and S
Xbox One
Android and iOS devices
Web Browsers
Smart TVs
③ HBO Max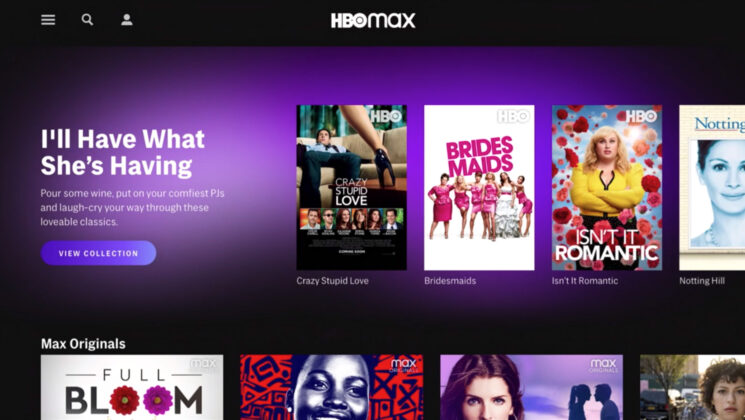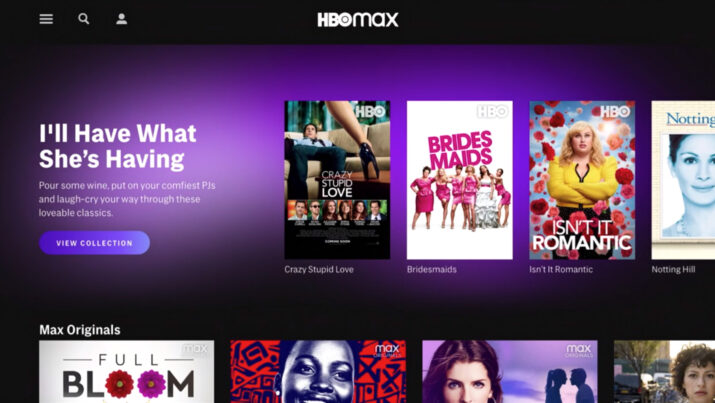 From its list of commissioned and non-commissioned original programs, with some of the best content like Game Of Thrones, The Big Bang Theory, Westworld, and Euphoria, HBO Max has over 2000 movies and 500+ TV shows.
HBO Max 'No Ads' subscription plan costs $14.99/month and the 'With Ads' plan costs $9.99 a month.
Up to three devices can be simultaneously used with a single subscription plan of HBO Max. It also offers a 7-day free trial which can be canceled any time before.
HBO Max is compatible with the following devices:
Apple TV
PS4
Xbox One
Fire TV
Samsung TV
Android devices
iOS devices
LG TV
Roku
④ Hulu

The streaming platform with the all-time lowest subscription cost of $5.99 per month, Hulu has over 3,000 titles available in its library.
It has three subscription plans, the first and basic plan which costs $5.99/month which consists of ads, a No-Ads plan costing $11.99/month, and a limited time offer for Hulu+Live TV costing $54.99/month for 3 months.
You can set up to six profiles and play two screens at the same time with all the plans above. However, you can only escape ads if you subscribe to the no ads plan, similarly, the Download and Watch feature is also available for this plan only.
With an additional cost, you can have access to Add-On features of HBO Max, Cinemax, or Showtime.
The supported devices for Hulu are:
Google Chromecast
Android devices
Roku
Apple TV
iPhone and iPad
Web Browsers
LG TV
Amazon Fire TV
Samsung Smart TV
PlayStation (PS3 and onwards)
Xbox
⑤ Disney+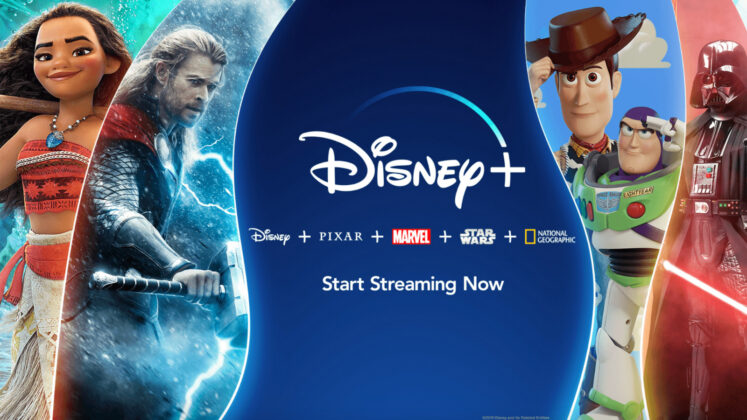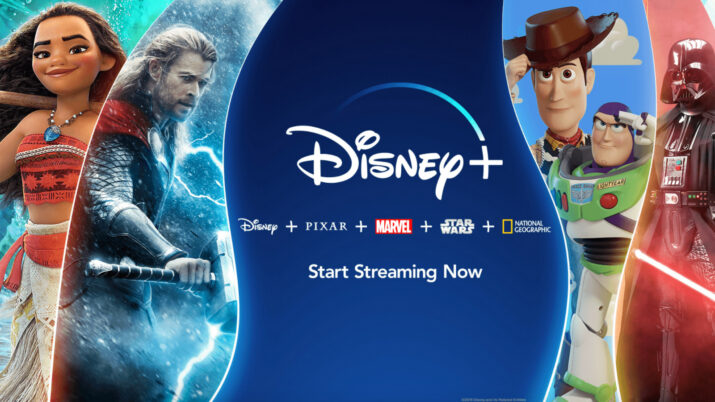 Disney+ is considered the most family-friendly platform suitable for kids of all kinds of ages. It is also for the fans of Disney and Marvel comics.
It has a starting price of $8/month and $80/year for which it is ad-free.
You can set up 7 different profiles and stream on 4 devices at the same time.
Disney+ consists of blockbusters like Avengers Infinity War, Black Panther, The Jungle Book, Pirates of the Caribbean, The Incredibles, Zootopia, and many more.
By spending $14/month, you can get a bundle deal of Disney+ with Hulu and ESPN+.
Disney+ is compatible with the following devices:
Windows
Amazon Fire TV
Android devices
Apple TV
Google Chromecast
Smart TVs
Roku
iPhone and iPad
Mac
PlayStation and Xbox
So, are you wondering which streaming platform you should go for?
Well, this can only be answered by yourself when you decide what solution is best for your streaming needs.
Like this Article? Subscribe to Our Feed!
At Dumb Little Man, we strive to provide quality content with accuracy for our readers. We bring you the most up-to-date news and our articles are fact-checked before publishing.