The Phone Repair Economy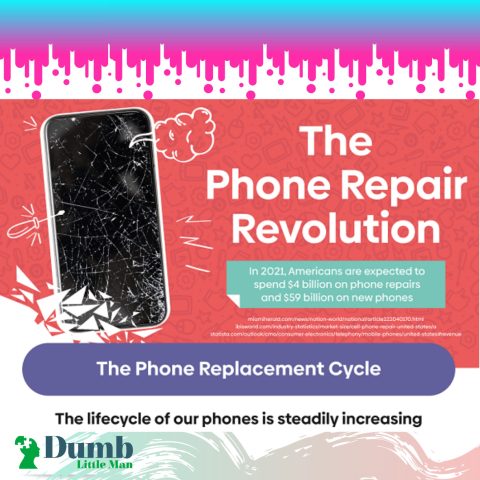 Tech companies are continuing to constantly try to roll out newer, updated smartphones to the market. That said, Americans aren't as quick to buy them – at least as of late. Since 2016, the lifecycle of smartphones has significantly increased – while the average person used to replace them after an average of 23 months, we now hold onto our phones for an average of 33 months – quite a tech life extension in such a short period of time.
There are a few reasons that can help to explain this growing trend. For one, the new features that companies advertise as a means to entice potential customers aren't as successful. Perhaps our existing smartphones are simply good enough these days versus wanting yet another camera lens on the back of their phones?
A mere 7% of those who have paid upwards of $1000 for their phones expressed interest in buying a 5G phone as soon as it hits the market. More broadly, only one out of every three Americans want to take advantage of new wow features such as facial recognition, foldable screens, and the like, that smartphone manufacturing companies have tried to push forward.
Smartphone prices have also skyrocketed in the past few years. Rather than replacing your device, it's safer for your wallet to hang onto your older generation phone than to invest in a newer model.
The World of Phone Repair
So instead of replacing their smartphones, Americans are putting their money towards repairs.
We're still expected to spend $59 billion on new phones in 2021, so don't think that the smartphone market is tanking. That said, we're also anticipated to spend a surprising $4 billion on phone repairs. Why so much, you might ask?
Phone screens are cracked every two seconds in the United States – and almost three out of four people have broken their smartphone in some way. Within this pool of smartphones, that means that 95 million smartphones are damaged by accidental drops every year. This amounts to nearly $30 billion in electronic devices at full price.
We aren't great at protecting our phones, despite there being many potential risks against them in our daily lives. And that stats show that we don't learn our lesson after our phones break. Almost half, 44%, of people had their phones uncased when they broke them.
Phones are said to be most at risk in cars or parking lots, followed by the workplace, pools, or bodies of water, as well as in the middle of physical activity. But the damage usually caused – cracked screens, closely followed by scratched screens and then battery damage – don't warrant a full replacement when they can be easily repaired by service experts.
Around 60% of people would rather repair their smartphone than replace it. Even 21% of people said they'd continue to use a damaged device all the way up to the point that it can no longer function at all.
Interestingly, men and women seem to be somewhat divided on whether or not they would invest in repairs. A majority 62% of women said they'd continue to use their phones after being damaged. On the other hand, a majority 55% of men said they'd pay for repairs for insignificant aesthetic damages.
There are several benefits to repairing your smartphone as opposed to purchasing a new device entirely
Many of these reasons aside from cost are centered around environmentally friendly reasons.
⫸ More replacements mean fewer manufactured devices needed, which can help lower harmful greenhouse gas emissions from tech factories. Throwing away damaged devices also means throwing away the harmful chemicals that phones contain, especially when not disposed of properly.
⫸ Repairs require less energy than the amount of energy needed for manufacturing and shipping a new smartphone. They also support resource conservation. Repairs reduce the necessity to seek new raw materials which are often in limited supply – especially during the pandemic.
⫸ Choosing to repair your smartphone also might be an all-around better choice in terms of personal customer experience.
Doing so tends to be more convenient for people. There's no need to transfer files or get used to learning a new device. Repairs also tend to be less expensive than a full phone replacement.
How to Extend the Life of Your Smartphone
Before concerning yourself with potential damages or repairs, there are several steps you can take in order to extend the life of your smartphone.
⫸ The most obvious is to use a sturdy, protective case; shock-absorbent materials like silicone or rubber will protect your phone against drops or blunt force. Some case companies even provide data for drop-tests on their websites.
⫸ Screen protectors can also help to prevent scratches and aesthetic damage to your phone screen. It's also worth protecting your device against more unseen internal damages.
⫸ Don't keep running your battery power into the ground; it's best to stay at least 50% charged to maximize your phone's battery life. If you can, use a cord that stops charging your phone after it reaches maximum battery power. You can also seek a battery check-up every 2-3 years if you feel as if your phone isn't maintaining battery power as well as it was when you first got it.
Moreover, there are a number of actionable items you can do to prevent damage in the first place. If you happen to damage your phone, it's worth looking into the benefits of repairs before you jump the gun and go for a replacement. If all else fails, you can replace your phone, but many options exist to repair your phone today.

Like this Article? Subscribe to Our Feed!
Brian Wallace is the Founder and President of NowSourcing, an industry leading infographic design agency based in Louisville, KY and Cincinnati, OH which works with companies that range from startups to Fortune 500s. Brian also runs #LinkedInLocal events nationwide, and hosts the Next Action Podcast. Brian has been named a Google Small Business Advisor for 2016-present and joined the SXSW Advisory Board in 2019.