PDF Filler Review: Everything You Need To Know About PDF Filler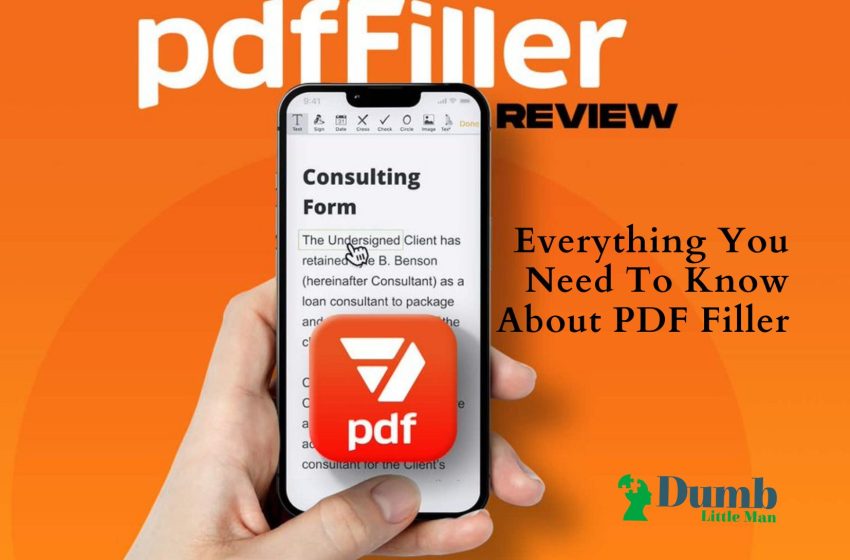 Is the PDF filler is the best tool for PDF file editing? What features does pdf filler offer? And how well does it works for editing PDFs, word documents, and other future brands when it comes to security and privacy. PDFfiller has kept protection of your all data and private information. It can facilely create, edit and manage  PDF files and forms to save your time and money and provide you the solutions of all the problems which you face during working on PDF documents. . Some of the American law firms that enjoy PDFfiller praise its extensive forms library and other documents. Generating batch forms such as certificates and legal notices is another feature that many business owners appreciate. The automatic form filling feature can be programmed manually by administrators and IT staff members, but the software also learns from the previous usage and suggests information to fill in. You can also request signature authentication certificates, and search and replace text within the PDF files.
What is PDF Filler?
PDF Filler is  Cloud hosted online management system that is used for business and individual purposes. It does not use for PDF editing and is also used for being capable of creating, managing font size, downloading, and converting PDF documents quickly and securely. It makes your PDF documents error-free and gives professional look. It eliminates time consumption practices such as manual signing and printing by making the PDF document ready to share and author in less than a minute.
History 
The company of PDF filler was founded in 2008 in Boston, Massachusetts where its main office is located. Vadim served as founder of PDF Filler, and for the past 35 years, he has been working as a technologist or director in different software and internet companies, including FurnitureFan, SharpSpring, and Cytrix. From 2014, PDF filler has employees in 8 countries around the world, working in product development, engineering, marketing, operations, and providing 2 technical support to their users. Today, over 55.7 million users are registered with it and streamline their everyday PDF documents and fillable PDF forms.
Product Quality Score
Features:8.8
Ease of use: 9.0
Customer support: 8.7
Value of money: 8.8
Importance of PDF filler
PDF Filler helps you with PDF editing, find a PDF document in the online form library of over 25M fillable PDF forms. It is essential because it converts PDF files, forms a builder and eSignature solution which makes it fast, easy to collect data, and secure to manage your PDF documents on any electrical device ( Computer, Laptop, and Mobile).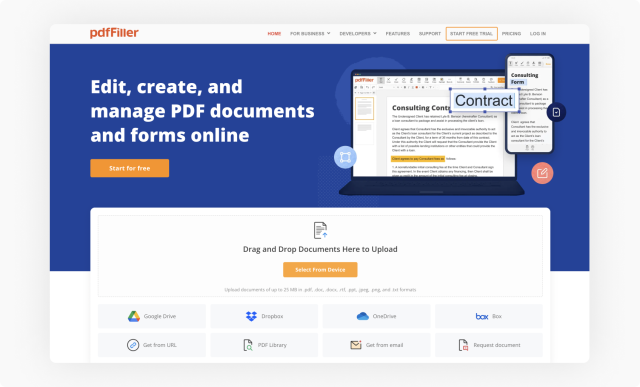 Scam allegations 
For the marketing of a business or personal brand, hosting usually used forms online is a great way to introduce people to pdfFiller via Google. However, in reality, it seems very difficult for some people. This typically happens when people a form they're looking for, either via Google or a direct link, but don't know it's being hosted within pdfFiller's site. They spend time and energy filling the form, clicking through to save it, and are shocked to be asked for credit card details. This shouldn't be a surprise, but in reality, most people don't read the whole text which is written on a web page before clicking through to the next one. Hence, a number of postings around the web call the service a "scam".
Pdf filler is responsible for pointing out that their website copy makes the situation clear what the situation is. And anyway, as long as people cancel their free trial within 30 days, they won't be paid and can keep all their saved documents.
Documents library 
PDF Filler has an excellent and hugely comprehensive document library, which contains some of the most common government forms in the UK and USA. It is not expected to find every form in existence here, though pdfFiller is only able to share forms where the creators have given excess. However, where the form is available within the interface, it certainly is a convenient time-saver and also energy. The main reason pdfFiller is keen to host such documents is that they come up on Google when people are searching for a specific form. However, this has led to a certain amount of contention.
Advanced features
While pdfFiller is good for online form filling, it can do a lot more than that. You can edit all ,PDFs in different ways including merging PDF files, splitting PDFs into various files, and converting PDF files into .doc, .docx, .rtf, .ppt, .jpeg, .png, excel and .txt formats (and vice-versa) . pdfFiller allows you to add text to PDFs and adjust the font, color, and size of your characters. There are also tools for redacting, highlighting, and drawing, and you can add images, logos, notes, URLs, and videos to your PDFs. You can change the order of pages in your document, as well as add extra pages, or duplicate and delete pages.
Verdict
If you just need a tool to fill in and sign a single form, pdfFiller is going to be overkill. However, if you fill in a lot of forms, and want the smooth interface, added features, and extensibility you won't find in a free app, then pdfFiller is a good option. And the 30-day free trial gives you a nice opportunity to try it out for size first.
If you need your own forms and/or templates, then pdfFiller also has some excellent features for automating that process and keeping your work organized. Yes, there's somewhat a learning curve involved, but with a little effort, you're certain to make productivity gains over the long term. Note however that you'll need to invest in the Premium plan to take advantage of these advanced tools.
These top-line features of pdfFiller are most closely matched by Adobe Acrobat Pro DC, another subscription-based online tool. In general, we'd say pdfFiller is a better bet if you're working mainly with forms, while if you're mainly editing other types of PDFs, such as PowerPoint presentations, Acrobat Pro DC is probably the one you'll prefer.
Unique features of PDF Filler
The specific unique features of PDF Filler includes PDF Document Editor (Edit tax forms, text boxes) by using it you can easily edit a pdf file in other formats, Erase, Redact, Draw different pictures to make document attractive, Signer Authentication and Security of all the personal and business data, Application Programming Interface (API), create fillable PDF Forms, Corporate & Shared Account, Merge the PDF documents  & section or pages PDFs, Integrations with Google Documents.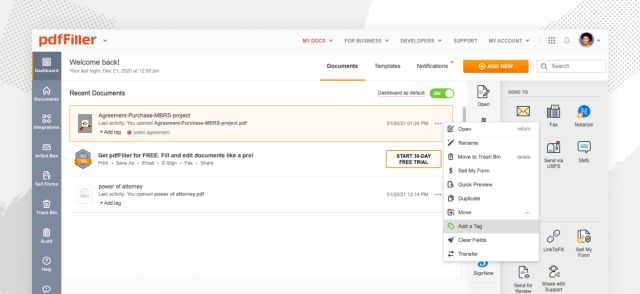 Add Watermark in your document, Images, & Video tutorials, Collaborate & Version,  PDF editing online to other files or PDF formats, Print, Download, Send, and share, Search Text in PDf, Fax,  Encryption & Securit, New Form & Document Creator, Send Out Documents to be a Sign PDF document, Add Your Own Branding,  Fillable online PDF Forms, Integration, Forms Security & Authentication, Fill online Forms Automatically very quickly, work on every device like iOS & Android Apps,  Document Signing,   Replace text, text box, Digital signatures.
Benefits
Here are some  benefits of PDF Filler offers advanced features are with its great value;
1. Document Creator
PDF Filler is used to creating new documents, edit PDFs, word documents, create forms for business and individual purposes. Many students used this to make the assignments and reports on Microsoft word. It eliminates paper consumption and saves money by creating a word document and editing Pdf files online. It creates, fills out, edits, and sends sign documents on the go using many free legal industries such as iOS and Android apps.
2. Imported Document
It can process or imported the needed PDF files from one drive, Google Drive Box, and Dropbox. It Saves time and money in the process of importation of important documents. You import the delivery of your document easily and fastly.
3. Freelancing Work
This is used by individual freelancers and businesses to help to complete an average of 10,000 forms electronically on daily basis. It reduces errors with reusable fillable templates other formats. During the work for the client, you can quickly create, edit and manage the work files and download, save and share it.
4. Fillable PDF forms:
PDF Filler is used for making fillable Pdf form, which is used for different purposes such as research, calculations, product descriptions, collection of data of business employees, and many more.
How to make a PDF fillable Form?
By using the following steps you can make online PDF fillable forms.
▸ Open Jotform
Firstly, create a free Jotform account and build your fillable PDF form from scratch or upload an existing PDF form to easily convert it into a fillable PDF just in a single click.
▸ Customize your forms
Add the sections or page numbers, business logos, or images in which the details are shown very well for a polished, professional look.
▸ Automate email responses
You can save your time by automatically sending copies of completed PDF forms to respondents after they fill out your form.
▸ Share and download
You can save a copy of your fillable PDF and convert it into Excel files or other files formats. Send it as an email attachment.
5. Enhance productivity
It is an online management major cloud platform, that makes relevant data, collects data that is available for whether the user is in the office. This tool removes some Paid activities such as scanning of documents, printing, and signing. These benefits effectively help companies to reduce the time spent on tasks and it also reduces expenses.
6. Sharing   documents
PDF filler is one of the top-rated signings and sharing platforms that offer many fax services without credit card details or additional charges.
7. Easy to Use
The main advanced feature required of   PDF filler can easily be operated by the user to create a new excel file or import already existing documents. Images, checkmarks, logos, text, highlight and blackout, sticky notes, add and is deleting pages, and many more could be added to the document delivery as well. These user-friendly documents could be easily printed, downloaded, or they could also be sent through SMS or USPS.
Editable forms can also be designed and filled automatically and the data is collected in one file. After that, a thousand copies can be made for each. With a single click, a lot can be achieved through this tool used for merging files and erasing or distributing documents.
8. eSigning
PDF Filler is used for eSigning. The system can make a legally binding signature with pictures that can be used on mobile apps and other traditional devices. This is verified in many different 50 states and provides security measures to their user.
9. Business Purpose
Before purchasing the products, the prospective buyers are always trying to the editor for free on their website.  When the buyer is satisfied, the user can make a plan, sign in and start editing. Each business has its unique demands and PDF filler's customization feature ensures that the tool can perform functions specific to different needs to provide user-friendly support.
Are you do your business from anywhere, anytime, and on any device by using PDF filler?
Yes, you can conduct your business from anywhere, create and edit documents in complex eSignature workflows with a firm and compliant solution. Approve, deliver, and e-sign documents and online forms from anywhere within a minute instead of various days, even while on the go. Delight your user and partners with an instinctive signing experience.
The disadvantage of PDF  filler
The followings are the disadvantages of PDF filler:
⫸ Unexpected Results
Sometimes you do get not the expected results while you convert PDF files to Word or sign documents /any other format in which is very difficult to edit and manage.
⫸ Free Trial Period
It could have just 30 days free trial period not have a longer free trial period. For the annual commitment, it has paid plan.
The user can modify his document and only when downloading it he is asked to register with a payment method. This can be confusing and irritating if you don't know it beforehand.
Does PDF Filler represent any government organizations?
PDF filler is not affiliated with government organizations. However,  it provides free access to millions of IRS forms and documents to edit, create and share. Some of these forms are documents used by government organizations. PDF filler provides an opportunity to fill out these documents and is not answerable for how the user will use them in the future or whether they will be accepted by the state institution.
PDF filler Integrations:
The following PDF filler integrations are currently offered by the vendor:
•          Google Drive which stores your files and photos, videos in one cloud. The first 15000Mb of storage is free with a Google account.
•          OneDrive is a file hosting service that works as back-end storage of the web version of Microsoft office and one place to share and sync your business and other files.
•          Dropbox is a modern workspace designed by the American company Dropbox, Inc. to reduce busywork and so you can focus on the things that matter to do.
•          Box.net is an online web which use for file-sharing, storage, and collaboration service provider that caters to individual businesses user. Box.net was founded in 2005, the founder is Aaron Levie and Dylan Smith. Box.net is based in Redwood City, California, is a public company.
•          Google Documents is an online word processor included as part of the free, web-based Google Docs Editors suite offered by Google, which also includes Google Sheets, Google Slides, Google Drawings of the various pictures, Google Forms, Google Sites, and Google Keep.
•       Microsoft Office 365 is a Software as a Service (SaaS) solution that includes Microsoft Office and other services, such as sending the email and collaboration, from Microsoft's cloud server. Microsoft Office 365 provides desktop functionalities and is easily available by subscription.
•          Salesforce is an American cloud-based software company headquartered in San Francisco, California. It provides a user-friendly relationship management service and also provides enterprise applications that work on customer service, marketing automation, analytics, and application development.
•          Xero is a domiciled public technology company of New Zealand, which is listed on the Australian Securities Exchange. Xero is a cloud-based software platform that focuses on small- and medium-sized businesses. It is online accounting software for your business that connects you to your bank, accountant, bookkeeper, and other business apps.
•          MS Dynamics 365 is a product line of enterprise resource planning and customer relationship management intelligent business applications along with different productive applications announced by Microsoft in July 2016 and released on November 1, 2016.
•          Confluence is a web-based corporate wiki developed by Australian software company Atlassian. Atlassian wrote Confluence in the Java programming language and first published it in 2004. It is a team workspace where knowledge and collaboration meet. Trusted for documentation, decisions, project collaboration & Jira integrations.
•          Zapier is a product that allows end-users to integrate the web applications they use. Zapier is based in Sunnyvale, California, and employs a workforce of 550+ workers located around the United States and 38 other countries. It is a tool that helps you automate repetitive tasks between two or more applications no code necessary. When an event happens in one app, Zapier can tell another app to perform (or do) a particular action.
•          WordPress is a free and open-source content management system written in PHP and paired with a MySQL or MariaDB database. Features include a plugin architecture and a template system, referred to within WordPress as Themes. It is a content management system (CMS) that allows you to host and build websites. WordPress contains plugin architecture and a template system, so you can customize any website to fit your business, blog, portfolio, or online store.
•          A variety of popular CRM solutions are Zoho CRM for scaling a business, Salesforce Sales Cloud for customizability, Bitrix24 for multi-channel communication, Pipedrive for being easy to use, Ontraport for automating online transactions, Nimble for customer prospecting, Nutshell for managing a sales team, Apptivo for business management.
PDF filler Technical Details:
Supported Language:     English
Supported Countries:   Global coverage
Mobile Application: Apple iOS, Android
Deployment Type:   On-premise, Saas
Operating System:       Windows, Mac
Is PDF Filler safe? What are the points of security?
Trust starts with security. At pdf filler, the security of your data is very serious, and have developed measures to give you the best information protection.
"PDF filler acknowledges its customers' need for security as a top priority," said Eugene Gorelik, Director of Engineering. "Early on, when the topic of data storage arose, we knew we would need a service that could not only meet our expectations but one that could scale with the charge of growth we were predicting. Data needed to be kept safe, but it had to be easily accessible as well. We're proud to be able to deliver top-notch security combined with ease-of-use so that when users need to access documents stored on pdfFiller cloud databases, they're only a few clicks away from being able to do so at any time, from any place."
PDF Filler's security standards cover the following points
Data encryption and storage
PDF Filler enciphers user communications with the NSA developed SHA-256 encryption algorithm which is used as a security standard in the pharmaceutical, medical and banking industries to protect sensitive data. User documents are site aside on Amazon's Simple Storage Service (S3) data centers, which protects them against any potential data loss and is also a leading digital publisher.
Digital Audit Trail
Every document created, edited, moved, or shared has a unique digital audit trail that records specific identifying data which use for business processes: IP address, geo coordinates, browser version, OS information, and time stamp. pdfFiller's audit trail ensures that each document is technically & legally sound.
Two-factor authentication
Two-factor authentication for e-signature identity confirms and password-protected folders advanced feature is required to increased safeguards for sensitive data.
Password protection
With pdf filler, users can add an additional layer of security to their documents with password protection by placing sensitive documents in different folders and requesting recipient authentication.
How to cancel a PDF Filler subscription?
When you sign up for a free trial, we require a credit card number for security purposes sign feature.
This is a basic requirement for sign-in. However, it protects against pitfalls with regard to adding your card number to our service. And moreover, we provide our users with risk-free conditions for their free trial.
•          If you cancel your subscription before the last day of your free trial, no charges will be applied to you.
•          You can cancel your subscription anytime by confirming your account or by contacting support (we never ask about your reason for canceling).
•          After 30 days, the first payment is charged. But remember, we provide you with a 180-day money-back guarantee in case you're not happy with our service.
•          During your free trial period, you get 24-hour support.
How do I cancel my PDF Filler subscription?
•      Log in to PDF Filler (enter your PDF Filler login and password).
•          Click on the "My Account" tab on the toolbar.
•          Choose the "Cancel Subscription" button and submitted directly.
•          Follow the next steps to confirm.
Conclusion
Are you want to get the freedom of consumption of time and money with numerous applications for creating, managing, and editing pdf documents? PDF Filler is trying to provide you solution. You can easily create important documents including PDF files, word documents, and many different online forms. You can import your all documents online, with having the advantage of 30 days free trial or paid plans. Customers in the insurance, real estate, and finance industries are the most likely to give PDFfiller positive reviews, and a similar situation can be observed in large enterprises where human resources departments incorporate this SaaS solution as part of their administration, compliance, and different hiring processes.
Frequently Asked Questions
What are PDFfiller's top competitors?
The most common competitors of pdf filler are Adobe Acrobat Reader DC, DocuSign, and HelloSign, these are used as alternative 0f PDF Filler.
What is the best feature of PDF Filler's?
The best feature of PDF Filler is that very quickly you create, edit and manage documents and forms electrically. Reviewers rate Support Rating highest, with a score of 9.3.
Is there a fee for pdfFiller?
The first 30 days are a free trial, while the price of pdfFiller starts from $8.0 per month. The paid version of it has 3 different plans: The Basic price of one month is $8.00. Premium has at $30.00 per user per month.
Who uses PDFfiller?
The most common users of PDFfiller are from Small Businesses (1-50 employees), students, the Real Estate finance industry.
How do I create a fillable field in a PDF Filler?
With the bits of help of pdf filler, you can easily modify fillable fields. Move the field around by clicking and dragging it, resize it by dragging the dots around the edges, and delete a field by clicking the trash can. To add more fields, simply click the icon again and repeat the steps above.
Like this Article? Subscribe to Our Feed!
At Dumb Little Man, we strive to provide quality content with accuracy for our readers. We bring you the most up-to-date news and our articles are fact-checked before publishing.