Everything You Need To Plan an Outdoor Wedding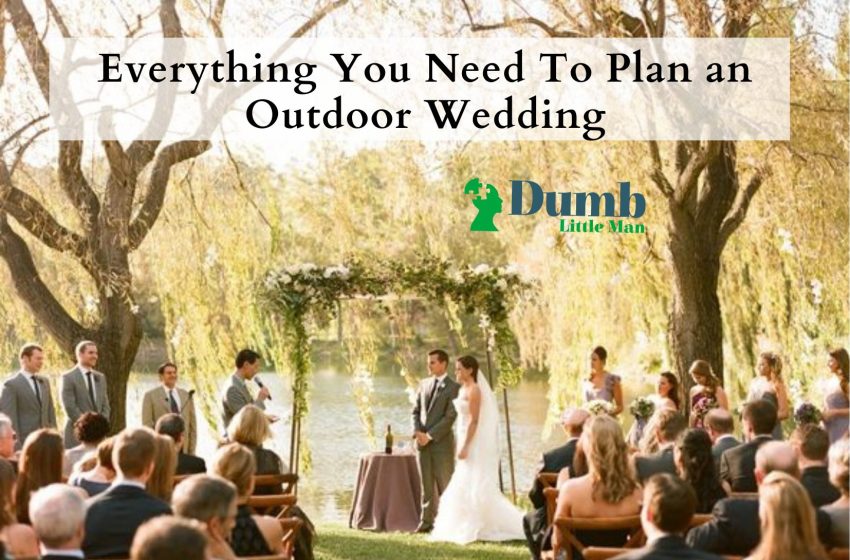 There are a lot of things to love and be excited about having outdoor weddings. They are the perfect solutions for engaged couples who want more space for guests, fewer decorations options, less formality, and more intimate reception. Plus, they can have an intimate guest list and save money on venue preparation.
If you are planning an outdoor wedding, here are some tips to keep in mind to make your day more special:
1. Monitor the Weather a Few Days Before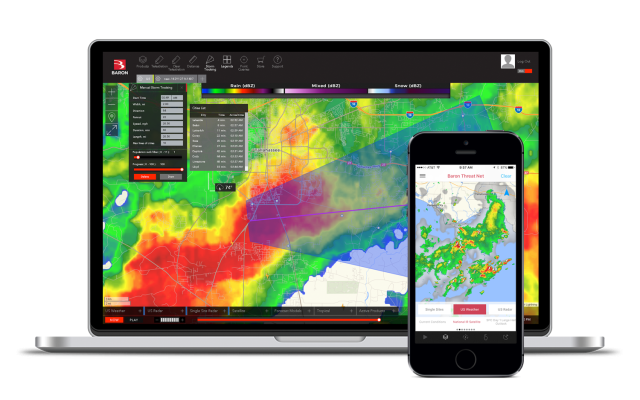 Weather is always a wild card. However, you can be more prepared by tuning in to local weather forecasts in your chosen destination. Luckily, there are many online tools that can help you with this issue.
If you are having an outdoor wedding ceremony where spring showers are likely, it is best to rent a large tent that can accommodate all your guests, plus the food and entertainment.
If you opt for a romantic beach wedding, you might want to consider the tide predictions to make sure you and your guests don't end up being all wet.
2. Think About Shelter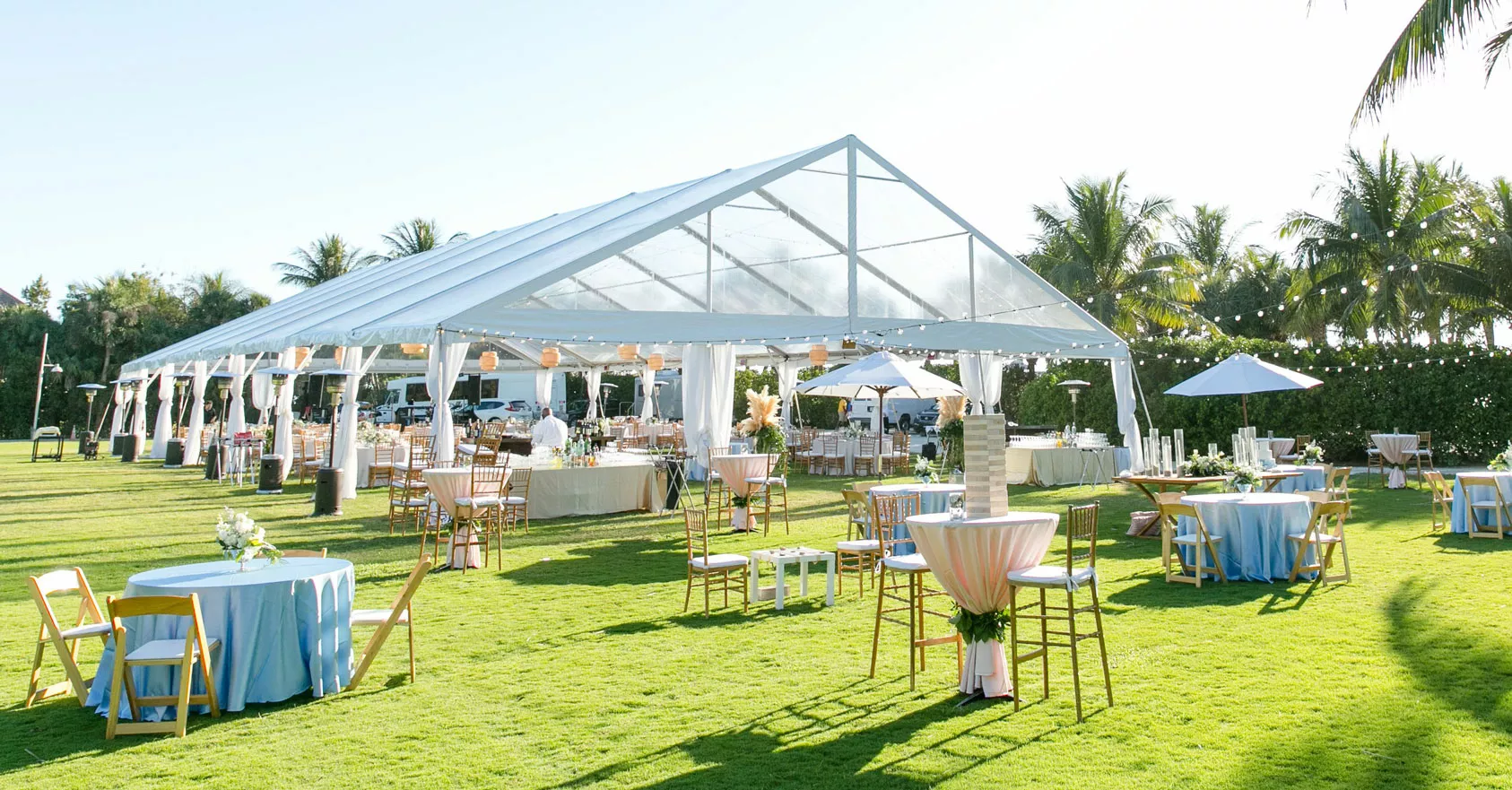 As mentioned, you should take the weather into consideration. Don't be tricked by the weather forecast. Even if it promises amazing weather and there is not a cloud in the sky, you should consider a shelter for your guests.
For example, you can always rent a tent just in case the weather gets a little rough and unexpected. Alternatively, you can plan ahead and have a second location ready to go just in case.
You can also consider an outdoor venue with an indoor reception area that can serve as a backup in case of heavy rains.
As an alternative, you can also hand out color-coordinated umbrellas, shawls, and blankets as extra protection.
3. Choose Safe Lighting Techniques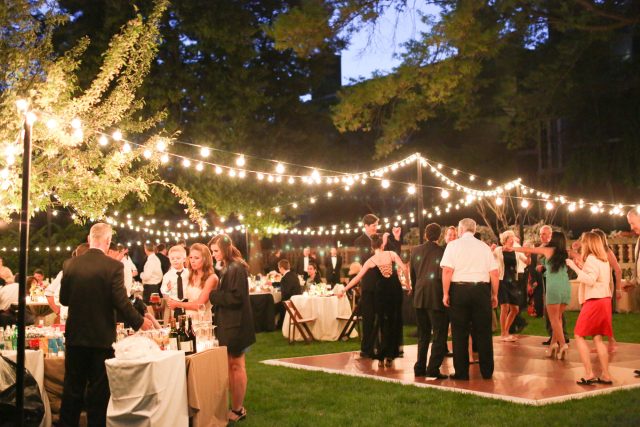 Lighting can make any outdoor wedding better, brighter, and more romantic. There is a wide selection of lighting options to explore, you should make a study and find out the best option for your outdoor wedding reception. For example, you can choose string lights, paper lanterns, candles/tea lights, and more. The kind of illumination you get will also impact your photo ops. So make sure you treat lighting as the jewelry of your space.
Aside from choosing the right colors and styles, make sure that they are safely installed. It's a good idea to find a wedding lighting specialist who will take care of the design and installation.
4. Keep Décor Minimal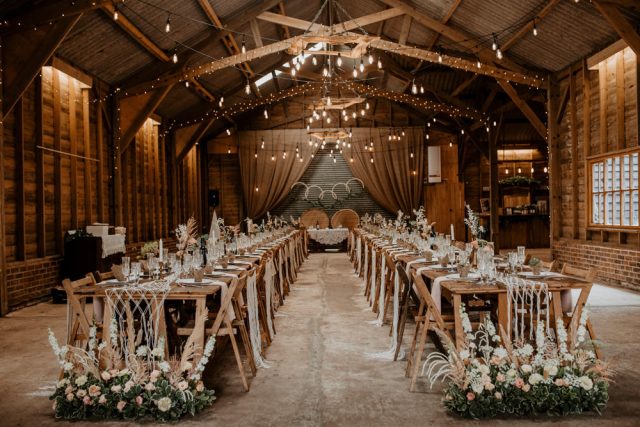 The concept of minimalism has officially hit the wedding design scene, especially now that more couples are choosing outdoor venues, but you may also want to think about adding some personal touches to your outdoor area.
Going less with your décor is the best way to highlight the natural beauty of your wedding location.
Venues such as The Hellenic Museum are great choices since they are already stunning enough that there's no need for additional decorations.
5. Match Your Wedding Attire With the Nature Theme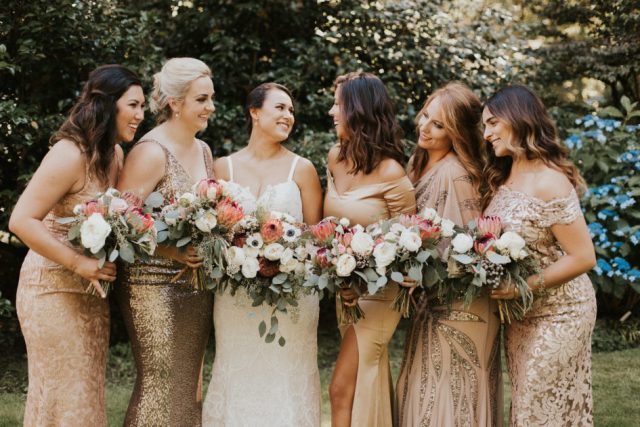 An outdoor wedding is the best option if you want to go less formal. Skip the heels and extra bling and go for minimalist accessories, and a comfortable dress. Match your wedding attire with the whole wedding theme.
You can have your custom wedding ring and dress that will meet your needs and style.
6. Consider Food Options That Work Well in the Outdoors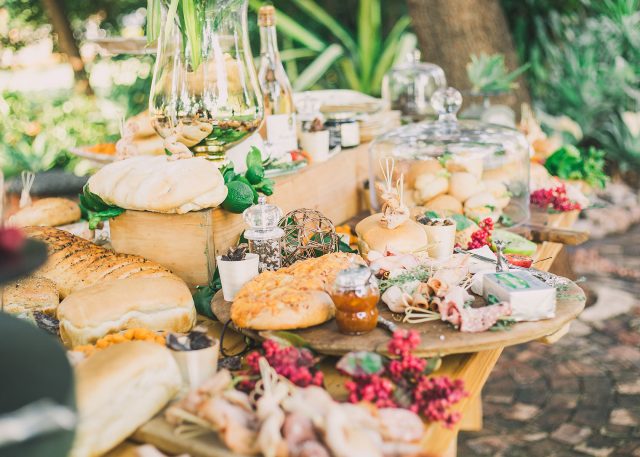 Food takes a big part in any wedding celebration. For outdoor weddings, the season will dictate your menu.
For example, you wouldn't want to have an outdoor display of cheese in the summer as well as anything messy or difficult to eat. Consider featuring the flavors of the season and incorporate fresh items like fruits and salads.
Don't forget to provide cold drinks for your guests as they arrive. Look for a caterer that's familiar with working with outdoor weddings. Also, discuss things like whether or not they will provide kitchen equipment and other supplies.
7. Protect Guests From Bugs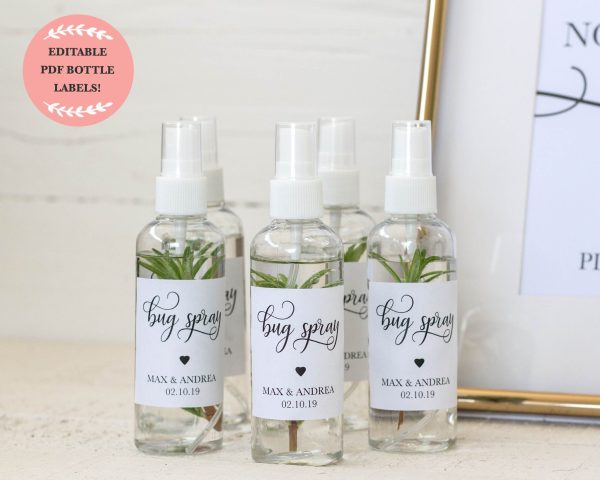 Sure, nearly all aspects of planning an outdoor wedding are pleasant, except for being attacked by annoying bugs. Aside from the weather, one of the major caveats of outdoor weddings are bugs. To protect your guests from these gate crashers, try to schedule your day around laden times of the day, such as during daylight.
Also, stock up on citronella candles or torches, especially if your event is around dusk or in the evening.
If you're worried that insects will be a major issue at your wedding, you can hand out travel-sized mosquito repellent to your guests before the ceremony starts.
8. Keep the Comfort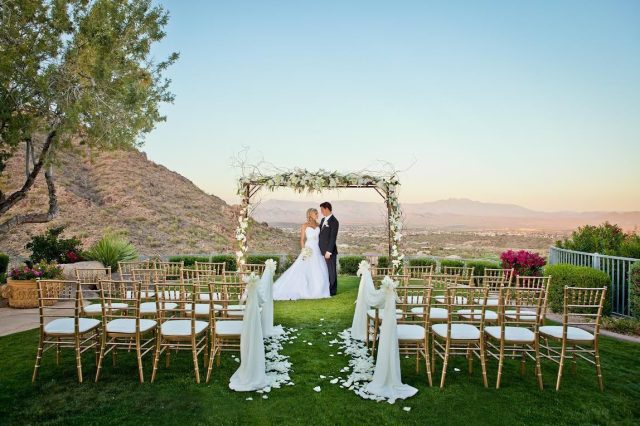 You want your guests to feel comfortable from start to finish. If it's too hot, make sure to serve appropriate treats to your guests like fresh fruit salads and popsicles or ice cream. Set up a few refreshment tables and make sure they are easily accessible.
If there are any soft grass patches, rocky pavements, or bumpy landscapes, put some signs so guests can walk comfortably and navigate the wedding venue safely. You can also provide a basket of flip-flops if some are having some shoe issues.
Aside from bug spray, you can also hand out sunscreens and fans to your guests. If you're going to get wedding favors for your guests, consider customized sunglasses that they can also use in the event.
Wrapping Up
An outdoor wedding can be one of the most magical, romantic, and budget-friendly ways to tie the knot. Make sure to keep these tips and suggestions in mind so you can organize a beautiful, weather-proof, and unforgettable occasion.
Like this Article? Subscribe to Our Feed!
Breanna Howell is the public relations specialist at Claremont Diamonds living her dream of promoting positive public awareness of the company. As a freelance blogger and mom of two millennials, she's also passionate about providing inspiration and support to everyone on their journey to a fantastic marriage.