Mondly Review: Excellent In Most Areas, But… [2023]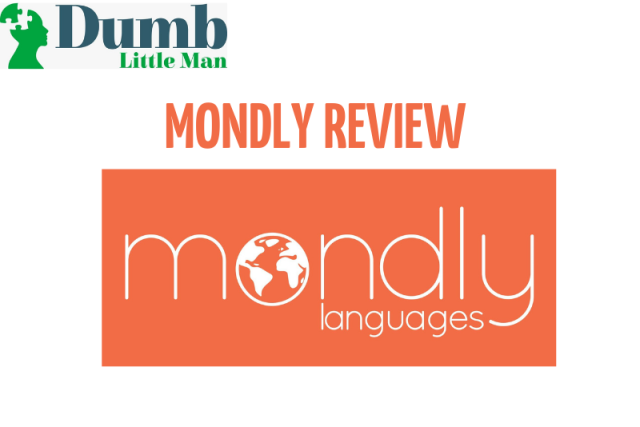 Learning a new language excites me as someone always eager to learn new things.
Like many busy individuals who wish to learn a new language, I prefer to learn using smartphone apps since they are more convenient for language learning in augmented reality on both free and fee apps.
After testing a variety of foreign language applications (like Duolingo, ELSA, Memrise, etc.), I discovered that each app has its own set of benefits and drawbacks adapted to the target language.
This article is going to go through the Mondly language study software.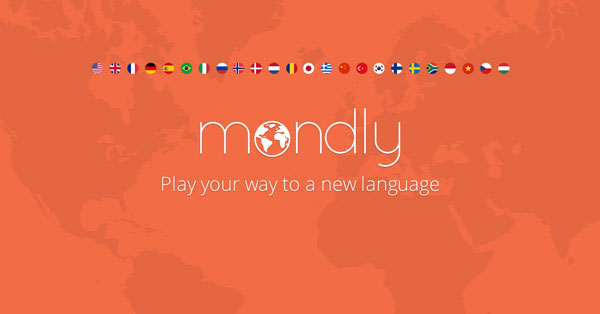 image from https://d37sy4vufic209.cloudfront.net/images/facebook_image.jpg
CLICK HERE TO READ MORE ABOUT MONDLY!
Should we use Mondly?
Mondly is a language learning app that combines chatbot and speech recognition technology to help users learn any of Mondly's 41 languages supported.

Mondly teaches fundamental vocabulary and grammatical concepts in a fun and engaging way which is best fits students who have had little or no prior exposure to their target language.
The task is not very difficult because they rely on passive recognition of languages and phrases.
Although I wouldn't suggest Mondly to anyone who is serious about learning a language, it could be acceptable for people who are pretty new to studying languages.
Merits
Daily courses, weekly tests, and monthly challenges push you to practice on a daily basis.
The terminology supplied is a valuable and effective drill.
It is reasonably priced.
Demerits
For all levels and languages, the content and activities are the same.
The majority of the workouts are passive.
I do not assume that the sequence of classes and subjects is well-considered.
The platform is visually unattractive to me and the app is not user-friendly.
Premium Subscription
There are three options available to learn a language in Mondly:
For one language, it costs $9.99 per month.
For one language, it costs $47.99 per year ($4 per month).
All languages are $47.99 per year ($4/month).
Though you just join up for a month at $9.99, you're able to access several languages.
First Impression
There're numerous language learning apps, including Duolingo, Babbel, and Mango Languages, which on the surface appear to be comparable to Mondly.
However, Mondly might make you be disappointed with few languages.
The app was not particularly user-friendly and the aesthetics were lacking.
Hope that Mondly compensates for their shortcomings with high-quality materials, but that was not the case. It was remarkable and, personally saying, poor when compared to similar platforms.
Users can follow a course, although it appears to be somewhat random. For example, following the vocabulary linked to an emergency, the final topic covered is a section of the body.
Frankly, the materials in-app Mondly might not be appropriate for those who wish to learn languages correctly. It's likely to be capable of teaching a user basic conversational skills only.
Mondly has the advantage of having a large number of exercises with various grammar patterns, so your discussions will be basic yet grammatically accurate after a time.
Outline
Mondly's Premium package includes 1000 lessons and chats, which cover 5000 words and phrases.
Overall, the tool offers a lot of information, but I would recommend it just to beginners and pre-intermediate-level students.
The resource is broken down into lessons that allow users to acquire and practice vocabulary, pronunciation, conversational skills, and, to a degree, grammar.
Mondly's Interface
Apart from the screen layout, the phone and computer experiences are similar.
Here, I'll focus on the app's mobile version.
Mondly, unlike other apps, uses real photographs of people, landscapes, and objects to give it a lifelike feel.
The content of The Lessons
The bottom bar of the screen has the following 5 options:

image from https://www.fluentin3months.com/mondly-review/
CLICK HERE TO READ MORE ABOUT MONDLY!
The primary page is the category.
Lessons are a list of daily lessons that have been learned or that will be studied.
Check your statistics to see how far you've come.
Compare your progress to other users on the leaderboard.
Sign up for the Premium bundle in the shop.
You will find 2 icons at the top of the screen:
In the upper left corner, is the icon to access your preferences and profile. Here you may change your settings, create study reminders, and make changes to your account.
In the upper right corner, is the crown icon to access different subscriptions plan and become a premium member.
Being Premium members' Advantages
Mondly is a free app, but you need to upgrade to a premium membership to access all the lessons and activities.
You can learn all 33 languages with a premium subscription, however, there is only one single language to study with the free version. Mondly for Kids and MondlyVR are also included as premium features.
To see the premium packages available, click the Crown symbol in the top right corner of the screen or the "SHOP" item in the bottom bar.
Quickly Way To Start Using Mondly
You do not have to log in or register to use Mondly app when you want to learn a language on it; simply brown the website or download the app to begin studying.
Nevertheless, you need to create an account if you wish to back up your study data and sync it across several devices besides free version.
First, choose the language you want to learn (in this case, English) and your study level for lessons and exercises after.
After that, you fill out information fields like your name, email address, and password.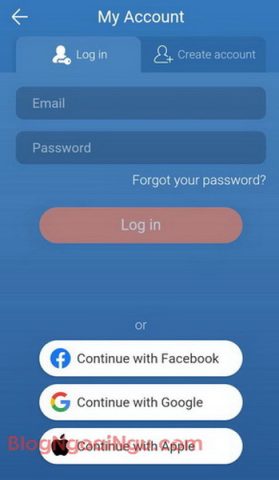 image from https://blogngoaingu.com/mondly/
CLICK HERE TO READ MORE ABOUT MONDLY!
You will go through a lesson on how to use the app before beginning the course.
The first part of the lesson will show you the basic features of the app, while on the last page Mondly offers you to upgrade the app for a fee, further than free version with more features.
You may bypass it by pressing the "skip" button in the upper right corner of the screen if you don't want to.
Before you begin learning fundamental words and phrases, you will be given a sample conversation.
The first lesson is short and just allows you to check out a few of the app's features. You will be evaluated and your learning metrics will be shown.
To continue studying, simply click "Continue".
With a free account, your options are a bit limited, you may only get access the topic "Hello", which include seven courses in addition to daily lesson.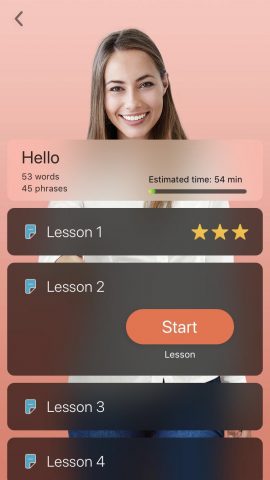 image from https://ltl-tiengtrung.vn/mondly/
The daily lesson will unlock every 12 hours, if you do enough tests every day for a week, you will unlock a weekly quiz. But, you will not be eligible to take the weekend test if you just miss one day of the daily lesson's test.
If you finish the weekly quizzes, you will unlock the monthly challenge. As the result, the motivation of discovering new sources of information will drive you to visit the app every day and finish the daily lesson. This is the best way to learn every new language in any language apps.
More Sections with Premium Membership:
If you upgrade to a premium membership, you will have more topics, including:
image from https://www.langoly.com/mondly-review/
CLICK HERE TO READ MORE ABOUT MONDLY!
Hello (this topic is unlocked with the free course)
Basic vocabulary
Family
Country and language
Emotional
Season and weather
Prepare for a trip
Travel
Activities for the Vacation
Public transport
Food and drink
Schools
Sports
Introduce
Pet
Entertain
Shopping
Around the house
Grammar 1
Grammar 2
Grammar 3
Airport 1
Airport 2
Hotel Reservations
In-room Hotel
Restaurant 1
Restaurant 2
Restaurant 3
Restaurant 4
City tour
Bank
Business
Happy
Help!
Doctor
Emergency situation
Animals
Fruits & Food
Color & Number
Parts of the body
Access all daily lessons from 2015 to presents
Chatbot
AR (select languages only – For example, German can use AR, but Japanese or Croatian cannot)
You will also be graded on how well you did on the exercises. You will have three stars at the beginning of a lesson, and one star will be deducted for each incorrect response.
If you lose all three stars, you must restart the route from the beginning.
Your reward points will be determined by the number of stars left at the end of the exercises. If you want a higher bonus score, you can retake the exercises.
Bonus points will help you get quickly reach higher levels in the Mondly app and increase your position on the leaderboard.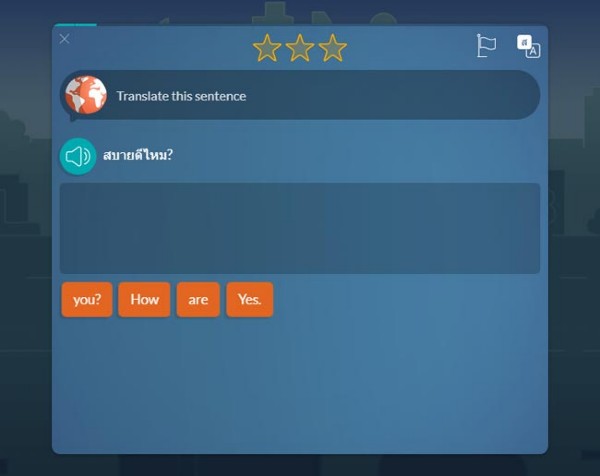 image from https://www.thethailandlife.com/mondly-review
Mondly offers daily lessons to users that are unconnected to the primary material, on top of the vocabulary section available on the main screen.
Learning Experience on used Mondly
When you decided to try language learning on Mondly, Mondly offers you to pick a language you want to learn on languages Mondly after creating an account.
Regrettably, regardless of the level selected, you will be provided with the exact table of contents.
The good news is that you may use the program to translate multiple choice of languages at once. Just change the setting.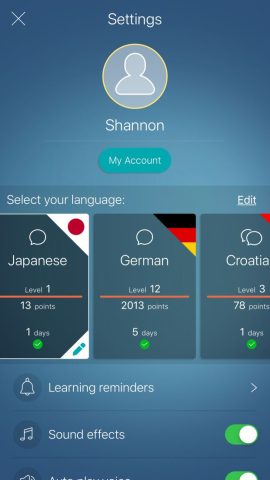 image from https://www.fluentin3months.com/mondly-review/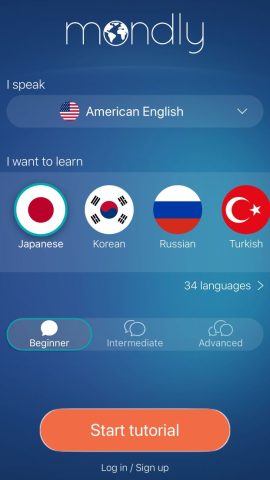 image from https://www.fluentin3months.com/mondly-review/
CLICK HERE TO READ MORE ABOUT MONDLY!
Unfortunately, there are problems in the app when it comes to switching languages.
It would not always allow you to choose a language's level.
As you moved around the app, trying out the other languages, you'll begin to lose track of some of your progress in the language you're learning.
Besides, Mondly has the same content for all languages which means you will learn the same vocabulary words, lessons that might be tedious for language Mondly learners.
After you decided on a language, go to your home screen and select a study topic. You may view simply classes or other areas like conversation or vocabulary, depending on the chosen region.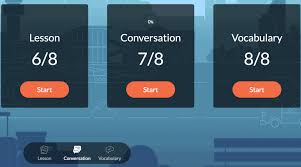 image from mhttps://encrypted-tbn0.gstatic.com/images?q=tbn:ANd9GcRFYjXS7-hZkbRSVqp8kmZKZLatMYgeXv1PvA&usqp=CAU
The app keeps track of your progress, which is a plus. You'll notice stars above the lessons you've previously finished, and instead of a "star" button, you'll see the "redo" option for trying again.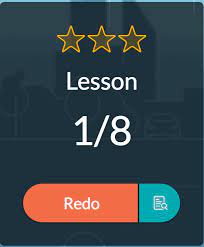 image from https://www.alllanguageresources.com/mondly/
Mondly also asks you to make the right word out of letters that have been randomly arranged.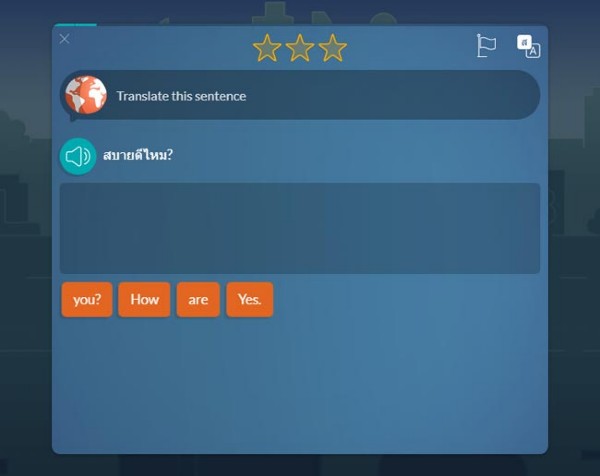 image from https://www.malavida.com/en/soft/mondly/android/#gref
The words "I drink coffee" are underlined. This means you may view a translation of it by hovering over it.
In augmented reality, you may also hear the word again by clicking on the speaker button.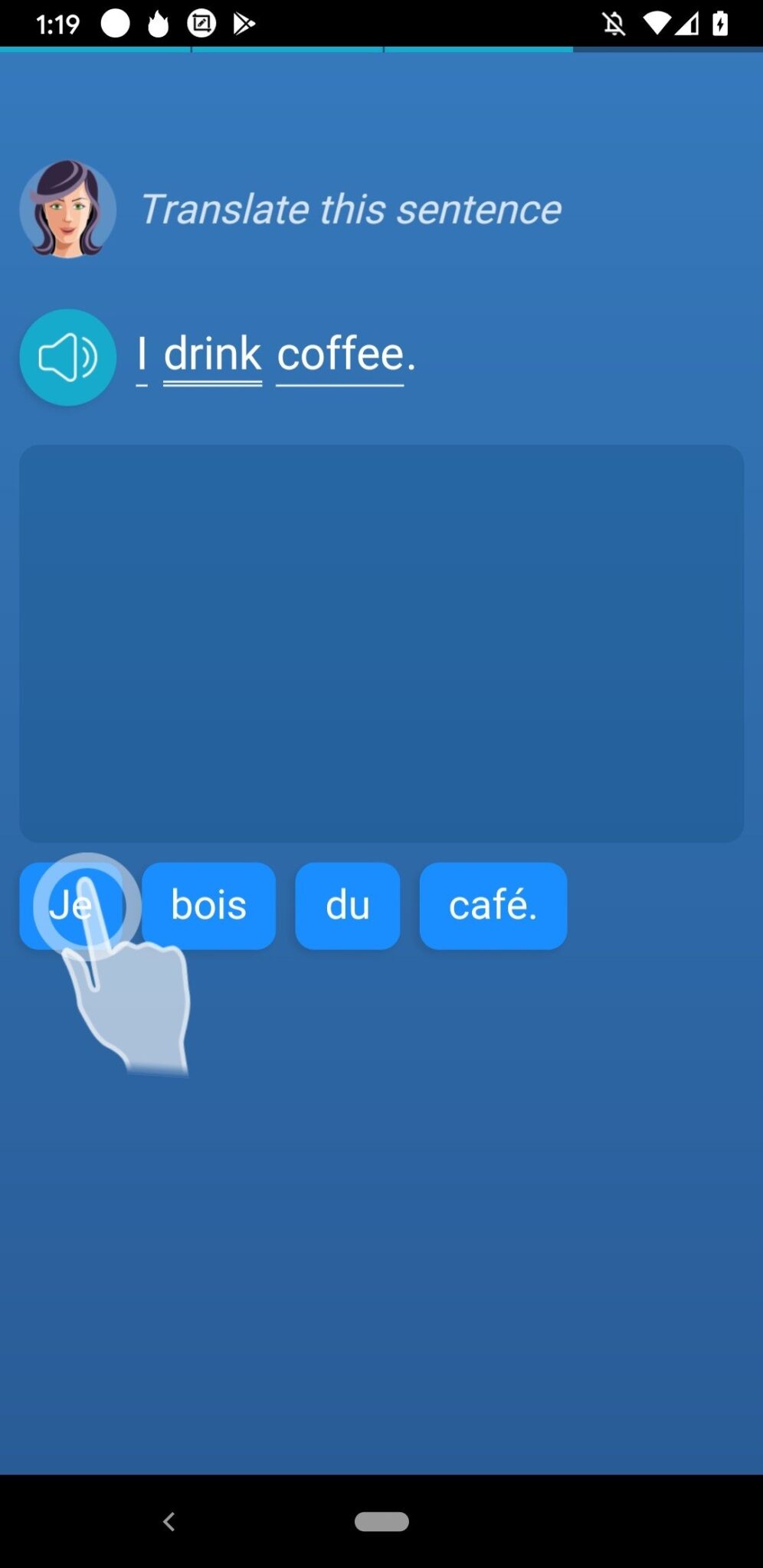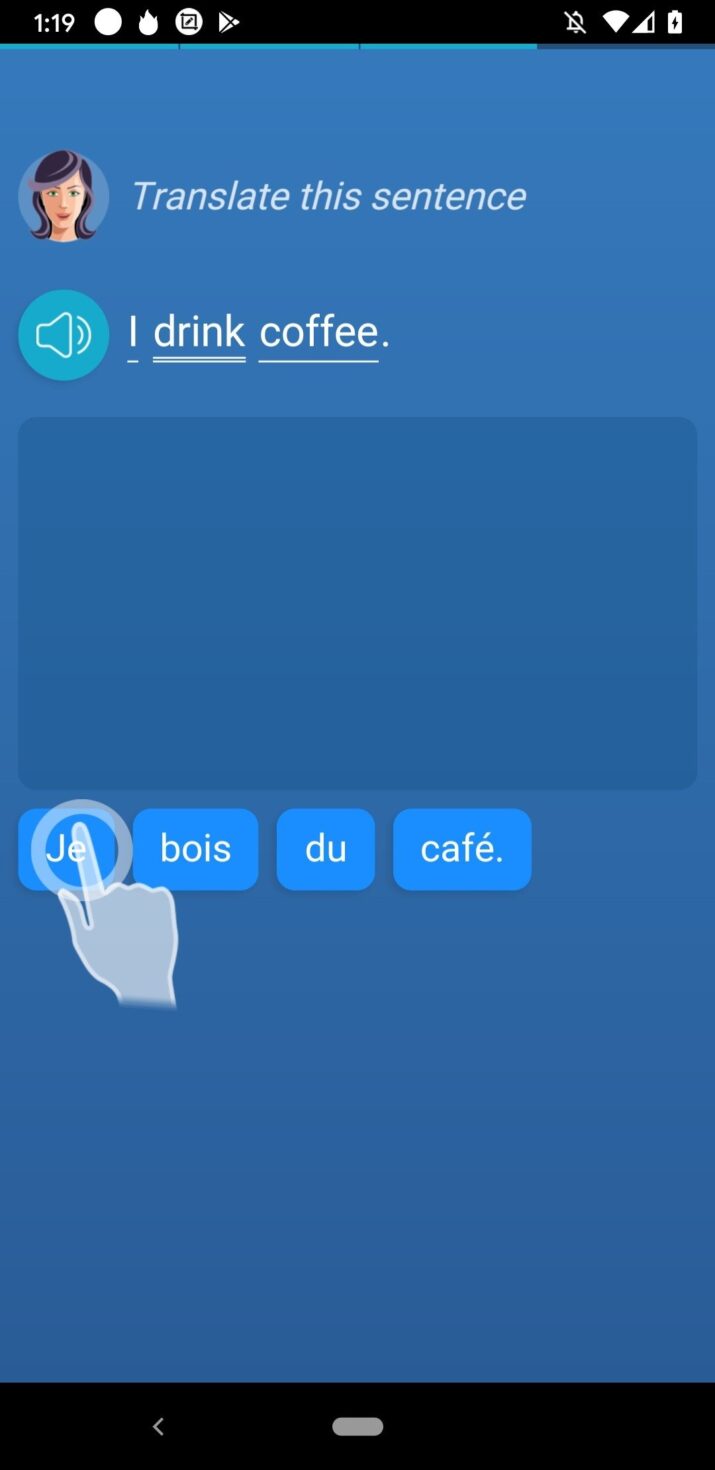 image from https://www.reviewed.com/lifestyle/features/mondly-review-language-app-has-unique-edge
Additionally, the Mondly app requires you to pick the correct word after hearing and seeing it.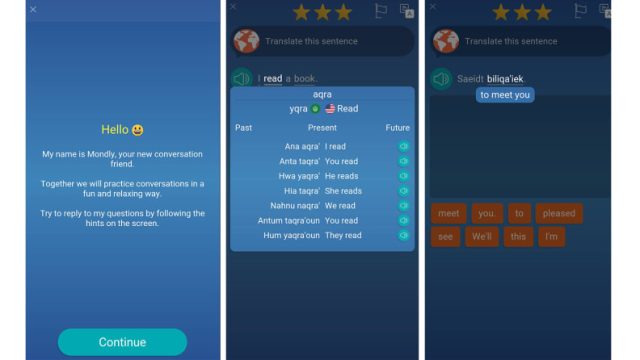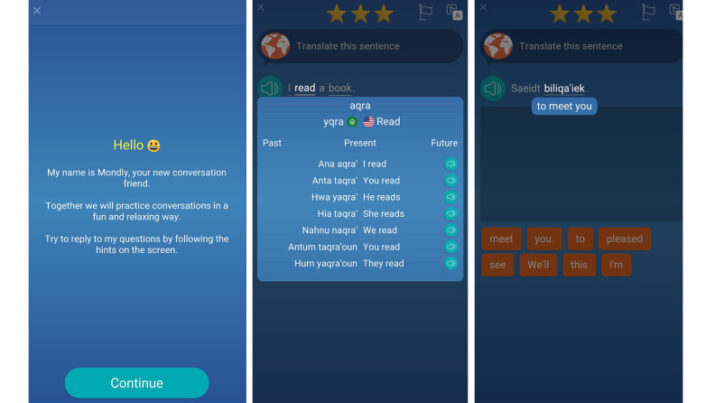 image from https://www.thethailandlife.com/mondly-review
Next, the multiple-choice questions will ask you to pick the correct translation from a list of options. They're mainly passive, it do not require you to utilize the language you're learning.
When you've completed all of the exercises in a section (such as 1/8) of the lesson, you'll be notified that it's finished and given a summary of the new vocabulary you've learned.
The words of the language you're learning are read to you by native speakers, and they display on the screen in English.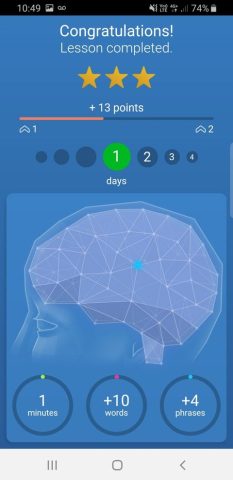 image from https://www.makeuseof.com/mondly-lifetime-subscription/
A lesson review option is also available: allows you to examine the words and idioms were used in the lessons, as well as relevant grammatical subjects like verb conjugations.
Additionally, regular lessons also have "vocabulary" units.
And, a conversation unit will assist you in improving your pronunciation. It forces you to repeat sentences after native speakers.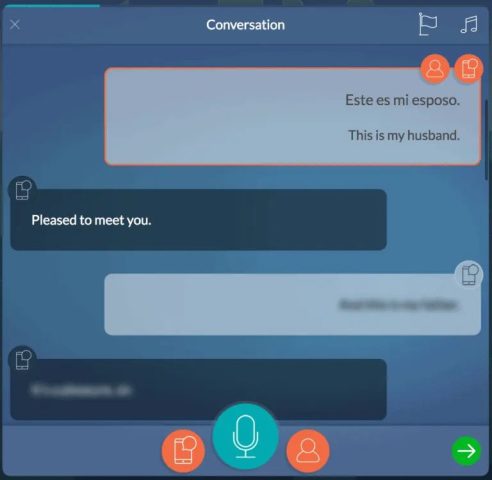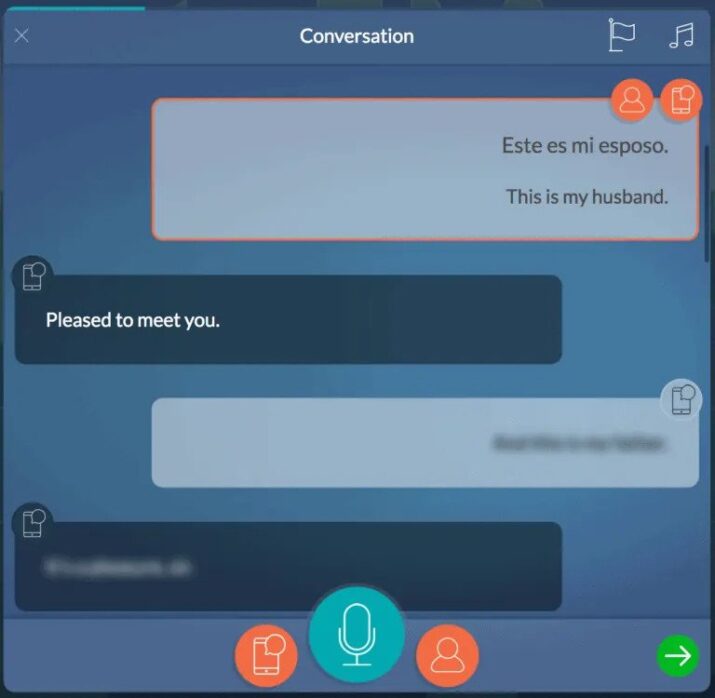 image from https://www.mondly.com/blog/2019/08/01/mondly-tips-and-tricks-review-what-youve-learned/
The orange button with a drawing of a mobile phone enables you to listen to a native speaker's recording, while the orange button with an image of a human allows you to record your own voice.
With speech recognition, you must click and hold the microphone button to record yourself. Your microphone will cease recording you whenever you release it.
Features In Addition
The Lessons: Mondly's premium features.
Mondly's creators have made a half-hearted attempt to broaden the learning experience help users not be bored with all same types of exercises.
I'm going to discuss some difficulties I encountered when using Mondly for Spanish. Verb conjugations exist in Spanish, which implies that the verb takes on multiple forms depending on the person or the tense.
For the third person singular (he/she – él/ella) in the past tense, the imperfect, the verb "ser" (to be) has a form "era."
A Mondly user will learn the verb forms through a series of activities and repetition. In the meanwhile, the activities provide new adjectives to memorize as well as their antonyms (poor/rich, for example).
This method is employed in all grammatical tasks. When practicing the conjugation of the verb "deber" ("must"), for example, the drills contained the phrase "enseguida" ("at once"). It was difficult for me to avoid learning it.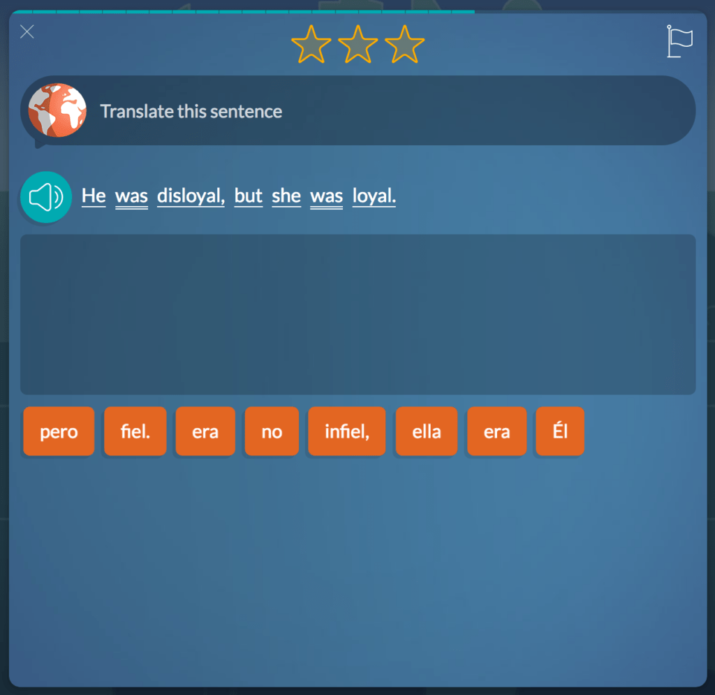 image from https://q8v3g6g4.rocketcdn.me/wp-content/uploads/2018/10/image23.png
CLICK HERE TO READ MORE ABOUT MONDLY!
For irregular forms that are difficult to predict, teaching the learner the conjugation of each and every verb works effectively. Unfortunately, Mondly uses the same method for normal verbs, when it would be simpler to just teach the student conjugation patterns.
As you can see, studying regular conjugation patterns speeds up the learning process far more than learning individual verbs as if they didn't have any larger laws controlling them.
Mondly is not the greatest language app for high intermediate to advanced learners as a result of this. Better that beginner, intermediate language learners should use it rather than advanced levels.
They make things more complex than required by not clarifying the conjugation rules.
The Chatbot Conversations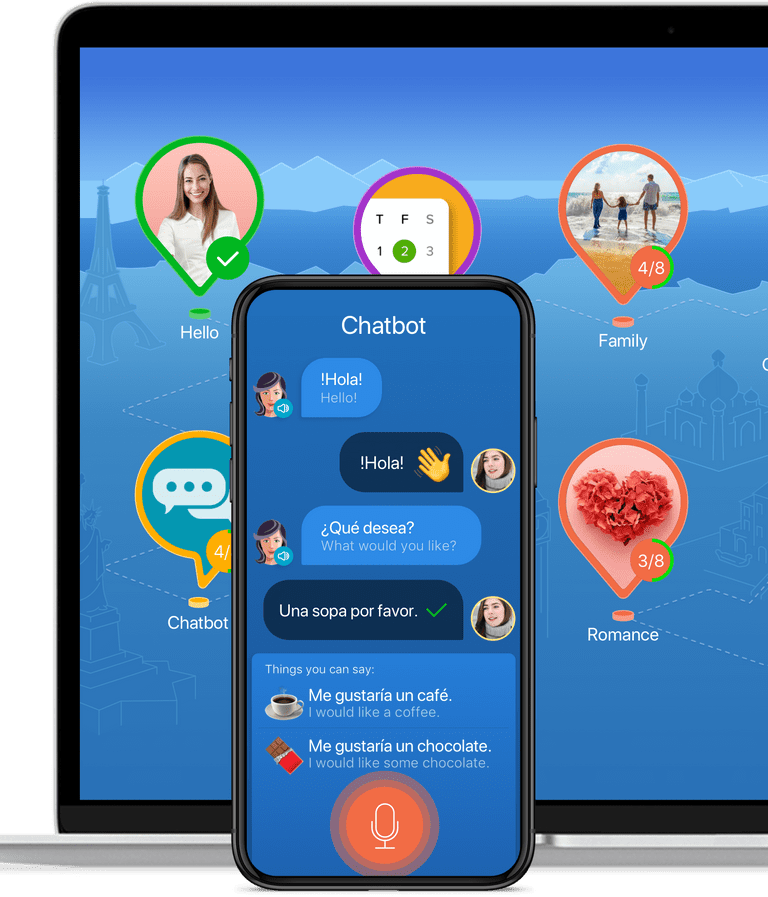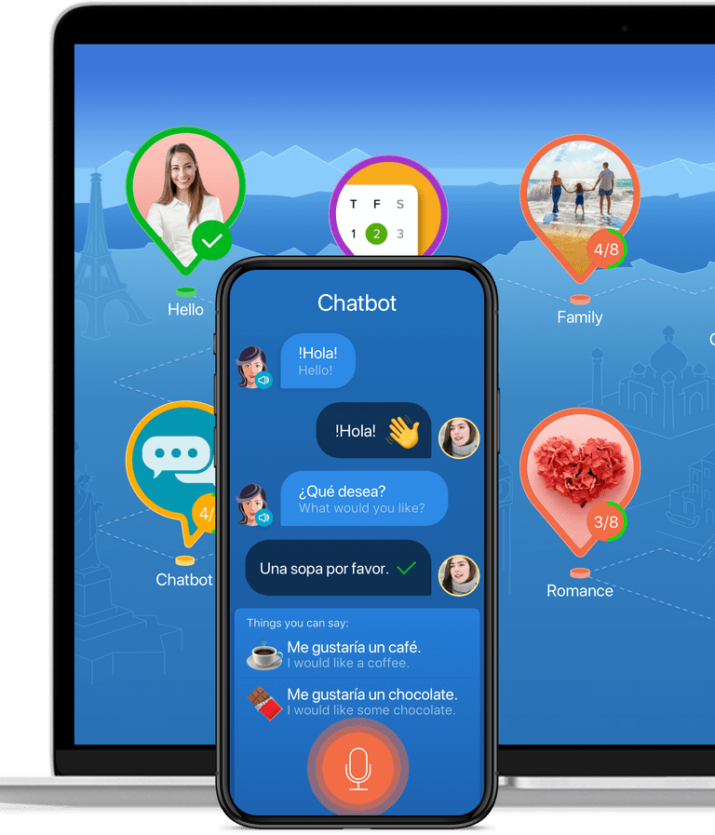 image from https://www.mondly.com/
CLICK HERE TO READ MORE ABOUT MONDLY!
You may complete a chatbot conversation once you finish each topic's course to practice utilizing your new vocabulary in a full discussion.
The chatbot discussions, opposite, were not really useful to me. The talks were intriguing in and of themselves, but there was far too much aid and instruction in English during them.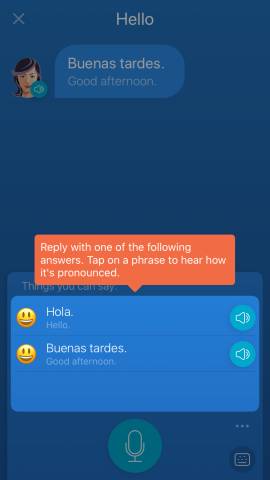 image from https://www.langoly.com/mondly-review/
CLICK HERE TO READ MORE ABOUT MONDLY!
Instead of entering your replies, you select them from a list of options. There's also a translation and an audio sample for each possible response.
After listening to the audio, use Mondly's voice recognition technology to pronounce each sentence of the dialogue.
The speech recognition program can be inaccurate. While I appreciate that this encourages people to talk out loud, I wouldn't place much stock in whether it identifies your speech as correct or incorrect through this speech recognition.
These chatbot dialogues, like the courses, maybe quite beneficial to beginners and low intermediate users.
You may conduct a business meeting, schedule a doctor's appointment, and learn to make new acquaintances.
In general, it's a useful feature. The chatbot dialogues were beneficial in the Mondly Bulgarian basic course, but not so much in the Mondly Spanish advanced course.
Grammar and Conjugation Tables
The grammar and conjugation tables are another Mondly paid feature. And the conjugation and grammar tables in Mondly premium are fantastic.
Verb conjugations are tough to master in any language, but Mondly app tables make it easier.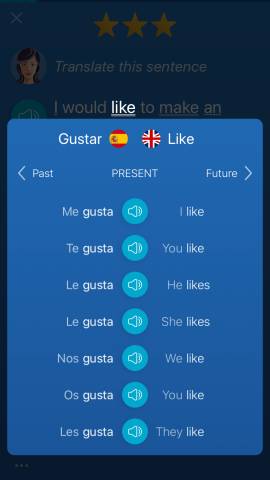 image from https://www.langoly.com/mondly-review/
CLICK HERE TO READ MORE ABOUT MONDLY!
The Mondly AR App
The Mondly AR app is the first language learning app I've seen that uses augmented reality (AR) technology and it's a paid subscription in Premium Mondly so it needs to be reviewed.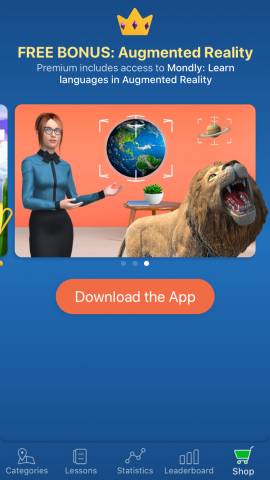 image from https://www.langoly.com/mondly-review/
This technology appears to be on the rise in languages apps, so it's exciting to see it used to language learning. AR apps work by overlaying digital animations on top of your phone's camera.
To begin using the Mondly AR software, you must first select a suitable surface.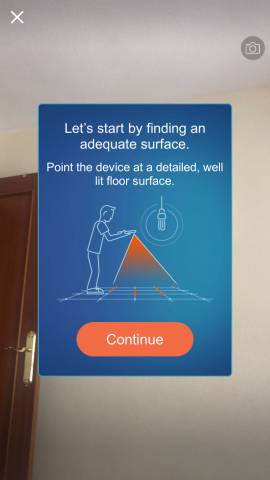 image from https://www.langoly.com/mondly-review/
The dialogue is the most important aspect of Mondly's VR. The vocabulary portion isn't currently available in every language, and the Multiplayer section doesn't seem to have enough active learners to be useful.
Conversations
Because it's virtual reality (VR), you're immersed in the surroundings like the real world, whether it's a store, restaurant, or transportation.
You'll have a dialogue with the AI character in each scenario. It's really straightforward: that individual says something, and you answer.
I enjoy the concept behind these VR discussions, just like I do with the chatbot, but there's a lot of opportunity for development for beginner, intermediate and advanced users.
Vocabulary
You'll converse with the AI persona, just as in the conversation courses. She introduces you to a variety of vocabulary words depending on particular topic lessons in daily life, such as fruits, vegetables, or animals.
You'll study a few vocabulary words, practice saying them, and practice a few phrases using those words in these lessons.
There aren't many of these courses, and aside from the novelty of learning them in virtual reality, there's no actual advantage to studying them this way over other methods.
Prices and Plans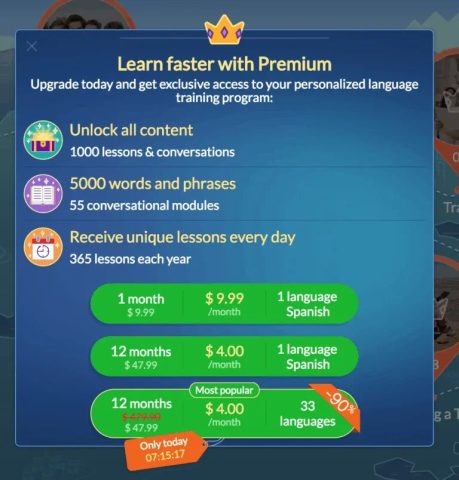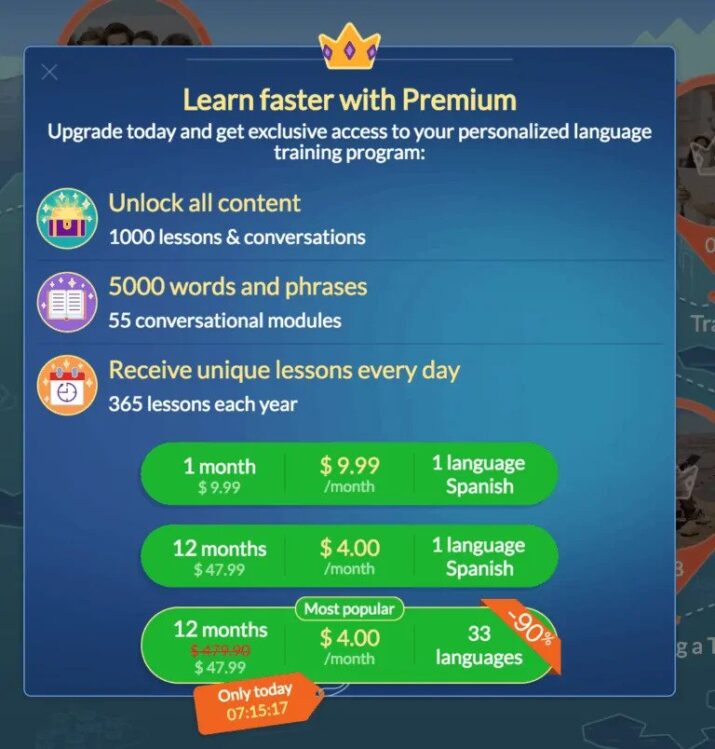 image from https://www.langoly.com/mondly-review/
CLICK HERE TO READ MORE ABOUT MONDLY!
Mondly is available for a free trial to test whether you enjoy it. However, the free content is fairly restricted.
There are three choices for Premium plan's lessons and exercises in reality AR:
For one language, it costs $9.99 per month and $47.99 per year ($4 per month).
All languages are $47.99 per year ($4/month).
Conclusion
Who should use Mondly?
Mondly is a serviceable language learning app but nothing is exceptional in this computer-generated compare to tons of language apps review.
It could enough for people who learn a new language in beginning time, not for advanced.
It includes repetitious lesson and isn't the most enjoyable thing to do, but it will bring you to a restricted level when you are in language immersion by practicing those daily lessons and exercises for your target language.
More options for advanced learners
However, I would strongly advise against it. The market for online language learning tools is crowded, and Mondly isn't particularly strong.
There are many excellent language learning apps accessible as Duolingo, Memrise, Mosalingua,..etc., however, the greatest ones vary based on the language you're learning.
Those pictures and content are attached with affiliate links, you can visit and get more information from them.
Mondly provides a free seven-day trial, so take advantage of it. If you enjoy it, that's fantastic! If not, there're many language applications to choose from.
CLICK HERE TO GET MONDLY AT A DISCOUNTED RATE!
Like this Article? Subscribe to Our Feed!
Passionate in tech, software and gadgets. I enjoy reviewing and comparing products & services, uncovering new trends and digging up little known products that deserve an audience.