MasiTrades Review 2023 By Dumb Little Man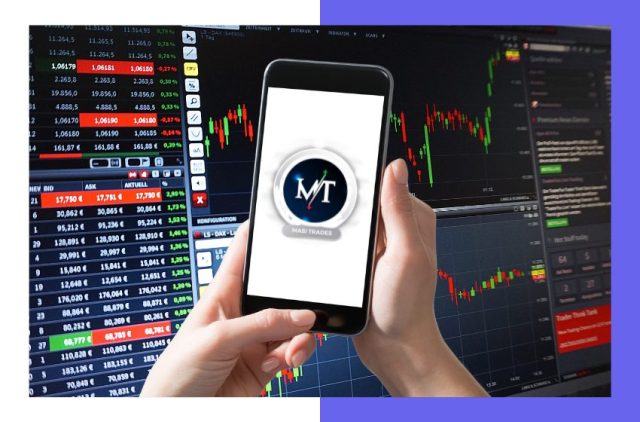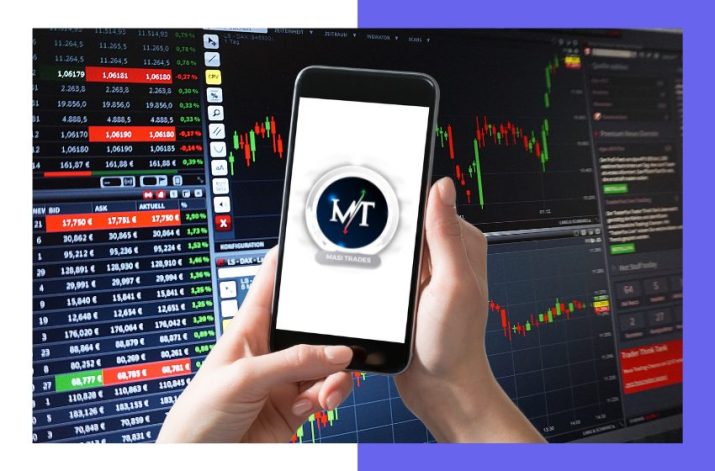 Financial trading has become a well-liked means of making money and amassing riches. There is an increasing need for high-quality education in these fields as markets like stocks, cryptocurrencies, and forex gain traction.
Numerous financial trading courses have been developed in response to this requirement, assisting traders in avoiding financial loss when trading. One such participant in this instructional environment is MasiTrades, a committed group whose goal is to enable people to be successful stock traders. Their goal is to provide members with the knowledge and confidence needed to become skilled traders.
In this MasiTrades Review, we will indicate both its special benefits and any possible drawbacks. The features of the platform, advantages and disadvantages, cost structures, user reviews, and target market will all be discussed.
Through a blend of expert scrutiny and actual user feedback, we aim to offer a well-rounded perspective. By the conclusion of this article, you'll possess the information necessary to determine if MasiTrades is the ideal trading course platform for you.
What is MasiTrades

MasiTrades is a trading education platform owned by Masi Habibi. Dissatisfied with her corporate job in America, Masi turned to trading as an alternative.
Like many beginners, Masi faced initial setbacks, losing around $20,000 in her first year. However, she used this experience as a learning curve. She began absorbing knowledge from seasoned traders and studying trading psychology. 
Over time, she crafted her own trading system. Masi's strategy has evolved, but she currently employs a breakout system based on price action. She trades primarily during the London and New York market opens, known for high volatility.
Her trading activities span multiple markets, including U.S. stocks, Forex, and futures. With years of experience and lessons learned, Masi now aims to educate others through MasiTrades.
[wptb id="129499" not found ]
How Does MasiTrades Work?
A variety of services are available from MasiTrades for traders of different skill levels. Three primary categories can be used to classify the platform's offers.
There is trading education first. A multitude of educational resources, including webinars, video lectures, and publications, are available through MasiTrades. These materials can prove to be beneficial for traders of all skill levels. You will get knowledge on things like market hours, swinging tactics, and chart patterns.
Secondly, trading technical indicators are offered by MasiTrades. These are created by knowledgeable analysts who carefully examine market patterns in order to identify possible trading opportunities. Trading decisions can be guided by these signs.
The portal also provides tools for technical analysis. These tools support traders in analyzing price changes and identifying trends. Anybody who is interested in precise trading can benefit greatly from these tools.
MasiTrades Pros and Cons
Pros:
Diverse educational resources

Signals from experienced analysts

Tools for technical analysis

Suitable for all skill levels
Cons:
May require initial investment

Learning curve for beginners

Limited market focus

No guarantee of profit
Benefits of Learning with MasiTrades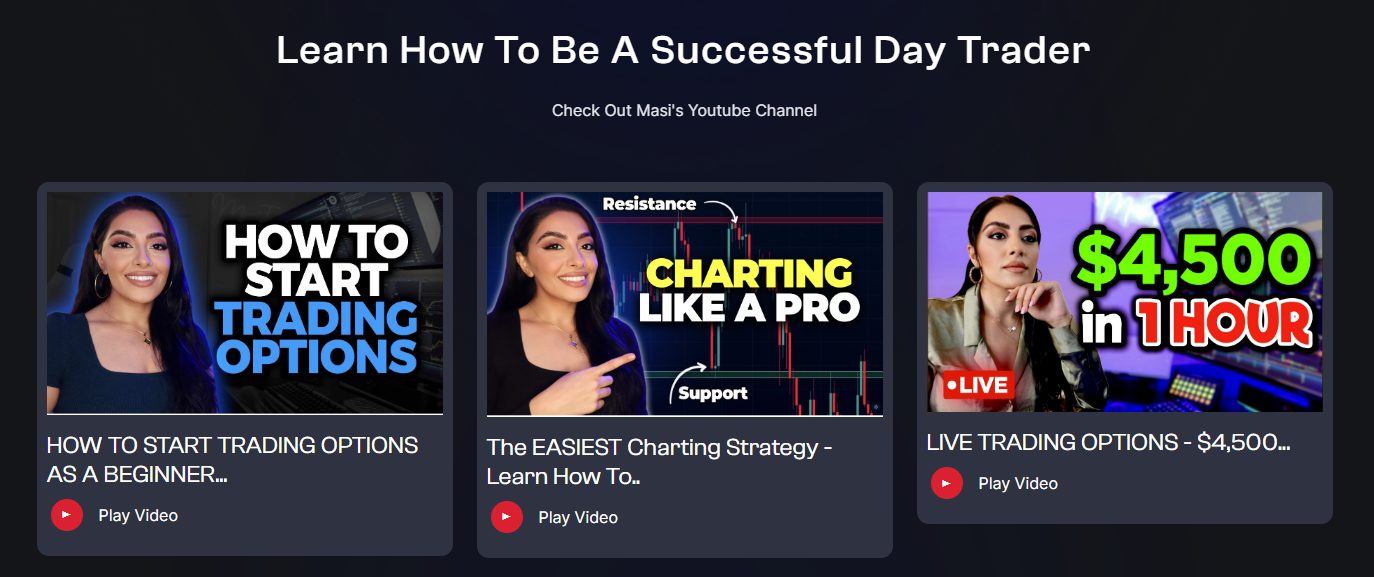 MasiTrades offers a wealth of educational resources, which is one of its main advantages. The platform provides articles and webinars to assist you understand intricate trading ideas, how to not lose money quickly, and also swinging strategies. In the world of market trading, this information might be advantageous.
An additional benefit is the availability of trading signals. they aren't just any old tips; they are opinions from professionals who study market trends. You can use the signals as a strong basis for your trading selections.
Another highlight are the instruments for technical analysis such. With the use of these tools, you may analyze price fluctuations and spot trends, improving the accuracy of your trade. These tools are essential for individuals who wish to delve deeply into analytics.
All skill levels of traders can use the site. No matter how experienced you are or how new to trading, MasiTrades has tools to meet your demands. Many use it as their go-to site because of its inclusivity.
How Much Does MasiTrades Cost?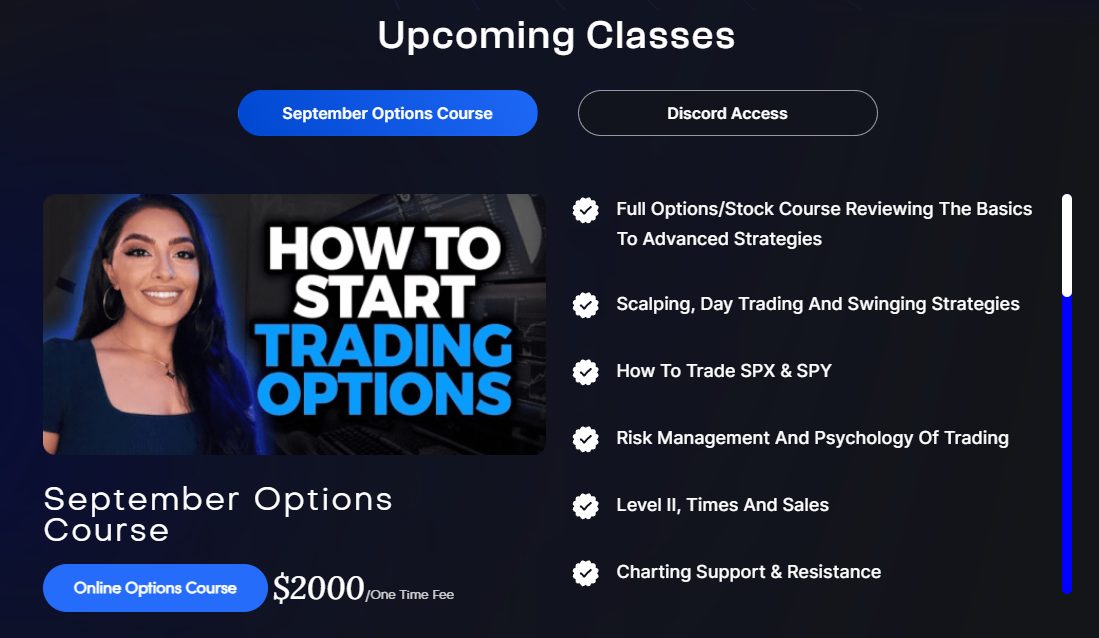 MasiTrades charges a one-time fee of $2000 for access to its platform and services. Technical analysis tools, trading alerts, and instructional content are all included in this price. The price might seem high, but it's a one-time purchase that gives you access to a variety of trading resources. Remember that there is risk involved in trading, and this fee does not ensure profits.
Who is MasiTrades Best For?
For those who are serious about trading and are prepared to make educational investments, MasiTrades is a great option. Due to its extensive teaching resources, the platform is suitable for both novice and seasoned traders. The $2000 one-time cost, however, suggests that this is best suited for individuals who are dedicated and have sufficient cash to invest up front.
What is a Good Alternative to MasiTrades?
If you're looking for a comprehensive trading education that covers more than just stocks, consider Asia Forex Mentor's One Core Program. It has been highly recommended by the team at Dumb Little Man for its breadth and depth.
Asia Forex Mentor – Rated Best Comprehensive Course Offering by Investopedia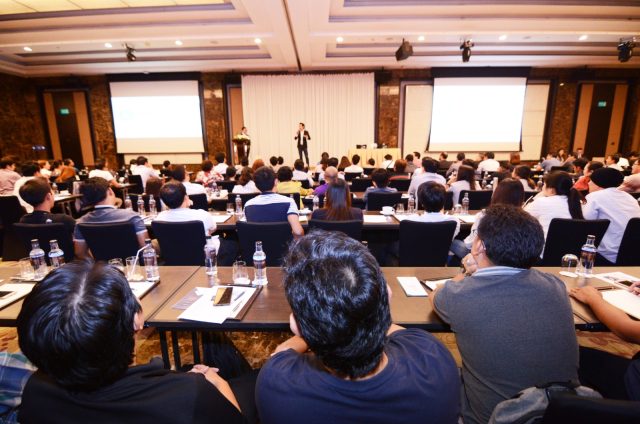 The program is led by Ezekiel Chew, a renowned trader with years of experience. He has educated individual traders as well as professionals from large financial organizations since 2008. His program offers an in-depth look at the forex market and also delves into technical and fundamental analyses of stocks.
One standout feature of the One Core Program is its broad scope. It's not limited to forex; it covers trading in stocks, indices, cryptocurrencies, and commodities. This makes it a more versatile learning platform compared to others like MasiTrades.
Another unique aspect is the program's basis in mathematical probability. This allows traders to calculate risks and rewards more accurately, a feature not commonly found in other courses.
The One Core Program is accessible to all skill levels, from beginners to experts. With its wide-ranging topics and detailed training methods, it stands out as the top trading course. If you're looking to diversify your trading skills beyond just the stock market, this program is worth your attention.
Asia Forex Mentor Members' Testimonials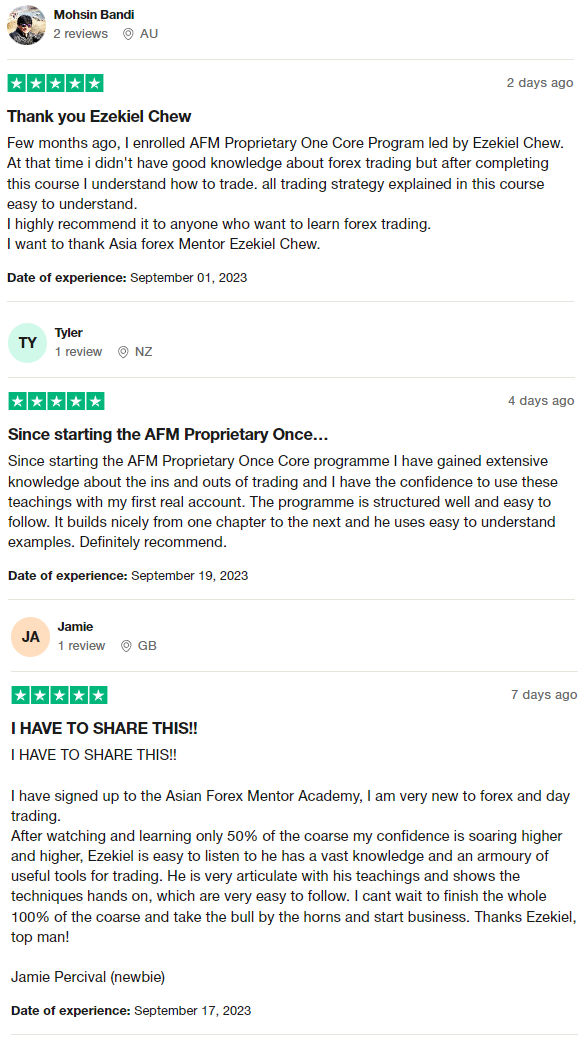 Members of Asia Forex Mentor's One Core Program express high satisfaction with their experiences. Led by Ezekiel Chew, the course is lauded for its structured and easy-to-understand approach. 
Testimonials highlight the significant boost in trading knowledge and confidence gained after enrollment, even for those who were completely new to forex and day trading. Users especially appreciate the use of practical examples and the hands-on teaching style. 
>>Related Article: Asia Forex Mentor Review By Dumb Little Man
Conclusion: MasiTrades Review
To sum up, MasiTrades provides traders—especially those who are interested in stocks—with a useful teaching platform. Its wide range of instructional materials, trading signals, and technical analysis tools are its main advantages. Both novice and seasoned traders can benefit from it, however some may find the $2000 one-time cost too much. Its concentration is relatively restricted to stock trading, though, and it does not provide a surefire route to financial success.
Asia Forex Mentor's One Core Program is a compelling substitute for anyone seeking a more extensive trading education. The program is based on mathematical probability and covers a wider range of trading vehicles, including commodities and currency. Ezekiel Chew, an experienced trader with a strong teaching style, is in charge of it.
>>Related Article: Humbled Trader Review By Dumb Little Man
[wptb id="129500" not found ]
MasiTrades Review FAQs
How much does MasiTrades cost?
The platform charges a one-time fee of $2000 for full access to its services.
Who is MasiTrades best for?
It's ideal for those committed to stock trading, whether beginners or experienced, and who can afford the one-time fee.
Are there alternatives to MasiTrades?
Yes, Asia Forex Mentor's One Core Program is a comprehensive alternative that covers a broader range of trading markets.